When choosing a desk, you have two options: a regular desk or a gaming desk.
But what are gaming desks? And are gaming desks worth it?
I dove deep into the rabbit hole to see whether a gaming desk was different from your regular office desk.
And after doing extensive research, I can say tell you that yes, gaming desks are "worth it," and here's why:
Gaming desks are worth it because they include many of the features that gamers would benefit from. These additional gaming features help with providing a comfortable and convenient gaming experience.
But before you go on buying a gaming desk, let's make one thing clear; not all of you will need a gaming desk.
For example, if you're a minimalist, chances are you won't be needing all of the additional "gamer" accessories that come with a gaming desk.
You will want to keep your setup clean and tidy.
Below we'll dive deeper into whether a gaming desk is worth it for you.
Let's go!
The Pros And Cons Of A Gaming Desk
PC Gaming desks are worth it for most, if not all, gamers.
With it, you'll get a comfortable gaming experience, have many convenient gaming equipment, and become healthier as a by-product.
Here are the pros of cons of buying a gaming desk:
Pros
There are many options available for setups which include two monitors or more.
Gaming desks are sturdy and durable and don't have any wobble.
Their ergonomics and comfort are top-notch, so you can sit at your desk for a long time without tiring or getting uncomfortable.
Many gaming desks include additional storage space for your gaming accessories.
Many gaming desks are adjustable, which is vital for providing proper ergonomics.
Cons
Gaming desks can be unnecessarily expensive.
You may not need or use the extra gaming equipment that come with a gaming desk.
Many gaming desks have that "gamer-like" look which you may or may not like
Why You Would Want A Gaming Desk
The advantages mentioned above are enough reasons why you may want a gaming desk.
As an avid gamer myself, I have had my fair share of desks, and the four features I would look at most closely when getting any desk are
Ample desk space (especially for your mouse)
Convenient gaming accessories
Cable management
Adjustability
Most of these features come in the majority of gaming desks available.
Let me explain why they are essential:
Large Desk Space
Most gaming desks provide a ton of surface area, both width, and length-wise.
Here's an example:
So with the proper mouse pad, you will never run out of room when playing games that require large flicks or mouse movements - e.g., FPS games.
You also have adequate spacing between yourself and your monitor, which will reduce eye strain and allow you to stay at your desk for long periods.
For best practice, you should be at least one arm's length away from your monitor.
Pre-Built Gaming Accessories
Many gaming desks come with pre-built gaming accessories, which can be products such as a game controller rack, a headset hook, a cup holder, and more.
Having these accessories saves you from having to buy them separately.
Cable Management
The majority of gaming desks have convenient systems for you to do your cable management.
Gaming desks on the high-end such as the Omnidesk allow you to feed your cables through the inside of the table, so they are primarily out of sight and free of obstruction.
Adjustability
What many gaming desks have that regular desks do not is the ability to adjust the table to your liking.
Having good adjustability is essential for proper ergonomics since gaming sessions usually last a while, so staying in a comfortable position is crucial to prevent strains in your body.
High-end gaming desks are height-adjustable, so you can raise the desk to a standing height when you are sick of sitting down.
Standing at your desk has many health benefits, especially for your posture and preventing injury.
Other gaming desks allow for minor adjustments, which is still a step up from your regular desk, which doesn't have any adjustability whatsoever.
Why You Wouldn't Want A Gaming Desk
Gaming desks provide a lot of convenient features that make your gaming experience more comfortable and convenient.
But not all of you will need these features, depending on your situation or the kind of gaming setup you are trying to build.
Below are a few cases of where you may not want to spend the extra dime on a gaming desk:
You don't want to spend extra on gaming accessories because you have them already.
You already have cable management accessories or do cable management and don't need a system built into your desk.
You prefer a more standard or "minimalist" type of desk.
You want to be able to customize the exact sizes of your desk. A great example is building an IKEA desk since you have complete control over the shapes and sizes you want.
If you already have a desk that has served you well or are building a setup but have many of the additional features that come with a gaming desk...
Then chances are you won't want to spend the extra money on a gaming desk.
The only time I would recommend you buy a gaming desk at this point is if you are looking to splurge on a gaming desk that does it all and acts as an "upgrade" to the desk you have now.
They are worth the extra cost if your current desk does not have the number of additional features or accessories a gaming desk does.
It is also worth the cost if you want to upgrade your desk to one that does it all.
For example, buying a height-adjustable standing desk has a ton of desk space, has a convenient cable management system, all packed into one ultimate gaming desk.
Can You Turn Your Regular Desk Into A Gaming Desk?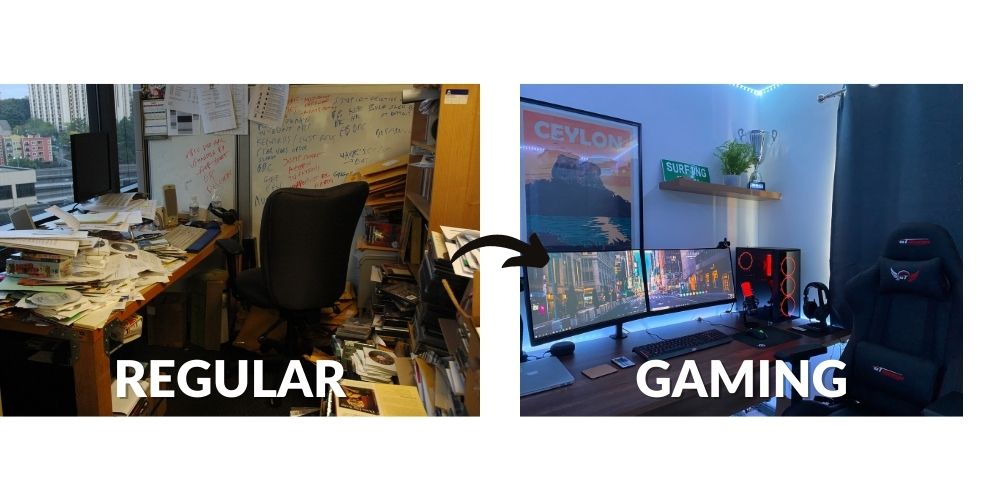 You can turn your regular desk into a gaming desk, no problem; it will just take more effort and cost extra to get the additional features that would otherwise come from buying a gaming desk.
First, you should ensure your desk is stable enough.
If your desk is wobbly, consider placing homemade wedges between your legs and the floor.
If it's not, you can secure it by tightening up your bolts and nails on the table.
You may also have to ask a family member or friend with little handyman skills to help with this.
To turn your regular desk into a full-fledged gaming desk, you should do the following:
1. Add Gaming Accessories
After getting your desk intact, it is time to add gaming accessories.
You can add other gaming gear such as:
We have some excellent guides on choosing quality gaming gear, so feel free to check them out!
2. Add RGB Lighting
High-tech, state-of-the-art lighting is one of the main focal points of your gaming experience.
So, to obtain a lively gaming station, you must have an RGB strip.
You can turn any desk into a gaming desk with RGB lighting.
Get a high-quality RGB strip that has a spectacular array of colors.
This RGB strip must also be easy to mount by using some clips/3M.
And lastly, this strip must be lengthy, but not too long, for the desk.
Our Gaming Desk Recommendations
Below are some of the gaming desks we have personally researched and have turned out to be some of the best gaming desks to date.
1. The Omnidesk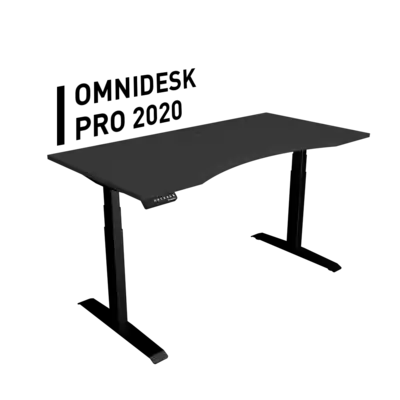 The Omnidesk is a premium gaming desk that allows you to customize everything.
From the table size to the height, to the table material, shape, you name it.
This is the ultimate desk for a luxurious, comfortable feel.
If you are looking to splurge on a desk, the Omnidesk should be at the top of your list.
2. Walker Edison Soreno L-Shaped Z Desk
The Walker Edison is an L-shaped gaming desk that looks great and provides you with a ton of desk space.
It's sturdy, easy to set up and easy to modify, and best of all - is affordable.
3. Atlantic Gaming Computer Desk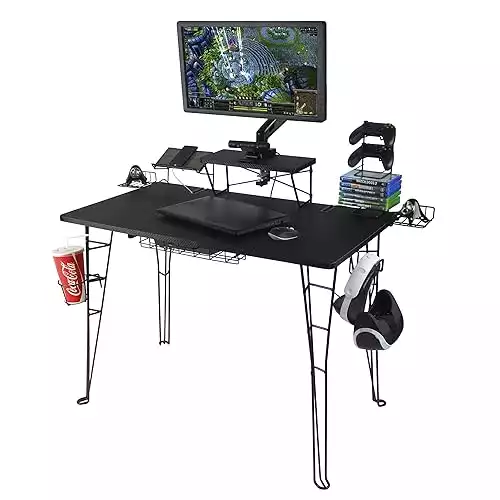 If you don't want a large L-shaped desk, you can opt for the Atlantic Gaming Desk.
The desk comes with everything a gamer would need, including a monitor stand, headphone holder, cable management tray, cup holder, controller holder, and much more.
The Atlantic Gaming Desk is a prime example of a "gaming desk" that trumps any regular office desk.
The Bottom Line
Gaming desks are definitely worth it, if you find that the additional accessories are useful to you.
With a high-quality gaming desk, you'll get the ultimate user experience and some significant health benefits.
The only cons of a gaming desk include the costs and not needing extra accessories.
You may want a gaming desk for various reasons, including the advantages of having a gaming desk and the fact that you can personalize the desk to your liking.
You may not want one for the following reasons if you feel that the extra accessories, build quality, and adjustability is not worth the additional cost.
The other option that may be best for you is to spruce up your regular desktop accordingly.