Gaming laptops today are better than ever before.
It wasn't all that long ago that even the highest-end gaming laptops were big, bulky, bad battery life machines.
Today though, nothing could be further from the truth.
Today's high-end gaming laptops are sleek, powerful, and ultraportable.
Best of all, you don't have to spend a moment's money to get your hands on a great gaming laptop, either.
In fact, $1500 (or less) really feels like the "sweet spot" between power, performance, and price.
And that's why we put together this quick guide.
By the time you're done with the details below, you'll have a good idea of what to look for in the best gaming laptop under $1,500 market.
We cover key features your new laptop should have but also highlight our five favorite options – as well as share which one we like best of all.
Let's get into it!
TL;DR 5 Best Gaming Laptops Under $1500
Razer Blade 15 Gaming Laptop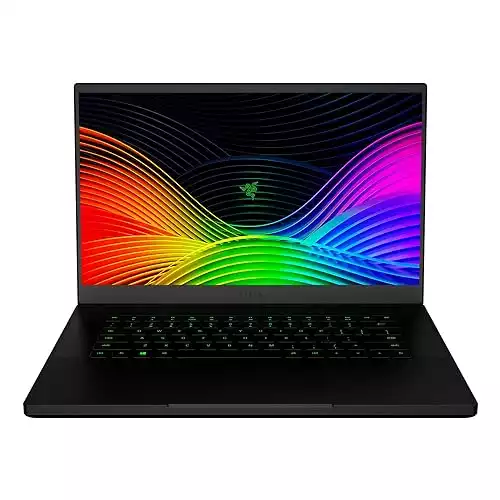 Check Prices
We earn a commission if you make a purchase, at no additional cost to you.
Pros
Absolutely gorgeous design
Blazing fast with support for up to 32 GB of RAM
Supports up to 2 TB of SSD storage space
Infinitely customizable
Cons
Right up at the top of the $1500 price tag (and goes higher)
Battery life leaves a little bit to be desired
Razer customization software can be clunky
If the folks at Apple made a gaming laptop it would look exactly like this.
Almost identical in form factor and aesthetics to Apple MacBooks, the big difference here is the jet black finish in the bright green (neon green) Razer logo – as well as all the gaming hardware shoehorned into this compact system.
An award-winning unit that comes in two different flavors (Base and Advanced), this is one of the thinnest and lightest gaming laptops money can buy.
It also happens to be one of the best looking and one of the most powerful.
The 15.6 inch screen has a 144 Hz refresh rate, is a full UHD display, and has 100% sRGB support.
Powered by eighth generation Intel Core i7 processors paired to Nvidia GeForce GTX 10 Series graphics cards, this is one of the most high-performance gaming laptops available at the sub $1500 price point.
Acer Predator Helios 300 Gaming Laptop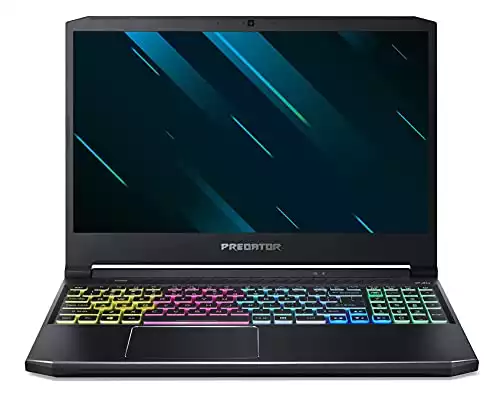 Check Prices
We earn a commission if you make a purchase, at no additional cost to you.
Pros
Large, gorgeous 1080p screen refreshes at 144 Hz with almost no input lag
Keyboard is super comfortable and has customizable RGB backlighting
GTX 1660 TI offers desktop grade graphics power in a laptop form factor
Overall price to power ratio is fantastic
Cons
512 GB of SSD storage feels a little "light"
Temperatures can get steamy when you are gaming over long sessions
Gaming touchpad is pretty awful
Acer have stepped their game up big time in the gaming laptop department over the last three years.
They've always made quality systems but the new Predator Helios 300 is an entirely different animal altogether.
Built on top of a discrete Nvidia GeForce GTX 1660 TI graphics card you can expect to get 60+ FPS on all modern games, even when you are running them with ULTRA graphics settings.
That's not something you're going to be able to pull off with a lot of other gaming laptop cards.
A little bit on the larger side of things (the screen measures 17.3 inches diameter), it's impressive how lightweight this system is at the same time.
The screen refreshes at 144 Hz, you get 512 GB of storage on an SSD, and right out-of-the-box this laptop comes with 16 GB of RAM.
ASUS ROG Strix G Gaming Laptop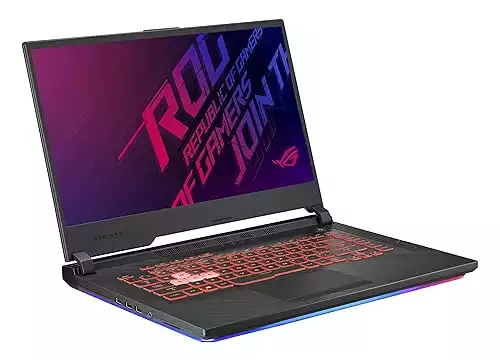 Check Prices
We earn a commission if you make a purchase, at no additional cost to you.
Pros
Ability to choose Nvidia or AMD graphics cards is a nice plus
Top-of-the-line gaming performance across the board
17.3 inch screen refreshes at 120 Hz and looks fantastic
Key binds can be customized with the stock on board keyboard
Cons
Standard storage space is limited
No WebCam or Thunderbolt connections is a disappointment
Pretty heavy with a clunky, boxy sort of design
ASUS has had a lot of success with their Republic of Gamers product lineup (accessories, desktops and laptops) but the ROG Strix G has been their biggest hit.
Leveraging an Intel Core i7 processor that clocks in at 4.5 GHz (with overclocking capabilities), 16 GB of RAM, a 512 GB SSD hard drive, and either GTX 1050 or RTX 2070 graphics cards from Nvidia and AMD respectively round out the hardware under the hood.
The design is a little bit "old-school" and not quite as attractive as something like the Razer, but you still end up with a solid, heavy duty, and 17.3 inch gaming laptop engineered with performance in mind.
MSI GP65 Leopard Gaming Laptop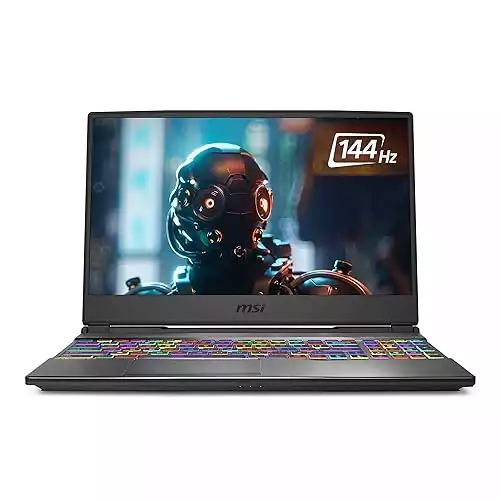 Check Prices
We earn a commission if you make a purchase, at no additional cost to you.
Pros
Easily the best screen in the sub $1500 gaming laptop world
Powerful Intel Core i7 processors
A variety of different GPU options to choose from
The keyboard is pretty good for a gaming laptop
Cons
Plastic body feels kind of cheap
Port placement on the right side is disappointing
One of the best gaming laptop under $1500 options money can buy in 2021, this MSI Leopard has maybe the best screen in this product category.
The colors are vibrant and accurate, the display is bright and brilliant, and the 144 Hz refresh rate is lightning fast with almost no input lag at all.
Intel Core i7 processors (Coffee Lake processors) are tucked under the hood, mated to a variety of different Nvidia GeForce cards to pick and choose from.
16 GB of DDR4 RAM comes standard, with expandability up to 32 GB. A fast Toshiba 512 GB SSD makes up the bulk of the onboard storage.
The keyboard is decent, customizability options are okay, and the performance is pretty rocksolid.
But the real star of the show is definitely the gorgeous screen.
MSI GF65 Thin Gaming Laptop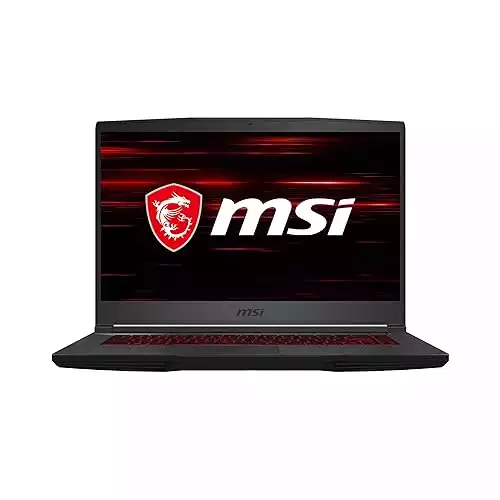 Check Prices
We earn a commission if you make a purchase, at no additional cost to you.
Pros
Latest generation Intel processors and desktop-grade Nvidia GPUs
Plenty of expandability for storage and RAM
Fantastic cooling system to extend battery and component life
The keyboard is actually pretty great
Cons
The design is a little "basic" and flat
All input ports (pretty much) are on the right side of the laptop
Battery life can be disappointing
This MSI gaming laptop is a little bit newer than the one highlighted above, and it takes advantage of 10th generation Intel Core i7 processors that are fast, stable, and more energy-efficient.
MSI also changed up the overall body design of this laptop, obviously making it considerably thinner. The "big brother" MSI laptop reviewed above measured in at about 42 mm thick while this one measures just 21.7 mm thick.
That shaves off almost half of the bulk you have carried around before.
RTX 2060 desktop style graphics cards are tucked under the keyboard on this laptop, paired with the 45W TDP Intel Core i7 processors we made mention of earlier.
The IPS screen is Full HD with a 1200:1 contrast level, all while offering 120 Hz refresh speeds that aren't necessarily the fastest out there – but are still pretty quick.
Battery life is nothing to write home about and connectivity options are a little bit limited, but all in all this is still a very good laptop for the price.
The Ultimate Buying Guide For Laptops Under $1500
A couple of components are going to make or break your gaming laptop experience.
Sure, overall size and form factor (not to mention weight) are important details to zero in on.
But the features we highlighted below will determine whether or not you are able to play your favorite games at high frame rates more often than not.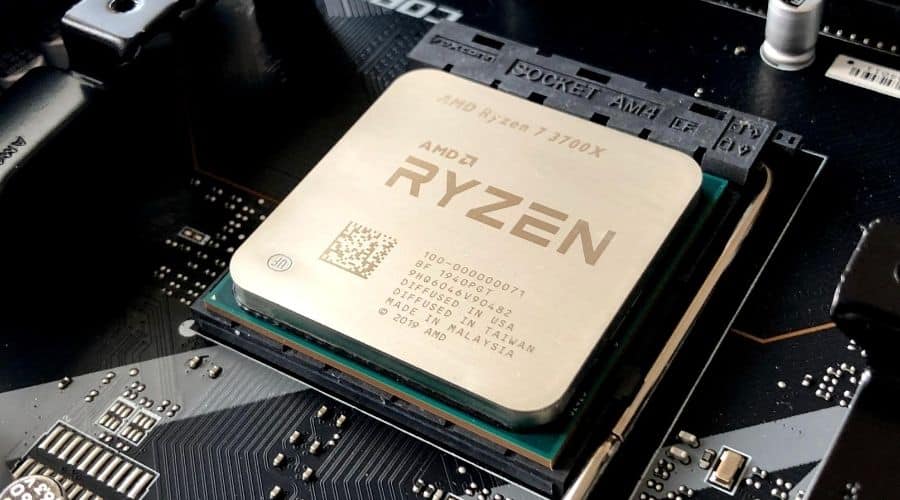 CPU Is Critical
Choosing the CPU (processor) your new gaming laptop is built around is critical.
And we don't just mean deciding between the Intel or AMD line of processors.
No, you need to choose a CPU designed to give you blazing fast speeds – a CPU with a clock speed higher than 2.4 GHz (ideally) and a CPU that can handle multi threading or hyperthreading.
Top options from Intel and AMD specifically designed with gaming laptops in mind are the way to go. Just be sure that your CPU is going to be able to handle your favorite games, even if your GPU is going to be responsible for handling the bulk of the heavy lifting.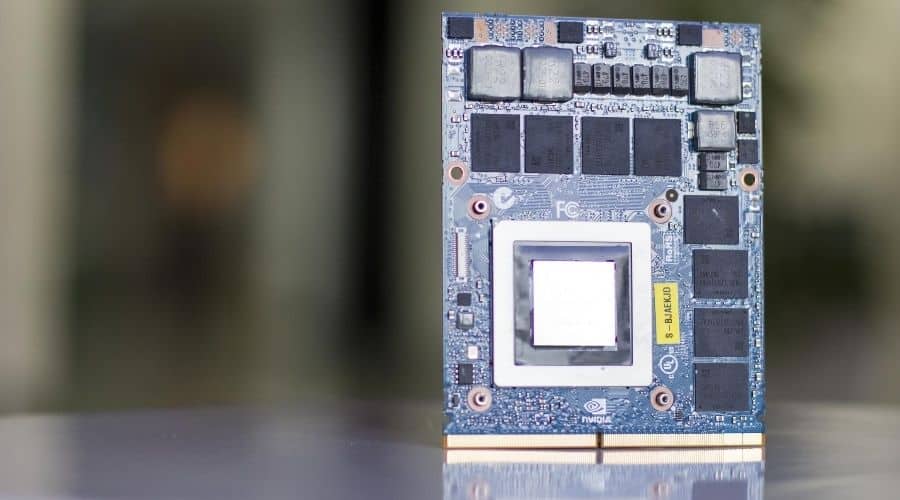 GPU Is Important, Too
As highlighted above, modern gaming laptops are better than ever before. That's largely because of how far mobile GPU technology has come.
Companies like Nvidia and AMD (even the folks at Intel) have found ways to shrink their high-end GPU technology to fit laptop form factors.
Its possible today to get a gaming laptop that is as thin as anything the folks at Apple cook up with gaming performance beyond what you get from a Sony PlayStation or Xbox.
That just wasn't ever in the cards even a handful of years ago.
Shy away from integrated GPU options, though.
Intel has a decent line of integrated GPU setups that pair nicely with their processors. But the performance is never going to be as good as a separate, discrete GPU would be.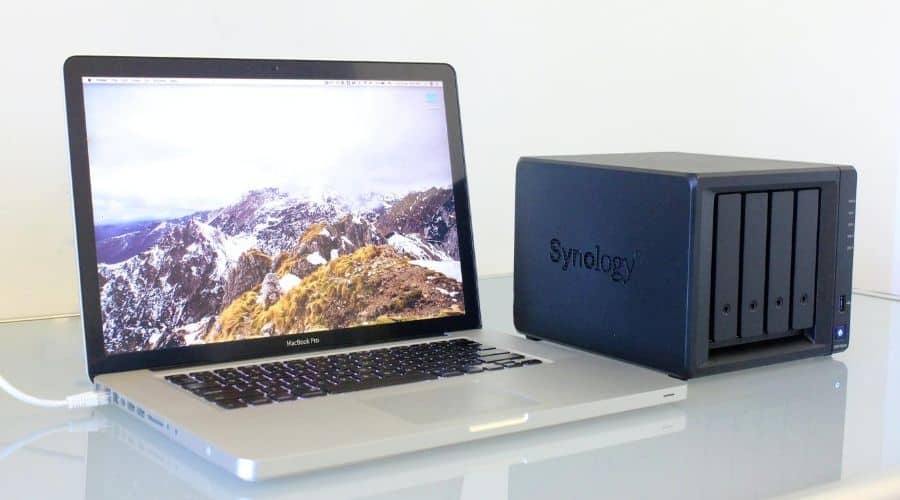 SSD Storage Is A Must
All of the best gaming laptop under $1500 choices are going to have solid-state drives (SSDs) built right in.
But it's not a bad thing to double verify this before you pull the trigger on this purchase.
SSD storage options are a lot faster than traditional hard drives.
They spin up more reliably, they cut loading times down significantly, and they generally make your entire system a lot faster, too.
Shoot for at least 512 GB of SSD storage, but the more the merrier.
1 TB SSD drives are less expensive than ever before, and even up to 4 TB of SSD space won't break your bank account like it would have three or four years ago.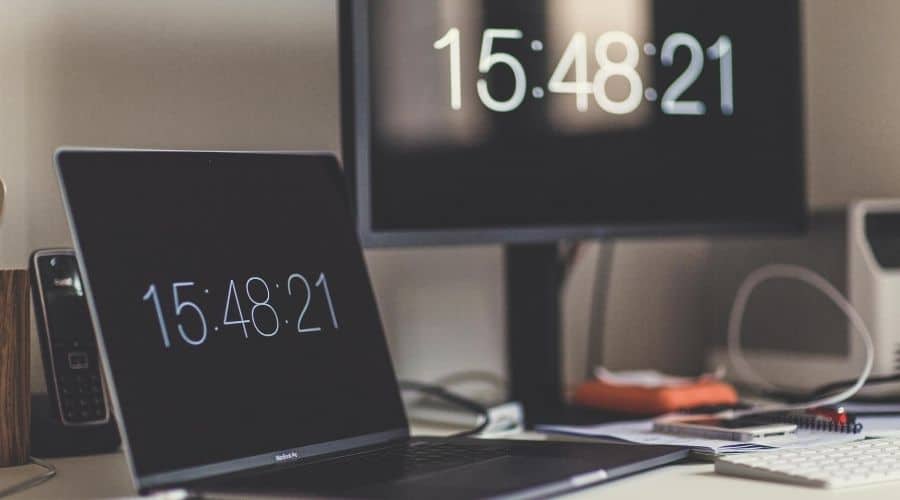 Importance of Screen Refresh Rate
Most gamers want to be able to play their favorite titles in stunning HD, but honestly, beyond 1080p (on a laptop screen, anyway) you're really not going to notice a world of difference.
What you will notice, though, is a significant decrease in frame rates.
Look for 1080p screens that have at least 144 Hz refresh rates and your inexperience will be a lot smoother.
You lose a little bit of graphic fidelity you gain a lot in performance boosts.
Frequently Asked Questions
What's More Important, The CPU Or The GPU?
Both of these components are critical to gaming success and you really want them working in concert with one another.
But if you're going to sacrifice anything, make sure that you are shaving performance off of the CPU and not the GPU.
Your gaming sessions will be much better off when you make that decision.
Is 8GB Of DDR4 RAM Enough For A Gaming Laptop?
Honestly, a gigabytes of DDR4 RAM is overkill for most productivity minded computers and laptops – but it's just the bare minimum for gaming laptops.
Look for 16 GB of DDR4 RAM right out-of-the-box or at least the ability to upgrade to that much (or more) moving forward.
How Many Terabytes Of Storage Should I Have?
At a minimum you really want to shoot for 1 TB of SSD storage on your "main drive", with another terabyte or two of storage – SSD or HDD – to back you up.
512 GB of SSD storage will work for some people, but those with bigger gaming libraries will definitely want more space.
Is Battery Life A Big Deal?
Because these gaming laptops are so powerful the odds are good that you'll have them plugged in 99% of the time when you are playing.
You obviously want a battery that can handle at least a couple of hours of gaming on the go, but any more than that is just icing on the cake.
Our Winner For The Best Laptop Under $1500
As far as the very best gaming laptop under $1500 is concerned, it's tough to beat the Razer Blade 15 Gaming Laptop.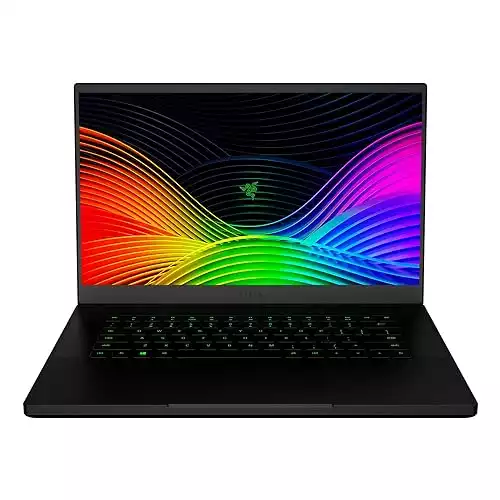 Check Prices
We earn a commission if you make a purchase, at no additional cost to you.
Sleek, super sexy, and loaded top to bottom with high-performance components throughout you just can't go wrong with this piece of hardware.
Razer used to have some question marks regarding overall quality control, especially in the gaming laptop side of things.
They have ironed those issues out for the most part and today are regarded as one of the best gaming hardware manufacturers on the planet.
This is a great looking laptop that handles like a high-end sports car.
You won't be disappointed if this is the route you take.