Are you looking to dominate your enemies in CSGO? Want to get that competitive edge on the opposition? Getting the best gaming mouse for CSGO can definitely help with that!
CS:GO is one of the most popular FPS games to date, and is a classic that I have been playing ever since I was 10 years old.
It's one of those games that gives you nostalgia. It has been through 3 popular versions: CS 1.6, CS:Source, and now CS:GO, and is still standing strong with being one of the top games streamed on Twitch.tv.
As eSports have risen over the years, so have computer parts and gaming peripherals.
Streamers and pro players need a good computer to game at their highest potential, and finding the best gaming mouse for CS:GO can be tricky considering the number of gaming mice on the market.
So we decided to have a look at what the pros use, and start our research from there.
Having a responsive, comfortable, high-quality mouse can help your aim get smoother and more accurate - given that you practice your aim.
If you like to watch the incredible aim of players like shroud or Stewie2k, combining a high-performance mouse with aim practice will put you on the path to building up Godlike aiming.
Below we have compiled a list of 5 of the best CS:GO mice in the market right now, backed up and used by pros.
Best Overall
BenQ Zowie EC2
Runner Up
BenQ Zowie S2
Editor's Choice
Logitech G Pro Wireless
TL;DR: The 5 Best Gaming Mice For CS:GO
BenQ Zowie EC2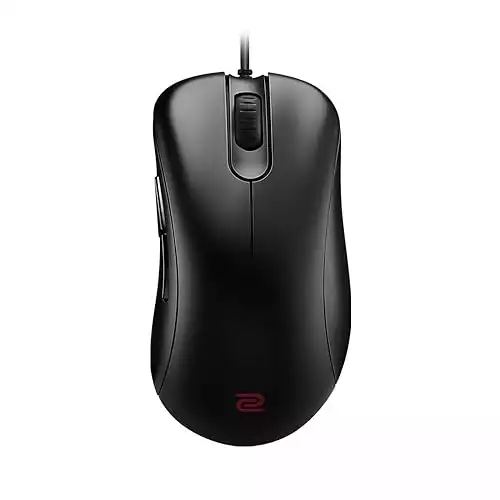 Check Prices
We earn a commission if you make a purchase, at no additional cost to you.
Pros
Most used CS:GO mouse in the pro scene
DPI - 400/800/1600/3200
Polling Rate - 1000Hz
Sizes - Comes in medium/large depending on your grip style
2m cable length
Very affordable
Simply plug and play
Cons
Software is limited
Lacks tweakable options
The Zowie EC2-A is the most popular CSGO mouse used by top counter-strike professionals, and for good reason.
It comes with incredibly smooth aiming and cursor movements, which in turn can make your aiming silky smooth - a must-have when it comes to playing CS:GO.
On average, about 30% of pro players use mice from Zowie's EC series, and this is because it ticks all the boxes when it comes to getting a good mouse for FPS games.
The mouse has created hype in certain parts of the gaming community, and what makes this mouse unique is the fact that legend Emil "HeatoN" Christensen helped BenQ create the EC-series of mice, specifically tailored CS:GO players.
The Zowie EC2-A comes with an extremely comfortable grip and is one of the highest-quality performing mice on the market right now.
The Zowie EC2-A was designed by a CS:GO legend, and is made for CS:GO gamers and pros alike.
If you use a palm-style grip on your mouse, then the Zowie EC1-A would be a better option for you as it's bigger and more comfortable for larger-sized hands.
BenQ Zowie S2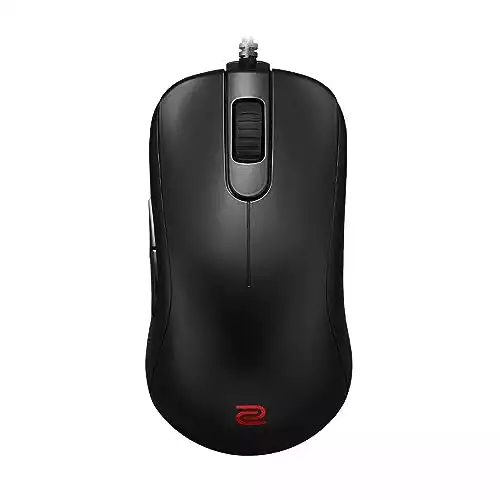 Check Prices
We earn a commission if you make a purchase, at no additional cost to you.
The Zowie S2 is another affordable mouse that provides a fantastic gaming experience, similar to the Zowie's EC series.
The main difference between the Zowie EC2 and the S2 is that the EC2 has an ergonomic shape for right-handed gamers, whilst the S2 has an ambidextrous shape.
Being part of the Zowie family, the S2 is another high-performing mouse that's built with similar technology as the famous EC-series and provides precision, and smooth aiming.
Depending on your style of grip and ergonomics, deciding between the Zowie EC-B or S2 is easy:
If you enjoy the symmetrical style design, or are left-handed, opt for the S2.
If you like the ergonomic type of design, opt for the EC.
Regardless, you're getting great value and performance from both mice and will help you build better aim in CS:GO.
Logitech G Pro Wireless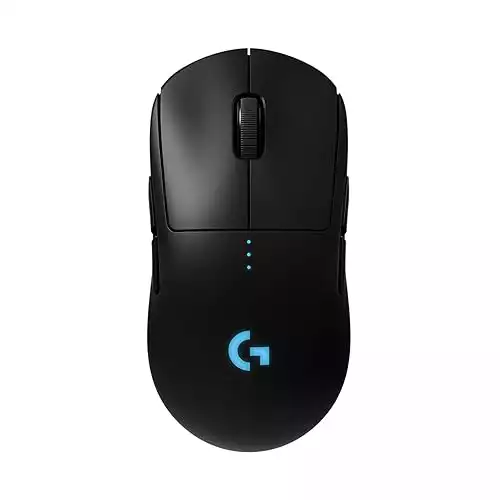 Check Prices
We earn a commission if you make a purchase, at no additional cost to you.
Pros
16K HERO sensor is one of the top laser sensors on the market
1ms wireless lightspeed (so you won't be at a disadvantage compared to wired mice)
Removable side buttons for better usage
8 programmable buttons (using G Hub)
46H LIPO battery
Metal spring that separates left and right buttons (reduces actuation force)
Cons
Not as comfortable compared to other mice on this list
Includes a premium price tag
The Logitech G Pro Wireless is a favorite amongst competitive gamers and PC enthusiasts and is part of an incredible array of products under Logitech's G-Series.
Logitech's G product line has come out with many great, high-performance products that are tailored to competitive gamers, and their gaming mice are no exception.
Logitech was the first company to come out with laser-sensor technology, and have since designed the high-performing laser sensor - the 16K HERO, which is what's featured on this wireless mouse.
They are heavily into the gaming scene, even sponsoring professional CS:GO teams; like Astralis and Na'Vi.
Their shape, design, and performance hit the nail on the head when it comes to creating a quality mouse that performs well in-game...
And for those of you who like to be cordless, this mouse is the one.
If you're looking for a mouse built by a company with a great track record, is wireless (only has a 1ms delay), and is ergonomic and comfortable to grip - the Logitech G Pro Wireless is an awesome choice.
Logitech G MX518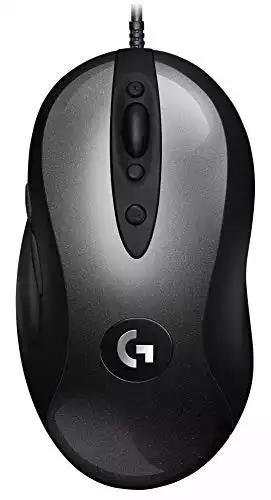 Check Prices
We earn a commission if you make a purchase, at no additional cost to you.
12/08/2023 09:51 pm GMT
Pros
Reputable mouse used by Veteran gamers (now with improved technology)
A classic, legendary shape that's been loved since 2005
Uses the 16K HERO sensor - Very precise
8 Customizable buttons (using G Hub)
Can be used for Palm/Claw grips (or even Hybrid)
Quality braided cable
Cons
Glossy surface not suitable for sweaty hands (needs to be wiped down a lot)
Lacks RGB lighting (may not be an issue for some)
By now you should be seeing a trend in terms of the type of brands CS:GO pros like to use.
But there's more to the MX518 story - this mouse was first introduced in the early days of 2005.
It has since made its glorious return which now features new and improved technology.
This mouse gives you the best of both worlds - it includes the same famous ergonomic design as its original form while having drastic improvements internally.
The MX518 now uses HERO Sensor technology like the Logitech G Pro Wireless, so you know that the mouse will perform nicely and accurately.
Known for its ergonomics and comfort, this mouse is perfectly tailored towards claw/fingertip style grip-users.
If you are an old-school CS 1.6 player, should've definitely heard about this mouse back in the day, and the fact that it's as popular now as it was back then, with the added benefit of improved technology... well...
It just goes to show that Logitech's MX518 has stood the test of time, and has one of the greatest track records a mouse could have!
SteelSeries Sensei 10
Pros
Up to 1000Hz Polling Rate
8 programmable buttons (using SteelSeries software)
One of the most comfortable ambidextrous designs
Premium matte finish
Aesthetically pleasing
Cons
It is a bit expensive for the features available
SteelSeries, yet another reputable brand which is popular amongst the CS:GO scene, with SteelSeries being known for 2 things:
Ergonomic and comfortable design
Satisfying, crispy yet soft touch
The Sensei 10 has one of the most comfortable, best ergonomically shaped designs for a mouse on the market to date...
And for those of you who are fans of the Sensei Raw, the Sensei 10 is built similarly to the Raw but with a twist.
What's notable about this specific design is the feel and touch when you're clicking the mouse. It's smooth and has the perfect pressure - not too hard, yet not too strict.
It fits on your hand like a glove (if you use a claw/fingertip grip), allowing the mouse to function as an attachment to your body.
Its on-board memory, programmable buttons, and elite, comfortable design are ideal for you gamers who like it simple, yet satisfying.
Buyer's Guide: What Makes A Good Gaming Mouse For CS:GO?
When it comes to finding a good gaming mouse, you need to take into account some baseline criteria.
You may have noticed a trend in our chosen product line...
There are 2x Zowie products and 2x Logitech products... Logitech being a tremendous all-around brand that comes out with a lot of great products.
But the Zowie is the brand to look out for when looking for products for CS:GO specifically... and here's why:
The Zowie Product Line - Why It's Dominating The Counter-Strike Scene
Between popular gaming brands like Logitech, Razer, and SteelSeries - Zowie comes out on top when it comes to the CS:GO pro scene.
What's crazy is that 10% of pros use the Zowie EC2-A, while 30% of pro players use different gaming mice within the EC series.
Zowie was designed in collaboration with CS legend Emil "HeatoN" Christensen, who if you don't know has been a pro gamer since the CS 1.6 era, member of SK Gaming, and was the former captain of Ninjas in Pyjamas (NiP).
So it's no question that CS:GO pros would trust the mind of an established Counter-Strike Veteran, just look at his achievements.
Zowie has been able to create the perfect mix of ergonomics, comfort, and performance, suited for all type of grip-styles.
Depending on which Series you enjoy using, they have products for all types of grips (will explain in more detail below), and you are guaranteed high-level performance.
Gaming mice really comes down to personal preference, and below we will be sharing some of the most important criteria when looking for a gaming mouse.
So if you want guaranteed performance, Zowie and their EC2 or S gaming mice can do you no wrong.
Size & Grip
Sizing and grip should be the first criteria you choose from when looking for a gaming mouse.
You have 3 different types of grips:
The sizing and shape design of the mouse will dictate what grip you should be using.
The best way to find what grip you are using is to take a look at how you're currently holding your mouse.
You may find that you have a combination of two, and this is usually known as having a "hybrid" grip.
There's no such thing as "one grip is better than the other", grip is subjective, and if you want to get better aim, taking the time to do aim training would be best.
If you want to find a mouse that suits your grip-style best, ensure you look at the sizing and shape of the mouse.
The baseline for determining which size is for what is:
Palm Grip - Usually used on mice, which are larger, especially where your palm lies.
Claw Grip - Usually used on mice, which are medium-sized.
Fingertip Grip - Usually used on mice, which are medium-small sized.
Please note that this is NOT an accurate representation of mouse sizes, and just a simple baseline to work off.
Always look at the sizing chart and description to find out which mouse is suited for what grip-style.
Having extra buttons is always a bonus, can make doing certain actions faster and easier.
For CS:GO, you can bind functions and scripts to perform certain actions...
For example, binding a 'jump + throw' to your left side button would be very beneficial when you're in a time constraint or need to execute a strategy at a specific time.
DPI Settings
When it comes to FPS, having different DPI options to choose from should be limited to just 2:
400 DPI
800 DPI
If you have a look at our previous article, we explained that according to Ginx.tv's top 10 CS players of all time, all of them used a DPI of 400.
Sure, having different DPI options is great, but it really doesn't matter much, because the recommended DPI for CS:GO is 400 or 800.
So if you want to use what the pros use, stick to 400 DPI or 800 DPI. It's weird at the start if you're switching from a high DPI, but trust me, it's worth it.
Some of the mice by default only go to 800 DPI as the lowest, but luckily, with some of the gaming mice on this list - your mouse will come with an accompanying software you can download to customize your mouse functions.
For example, the Logitech G Pro Wireless mouse includes a compatible software called the 'G Hub' which allows you to apply functions to your extra buttons and choose any DPI ranging from 0 - 16000.
Wired vs. Wireless Mice
This is more of a personal preference since both have their pros and cons.
On one hand, wired mice are guaranteed to have a faster connection, since it's directly plugged into your computer.
The downside to a wired mouse is that the cord is prone to get caught around objects on your table or just be annoying to maneuver around (this is particularly bad if you have poor cable management).
Although this can be solved with BenQ's Zowie Bungee and pair it with your gaming mouse. (this costs extra, but it's one of those items you don't know that you need until you use it).
Wireless mice don't have that cable management problem, and that's the main selling point. If you want to cut the cord, wireless is where you want to go.
The world nowadays is going to a more wireless era, and gaming mice are no exception.
The downside to wireless mice is that they're prone to connection problems (although rare, it can happen depending on connectivity factors).
When looking for a wireless mouse, ensure you look at how much delay it has. A mouse like the Logitech G Pro Wireless has a 1-millisecond delay, which basically means you won't feel a difference to a wired mouse.
Wireless mice are usually battery-powered and need replacing/charging constantly. But this isn't really any different to charging your phone at night.
Frequently Asked Questions
What Mice Do Most CS:GO Pro Players Use?
Zowie EC2-A specifically is used by 10% of CS:GO pros, and the 
Zowie E-Series is used by 30% of CS:GO pros.
Will Getting A Good Mouse Make Me Aim Better?
Yes and no.
A good mouse is built to be fast and responsive, so technically - yes, you will be more accurate.
But it won't make you aim better. Your aim is dictated by practice and experience.
If you really want to learn how to aim better, invest in doing aim practice with an aim trainer like Kovaak: 2.0: The Meta (you can grab Kovaaks from here if you would like to get it cheaper).
What's A Good Budget For A Gaming Mouse For CS:GO?
If you want a high-performance mouse, $60 - $100 is a good price range to start with.
You can find more budgeted options that work great but for the best value for money - buying a high-performance mouse with a durable build will last you a long time.
Wired mice will always be cheaper than a wireless mouse, so bear that in mind.
Would Setting My Mouse To A Higher DPI Be Better?
A higher DPI setting would increase the speed of the mouse. 
Usually, pro players play CS:GO using DPI setting ranging between 400 to 800 DPI since it's native and considered the most accurate depending on what dimensions you play on.
For best practice: If you need a high mouse sensitivity, set your DPI to 400 or 800 still, but increase your in-game sensitivity, not the DPI.
What's The Difference between a Laser Mouse vs. Optical Mouse?
Laser sensors use laser pointers, optical drives, and barcode readers to scan the surface to emits data. This makes them extremely accurate and can work on any flat surface.
Optical sensors use infrared LED lights as an illumination source to track movement. It senses the top of the surface (a laser would sense deeper on the surface), so it works best on a non-glossy surface or mouse pad.
Laser sensors can be too sensitive (accurate), picking up useless information which can cause the mouse to have additional acceleration (cursor moving faster than usual).
Optical sensors are well balanced and are not as sensitive as laser sensors, but also means aren't as accurate as laser sensors. This doesn't mean they're inaccurate.
It honestly doesn't matter much when searching for a new gaming mouse, and your focus should be on other features and not the sensor.
Which sensor should you choose? Easy, any of them. They both work well and have very minuscule differences which won't affect your aiming.
If you game on CS:GO without a mousepad, then a laser mouse would be the ideal choice, since they can be used on any surface.
If you game with a mousepad (which is recommended), both are ideal choices.
Moral of the story: get a mousepad. It will make your aiming 10x smoother, and the surface you move your mouse on will be as smooth as butter.
Our Winner For Best Mouse For CSGO
In our opinion, our personal favorite for the best gaming mouse for CS:GO goes to the Zowie EC2!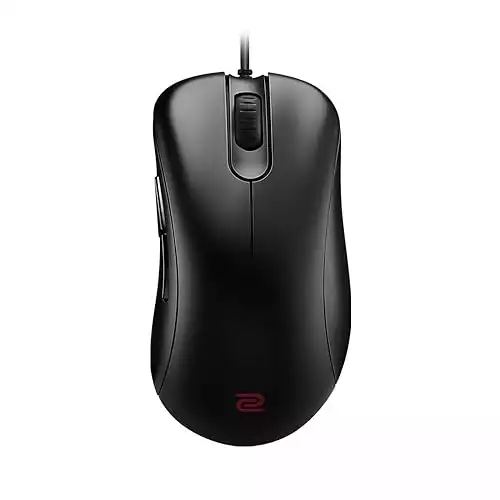 Check Prices
We earn a commission if you make a purchase, at no additional cost to you.
There's no denying that this is a famous mouse that provides high-performance, and that appeals to CS:GO players, especially those who play at a high level.
The hype around the mouse has paid off, with Zowie delivering a mouse that has the best balance of performance, comfort, and ergonomics.
Be sure to choose the right size for your style of grip. The Zowie EC1 is better for palm-grip gamers since it's bigger, and the Zowie S2 has a different ambidextrous shape, compared to the EC2's ergonomic shape.
Find a mouse that compliments your gameplay, and pull the trigger on getting one. You won't regret playing CS:GO with an awesome mouse!