There is a high chance that many of you are either a gamer or office worker that uses a mushy membrane keyboard that is not satisfying to use.
Keyboards are one of those peripherals that you open up a whole new world.
Keyboards can be incredibly satisfying to press, to hear, and to look at, and buying a keyboard that you enjoy using every day is why I wrote this article.
For the most part, mechanical keyboards are superior to membrane keyboards, with only a few exceptions to this rule that you will see below.
Having gone bought, tested, and researched a ton of budget-friendly keyboards, we have compiled a list of the best keyboards under $50.
It doesn't matter if you're a gamer or office worker, there is a keyboard that should suit your needs below.
So enough talk, let's dive in!
Best Overall
Redragon K552 KUMARA 75% Mechanical Keyboard
Great for customizability
Satisfying to type on, and sounds great
Aesthetically-pleasing
Editor's Choice
Corsair K63 Wireless TKL Mechanical Keyboard
High-quality build
Quality Cherry MX switches
Includes a wrist rest
Quiet Choice
HyperX Alloy Core TKL Membrane Keyboard
Very quiet key presses
RGB lighting
Excellent for gaming
TL;DR: The Best Keyboards Under $50
1. Redragon K552 KUMARA 75% Mechanical Keyboard
Check Prices
We earn a commission if you make a purchase, at no additional cost to you.
Pros:
Outemu blues are the alternative to Cherry MX switches
Heavy enough to not move around the desk
Has rubber padding on the feet stands to prevent movement
Compact size to save desk space
Decent selection of RGB lighting options
Nice design straight out of the box
Includes a keycap puller and other spare materials
Cons:
"Clicky" sound may be too loud for some
Very long support wait times
If you're reading this article, chances are it's your first time buying a mechanical keyboard and want to test out the waters first.
The Redragon K552 KUMARA RGB Mechanical Keyboard is in my opinion, the best starter keyboard out there.
Even if you're a seasoned mechanical keyboard veteran, the ability to customize this keyboard makes it worthwhile.
Redragon didn't cheap out on the materials neither. The keyboard is constructed of metal alloy which makes the base sturdy and durable.
This keyboard is a great starter option, whether you want to get into customizing your keyboard, or even just leaving it as stock.
The RGB lighting, Outemu blue switches coupled with the design and size of the keyboard makes it a great asset to your Battlestation.
2. Corsair K63 Wireless 75% Mechanical Keyboard
Check Prices
We earn a commission if you make a purchase, at no additional cost to you.
Pros:
Wireless option with up a 24-hour battery life
Cherry MX Reds (Linear) are perfect for gaming
The only keyboard to come with a wrist rest on this list
A very reputable brand with a great track record of products
Convenient media key buttons
Cons:
Only comes in the renewed version if you want it under $50
Only comes in Blue LED backlighting
It's rare to find a reputable brand selling a mechanical gaming keyboard under $50.
Of course given that this is the 'renewed' version of an otherwise $80 keyboard, but hear me out.
Corsair is one of the most reputable PC brands on the market.
They're known for their quality and durability and have an assortment of different computer products.
Being quite a popular brand, the K63 comes with authentic Cherry MX switches, which is like the Apple brand but in terms of mechanical switches.
Basically, you're guaranteed quality and satisfaction from Cherry switches.
This particular keyboard comes with features that no other budgeted keyboard can match.
It is the only keyboard on this list that includes a wrist/palm rest, which is comfortable and ergonomic.
Has easy to adjust media buttons located in convenient places...
Oh, and did I mention that it was wireless?
3. HyperX Alloy Core TKL Membrane Keyboard
Pros:
Solid construction which won't move when you're typing
Aesthetic, easy to read keycap font
Uniquely designed RGB lighting and options
Convenient multi-media keys
Spill-resistant of up to 120mL
Quiet and responsive keys due to its membrane build
Cons:
Not as satisfying as your mechanical counterparts
If you still enjoy using a membrane keyboard and don't want to have to deal with loud clicky keys, the HyperX Alloy Core is the ideal choice.
Membrane keyboards are very durable, and this particular model has spill-resistance of up to 120mL of liquid... should accidents occur.
The keys are comparable to Cherry Brown switches.
Given that this is a membrane keyboard, that is a great feature, as other membrane keyboards tend to feel mushy and unpleasant.
You won't get that satisfying "click" sound and feel, but damn will this be quiet.
Ideally, this is the best option for a workstation, or if you don't want to annoy your friends and family with a louder switch.
4. Eagletec KG011 Full-Sized Mechanical Keyboard
Check Prices
We earn a commission if you make a purchase, at no additional cost to you.
Pros:
Nice and consistent weight with a premium feel
Outemu blues which are the Cherry MX equivalents
USB cable is long and comes with a Velcro strap
Lives up to the anti-ghosting claim
Simple design which is easy to clean up
Cons:
Switches are on the louder end of the spectrum
Caps/Num/Scroll Lock lights is a little hard to see because of the location
Sometimes you need a full keyboard, especially if you play MMORPG games, or you're someone whose occupation deals with numbers and uses the Numpad.
So getting all of the perks of a mechanical keyboard, coupled with being full-size is something you'd enjoy...
Especially if you're moving on from a membrane keyboard.
The Eagletec KG011 Mechanical Keyboard comes in different colours and lighting options for you to choose from.
Personally, I love the white keyboard aesthetic...
And coupling it with an RGB lighting effect you're bound to have satisfying illumination.
It looks great, has a premium feel and weight to it, and the keycaps give a high-quality feel to the overall design.
5. HUO JI Z88 65% Mechanical Keyboard
Pros:
Easily customizable which comes with a keycap puller and spare parts
Outemu Blue switches which are the Cherry MX equivalent
Comes with a detachable USB-C cable
Compact design that fits nicely with 81-keys
Surprisingly sturdy given the price point and size
Includes a keycap puller and other spare materials
Cons:
Outemu blues tend to be too loud for some
Support can be hard to get in touch with
If you're not a fan of the full-size keyboards and want something nice and compact, the Huo Ji Z88 is the preferred option.
This is the same model keyboard I am using to write this article (surprise!), but at the time of me buying it, was under the brand name 'E-Element' instead of Huo Ji.
The keyboard is very sturdy and has little to no flex due to the metal back plating... making this tiny keyboard very durable with little flex.
The design is unique to it's competitors, and is compact. It does take a little bit getting used to due to the layout. But I've been typing on it with no hassle, averaging 110WPM.
One of the designs I didn't like was the choice of keycap font. It's sort of gamerish-like, and I prefer more of a nice minimal font.
But this can be easily fixed by replacing the keycaps with another set.
This keyboard, like the Redragon K552, can be customized to your liking.
It comes with a keycap puller so you can switch out the keycaps easily should you prefer a different aesthetic of keys.
Do me a favor and opt for the white version... with the RGB backlighting, the illumination at night is amazing.
How To Choose The Best Keyboard While On A Budget
There are many factors you should look for before choosing a keyboard.
Especially when you're looking at keyboards at this price range.
But despite the low price point, some of these products are comparable to keyboards on the higher end of the spectrum.
But first, let's back up a bit, and discuss the first thing you think when looking to purchase a new keyboard.
Do you want it to be membrane, or mechanical?
The battle between the membrane keyboards and the mechanical keyboards is a popular one.
In fact, I've explained this very debate in a previous blog post detailing which keyboard was better for typing fast.
And although I had used membrane keyboards for the longest time...
After buying my first mechanical keyboard I quickly decided that mechanical is the way of the future.
Ok, that may have been a little bit of an exaggeration, but trust me.
You won't want to go back after using a mechanical keyboard.
At least that's how it was for me.
But let's dive in a little bit more...
Mechanical Keyboards vs. Membrane Keyboards
There is a distinct difference in the mechanism in which each key is built on.
And this difference is what affects the feel, and sound of the keys when you type.
This is the make or break between the two and is the primary reason why I side with mechanical now.
Membrane Keyboards
Membrane keyboards only allow you to register one keystroke in a single movement.
This is because of how membrane keyboards work.
They have a thin membrane that presses onto the circuit layer which in turn registers the key.
Only being able to register one keystroke at a time is bad for gaming and typing due to its ineffectiveness to be fast.
In gaming, being able to register your keys fast is an important factor to movement in FPS games or casting attacks in MMORPG's.
Not to mention feel the mushy feel you get when pressing a key... it just doesn't give you the same satisfaction that mechanical keyboards do.
But...
There are membrane keyboards out there that mimick the feel of mechanical keyboards.
You won't have as much customization in their looks, sound and feel.
So if you're looking to simply plug and play, a membrane keyboard is still a viable option.
Mechanical Keyboards
Mechanical keyboards register a keystroke as soon as you reach the actuation point when pressing down on a key.
They have a spring-loaded mechanical switch that can be identified by the satisfying sound of the click and unique feel on the key press.
Actuate - The point of which the key is pressed which then registers to the computer.
There are 3 types of mechanical switches that you can choose from that differ in their actuation points:
Actuation Point - The key travel distance where the key is recognized by the keyboard.
Let me show you some examples.
Linear Switches
Linear switches must bottom out (pushed all the way down) to actuate.
They are often very light and need minimal force to get a keypress registered.
These switches are the preferred option for gaming since they need the lightest touch to bottom out.
Tactile Switches
Tactile switches only have to reach the halfway point to actuate.
These switches are the preferred option for typing since you can get instant feedback when you reach the middle 'bump'.
This is also known as a 'tactile bump'.
Clicky Switches
Clicky switches are essentially tactile switches but have a much louder 'clicking' sound.
This makes it easier to know when you've hit actuated the key, and are more popular for those who enjoy that old-school typewriter sound.
When you find a clicky switch that you enjoy hearing, it's super satisfying.
So What Should You Choose? Membrane Or Mechanical?
In my humble opinion... I would go for mechanical.
Mainly because they:
Give you the control to be customized in every aspect
Are aesthetically more pleasing (in general)
Have a tremendously satisfying clicking sounds (this is subjective, some people don't like loud keyboards)
Can be switched out for a more quiet option (switches like the Cherry MX Silent Reds are ideal for workplaces)
Have a wide array of mechanical switches to test and choose from to match your personal preferences
Once I went mechanical, I never went back, and it could be the same for you.
That being said, there is always going to be a place for membrane keyboards.
They are much more portable and lighter and have minimal sound, which is often why offices are filled with generic membrane keyboards.
It really does depend on your personal preference.
So don't dismiss membrane keyboards just yet...
In the list I've chosen, I have 1 membrane keyboard, and 4 mechanical keyboards.
They all have their pros and cons but in general, you have the same criteria, and that is...
Looks & Aesthetics
Straight off the bat, you want a keyboard that will compliment your battlestation or workstation.
One cool feature that has been popularized over the years is control over RGB lighting.
RGB lighting allows you to change the colour of the LED backlighting which shine through your keycaps.
The RGB lighting gives you control to suit the colour scheme of your setup.
If you want your battlestation setup to look aesthetic, you need a keyboard which compliments that.
It's always a good idea to have your keyboard theme match your mouse colour.
And if you want to take it one step further, have your keyboard and mouse match with your battlestation theme.
Durability & Functionality
Durability is one of the most important factors when looking for a budget keyboard.
You want a keyboard that will last you a long time, even at a cheaper price point.
Durability is a focus of many budget keyboards out there.
You want to look for keyboards which have quality and include reputable mechanical switches.
You may come across switches which are considered "brand-knockoffs" of Cherry switches.
But don't be fooled.
There are now many different switch options to choose from.
And each switch has its own set of pros and cons.
Often times you will see switches which are "cherry-equivalents" or "cherry alternatives".
For now, you can have a look at this extensive list of mechanical switches.
Don't get overwhelmed! You don't need to get into mechanical switches till you build your own keyboard...
Dual-Feature Keys
At this type of budget, you are more likely to come across keyboards which are smaller.
These are known as TKL (tenkeyless) keyboards which get rid of the Numpad on the side to save desk space.
Different keyboards come at varying sizes, some lose the Numpad, others even the Arrows and Home, End and Pg buttons.
The most common sizes are:
TKL (Tenkeyless)
75%
60%
40%
There are uniquely designed keyboards out there which can come anywhere between 40% - 75%.
This, in my opinion, is actually better, especially if you have a small desk, or like that minimal look on your setup.
That being said, having the lack of keys means you have limited functionality.
In order to combat this, smaller keyboards tend to have more Function keys (keys that have a dual purpose).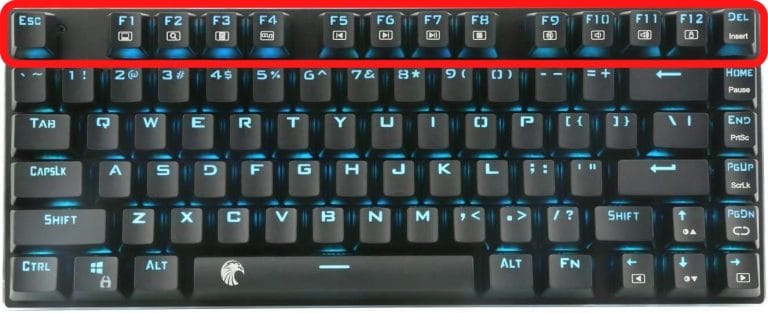 This means by holding down the FN key - and pressing another button at the same time, it will activate a different option.
In the case above, by pressing the FN + F11 key together, it will increase my PC's volume.
Another example is the Ducky One 2 Mini which is a 60% keyboard but has many dual functioning keys which you can utilise.

If you look from a certain angle, the Ducky One 2 has numerous keys which have a secondary function.
Having this sort of set up makes up for the lack of keys all while saving desk space.
Our Winner For Best Keyboard Under $50
If you're looking for the best overall keyboard for its aesthetics, durability, and satisfaction... the Redragon K552 KUMARA 75% RGB Mechanical Gaming Keyboard is our top pick.
Check Prices
We earn a commission if you make a purchase, at no additional cost to you.
The keyboard uses Outemu Blue switches, which are the Cherry MX Blue equivalents. There's no flex, it's designed nicely, built with quality, and looks great straight out of the box.
Since being a TKL keyboard it's smaller. But it for sure makes up for the lack of keys by having double-functioning media keys on the F-row up top.
It's the perfect entry-level keyboard if you're looking to buy a keyboard under $50. And if you want to take it one step further, it will give you a good starting ground if you want to get into customization.
Aesthetic, durability, and satisfaction wise, this keyboard ticks all the boxes for a quality keyboard for this budget.