A gamer is only as good as their tools, and if you want to be the best, you'll need a great mouse to go along with your keyboard and headset.
Lightweight mice have taken the mouse market by storm, with more pros and famous streamers opting for a lighter counterpart.
The reasons for opting for a lightweight mouse are simple, it's lighter, which means it's faster and easier to flick with, they're mostly made with comfortable grips...
And they just work well with gaming overall.
Of course, whether lightweight mice are better than heavier mice - that's up to personal preference.
But in this article, we will explore some of the lightest gaming mice on the market and why you should choose them as your go-to preference!
Let's break down the 7 best lightweight mice of 2021 in-depth!
[lgc_column grid="33" tablet_grid="33" mobile_grid="100" last="false"]
TL;DR: The 7 Best Lightweight Gaming Mice of 2021
1. Logitech G Pro X Superlight (63g)
Pros:
Extremely responsive and accurate
Designed to magnetize to the desk for added stability
Consistent connectivity
Good shape for gamers and regular wrist movements
Wired/wireless options
5 programmable side buttons
[/lgc_column]
[lgc_column grid="50" tablet_grid="50" mobile_grid="100" last="false"]
Cons:
Not as light as many other mouse models
[/lgc_column]
2. Glorious Model O (59g)
The Gaming Mouse Glorious Model O is a top choice without being overly expensive.
As a wired-exclusive model, this mouse offers fantastic connectivity and has a drag-free cord design.
This design is so efficient using the mouse almost feels like it's wireless.
More importantly are the mouse's feet, which are made of high-quality PTFE to help the device glide over your mouse pad.
Also nice are the eSport-specific customization options, including lighting effects, six programmable side buttons, macro support, and customizable polling rate/lift-off distance settings.
[lgc_column grid="50" tablet_grid="50" mobile_grid="100" last="false"]
Pros:
Can customize the mouse's performance for your needs/movement style
Comes with a 180-day replacement warranty and a two-year manufacturer defect warranty
Has a very light, "drag-free" cord
Has an ambidextrous design
[/lgc_column]
[lgc_column grid="50" tablet_grid="50" mobile_grid="100" last="false"]
Cons:
No wireless option
The glossy finish can wear off over time
[/lgc_column]
3. Cooler Master MM710 (53g)
4. Razer Viper Mini (61g)
If you're in the market for a lightweight yet affordable gaming mouse, look no further than the Viper Mini from Razer.
This 61 g mouse offers fast gaming switches, RGB lighting for added aesthetic benefits, and up to six programmable buttons.
Each of these is mechanical for added consistency and reliable performance.
While it isn't wireless, it does offer good connectivity and a drag-free cord design that shouldn't get in your way during critical gaming matches.
With a DPI optical sensor rating of 8500, the Viper Mini is also sensitive enough to compete against pricier mouse options.
[lgc_column grid="50" tablet_grid="50" mobile_grid="100" last="false"]
Pros:
Very affordable
Comes with a flexible cable design
Good movement sensitivity
Has six mechanical and programmable buttons
Comes with RGB lighting
[/lgc_column]
[lgc_column grid="50" tablet_grid="50" mobile_grid="100" last="false"]
Cons:
Not the best build quality – may need replacement after heavy use
[/lgc_column]
5. Xtrfy MZ1 (56g)
The Xtrfy MZ1 is another honeycomb-style mouse with a professionally designed cable and customizable RGB elements. In this way, the mouse offers both style and substance at the same time.
The mouse comes with two extra programmable buttons.
Most important is the mouse's ergonomic shape, which is even more comfortable and designed for pinpoint gaming accuracy.
This sole feature is the mouse's main selling point; in fact, it's the go-to choice if your wrist fatigues using other mice.
[lgc_column grid="50" tablet_grid="50" mobile_grid="100" last="false"]
Pros:
Has one of the best shapes for gaming accuracy and minimizing hand fatigue
Comes with stylish RGB elements along the side
The gaming mouse cord is smooth and snag-free
[/lgc_column]
[lgc_column grid="50" tablet_grid="50" mobile_grid="100" last="false"]
Cons:
Only two programmable buttons
[/lgc_column]
7. Razer Deathadder Mini (63g)
The Razer Deathadder Mini is an affordable and lightweight gaming mouse with a DPI rating of up to 8500, plus an anti-slip grip tape surface at the top: perfect for sweaty hands that might otherwise slip.
It also includes six programmable, mechanical buttons and a drag-free cord design.
While not the flashiest gaming mouse on the market, this workhorse model is a stellar choice for gamers who want consistency more than anything else.
[lgc_column grid="50" tablet_grid="50" mobile_grid="100" last="false"]
Pros:
Comes with an anti-slip grip texture
Has six mechanical programmable buttons
Good drag-free cord design
RGB lighting controls included
[/lgc_column]
[lgc_column grid="50" tablet_grid="50" mobile_grid="100" last="false"]
Cons:
Mouse feet tend to wear down quickly
[/lgc_column]
Buyer's Guide: How To Determine The Best Lightweight Gaming Mouse For Your Setup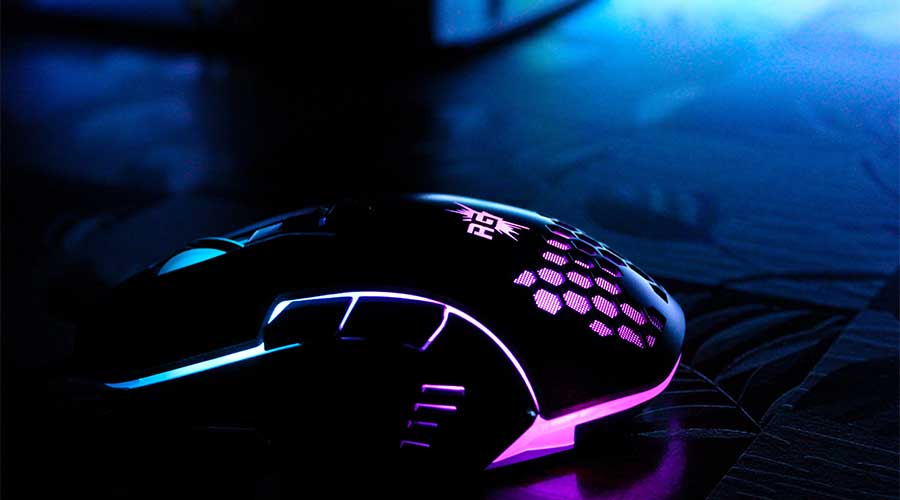 Not sure which lightweight gaming mouse to buy? Let us help you decide with this lightweight mouse buying guide.
Key Factors To Look For In A Lightweight Gaming Mouse
Honeycomb Design – Many lightweight gaming mice come with honeycomb designs since they keep the mouse's weight down without compromising durability too much.
High DPI – DPI or "dots per inch" refers to how many pixels your cursor will move across your screen based on your mouse movement. The higher the DPI rating your mouse can reach, the wider screens the mouse will be suitable for, and the more accurate your movements will be.
Programmable Buttons – Many gamers like extra programmable buttons for their mice since it lets them perform more actions with a single hand in the middle of an important gaming match.
Are Lightweight Mice Better For Gaming?
Sometimes. In many cases, lightweight mice are better for gaming since they help you move the cursor across the screen more quickly without tiring out your wrist or hand muscles.
However, a great gaming mouse needs the elements described above to really be worth your while if you are serious about climbing in the rankings.
If you're on the fence about whether lightweight mice are better than heavier mice, you check out the article we wrote which dives into this topic deeper!
Choosing Between A Heavy Mouse Vs. A Light Mouse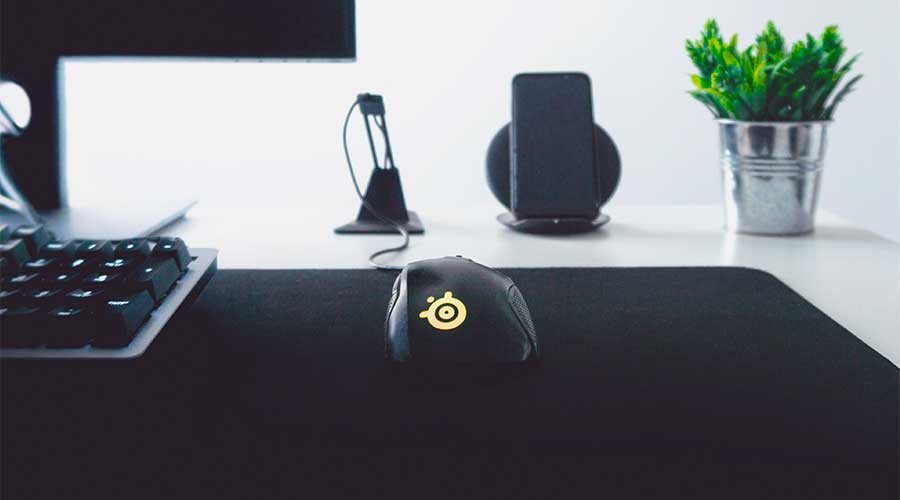 Although the lightest gaming mice can be beneficial to your performance, heavy mice can also be advantageous.
They reduce the sensitivity of your mouse and may allow you to be more accurate as a result.
In contrast, lightweight mice may move your cursor dramatically with a single wrist twitch.
It ultimately depends on your muscle memory and which type of mouse you are most comfortable with.
Frequently Asked Questions
What's The Lightest Gaming Mouse On The Market Right Now?
The lightest gaming mouse above is the Finalmouse Starlight-12 Small model.
This ultra-light mouse weighs in at just 42 g.
What's The Lightest Wireless Gaming Mouse?
Wireless mice are rarer since most gamers prefer the reliability and stability of a wired connection.
The Logitech G Pro X Superlight offers wired or wireless functionality and is the best lightweight gaming mouse, in our opinion.
Our Winner For The Best Lightweight Mouse
The Logitech G Pro X Superlight is ultimately the best choice for a lightweight mouse overall.
It offers precision accuracy, five programmable buttons, and smooth feet for consistent movement throughout your gaming experience.
But the Glorious Model O Gaming Mouse is a good runner-up as well, thanks to its in-depth customization features and solid performance.
If you need something more budget-friendly, the Razer Viper Mini could be right up your alley.
It's great for gamers without being as expensive as many other lightweight gaming mouse models.
Conclusion
In the end, it's up to you to decide which of the above lightweight mice is most suitable for your unique needs.
Think about your gaming style, the kind of mice you usually play with, and what features are most important before making your purchase.
That way, you'll buy the best mouse to suit your preferences the first time.
Already tried one of the mice above? Leave us a comment and tell us what you think!