When it comes to a game like VALORANT, practice is the key to climbing up the ranks fast.
But before you start going ham, learning the ins and outs of the game, you need to ensure you have the right gear to help you reach new levels of gameplay.
Finding the best keyboard for VALORANT is no easy task, with many of the most popular brands like Logitech, Razer, and SteelSeries continually improving their product line, it can be hard to choose.
VALORANT is quickly shaping up to be one of the most competitive 5v5 shooters we've ever played.
It's unapologetically hardcore and rewards quick thinking, lightning-fast reflexes, and deep collaboration on strategy.
A fresh new take on the popular FPS genre, it includes CS:GO's mechanics combined with Overwatch abilities to create a fast-paced game that is addicting and competitive.
Those who practice obsessively and grind to fine-tune their skills are rewarded with glory.
If you're new to the game, or if you've been playing for a while and want to rank up in competitive, it can be hard.
It's important to know how the ranking system works first, and then implement a strategy to rank up fast.
Mastering technically challenging abilities like Yoru's Gatecrash, or Raze' double jump ultimate takes a lot of practice, and reliable gear.
So, to help you get started, we've pulled together a list of what we think are the 7 best keyboards to dominate in VALORANT, which are all designed to catapult your play to the next level.
These keyboards pair up with our best mice for VALORANT perfectly. So if you're serious about your gear, you can check out our guide!
Let's dive in.
Best Overall
Razer Blackwidow TE Chroma
Runner Up
Corsair K70 Mechanical Keyboard
Budget Pick
HyperX Alloy FPS Pro
TL;DR: The 7 Best Keyboards For VALORANT
Razer BlackWidow TE Chroma V2 Gaming Keyboard: Best Keyboard For VALORANT
Corsair K70 RGB MK.2 Gaming Keyboard: Most Comfortable Keyboard
Logitech G915 TKL Mechanical Gaming Keyboard: Best Minimalist Keyboard
SteelSeries Apex Pro TKL Gaming Keyboard: Best For Customizability
HyperX Alloy FPS Pro Mechanical Keyboard: Best Budget Keyboard
Logitech G Pro X Mechanical Gaming Keyboard: Best Keyboard For Simplicity
Ducky One 2 Mini RGB Mechanical Keyboard: Best 60% Keyboard
---
1. Razer Blackwidow TE Chroma
Check Prices
We earn a commission if you make a purchase, at no additional cost to you.
Pros
Unique Green mechanical switches, rated for up to 80 million keystrokes
Compatible with Razer's Chroma software, which allows you to make your own macros or change the RGB lighting
10 key roll-over anti-ghosting.
Sleek design that's easy on your wrists and your fingers
Braided fiber cable, with built-in cable routing
Cons
Lacks dedicated macro keys
No wrist rest as standard
No option to customise the actuation of your keys
A slimline mechanical keyboard that's packed with brilliant QOL features, The Razer BlackWidow TE Chroma V2 is our top pick for VALORANT.
For starters, it's an incredibly responsive keyboard - built around a set of Razer's proprietary Green switches, which offer tonnes of tactile feedback and a really snappy click.
But it's not just about top-tier mechanical switches.
The build quality is fantastic (as you'd expect from a Razer product) and we love the ergonomics too. 
The buttons are close together, but not so close that they feel squashed, and the gentle slope at the bottom of the case means that you'll never have to worry about straining your wrists.
The small profile or case size also leaves you plenty of space to swing your mouse around, which is key to making those all-important headshots or lining up a devastating ultimate.
2. Corsair K70 RGB MK.2 Gaming Keyboard
Pros
Cherry MX Red Speed keys as standard
Dedicated media keys
USB Passthrough, so that you can plug your headset or mouse into your Corsair K70
iCUE compatible, giving you full control of RGB lighting colours and programmable macros
Detachable soft-touch wrist rest
Cons
High price point
Software suite can be fiddly and difficult to use
RGB Lighting isn't particularly bright
It may rank just behind the Razer Blackwidow, but there's no denying that the Corsair K70 RGB MK.2 is one of the best keyboards for VALORANT. 
A full size design with all the mod cons, this fantastic gaming keyboard is built around a set of Cherry MX switches with (unparalleled) 1.2mm actuation points. 
These switches are reliable, tactile, and fast enough to let you pull off some truly astonishing combos. 
The Corsair K70 also boasts some phenomenal anti-ghosting, which means that you can hammer away at multiple keys without worrying about missed presses and the ergonomics are second to none. 
That said, there's no getting around the fact that this is a chunky keyboard - taking up a whopping 112 square inches of desk space with the optional wrist rest attached.
This wasn't a huge issue for us, but it might be worth considering before you buy, although, it's definitely smaller than other full-sized keyboards.
Pro Tip: I would highly recommend attaching the wrist rest, even though it's optional.
The wrist rest alone makes the keyboard 10x more comfortable. Once you get used to it, typing on other keyboards without a wrist rest will feel slightly unpleasant.
3. Logitech G915 TKL Mechanical Gaming Keyboard
Pros
Beautifully crafted TKL gaming keyboard
30 hours of game time on a single charge
Can be connected to multiple devices using Lightspeed or Bluetooth
Slimline, wireless design is a great fit for small or cramped desks
Fantastic software support
Blindingly-fast, low profile switch that's ideal for Valorant
Cons
No wrist rest
TKL design may be off putting for people used to a full size keyboard
The first wireless gaming keyboard on our list, the Logitech G915 TKL is a masterclass in minimalist engineering and slimline design. 
It weighs in at just 3lbs and takes up a minute 89.6 square inches of desk space, which leaves you with plenty of room to move your mouse around.
It's also an incredibly well-built keyboard - made from premium materials and boasting low-profile switches with fantastically smooth actuation. 
Now, it's worth noting that wireless gaming keyboards often get a bad rep, but we've had nothing but good experiences with the G915 TKL.
Logitech has mastered the art of wireless technology, having multiple wireless products in their keyboard range, and even in their mice and headsets.
It uses Logitech's bespoke Lightspeed technology which is designed to offer  >1ms response times and we think that it does a brilliant job of keeping up with the rest of the gaming keyboards on this list.
Slight downsides include the lack of numpad (this is a tenkeyless or TKL design) and a lack of dedicated macro keys.
4. SteelSeries Apex Pro TKL Gaming Keyboard
Check Prices
We earn a commission if you make a purchase, at no additional cost to you.
Pros
Fully-adjustable Omnipoint keys that are unique to the SteelSeries Apex Pro
OLED smart display
Aircraft grade, aluminum alloy frame for enhanced durability
Customizable RGB lighting
Detachable, soft-touch magnetic wrist rest
Cons
High price point
Large and heavy for a TKL keyboard
OLED screen and other features are nice, but they won't actually improve your play
Top pro players like Marved, Insky, and 7ssk7, the SteelSeries Apex Pro TKL is a top-notch choice for VALORANT. Even if it is a bit larger (and heavier) than most Tenkeyless designs.
Its main selling point is a set of (totally unique) Omnipoint switches that allow you to customize the actuation point of each and every key.
And to be fair to SteelSeries, they do a fantastic job of allowing you to pick just how tactile and 'clicky' your keyboard feels. 
Other pros include a metal frame (made from aircraft-grade aluminum) and an OLED display that lets you see important notifications and pop-ups without interrupting your play.
But there are a few minor issues with the SteelSeries Apex Pro, namely the hefty price tag, and the fact that it's bigger and bulkier than most TKL designs.
It won't save you much space, and you're sacrificing a good chunk of keyboard real-estate for a fairly negligible decrease in weight.
The SteelSeries Apex Pro is perfect for those who want customizability over your keys, so you can set your switches to the perfect actuation point.
5. HyperX Alloy FPS Pro Mechanical Keyboard
Check Prices
We earn a commission if you make a purchase, at no additional cost to you.
Pros
Responsive and accurate keyboard with an affordable price tag
Compact design gives you lots of space to move your mouse around
Solid-steel casing is durable and well-built
Choice of Cherry X Red or Blue mechanical switches is nice
Cons
No wrist rest
Short cord (6 feet)
Single-color backlight (red)
Cheaper than most of the mechanical keyboards on this list, the HyperX Alloy FPS Pro is still a great choice for VALORANT.
It's a pretty minimalist TKL gaming keyboard, but it's still got all the features that you need for tactical shooters, including a toggleable game mode that gives you 100% anti-ghosting and N-Key Rollover (NKRO) to make sure that every keypress is detected correctly.
It also comes with a choice of Cherry MX Red or Cherry MX Blue switches so you can choose how tactile your keyboard feels.
Pro tip: Choose Cherry MX Reds if you have irritable roommates because the blues are loud.
It's well built too, with a solid steel frame and durable keys that are rated for 47 million presses
But there's no getting away from the fact that the Hyper X Alloy Pro is an ultra-minimalist keyboard.
The RGB backlighting only has one color option (red) there's no USB passthrough and only one incline setting on the feet, which means that you may find it quite hard on your wrists. 
We also disliked the detachable mini-USB cable at the back, which never feels 100% secure versus the three-prong designs used by companies like Logitech.
But if you want a plain and simple keyboard that performs well and gets the job done, you can't go wrong with the Hyper X Alloy Pro.
6. Logitech G Pro X Mechanical Gaming Keyboard
Check Prices
We earn a commission if you make a purchase, at no additional cost to you.
07/05/2022 12:10 am GMT
Pros
Slimline TKL design is perfect for games like Valorant
Lightning-fast GX switches (Logitech + Romer G's) and advanced signal processing mean it's probably the fastest wireless keyboard that money can buy
Hot-swappable switches give you complete control over your keyboard's actuation on a per-key basis
Fully customizable RGB backlighting
3-step adjustable tilt makes the Logitech G Pro one of the most ergonomic keyboards on our list
Cons
Lacks some of the special features that we'd expect from a keyboard at this pricepoint
No wrist wrest
Not the most comfortable keyboard to type on
At first glance, there's no denying that the Logitech G Pro X  looks a bit plain. A black rectangle without the dedicated media keys, macro buttons or volume controls you'd expect to find on an S-tier keyboard.
But Logitech have always swung for understated designs, and if you can get past its unassuming profile, there's no denying that the G Pro X has got it where it counts.
Boasting a 1ms response rate and advanced key signal processing (KSP), this tournament-ready board promises to be incredibly fast and responsive.
It's also one of the only keyboards to boast hot-swappable switches, that you can change without opening up the case. 
Logitech's G Pro X includes Romer G switches (known as GX switches).
With a selection between Red, Blue and Green variants on a per-key basis, which lends you an incredible amount of freedom. 
We prefer high actuation switches for typing, but like having responsive WASD keys for playing VALORANT so we tried a hybrid setup with Reds for our movement keys and Blue for the rest and boy did it make a difference to our play!
That said, we still think that the G Pro X loses a little ground to keyboards like the HyperX Alloy Pro and the SteelSeries Apex Pro because it's quite basic for its price point, and it lacks a lot of the optional extras that make these keyboards such a joy to use.
A great choice for somebody that wants the last word in speed and precision, and if you like simplicity, then this may be a great choice.
7. Ducky One 2 Mini RGB Mechanical Keyboard
Check Prices
We earn a commission if you make a purchase, at no additional cost to you.
Pros
60% keyboard (it literally couldn't be smaller)
Incredibly high build quality
Slick, black and white case makes it one of the most durable and aesthetically-pleasing keyboards on our list
Cherry MX Brown switches are well suited to games like Valorant
Nice extras like 3 different incline settings and full RGB lighting
Cons
Not a lot of special features here. No USB passthrough, volume controls, etc
Macros can be a hassle to program
Pretty much just a gaming keyboard. You'll need a backup if you're doing other things at your desk
Edging out the rest of the competition, the Ducky One 2 Mini RGB is an absolutely tiny (60%) keyboard that scores bonus points for build quality and ergonomics.
Sure, you lose your arrow keys and a lot of real estate towards the top of the keyboard, but you gain absolutely tonnes of extra desk space and it's also worth noting that this nifty little board isn't as spartan or minimalist as it seems.
It comes with fully customizable RGB lighting, it lets you set your own macros and it's even got 3 different incline settings so that you can 
The version that we tried came with german-made Cherry MX Browns as standard, which we loved.
These are tactile switches with a little bump along the travel path that helps to confirm a successful keypress. 
It goes without saying that this board's not for everyone.
The lack of arrow keys makes basic, day-to-day tasks like navigating a database pretty difficult and there's no denying that you'll miss having dedicated media keys every now and then.
But if you're looking for a dedicated mechanical keyboard that's fast and responsive enough to elevate your gameplay, you should definitely consider this one, because it's honestly one of the best 60% keyboards we've ever tried.
Buyer's Guide: Choosing The Best Keyboard For VALORANT
Feeling overwhelmed by the plethora of S-tier choices?
Don't worry.
We've provided a handy breakdown of the features you'll want to look for, and the extras you can safely skip.
Keyboard Size Doesn't Matter
Most gamers gravitate towards full-sized mechanical keyboards.
They seem like the real deal or a higher-caliber product with more features.
But for games like VALORANT - where there's no real need for complicated inputs, custom keybinds, or macros - you can probably get away with a smaller TKL (Tenkeyless) keyboard.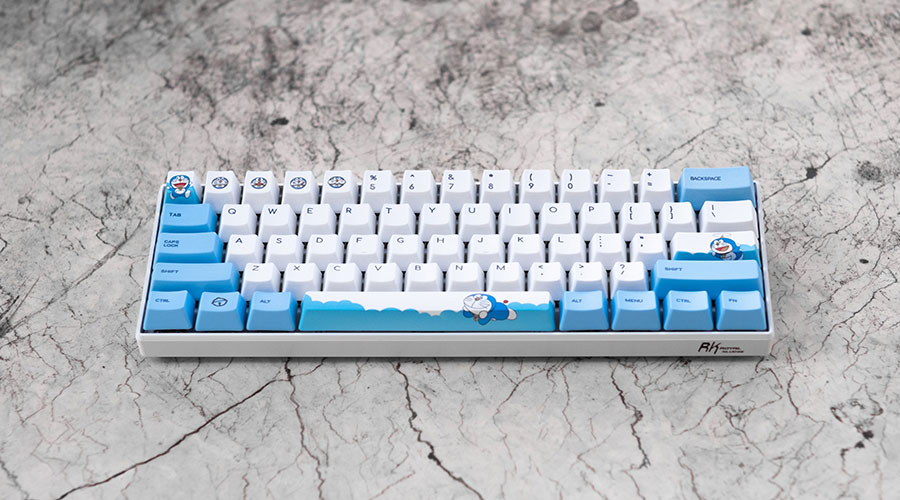 These keyboards don't have the ten keys (which include the numpad to the right of your arrow keys) and they're generally narrower too; built for crowded tournament tables or busy desks.
The upside is that they leave you a lot more room for mouse movement which is great for a game like VALORANT, where you'll want to prioritize aiming and using a small selection of keybinds in rapid succession.
Pick The Right Mechanical Switches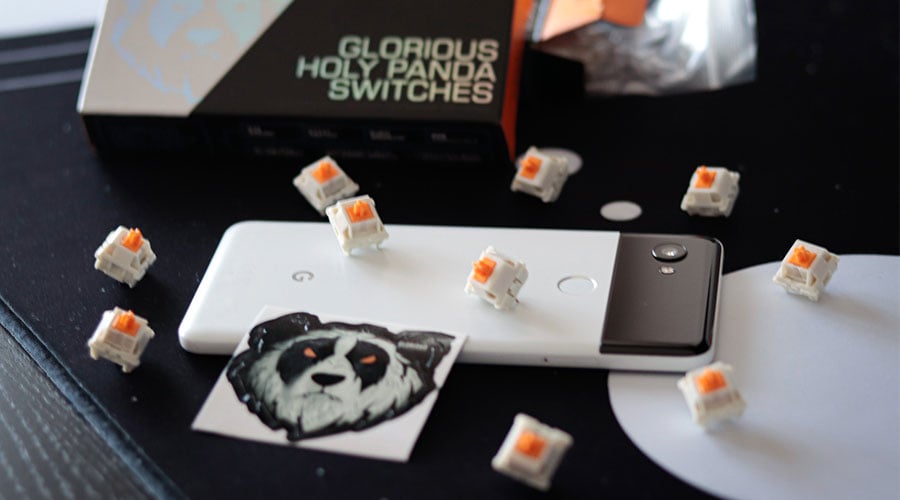 Switches are the mechanical components that sit underneath your keys.
They're responsible for registering keystrokes and they determine how fast, responsive, or 'clicky' your keyboard feels.
Generally speaking, pro-VALORANT players prefer to use very 'clicky' switches because they offer a lot of audible feedback and make it easy to tell that you've successfully executed your combos.
However, from previous research, it is believed that 'tactile' switches are superior due to the slightly faster actuation (they don't include the tactile bump that clicky and tactile switches have).
Your preferred switch style is largely a matter of personal choice but we'd recommend sticking to tried and tested switches whenever possible, because they've been put through their paces, and you know roughly what to expect when you use them.
Cherry MX Switches Are Great, But There Are Many Other Options Out There Too
The Cherry MX Red switches are the industry standard, but MX Browns, Blues, and Greens are also becoming more popular.
It's worth trying options like Logitech's bespoke Romer-G switches (known as GX) if you're looking for something that's responsive.
Other honorable mentions include:
Gateron
Zealio
Kalih
MOD
Panda
Outemu
Razer
Look For The Features That Actually Matter
It's easy to get distracted by flashy OLED displays, dedicated media keys, and USB passthrough functionality found on some keyboards. 
And don't get us wrong, these features are certainly nice QOL (quality of life) improvements, but they rarely impact the way you or your keyboard perform in a firefight. 
So prioritize them if they matter to you, but make sure that you're also paying attention to the optional extras that will make a big difference.
Things like Logitech's advanced key signal processing (KSP) or 100% ghosting/multi-key rollover, which allows high-spec devices to pick up and process multiple consecutive inputs.
Ultimately, these are the features that'll help to improve your play and boost your ranking, so it makes sense to put them first!
Look For A Design That You Like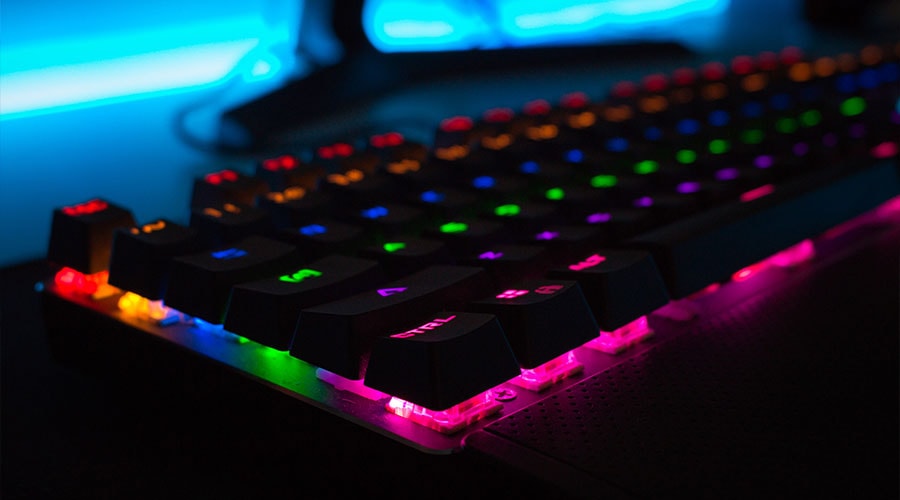 Aesthetics are largely subjective, but they're still an important concern.
You're going to spend a lot of time staring at your shiny new keyboard so make sure that you like the way it looks.
Maybe you don't care about RGB lighting or the color of your keyboard's case, but if you are the kind of gamer that cares about the way their battlestation looks.
You should never be afraid to pick a model because you're a huge fan of its styling its shape or its super-sleek design. 
Our Winner For The Best Keyboard For VALORANT
The Razer BlackWidow TE Chroma V2 is the clear winner for us.
Check Prices
We earn a commission if you make a purchase, at no additional cost to you.
It might lack the dedicated media controls; USB passthrough or near-silent keys found on models like Logitech G915 or the HyperX Alloy FPS.
But it more than makes up for that by being one of the most responsive keyboards we've tried.
Its Razer Green switches are punchy and crisp, it's comfy and it's not too big or cumbersome. 
It's also very well built, and we think it's definitely the best keyboard for VALORANT.
Especially if you're keen to climb the ranks and establish yourself as a noteworthy adversary.