VALORANT is the perfect game for people who find shooting games to be exciting and rewarding.
The game requires phenomenal accuracy with your mouse in order to succeed, which will help train your hand-eye coordination and reflexes.
So, finding the best mouse for VALORANT can help ensure that you won't suffer any downfalls as a result of your equipment.
VALORANT favors those who can out-strategize their opponents.
If you're a previous CS:GO, or Overwatch player, then you might already have a gaming mouse.
But don't go just yet!
In this article, we explore what makes a mouse great for VALORANT and how changing your mouse to one that better suits the mechanics of the game will give you an edge over your opponents.
We've compiled a list of the 7 best mice that are perfect for playing VALORANT.
These mice have been tested, reviewed, and used by professional gamers who have first-hand experience in using a gaming mouse.
These gaming mice can be paired perfectly with the best keyboards for VALORANT too. We did a whole guide on this dissecting which keyboard reigns at the top, feel free check it out!
And if you're serious about climbing up the ranks fast, it's important to first learn how the ranking system works. Feel free to check out our guides.
Anyway, enough talk, let's dive in!
Best Overall
Logitech G Pro X Superlight
Superlight build
Used by shroud, Hiko and TenZ
Wireless charging capabilities
Runner Up
Logitech G Pro Wireless
Flawless sensor
Ultra-fast wireless connectivity
Wireless rechargeability
Budget Pick
XTRFY M4
Lightweight honeycomb design
Comfortable mouse shape
Available for around $80
TL;DR - The 7 Best Mice For VALORANT
1. Logitech G Pro X Superlight
Pros
Used by some of the current top VALORANT players
Subtle improvements over the G Pro Wireless
One of the lightest on the market
Improved clicks to nullify the double-clicking issue
Cons
Comes with a nifty price tag
The Logitech G Pro X Superlight is an ambidextrous mouse ideal for everyday use and gaming alike.
If you consider having a lighter mouse to be better, this is the "better" alternative to its predecessor - the Logitech G Pro Wireless.
Logitech's new mouse design not only improved the already lightweight G Pro X but also improves upon the feet for a smoother glide.
The company has also taken measures to ensure that double-clicking is more accurate with different switches to choose from.
This mouse is a top-of-the-line, feature-rich device.
It's lighter and more comfortable than most mice on the market, which makes it perfect for long hours of gaming.
Plus, many popular streamers and pro-VALORANT players use this as their main mouse when gaming; so you can be sure that your skills will translate into victories!
Household names like shroud, Skadoodle, Hiko, and Tenz all use this mouse, so you can bet that your bottom dollar that this mouse is a beast to be reckoned with.
2. Logitech G Pro Wireless
Check Prices
We earn a commission if you make a purchase, at no additional cost to you.
Pros
Flawless sensor
No connection or lag issues
Ambidextrous shape
Quite light (80g)
Wireless rechargeability
Cons
Quite expensive
Logitech tends to have clicking issues with their mice range
Logitech is one of the world's leading companies in computer hardware.
It has developed many innovative products over its long history, including mice that have been used to win countless games.
This mouse features the latest technology so it makes an attractive choice for those who want a high-quality peripheral at an affordable price point.
It is the result of 2 years of work with professional eSports gamers and is used by a number of notable VALORANT pros, such as SicK, Drone, and many others.
It provides you with an extremely accurate optical sensor, can be recharged wirelessly using Logitech's G PowerPlay system, and has an ambidextrous shape.
The downside to this mouse is that it's not budget-friendly, but the return on investment comes in the payment of glory.
3. Zowie EC2
Check Prices
We earn a commission if you make a purchase, at no additional cost to you.
Pros
Extremely accurate 3360 optical sensor
Ergonomic design
Simple, plug and play, no compulsory software downloads
Company focuses more on performance than being feature-rich
Very popular in the FPS scene as a whole
Cons
Lack of customization (not a con if you enjoy simplicity)
Zowie has recently become a bit of a household name for gamers thanks to its excellence in making the best and most reliable gaming mice.
The company's popularity can be seen through its increasing presence in the competitive FPS scene.
Zowie focuses on what matters: reliability and quality.
Their products have a long track record of success in the competitive scene with gamers who swear by them.
Don't let fancy lights or experimental features mislead you, Zowie has all the features that you need for fragging!
Less focus on vanity features and more emphasis on what really matters - performance.
Zowie has a flawless 3360 sensor alongside a satisfying matte coating and 2 large feet for smooth gliding.
Want something that's as simple as plug-and-play? You got it. Simply plug this mouse in and start dominating immediately.
The appreciation for performance over a feature-rich mouse is what makes the Zowie attractive, especially for serious gamers that only want to focus on improving.
4. Logitech G703
Check Prices
We earn a commission if you make a purchase, at no additional cost to you.
Pros
A veteran mouse that has been out for a long time
Popular within the pro VALORANT scene even till now
Flawless wireless technology
Responsive, accurate sensor
Cons
Shape design can be a hit or miss depending on your grip
Have you ever heard of the phrase "if it ain't broke, don't fix it"? Well, what this means is if a process or idea isn't broken then don't change anything.
Logitech's G703 is a veteran within the FPS mouse game and has one of the longest track records for a mouse being a reliable peripheral to take into battle.
The G703 was one of the first to introduce lossless and flawless wireless technology to gaming mice and still holds up to this day.
The Logitech G703 needs no introduction when it comes to being dependable in fast-paced FPS games - if you don't have any qualms about shelling out $150+ then this would be your best friend during intense "kill or be killed" scenarios.
The ergonomic design of the G703 is a hit or miss, it includes a hump at the back which you will love or hate.
Some people might dislike it and others may love it more than any other mouse they've ever used.
However, there are many pro-players who use this mouse to their advantage such as reltuC, Myth, JASONR and steel.
They all have one thing in common: they know that this product could be the best gaming mouse you'll ever own.
5. XTRFY M4
Check Prices
We earn a commission if you make a purchase, at no additional cost to you.
07/05/2022 12:11 am GMT
Pros
Includes the 'honeycomb' design shape
One of the lightest mice on this list
Simple, and comfortable design
Used by a decent amount of European players and streamers
Cons
Prone to get dirtier easier due to the honeycomb design
XTRFY is a new and upcoming competitive gaming mouse manufacturer that you've probably never heard of.
They're making their rounds to the US/Oceania FPS scene too, with more pros picking up the M4 as their primary gaming mouse for VALORANT.
Believe it or not, the M4 was XTRFY's first attempt at making a lightweight mouse, and we can all agree that they did a pretty good job at it.
The honeycomb design helped to make it much lighter than your average mouse, and with an ergonomic grip on top of that, you're sure to have some intense gaming sessions!
This wasn't enough for them though, so they also included RGB lighting options in the form of three different zones - for when you want subtle looks or more flashy ones.
The XTRFY M4 is a gaming mouse that comes in many different color schemes to compliment your battlestation theme.
The company has been making waves among pros and streamers, such as N1KOLA, HyP, and Meddo.
And the best part? It's a lot more cheaper than many of the gaming mice on this list.
6. Razer Deathadder V2
Check Prices
We earn a commission if you make a purchase, at no additional cost to you.
Pros
Iconic shape, perfectly suiting palm grip users
Satisfying clicks
Extremely accurate sensor
Light and mobile
Cons
Can be a little too big for smaller hands
The Razer Deathadder has been continuously improving its mouse design for years.
Their Razer Deathadder includes an iconic, recognizable shape that will feel amazing if you use a palm grip.
And, it's continuously evolving, with new features and designs coming out each year!
The mouse already feels like it's an extension of your hand, with the amount of control and mobility you have to glide across your mouse pad, it's a no-brainer that the Deathadder is one of the top gaming mice on the market.
In a game like VALORANT, the Deathadder v2 is an awesome choice, which ensures reliability and quality.
Razer has produced their own optical switches for durability, a responsive optical sensor for accuracy, and of course, an extremely comfortable design.
The mouse is one of the heavier ones on this list, weighing at around 82 grams.
It includes high-quality PTFE feet, that will allow you to glide the mouse around as if you're spreading butter on toast.
Used by pros such as Asuna, aproto, patochovsk, and MkaeL the Razer Deathadder V2 is designed for those who value comfortability on their grip, with reliable and impressive performance.
7. Logitech G502
Pros
Reigned at the top of the gaming mouse list for a while
Ergonomic right-handed design
Additional macro buttons that can be customized
Infinite scroll
Cons
The heaviest mouse on the list (weight is subjective)
Logitech is ahead of the game when it comes to designing a mouse that meets the demands of FPS gamers.
The G502 was released in 2019 and quickly became one of Logitech's most popular mice because it met the needs of those who wanted more programmable buttons, and better sensitivity for games like Overwatch or Fortnite.
Unfortunately, the newer models were designed with more popular shapes and technology catered for FPS games, which has caused the G502 to lose its top spot as king of gaming mice.
But this doesn't mean I'm not satisfied with my current purchase; after all, there are few companies out there can match Logitech's attention to detail when it comes to creating a product that will last years on end.
The G502 complements gamers who use a claw-style grip and includes additional buttons that are all easily accessible.
It is an excellent mouse for office work, and you can use the same scroll to bunnyhop in VALORANT (and CS:GO).
Logitech's G502 is a right-handed mouse, with a more ergonomic/gaming type design, and an emphasis on having more control over the mouse with your thumb secured due to the nice groove extending to the bottom.
The G Hub Software features a few cool tricks up its sleeve.
It can be used to bind extra buttons to scripts and keybinds, so the G502 is great for gamers looking for extra customization options that are not too complicated.
The G502 is the heaviest one on this list, but it's also packed with features and functionality. It's perfect for you if you want a mouse that can do everything and have plenty of buttons to use.
The downside to the G502 is that it weighs 120g, which means it's heavier than most other gaming mice on this list.
However, being heavy isn't necessarily a bad thing!
The extra weight makes this mouse more stable in your hand during fast movements like quick turns or shots.
The design also provides an excellent grip so your hands don't slide off when playing an intense game like VALORANT.
So if you're the type to not want a super light mouse, this is the perfect mouse for you.
What Makes A Mouse The Best Mouse For VALORANT?
VALORANT's pacing is considered slower than other high-action FPS games, like Call of Duty and Overwatch.
VALORANT's pace is slower than other FPS games, like Call of Duty and Overwatch.
The TTK (time to kill) involves a lot of guessing, strategizing, and predicting based on sounds - when firefights break out, they can be as quick as downing all enemies within a couple of seconds or a long back and forth battle which allows the opposing team to bring in reinforcements.
Therefore, reacting to your enemies is first is vital, and is the difference between a good entry or failure to establish a position for your objectives.
Another aspect of VALORANT to bear in mind is the natural aiming nature of the game.
Similar to CS:GO, VALORANT uses click-timing dominated aiming.
In a nutshell, click-timing means you must hover your opponent before clicking, thus your accuracy combined with your recoil control is most important.
So what does this mean for your gaming mouse?
Your gaming mouse should have a couple of main features that you will want to look out for.
Let's break it down.
Firstly, What Gaming Mouse Grip Do You Use?
There are 3 different mouse grips (each grip have their own pros and cons, but there are no right or wrong answers) plus a 'hybrid' grip which can be a combination of 2.
Palm Grip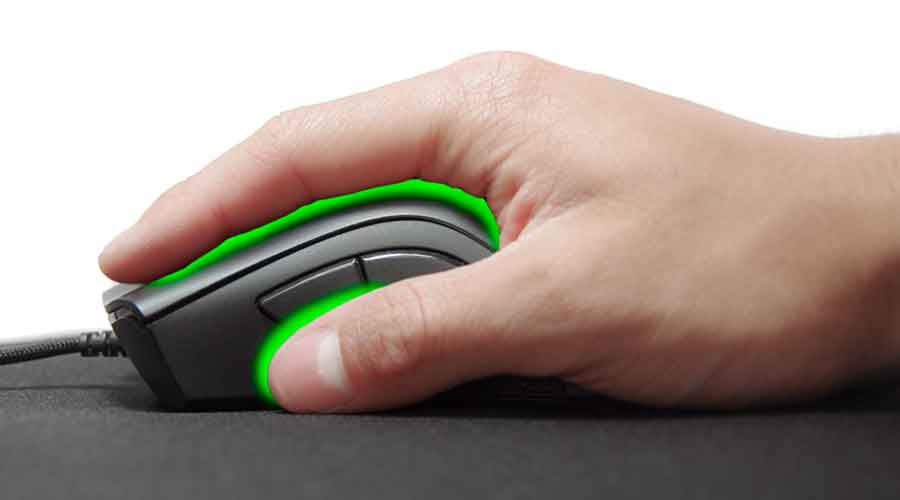 The palm grip is known as the standard grip.
Your palm simply rests on the bulk of your mouse, with your fingers flat on the mouse buttons.
Usually more comfortable and relaxed, but less accurate for clicking.
However, this means your mouse will larger in size, and needs a bigger surface area for your palm.
Fingertip Grip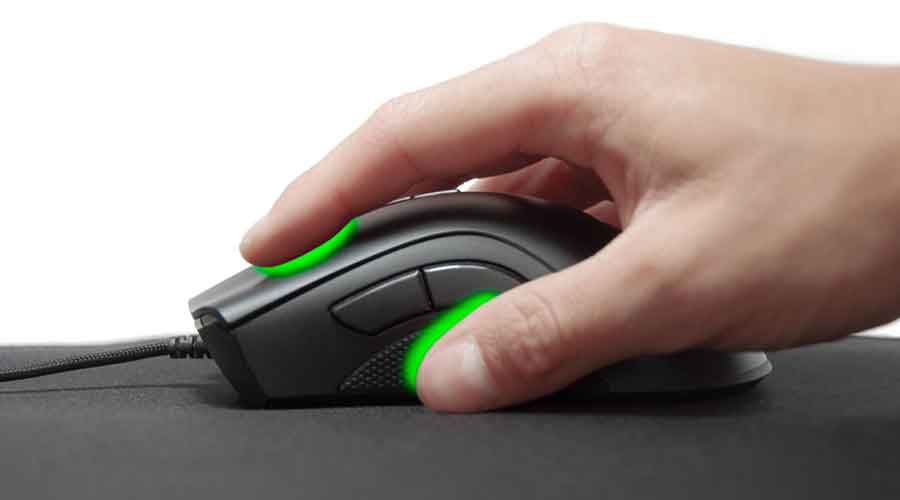 Unlike the palm grip, only your fingertips rest on the mouse, whilst your whole palm is off the mouse, while your armrests behind it.
Your thumb rests on the side of the mouse to keep it stable.
This type of grip allows for more agility (easier to lift the mouse and make faster movements)
Claw Grip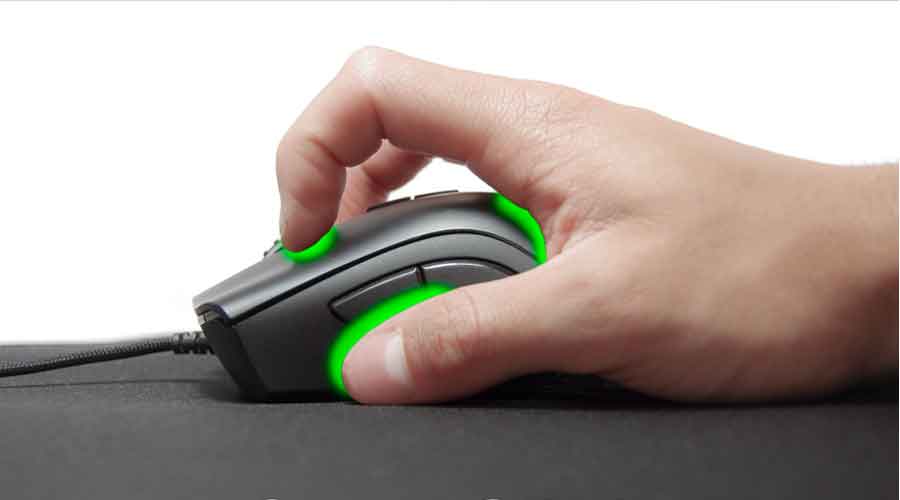 Very similar to the fingertip grip but the bottom of your palm also touches the mouse.
This provides more control over your mouse movements since you get more feedback with more of your hand touching your mouse.
This is often better for a shorter mouse with a taller profile.
Hybrid Grip
A hybrid grip is a combination of 2 grips together.
You won't always be grouped into one grip, so it may hard to classify yourself into one category.
The best way to see this is to just see how your hand sits naturally.
How does the mouse feel on your hand?
At the end of the day, no grip is superior to another, it's all about what feels natural to you.
That way, you can focus on improving your aim while keeping your grip consistent.
General Mouse Components To Look For
When shopping for a mouse in general, there are components that you should look for that are a given.
This includes:
Ensuring the mouse is of good build quality.
The weight of the mouse (pros opt for a lighter solution, but weight is subjective)
Having tactile clicks (more satisfying, better feedback)
Comfortable grip
Smooth gliding on the mouse pad
If you don't have a mouse pad, get a mouse pad.
You won't regret it.
The Important Components To Look For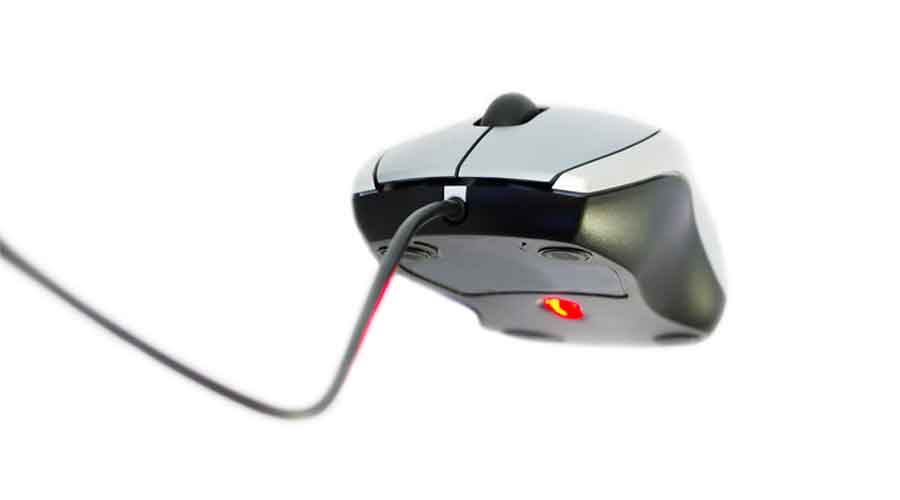 The more important components to look out for when buying are listed below:
Sensors
You absolutely cannot shoot accurately without a good sensor!
The sensor picks up the surface on which you are moving your mouse.
Without an accurate sensor, you'll have to use more energy with each movement while aiming.
This will result in less precise shots and ultimately inaccurate shooting.
That's why we highly recommend buying a mouse pad because this ensures that the surface is smooth and optimized for mouse sensors.
There are 2 types of sensors that are used on a gaming mouse.
Laser Sensors
The laser sensor is the more commonly used sensor for regular mice (not gaming), which means it's more budget-friendly.
The sensor projects a laser to the surface you are using and can be used on any type of surface (even glass).
The problem with the laser sensor is that if your surface isn't smooth, the laser will not respond well to irregularities in its path, causing inaccuracies.
Optical Sensor
The optical sensor is more accurate than the laser sensors and has its advantages.
It uses an infrared LED to illuminate the surface, which means that it can work on any surface, not just smooth ones.
The only drawback is that it won't work on a window panel (sorry guys, won't be able to game on your window with optical sensors).
Optical sensors provide perfect control on higher speeds (when moving your mouse around, e.g. doing flicks).
Optical sensors are known to be more accurate, and are featured in most of the higher-end gaming mice on the market.
DPI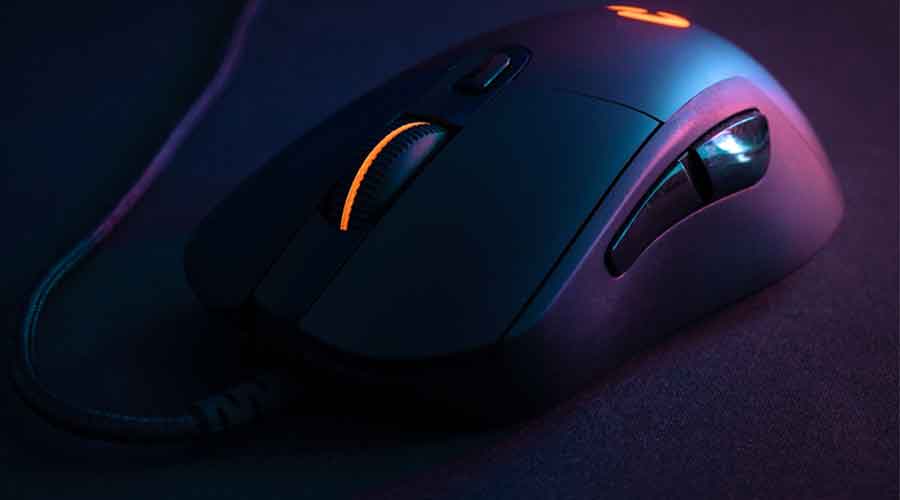 Let me save you some time with DPI.
DPI (dots per inch) reflects how many dots your mouse moves per inch on your screen.
The higher the DPI, the faster your mouse movements will be, and vice versa.
Here's what you need to know; most pros use a DPI of 400 or 800 (sometimes 1200 or 1600 too).
DPI as a 'feature' doesn't really matter.
If you need to manipulate your mouse sensitivity, do it in-game.
If you would like a deeper dive into DPI, we expanded on this topic here.
Weight
Around 21% of pros in VALORANT use 'ultra light' mice (<70 grams).
Why? Most likely due to the easier, it is to move the mouse on the mouse pad.
Here's the thing, mouse weight is subjective (just make sure it's not too heavy - should be <150g at least).
In theory, the lighter the mouse, the easier it is to control, but in my experience and for best practice, test out different gaming mice and their weights.
There has been a recent trend where gaming mice manufacturers now implement the 'honeycomb' design into their mice to make them lighter.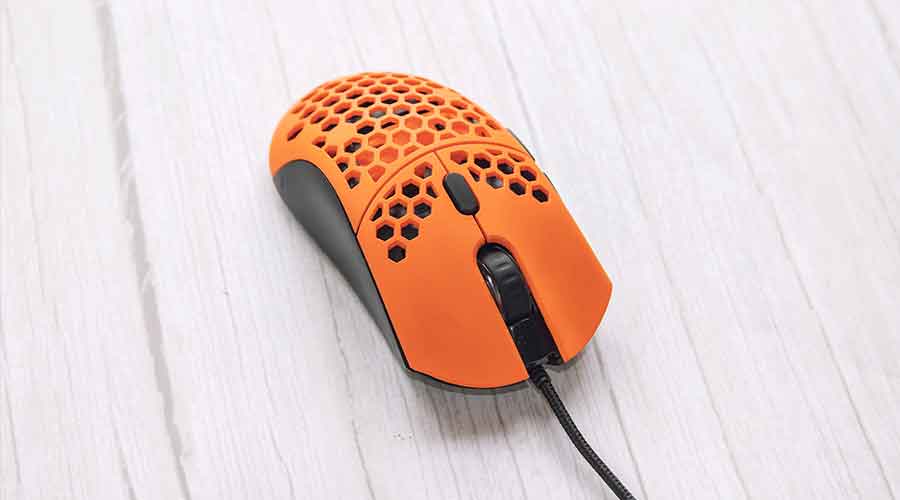 This is an indicator that more people are wanting lighter mice but isn't necessarily what you should opt for.
Again, test out the mouse first before you make your decision.
We've written an article comparing whether lightweight mice are better than heavier mice if you want to dig deeper.
Wireless Vs Wired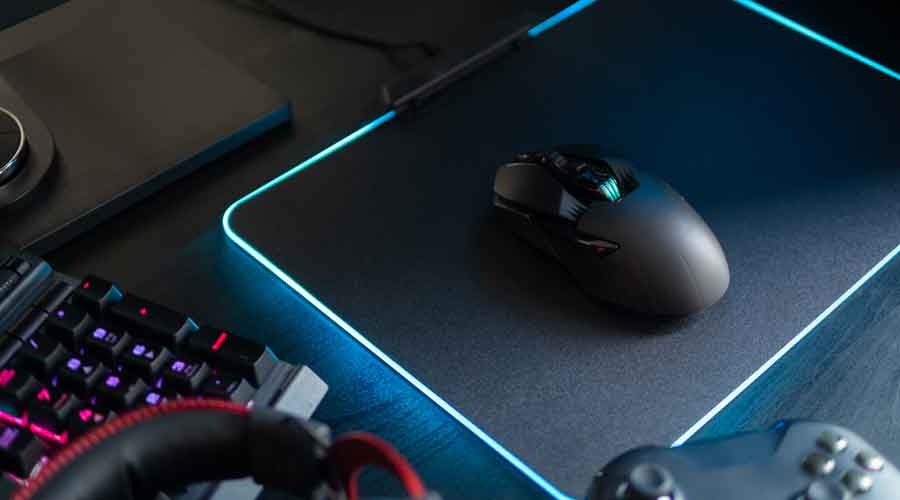 Which type of mouse would you prefer? A wireless mouse that has a cord so it won't get stuck somewhere on your desk, or a wired one with no connection issues?
The decision comes down to personal preference and budget.
Here's a quick breakdown between the two:
Wired
More reliable and will rarely have any connection issues
Could have the cord get in your way, or get stuck on something
Wired cord issues can be solved with a mouse bungee (extra cost)
Wireless
Typically more expensive, since it's more of a luxury feature
Can glide around the whole mouse pad without having to worry about your cord getting stuck
Free movement - no more getting the cord stuck on your table
Software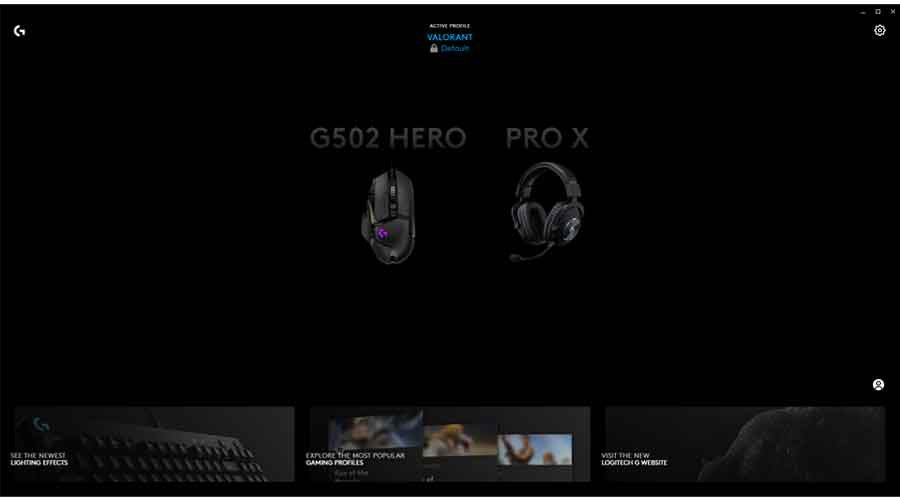 Most of the big players like Logitech, SteelSeries, and Razer all have their own accompanying software to go along with their gaming mice.
These are designed to add flexibility and customization to your gaming mouse, allowing you to bind different keys to your buttons, insert macros and scripts, change the RGB lighting, etc.
From experience, a lot of the software from major brands tends to be a little buggy to use.
But with patches and improvement over time, it would be great to have the option to customize your mouse to your liking.
Our Winner For The Best Mouse For VALORANT
On the Logitech G Pro Superlight X, you can feel confident knowing that this mouse is perfect for your grip type.
You won't be disappointed in its performance, and its lightweight design will never slow you down.
The Logitech G Pro Superlight X has a ton of great features that make it easy to choose as our top pick.
It was designed with professional gamers in mind and is lightweight enough for everyone to use without feeling weighed down by their gear.
Weighing in at a mere 62 grams, the Logitech G Pro Superlight X is a sleek and modern take on gaming mice.
Used by some of the best VALORANT players in the world, it's an intuitive upgrade to its predecessor-the Logitech G Pro.
The lightweight makes it perfect for competitive games of all shapes and sizes, including VALORANT.
One downside is that this mouse does come with a hefty price tag, but the return on investment comes in the form of glory.
So if you're looking to dominate your opponents, choose the Logitech G Pro Superlight as your main mouse!