Most streamers generally have a dual-monitor setup, consisting of the main monitor used for gaming and a secondary monitor used for streaming.
For others, you may be starting and only have a single monitor for streaming, while others will have three or more.
Regardless of your setup, you'll want monitors which are fast, responsive, have limited input lag, and are color accurate.
So we went digging and dug up what we believe are the 10 best monitors for streaming.
Whether you are looking for the main monitor to the game and/or stream with, or a more affordable secondary monitor for extra space...
Use these monitors to provide you with high-quality streaming that you can enjoy using!
Let's dive in.
Samsung Odyssey G9
An all-in-one solution for gaming and streaming. It's equivalent to two monitors side-by-side.
Philips 278E1A
An affordable monitor that has amazing color accuracy, which you could also use for gaming!
Dell UltraSharp U2414H
A monitor that will provide high-quality, color-accurate images. It's only 60Hz, so it's best used as a secondary option.
TL;DR: The 10 Best Monitors For Streaming
Best Main Monitors For Streaming
Samsung Odyssey G9:Best For 4K Streaming
Philips 278E1A: Best 4K Monitor For Colors
Sceptre C305B: Best HD Monitor For Features
MSI Optix MAG27CQ: Best 2K Gaming Monitor
Acer-SB220Q: Best Budget HD Monitor
Best Secondary Monitors For Streaming
Dell UltraSharp U2414H: Best Energy Efficiency Streaming Monitor
Philips 276E8VJSB: Best Ergonomic Color Streaming Monitor
HP VH240A: Best Ergonomic Streaming Monitor
Acer SB220Q: Best Budget Streaming Monitor
Mobile Pixels Trio: Best Portable Streaming Monitor
Best Main Monitors For Streaming
1. Samsung Odyssey G9
Our Pick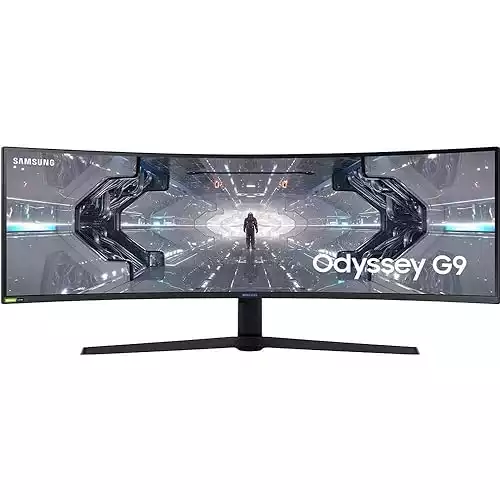 Samsung has a curved ultra-wide VA panel for their Odyssey G9 49" gaming monitor. The G9 as a monitor for streaming provides ample screen real estate for stream chat, games, and other background applications.
The display has a QLED, which produces vibrant and accurate colors for a VA panel and at native resolutions up to 5120w x 1440h, eliminating the need for triple monitor setups across the board.
The monitor is significantly more comprehensive than most monitors on this list. The reason it's the creme-de-la-creme of the monitor world. The G9 works smart and plays fast.
You get a perfect ~1ms input response time at 240 image refresh frequency per second for the price.
It needs to be fast given its immense size. To absolve any graphical glitches and artifacts that may arise.
The G9 is fully compatible with anti-ghosting/tearing technologies like GSync and FreeSync to provide a buttery smooth interface.
This is further improved by the highest range of accurate color production on the list.
The monitor comes with the highly luminous HDR 1000, similar to HDR 600 in color depth but with 1000 nits of brightness! While this ensures the streamer provides the best possible stream experience to their audience, especially for artists and creative professionals.
You can also use local dimming to improve the black levels and add more contrast to the G9; however, it causes more problems here than any help.
It has two display ports, two USB Ports, an HDMI, and a convenient headphone jack for six devices. You could do a triple G9 setup, but at that point might as well get a VR headset.
2. Philips 278E1A
Runner Up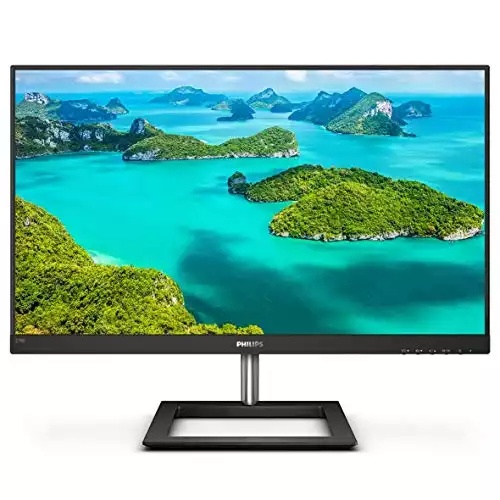 Being an IPS panel, most monitors lack proper brightness to keep the colors from looking underlit.
However, compared to other IPS panels here, the 278E1A has an excellent color for rich image quality with zero image burn because of the LCD technology.
Even if you leave a static image on the screen, it returns to normalcy in a couple of hours.
The Philips 278E1A monitor supports a 4K resolution at 27".
This leads to a relatively tight 26K pixel density per square inch, unlike 1080p displays at 27 inches; this density is the key that provides detailed beautiful-looking text that is pleasing to the eyes at a reasonable price tag!
While the IPS panel consumes more power than its other display counterparts in brightness and energy savings, Philips has compromised for 60Hz refresh rate and scant port connectivity for a higher brightness level, which is a balanced trade-off.
While the 278E1A comes with GamePlus mode, a gaming-oriented feature for FPS games that claim to increase visibility in low light conditions, the community advises it is best left off.
The streaming monitor has only one HDMI port, DisplayPort, and headphone jack for connectivity options but is more than capable of a dual-monitor setup for stream chat 3D software like ZBrush, Autodesk, Maya, and Blender renders.
3. Sceptre C305B-200UN1
It's like the Odyssey G9, minus some bells and whistles at an affordable price. It's ideal for any who doesn't want/can't afford space for streaming on multiple monitors.
The C305B line of 30" curved gaming monitors runs natively at a comprehensive HD resolution of 2560w x 1080h layout that has enough screen real estate to both play and interact with the stream chat.
Pair that with a fast ~1ms response time, at 200 screen refreshes per second, and players will know if they died by hacks or not as every moment is captured.
If you are upgrading from a standard monitor, the performance difference is apparent across the board! Editing livestream recordings on Sony VEGAS or other editors is a breeze!
It's ideal as a primary monitor for live streaming games; Warzone, Doom Eternal, Battlefield 1, Assetto Corsa, and Dirt Rally 2.0 look very immersive.
With Spectre's Picture-In-Picture mode, you never have to look at another display while streaming as it shows two inputs simultaneously on-screen at a time.
A great feature to stream and record on; however, you may encounter a glitch where the display's FreeSync technology will fill and stretch an output to fill the screen.
That's a drawback of FreeSync -to reduce visual artifacts and screen tearing. It's advised you turn it off. Other than that and the moderate color reproduction - the display is faultless.
The contrast ratio is typical of a VA panel; dark/light hues never feel washed out in games.
The display has three HDMI ports up to three devices up to 180Hz for a dual monitor setup and a DisplayPort that outputs at 200hz for those advertised refresh rates.
The display has a convenient 3.5mm audio jack and decent built-in speakers for sound.
4. MSI Optix MAG27CQ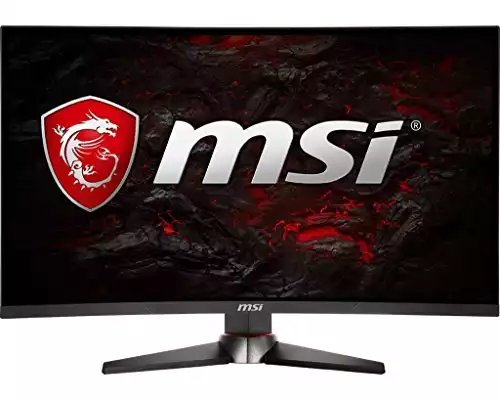 While the MAG 27Q is curved, it's not a widescreen as the CB305B for a streaming monitor. It supersedes a 1440p resolution glare-free 27" display for superior text and image richness.
Whether in a competitive or enthusiast setting, the MAG27Q can handle refresh rate-heavy games. The jump from 60Hz to 165Hz is game-changing.
The MAG 27Q solves most of the complaints of the CB305B as the gameplay looks noticeably vivid and sharper from the tight LED panel pixel density- especially noticeable in Battlefield 1.
The FreeSync technology is better here, too, via DisplayPort and HDMI connections to help reduce stuttering when playing FPS titles. With 2K scrolling through live streams' chat's a joy!
Even as a second screen or multi-monitor setup, the thin monitor bezels aren't as intrusive. Perfect for everyday use and live streaming games without stressing your PC for resources.
5. Acer-SB220Q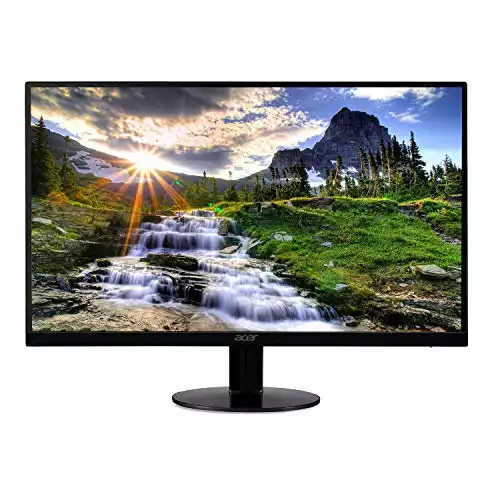 While the best thing about this monitor is the price, in many aspects, this is the ideal monitor to start testing the streaming waters!
The SB220Q is a general-purpose 21" full HD display with which Acer is trying to show that reliable quality doesn't have to be tied to brand name or fancy overcharged sticker price.
The 1920x1080 resolution on a 21" provides excellent pixel density (102pp) for crisp text, even in a game like FFXIII, which is known for text issues. The pictures are lively and vibrant in titles like Kena Bridge of Spirits, and It Takes Two.
Acer has provided ample brightness at 250 nits with above-par contrast during dark scenes; images never feel dull, even from extreme angles, the colors get soft but no drastic color shifts.
The input response is at a reasonable 5ms so that FPS games won't be much of an issue.
The build is exceptionally thin, very accomodating even the most stringent of space restrictions, and lightweight. All this makes the SB220Q the perfect beginner streaming monitor.
Best Secondary Monitors For Streaming
1. Dell U2414H UltraSharp
Our Pick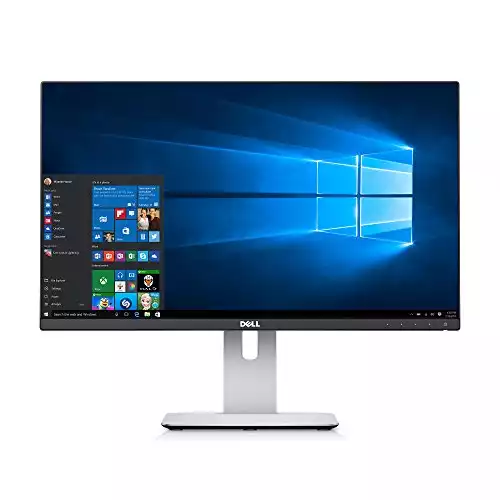 The best thing about this monitor is how much of a gymnast it is. This is the definitive monitor to stream multitasking and managing! It offers a zero bevel design that is ideal for a secondary monitor.
The UltraSharp is a business class 24" Full HD display at a standard 60Hz refresh rate. The great thing about this monitor is the crisp 1920x1080 resolution on a 24" for rich text reading. While the image quality is vibrant for media watching, it is not designed for gaming due to the slow 8ms response time.
Dell has focused more on the panel color and brightness that lives above 250 nits with deep contrast; there are no drastic color shifts even from extreme viewing angles.
The build is very minimalist and purpose-built for a range of movement and accessibility for multiple display layouts. The adjustable swivel, pitch, height, and roll show was made for programmers and writers in mind. If monitors had sports, the UltraSharp would be an Olympic gymnast.
2. Philips 276E8VJSB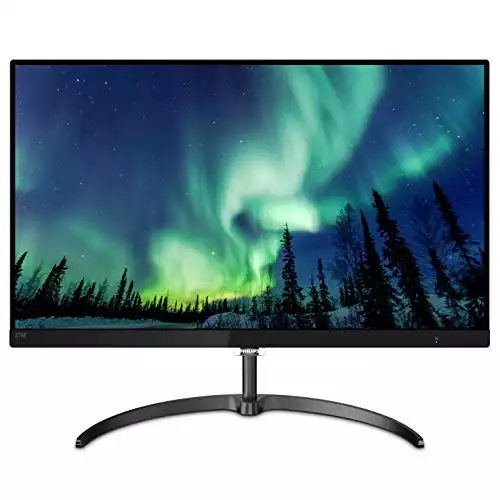 The 276E8VJSB is best used when you need a secondary monitor to produce a more profound and broader colors gamut than the Dell and Acer combined.
In many aspects, this is the ideal monitor to test the streaming color and contrast quality of your camera gear while simultaneously creating and showcasing creative projects on streams!
The Philips 276E8VJSB is a 27" native 4K display. Philips focuses more on artists, photography streamers, and their audience who want to focus on color depth and accuracy.
The 3840 x 2160 resolution on a relatively small 27" provides stellar pixel density for sharp and crisp text, so the reader will be highly readable even if you are on 60-75% zoom on Discord.
The image quality has deep contrasts and vibrant colors in Z brush and Adobe Photoshop to watch fan-made submissions in their excellent color quality.
The screen is ample bright but suffers from backlight bleeding in dark scenes; this is more prevalent when working in low light environments.
The build is skinny and accommodates tight desk space restrictions.
3. HP VH240A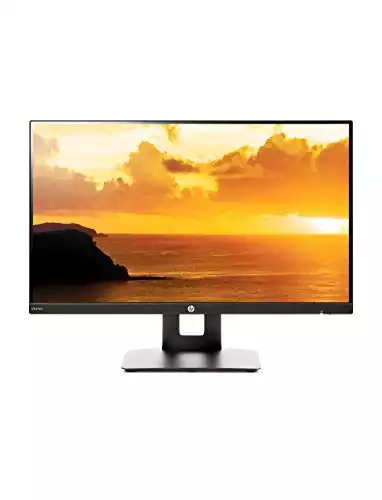 The HP VH240a is all about allowing you to view its glorious 24" inches full IPS HD display wherever it may be on your setup.
The monitor will do landscape and portrait modes easily, which is also why it is widely regarded as one of the most ergonomic monitors on the market. The fully adjustable stand reduces eye strain to find optimal viewing angles.
While the monitor is at the bottom as a gaming monitor, the 5ms at 60 Hz is ample for stream management and multitasking, all while ensuring the monitor faces you at all times. It has speakers instead of an audio jack for headsets.
The display is VESA compatible also and thus makes an excellent choice for multiple monitor streaming setups. For ports, this monitor has VGA, HDMI, and HDCP.
4. Acer SB220Q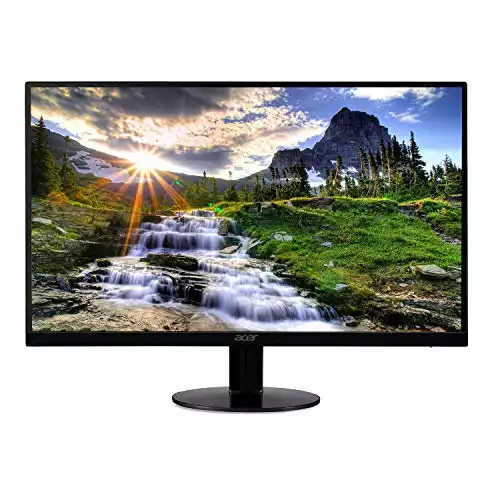 While the best thing about the SB220Q is the price, in many aspects, this is the ideal monitor to start testing the streaming waters!
Acer shows that reliable quality is more than a fancy overcharged sticker price with this general-purpose 21" full HD display.
The 1920x1080 resolution on a 21" provides a tight pixel density (102pp) for crisp text, even in a game like FFXIII, which is known for text issues. The image is lively and vibrant in titles like Kena Bridge of Spirits, and It Takes Two.
Acer has provided ample brightness at 250 nits with above-par contrast during dark scenes; images never feel dull, even from extreme angles, the colors get soft but no drastic color shifts.
The input response is at a reasonable 5ms so that FPS games won't be much of an issue.
The build is skinny, accommodating, even the most stringent space restrictions, and lightweight. All this makes the SB220Q the perfect beginner streaming monitor.
5. Mobile Pixels Trio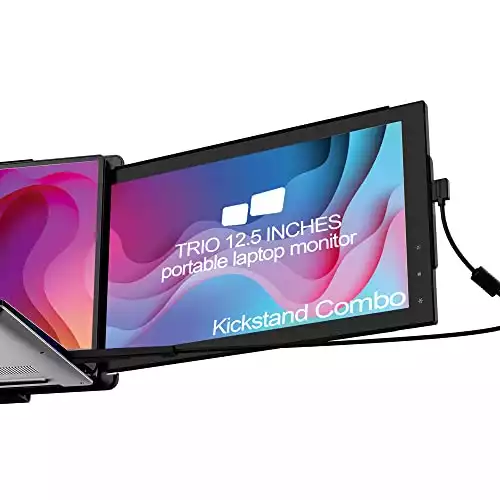 The best thing about the Mobile Pixels Trio is portability; this is the ideal display for on-the-go streaming in many aspects!
It started on Kickstarter as a portable multi-monitor full HD display at 12.5". The team wanted to provide a multi-monitor display that was more accessible than carrying around a tablet.
The 1920 x 1080 resolution on a 12.5" produces a very sharp text and media watching experience even in games like Zelda Breath of the Wild, as the Trio is compatible with PC, consoles, the Nintendo Switch, and very soon the Steam Deck, too, up to a four monitor setup.
The image quality is standard given its form factor, but the utility of the Trio is unparalleled, be it on the PC desk or the handy-dandy LAN party. The brightness is high at 200 nits with decent contrast and slightly soft colors on extreme angles, typical of IPS displays.
The build is thin, the adjustment magnets snap on firmly, and work out-of-the-box. Only a cable is needed to make ports compatible with most non-USB-C devices.
All this makes the Trio portable and perfect for multi-monitor setup streaming.
How To Pick The Best Monitor For Streaming
This applies to both main monitors and secondary monitors.
When choosing a monitor for streaming, you would want to start off with the type of panel the monitor has.
There are three different types of panels:
Twisted Nematic (TN)
In-Plane Switching (IPS)
Vertical Alignment (VA)
They all have their strengths and weaknesses, so let's dive in a little deeper.
Twisted Nematic (TN) Panel
TN panels are best known for providing the best gaming experience possible, which means the emphasis is on performance while the image quality suffers.
The monitors with TN panels generally provide higher response times and less input lag, which is great if you're a serious gamer.
But if you want the best of both worlds -- as in, high-performance AND image quality, you'll want to look at IPS or VA panels.
In-Plane Switching (IPS) Panel
We recommend buying IPS monitors if you want the best balance between performance and image quality.
IPS panels showcase vibrant and color-accurate images but with a low response time.
Although, through recent years, manufacturers have come out with IPS panels with response times comparable to TN panels.
A high-quality IPS panel will have a response time of around ~3ms, which is indistinguishable from TN panels.
Therefore, IPS panels nowadays are the ideal choice not for gaming and streaming, mainly because they have an edge in color accuracy, which provides an immersive gaming experience.
Vertical Alignment (VA) Panel
These streaming monitors produce deeper blacks and better colors than TN panel technologies combined at the cost of higher input lag/response time performance.
Games are not ideal for VA panels unless they have faster response times and minimal input lag.
On the flip side, VA panels are excellent as a secondary monitor.
Still, you'll want to find a monitor with high-image quality to complement the high-quality contrast VA panels have.
Screen Size
The size of the streaming monitor is a personal preference — small ones for space constraints and large ones for immersive gameplay.
However, not all resolutions look great at all sizes- the screen size-resolution ratio.
HD looks great on any single monitor till 26", so pick a monitor that's 26" or below.
For 2K, it's till 53" or below, so on and so forth.
Resolution
It is a measurement that tells how many pixels you can fit in any screen size as tightly as possible. A higher resolution on a reasonably smaller screen has a crisper image.
It is essential when getting a streaming monitor that you'd use for gaming or art.
Refresh Rate
The refresh rate or image update rate of your display is its capability to show a new image multiple times in a second.
This rate is measured in Hertz (Hz). So, if a computer runs games at 144 FPS, with a refresh rate of 144Hz, they match, i.e., the display will show all the 144 images without falling behind or skipping images.
Smooth gameplay at high FPS (frames per second) is PC-dependent.
The refresh rate only affects your ability to see all these 144 images, which will vary display-to-display.
A fitting example is this clip.
See, even with 241 FPS, neither our displays nor the player's capture device was able to show that gun's scope.
A monitor with a capable system above 300Hz refresh rate would arguably be able to see that scope zoom in and out.
| If you want a more detailed guide into refresh rates, check out our article on the best monitor refresh rates for gaming here.
Response Time
This is the time it takes for a monitor to change pixel color transitions. Low values mean fast responses, and high values mean slow responses.
Features
Features can be more connection ports, better energy efficiency, technologies like AMD FreeSync and Nvidia G sync compatibility to reduce visual artifacts and screen tearing.
How To Pick The Best Secondary Monitor For Streaming
You would want to shop for a secondary monitor the same way you would any other monitor, but with more of an emphasis on:
Panel Type
Screen Size
Pricing
Let me explain.
Panel Type
Ideally, IPS panels are best for color accuracy, which is a feature you would want if you were to stream and edit videos.
There are techniques known as "color correction" and "color grading" in video editing that are important to produce a quality video.
So having a monitor which provides accurate and vibrant colors is essential.
You could also find a VA paneled monitor since their contrast is good, but IPS panels beat VA panels color-wise.
Screen Size
I like to have the screen size of my secondary monitor be the same as my main monitor.
This is more of an OCD thing.
But if you want to save money or to spend more on performance and image quality rather than screen size, you can opt for a standard 24" monitor.
Or, if you need an affordable and portable monitor, you can snatch up the Mobile Pixels Trio.
Pricing
You don't have to drop a ton of cash for a secondary monitor.
Find an affordable monitor since you'll be using it as a monitor to watch your stream rather than to game on.
Frequently Asked Questions
Do You Need A Good Monitor For Streaming?
It's essential to have a good monitor for streaming because you'll be spending long hours staring at the screen.
Having a slow refresh rate, a small screen, and low image quality can cause eye strain, and you won't stream as long.
What Kind Of Monitor Should I Get For Streaming?
You can find the best monitor for streaming by checking out our top 10 picks here.
Do I Need 2 Monitors For Streaming?
Having two monitors to stream will help tremendously but is optional.
With a dual-monitor setup, you'll be able to play on your main monitor while monitoring and using streaming tools on your secondary monitor.
Looking at your stream's chat without having to alt-tab allows you to chat quickly and respond to your audience in real-time.
What Monitor Do Most Streamers Use?
Variety streamers will use an IPS or VA paneled monitor.
Pro players and famous streamers will use a TN paneled monitor.
You're Ready To Start Streaming Like A Pro (Hopefully)
The best piece of advice I can give you right now is to open up OBS and hit that record button.
It's better to start gathering momentum rather than to be stuck trying to round up all the streaming equipment you need.
You can always upgrade in the future.
And hopefully, one of the monitors on our list will help you on your streaming journey.
If you're interested in building your streaming setup, check out some of our other guides below!
Happy streaming!