Are you tired of dying in video games and not being able to do anything about it?
Do you have trouble aiming and hitting your enemies accurately?
Do you feel like other players are constantly killing you before they're killed themselves?
Don't worry, these common FPS problems can be solved with some good old-fashioned aim training.
It's time to take control of your game with the best strategies to improve gaming accuracy as well as tricks to avoid common FPS problems that plague many gamers.
We'll explore what makes one game different from another in terms of gameplay mechanics and how those strategies change for the better.
We also wrote a full guide detailing how you can create your own aim training routine. If you're serious about improving your aim, check it out!
Let's dive in.
TL;DR: The Best Aim Trainers (Free And Paid)
Paid Aim Trainers
Free Aim Trainers
What Are Aim Trainers?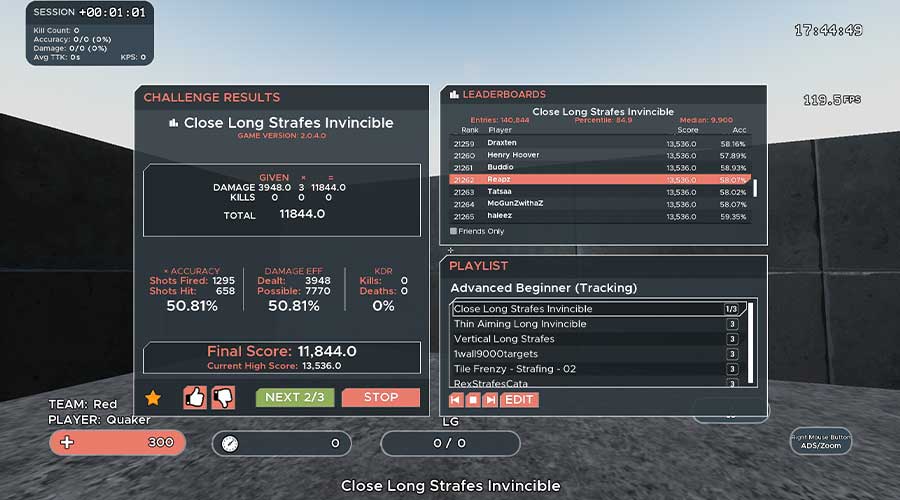 Aim trainers are designed to help with your hand-eye coordination when it comes to gaming.
It's mainly catered to FPS gamers where aim is a big factor between winning and losing a firefight.
Aim trainers are a great way to warm up your aim, and make micro-corrections to your aim to increase your overall accuracy.
Paid Aim Trainers
Starting off, we have the paid Aim Trainers.
The paid Aim Trainers are much better than their free counterparts. For one thing, they have a lot more customization options and an abundance of different aim training scenarios for you to really get specific in your training.
Kovaaks was my first Aim Trainer, and the one I use extensively to improve.
It is by far the best in the market, with a really good community of top-level gamers who use Kovaaks on a regular basis.
There are two primary modes in Kovaaks:
Sandbox Mode: Scenarios built by the community.
Trainer: Default training created by Kovaaks to get you started quickly.
For the most part, you will want to be using Sandbox mode for their community-made maps.
We will explain some full training programs later on in our "Guide" section.
Kovaaks stands out from other Aim Trainers with its customization option. You can customize the settings according to your favorite game to be able to mimic what you're training as much as possible.
For example, if you are training for CS:GO, you can set the settings to the Source Engine which is what CS:GO is built on.
Newer games also get added frequently. You can now play select VALORANT as an engine option too.
To get the most out of Kovaaks, you have to clone your existing game settings into its software.
Aimbeast is one hell of an Aim Training beast.
It has the perfect blend of reality and AI - combined to create a great aim training environment.
Instead of having computerized movements, Aimbeast includes AI-like movements to give you the upper hand in training for real-life game simulations.
Similar to Kovaaks, Aimbeast also implores its users to create their own maps and scenarios - even bots and weapons.
You can create your own playlist and design your own training routine to use as a warm-up or extra training.
Aim Hero is a lightweight version of an Aim Trainer, but that's what makes it so effective.
For some people, aim training is as simple as practicing your flicks, tracking, your accuracy; over and over again.
Aim Hero lacks in customization but tailors towards specific game training.
The first thing that will greet you when jumping into Aim Hero is a prompt asking which game you'll be training for.
Aim trainers have been steadily gaining popularity amongst the more famous games, so Aim Hero offers the following:
CS:GO
Overwatch
PubG
Fortnite
And if you have a potato PC, don't worry. With Aim Hero's lightweight nature, it can be run on low system requirements without any problems whatsoever.
Free Aim Trainers
If you're still not convinced to fork out a few bucks to get a paid aim trainer, then some great free alternatives will have your shooting skills up in no time.
Bear in mind that because they're free, it means customization is limited and you will find yourself playing the same scenarios time after time again.
Regardless, consistency is the key to mastering any skill, but sometimes it can be hard to maintain motivation when you're doing the same thing over and over again.
That being said, practicing the scenarios every day will actually make your aim better in the long run-you just might get bored before then!
Aim Lab is the most popular free aim trainer in the gaming world so far ever since it was introduced to thousands of gamers through popular streamers/pro FPS players, like TenZ.
Aim Lab's easy-to-use UI and fairly challenging scenarios are a winning combination for any gamer looking to improve their aiming skills.
The major downside of this free aim trainer is that there are only 12 different scenarios in total which mean if you play them all out regularly then you're going to get bored quite quickly and won't see any progression.
If you're a CS:GO player, chances are you have probably tried the training map Aim_Botz which is a must-have for any professional CS:GO player.
And the reason to use this specific map to train is simple:
It's native to CS:GO's gameplay meaning you can practice not only your aim but also your recoil spray control too (not available in many aim trainers)
Has been tweaked to suit many different play styles
Is officially free (due to CS:GO becoming free)
There are many other training maps other than Aim_BotZ that help tremendously as well.
The downside to this, however, is that you have to download the full CS: GO game for which could be a hassle if what you're looking for is something quick and light.
But one thing's for sure, the results are undeniable. I have seen many players use Aim_Botz to practice for FPS games with recoil.
These include, and are not limited to:
Rainbow 6 Siege
VALORANT
Fortnite
Apex Legends
CS:GO is a click-timing FPS game, meaning the accuracy of your clicks is important.
This difference between games like Overwatch where you are mainly hovering over your enemy, as opposed to clicking on their head. (We'll go into more detail in the "Guide" section).
Regardless, this is a fantastic way to get some aiming chops under your belt, and if you already play CS, or have before, then jumping immediately into training should be a breeze.
Aimtastic is an F2P (free to play) Aim Trainer that you can download on Steam.
It includes frequent updates with exercises to improve your:
Tracking
Reacting
Reflexes
Flicks
Aim training would be useless if you couldn't mimic the same settings as what you play in-game.
But Aimtastic makes it easy for you. It allows you to convert your sensitivity and FOV (and other settings) to match the in-game configuration of your desired game.
So if you're looking for a free alternative to Kovaaks and want something different from Aim Lab, Aimtastic is your next best option.
Best of all, no matter what system you are using as long as it has 512MB of RAM and an x64 processor, you can give this software a try.
So if you have a potato computer, you can still get those aim training reps in.
3D Aim Trainer is a F2P aim trainer that feels like you're playing the aim-training version of Combat Arms.
What's different about it from the rest? It has realistic 3D animation and feel to make your experience more immersive.
You can use this Aim Trainer to train for many modern FPS games that are out right now.
It includes 120 playable levels with 11 different play modes to choose from.
As always, it includes aim training for:
Flicking
Clicking
Tracking
Target Switching
Strafe Aiming
Where accuracy and speed are most important, 3D Aim Trainer will help you aim faster and more accurately.
If you play games such as CS:GO, Rainbow 6 Siege or VALORANT, you will benefit from training with 3D Aim Trainer.
Oh, and to run it? You don't even need to download anything.
Simply run it from your browser and you're good to go.
If you need to get those extra aim training reps in while you're at work, this is the perfect game to do it.
Honorable Mentions
Conclusion
All the aim trainers on this list are out there to help you increase your accuracy, reactions, and flicks and help you become an unstoppable competitor.
In reality, doing any sort of aim training is better than none at all.
If you are a casual gamer who simply enjoys playing for fun, Aim Trainers may not be for you. You probably won't get that much benefit out of it if you won't dedicate enough time to improve.
Whereas, if you are serious about climbing the competitive ladders in your games (or maybe you want to start streaming, or have high hopes of joining a pro team) then Aim Training will be 50% of your goals.
There are a lot of factors that determine whether you can get the kill or not. But one thing's for sure--having an accurate deadly aim is a must to winning in FPS games! But it's not the end-all.
You need to have an amazing grasp of your game - which is known as gamesense. Your game sense is what will separate you from the weaker players.
So, keep practicing. Let us know down below which of these Aim Trainers have helped you turn into a human aimbot.