Keyboards nowadays have way better build quality, and come at a much cheaper price compared to back in the day.
When you first start to upgrade your battlestation setup, the first peripherals you look to grab are either your mouse, or keyboard.
For me, it was both, and thus began the journey to finding the best gaming keyboard under $50.
Upon doing research for a great keyboard in general, I had realised that buying a keyboard doesn't have to cost you hundreds of dollars.
Especially if you're just getting into the mechanical keyboard scene, there are a lot of different types of keyboards, switches and builds.
So I decided to grab a budget mechanical keyboard which you would consider 'entry-level'.
I had finally made to switch from membrane to mechanical... and damn! I will never go back.
Below contains a guide I used to determine which keyboard filled the critera for the best keyboard under $50.
And I'm sure you it will help you out too, on your journey to get the best keyboard for your battlestation.
Let's dive in!
TL;DR: Best Mechanical Keyboard Under $50 2020
1. HK Gaming GK61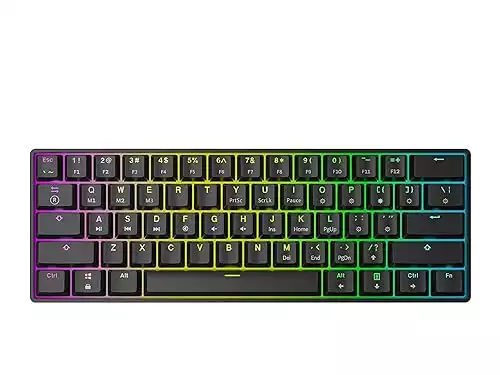 Pros
The durability of the keys is amazing and beats lots of other mechanical keyboards.
The optical switch is one of the fastest I have ever seen, and it makes it that much easier to keep up my pace whenever I'm playing.
The software that comes with it lets you add macros to the keyboard and play with the light settings.
Being at a 60% size makes for much more desk space
Cons
The software that comes with the keyboard has a lot of bugs in it, so you can't always do the things you want to do to personalize it.
Its RGB doesn't really measure up. The only color choices you have are basic colors, so if you are looking for something more interesting, it's disappointing.
If speed is more important to you than any other aspect of gaming, you may prefer this keyboard to all your other choices.
Its optical switch lets you know that you will fly through any game at top speed.
When you have this need for adrenaline, you know having the wrong keyboard can be a disaster.
Your reaction time will probably speed up a lot when you use this keyboard, and if it doesn't it'll be because of your personal limitations. 
One of my favorite parts about this keyboard is that you can customize it pretty much any way you want to.
Being able to change the keycaps somehow makes using this keyboard more fun.
I can have everything exactly how I want it and that's not the kind of freedom you get with a typical keyboard.
With the key puller, it only takes a minute to swap out one key for another.
Even advanced features that you can't normally change can be changed with this keyboard.
I also find it cool that the keyboard literally gives you thousands of choices when it comes to the color scheme.
Sometimes when you're dragging, those colors are enough to give you a burst of energy.
When you get fatigued and you slow down, you're going to end up losing your game.
The changing lights keep you focused on the keyboard, which can help improve your speed and overall performance. 
2. Havit 60%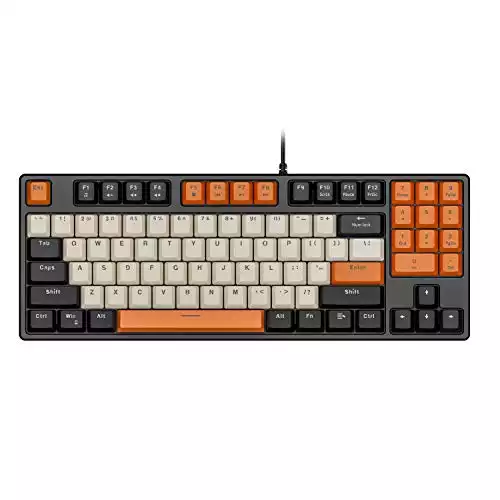 Check Prices
We earn a commission if you make a purchase, at no additional cost to you.
Pros
You can customize the layout for the lighting on the keyboard.
Once you have it set the way you want it, the keyboard will remember your settings next time you use it.
The keyboard's kickstand is convenient when you spend hours playing because you won't put excess stress on your hands.
Cons
During recording mode the keyboard won't perform any other actions.
To change the colors you use on the keyboard you need to install drivers first. Otherwise it won't let you make any changes.
Mechanical keyboards are super helpful in creating an awesome battle station.
They make PC games easier to play for a bunch of reasons.
With each key having its own switch, the keyboard is definitely easy to use and totally convenient.
Its floating keys design is perfect when you need to be able to put all your thought into the game you're playing.
The keyboard is sensitive enough that even a light tap will do, which is helpful when you're playing for hours.
It's also good for extended periods of gaming because the wrist rest is really comfortable.
And the cool part is that you can remove the rest anytime you need to, since it may get in the way early in your gaming session when you feel like you don't need it.
With 14 backlight modes to choose from, you can set the light to your current mood or to the time of day.
The main reason I prefer this keyboard to others is because its of its ability to record.
I love this feature because it lets you choose the light you want for each of the function keys, which are really important in certain games.
You can also program the colors you want and it records your preferences.
3. Redragon K552 KUMARA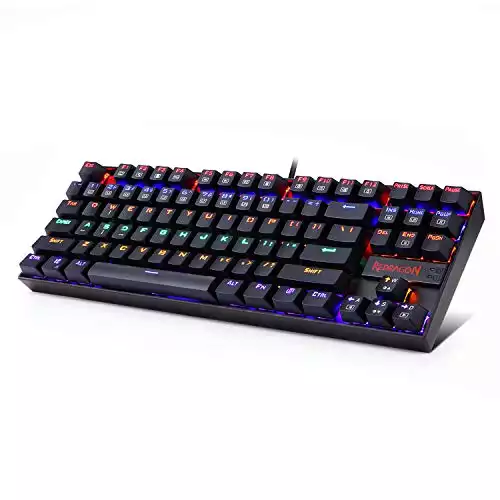 Check Prices
We earn a commission if you make a purchase, at no additional cost to you.
Pros
Its backlight can be adjusted according to your playing conditions.
Whether you need low light, high light, or something in between, you can get it on this keyboard. The different levels of lighting mean you can comfortably play all day and night if you want to.
It's perfect for left-handed players. You can easily use the mouse with your preferred. The two most important keys on the board, the WASD and arrow keys serve the same purpose for certain games.
Cons
You pay a price for this keyboard to be so portable.
To make it that way, they only included 87 keys.
Its lack of a section for NUMPAD makes playing some games a lot more difficult.
If MMO games are your preference this keyboard is not going to meet your needs. Its glaring lack of macro keys can put a damper on the experience of playing online games.
If you are a serious gamer, the K552 Kumara is the keyboard you want to have in your Battlestation. The more time you spend banging on any other keyboard, the worse your game is going to get.
This one is designed so that no matter how heavy your hand is, you won't damage it while you're playing.
Regular lightweight keyboards do not work gaming because if you type aggressively before you know it the keyboard will have migrated from one side of your desk to the other.
This kind of distraction can cost you a competition, which is never cool. 
The lighting effects on this keyboard are amazing.
You can customize the colors you want the keys to be, so it draws your eyes to certain keys faster.
This usually makes it easier with the keys you use the most.
In total, it has 87 keys, which is all you need for most of the games worth playing.
12 of them are multimedia keys, which is really convenient because you don't spend valuable time looking for that one key that you need.
Also, the light on the keyboard can be adjusted to make it brighter or tone it down.
When a gaming session lasts well into the night, you can always see everything on this keyboard without having to strain to see in the dark.
4. DIERYA DK63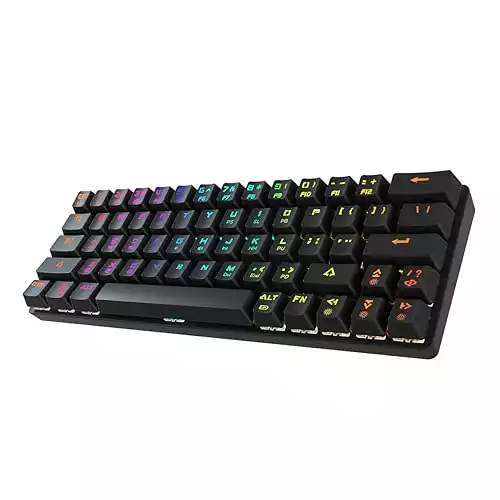 Pros
You get a pair of spare keycaps with this keyboard, which comes in handy if you spend a lot of time gaming and are rough on the keyboard.
The preset RGB keys are really convenient. They let you control the speed of the animation in your games.
It has brown switches so you don't have to hear yourself typing constantly.
The feet of the keyboard is made so that it basically anchors it in place on your desk.
Cons
The shift key on the right side of the keyboard is fairly small and makes it a lot easier to make mistakes when you're caught up in a game.
The layout of the keys on the keyboard can be hard to get used.
Because of their position on the keyboard, you'll have a hard time reaching the F keys unless you are left-handed.
Most gaming keyboards are pretty big, but if portability is your thing, you'll want this keyboard.
It's easy enough to take with you if you're headed to a gaming convention.
Even if you just use it in your Battlestation, it doesn't take up much room on your desk.
This keyboard is also convenient if you rely on Bluetooth devices because you can use one, two, or three with it.
And while these things are great, my favorite thing about this keyboard is that it has twice the battery capacity than you're probably used to seeing.
You can charge it once and use it for an impressive amount of time, which totally makes a difference for serious gamers. 
Visually, this is a fun keyboard to use.
You have seven different colors to choose from, which keeps it easy to look at for long periods of time.
There are eight lighting effects you can choose from and they are all pretty cool to watch. My favorite lighting modes to use are ripple and wave. Both are easy on the eyes, so you can play that much longer. 
One cool thing about this keyboard that I didn't expect is that it has an adjuster so you can have it closer to your hands.
I have had gaming keyboards that didn't have that capability, and they can become uncomfortable to use after a while.
5. Redragon K582 SURARA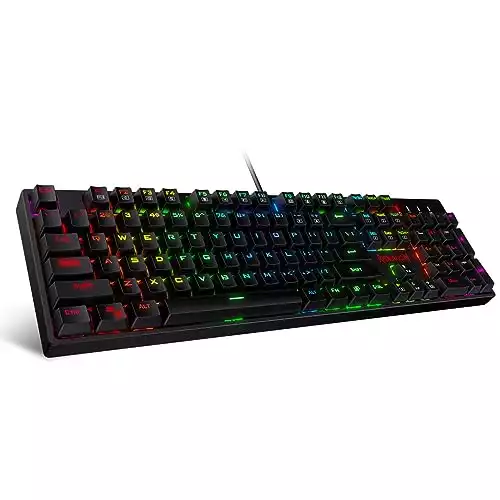 Check Prices
We earn a commission if you make a purchase, at no additional cost to you.
Pros
Its red switches mean you don't have to hit the keyboard particularly hard to get each key to respond.
The F1 to F12 keys make it easy to customize your gaming experience to exactly how you need it to be.
You can set the colors to change automatically so you don't have to stop your game just to do this.
Its tools make it easy to swap switches and take off the keycaps, which is helpful if you need to clean the keyboard.
Cons
Its switch puller is generic, which makes it more likely you will damage the frame, and in general, just makes it harder to use.
You can't set your preferred color for each key, even though keys can have their color changed when the keyboard is in Christmas light mode.
It can't remain turned on all the time, which can be rough for serious gamers who don't like to shut their computer down. If it goes dark and then the lights pop back on, things can start to go wrong.
My favorite part about the Redragon K582 SURARA RGB keyboard is that with 104 keys, it helps me keep the pace with my favorite games.
You even have the option of programming the keys exactly the way you want them.
Reassigning each key to do what you want it to do is the main reason this keyboard is so satisfying to use.
If you set up macros on this keyboard, it makes games a lot easier to play. 
Macros are basically shortcuts you can assign to perform a specific action or to have a dual purpose.
These macro keys are widely used in MMORPG's and FPS games as the ability to perform multiple actions at the touch of a button can increase producitivity.
Another reason why I like using a K582 is that the LED lights are a great enhancement and I love that I can change them at will.
I get bored easily so it's great to be able to switch to a new color when I've grown sick of another one. 
The solid light makes it easier on your eyes when you're wrapped up in an extended gaming session.
Some of the colors you can change the light to are actually really soothing.
For my late-night gaming sessions, I like being able to downgrade to a softer color so I don't end up with a headache.
Using this keyboard lets me play longer without stopping and no gamer is going to be unhappy with that. 
Buyers Guide: Things To Consider When Choosing The Best Wireless Keyboard Under $50
Shopping for a keyboard isn't an easy task.
If you choose the wrong one you're not going to like using it.
So when you are looking to purchase a keyboard there are certain things you need to look out for.
Overlooking these things is only going to leave you unsatisfied. 
Size Always Matters And Keyboards Are No Exception
Whether a large keyboard or a smaller one is a personal choice every gamer makes.
Sometimes a full sized keyboard is more than you actually need, which can be inconvenient when you're in the middle of a game.
If all you need the keyboard for is gaming, you can skip the standard ones that have the number keypad.
Since you don't need it, it just gets in the way, and why deal with that if you don't have to?
Keyboards usually refer to full-sized keyboards. Smaller sized keyboards have multiple names, and include keyboards such as:
TKL (Tenkeyless/80%) - Missing the numpad
75% - Basically TKL but more compact and missing some extra buttons on the right
60% - Missing the numpad, arrow keys, insert, pg up, pg down, home, delete, end, etc.
40% - Missing everything that 60% keyboards are missing including the number row
For a full rundown on different form factors, you can check out this ultimate guide by wooting.
Backlighting Makes Using It More Exciting
A backlight can make a huge difference in any keyboard. Having a keyboard with a backlight is great if you play for hours at a time. It's easy to lose track of time and day turns into night. So when it does, if you don't have a backlit keyboard it can be hard to find the right keys in time.
Since timing is everything when you're a gamer, being able to see those keys is really important. It also just looks cooler to have a backlit keyboard when you're playing all the time.
Being able to set the color you want for the keys you need the most is a huge help, especially if you ever find yourself not being able to locate the right key when playing.
Just check out this battlestation by u/DankManDanny below and how nice and cozy having a backlit keyboard looks with his overall setup: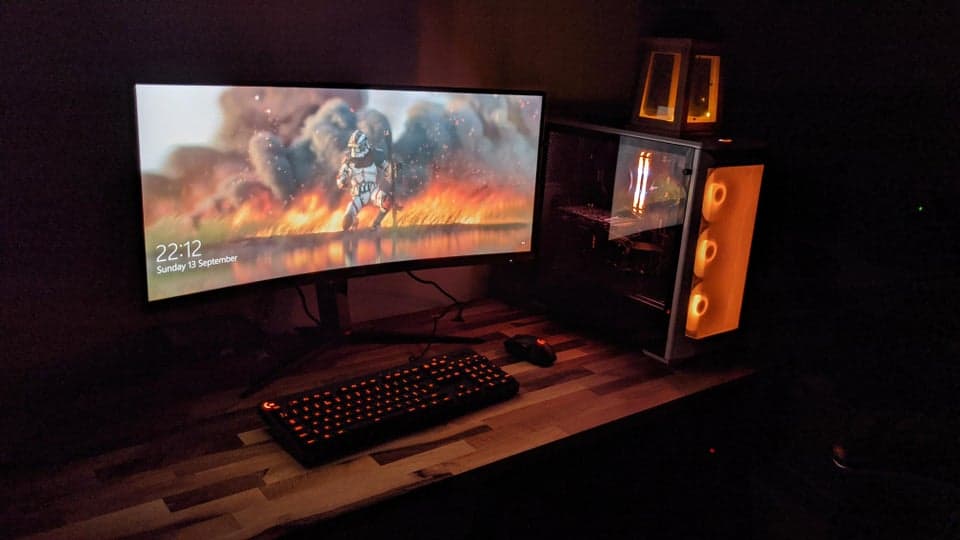 Which Switch Is Right For You?
This is the great debate that most keyboard users struggle with. 
The kind of switch your keyboard has is important.
If you play a lot of tactical games, you'll probably have a lot better luck with a linear switch than a tactile one.
If you need a keyboard for multiple uses, you want to make your purchase carefully.
The general consensus that is that mechanical switches are a smarter choice than, say, membrane switches. 
If durabiliy is important to you, a keyboard with mechanical switches will last longer.
They can also take more wear and tear, so if you're going to use the keyboard heavily, that's something to keep in mind.
You need a keyboard with a quick reponse time and membrane switches just don't give you that. 
In fact, we did a guide on this exact conundrum, so you can decide properly which switch will be best for you.
You can check it out by clicking here.
What It's Made Of Matters
Don't overlook the material of what a keyboard is made from, because this is important.
Ideally, a backplate of metal is the way to go if you plan to use the keyboard a lot, and for a long time.
The last thing you want to do is get used to using a keyboard and then have it not hold up.
While metal holds up incredibly well, ultradurable pastic isn't a bad idea either.
It basically comes down to your personal preferences.
Obviously if you're looking for a lightweight keyboard, you'll want a plastic one. If you are a fast/heavy typer, plastic will hold up better.  
Frequently Asked Questions
Here are some of the questions you'll probably encounter when shopping for a keyboard.
What features should I look for in a keyboard?
You want to look at different keyboards, depending on what you're using it for. Gaming keyboards have lot of extra features that others don't.
So if you only have one task I mind for your keyboard, you look for what you need to accomplish it.
For gamers, this means choosing a keyboard with extra keys but no number pad.
When you need one primarily for typing, you'll want the number pad included. 
Features you should be looking for are mainly in the Buyer's Guide section, which includes:
Form Factor (Size)
RGB Lighting
Mechanical Switch Type
Build Material
Do I Require A Wireless Keyboard?
No, you don't need a wireless keyboard, nor is it 'superior' to wired keyboards.
It comes down to personal preference and what's convenient for you.
If you don't want to be limited by a wire, opt for a wireless keyboard, if you want to ensure the strongest, fastest connection, opt for a wired keyboard.
Our Winner For The Best Gaming Keyboard Under $50
It's safe to say that for gaming purposes, you need a keyboard that doesn't limit you.
It needs to have convenient features but still be reliable and able to stand up against everything you throw at it.
Marathon gaming sessions don't go well if you're using a keyboard that isn't up to par.
Taking this into consideration, and evaluating each of the five keyboards, the obvious choice for gamers is the GK61 60% mechanical keyboard.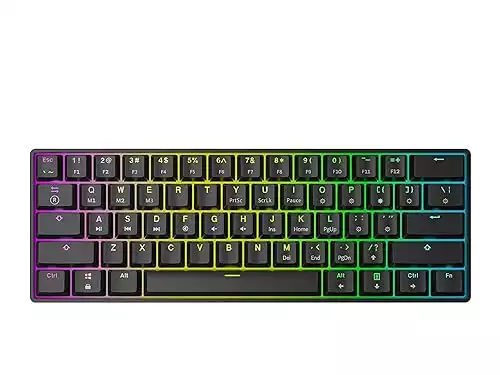 It's capacity for speed proves that it won't ever slow you down, since a lagging game has negative consequences for you.
It is also one keyboard that you can customize as much as you need to, making it the clear winner.