I, and many other gamers out there, understand how difficult it is to find the perfect keyboard for you.
Even if you're not just looking for a gaming keyboard and are hunting for one to work on too, it can be difficult to find one that has the exact feel that is your perfect idea of comfort.
In this DIERYA keyboard review, you will find a fantastic little keyboard that you can get for the fraction of the cost you would normally get for higher-end keyboards.
If you purchase a keyboard that is not suited to your preferences, then you may find your typing and gaming experience to be a lot more clunky and uncomfortable than it needs to be.
This is why a mechanical keyboard such as the DIERYA DK63 60% Mechanical Gaming Keyboard might be more your style, with extra customisability to achieve your perfect setup!
We even featured this keyboard in our best gaming keyboards under $50, so if you're on a budget and looking for a quality keyboard, feel free to check out our post.
Let's get into why this mechanical keyboard may the the one for you.
Things To Consider Before Buying The DIERYA 60% Keyboard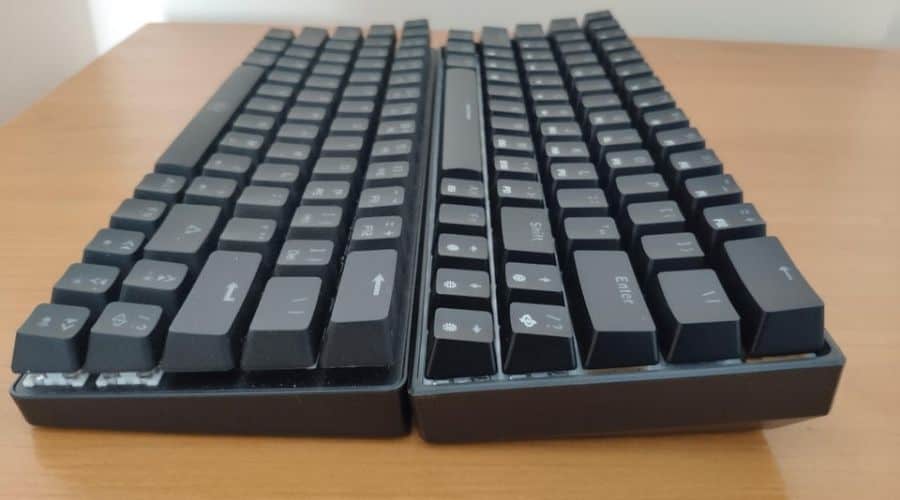 Mechanical keyboards are often most people's go-to, and are ideal for both typists and gamers alike.
Why? Because, in short, mechanical keyboards are usually a lot more efficient - and satisfying! - to use; and that's mainly due to their keys.
The bog-standard keyboards that usually come with laptops, for example, are built differently to a mechanical keyboard - they usually come with low-profile chiclet keys on scissor switches that often use rubber domes to provide 'feedback' when you type.
If you like this style of keyboard, then read no further (or do - I firmly believe everyone should try a mechanical keyboard at some point!), but if you want a bit more out of a keyboard then carry on!
Mechanical keyboards are built rather differently to standard keyboards, and possess features such as:
Different types of switches - these offer different kinds of feedback; the most common ones are red, blue, and brown switches
Different types of keycaps
High key travel
What to Look Out for?
Features such as the type of switch and the type of keycap are things you should look out for in a mechanical keyboard, though oftentimes these are customisable anyway.
You may also want to decide on:
Size (full size, tenkeyless, 60%, etc.)
Shape and design
Wired vs. wireless
RGB or no RGB
We will take a look at all of the DIERYA 60% mechanical keyboard's features, so you can see if it's the right keyboard for you!
The DIERYA Keyboard Review Breakdown
Pros
Can be used wired (via USB-C) or wirelessly (via Bluetooth)
Compact 60% design
RGB backlighting
Several versions with different switches
8 hours of battery life
Cons
60% design means it doesn't possess buttons that some may need
RGB lighting is not fully customisable
Some keycap wobble
The DIERYA 60% Mechanical Gaming Keyboard is exactly that - a mechanical keyboard that is of a 60% size (meaning it has no numpad, F keys, or navigation cluster), and is perfect for pro gaming!
It's the ideal affordable alternative to more expensive mechanical keyboards of this size, such as the Anne Pro 2, without skimping on quality and features.
You'll never need to worry about being strapped for space during your next LAN session again; this keyboard is a lovely little compact and light unit that is perfect for small desk spaces or travelling, or pretty much anything else!
If you need keys such as the navigation cluster, however, then this may not be the keyboard for you; but this doesn't mean that mechanical keyboards in general aren't for you!
But, if you are a pro gamer or avid typist with a need for space efficiency, then you've come to the right place!
Take a look at some of the DIERYA DK63 60% keyboard's other features...
Features & Benefits
So we've given you an overview of what the DIERYA 60% Mechanical Gaming Keyboard is about, but I'm sure you're dying to know more; so let's just get straight into it!
Compactness
As you might expect, one of the first notable features of this keyboard is its size.
It's a 60% mechanical keyboard, meaning it's missing some keys that you would find on a full-sized keyboard, such as the numpad, navigation cluster, and the F keys.
For some, this may not be an issue, such as for people mainly looking to play video games, as this helps to increase the keyboard's space efficiency without sacrificing essential buttons.
It also makes this mechanical keyboard ideal for taking out and about with you on your journeys!
Connectivity
To add to its portability, the DIERYA DK63 60% keyboard can also be used wired or wirelessly, so it's easier than ever to take with you and use while on-the-go.
To use this keyboard in wired mode, all you need to do is connect it through a braided cable with a USB-C connection that's also L-shaped to save even more desktop space.
Switching to wireless mode is easy enough, too - all it takes is connecting it to up to three devices through Bluetooth, and you're good to go!
And don't worry too much about using the DIERYA keyboard wirelessly - it's fitted with a 1900 mAh battery that can last up to 8 hours of use with one charge.
RGB
Now, for some of you, this may not be the most important feature - but it's one we need to talk about!
The DIERYA DK63 60% mechanical keyboard comes with full RGB lighting, with 7 color options for static mode, as well as 8 different settings such as 'ripple', 'wave', 'breathing', and more!
These modes can also be changed just through keyboard shortcuts, so you can shift between RGB settings with ease - a feature that I'm sure many gamers will love.
Keys
Now, to get into what many of you probably care about the most - the keys.
Switches
To start off with, let's talk about the switches.
You can purchase this keyboard with a number of different switches, including red, blue, black, and Gateron brown switches.
This means you can pick a keyboard variant that has the exact feel that you want!
Keycaps
The keycaps themselves are comfortable to use, with a curved design that is ergonomic and satisfying to press.
The keys are also rather stable, even the space bar, which can often be very susceptible to wobble in other keyboards.
However, if the standard keycaps aren't quite up to speed for you, then no problem! You can easily switch them out for pretty much any keycap of your choice thanks to the DIERYA's design.
Customer Testimonials
Of course, you don't need to take our word for it - sometimes you need to hear the opinions of others before making a decision on whether or not this keyboard is for you.
However, luckily for you, if you find yourself on the fence then no fear - there are many people out there who loved the DIERYA DK63 60% Mechanical Gaming Keyboard!
Here are a couple of glowing reviews from Amazon that I found while scouring the Internet (though it certainly didn't take long to find good reviews for this unit!):



Alternatives To The DIERYA 60% Keyboard
The GK61 60% Mechanical Gaming Keyboard is very similar to the DIERYA in most of its features, as well as its look - but the one thing that it excels in is RGB lighting.
If you need more customisability in your light colours and modes to keep you alert during nighttime gaming sessions, then the GK61 60% keyboard has you covered, with 16.8 million colour options to choose from.
Be sure to pick this wonderfully colourful unit up if you need extra glow in your life!
True RGB with 16.8 million colours vs. DIERYA's 7 colour options
Greater switch options, including Gateron brown and Gateron yellow
Check Prices
We earn a commission if you make a purchase, at no additional cost to you.
The DIERYA 60% keyboard certainly has enough switch options to keep most players and users satisfied - but a little bit extra never hurt anybody, right?
The Durgod HK Venus certainly seems to live by this motto, and comes in a wide variety of switches, from Gateron to Cherry MX, and even Kailh.
You can feel free to click away to your heart's content - no matter your preference - once you've grabbed one of these mechanical gaming keyboards - you won't regret it!
Greater switch options, including Gateron, Cherry MX, and Kailh in colours such as red, blue, silver, and brown switches
Durable aluminium chassis
Check Prices
We earn a commission if you make a purchase, at no additional cost to you.
The DIERYA DK63 60% Mechanical Keyboard, though a great keyboard in and of itself, has since had a successor - the new DIERYA x KEMOVE DK61 Pro.
This Bluetooth wireless keyboard achieves much of what its predecessor achieved, plus more - it improved greatly in the RGB factor, offering the full set of 16.8 million colours, and also now allows you to change between Gateron Optical Switches with ease - no soldering required!
Though it comes at a higher price, it features upgraded software and a few other minor tweaks here and there - so be sure to check out all of the specifics yourself!
Upgraded software, so more programmability, and greater mode and colour choice for RGB
Durable PBT keycaps
The DIERYA Keyboard, Is It Worth Getting?
So, let's round up the answer to the question "is the DIERYA keyboard worth getting?"
In short - yes.
It's probably one of the best affordable 60% mechanical keyboards out there, and its 60% design is great for users with limited desk space and who can afford to lose a few extra keys, as well as for gamers who need a more compact setup.
It also features lovely RGB lighting, which may give this keyboard an extra point in gamers' eyes - literally and metaphorically!
This DIERYA mechanical keyboard also offers a very attractive price point, and does so while still being a good-quality, effective keyboard for both your entertainment and work needs.
So if this sounds like the keyboard for you, be sure to click here to check the product out for yourself!