Working from home has its perks.
You can wear your pajamas all day, you don't have to commute to work, and best of all - nobody is there to judge you for having a messy desk.
But one thing that's essential for improving your work-from-home experience is a high-quality, ergonomic keyboard.
A keyboard is an essential peripheral that you use constantly and can help you become more productive and make typing more enjoyable.
Below we have reviewed and listed the 5 best keyboards for working from home.
No matter what your preference or budget is, you should be able to find one that's right for you.
So enough talk, let's get started!
You may also like:
Best Overall
Logitech G915 TKL Wireless Low-Profile Keyboard
Low Profile
Wireless Connectivity
Aesthetically Pleasing
Runner Up
Corsair K63 TKL Wireless Mechanical Keyboard
Wireless And Bluetooth Connectivity
Comfortable Detachable Wrist Rest
Cherry MX Silent Reds
Budget Pick
Keychron K6 65% Bluetooth Mechanical Keyboard
Budget-Friendly
Excellent Build Quality
65% Compact Size
TL;DR: The 5 Best Keyboards For Working From Home
1. Logitech

G915 TKL Wireless Low-Profile Keyboard
Check Prices
We earn a commission if you make a purchase, at no additional cost to you.
Pros
Nifty compartment to store your wireless receiver
3 different switches are available (clicky, tactile, and linear).
Looks slick and worthy of a WFH office
Low-profile build for faster typing
Convenient media keys and volume knob
TKL-sized for extra desk space
Wireless connectivity
Cons
Volume knob material could be improved
Only charged via micro-USB (USB-C would be better)
ABS keycaps which don't last as long as PBT
The longer keys have a little bit of rattle
The Logitech G915 first burst onto the scene in June 2020 and ticked all the boxes regarding a high-quality keyboard.
It was the first of its kind, boasting a lightspeed wireless connection that is seamless and has ~1ms delay (which is unnoticeable).
It also has a low-profile build, making typing easier and faster, and a compact TKL size for extra desk space.
In addition to the low-profile build, you have three different height adjustments to choose from, so if you don't like it sitting flat on your desk, you have the option to put it on a comfortable tilt.
The G915 also includes a nifty USB compartment at the bottom of the keyboard, so if you take your keyboard with you, and can keep your USB receiver safe.
And if you listen to a lot of music, or consume a lot of media content for your job, then having dedicated media buttons and a volume knob will make things easier for you.
The volume knob does feel a little cheap, but there's no tactility, and it's convenient to use.
The downside to this keyboard is that it comes at a premium price. The G915 will set you back around ~$230.
If you have the budget for it and value quality over price, then this is one of the best work-from-home keyboards on the market to choose from.
Overall, this keyboard is comfortable, allows you to type faster, has convenient media keys, and comes in three different mechanical switches to choose from, a great addition to your setup.
2. Corsair K63 TKL Wireless Mechanical Keyboard
Check Prices
We earn a commission if you make a purchase, at no additional cost to you.
Pros
Cherry MX Silent Reds which are perfect for co-working spaces
Wireless connectivity
Macro keys to quickly swap from 2.4GHz wireless to Bluetooth
Comfortable, detachable wrist rest
High-quality Cherry MX switches
Cons
Limited to one backlighting color (blue)
No compartment for the wireless USB
Micro-USB charging only (USB-C is better)
The Corsair K63 is a highly rated TKL keyboard that has been around since 2020 and is still considered a top contender for the best keyboard for working from home.
It includes popular Cherry MX Silent Reds, perfect for sharing a co-working space or working late into the night.
It also has a detachable wrist rest, which clamps onto the bottom of the keyboard, which makes typing feel great.
What's great about the K63 is its connectivity. You have two options; a fast 2.4GHz wireless connection or Bluetooth connectivity.
The wireless connection is best for PCs and Laptops where there is no lag between your keyboard and device.
On the other hand, you have the ability to connect the keyboard to any smart device with a Bluetooth connection, which includes your phone or tablet.
The downside to this keyboard is the lack of RGB lighting. You are stuck with a solid blue color, which looks great - but clashes with many setup themes.
There is a new upgraded version of the K63 - the Corsair K70 MK.2, which includes RGB lighting and updated media keys which cost $60 extra. The upgraded RGB version is the better alternative if you don't want to be limited by the Blue LED.
Overall, this keyboard is a great high-profile keyboard that is comfortable and satisfying to type on and would be a great asset to your battlestation setup.
3. Keychron K6 65% Bluetooth Mechanical Keyboard
Check Prices
We earn a commission if you make a purchase, at no additional cost to you.
Pros
Budget-friendly price point
Excellent build quality with no flex
Stock keycaps look great
RGB backlighting
Fast Bluetooth connectivity
Compact 65% size with arrow keys and control buttons
Choose from 3 different switches (Clicky, Tactile, Quiet Linear)
Cons
The ports are located on the left side instead of at the back. The charging port would be much better at the back.
Thin ABS keycaps that are prone to oil which in turn fades
No additional media keys
The Keychron K6 is perfect for those trying out a mechanical keyboard for the first time and comes in a compact 65% size that will save you a ton of desk space.
What's great about the K6's design is that it still includes the arrow keys and selects few control keys, which is great if you still want to use them.
It has excellent build quality, is sturdy, and has no flex, so despite the keyboard being more 'entry-level,' you know they don't skimp out on the quality.
The Kechryon K6 comes with pre-installed custom keycaps with different color variances, so you don't buy extra keycaps to spice things up; the stock keycaps look great.
The Keychron uses Bluetooth connectivity, which for the most part is fast and seamless, and since it's Bluetooth, it can connect to multiple smart devices.
Additionally, it has up to 200 hours of battery life if you use it with backlighting turned off.
If you require a silent keyboard, the K6 offers Gateron Red Switches that are quieter than its clicky counterparts.
Overall this is a great budget-friendly, entry-level mechanical keyboard perfect for your home office if you don't want to spend more than $70.
And if you're interested in getting into customizations for the keyboard, the Keychron K6 has a 'hot-swappable' version for around $40 extra.
4. GMMK Pro TKL Mechanical Keyboard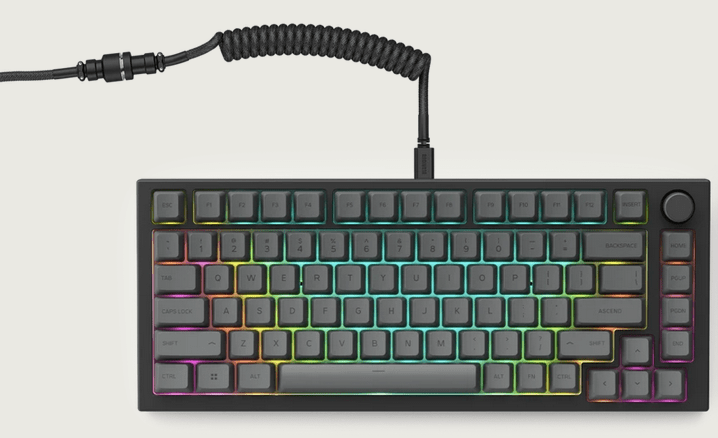 Check Prices
We earn a commission if you make a purchase, at no additional cost to you.
Pros
Great all-rounder keyboard for office use to gaming
75% TKL size that looks great
Includes a convenient volume knob
PBT stock keycaps that look aesthetic and will last a long time.
RGB LED backlighting
Hot-swappable switches
Cons
High price point
Does not include any backup keycaps
The GMMK Pro is one of the newer kids on the block that comes with many excellent features, all packed up into one TKL-sized keyboard.
The build quality is what sets the GMMK Pro apart from the competition; it has an aluminum plate that's built sturdy and has no flex.
And depending on what material you like your keyboards to have, you have the freedom to customize the switch plate to feature either brass or polycarbonate.
It includes high-quality PBT keycaps, which have better build quality and will last longer than ABS keycaps.
The larger keys, such as the spacebar, enter and shift keys (and so on), provide no rattle and are solid.
And finally, this is a keyboard that comes with a UCB-C type connector which ensures low latency and high polling rates.
Many of these features are customizable before you order the keyboard; whether you want to change the switch plating, the mechanical switches, or the color, the choice is yours!
There's no real downside to this keyboard other than its price point, which will set you back around ~$200+ depending on the features you get.
Overall, this is one of the best customizable keyboards on the market that you can use for gaming or office work and would make a great addition to your setup if you wanted a keyboard that does it all.
5. Logitech MX Keys Advanced Full-Sized Wireless mechanical Keyboard
Check Prices
We earn a commission if you make a purchase, at no additional cost to you.
Pros
Comes at a decent price point
Smart and efficient backlighting feature
Low-profile build designed for you to type faster
Excellent build quality
Works seamlessly over multiple wireless devices
Looks professional and aesthetic
Cons
Wrist rest costs extra
Maybe too flat for some
The Logitech MX Keys Advanced is a full-sized keyboard that has the aesthetics of a professional office keyboard but has features that will increase your productivity.
Due to its low-profile nature, the keyboard is basically a 'desktop' keyboard built like a "laptop" keyboard.
It's a low-profile keyboard that sits even lower than the Logitech G915, but the typing experience is hit or miss.
The keys sit flatter and actuate faster. It may look like a laptop keyboard, but it is light years ahead in terms of consistent feel, with the addition of the key pressing being quiet.
Logitech is great at creating wireless keyboards with ultra-fast connectivity, which is also the case for the MX Keys Advanced.
One of the features that stand out with the MX Keys is the backlighting; it turns off after roughly 5 seconds of inactivity, and it will turn back on if you hover your hand over the keyboard or start moving your mouse...
It's smart and efficient, and no other keyboard has this type of backlighting, a great feature nonetheless.
The downside to the keyboard is that it may be a little uncomfortable since it sits so flat.
To solve this issue, you can buy an external wrist rest native to the MX Keys Advanced, although it is an additional ~$25.
If you have the additional funds, then adding the wrist rest is highly recommended.
Overall, if you are looking for a low-profile, laptop-style desktop keyboard that looks professional and has smart, efficient backlighting effects, the MX Keys Advanced is an excellent choice.
Buyer's Guide: How To Choose The Best Keyboard For Working From Home
When choosing an awesome keyboard for your home office, there are some key factors to consider, such as...
Keyboard Size
Keyboard sizes can have a drastic effect on your work if you don't choose correctly.
Here's a brief explanation of the three available...
Full-Sized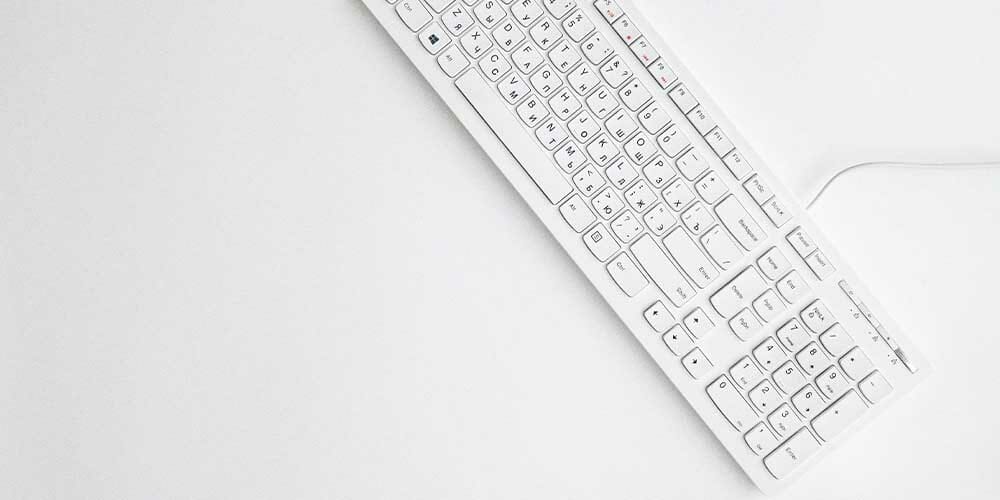 The standard for most 'regular' office keyboards is a full-sized keyboard, like the Logitech MX Keys Advanced mechanical keyboard.
It includes everything you are familiar with in a standard keyboard; the main keys, the F-row, the control buttons, the arrow keys, and the Numpad.
For the most part, if you use the Numpad every day, it's essential that you get a full-sized keyboard.
But if you don't use the Numpad at all, you might as well save the desk space, in which case you can TKL keyboard.
TKL (75%)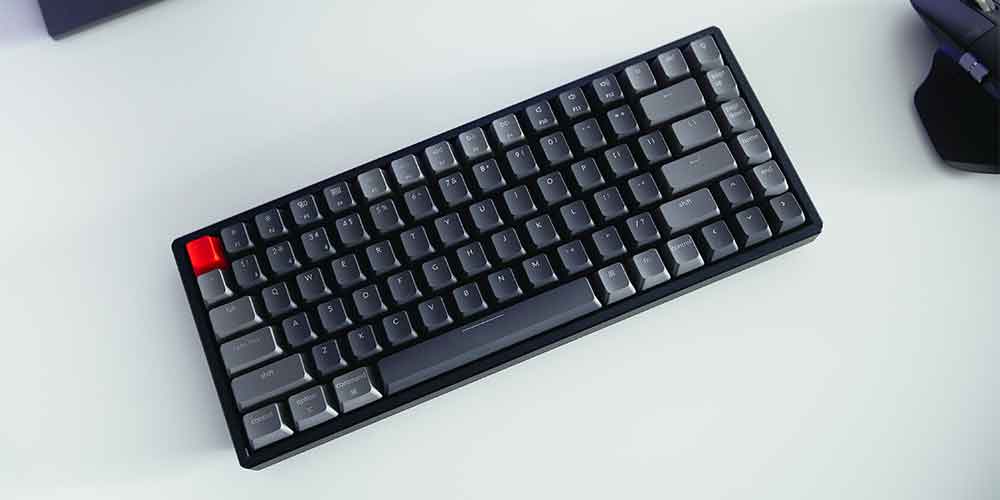 A TKL keyboard includes everything but the Numpad on the side. An example would be the Logitech G915 TKL mechanical keyboard.
These keyboards save a big chunk of desk space and can make your setup more comfortable, as you won't spread your hands that far apart.
It also looks more minimalist than a full-sized keyboard, which in turn looks better on most setups.
If you are the type to keep your desk clean, then snatching up a TKL (or smaller) sized keyboard is the way to go.
65%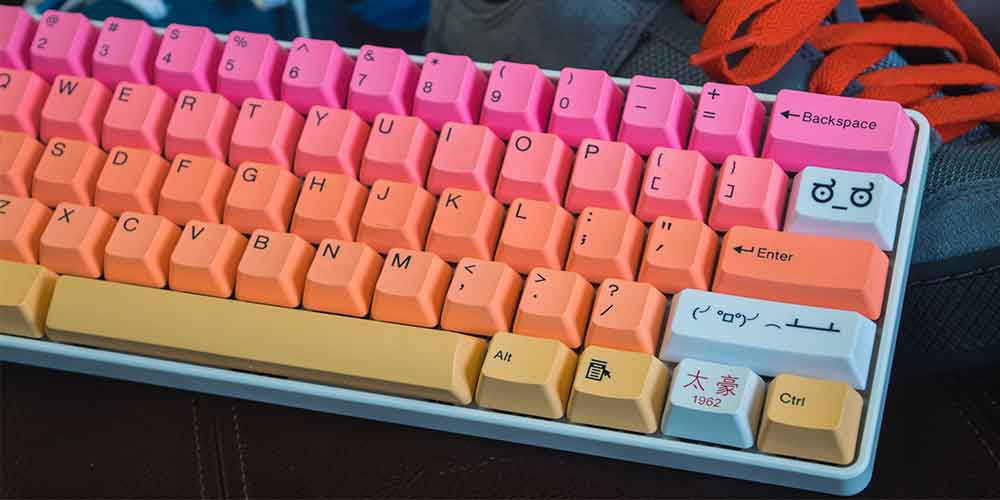 65% keyboards are more compact than TKL keyboards, with the majority of the keys spaced closer together, like the Keychron K6.
The type of keyboard layout varies from keyboard to keyboard, but for the most part, they still include the arrow keys and select few control keys.
If you want a more compact keyboard that is easier to carry around and enjoy having the keys closer together, then a 65% keyboard is your best choice.
Low Profile Vs. High Profile
Depending on your preferences, you can choose between a low-profile build and a high-profile build, which will affect the way you type.
Low-profile keyboards, such as the Logitech G915 or Logitech MX Keys, sit lower than your regular-sized keyboards, which give you a smaller desk footprint.
For many, the low profile allows you to type faster as if typing feels seamless.
For higher-profile keyboards, the keycaps sit higher, so you can see the bottom of the switches. It can add to the aesthetics, but it is a personal preference.
High-profile keyboards are usually the standard for membrane and mechanical switches.
The typing experience is still very comfortable despite having higher actuation points than a low-profile keyboard.
High-profile keyboards can be differentiated by their 'keycap profiles,' which affect the shape at which your keycaps sit.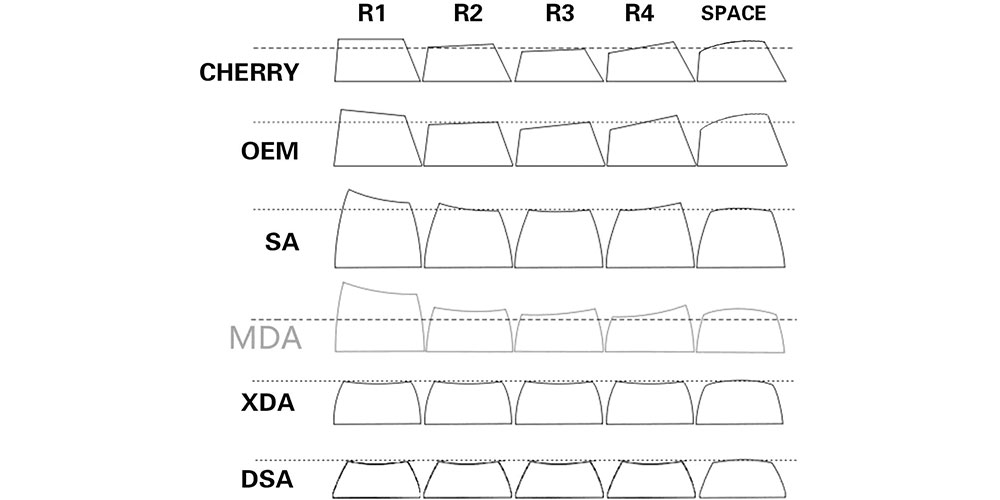 Higher profile keyboards are more popular among the enthusiast community, but it's best to stick with what you enjoy using the most.
For the most part, low-profile keyboards allow you to type faster.
The primary difference between the two being how actuating a key actually feels.
So if you are aiming for typing efficiency, snatching up a low-profile keyboard would be best for your home office.
But remember, both are equally as good, and if you plan to customize your keyboard in the future, then a normal keyboard has more customization options.
Clicky Vs. Quiet
Depending on how your work-from-home office is set up, you will need to decide whether you want to satisfy clicky switches or quiet switches.
Clicky switches are best used if you are the only person in your office since you won't be disturbing anyone else with the clicky sound.
They can be incredibly satisfying to press and to hear, and without anyone to bother, you can type away freely.
On the other hand, if you share a co-working space with others or work late into the night and don't want to disturb the people in your household, then a quiet switch will be better.
Membrane keyboards are usually the quietest as they house 'rubber dome switches which aren't as loud but come at the cost of feeling mushy.
Mechanical keyboards have quiet switches built into both tactile and linear switches, but it will depend on the keyboard you get.
Tactile switches feel better for typing, whereas linear switches actuate faster (since there's no middle bump), so they are better for gaming or for tasks where fast keypresses are critical.
Wrist Rest
Wrist rests are now a common product used in many offices, mainly for ergonomic purposes.
If you haven't used a wrist-rest on your keyboard before, then it will be a definite gamechanger for you in terms of comfort.
It allows your wrists to rest when you're typing, which is especially important if you use a high-profile keyboard as your wrists do tend to hover at the bottom.
It's always better to get a mechanical keyboard that has a detachable wrist rest, so if you move your keyboard, the wrist rest moves with it.
Like the Corsair K63, which has detachable wrist rest that clamps to the bottom of your keyboard.
Additionally, you can buy an external wrist rest that would be more ergonomic; bear in mind you will have to move it around a lot if you move your keyboard.
Volume Knob
The 'volume knob' is more of an optional extra feature that tends to be quite useful.
Being able to manipulate your volume easily without having to click on the sound options on your desktop or hold down the FN key is great.
The volume knob is built for convenience and ease of use and is a great addition to any office keyboard, especially if you need to listen to a lot of media.
Media Keys
Media keys are another convenient feature but are also optional.
Let's be real; most people listen to music when they work, especially if you are alone working from home.
Having these convenient media keys already on your keyboard would be great for being able to change tracks at the click of a button without having to alt-tab into your music app.
Software
Lastly, the software is important when it comes to finding an excellent WFH keyboard.
Most keyboard software allows you to re-program buttons to do different tasks.
Depending on your line of work, you can program buttons to execute certain scripts, or you can re-bind keys to specific actions that you can use to increase your workflow.
Most software also includes keyboard updates to the firmware and allows you to manipulate the RGB lighting.
Unless you want a simple plug-and-play keyboard that works right out of the box, having accompanying software is great, as it allows you to customize your keyboard to your liking.
Our Winner For Best Keyboard For Working From Home
When it comes to choosing the best keyboard for working from home, one keyboard ticks all of our boxes...
Whether it's the ability to type faster, having a wireless connection, looking aesthetically pleasing, and including additional media keys and a volume knob, our top pick is the...
Logitech G915 Wireless TKL Mechanical Keyboard
Everything about the keyboard is great. The build quality is sturdy, it looks great, and the wireless connection is ultra-fast, perfect for everyday use.
It is a premium keyboard with a premium feel and would make a great addition to any home office.
However, if you don't want to spend a ton of money on a keyboard, you can always opt for the budget option, the Keychron K6, which comes at a price tag of around ~$60.
Conclusion
By now, you should determine how to find the best keyboard for working from home and a keyboard that suits your home office.
Whether you prefer having a minimalist 65% keyboard to save on desk space or prefer a loud, clicky keyboard that is satisfying to type on...
There are options out there no matter what kind of WFH you've built.
If you have any of the keyboards listed above, we would love to know your thoughts on how they perform in an office environment!
Comment below and let us know.
Stay safe, stay productive!