Working from home is becoming more and more popular.
Gone are the days of working in a cubicle for 8 hours (or more) each day, we are living in a different age!
Many people want to work remotely, while others need the flexibility working from home offers.
However, working from home can be difficult if you don't have the right equipment to do it with!
In this article, we did our research and found the 5 best monitors to work from home, monitors that suit any budget.
These monitors are designed to last you a long time, and would even be better than what you would usually have at an office.
So enough talk, let's get started!
Best Overall
LG 34WN80C-B 34" Ultrawide WFH Office Monitor
Perfect 34" screen size
Vibrant, accurate colors
Flicker-free backlighting
Runner Up
Dell P2721Q 27" WFH Office Monitor
Clear, sharp text
Great color profile
4K resolution
Budget Pick
Acer CB242Y WFH Office Monitor
Budget-friendly
Accurate colors for entry-level work
Perfect for a cheap dual-monitor setup
TL;DR: The Best Monitor To Work From Home (WFH)
1. LG 34WN80C-B 34" Curved WFH Office Monitor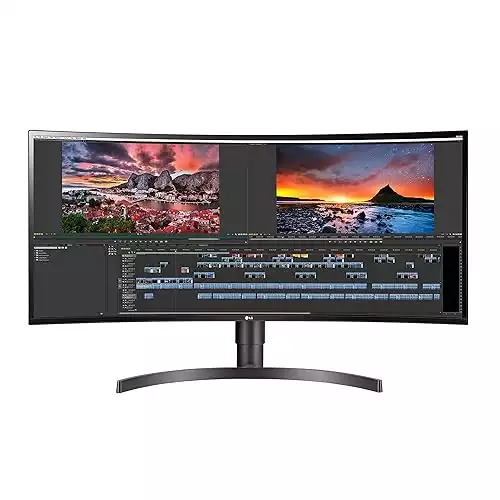 Check Prices
We earn a commission if you make a purchase, at no additional cost to you.
Pros
Perfect ergonomic size
Cost-efficient
Accurate and consistent colors
Flexible monitor stand
Wide range of connectivity options
Cons
Design lacks swivel option
HDR is supported but is basically useless.
The LG 34WN80C 34" is best for stay-at-home workers who value screen size and color accuracy and flicker-free backlighting, all for a cost-efficient price.
Better than a dual monitor (34" is the same height as a 27" just wider). Two 27" monitors can be way too big.
The IPS panel is factory-calibrated with 99% sRGB color gamut and 10-bit color support, which means that you get accurate, consistent colors no matter the angle you are viewing the monitor from.
The LG 34WN80C comes with LG Flicker Safe technology designed to protect people's eyes from flickering backlights that can potentially cause eye damage.
Additionally, having a curved monitor is much better for your eyes and increases your field of view.
The downside to this monitor is that it states that it supports HDR10, but that's not 100% accurate.
Since this monitor has no wide color gamut and doesn't support local dimming, HDR is really just "software emulated."
It will accept HDR10 signals, but it won't increase the image quality; in fact, it's quite the opposite and may make your screen looking worse.
Overall, the LG 34WN80C is an excellent addition to anyone looking for an office monitor to add to their workstation.
It comes with excellent color accuracy, is easy on the eyes, has an ergonomic curve, and comes at a reasonable price!
2. Dell P2721Q 27" WFH Office Monitor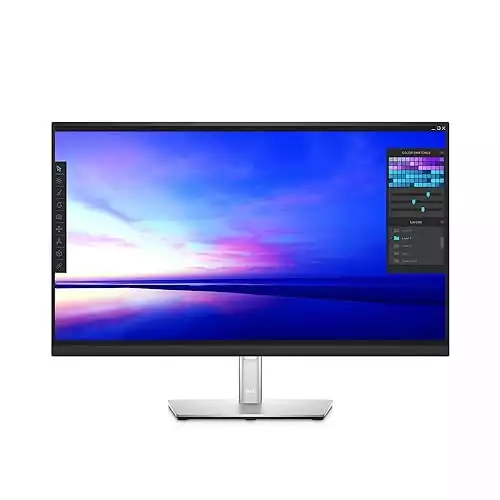 Check Prices
We earn a commission if you make a purchase, at no additional cost to you.
Pros
Displays text well, which is perfect for word processing
Nice IPS panel for excellent color accuracy
Completely adjustable monitor stand
VESA mounting capabilities
Three-year warranty, backed by a Premium Panel Guarantee
Cons
Thick bottom bezel which can be annoying for horizontal tilts
Curved would be better for ergonomics
The Dell P2721Q 27" is best for office workers who want sharper text, accurate photo or video editing colors, and a high-quality 4K resolution.
It has excellent contrast and color accuracy and a flexible stand that allows you to adjust the height, tilt, pivot, and swivel.
And if you need an extra charging port, no problem, the P2721Q has an additional USB-C port that you can use as a charger for your laptop or smartphone...
Plus, the three-year warranty will keep you covered if anything goes wrong.
The P2721Q includes a whopping 4K resolution which means it has a higher pixel density than your usual 1080p or 1440p resolutions.
This is especially good because the P2721Q uses an IPS panel which provides excellent color accuracy and wide viewing angles.
If you have a career where accurate colors are important (videography, photography, etc.), or you want great looking test (programmers), this monitor does it all.
The downside to this monitor is the noticeable ghosting when viewing bright colors. Although it's not a deal-breaker as most monitor ghosting happens during gaming.
Overall, the Dell P2721Q is an excellent choice for those who value great picture quality.
3. Acer CB242Y 23.8" WFH Office Monitor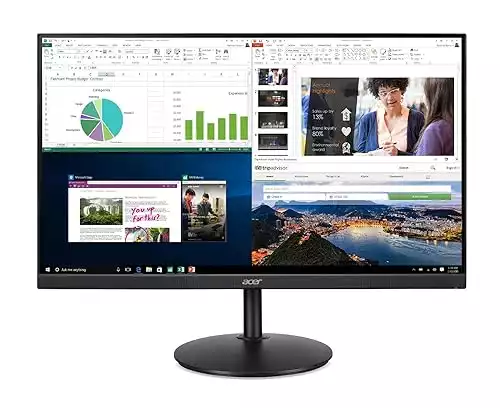 Check Prices
We earn a commission if you make a purchase, at no additional cost to you.
Pros
Extremely affordable
Looks great with a dual monitor setup
Flicker-free backlight
Great for office work and multimedia use
Decent for entry-level color editing
Vibrant, accurate colors
Cons
It does not come with a display port input
The Acer CB242Y is best for those who want a monitor that comes with excellent image quality, and accurate colors, and sharp, easy-to-read text, all for a price roughly around the ~$100 mark.
The Acer CB242Y is a budget-friendly monitor with an IPS panel with great viewing angles and consistent and accurate colors.
If you edit a lot of photos and videos, this monitor will be great for entry-level work.
However, if you are a professional, you will want to calibrate the monitor properly or look into more premium displays with more accurate colors.
The monitor provides pretty decent pixel density, which means text and details will be sharp and easy to read.
Additionally, it has a flicker-free backlight, which means it won't increase eye strain should you be sitting at your desk for the majority of the time.
One of the great things about this monitor is that you can grab two of these bad boys and have the luxury of a second monitor, which is a game-changer when it comes to productivity.
And best of all, it's completely affordable, price ranging around ~$200. And because it has thin bezels, the transition from one monitor to another is almost seamless.
4. Samsung CRG9 49" WFH Curved Monitor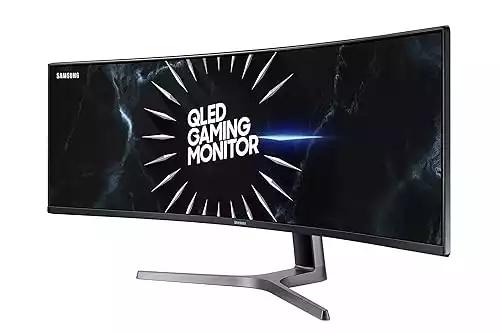 Check Prices
We earn a commission if you make a purchase, at no additional cost to you.
Pros
Fantastic image quality with accurate colors
Smooth and responsive performance
Breathtaking 'ultra-wide experience
Ergonomic curved design
A wide range of connectivity options
Cons
Ghosting is noticeable during darker scenes when viewing something fast-paced
The Samsung CRG9 is best for those who want one ultra-wide, curved monitor that is responsive, vibrant, and provides deep colors when showcasing bright and dark environments.
The 5120 x 1440 resolution is the equivalent of putting two 27" monitors together, so if you need a ton of screen space, this is the ultimate single monitor setup, the holy grail.
The CRG9 comes with a VA and HDR1000, which provides excellent color contrast with deep blacks and bright white colors that offers outstanding image quality.
The downside to this monitor is the premium price tag that comes with this monitor, plus the fact that most people won't need a monitor of this size anyway.
In reality, most of you would benefit from a 27" monitor, which is already surprisingly large, and if you wanted something even more prominent, a 32" - 34" monitor would be best.
A 49" beast of a monitor is the ultimate dream for productivity and gaming, if you have the budget for it and if your job demands screen real estate.
But for this price point, the Samsung CRG9 is incredible value for money. If you need 2x 27" monitors, this is the best alternative to have no bezel/gap in between.
The Samsung CRG9 is our top pick on our guide to finding the best curved monitor for office work. If you like curved monitors, be sure to check it out!
5. ASUS VA24DQ 23.8" WFH Office Monitor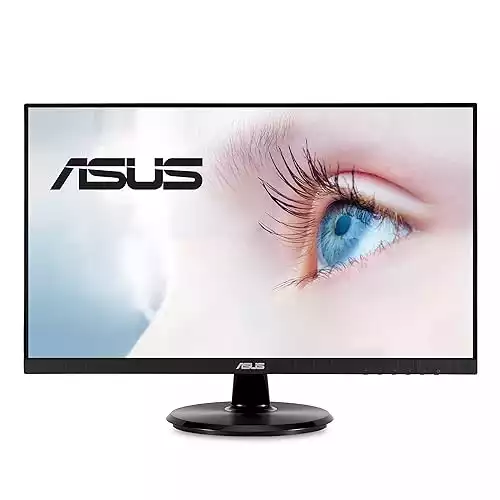 Check Prices
We earn a commission if you make a purchase, at no additional cost to you.
Pros
Comes at a highly affordable price point
Anti-glare screen to reduce eye strain
Thin bezel design
Vibrant and accurate colors
DisplayPort functionality
Great for having a dual-monitor setup
Cons
Can only manipulate the tilt (not the height)
The contrast ratio is not that great (compared to VA panels)
The ASUS VA24DQ is best for those who want a budget-friendly monitor that is VESA-compatible, has thin bezels to keep from distractions and has vibrant colors with wide viewing angles.
The ASUS VA24DQ is a 24" monitor with an anti-glare screen, which means you'll get less eye strain when working long hours.
Furthermore, it includes DisplayPort functionality, which is quite rare in monitors at this price point.
The VA24DQ comes in at a 24" size (23.8" if you want to be exact) which is the minimum screen size I would recommend for office work.
It gives you enough screen real estate to work in multiple tabs or programs simultaneously without making your work too small and hard to read, which can hurt your eyes.
Overall, the ASUS VA24DQ is a perfect monitor for work from home professionals who demand the best in visual performance and versatility.
You'll love its thin bezels, VESA-mount compatible stand, IPS panel with accurate colors, wide viewing angles, all for a price point of around ~$120.
Buyer's Guide: How To Choose A Monitor To WFH Office (Work From Home)
When it comes to building a home office, there are some key factors to consider.
For the most part, you won't need to spend a ton of money or get the most expensive gear to have a quality setup.
What you choose will dependant on your needs.
For example, someone like myself who writes blog posts for a living would benefit best with a dual monitor setup.
One monitor is to be used for writing, and the other is to be used for research.
Luckily, I am using this setup as I write this post, and it's fantastic.
For you, it may be different; it's in your best practice to look for a monitor that fulfills your needs for your job without spending extra on features that won't affect your work.
Below are some factors to consider before buying a monitor.
Choose Image Quality Over Performance
When it comes to finding a monitor for your home office, it's essential to look at features in line with what you need.
That means ignoring 'gaming' performance features, such as refresh rates, G-Sync/FreeSync compatibility, and response times.
Unless you are looking to game on these monitors as well, adding these extra features will bump up the price of your monitor unnecessarily, so always opt to aim for the highest image quality rather than a fast, responsive monitor.
If you are looking for a hybrid monitor (for work and gaming), feel free to check out our guide on finding the best white gaming monitor.
Single Monitor Setup Vs. Dual Monitor Setup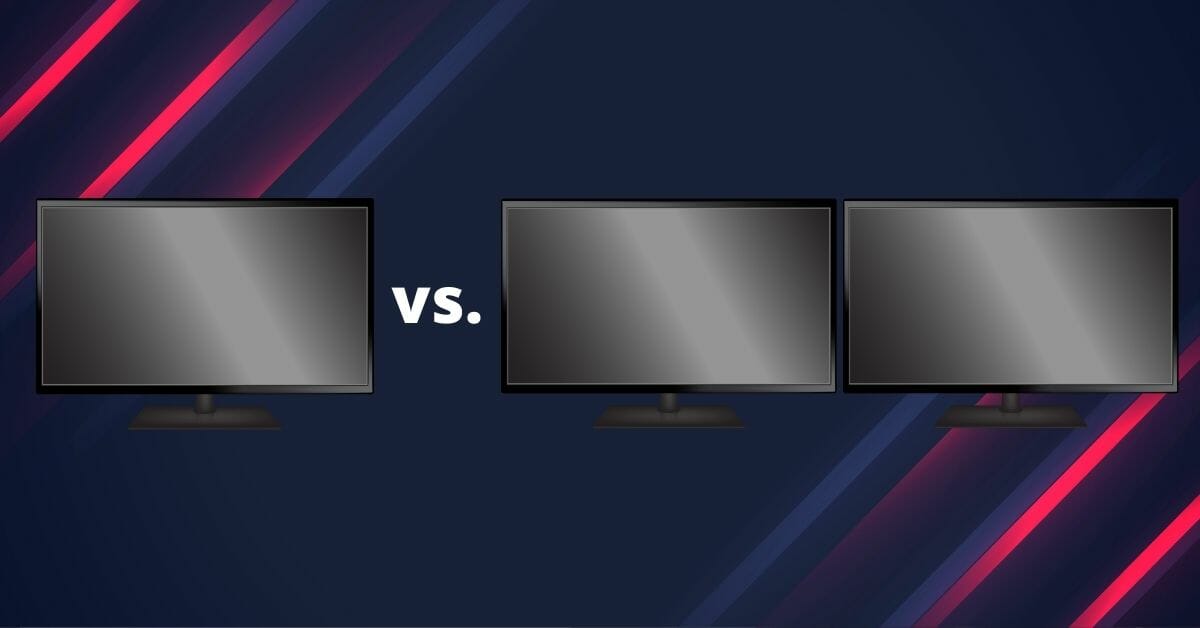 We all start off with single monitors, and it works well if you only do basic work.
Where dual monitor setups come in is when you start to multitask or do more in-depth research, and you need two tabs/pieces of software open simultaneously.
If you choose between a single monitor or a dual monitor setup, opt for the dual monitor setup.
This is because upgrading from a single monitor to a dual monitor setup can increase your productivity while downgrading back down to a single monitor can make you slower.
Of course, this will be dependent on your budget and what you need the monitors for, but if you are planning to work from home for the long term, a dual monitor setup is always the ideal choice!
You can either have both monitors centralized in the middle (with you in the middle of the two bezels) or one primary monitor and one side monitor.
Regardless, this kind of setup will drastically improve your productivity.
Gone are the days of having to half and half the two tabs you're working on.
You will no longer need to alt-tab to switch between two things at once; it's great.
Dual Monitor Setup Vs. Ultrawide Setup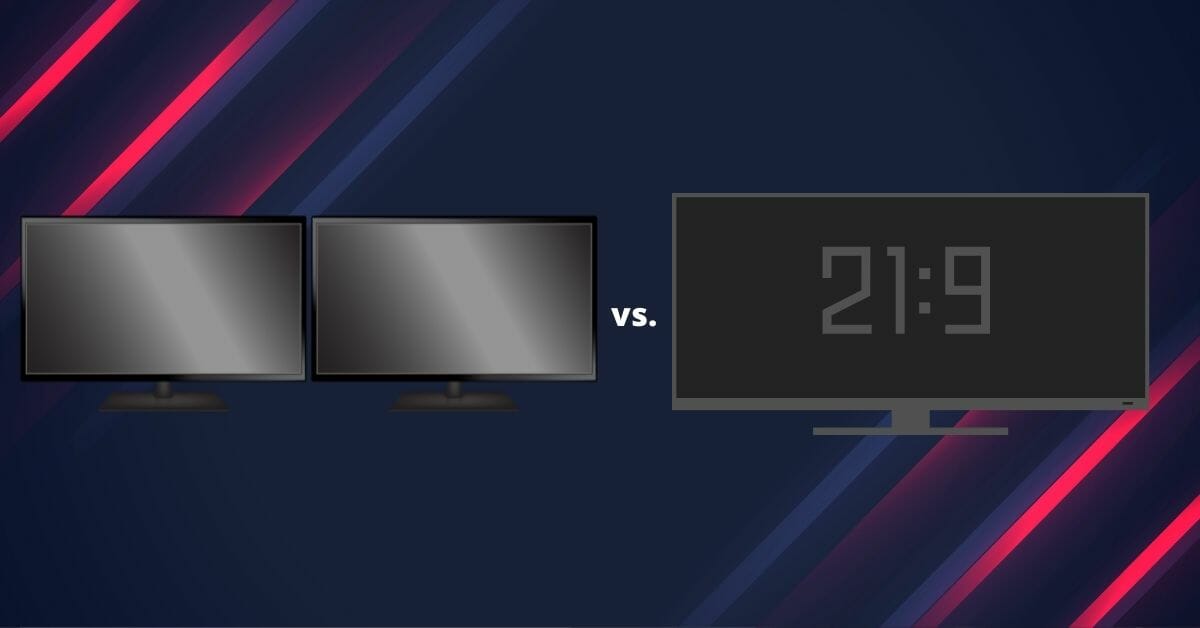 The dual monitor setup vs. the ultrawide setup is always highly debated and comes down to personal preference.
For example:
If you don't want to see the monitor's bezels in the middle of your two screens, then opt for the ultrawide setup.
If you prefer having two separate screens, then a dual monitor setup is better.
Ultrawide setups are generally better as most are built on an ergonomic curve, making it easier to see and preventing you from constantly moving your head left and right.
It also gives you a broader preview of things.
For example, a video editor would be able to preview their timelines longer, whereas, on a dual monitor setup, it would stop at the end of your first monitor.
On the other hand, they are also generally easier to set up. One stand or monitor mount will do.
A dual monitor setup means you have to buy two monitors, which may seem more expensive, but the reality is that your secondary monitor can always be smaller and cheaper.
Suppose you are planning to upgrade to a dual monitor setup from a single monitor setup. In that case, it will be much more affordable to buy a secondary monitor than it is to replace your current setup with an ultrawide.
Those who are really picky about having their setup perfect (like me!) would find having two different monitors 'annoying', as there won't be any symmetry.
If you're anything like me, then an ultra-wide monitor is your best bet.
Choosing The Best Monitor Size For Your WFH Office
When choosing the best monitor size for your office, you first have to decide whether you want a single monitor, a dual monitor setup, or an ultrawide monitor. (See the above to make your decision).
Once you've decided that, you can choose which of the following that you want, whether it's an:
49" Ultrawide Sized Monitors
A 49" monitor is the holy grail screen size for monitors.
It is the equivalent of two 27" monitors, with a better ergonomic shape due to its curvature design.
If you want the maximum screen real estate that an office monitor can offer, then a 49" ultrawide monitor is the way to go.
For most people, a 49" monitor is the end goal, something you would get as a reward to yourself.
Although useful, a 49" screen size is completely unnecessary for most people unless your job demands the largest screen size; a 34" or lower screen size will suffice.
32" - 34" Sized Monitors
32" - 34" monitors are the 'sweet spot' when it comes to choosing a monitor's screen size.
The ideal ergonomics for a monitor sits an arm-lengths away from you, in a spot where you can see your whole monitor without having to turn your neck for a better view.
The 32" - 34" monitors are great because they have the same height as 27" monitors, where they add the extra inches is length-wise.
Most 32" - 34" monitors also have an ergonomic curve on them too, making them the ideal shape for ergonomics.
And any screen size above 32" is also large enough to be a standalone monitor, often replacing dual-screen monitor setups with the benefit of not having to see the monitor's bezel/gap in-between.
A 32" - 34" monitor size is the best monitor size for office work if a 27" monitor still doesn't provide enough room for efficiency.
27" Sized Monitors
27" sized monitors is an incredible upgrade from a regular 24" monitor, and you will feel an immediate difference switching from one to the other.
If you find that a 32"+ monitors are too big, then a 27" monitors are surprisingly large and will do the job of increasing your screen real estate.
If you're looking for a single monitor setup, a 27" screen size is recommended; however, it won't be enough to be an alternative to a dual 24" monitor setup.
At the same time, opting for a dual 27" monitor setup is not recommended...
Having a dual monitor setup with one main screen and one secondary screen means you will place your secondary screen on the far right (or left), which means you definitely have to turn your neck to take advantage of the screen space.
On the other hand, if you place both monitors side-by-side with the two bezels in the middle, the bezel/gap itself can be annoying to look at.
At this point, two 27" monitors are best replaced by a 34" monitor or a 49" monitor, and depending on what monitor you get, it may even be more cost-efficient.
24" Sized Monitors
A 24" monitor is the best starting point for office workers and is the most affordable option.
If you need to build your office set up quickly, buying a 24" monitor will be perfectly fine and is even better if you decide to go down the dual monitor setup route.
24" gives you enough screen real estate to multitask and have two tabs open simultaneously.
However, you may find that it is too limiting. The main issue would be if you are working, but you find yourself having to lean in or squeeze your eyes to see your work properly.
Hence why a dual monitor setup works well with two 24" screen sizes. They can be set up in a way where you have minimal neck turns, and more importantly, it's cheap!
Frequently Asked Questions
Below are some frequently asked questions about WFH monitors.
Which Panel Type Is Best To Work From Home?
When it comes to panel types, there are three to choose from:
IPS (In-Plane Switching): Best for having the most vibrant and accurate color and wide viewing angles, but their responsiveness can be slow.
TN (Twisted Nematic): Best for performance and monitor responsiveness, but their viewing angles aren't great, and their color quality isn't the best.
VA (Vertical Alignment): Best for having an excellent contrast ratio which provides deeper blacks and brighter whites. Sits in the middle of IPS and TN panels in terms of performance and image quality.
So out of the three, what is the best panel to work from home?
An IPS panel is the best panel to get in a monitor if you want to work from home. Since you are mainly looking for excellent image quality, IPS panels provide the most consistent and accurate colors, which look great no matter what angle you are looking from.
They are prevalent, especially for those who utilize colors for their jobs, e.g., Videographers or Photographs doing color corrections and grading.
If you want to take it a step further, you can get a IPS or VA panel that supports HDR (High Dynamic Range) to get the ultimate image quality since HDR provides higher contrast and color reproduction.
What Kind Of Monitor Is Best For A Home Office?
For the most part, IPS paneled monitors that showcase accurate colors, sharp-looking text, and give you a decent screen size are best for a home office.
A 34" monitor like the LG 34WN80C 34" monitor does precisely that.
A 34" screen size is perfect as it's not overly large yet gives you enough screen real estate to multitask effectively.
If the monitor you are buying is purely for work alone, you don't need to worry about features like 'Refresh Rates' or 'G-Sync/FreeSync.'
Focus on key features necessary to your work, for example, image quality for those who edit many photos and videos and need accurate colors.
Our Winner For Best Monitor To Work From Home
When it comes to choosing the best monitor to work from home, there's one monitor that stands out above the rest.
Whether we are looking at screen size, color accuracy, flicker-free technology, and ergonomics, the monitor that we recommend is...
The LG 34WN80C-B 34" Curved WFH Office Monitor.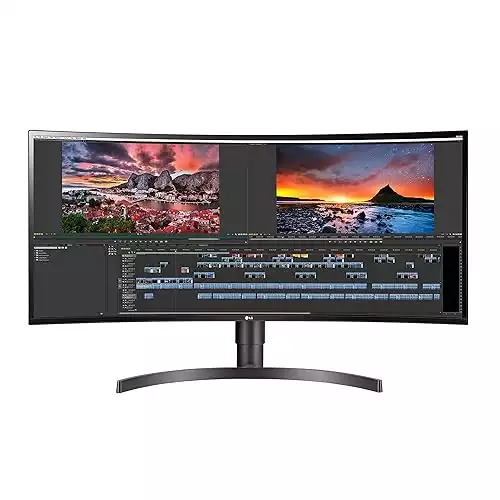 Check Prices
We earn a commission if you make a purchase, at no additional cost to you.
It's a 34" monitor, perfect for maximum productivity and ergonomically designed so that you're not constantly moving your neck left and right.
And includes an IPS panel that's factory-calibrated, which means you are getting vibrant, accurate colors every time.
If you don't have the budget or don't want to spend that much on a monitor, the Acer CB242Y is the best budget alternative that will do the job.
Conclusion
By now, you should be able to decipher what kind of monitor you want and which monitor on our list suits you the best.
Whether you are going all-out with a 49" behemoth or need a quick-fix 24" monitor solution, these monitors should be able to last you a long-time and will serve as a reliable monitor for your home office.
If you have any of the monitors listed above and have had great success using them, comment below and let us know.
Now enough talk, back to work! 🙂