Computer monitors have been around for a darn long time – basically since the computer was first invented – and so they have been worked and reworked many times over the past few decades.
They have come far from their CRT roots, and one of the most recent iterations of their form has been the curved monitor, and finding the best curved monitor for office work is no easy task.
Though curved monitors have been around for a couple of years, they have only just recently started to pick up pace and enter the mainstream.
When you take a gander at their almost futuristic-looking form, you might think that this kind of technology is reserved for more tech-y tasks such as gaming, but this simply is not the case.
Curved monitors have started entering the office space, too, and for good reason, as they can offer you far more accurate images and a larger desktop space to work with, and help to improve your productivity.
If you've clicked on this article then you're probably interested in investing in a curved monitor for your own office, so, without further ado, here are the best curved monitors for office work.
You may also like:
Best Overall
Sceptre C305B-200UN1 30″ Curved Monitor
30" monitor size is perfect
VA monitor with great contrast
Built-in speakers
Premium Pick
Samsung CRG9 49" QLED Curved Monitor
49" for maximum screen size
Beautiful QLED screen
Nice variety of ports
Editor's Choice
Dell U3818DW 38" Ultrasharp Curved Monitor
Excellent 38" screen size
Vibrant and accurate colors
VESA mount support
1. Sceptre C305B-200UN1 30″ Curved Monitor
Pros
Ultrawide 30-inch display offers a good amount of screen space for multitasking without taking up as much desk room as a super ultrawide curved monitor
~90% sRGB color gamut offers great color quality and range
Good contrast ratio of 3000:1
Offers stable G-SYNC performance
Offers a rapid refresh rate of 200Hz, meaning you can run video or games at 144 FPS without issue
Comes with built-in speakers
Cons
Is not officially certified by NVIDIA as 'G-SYNC Compatible', so it may not offer performance that is as good as a monitor that is G-SYNC Compatible
There may be some very minor black smearing at 200Hz that can be visible in dark scenes
Ok, so this curved monitor may not be the absolute cheapest one out there, but the Sceptre 30" Curved Gaming Monitor certainly packs a lot in its punch despite having such a low price compared to its peers.
For one, this curved monitor offers an ultrawide display of 30 inches, the advantages of which we have already discussed – larger screen size means the monitor is more suitable for multitasking, etc. etc.
The Sceptre also uses a VA LED panel, which offers a great 3000:1 contrast ratio, along with ~90% sRGB color gamut, which will offer you excellent color quality.
This, when paired with a screen resolution of 2560x1080, means you will get a pretty decent image that will suit most of your office needs.
This monitor also offers stable G-SYNC performance, although it is not 'certified' by NVIDIA as 'G-SYNC Compatible'. The ability to utilise G-SYNC technology means that you will experience reduced screen tearing, display stutter, and input lag.
These features may not be absolutely vital if you're doing rather simple office work, but if you want this to double as a gaming monitor, or if you work with video, then the ability to use G-SYNC can make quite a difference.
All in all, the Sceptre 30" Curved Gaming Monitor will serve you well, and offers you rather good quality considering its low price. Definitely a budget must-have!
2. Samsung CRG9 49" QLED Curved Monitor
Pros
Super ultrawide 49" QLED screen with 5120×1440 screen resolution
Can act in stead of a dual-monitor setup due to its ultrawide size, making it ideal for multitasking
Fast response time of 4 milliseconds
Low input lag
Can be extremely bright, which is enough to combat glare
120Hz refresh rate offers smooth images
Several different ports to suit most of your needs
Good contrast ratio of 3000:1
Cons
Viewing angles may be rather narrow for some users, leading to slight darkening of the edges
May be too wide for people working in small office spaces
The Samsung CRG9 is what's known as a 'super ultrawide' curved monitor, and once you take a look at it, you'll be able to see why.
This monitor is the equivalent of putting two 27-inch monitors together, meaning this is the ideal solution if you need a good-quality dual-monitor setup but don't want to pay the price of a good-quality dual-monitor setup, or if you just want everything on one screen.
It also offers a screen resolution of 5120x1440 pixels on its QLED screen, along with a decent refresh rate of 120Hz which will create an overall smoother image than you will get from a 60Hz monitor.
The response time of this monitor is also very quick, clocking in at a mere 4 milliseconds, and there is very low input lag, too.
If you're someone in need of ports, then the Samsung CRG9 has you covered, featuring an HDMI port, four USB 3.0 ports, and two DisplayPorts.
In short, if you're looking for a monitor that can replace a dual monitor setup, then look no further than the Samsung CRG9 49" Curved Monitor.
3. Dell U3818DW 38" Ultrasharp Curved Monitor
Pros
Large 38-inch monitor offers enough space for multitasking but doesn't take up as much room as a super ultrawide monitor or a dual-monitor setup
3840x1660 screen resolution allows for 4k viewing
Offers several ports, including USB C, HDMI, and DisplayPort
Comes with standard VESA mount support, so you have the option of easily mounting this monitor on your wall
Cons
Lower refresh rate of 60Hz may not offer imaging that's as smooth as monitors with higher refresh rates
Its contrast ratio of 940:1 is decent, but may not be ideal for some design or viewing tasks
So you may like the large screen size that the Samsung 49" CRG9 Curved Monitor offers, but maybe you don't quite have the space (or the money) for it – what then?
The Dell Ultrasharp U3818DW 38" LED Curved Monitor is a brilliant alternative if you want something not-so-super-ultrawide, but still want the large screen space to suit all your multitasking needs, as well as great image quality.
This curved monitor features an IPS LED panel, which is known for excellent image quality; this translates to better color contrast, incredible color accuracy, and image consistency. If you're a designer who needs this kind of quality, then you will do well with this type of panel.
It also boasts a screen resolution of 3840x1600, which will allow 4K viewing, so you can definitely expect excellent images with the Dell Ultrasharp U3818DW.
If you're still worried about desk space, however, then no worries – this Dell Ultrasharp also comes with a standard VESA mount support, so you can mount it on your wall to free up the desk space underneath for more space efficiency.
This monitor still frees up desk space without the use of a VESA mount anyway, as it provides the perfect alternative to a dual-monitor setup – all the screen space you need is contained in one neat package!
4. Samsung CJ791 34" Ultrawide Curved Monitor
Pros
Excellent color accuracy, with 100% sRGB and 85% AdobeRGB color gamut
Large screen of 34" allows for efficient multitasking with multiple windows open
3440x1440 screen resolution gives crisp, high-quality images
VA QLED panel offers sharper images
Variety of ports
Built-in speakers
High contrast ratio of 3000:1 for rich colors and vibrant images
34-inch ultrawide monitor allows for several windows to be open for easy, efficient multitasking
Cons
Does not come with USB 3.0 ports, which some users may want
Refresh rate of 100Hz does not quite live up to monitors with refresh rates of 144Hz or higher
If you do any sort of design work, then you know just how important it is to see what you're working on in the best quality possible, and with the most accurate colors you can get.
To achieve this when doing work on your computer, you need a monitor that can offer you excellent image and color quality.
The Samsung CJ791 34" Ultrawide Curved Monitor will be able to give you exactly that.
To start off with, this monitor offers a screen resolution of 3440x1440, along with a VA QLED panel that will give you that extra boost in sharpness.
The Samsung CJ791 also boasts an excellent 100% sRGB and 85% AdobeRGB color gamut, which is what allows this curved monitor to offer you such a broad range of accurate colors that will make your images look great – which is exactly what you need as a designer.
If you need more convincing on the quality of the colors offered by this monitor, it also possesses a contrast ratio of 3000:1, meaning you will experience deep, rich colours that will produce vibrant and clear images.
Aside from the wonderful-looking display, this monitor also features a refresh rate of 100Hz, as well as a very short response time of 4ms, so you can use this monitor with very little lag, and with smooth images.
This monitor can also be used with a variety of different devices due to its bountiful amount of ports, including two Thunderbolt 3 ports that are compatible with devices such as Macs (the typical device of choice for designers), as well as HDMI, DisplayPort, and USB 2.0 ports to suit all of your needs.
The Samsung CJ791 34" Ultrawide Curved Monitor offers wonderful color accuracy and image quality, making it the ideal choice of curved monitor for designers looking to boost their productivity.
5. ViewSonic VX3258-2KC-MHD 32" Curved Monitor
Pros
32-inch screen size lets you have multiple windows open so you can switch between various tasks easily
Blue light filter protects your eyes against harsh light that can cause eye strain
'Flicker-Free' technology keeps screen flicker to a minimum for a more comfortable viewing experience
Good refresh rate of 144Hz
2560x1440 screen resolution paired with 3000:1 contrast ratio produces clear images with rich, vibrant colors
Relatively short response time of 5ms after tweaking some settings
Cons
The default response time before playing with any settings is 21ms, which is a bit too slow for some people
It's extremely common to find that, after working long, long hours in front of a computer screen, you start to experience some eye strain - or, rather, a lot of eye strain.
This is one of the biggest pitfalls of our reliance on technology for going about our work day, but thankfully there are some ways to combat this.
You can start with choosing the right monitor for you, and in your case this may be the ViewSonic VX3258-2KC-MHD 32" Curved Monitor - and I will walk you through why.
First of all, the curved screen design reduces eye strain in and of itself, as it offers a more natural viewing experience that allows you to take in the whole screen at once, which is something that you can't quite do as naturally with a flat monitor.
That isn't what sets this ViewSonic curved monitor apart, however; it also features 'Flicker-Free' technology, along with a blue light filter, both of which can help to protect your eyes against the strain of long periods of staring at your computer monitor.
This curved monitor also possesses a reliable refresh rate of 144Hz, which is aided by AMD's FreeSync technology to offer smooth, tear-free, stutter-free imaging that is easier on the eyes.
If you're looking for more than just ergonomic and comfortable design, then this ViewSonic monitor has you covered here, too.
This monitor gives you great images and colors, with a good screen resolution of 2560x1440 (AKA 1440p), as well as a contrast ratio of 3000:1. All in all, a pleasant viewing experience!
If you're tired of rubbing your eyes every five minutes during those long days (and sometimes nights) sat at your computer screen, then let the ViewSonic VX3258-2KC-MHD 32" Curved Monitor take some of the strain off you!
Buyer's Guide - How To Choose The Best Curved Monitor For Your Office
When it comes to selecting a curved monitor for your office, there are a couple of features that you need to look out for.
Monitor Size
One of the first things you need to look out for when choosing a curved monitor is the size of the screen.
Depending on what you're planning on using your monitor for, your available desk space, and more, you will want to choose a certain monitor size.
Monitor size is usually measured in inches diagonally.
27-inch
A 27-inch monitor is one of the smallest curved monitor sizes that you will find on the market.
Though it may not offer you a huge screen, a 27-inch curved monitor will still offer you most of the same benefits that a larger curved monitor will give you.
A smaller monitor also offers the added bonus of more room, meaning a 27-inch monitor is more ideal for dual- or multi-monitor setups, or if you're simply just strapped for space.
34-inch
34-inch curved monitors are a good middle ground, offering you a screen size that is large enough to reap the benefits of a curved monitor (i.e. not being able to see the edges of the screen for a more immersed experience) without being too large.
49-inch
49-inch curved monitors are also an excellent option, providing you have the room for them.
They will give you a huge amount of screen space that can accommodate several windows being open without having to opt for a second monitor, and will give you the full 'immersed' experience, which can help with productivity (and if you want to do a cheeky bit of gaming during your work breaks).
Screen Resolution
Another thing to look out for is the native screen resolution of the curved monitor, as this will determine how 'good' the image quality is on your screen.
There are several different resolutions that monitors come in, but the general rule of thumb is that the bigger, the better.
Though screen resolution may only really matter for people like gamers or designers, it never hurts to have a higher resolution!
1080p
1080p (1920x1080 pixels) is a rather standard screen resolution in this day and age, and is great for most uses. It supports full HD images.
1440p
1440p is the next step up from 1080p, and is 2560x1440 pixels. This screen resolution is good for every day use, as well as for gamers or designers.
4K
4K resolution (3840 x 2160) is the highest resolution currently available in a curved computer monitor, and so is the way to go if you want the best image available. This resolution is especially ideal for designers and gamers.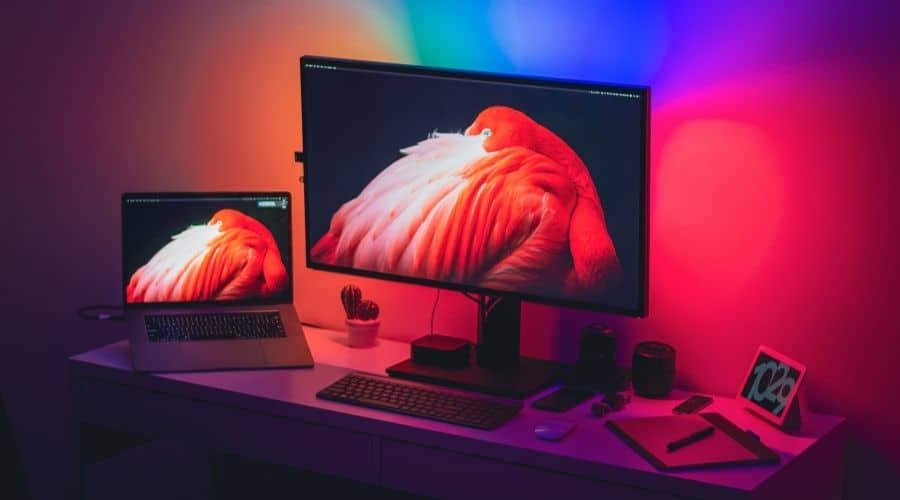 Display Technology
You may be confused by all the different acronyms found in curved monitor names: LED, LCD, OLED – what does it all mean?
The answer, in short, is that these are different types of display technologies that curved monitors use to display their images.
Though there is a lot of science that goes behind the differences between each type and how they work, we don't need to go into all of that right now. All you need to know is the benefits that each one offers you – and that's what we'll get into today.
LED
One of the most common types of screen nowadays are LED screens.
LED screens basically feature an LCD display in front of light-emitting LEDs, which, together, create an image.
The main benefit of LED monitors is that they are typically brighter than other screen types. This makes them ideal for displaying images in bright environments, such as a well-lit office.
The one issue with LED, however, is that it doesn't offer incredible contrast between colors. This is where OLED comes in…
OLED
OLED features technology that is a little bit different than LED – rather than producing images through a backlight like an LED screen, the pixels in an OLED monitor actually produce their own light.
This offers several advantages – for one, OLED screens offer greater contrast and deeper blacks as there is no interfering backlighting.
Secondly, the images shown on an OLED screen are more uniform and maintain their fidelity regardless of the viewing angle, which may be beneficial in a curved monitor.
QLED
QLED screens use basically the same technology as LED screens – the one difference is that QLED uses quantum dot technology to emit light, which is accomplished by adding an extra layer of particles in front of the typical LED backlight panel.
This allows QLED screens to display greater color accuracy, contrast and brightness, as well as richer colors, when compared to standard LED screens.
QLEDs, however, still offer the same advantages and disadvantages as LEDs – they offer brighter images, but are nevertheless inferior in contrast and image fidelity when compared to OLEDs
Frequently Asked Questions
Is curved monitor good for office work?
Curved monitors can be excellent for office work, and for a number of different reasons.
Reduce distractions
Firstly, thanks to their curved nature, they are able to immerse you in the screen by surrounding your vision. This can help to eliminate visual distractions from outside of the screen, helping you to keep your productivity streak going without movement from across the office catching your eye every five seconds.
Reduce eye strain
The curved design of curved monitors also offers a more comfortable viewing experience for your eyes, as their design better mimics how we naturally see things than flat monitors do. Eye strain no more!
Replace dual-monitor setup
And, finally, providing you purchase a wide curved monitor (such as the Samsung CRG9), you can even replace your dual-monitor set up with a single monitor without sacrificing on screen space. This makes curved monitors an excellent choice for people who like to multitask, so go ahead and open those 10 separate windows - we won't judge.
Is a 4k monitor good for office work?
While it may not be needed for many professions, a 4K monitor is never a bad choice to go with.
4K monitors tend to be more expensive, however, so if you are working a job that doesn't require high-quality graphics then the extra cost may not be justifiable.
This is very different for people who work with images or video, however - as a designer, you will want the best image quality possible, so 4K will be an ideal screen resolution to offer you exactly that.
What is the best monitor for working from home?
Truth be told, there is no single 'best' monitor for working from home - it depends entirely on your preferences!
Space availability
For instance, if your home office is small and your desk lacking in real estate, then you may need a smaller monitor that can fit in this area.
If, however, you have a larger space, then you can feel free to go with a larger monitor.
Multitasking
If your work requires you to have multiple windows open at the same time, then a smaller monitor won't quite cut it (unless you choose to go with a dual- or multi-monitor setup, of course) - you will need to go for a monitor that is rather wide while still being comfortable to use, and super ultrawide monitors tend to fit this criteria quite well.
Ideal screen resolution
The screen resolution you need can also vary based on what you plan on using your monitor for.
If you do rather generic work that doesn't require you to have high-quality images, then you have a wide range of options in terms of screen resolution.
However, if you are a designer, or you work with images or video in general, then you will definitely want a monitor with a higher screen resolution to deliver the crisp, clear graphics that you need.
Our Winner - The Best Curved Monitor For Office Work
So we've listed out what are (in our opinion) the five best curved monitors for office work - but which one is our winner?
Though it's a tough call since each monitor serves its own purpose, we will have to say that the Sceptre 30" Curved Gaming Monitor is our favourite.
Sure, it's the cheapest option on this list, but this certainly does not mean that it is the worst - in fact, it boasts some specs that are superior to those of its more expensive counterparts!
This curved monitor offers a myriad of excellent features: excellent image quality, a screen size that is large enough for multitasking without taking up too much space (unlike the Samsung CRG9), stable performance with NVIDIA G-SYNC technology, and a host of other benefits.
And so, we conclude this article with the Sceptre 30" Curved Gaming Monitor as our winner; bravo!
What are your thoughts on our round-up? Do you have any personal favorites? Let us know in the comments below!