Getting the best dual monitor stand can make your set up look clean, aesthetic, create more desk space, and allow you to adjust your monitor to the height of your liking.
Monitor stands can revolutionize your battlestation setup and is one of the must-haves when it comes to building your own desk space.
And best of all, monitor stands won't break the bank, as there are affordable monitor mounts that you can buy that will hold 27" monitors.
I installed my own monitor mounts not too long ago and I can't imagine my setup without them. They're a must-have.
So, I decided to break down the products I was looking at purchasing and created a criterion that you can follow so you can get the best dual monitor stands for your setup...
Whether you have a large desk or a mini-setup in the corner, it doesn't matter, a monitor stand will revolutionize your battlestation.
TL;DR - The 5 Best Dual Monitor Stands For 2021
North Bayou Dual Monitor Desk Mount Stand
Best Mid-Range Budget Monitor Stand
Specs:
Monitor Compatibility: Fits 17" - 27" monitors (up to 14.3lbs in weight)
VESA Compatibility: 75mm x 75mm or 100mm x 100mm
Rotation: 360°
Tilt: +85° to -30°
Swivel: ±90°
Upright Swivel: 10" - 21" (max)
Height Adjustment: Moveable arms
The North Bayou dual monitor desk mount stand is the stand I am using as I write this post.
These monitor mounts look aesthetic, have a great shape that can you can maneuver to suit any orientation (landscape or portrait) and at any angle.
They are aesthetic, include places where you can feed the wire through for cable management to make your setup look more minimal.
At first glance, you get the impression that the arms are very sturdy, and will hold for a long time.
North Bayou has made a great product, and the best thing about it is that they are one of the more budget-friendly monitor stands on the market, coming at about $60.
The downside to this monitor is that you don't have as much flexibility in the height adjustment, compared to other products.
Check Prices For North Bayou Dual Monitor Stand
---
VIVO Dual Monitor Desk Mount Stand
Best Budget Monitor Stand
Specs:
Monitor Compatibility: 13" - 27" (up to 22lbs)
VESA Compatibility: 75mm x 75mm - 100mm x 100mm
Rotation: 360°
Tilt: +80° to -90°
Swivel: 180°
Height Adjustment: Up and down the pole
VIVO was another top choice we found and is one of the most popular monitor desks stands on the market.
The stand isn't as thick and heavy as the North Bayou monitor mount stands, and are more of a static arm, being able to that you can adjust up and down with ease.
The mount comes with integrated cable management that shows the cord in a neat way.
The arms are skinny but sturdy, and you can adjust it to whatever angle, based on your personal preference.
It's rare to find an inexpensive product that's well designed, but VIVO was able to accomplish this.
It has recently been pointed out that the monitor stands for sale are v002f, and are considered "lower quality" than it's original.
There have been mixed reviews, and the main problem was the monitor arms drooping.
Ensure that you tighten each arm securely by increasing the tension on the arms - this should prevent your monitors from drooping forward.
Check Prices For VIVO Dual Monitor Stand
---
AmazonBasics Premium Dual Monitor Desk Stand
Best Highest-Quality Monitor Stand
Specs:
Monitor Compatibility: Up to 32"
VESA Compatibility: 75mm x 75mm - 100mm x 100mm
Rotation: 360°
Tilt: 15°
Swivel: 360°
Height Adjustment: 3-part moveable arms
Well made, sturdy, and easy to fit are some of the words I would use to describe AmazonBasics's dual desk monitor stands.
If you are in need of a stand that can hold larger and heavier monitors, this stand is a solid choice.
What's different about their stands is the shape of the arm which consists of 3 separate parts...
This ingenuity makes it easy to maneuver so you can set the monitors to the angle of your liking.
AmazonBasics monitor stand is very versatile and is a great choice for those who like the flexibility to be able to place your monitor weird angles.
The arm is made with durable steel that can handle up to 34" monitors.
So if you're looking to get bigger monitors in the future, the AmazonBasics monitor stand is a great choice for the long term.
Check Prices For AmazonBasics Premium Dual Monitor Stand
---
WALI Dual Monitor Free Standing Stand
Best Free Standing Monitor Stand
Specs:
Monitor Compatibility: Up To 27" monitors (22lbs per arm)
VESA Compatibility: 75mm x 75mm or 100mm x 100mm
Rotation: 360°
Tilt: +/-90°
Swivel: +/-90°
Height Adjustment: Up to 16"
Sometimes you don't need a monitor stand mounted to your desk.
Freestanding monitors have a solid base that won't budge and gives you the same arm flexibility as monitor mount stands.
You can use these for different purposes, mainly if you have a big desk and can spare the desk room, and want to push the desk up against the wall.
What's great about the WALI freestanding arm is that the extension on the arms is very long.
If you want to be able to pull the monitor out front closer towards you, you can do so.
This freestanding desk monitor stand works best with monitors that are the same size (getting 2x of the same monitors is best)
The downside is that the height adjustments are limited, as changing heights up and down affects both monitors, not just one...
So if you have 2 different sized monitors, they will be at different heights.
Although it won't be as much desk space as your default monitor stand, you will save quite a lot of room using this product.
Check Prices For WALI Dual Free-Standing Stand
VIVO Dual Monitor Free Standing Stand (Vertical)
Best Vertical Monitor Stand
Specs:
Monitor Compatibility: 13" - 30" (Up to 22lbs each arm)
VESA Compatibility: 75mm x 75mm or 100mm x 100mm
Rotation: 360°
Tilt: +45° to -45°
Swivel: 360°
Height Adjustment: 1" - 35.5"
The VIVO brand is one of the most popular brands for monitor stands out there on the market right now.
And you can tell because this is their second product on our list, and it's because they provide inexpensive, durable, and high-quality products, like their free-standing monitor stand.
Their vertical stand provides a rugged, durable base that feels heavy and secure, so you won't have any issues with your monitors falling forward...
This is due to their product being made of metal, and excluding the cheap plastic parts, a classic VIVO move.
The pole is thick, and built to last, but not overly bulky so you'll still have that minimalist look that will unclutter your desk.
VIVO has a great track record when it comes to building monitor stands, and their free-standing stand is no exception and is a great choice that will suit any vertical monitor setup.
Check Prices For VIVO Dual Free-Standing Monitor Stand (Vertical)
---
Monitor Stands & Mounts Explained
Monitor stands are considered a must-have for anyone looking to build a comfortable, aesthetic battlestation.
For example:
They provide so many benefits health-wise and aesthetically, such as:
Clear up an incredible amount of desk space
Make your setup look minimalistic
Will clear clutter which is better for productivity
Can adjust the monitors to the perfect height/tilt to suit your preferences
Better ergonomic options for those who are behind a desk all-day
Most stands come with neat cable management
Better for storage
There are different types of stands out there:
Riser
Mount
Free Standing
And depending on your budget, and your desired end-result, they all have they're own pros and cons.
Monitor Risers Vs. Mounted Stands/Free-Standing Stands
The reason why our list consisted of mounted and free-standing stands is that they allow you to customize your monitors with ease.
Monitor risers are still a decent investment which gives you the ability to raise your monitor height but is not adjustable.
So you're stuck at a certain height forever. This for many will be the deciding factor.
Yet, what monitor risers lack is the ability to set monitors up at the desired angle, tilt, and height.
They also are usually quite bulky and are not suitable for you if you have a small desk.
But, monitor stands are usually cheaper than regular desk mounted stands/free-standing stands...
This is what makes them desirable and a good buy for an office cubicle.
They don't need as much work to set up and will work with any monitor (VESA and non-VESA)
If you want to opt for the cheapest option and get a monitor riser and have the desk to suit it, you can check this monitor riser out.
That was the exact riser I was using before I decided to get some monitor stands.
Monitor mounts and free-standing stands are the ideal option when your setup to the next level.
Depending on what you're preference is, and what your desk dictates, you have the freedom to do whatever you want with your monitors.
Vertical stands allow you to stack monitors on top of each other and give you the ability to tilt your monitors, so everything is in one line.
You can maneuver horizontal stands and place each monitor as close as possible, so you can turn your head with minimal effort.
Mounted stands are minimal, you can clamp them to the edge of your desk, and raise the monitors up while freeing up desk space.
This allows you to have that clean, clutter-free, minimalistic look.
These are my personal favorite for 2x - 3x monitors, as being able to switch monitor positions using the arms make the monitors easy to set up.
Free-standing stands suit different scenarios and preferences.
They have a nice balanced foundation and are an ideal choice to hold heavy/large monitors, the same as any other mounted stands.
The monitors are easy to move since they're not mounted to anything and use the same type of arm mechanism that mounted stands use.
They do take up a little bit more desk space but are smaller and sturdier than the stock monitor stands monitors come with.
It all comes down to personal preference, but here are some basic guidelines you can follow to get the best value for your desk setup:
Get a monitor stand that's either mounted or free-standing, over a monitor riser. They're more ergonomic, allow you to adjust height and tilt, and are overall better for the long-term.
If you have a large desk and have your desk up against the wall, get a free-standing stand. You won't have space between your desk and the back wall.
If you have a desk with a hole to feed cables through, get a mounted stand, and use the grommet to install it securely.
If you have a small desk, but don't mind a little space between your desk and the back wall, get a mounted stand.
If you have massive monitors, go for a higher-end mount stand since they're built sturdier.
If you have a 4-monitor setup, you can combine both horizontal and vertical monitor mounts to have 3x horizontal monitors, with 1x monitor on top of your middle monitor.
Finding The Right Dual Monitor Arms For Your Setup
We gave you some basic guidelines to follow depending on your desk setup.
But you also want to make sure you get the right product which can you can use on your existing monitors.
VESA Compatibility
To mount the monitor in the first place, you need to ensure that your monitor is VESA compatible.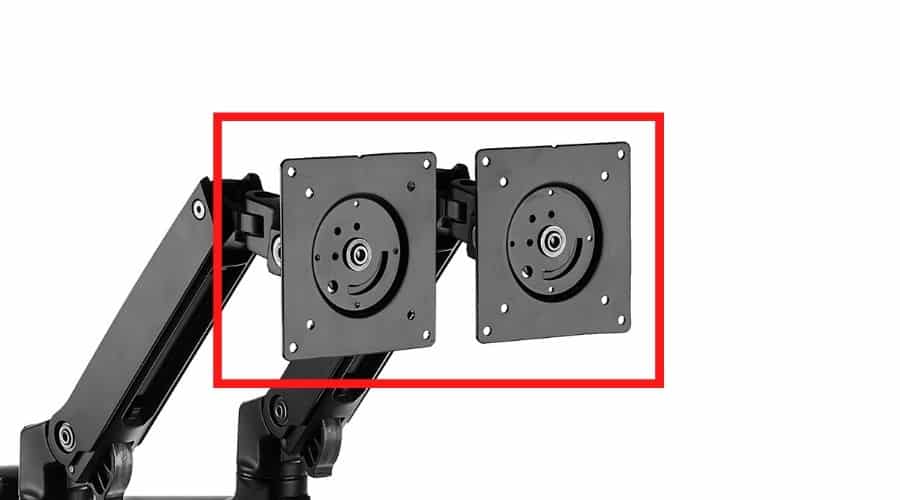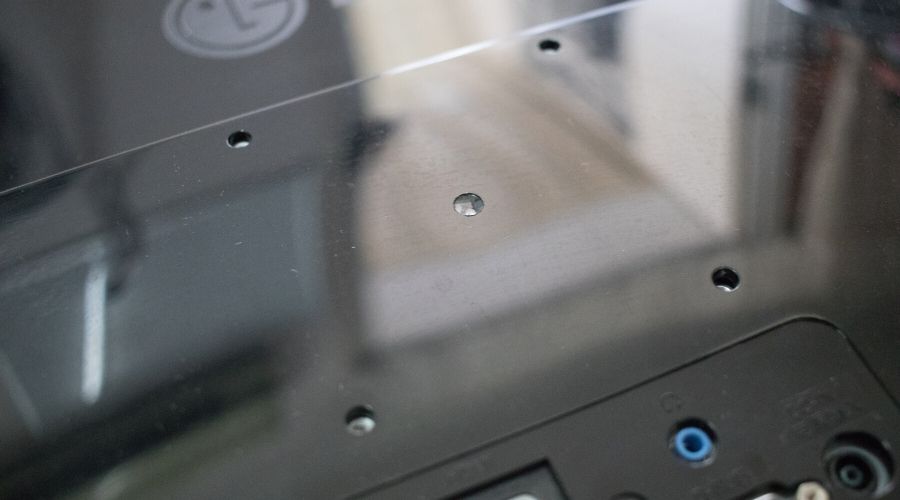 Most monitors come attached with a stock monitor stand, which means there's a high chance are the monitor is VESA compatible.
All you would need to do is simply unscrew the screws that are attaching the stand and monitor together.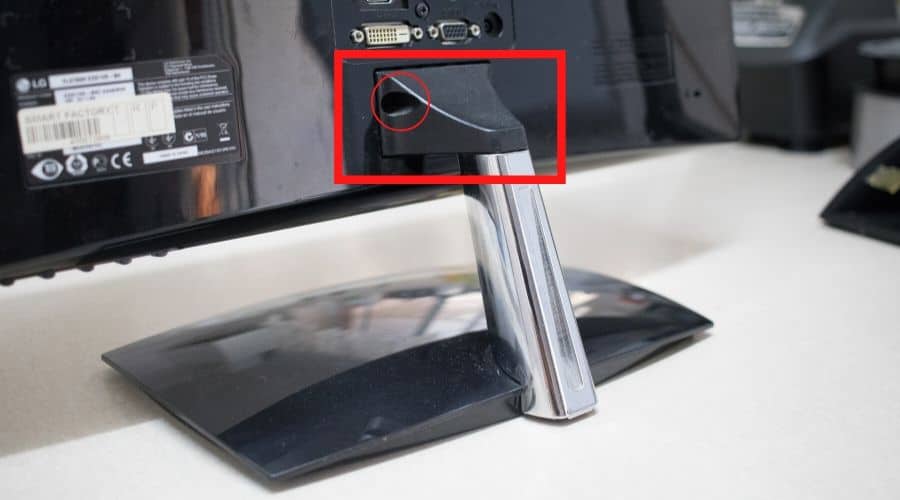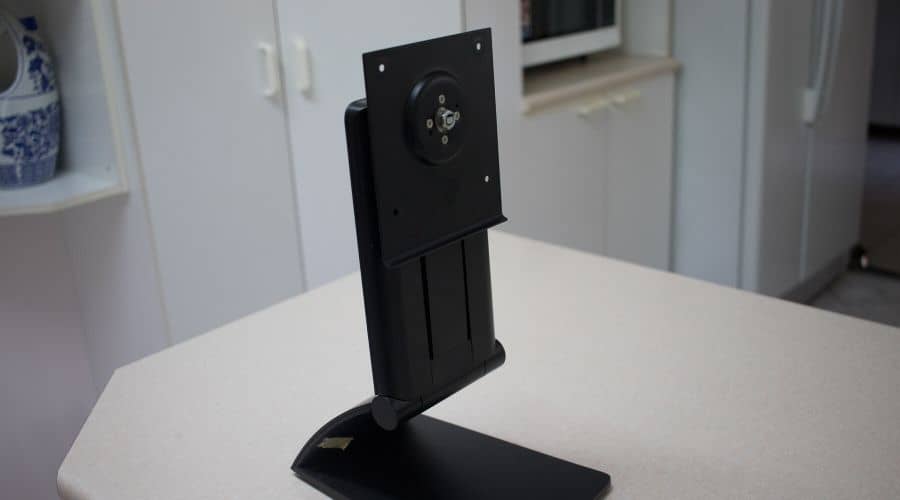 The easiest way to find if your monitor is VESA compatible is to search up your monitor brand and model on Google and have a look at the specifications.
If you found out that your monitor is NOT VESA-compatible, there are workarounds, I will be creating a guide on that very soon.
Arm Sizes & Adjustability
You want to ensure that the monitor arms aren't too big for your desk.
Each arm is shaped differently, come at different angles, and have different mechanisms which allow you to adjust them.
To put this into perspective, the height of your monitors while using the VIVO desk stands are adjustable up and down.
This takes up less desk space at the back compared to bulkier options like the North Bayou arms which are thicker and need more room to not hit the back wall.
The shape and sizes of the arms also affect the amount of adjustability you can do.
Ensure you have a look at how you can manipulate each arm to suit your preference.
Mount Durability & Flexibility
You want to look for a mount that's both durable, but has the flexibility to suit your personal preferences.
Usually, these come in the form of:
Material
Arms made of aluminum or steel are the sturdiest types material.
They allow you to hold more weight, and bigger screens compared to other materials.
Tilt/Rotation Flexibility
Each monitor stands have a specific degree in which they can tilt and rotate.
Having arms that can rotate your monitor to be horizontal or vertical is a must if you have a smaller battlestation setup.
The ability to tilt and rotate the monitors to your liking will ensure ergonomic balance and allow you to be as comfortable as possible.
Easy Installation
For the most part, installing monitor stands should be a piece of cake.
Most of them are as simple as:
Putting together the arms according to instructions
Screwing the monitors onto the VESA plate attached to the arm
Mounting the arm at the back of the table or through a hole using the grommet.
Some arms come built together straight out of the box, and only need to be mounted...
While others have 2 - 3 pieces that you can put together like legos.
This makes using monitor stands is a great investment for anyone, whether you're a gamer, programmer, writer who works from home, or in an work in an office.
Health & Workplace Ergonomics
If you're still not sold on using monitor stands, here are what monitor stands can do for your health:
Reduce strain on your neck and upper back.
Perfect for multiple-monitor setups as you can adjust them to a comfortable height
Will fix bad posture as you can set the monitors at an ergonomic height for minimal movement of the neck
Create a ton of desk space - allowing for less clutter, and more productivity
Frequently Asked Questions
What Is The Best Monitor Arm?
The best monitor arm is the arm that suits your desk space the best.
If you have space to work with, almost any monitor arm will make your setup look and feel more comfortable.
If you have little space to work with, opt for a skinnier, more minimal arm. This will save you heaps of desk space, and won't take up much of a gap at the back of your desk.
What's The Best Monitor Size For Dual Setup?
Most arms suit monitors which can go up to 27", sometimes even more.
Using a monitor between 22" - 27" is best for a dual setup, as they are big enough to fit all the information you need, while still small enough to set each monitor at a comfy spot.
Getting monitors past 27", the monitor arms may not be able fit screens side by side, and more budget arms may start to droop your monitor down.
If you already have a 27" arm, ensure that you spend a little bit more on getting a higher-end, more durable arm.
These arms will be more sturdy and be better in the long-run.
Our Winner For Best Dual Monitor Stand
If you're looking to get the complete package when it comes to getting the best dual monitor stand, our winner is:
AmazonBasics Premium Dual Monitor Stand
When it comes to durability, flexibility, and ease of installation, the AmazonBasics monitor stands on top of the competition.
Despite a nifty price tag, it's still an awesome investment for any beginner who's getting into building their own battlestation or are looking to upgrade an existing one.
It allows you the flexibility to upgrade monitors in the future, even going as heavy as 32" - 34" monitors (marketing says they support up to 27").
The stand is made with metal, which makes this stand very durable, and a product that will last you a long time.
You can grab your own AmazonBasics Premium dual monitor stands by clicking here.