While most people use a set up with one monitor for their office desk or gaming battle station, it's easy to find yourself strapped for screen space.
That's when you start to look to gain a second monitor… and finding the best dual monitor setup can be tough, considering all the planning that you need to put in before pulling the trigger.
Getting a dual monitor setup can increase your productivity tenfold and is usually sought after when you start to find yourself opening several windows open at the same time – maybe you want one for web browsing, some for your Word documents, another for e-mailing, one for Twitter… you get the idea.
When people find themselves in this situation one too many times, they might decide to go for a dual monitor set up, where you can literally double your screen size.
This allows you to have more windows open in an easy-to-view, easy-access way that will streamline your work process that much more.
But which monitors to go for? Don't waste your time browsing the thousands of monitors out there – instead, browse our list of the best dual monitors for dual monitor setups!
You may also like:
| Rating/5 | Showcase | Product | Best For | |
| --- | --- | --- | --- | --- |
| 4.1/5 | | ASUS VG279Q 27″ Gaming Monitor | Best For Tight Budgets | Check Prices |
| 4.5/5 | | LG 27UK650-W 27″ Monitor | Best For 4K Display | Check Prices |
| 4.8/5 | | BenQ ZOWIE XL2740 27″ Gaming Monitor | Best For 240 Hz Refresh Rate | Check Prices |
| 4.9/5 | | BenQ EW3270U 32″ 4K Monitor | Best For 32″ 4K Viewing | Check Prices |
| 4.3/5 | | HP E24D 23.8″ Advanced Docking Monitor | Best For Saving Space | Check Prices |
Buyer's Guide – How To Choose Monitors For A Dual Monitor Setup
If you've only just started your search for monitors for the best dual monitor setup, then you may not quite know what to look out for, even after reading through the many monitor reviews out there.
To give you a helping hand, we would like to offer you a buyer's guide that will prove handy to you during your quest for the best dual-monitor setups.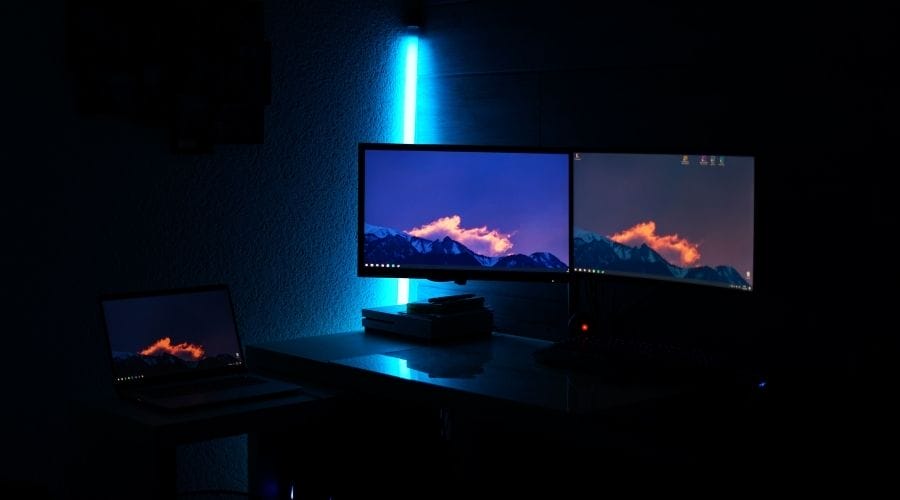 Compatibility
One of the first questions you'll need to ask yourself when deciding on a monitor is – is this compatible with my PC?
To find this out, you will need to take a look at what ports your PC has, and see if these match up to the ones on the monitor you're looking at.
The main types of ports you will see nowadays are HDMI, DisplayPort, USB-C, and Thunderbolt 3. Once you have identified the ports on your PC, you can start looking out for these names in product descriptions!
Picture Consistency
Another thing that you need to look out for when choosing monitors for a multi-monitor setup is picture consistency.
Picture consistency can sometimes be an issue when it comes to dual-monitor setups – for one, all monitors have a bezel in some shape or form, and no matter how small it is, it will always end up causing a visual 'break' in between the two monitors, which affects the consistency of the image across both screens.
Not only is this 'break' a potential issue, but if you are using two different monitors, for instance, then you may find inconsistencies in image quality, such as colour vibrancy, clarity, and screen resolution.
The latter issue can be easily solved if you purchase two identical monitors for your setup, which is what you will do in an ideal world.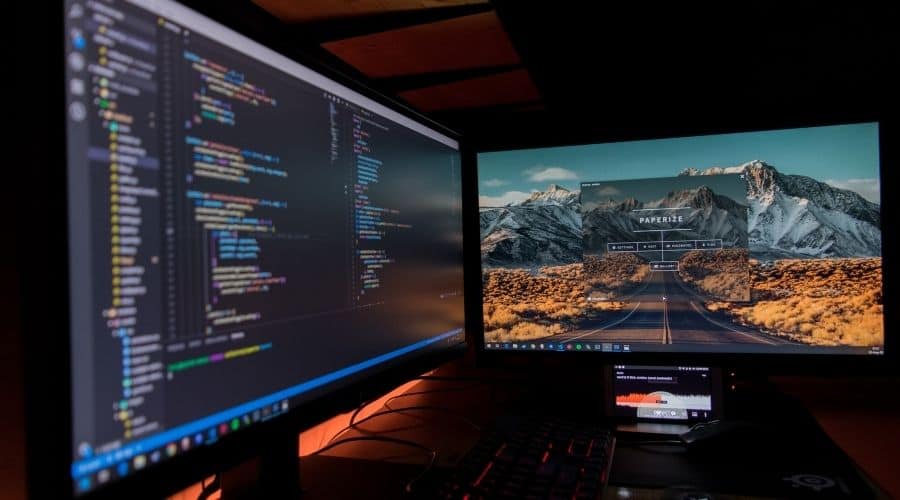 Dual Monitor Sizes
Monitors come in a range of sizes, and there is no one ideal size – it all depends on your personal needs.
For instance, if you don't need that much screen space, or you are limited by physical desk or room space, then you may want to opt for a smaller, cheaper monitor such as a 24-inch monitor.
However, if you have a bit more room and cash to spare, and are infamous for having a ridiculous amount of windows open at the same time, then you may benefit more from larger monitors in your dual-monitor setup, going up to even 32 inches.
Ultra wide Vs. Dual Monitors
So you know for a fact that something needs to change in your setup to accommodate your multitasking habits – but how should you go about it?
When it comes to expanding your screen real estate, there are two routes you can take – buying two monitors for a dual-monitor setup, or purchasing just one ultra wide one.
There are advantages and disadvantages to each option, so let's take a closer look at them both.
Consistency
As previously discussed, one of the main issues that arises from a multi-monitor setup is consistency.
Ultra wide monitors don't have this problem due to them being made up of one linear screen, so if you're looking for a more cinematic experience without anything breaking the image up, then you may want to go for an ultra wide monitor.
Screen size
Though you can get ultra wide monitors that are, well, ultra wide, a lot of the time they don't quite live up to the screen space potential that a multi-monitor setup has.
Fullscreen
When it comes to running multiple apps in fullscreen, we have to give another point to the dual-monitor setup.
This is because you can't run multiple fullscreen apps on one screen – this would defeat the purpose of having an app in fullscreen mode in the first place.
This means that, in this sense, having a single ultra wide monitor may not be ideal, while on the other hand you can have more than one app open in fullscreen on a dual-monitor setup.
4K Monitors
4K monitors are the 'new kids on the block', and have grown sharply in popularity over the past few years.
In case you haven't heard, 4K monitors are screens that have a resolution of 3840×2160 – in short, they offer darn good images that are sharp, clear, and high-quality.
This kind of monitor is excellent if you want to do any design work, or if you want to do some gaming, as you will get all the ultra high-quality graphics you could ever ask for.
There are a couple of downsides, however.
For one, 4K monitors can be significantly more pricey than lower-resolution monitors, which is the price you pay for better graphics.
4K monitors also consume a lot of power, meaning you will need to make sure your PC can keep up with this kind of requirement (which may mean upgrading your GPU for that extra boost in performance).
However, overall, 4K monitors are a good choice of monitor, and it never hurts to have a higher resolution. We all love looking at breathtakingly high-quality graphics, after all!
5 Best Dual Monitors For A Dual Monitor Setup
ASUS VG279Q 27″ Gaming Monitor
Best For Tight Budgets
Regardless of what monitor you choose to buy, it's common knowledge that investing in any (good) dual-monitor setup is going to bite a chunk out of your bank account.
That's why we're starting this list off with a monitor that is more wallet-friendly than others on the market, and that monitor is the ASUS VG279Q 27" Gaming Monitor.
This monitor is – as the name suggests – a monitor built for gaming.
It offers a screen resolution of 1920×1080 (which equates to 1080p), which is a rather standard screen resolution for most gaming monitors out there today.
This decent screen resolution, provided by an IPS panel, is paired with a refresh rate of 144Hz, which is enough to run games at 144 FPS, and more than enough for 60 FPS gaming (if that's what you're looking to do with this monitor).
Its 27-inch screen is also rather large, and so, when partnered with a second 27-inch ASUS VG279Q monitor, will be able to offer you a large amount of screen real estate for all your windows or game menus.
This isn't where this monitor's proficiency in being part of a dual-monitor setup stops, however – its IPS panel also allows the displayed image to remain accurate when viewing from the side, which is ideal when acting as a secondary monitor.
So if you're wanting a good monitor for PC gaming that is also excellent for a dual-monitor setup, but you aren't ready to invest your life savings into one (just yet), then the ASUS VG279Q 27" Gaming Monitor is the perfect starting point!
LG 27UK650-W 27″ Monitor
Best For 4K Display
Taking a huge leap from the previous budget gaming monitor, we are jumping straight into 4K – the second-highest resolution available on the computer monitor market.
The LG 27UK650-W is a 27-inch monitor that is dressed to impress, with a sleek and modern design fitted with an IPS LED panel that displays a screen resolution of 3840×2160 – AKA 4K.
This monitor's high resolution is its main selling point. Thanks to its 4K UHD capabilities, this monitor is a strong pick for a dual-monitor setup all around.
If you are planning on using such a setup for working, not only will its large 27-inch display offer more than enough space for multiple windows when paired with a twin, but it will also provide you with crystal-clear text and images, so you're ready to go no matter what type of work you plan on doing – normal office work or designing.
If your plans for this setup are a bit less… productive, then this monitor absolutely has you covered, too.
The LG 27UK650-W's 4K display will provide you with mind-blowing graphics, especially when you take into account the fact that it offers an sRGB 99% colour gamut, making your colours as accurate as can be and your images vibrant.
The LG 27UK650-W 27" Monitor is, therefore, an excellent option for a dual-monitor setup if you find yourself drooling after 4K UHD graphics (and don't mind paying a little bit extra!)
BenQ ZOWIE XL2740 27″ Gaming Monitor
Best For 240Hz Refresh Rate
Refresh rate can certainly matter a lot, and if you're a gamer then you're definitely familiar with this concept and probably want to get the best refresh rate possible.
Why? Because a higher refresh rate means that your monitor can display higher FPS, which is important if you want to play video games (or work with video) with the highest FPS you can get.
The current highest refresh rate you can get on the market is 240 Hz, which allows you to view up to 240 FPS of footage.
One of the best monitors out there that runs at 240 Hz is the BenQ ZOWIE XL2740, and this makes it the perfect pick for a dual-monitor gaming setup.
Its main advantage, of course, is its high refresh rate, but to add to this it is also G-SYNC compatible, meaning you're going to get the smoothest performance possible with no screen tearing, stutter, or input lag. Say hello to a silky-smooth gaming experience!
In addition to this, you can expect a very quick response time of only 1ms, making this perfect for fast-paced video games like shooters!
The BenQ ZOWIE also offers a screen size of 27 inches which, of course, will give you a huge amount of screen space when two of these monitors are placed side-by-side.
So if you're trying to build a quality gaming setup with dual monitors, then the BenQ ZOWIE XL2740 27" Gaming Monitor is an excellent 240 Hz pick!
BenQ EW3270U 32″ 4K Monitor
Best For 32″ 4K Viewing
Though 27-inch monitors will offer you a large enough screen size for pretty much all daily tasks, what if you're wanting something just a little bit bigger?
Luckily for you, such things as 32-inch monitors exist, and the BenQ EW3270U 32" 4K Monitor is one of the best of them all.
This monitor, as the name suggests, offers 4K resolution, so right off the bat you can expect quality from this screen.
This resolution is great if you care about graphics, whether that be in video games, while working on images and video, or simply while watching your favourite movies.
The next biggest advantage of this monitor is the fact that it is 32 inches – this means that, when two are set up in a dual-monitor fashion, the BenQ EW3270U will give you a whole lot of screen space that even the most prolific multitaskers may have trouble filling.
However, a little extra screen space never hurt anybody (except maybe your desk space), and it's good to have the option – you never know when you'll need it!
Along with its high resolution of 4K, this monitor is also G-SYNC and FreeSync compatible, which will help you achieve incredibly smooth graphics with no screen tearing, stutter, or lag – perfect for all you gamers out there.
Also, if you're looking to use this monitor for a long time (let's be real, most of us use our computers all day, and sometimes even well into the night), then the BenQ EW3270U will protect your eyes as best as it can.
This is because, in addition to the G-SYNC technology, this monitor also features low blue light output, as well as flicker-free technology, both of which will help to ease the eye strain that is oh-so-common amongst us modern-day computer users.
In short, the 32-inch screen size of the BenQ EW3270U 32" 4K Monitor will offer you the possibility of having one of the best dual-monitor setups for a huge amount of screen space; perfect for all you extreme multitaskers out there!
HP E24D 23.8″ Advanced Docking Monitor
Best For Saving Space
While the point of having a multi-monitor setup is often to offer you the opportunity to multitask to your heart's content, sometimes it can be very difficult to find the room on your desk to accommodate such a setup.
If you are, however, still adamant on having the dual monitors of your dreams, then you will need to opt for something that is a little smaller than many of the monitors on the market today.
A 24-inch monitor is near perfect for you in this scenario – it isn't as small as a 21-inch monitor, but doesn't take up as much physical room as a larger monitor does.
The HP E24D 23.8" Advanced Docking Monitor is one of the best 24-inch monitors out there, and especially so for saving space.
Aside from its smaller size, it is also ideal as a secondary monitor because of its thin bezels – these allow you to have your monitors closer together than those with larger bezels, and also help to offer a bit more consistency in your images.
The HP E24D also helps you infinitely with managing your USB cables – with its built-in USB hub, you can connect accessories galore without needing a separate USB dock, which will bring your cable management to the next level. You can finally stop sacrificing so much desk space to errant wires!
This monitor also offers a decent screen resolution of 1920×1080, giving you a good enough image to go about most of your daily tasks, which can include gaming.
So if you're in dire need of a dual-monitor setup but don't quite have a huge amount of space, then the HP E24D 23.8" Advanced Docking Monitor can fulfill all your wishes!
Frequently Asked Questions
Are Dual Monitors Worth It?
Dual monitors can certainly be worth it, especially if you are an avid multitasker.
Thanks to the fact that a second monitor literally doubles the amount of screen you can use, dual-monitor setups allow you to have several windows open at the same time, which is ideal if your work or daily activities require you to have this.
Dual monitors can also be good for gaming, such as if you want a wider field of view, or if you want certain menus open at all times on a different screen.
The value of dual monitors depends entirely on how you use your computer on a daily basis, but it never hurts to have that extra space!
Is It Better To Have Two Monitors Or One Big One?
This debate is one that has been going on for a long time, and honestly? It's hard to choose one clear answer.
Screen space
With a dual-monitor setup, you can usually get a larger total screen size, especially if you're using two already-large monitors side by side. If you want a lot of screen real estate to fit all of your windows, then this is obviously a big plus for you.
Image consistency
However, the issue with having two monitors side-by-side is that, no matter how thin the bezels might be, there will always be a 'break' between the two screens, which can ruin the uniformity of the setup. This inconsistency is enhanced if you own two different monitors of two different screen sizes and resolutions.
This issue is resolved if you use one ultrawide monitor instead, which will offer you a uniform, consistent image that doesn't fluctuate in colour or quality.
Viewing comfort
An ultrawide monitor can also offer you a more comfortable viewing experience by having everything on one screen, especially if this monitor is curved, offering you a wide viewing angle that allows you to view the whole screen without needing to move your head or eyes too much.
This can help to reduce eye strain by offering you an overall more natural viewing experience.
So as you can see, there are arguments that support both sides of the argument – so just choose whatever feels right to you!
Do You Need 2 PCs For 2 Monitors?
I'm sure many of you will be very pleased to know that you absolutely do not need a whole other PC to support a dual-monitor setup – you can run it all off of one PC!
It's all very easy to set up, too; all you need to do is connect your second monitor to a power supply and an available port on your PC, and then navigate to your software's display settings and configure how your PC will manage your two monitors. Simple!
Can You Use 2 Different Monitors For A Dual Monitor Setup?
You can definitely use two different monitors for a dual monitor setup – sometimes it's simply not realistic to have two of the exact same monitors for your setup, especially if one of these monitors is your laptop.
It can prove to be costly to have two of the same monitor if one of the monitors is significantly more expensive and higher-quality, and sometimes your budget simply does not accommodate you making that same purchase again.
However, while you can use two different monitors for a dual monitor setup, it is obviously less ideal than using two identical ones, for several reasons.
For one, if the two monitors differ in size, then you will not have a uniform viewing experience – the two screens will be in different positions rather than perfectly linear and side-by-side, which can make your setup look a bit less streamlined, or make it a bit less comfortable to use.
Monitors differing in screen resolution can also be a bit tedious to navigate, as not only will the image qualities be different, but you may also have to resize windows when moving them from one monitor to the other, which can get a bit tiresome after a while.
Other minor differences between the two monitors can also become noticeable, such as differences in colour quality, refresh rate, etc.
If you can't afford to buy two of the same monitor, however, or if your desk simply does not allow it, then don't worry, as you can make two different monitors work regardless.
Our Winner – The Best Dual Monitors For A Dual Monitor Setup
Though each monitor on this list is ideal for its own use and purpose, we must, of course, pick an overall winner – and that winner, in our eyes, is the BenQ EW3270U 32″ 4K Monitor.
This monitor is our favourite for a number of reasons; first of all, its display offers 4K resolution, which, as we all know by now, offers incredible image quality, especially when paired with its great contrast ratio of 3000:1.
In addition to this, it offers a large display size of 32 inches, which is the largest of all the ones on this list, and will offer you a huge amount of screen space in a dual-monitor setup that is more than enough for the needs of pretty much everyone, from workers to gamers.
This versatility is also present in its other features; for instance, while it is G-SYNC compatible (which is ideal for all you gamers out there), it also has a smaller refresh rate of 60 Hz, making this ideal for PC builds that may not be that powerful, such as those in offices.
And – as an added bonus – this monitor comes with built-in speakers, which none of the other monitors on this list possess!
Do you own a dual-monitor setup? Or do you have any thoughts on the monitors listed here? We'd love to hear you out in the comments below!