If you're trying to build an eye-catching white or minimalist gaming setup, finding the best white gaming monitor is probably pretty high on your list of priorities.
Truth be told, finding a monitor that manages to look the part and deliver a high-quality picture can be relatively challenging.
Nowadays there are many different options, with many of them having mediocre specifications where the sole focus is on aesthetics rather than performance.
We've taken it upon ourselves to find the best of the best in terms of quality, so you can be sure that the white monitor that you get isn't just for show.
There's something here for everyone:
Irrespective of whether you're desperate for 4K or running a mid-range rig with an older GPU.
You'll find white gaming screens for smaller desks and wide-screen models.
If it's inspiration that you seek, you can check our list of satisfying white-themed gaming setups that we've rounded up.
And if you want to build a full-white gaming setup, then you may like our other buyer's guides:
Use this list to start building the ultimate white gaming setup, or just find yourself a fantastic monitor that'll take your battlestation to the next level.
In this article, we reviewed many different white gaming monitors and listed our top 7 picks.
There are only a limited amount of white-colored gaming monitors, but regardless of your budget, you should be able to find a quality monitor in here.
Let's dive in!
Best Overall
Alienware AW2720HF 27" Lunar Light Gaming Monitor
Aesthetically pleasing
Fastest response rate
240Hz refresh rate
Editor's Choice
Alienware AW3420DW 34" Ultrawide Lunar Light Monitor
WQHD resolution
G-Sync/FreeSync compatibility
120Hz refresh rate
Budget Pick
Asus VZ239H-W 23" White Gaming Monitor
Great value for money
Minimalistic design
IPS panel
TL;DR: The 7 Best White Gaming Monitors Of 2021
1. Alienware AW2720HF 27" Lunar Light Gaming Monitor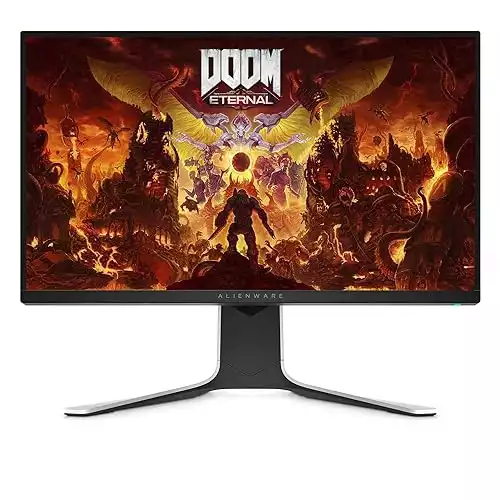 Check Prices
We earn a commission if you make a purchase, at no additional cost to you.
Pros
One of the most attractive white gaming monitors on the market
Fantastic response rate (less than 1m/s according to Alienware)
Incredibly fast 240Hz refresh rate
Extremely low input lag
Cons
Resolution is only 1080p, so may not be the best gaming monitor for movie viewing
Quite a high price point (Alienware products tend to be slightly more expensive than equivalent products, although we think that the high build quality excuses that)
Right off the bat, the best thing about Alienware's AW2720HF is the 27" screen size and the whopping 240Hz refresh rate.
This might seem like overkill for a lot of GPUs, but it does ensure that high-end gaming rigs can actually reach 240 FPS, which is absolutely ideal for fast-paced or competitive shooters.
This S-tier gaming monitor also features Overdrive technology that's supposed to guarantee a  1m/s response time and in our experience? Let's just say that it was lightning fast in all of our benchmarks.
And that's with an IPS panel too, so you get to enjoy some beautifully deep and rich colors without sacrificing performance during intense firefights.
For gamers that really want to take things to the next level without sacrificing picture quality or screen size, this is one of the best monitors on the market.
The only real downside to this gaming monitor is the (relatively) low display resolution. I would have loved to see the monitor resolution be higher than 1080p as it does lower the quality.
If this monitor came in a 1440p resolution, it would be perfect.
Alienware's AW2720HF is an awesome pick if you can look past the lower quality to maximize performance.
2. Alienware AW3420DW 34" Ultrawide Lunar Light Monitor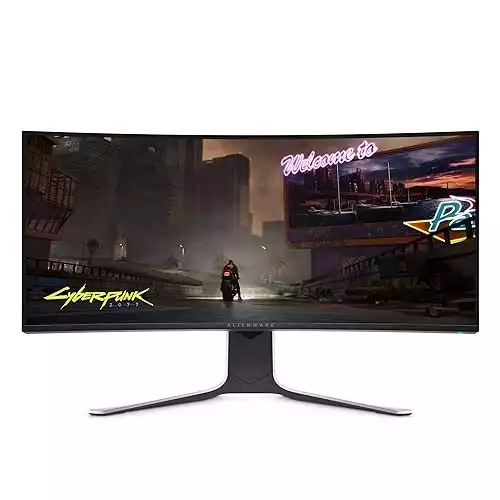 Check Prices
We earn a commission if you make a purchase, at no additional cost to you.
Pros
One of the best white gaming monitors that money can buy
WQHD resolution is perfect for creating truly immersive experiences
Gsync technology ensures no screen tearing on NVIDIA GPUs.
Cons
Slightly lower refresh rate than some of the other gaming monitors on this list
Some people report a bit of IPS glow in the corners of the screen, which may ruin immersion in some games. We didn't notice this, but it's worth knowing about.
Looking for a gaming monitor that will blow you away with its special features?
Look no further than the Alienware AW3420DW.
The crisp, detailed display is sure to amaze and astound - providing everything you could ever want in a gaming experience.
This monitor has a WQHD (3440 x 1440) resolution which allows you to have a completely immersive gaming experience (should you choose to use the whole screen).
It also boasts a 120Hz refresh rate, which is much better than the standard 60Hz you will get from most budget monitors.
And if that wasn't enough, it also features NVIDIA's GSync capabilities, so if you want a reduction in screen tearing and consistent FPS, this is perfect, just make sure you have an NVIDIA GPU.
One of the features that stand out the most is how crisp the colors are, due to the 134% sRGB spectrum.
This is complemented by its IPS panel which is known for its accurate color display.
As it boasts a high WQHD resolution, with a 120Hz refresh rate you're sure to get responsive, accurate pixels which are perfect for gaming.
3. Samsung CJ791 34" Ultrawide White Gaming Monitor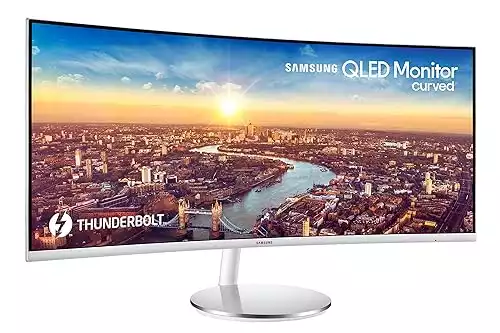 Check Prices
We earn a commission if you make a purchase, at no additional cost to you.
Pros
A fantastic gaming monitor for bigger desks, with excellent picture quality and super-accurate colors
AMD FreeSync technology ensures no screen tears or ghosting
Curved gaming monitor, which may be easier on your eyes
Cons
Refresh rate and response time could be slightly higher, despite the VA panel
Doesn't look quite as aesthetically pleasing as some of the other gaming monitors on this list
The Samsung CJ791 is a 34" 21:9 Ultrawide beast of a monitor for a relatively good price point.
One of the great features of the CJ791 is its quantum dot color, which is what's used in Samsung TVs to get accurate, in-depth color quality.
For gamers, a 100Hz is acceptable and definitely better than your average 60Hz monitor, but there's a definite difference compared to monitors which are 144Hz or above.
In terms of performance, the CJ791 includes a VA panel which typically has a higher response time than IPS panels.
And, to top it off, it includes AMD FreeSync technology, so screen tears and distortions will be kept to a minimum.
Do you want a gaming monitor that's easier on the eyes? You got it, with lower blue light emission, and an ergonomically curved screen, you're sure to have a great viewing experience.
With a 34" monitor like this for this price point, this has the perfect balance between resolution and performance.
The CJ791 is the perfect middle ground for those who don't want to fork out a grand for the AW3420DW, but still want a premium-tier of monitor.
4. Viotek GN34CW 34" Ultrawide White Gaming Monitor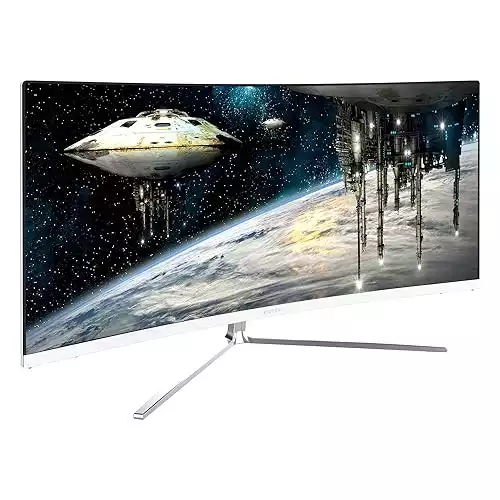 Check Prices
We earn a commission if you make a purchase, at no additional cost to you.
Pros
Low response time and decent input lag, which makes it a good fit for competitive games
Very reasonable price point for a high-quality gaming monitor
VESA compatible
Cons
Color coverage and accuracy could be better
Large screen may not fit on smaller, or overcrowded desks
If you are looking to save money, but want all the features of a quality 34" gaming monitor, then you're in luck.
The Viotek GN34CW 34" monitor is an ultrawide gaming monitor that competes with many monitors that include similar features but undercuts them in terms of price.
It includes a VA panel, which many consider the slowest out of IPS and TN. However, this particular model has a response time of 5ms.
In terms of input lag, it's also about 5ms, which is not the fastest, but not too slow either. It's in the middle and will perform quite well when gaming.
The downside to this monitor is the material. It includes a glossy strip which I wasn't a big fan of, and some seams aren't perfectly constructed.
The stand is also not adjustable, so I would recommend getting a VESA mount to be able to maneuver this monitor around.
So is this monitor worth getting? Absolutely.
The pros far outweigh the cons, and for this price point, it's a great stepping stone if you are just upgrading from a smaller screen, and don't want to spend too much just yet.
5. Asus VZ239H-W 23" White Gaming Monitor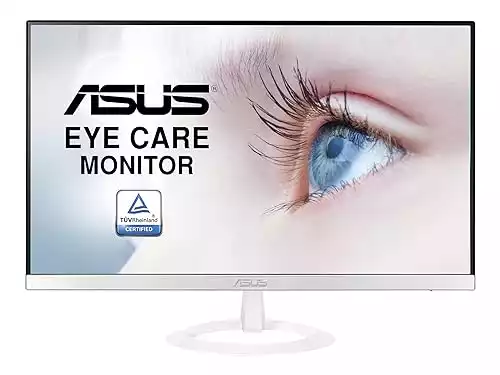 Check Prices
We earn a commission if you make a purchase, at no additional cost to you.
Pros
23" Full HD IPS screen at a low price point
Good sRGB color coverage
Designed to offer a wide (178°) viewing angle
Frameless design and thin frame are perfect for ultra modern or minimalistic white gaming setups.
Cons
Adobe RGB color coverage is lacking
Not compatible with VESA mounts
Stand isn't height adjustable (it does still tilt)
The Asus VZ239H-W may be the cheapest gaming monitor on our list, but it's still a perfectly acceptable choice for low or mid-range rigs, and it's also one of the most aesthetically pleasing white gaming monitors on our list.
Picture quality is great (it's an IPS screen, which means it has outstanding color accuracy and overall screen consistency).
Its sRGB color coverage is brilliant for the price point and we didn't see any evidence of juddering or screen tearing while we were playing games.
Of course, it probably goes without saying that a gaming monitor at this price point does lack the Adobe RGB coverage you'd need for professional photo editing or drawing digital art.
Other niggles or minor annoyances include the fact that the monitor stand height can't be adjusted, the fact that there is only one HDMI port, and the fact that it has no VESA mounting capabilities.
It's also worth noting that this is only a 60Hz monitor so it's not the best choice for FPS games like Call of Duty: Warzone, where you want to be hitting at least 120fps.
But if you're looking for an affordable option that'll handle most games and look good doing it, we think you'd be hard-pressed to find something better. Plus, this monitor does look absolutely gorgeous.
It's razor-thin (7mm at the top) and it has a frameless or borderless design that we absolutely love. Great for multi-monitor white gaming setups, or just getting sucked straight into whatever game you're playing.
6. Acer ED242QR 23.6" White Gaming Monitor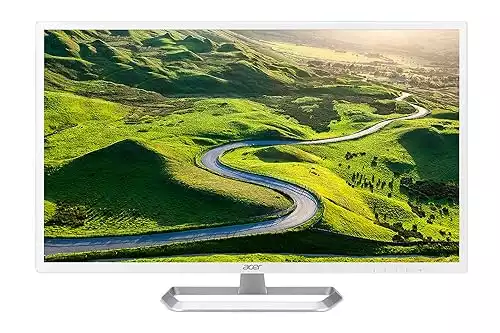 Check Prices
We earn a commission if you make a purchase, at no additional cost to you.
Pros
ProsGorgeous white gaming screen with a gentle curve that makes it look very futuristic
Vibrant VA panel gives great color depth and makes sure your games look incredible
Decent response time (4ms) with no sign of motion blur when running games with high FPS
Wide-angle viewing technology keeps your colors true to life
Cons
Still no VESA mounting capabilities
Single HDMI port may be a bit frustrating, especially if you've got consoles and games in your white gaming setup
No in-built speakers, which means you'll need to provide your own if you want sound
The curved design doesn't lend itself to multi-monitor setups
There's a lot to love about the Acer ED242QR in white.
First of all, the gentle curve on this gaming monitor is absolutely gorgeous and gives it a real space station/science-fiction vibe that's ideal for most white setups.
Secondly, the picture quality is second to none.
This white gaming monitor sports a VA panel, which means that you can expect incredible contrast and color depth.
Perfect for making the most of games that feature a lot of atmospheric environments or intense particle effects. (Looking at you, Valhalla).
Response rates are good too.
Our benchmarking puts the average response time at around 4ms which is still more than enough for most fast-paced or competitive FPS games.
We're also pleased to say that we didn't see too many issues with motion blur or ghosting, which is always a worry with VA panels.
There are some slight issues with the color temperature, which is a bit too warm for our tastes, but all in all, we think this is a great choice for most games, and one of the best VA panels for frantic FPS games like Valorant or CS:GO.
Other stand-out attributes include Acer's own wide-angle viewing technology, which helps to make sure that colors display accurately when you're looking at the screen from a slight angle, and a decent amount of optional tilt on the monitor stand.
Ideal for slightly taller people like me!
7. Samsung Curved 27" White Gaming Monitor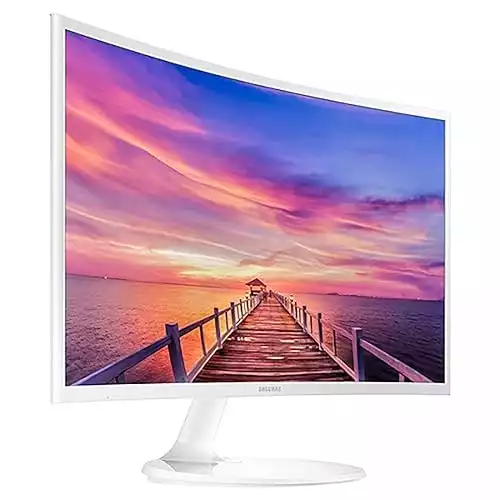 Check Prices
We earn a commission if you make a purchase, at no additional cost to you.
Pros
Top-notch monitor with great color and picture quality
Curved design makes for an immersive experience and a very futuristic/minimalist look
High contrast VA screen is ideal for gaming
AMD FreeSync ensures that you don't get any stuttering or screen tears
Cons
Full HD (not 4k) which may be an issue if you were looking for a best-in-class screen for movie watching
Quite a high price point
Doesn't play well with other screens due to its curved design
A curved gaming monitor for people who want the last word in immersion, the Samsung CF391 is a phenomenal display of technological prowess.
It boasts a VA panel which - again - means that you can expect super-rich colors and tonnes of contrast.
In fact, Samsung boasts that this screen has a "best in class" 3000:1 contrast ratio and we have to admit that we were incredibly impressed with the overall picture quality that we got from this monitor.
But it's the fairly dramatic curve on this monitor that really stood out to us.
Designed to wrap around your field of vision, it creates a really immersive experience that makes you feel like you're actually inside your favorite games.
Running through the narrow alleys of Dust II, or tracking your rifle across the rooftops on Ascent.
The dramatic curve on the Samsung CF391 is also supposed to reduce eye strain by limiting the distance that your eye has to travel and while we can't really attest to the accuracy of these claims, it's certainly nice to think that this monitor could help your eyes out during long play sessions
There are a couple of downsides to the CF391.
It's only full HD, which is unsurprising, but disappointing for the price point and it's lacking little extras like integrated speakers.
That said, it's a great monitor for gaming and a gorgeous choice for white setups.
We'd also be remiss if we didn't mention the fact that it uses AMD FreeSync technology to remove any trace of ghosting, stuttering, or tearing. Perfect for playing games at a higher (>144) FPS.
Buyer's Guide: How To Choose The Right Monitor For You
When it comes to choosing between the current crop of white gaming monitors, there is a lot to consider.
Color coverage and aspect ratios, screen sizes, and response times.
Things can get complicated fast, and a lot of people end up scratching their heads in bewilderment.
This section will be focused on clearing out the fluff, so you know exactly what to look for when choosing the right gaming monitor.
Choosing Your Size
Back in the day, TV's and Monitors were box-shaped.
As the years progressed, monitors just kept getting bigger, and bigger, to the point where wider is better.
Nowadays getting a monitor 21" and above comes at an affordable cost.
22" is the minimum size that gets you a monitor with a native resolution of 1920 x 1080 with a 16:9 ratio, which is what many videos and games look best in.
To choose the right size monitor, you need to consider your desk space and eye level.
If you plan on using two monitors side-by-side or have a small workstation, it's best to use multiple smaller screens instead of one large screen.
Here's a quick breakdown between monitor sizes and what their usual quality is:
| | | |
| --- | --- | --- |
| Can be 1080p depending on budget | Mostly targets QHD (2K) or UHD (4K) resolutions | QHD or above |
Below is an explanation of how monitor resolutions (1080p, 2K, 4K, etc) work.
Your Monitor Resolution
A monitor's resolution is defined as the screen's length x width in pixels.
It is important to note that anything 27" or above is usually QHD or higher.
As the resolutions get higher, the monitor gets bigger, and the price tends to get more expensive too.
Below is a breakdown of monitor resolutions:
| | |
| --- | --- |
| 5K | 5120 x 2880 |
| 4K | 3840 x 2160 (typical monitor resolution) / (4096 x 2160 (official cinema resolution) |
| Ultra HD (UHD) | 3840 x 2160 |
| Quad HD/WQHD/1440p (AKA QHD or WQHD) | 2560 x 1440 |
| 2K (1440p) | 2560 x 1440 (typical monitor resolution) / 2048 x 1080 (official cinema resolution) |
| WUXGA | 1920 x 1200 |
| Full HD (FHD, AKA 1080p AKA HD) | 1920 x 1080 |
| HD (AKA 720p) | 1280 x 720 |
The Higher The Refresh Rate, The Better The Monitor?
When you're looking for a gaming monitor, refresh rate is one of the most important considerations.
As mentioned in the FAQs below, higher refresh rates aren't always necessary.
Slower, or low-end GPUs can't make the most of a high (>120 Hz) response rate and some games do run better at 60fps.
But if you're playing FPS games or modern titles with a lot of fast-paced movement, you may want to swing for something that has a high refresh rate (75 Hz or higher is recommended).
For a full breakdown on the importance of refresh rate is important, have a look at this in-depth video by Linus Tech Tips:
What Are Variable Refresh Rates (VRR) Like GSync & AMD FreeSync?
GSync and AMD FreeSync do the same thing, but they're made for different graphics cards.
Monitors have a fixed refresh rate (60Hz, 144Hz, 240Hz, etc.). Your GPU is responsible for outputting the graphics onto your monitor and has a variable render rate (completely random).
So what GSync/FreeSync do is match your monitor's refresh rate with your GPU's variable render rate.
This eliminates screen tearing, reduces input lag, and disables v-sync (which can cause FPS drops).
You can see an example of screen tearing below: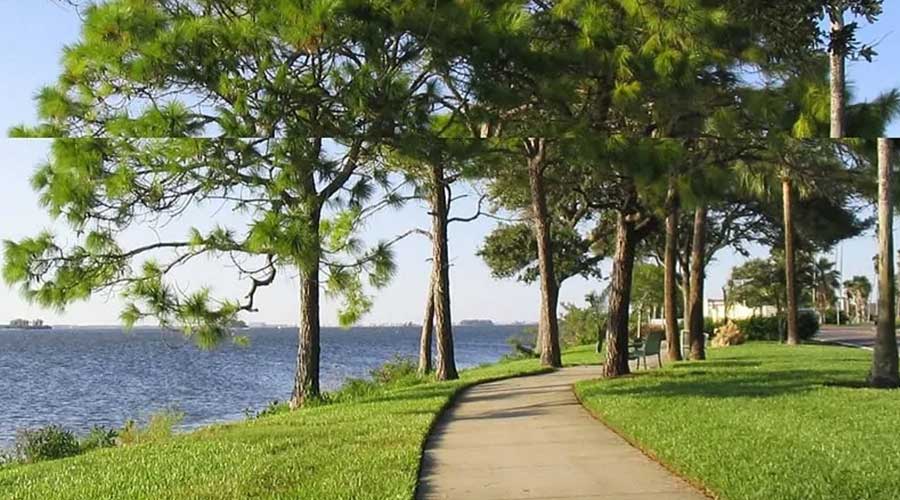 With GSync or AMD FreeSync technology, you will never have to experience these issues.
Should I Use GSync/FreeSync When Playing Competitive Games?
No.
And here's why.
When it comes to competitive gaming, input lag should be kept to a minimum.
To reduce input lag, you need a high FPS count that's consistent.
And to get a consistently high FPS count, you need a decent rig with an awesome graphics card.
Here are the criteria for whether or not you should use GSync or FreeSync:
240+ FPS Consistently = Disable GSync (and if you have the option, enable Ultra Low Motion Blur (ULMB).
>240 FPS or Inconsistent FPS = Enable GSync, and cap your frames at 236
If you have a 60Hz monitor, don't enable GSync
However, the exception to the above rules are:
If you want to prevent screen tearing, turn on GSync/FreeSync.
If you are playing a game that requires quick actions or pixel-perfect precision, turn off GSync/FreeSync.
Again, the aim is to reduce input lag while you are playing competitive games. Technologies like GSync/AMD FreeSync will solve issues like screen tearing, but they won't necessarily reduce input lag and they actually increase it in some cases.
Play around with the settings first-hand to get a feel for GSync/FreeSync vs. No GSync/FreeSync.
How To Choose The Right Panel
When choosing a monitor, the type of panel is important and affects your viewing experience from different angles.
IPS (In-Plane Switching)
IPS panels are the most common panels right now, and you most likely have an IPS panel right next to you.
Your smartphone uses an IPS panel, as they are vibrant and colorful.
From any angle, your screen stays bright so no matter what direction your phone is viewed from, it's as clear as day.
For example, if you put your phone on the ground to watch something while you exercise, no matter if you're standing, doing push-ups, on the left or right side, the viewing experience will stay consistent.
The perks of an IPS panel can be described as:
Great viewing angles
Great in portrait and landscape mode
Color accuracy for content creators
The only downsides to IPS panels are that they can be expensive, and the contrast isn't that great.
VA (Vertical Alignment)
VA panels offer a great middle-ground between IPS and TN panels.
These types of panels often include higher contrast than IPS or TN and are better for gaming in darker rooms.
They do have great viewing angles, but not as high-quality as IPS panels.
Vertical alignment panels typically have higher response times when gaming.
TN (Twisted Nematic)
TN panels have a focus on higher refresh rates, which in turn make them great for gaming.
They also have quite a fast response time too, between 1ms and 2ms.
The downside? Poor viewing angles compared to VA and IPS, and lower-quality color.
These types of panels do come at a lower price point, but bear in mind that you will be sacrificing viewing angles and color-quality for a faster response time and higher refresh rates.
For my recommendation, opting for an IPS or TN panel are a better bang for your buck, since the balance between color, and ability to be viewed by different angles outweigh the slight increase in performance.
Frequently Asked Questions
Do I Really Need A 4K Monitor For Gaming?
This is a very common question with a fairly nuanced answer! 4k monitors have 4 times as many pixels as a 1080p monitor of the same size so they do - generally speaking - look miles better. Expect a sharper picture, deeper colors, and more contrast.
But that doesn't mean that you need a 4k monitor to game.
Most games actually look fantastic on a 1080p or Full HD monitor and it's worth pointing out that a lot of game studios actually design their games to run on this kind of monitor.
It's also worth noting that a lot of pro eSports players prefer 1080p screens because they tend to have better response times and less lag.
It's also easier to get high frame rates on a 1080p screen so if you're playing a lot of fast-paced or demanding games, it might be better to look for Full HD instead of the vaunted 4k branding.
Is It Worth Paying For A 240Hz Monitor?
Refresh rates (measured in Hz) refer to how often a monitor screen refreshes itself every second. A lot of people think that a monitor's Hz is a measure of its overall performance or quality, but it's slightly more complicated than that.
A 60Hz monitor will only refresh 60 times a second, which means that anyone using one will be unable to get more than 60FPS from their games.
Meanwhile, someone using a 240Hz screen will be able to enjoy up to 240FPS but Hz has no impact on picture quality or color
So if you're playing on a high-end rig that's capable of pushing up to 240FPS, you'll want a monitor with a refresh rate to match.
But if you're not playing games where high frame rates are important (eg. single-player games, MMOs, or MOBAs) you'll be fine with a lower refresh rate.
It's also worth noting that mismatches between your frame rate and your monitor's refresh rate can cause tearing and juddering.
This is true of high-fps, low Hz builds and builds with high-end monitors that can't output enough frames per second so take care when picking your monitor.
You want to match it to your rig/graphics card and not just jump on a high number because it seems to be better.
How Important Is Color Coverage?
This one comes down to personal preference.
A lot of people say that monitors with poor or lower color coverage are sub-standard but it all depends on whether you really care about deep colors and accurate display.
If you're the kind of person that minimizes their graphics settings to boost their FPS, then there's no point paying for a high-end IPS panel that you're never going to use.
On the other hand, people who like to sit back and appreciate the vistas in the Witcher III or Cyberpunk 2077 might find that they get a lot more enjoyment out of a more color-accurate gaming monitor.
Think about where your priorities lie and try to pick something that you'll enjoy using for years to come.
After all, you didn't spend all this time reading about the best white gaming monitors to go out and buy something that you'll want to replace in a year!
Our Winner For The Best White Gaming Monitor
We think that the Alienware AW2720HF White Gaming Monitor is the clear winner here.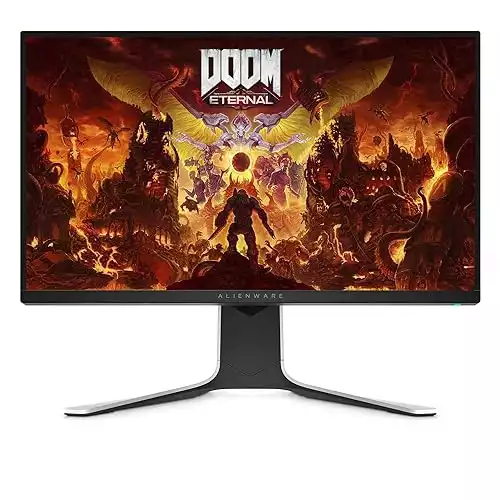 Check Prices
We earn a commission if you make a purchase, at no additional cost to you.
It looks absolutely fantastic, and it has the super low response rate needed for competitive games.
It also boasts great picture quality; an IPS panel that's been tweaked to suit fast-paced games and great color coverage for a gaming monitor at that price point.
Sure, it doesn't have the eye-watering 3440 x 1440 resolution found on the Alienware AW3420DW, but the build-quality and technical prowess are streets ahead of the other monitors on this list, and we think it's a no-brainer for any all-white builds.