If you're a serious gamer, chances are that you wear some type of headset. With so many options to choose from, it can be hard to know what's best for your specific situation.
There are many different types of headsets available on the market today, but to find a white gaming headset, your search tends to become more tedious.
It's also important to note what to look for when choosing a quality gaming headset.
Not only do they have to be colored white, but they should also have great sounding quality, have a clear microphone to communicate with, and be durable enough to last you a long time.
In this article, we will be going through the top white gaming headsets on the market right now, and how you can pick the perfect headset to compliment your white gaming setup.
If you're in the process of building your white-themed gaming setup, then you might want to also check out our other guides, whether it's looking for some more peripherals or inspiration for a white-themed game room:
The trick is to find a balance! No matter what you're looking for, whether it be premium products or if budget is the priority...
You will be able to find a headset that's perfect for your situation.
So enough talk, let's dive in.
Best Overall
Corsair Virtuoso RGB Wireless White Gaming Headset
Runner Up
SteelSeries Arctis 7 White Gaming Headset
Budget Pick
Razer Kraken Pro V2 White Gaming Headset
TL;DR: Best White Gaming Headsets
1. Corsair Virtuoso RGB Wireless White Gaming Headset
Check Prices
We earn a commission if you make a purchase, at no additional cost to you.
Pros
High-performing audio quality
Clear and concise microphone
Well-built design
Comfortable for long gaming sessions
Right off the bat, we think that this Corsair Virtuoso gaming headset offers everything you would want in a high-end gaming headset.
Made from durable aluminum and cushiony memory foam, it will feel like you are wearing a pillow on your head.
The headset itself is lightweight and durable and can fit tightly around your ears to block out any unnecessary background noise.
The Virtuoso offers amazing sound quality, whether you utilize its 7.1 surround sound or use it as normal.
Although it does need 3rd party software (Corsair iCUE), which is the standard nowadays.
Within the software, you will be playing with the sound profile and edit the RGB lighting effects.
The Corsair Virtuoso is a great headset for gamers who enjoy the thrill of competitive games and need to communicate with teammates.
It offers an omnidirectional detachable mic that also has an easy-to-press mute indicator, which means you're always in control.
Your voice comms will be clear and concise, so you can feel confident speaking from the heart.
Your natural tone of voice won't have to change - just speak naturally!
If you want to use this headset for tasks other than gaming, the headset comes with a 3.5mm headphone jack that you can use for console gaming, or on your phone.
The Corsair Virtuoso is a great choice if you're looking for high-quality performance and quality.
It's not the cheapest headset, but it does have all of your needs covered in one package!
2. SteelSeries Arctis 7 White Gaming Headset
Check Prices
We earn a commission if you make a purchase, at no additional cost to you.
Pros
Great for minimalists
Awesome comfort for long gaming sessions
No noticeable latency
Durable and sturdy
Cons
No media controls
Microphone is quite sensitive
The SteelSeries Arctis 7 is a gaming headset that will not disappoint. The sound quality, the comfortability, and the versatility of it all make this one of the best headsets on today's market.
The Arctis 7 is a sleek and elegant headset that won't get in your way when you're gaming.
You can adjust its headband with the Velcro straps, so it will always be comfortable and help keep sound where it should be - right next to your ear!
The Arctis 7 includes a power button, volume slider, and additional volume controls, all located on the ear cups.
You're in luck if you like to game on other consoles. The 3.5mm audio jack will allow you to connect your console without needing additional cords and can be used for gaming, listening to music, or even watching tv!
And if you use the PS4/PS5 specifically, you can plug this headset in wirelessly. Ensure that you plug in the USB transmitter too.
You can get a ton of different configurations with the headset. It has both stereo and DTS 7.1 surround sound plus tons of options for adjusting it to your needs, whether you're playing games or not!
The Arctis 7 uses SteelSeries' Engine 3 software. You can create sound profiles and adjust your microphone settings.
Setting up game profiles is actually pretty simple too, just play around with them until you get a profile that suits your playstyle.
There's no RGB featured on this headset, it's simple and great for minimalists.
But if you use other SteelSeries peripherals, you can manipulate the RGB using the settings in Engine 3.
The Arctis 7 has a clean-quality microphone that your teammates will love. Although it does pick up a little bit more than other mics, gaming in isolation or with a couple of people in your room won't be a problem.
Overall, the Arctis 7 leaves no stone unturned when it comes to quality and performance.
Some may not appreciate the lack of RGB or the understated design, but to others, this is a plus and allows the Arctic 7 to be used in common settings.
3. ASUS ROG RGB Delta White Edition Gaming Headset
Check Prices
We earn a commission if you make a purchase, at no additional cost to you.
Pros
Well-designed and durable
Crisp audio quality
Clear microphone
Soft, cushiony earcups
Great sound isolation
Cons
Decently priced
Non-detachable microphone
Headband can be uncomfortable
The ASUS ROG Delta White Edition edition headset is perfect for the gamer who wants to experience true audio, customizability options, and connection with almost any gaming platform you are playing on.
The sound quality is phenomenal. Not only do these headphones have four high-end DACs, but they're also designed to fit over your ears and cancel out noise from the outside world.
What do you get in return? Crystal clear sounds every single time!
The ASUS ROG Delta gaming headset is well-suited for online play with its flexible microphone that can be tuned to narrow or wideband.
This means you'll get the same level of clarity whether playing games in your living room, office, dormitory - anywhere!
It also features a unidirectional mic so it will pick up your voice better than many microphones on the market today.
The headset also includes RGB, so if you like to game with dim/no lights, you can play around with the RGB settings and create an aesthetic look.
Or just use the lights to be able to see where your headset is. That works too.
The ROG Delta includes a flexible headband, angled speakers for better audio quality, and a unique take on comfort.
With D-shaped ear cups to fit any type of ears and an adjustable microphone, this product is perfect for anyone who wants high performance in their online games!
And if you are a multi-platform gamer, you can use this headset on your other consoles, since it includes a USB-C to USB 2.0 adapter. Never switch headsets again.
The downside to the ASUS ROG Delta is that the comfort aspect is hit or miss. Although they tried to create a comfortable headband, it can be a little stiff and can get sore after a while.
You can't overlook the fact that this headset has superior audio quality, and a quality mic to go alongside it.
For its price-point, it's definitely cheaper than an Arctis 7 or Virtuoso, so if you want to save money, and have a quality-performing headset, this is the ideal choice for your gaming setup.
4. Logitech G733 Lightspeed Wireless White Gaming Headset
Check Prices
We earn a commission if you make a purchase, at no additional cost to you.
Pros
Great quality sound (once you tweak it right)
Comfortable for long gaming sessions
G Hub software is easy to use
Clear microphone even with background noise
Cons
Sound profile needs tweaking to be great
LED may reflect off your glasses (if you wear them)
Logitech has been reigning at the top in terms of gaming peripherals, including their gaming mice and keyboards - and their headset is no exception.
The Logitech G733 Lightspeed headset was designed with comfort in mind, so it doesn't put any pressure on your head or ears, perfect for long gaming sessions.
It also features advanced wireless technology, which means you will get a lag-free connection even when you need to move around the room during intense gaming sessions.
First of all, let's talk about input lag. When it comes to wireless headsets, this is the number one concern for gamers - fortunately, you won't have any such issues with the G733.
The headset is also designed with a noise-canceling microphone, to prevent picking up unnecessary background noise, making it perfect for competitive gaming.
With the G HUB software, you can fine tune your sound profile for gaming. Additionally, if you don't know what you're doing, you can copy someone else's audio profile who is using the same headset as you.
This is an awesome feature as even pro-FPS gamers put up their settings for you to copy. And what better way to find a reliable audio profile than to copy a professional who uses their headset every day.
The G HUB software is also compatible with the Logitech gaming keyboard and mouse, so you can customize your audio experience without any additional equipment.
Whether you're playing a hardcore game or just bingeing Netflix, this headset has plenty to offer.
The included USB receiver offers up a 20m range with a consistent wireless connection, so there are no worries about breaking up if stepping away for a moment!
The downside to the headset is that you will need to fine-tune your audio profile to get the sound to the quality you desire. The stock sound profile is not recommended, and with the help of the G Hub, you're sure to find an audio profile that works.
And if you wear glasses, this headset may not be for you. The LED placement on this headset isn't great, and you may get some reflection off your glasses, which can be incredibly annoying.
Regardless, the Logitech G733 Lightspeed Wireless headset is an awesome mid-tier option that will provide you with great performance and output.
It's got enough personality to make you stand out from the crowd and a price point that won't break your bank.
Just ensure you play to tweak the settings to take advantage of the quality hardware Logitech has put into this headset.
5. Razer Kraken Pro V2 White Gaming Headset
Check Prices
We earn a commission if you make a purchase, at no additional cost to you.
Pros
Budget-friendly
Crisp audio quality
Control module to change sound settings
Sturdy construction
Cons
Can only move microphone up and down
Mic tends to pick up more background noise than other headsets
Similar to Logitech, Razer has been in the gaming peripheral business for a long time and has proven time and time again that they are a force to be reckoned with.
Their Razer Kraken Pro V2 is a prime example of white gaming headsets that look great and will give you high-quality sounding performance.
It includes an adjustable headband and ear cups that can be rotated to fit the user's needs; it also has a retractable microphone for easy storage when not in use!
It's simple, and perfect for those who just want a quick plug-and-play solution for their headphones.
The sound quality on this device was surprisingly crisp considering its price point (<$100). So don't be fooled by the price, it delivers.
It even comes equipped will all of your basic audio controls such as volume control buttons located behind each cup so you don't have to fiddle around too much while gaming or listening to music.
The overall build quality is impressive. It features a sturdy construction and plenty of comfort!
The Razer Kraken Pro v2 is a stereo headset that connects via 3.5mm and doesn't work with apps like Razer's Synapse, so there won't be any surround sound if that's an option you like to game with.
The Razer Kraken Pro V2 is a decent gaming headset, but it has some downsides. You can't bend the microphone and while the sound quality isn't terrible you will need to be in quieter environments to have any success with this mic picking up less background noise than other options on this list.
Needless to say, the Kraken Pro v2 is one of the best choices for an entry-level gaming headset.
The Kraken Pro v2 gaming headset is affordable and great for entry-level gamers. It has high sound quality without requiring much customization right out of the box!
If you want to get started into getting a more premium headset, but don't want to break the bank, this is a great entry-level headset that will be a step up from your regular unknown budget headsets.
6. HyperX Cloud Stinger Core Wireless White Gaming Headset
Check Prices
We earn a commission if you make a purchase, at no additional cost to you.
Pros
Great entry-level headset
Comfortable ear cups
Noise cancellation to help immersion
Microphone quality is clear
Cons
Audio profile needs tweaking
Mic may be too soft and will need tweaking
The HyperX Cloud Stinger Core Wireless Gaming Headset is a budget-friendly white gaming headset that does not skimp on quality.
The fabric of the ear cups are soft and breathable, so if you're suffering from sweaty ears during intense gaming sessions - these won't make wearing the headset uncomfortable.
Performance-wise the audio is nice and crisp and the noise cancellation definitely helps with immersing yourself in your game.
I would recommend messing around with the audio profile to find the right balance as the stock audio profile may not be to your liking.
The audio in this headset is crisp and clear, which makes for a more immersive gaming experience.
The noise cancellation also helps block out ambient sounds so you can fully concentrate on your game!
The microphone is also clear and concise. You won't have a problem communicating with your teammates
And as an added bonus, you can mute yourself by simply raising the mic arm.
Genius.
The downside to this headset is the softness of the microphone volume. It would be better to have the microphone more adjustable, being able to bring it closer to your mouth.
It sits quite far from your face, so if you often talk softly during late-night gaming sessions, they might not even hear you!
Overall this headset is a great budget pick that is well-balanced for its value, and a definite upgrade from cheaper headset alternatives.
It won't blow your socks off in terms of quality and performance, but you are getting the maximum amount of value out of the budget you are buying this headset for.
7. BENGOO Pro White Gaming Headset
Check Prices
We earn a commission if you make a purchase, at no additional cost to you.
Pros
Great entry-level price
Well designed and comfortable
Noise-canceling
Well-rounded audio quality
Cons
It may be easier to snap if not taken care of
Mic quality is sub-par (and needs a quieter environment)
The BENGOO is the perfect entry-level gaming headset, providing a quality experience without breaking your budget.
The place to be if you're looking for a great headset at an affordable price is BENGOO.
You might not find the same quality as headsets over $100, but don't let that scare you away because this model reigns supreme among those under $50.
The headphones are made with high-grade memory foam padding which allows you to wear them over long periods of time.
BENGOO has a great grip on your head too. The headphones will stay put and not fall down no matter what position you find yourself in, even if you're upside down.
The biggest concern would be sound quality when testing this headset. I can assure you that BENGOO does not skimp out on this feature.
Thanks to 7.1 channels, you will be able to hear the subtleties of your music or video games more clearly and distinctly.
The headphones also come with noise cancellation.
This ensures that you can completely block out any background sounds and enjoy a more immersive experience.
The downside of the headsets comes in two parts.
The headset is made up of mostly plastic parts. Although it does feel quite sturdy, take extra precautions to ensure you don't snap anything!
The microphone is also a bit finicky.
It works well enough in an isolated environment, but it will pick up background noise and make your voice less audible if you live with others who are always talking loudly nearby or there's lots of activity going on around you.
Overall, we decided to include this headset because of its awesome value.
For those of you who have never used a gaming headset, and would like to test the waters first, this is the perfect headset to start off with.
These will definitely last you a long time, given you take care of them. And with the cheap price tag, there is always room for an upgrade in the near future.
Buyer's Guide: How To Choose The Best White Gaming Headset For Your PC Setup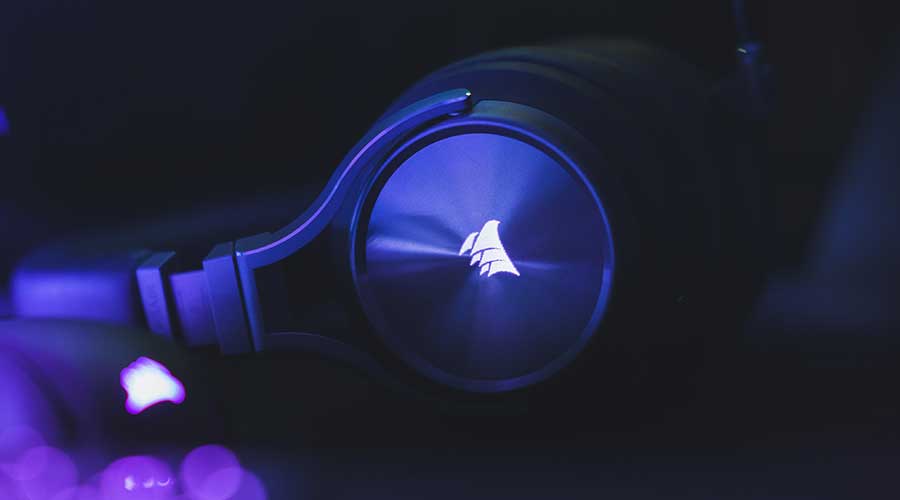 Determine Your Budget
Your budget is important to note when buying a new headset.
If you are sick of the low-quality performances from buying unbranded, generic headsets, then you're in luck, any one of the headsets on our list will be a massive upgrade.
If you don't want to spend an arm and a leg chasing the best headset, then consider one of our budget options.
They won't be as feature-heavy or have the same sound quality, but they do their jobs very well.
Not only that, these budget headsets will last you a long time until your ready to upgrade even more.
And to top it all off, white looks good on anything, especially if you're looking to get an all-white gaming setup.
What Type Of Games Will You Be Playing: FPS Games, MOBA Games, Or Others?
You use sound in FPS games to determine the location of your enemies or to hear vital information when sneaking around.
You use sound in MOBA games to hear pings and to help anticipate your enemy's movements.
Single-player games have a great focus on immersion, so the music, the environment, and everything else blends together to create a masterpiece.
Truth be told, having no sound playing any game takes away from the experience and still puts you at a disadvantage overall.
So it is important to pick a headset that has great audio quality.
Some headsets may need more tweaking than others to get right, but customization is definitely worth it.
What's more important about knowing what games you play primarily is the microphone quality.
FPS gamers need a quality microphone. It's not just for yourself, but for your teammates too.
Crystal clear communication can be the difference between winning and losing, and having a horrendous microphone is a one-way ticket to getting muted by your whole team.
If you play MOBA games or single-player games, you probably won't even need a microphone at all (unless you use Discord to chat with your friends).
Therefore getting a headset with a detachable microphone is recommended. It's a small detail to be able to detach your microphone, but it can get annoying if you tend to use your headset every day.
Finding The Best Value Headset For Your Budget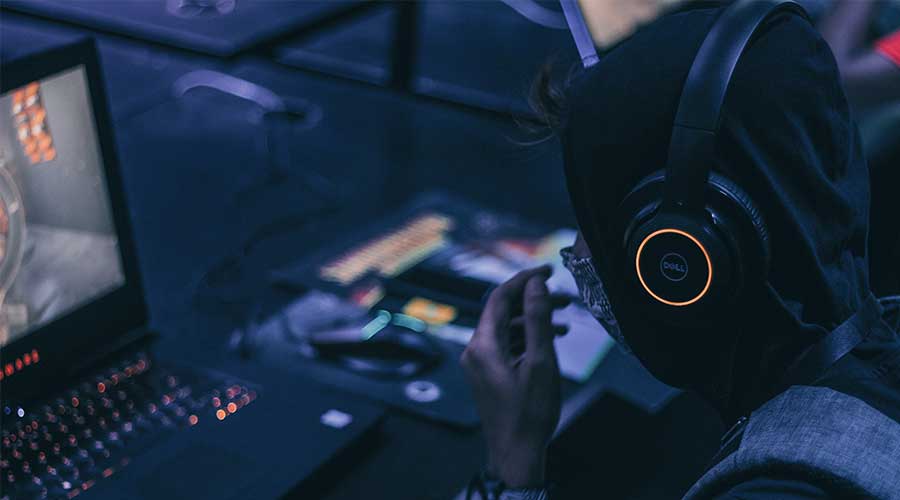 To find the best value for your headset you need to determine whether the headset has taken advantage of hardware they have used in comparison to the price point they are selling at.
Build Quality
Build quality is one of the most important factors and affects the longevity of your headset.
Ensuring the headset is well-built, with a sturdy construction is important.
I have had my fair share of cheaper headsets snapping on me as I attempt to fold them up or put them on.
It's not just how a headset is built that counts - you also have to consider the flexibility of it.
A more flexible headset will be much easier on your ears and will allow room for more of a beating than stiffer headsets.
Microphone Quality
You may not need a microphone at all depending on what games you play, but for games that include interacting with your teammates, don't skimp out on the microphone quality.
If you have a mic full of static, it is guaranteed that you will get muted.
Not only is it a terrible experience for your teammates but you also lose rapport with them, and the ability to communicate.
You've probably had your fair share of horrendous microphones if you've played a lot of FPS games, so be thoughtful to your teammates and get a good mic.
And I've already said this, but communicating to your team effectively could be the difference between winning or losing, so a quality microphone would be a big help.
Comfort
Considering you will be playing for many hours at a time, having a headset that won't tire out your ears or head is important.
You will want enough padding and cushion around your earlobes and head to not make your head sore.
If a headband is too hard, or too heavy, it will cause massive discomfort on your head and will make you take it off.
The same thing applies to your ears, if the headset doesn't fit your ear properly, and your earlobes are wedged against the outer part of the headphones padding, then you won't last a long time with those headphones on.
Consider the type of your headphones your headset comes with.
Ideally, getting over-the-ear headphones is better than on-ear ones.
And headphones provide better surround-sound quality than earbuds, hence why you never earbuds used in competitive tournaments.
Aesthetics
When it comes to building a full white gaming setup, you should plan out how you want your headset to look in comparison to the rest of your peripherals.
If you're a minimalist, getting a simple, plug and play headset would perfectly compliment your setup.
If you have RGB on your keyboard, mouse, and in your computer, then getting a headset that allows you to customize the RGB lighting can help aid the aesthetic appeal of your setup.
Ensure that you check the product specifications and know exactly what you're trying to look for.
Wired Vs Wireless: What Do You Prefer?
This has been widely debated, and I even did a full post on this exact topic, so feel free to check it out if you want.
Basically, it can be summed up in two questions:
Do you want the freedom to move around wherever, and whenever you want?
Do you want to save some money, and ensure you have a reliable connection with the fastest response time to your computer?
Wireless technology has evolved over the years, and that includes wireless headsets.
The downside to wireless headsets is that they are prone to having interruptions, whether it's having something causing static, or simply not being able to connect to your PC.
Although nowadays wireless headsets rarely have such problems, it's important to note that it can happen.
Not to mention that most wireless headsets allow you to plug in a cord and make it wired anyway, so for the most part it's a win-win.
Wired headsets resolve those issues, having 0 tolerance for interruptions and having been the most responsive due to their direct connection.
However, cable management is a nightmare, as having a wired headphone means it must be connected directly to your computer.
Pros and cons for both, so you decide whether you want convenience for a higher price, or reliability but annoying wires.
Active Noise Cancellation Vs. Active Noise Isolation: Which One Is Better For Your Environment?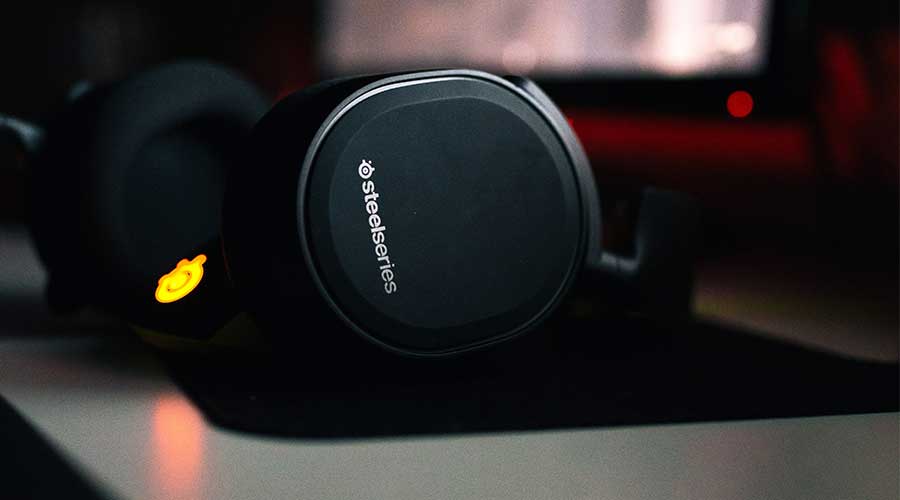 When choosing a gaming headset, it's important to note a key feature that determines how much background music you can hear while you have the headset on.
These are known as:
Active Noise Cancelling (ANC) headsets cancel any background noise, allowing you to immerse yourself in your video game.
Active Noise Isolation (ANI) headsets significantly lower the amount of background noise but don't completely block out any sounds from entering.
Depending on your situation, you may need to hear background noise, such as your name being called.
Or if you live alone, you want to be able to at least hear a little bit around you so you are aware of your surroundings.
However, if you live in a busy household, or game somewhere in public, getting an ANC headset is your best bet.
Having no sound interruptions when gaming will give you an awesome advantage, and allows you to fully immerse yourself in the incredible sound engineering a lot of games have.
Our Winner For The Best White Gaming Headset
There is a lot of debate on what headset has the greatest quality, and ticks all the boxes.
Unless you are an audiophile, a gamer like yourself needs a headset that is reliable.
That means, having great audio quality to be able to differentiate different sounds in your game, a great quality microphone for communication, and a sturdy design that will last a long time.
In our opinion, the Corsair Virtuoso RGB Wireless is the most consistent in each category
You get what you pay for. The Virtuoso does come at a premium price, but it's definitely worth it.
If you are looking for a white gaming headset that will compliment your white gaming setup, then you won't have any problems choosing Corsair's Virtuoso!
Comment down below if you have, or have gotten any of these headsets, and tell us about your experience.