Your new graphics card could easily be the most thrilling aspect of your brand new white PC build.
With so many great options to choose from, no doubt picking the best white graphics card can be daunting — especially if you are building a custom PC for the first time.
So I did a ton of research and ranked the 7 best white GPU's for your white gaming setup — so that you don't have to.
The truth is that most people will not need a top-tier GPU, but rather a mid-range graphics card that is compatible with the rest of their hardware.
It also has to be power-efficient, with excellent cooling for durable use, and at a cost that won't break the bank.
What graphics card suits your needs best in 2021?
Although none of the seven cards I review here will disappoint, one of them is going to be perfect for your white PC build!
So, choose wisely!
Please note: Please beware of 'scalpers' that are ripping you off by inflating the prices of the RTX 3000's series due to the low stock of the RTX 3000 GPUs. To find out more information about this, click here.
🏷 Budget Pick
🔥 Best Overall
🥇 Runner Up
ZOTAC RTX 3070 OC
Best bang for your buck
Can run graphic-intensive games on High with ease
Future proof
Check Prices
🏷 Budget Pick
🔥 Best Overall
🥇 Runner Up
ZOTAC RTX 3060
Great value for mid-tier PC's
Most affordable out of the 3000's series
Performance similar to an RTX 2070S
Check Prices
TL;DR: Best White Graphics Cards For 2021
Prices pulled from the Amazon Product Advertising API on:
WARNING: Current Problems With The New RTX 3000 Series
You could argue that the new RTX 3000 series is superior to its predecessors in every way.
And due to that being the case, there is a very high demand for these graphics cards – although, there's currently not enough stock to make everyone happy.
Currently, there is a shortage of new graphics cards on the market, with many of the RTX 3000's GPUs being sold out extremely quickly.
And here's where you should heed my warning: beware of 'scalpers'.
Scalpers are sellers who inflate the price because they know that their product is in extremely high demand.
For example, where you would normally pay $1,500 for a graphics card, you can end up paying $2,000 or more.
Do your due diligence before purchasing a graphics card by seeing other pricing from multiple different retailers.
Here are the current prices according to the NVIDIA website:
RTX 3060: $329.99 – $529.99
RTX 3060 Ti: $399.99 – $669.99
RTX 3070: $499.99 – $799.99
RTX 3080: $699.99 – $1,109.99
Depending on the retailer, these prices may vary. Use these as ballpark figures to gauge the right pricing for the following graphics cards.
I will regularly update this list to ensure that you get the best prices from Amazon, so if you feel as if the pricing is unjust, do NOT buy from our list.
Instead, you can use our reviews as information to help make your decision, then you just have to wait for the GPUs to come back in stock at the right price.
Enough said, let's move onto the reviews!
1. ZOTAC RTX 3070 OC
Best White GPU Overall
Unabashedly designed with hardcore gamers in mind, ZOTAC's 3070 OC is the best white GPU for your higher-end custom white gaming rig.
This stunning graphics card with white LED lighting was built on the NVIDIA Ampere architecture designed for engineers, creative professionals, and companies working with AI.
ZOTAC Gaming gives professional gamers the edge with 5,888 CUDA cores, 184 Tensor cores, and 46 RT cores.
Zotac Gaming's GeForce RTX 3070 OC has 8GB of GDDR6 memory, a core clock speed of 1500 MHz, and a boost clock speed of 1724 MHz.
This white graphics card is, at 231.9mm, surprisingly slim, and it is equipped with an advanced IceStorm 2.0 cooling system to boost your FPS.
The white edition of this card is shipped with an HDMI 2.0 cable and three DisplayPort 1.4 connections.
ZOTAC's RTX 3070 OC white GPU is the best graphics card on the market for serious gamers who need a compact but flashy and versatile graphics card.
If you want a graphics card that can perform well no matter how graphic-heavy the game or software is, and is affordable and future-proof…
Then the RTX 3070 is a great option!
2. ZOTAC RTX 3060
The white edition of ZOTAC's RTX 3060 is an incredibly solid choice for gamers who need great performance, but don't want to fork out the extra $100's to get the RTX 3070.
The RTX 3060 is your next best bet and you will reap the benefits of NVIDIA Ampere architecture, second-generation RT cores, third-gen Tensor cores, a decent 3,584 CUDA cores, and 12 gigabytes of GDDR6.
The RTX 3060's boost clock speed reaches 1867 MHz and easily allows most gaming enthusiasts to have high performance.
An HDMI 2.1 connection is included, along with the three obligatory DisplayPort 1.4 connections.
If you are looking for the best white graphics card on a low budget, built for a mid-tier PC, the ZOTAC's RTX 3060 is the perfect solution for you!
3. NVIDIA RTX Titan
There's no question that NVIDIA's RTX Titan is the Mona Lisa of GPUs.
Powered by NVIDIA's Turing architecture, this graphics card offers 576 Tensor cores, 72 RT cores that make real-time ray tracing a dream, and 4,608 CUDA Cores.
NVIDIA's RTX Titan features a total of 24GB of GDDR6 memory and is delivered with an HDMI display connector, a USB Type-C connector, and three DisplayPort 1.4 for intensive high-resolution video editing.
This beast of a graphics card comes with a core clock speed of 1350 MHz and has a boost clock speed of a whopping 1770 MHz.
With the NVIDIA NVLink, you can couple two RTX Titans and reach entirely new performance levels.
If you are in search of the best graphics card on the market, you should look no further than NVIDIA's RTX Titan.
But, let's be honest!
This stunning GPU was not designed for your typical user, and it's likely to be overkill for most hardcore gamers.
Unless you are working with extremely complex datasets or rendering the most demanding 3D content, you don't need the RTX Titan.
But, if you're willing to lay down around $3,000+ to flex that you have one of the best white graphics cards on the market, it is definitely worth the bragging rights!
As a bonus, Linux users will be happy to hear that this is one of the few high-quality GPU models that supports GNU/Linux systems.
4. NVIDIA RTX 2080 Ti Founders Edition
NVIDIA's RTX 2080 Ti Founders Edition, built on Nvidia Turing TU102 architecture, was designed for gamers who seek high performance with realistic graphics.
If you're a hardcore gamer that wants to run resource-heavy games on high-ultra settings, then this is the beast for you.
With ultra-quiet cooling fans that will keep your rig from overheating even on the highest graphics settings.
It has 4,356 CUDA cores, 544 Tensor cores, and 68 RT cores, boasts 11 gigabytes of GDDR6, a core clock speed of 1350 MHz, and a boost clock speed of 1635 MHz.
Like most modern graphics cards, this GPU has display connections that include USB type-C and an HDMI output.
You will need a higher-end gaming rig to support this GPU, which is one of the faster models on the market.
Sitting at around $2,000, this GPU does require a financial sacrifice.
Therefore gamers who have powerful hardware and want the benefit of real-time ray tracing, this card is worth the cost.
If you PC components that can bring out the full potential of the RTX 2080 Ti then this is definitely a GPU worth picking up.
5. MSI RTX 2070 Super
If you are the type of person who likes to play graphic-intensive games but cares more about performance than graphics then you're in luck.
The RTX 2070 Super is the perfect mid-tier graphics card, valued at an awesome price.
In fact, this is the exact graphics card I have on my own PC which allowed me to actually play on the buggy Cyberpunk 2077 upon the first release.
Gigabyte's RTX 2070 Super's three cooling fan setup features NVIDIA Turing architecture, with a core clock speed of 1815 MHz, and 8GB of GDDR6.
Thanks to its unique cooling system with alternate spinning fans, gamers can boost their PFS while keeping their PC setup cool.
This card ships with an HDMI 2.0, three DisplayPort 1.4 connections, and a USB Type-C that supports a VirtualLink for your VR needs.
Gigabyte's RTX 2070 Super card is the best graphics card for gamers whose setups can support larger GPUs.
Despite its chunkier exterior, this GPU is an aesthetically pleasing piece of hardware with impressive RGB lighting.
This model is going to fit into your white rig like a charm and is the perfect upgrade to older GPUs, which can run any game on medium-high settings.
6. MSI GTX 1660Ti
One thing that older generation graphics cards have over the newer ones is that their prices are friendlier to your wallet, and they are still in high stock.
If you don't have a massive budget for a slick white GPU, then the GTX 1660Ti will still be a solid asset to your white gaming PC.
Gamers who need excellent performance will be excited to choose the MSI GTX 1660Ti for their setup.
This card, powdered by the NVIDIA GeForce GTX 1660Ti, offers a core clock speed of 1770 MHz and a boost clock speed of 1830 MHz, with decent overclocking abilities and 6 gigabytes of GDDR6.
While this graphics card is not the best option on the market for 4K gaming, it is still perfect for players who crave high refresh rates and full HD (1080p).
As of right now, this graphics card is still a decent pick and one card that still has a lot of stock.
If you're looking for a graphics card that can run AAA games without a hitch (on low – medium settings) then the GTX 1660Ti is a great budget pick for a white GPU.
7. ASUS GTX 1060
Best For Quiet Gameplay
Finally, the GTX 1060 is the cheapest white graphics card on our list, and we had to include it for those of you who are just getting into the PC game.
If you are looking to build a rig that is budget-friendly, but can still run some pretty graphic-intensive games, then the GTX 1060 is a great pick.
The GPU's cooling system is extremely quiet, which is great when it comes to pushing your PC to its limits.
It's a one-of-a-kind dual-fan cooling system, which is significantly less noisy than most in its price range.
Thanks to the NVIDIA Ansel system, this hardware is perfect for gamers who want to capture high-quality screenshots as they play.
The ASUS GTX 1060 is VR-ready and has a dual HDMI connection to your monitor.
If you want a graphics card that is a great bang for your buck, then this is the perfect choice for your white gaming setup!
Buyer's Guide: How To Buy A Graphics Card That Suits Your PC Build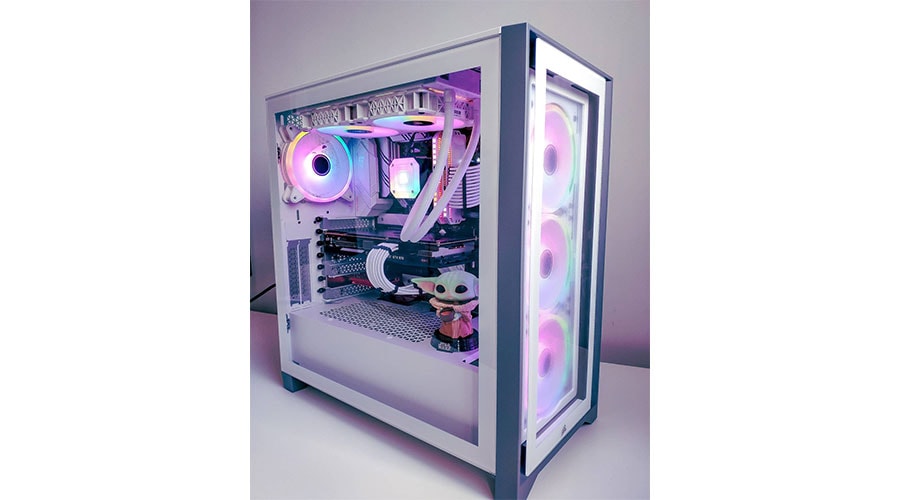 If you are building a custom PC from scratch, selecting your GPU is one of your most essential tasks.
But, you are in luck!
The best white GPUs on the market in 2021 are both more efficient than previous generations and affordable.
To buy a graphics card that suits your PC build, make sure that:
The card's specs work with your PSU, and your system has sufficient wattage.
Your power supply is equipped with the six or eight-pin connectors the graphics card needs.
The graphics card fits within your PC build — lengths vary significantly.
You are looking at the models with the best specs.
The best white GPU for you will be one this is not just excellent, but also offers value for the money.
The Big Differences Between The RTX 3000 Series Vs. The Rest
NVIDIA's long-awaited RTX 30X0 models take gamers and other intense computer users into a new age with second-generation RT cores, third-gen Tensor cores, all-new shader cores, and GDDR6X for superior memory.
Basically, this means that each graphics card has higher performance for even cheaper prices.
To put it into perspective, an RTX 3060 is almost equivalent to an RTX 2070 – with the RTX 3060 being even more budget-friendly.
Ray Tracing: Next-Level Realism
Ray tracing is a unique lighting system that makes your surroundings look ultra-realistic.
This type of realism is far from new but was only introduced to AAA games and graphics cards recently.
It was used in Pixar movies like Cars many years ago.
With real-time ray tracing in your favorite games, however, your whole gaming universe suddenly looks like the real world.
Even a fairly simple voxel game like Minecraft can suddenly look stunning with the boost of RTX shaders, so long, of course, as your GPU can support it.
Here is a video that shows the effect that Ray Tracing can have on graphics in a game:
Depending on your preferences, you may want to have this enabled at all times, however, the cost of having such a feature is in the form of money.
If you only care about performance, then Ray Tracing won't be a concern for you.
NVIDIA Vs. AMD: Which One Should You Choose In 2021?
When you're choosing a graphics card for your PC build, you'll inevitably be exposed to the raging debate — is NVIDIA the better GPU manufacturing company, or should you go with AMD?
Ultimately, that usually means choosing between NVIDIA Ampere and AMD Big Navi.
NVIDIA
NVIDIA has been the leading graphics card company for years now for optimal gaming and video-editing performance.
Throughout the years, it has continued to be the stronger GPU and outperformed AMD in multiple categories.
Cost-wise, however, is not NVIDIA's strong suit, and you may be paying a pretty penny!
Although, with their recent RTX 3000 series, I can say as of right now in 2021 – NVIDIA is winning the graphics card battle, in my opinion.
AMD
Compared to NVIDIA, AMD does have better power efficiency, and can also be decidedly more budget-friendly.
In some cases, you may opt for an AMD graphics card for more of a budget-friendly PC build.
Although, for getting a graphics card that is white, NVIDIA definitely wins in this category.
The Graphics Card Specifications You Should Look Out For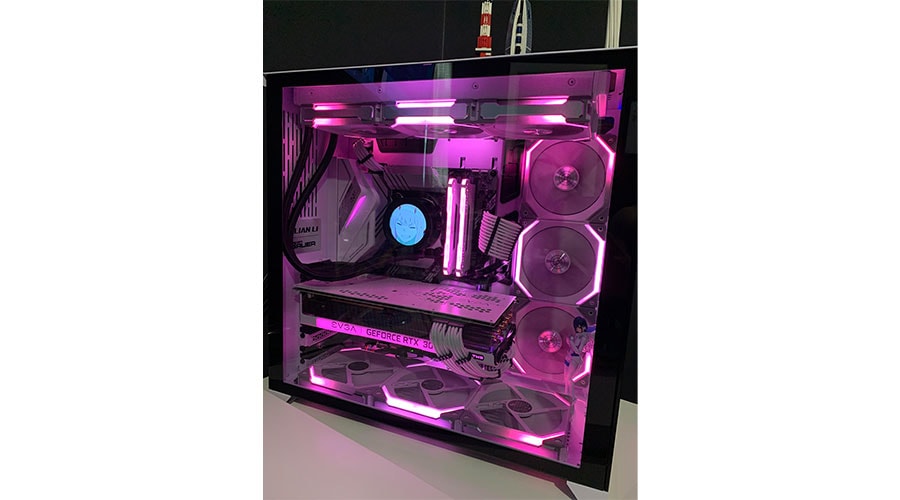 Are you building a custom PC for the first time?
You probably can't wait to get your hands on the best possible hardware for your new dream rig, but purchasing your graphics card is a little scary.
So, what should you look out for?
Thermal Design Power (TDP)
Thermal Design Power, or TDP, tells you how many watts of heat your GPU will use to maintain temperatures at or below their maximum.
A higher TDP means superior performance, but also more power consumption, so if you don't mind using some more electricity, opt for a GPU with higher TDP.
Memory (VRAM)
Just like your CPU, your graphics processing unit needs RAM — working memory — to perform well.
GPU-related RAM is called VRAM, or video RAM.
You will need at least 8 GHz GDDR5, or better, with a 256-bit bus, for most modern games on the market.
Form Factor: Will It Fit In Your Case?
Some GPUs are significantly chunkier than others.
Even the very powerful GPU won't serve you very well if it's too big for your rig!
When buying a graphics card, pay attention to the size of the GPU you are considering and make sure it fits.
Otherwise, you will have a large GPU with no way to put it into your machine!
Ensure Your Graphics Card Doesn't Bottleneck
When you're building a new PC, you will need to ensure that your CPU and GPU are broadly compatible.
Selecting an excellent CPU but opting for a weaker GPU will result in a bottleneck in which your graphics card won't be performing at its full potential, potentially causing low FPS or overheating.
This can also cause certain graphics-intensive software to lag, or for your software to crash if rendering a video.
Frequently Asked Questions
What Is The Best Budget For GPU 2021?
If you are looking for the best bang for your buck, the Zotac RTX 3060 is your best choice.
It is equivalent to getting an RTX 2070 whilst being more affordable.
It is not the best graphics card on the market, but it still offers solid performance without breaking the bank.
If you are looking for the cheapest white graphics card then the GTX 1060 is the cheapest graphics card that you can get for under $500.
What Is The Most Powerful GPU 2021?
NVIDIA's RTX Titan is the most powerful graphics card on the market in 2021, but keep in mind that it's primarily designed for businesses and institutions with heavy memory demands.
Or if you just want a graphics card that's overkill, and can play any game with all graphic settings maxed out, then by all means go ahead and get it!
Our Winner For Best White GPU
Given our criteria for picking a great-performing white graphics card, and the cost of acquiring it, we believe that the RTX 3070 OC is your best bet!
ZOTAC's 3070 OC isn't just incredibly powerful, but it's also stunning.
Most gaming enthusiasts building white rigs will not need the very best white GPU on the market — they need the best value for their money.
That means superior performance at an affordable cost!
ZOTAC's 3070 OC is an exciting choice that you'll be able to enjoy for a very long time.