Buying a gaming chair is no easy task, simply as there are so many to choose from.
As comfortable as many of these gaming chairs are, they almost always come in black and stick out like a sore thumb in your house or office, putting a damper on its aesthetics.
Whether it's your first or you're looking to upgrade. We've cataloged 7 of the best white gaming chairs on the market.
With diverse prices that compliment your confidence and end your quest for a pristine white gaming chair that's comfortable for you and your wallet!
Stick around till the end to see what chair Gandalf would have used to defeat the Balrog.
Open a new tab and put on some eye protection cuz this list is blinding!
The 7 Best White Gaming Chairs Of 2021
1. Noblechairs EPIC Pleather White Gaming Chair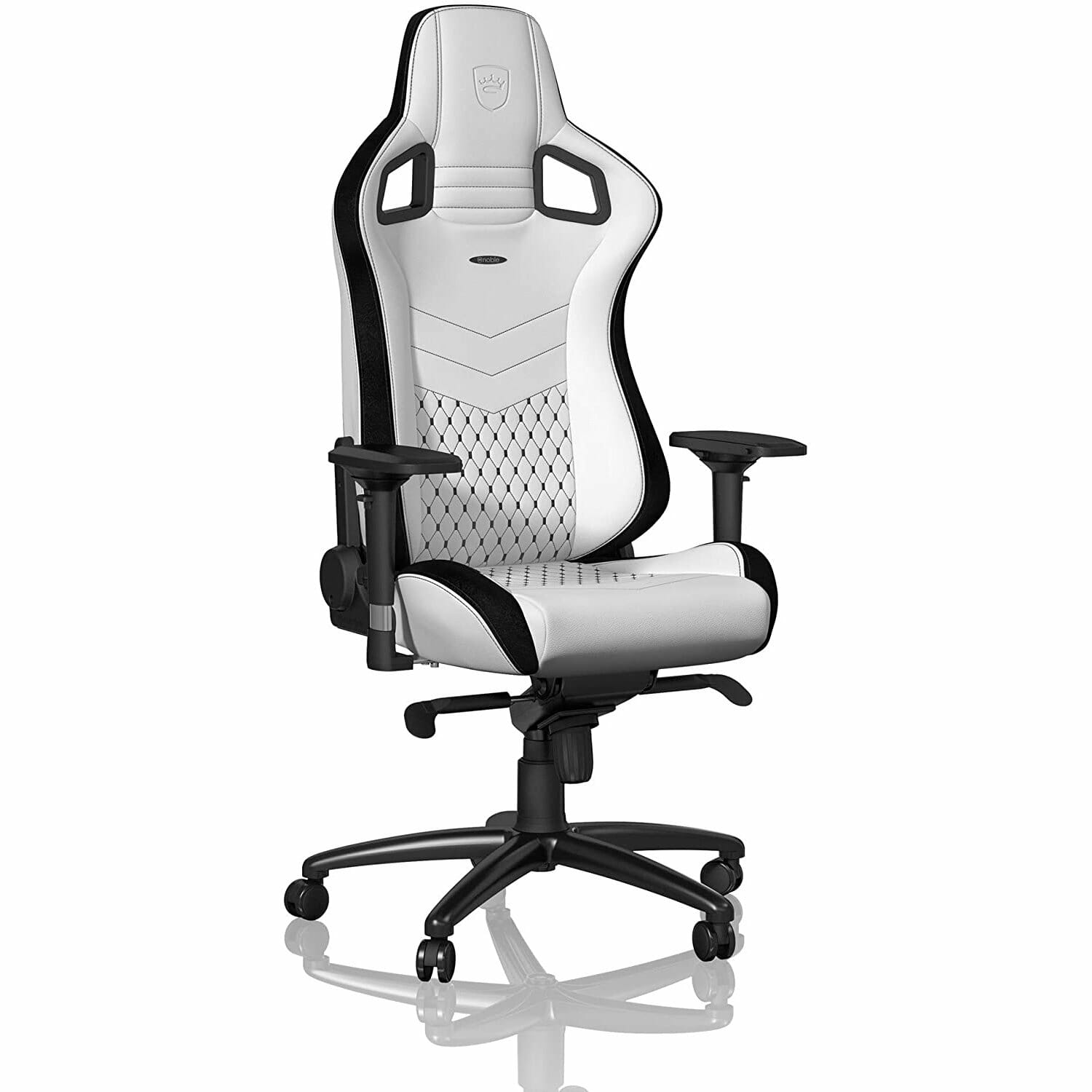 Check Prices
We earn a commission if you make a purchase, at no additional cost to you.
[lgc_column grid="50" tablet_grid="50" mobile_grid="100" last="false"]
Pros:
Great build quality
World-class design and materials
Very sturdy; great for the back
Simple instructions and assembly
Looks fantastic
Ton of adjustability
[/lgc_column]
[lgc_column grid="50" tablet_grid="50" mobile_grid="100" last="false"]
Cons:
Armrests are stiff
High price tag
Seat firmer than we'd like
[/lgc_column]
Noblechairs is one of the best brands when it comes to luxury gaming chairs and has a great reputation for being comfortable, adjustable, and ergonomic.
Their chairs have evolved to more than just a gaming chair; heck, it's even comfortable enough to sleep on if you enjoy having that mid-day nap.
Noblechairs are best known for being firm.
If your priority is ensuring that your back is upright and you're in an ergonomic position at all times, Noblechairs will be for you.
It also includes breathable fabric so that it retains less heat, which means you won't be sweating on the chair even though it's hot.
This is especially great since leather can get hot quickly.
Due to how the chair is constructed, you will never have that problem.
2. Secret Labs TITAN Evo Fabric Arctic White Gaming Chair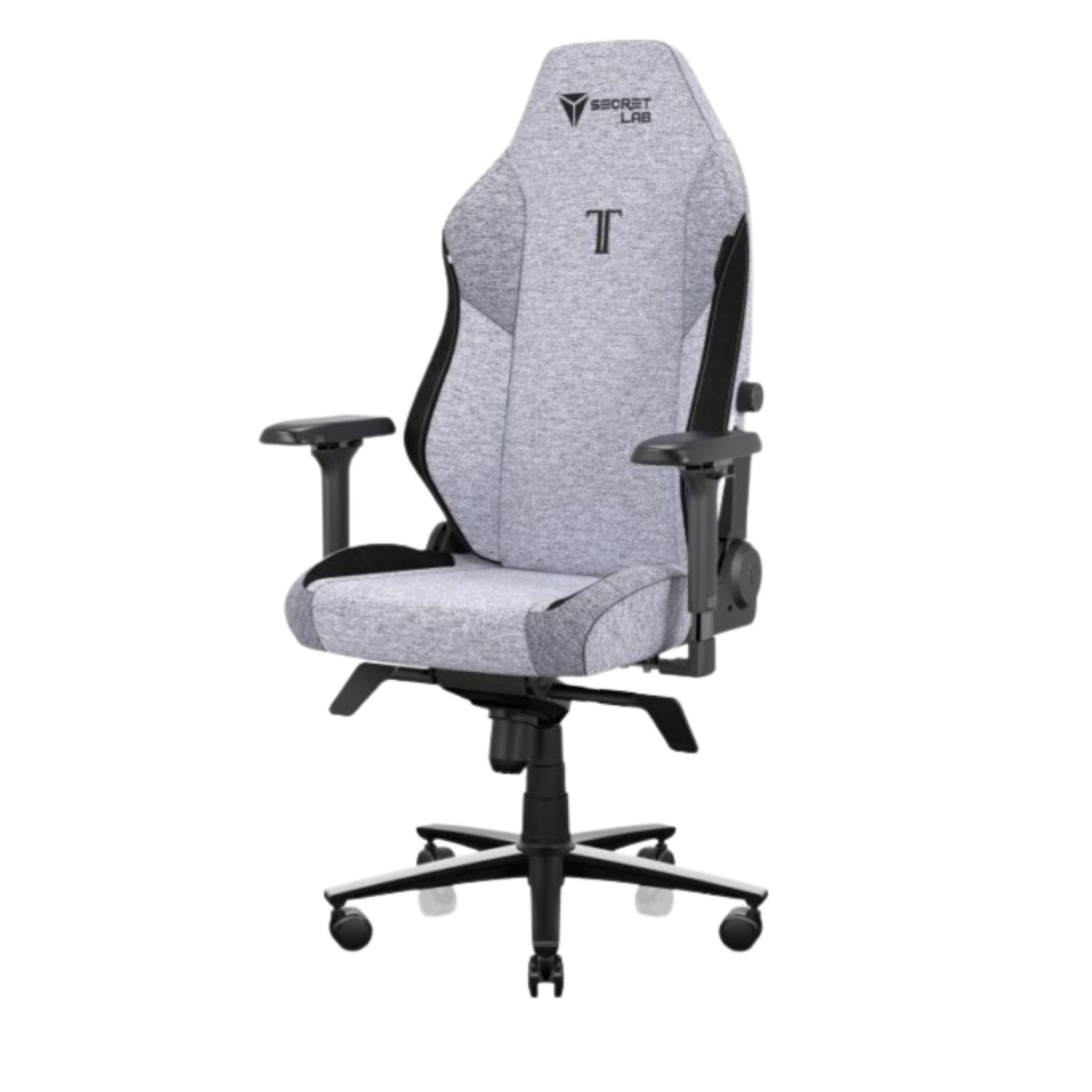 [lgc_column grid="50" tablet_grid="50" mobile_grid="100" last="false" title_type="H3" badge="hide" title="Best Runner Up White Gaming Chair"]
Pros:
World-class designs and materials
Great customer support
Available in various sizes, materials, and colors
Looks aesthetic
Larger lumbar pillow
Highly customizable (in terms of looks and sizing)
[/lgc_column]
[lgc_column grid="50" tablet_grid="50" mobile_grid="100" last="false"]
Cons:
High price tag
Armrests could be more comfortable
The head pillow is not stable and slides off
Material is not as breathable
[/lgc_column]
SecretLabs is a direct competitor of Noblechairs, and it's because they pump out quality chairs like no tomorrow.
SecretLabs chairs are highly customizable, from the chair size to the upholstery and, best of all, the wide variety of designs.
The great thing about SecretLabs is that they listen to their customers.
The TITAN Evo is their new and improved version of their predecessors and has taken on their customers' feedback to produce a chair with improved build-in lumbar support...
More wide-range support for different body types and a new magnetic headrest that sits stable (which means you no longer have to readjust it all the time).
The TITAN Evo has a fairly quick assembly time of 30 - 45 minutes, including a set of simple, easy-to-follow instructions.
The SecretLabs Titan EVO is a pleasure to sit on - especially if you find yourself sitting at your desk for long periods of time.
One of the major downsides to SecretLabs is that their chairs are not as breathable as you would like them.
Due to this fact, we would recommend b buying their SoftWeave Plus Fabric material. It's slightly more expensive but has much better breathability than their Hybrid Leatherette material.
Overall, if you want a premium chair that will last you a long time, one that you can sit and game on for long hours without getting sore...
Then the SecretLabs Titan Evo is one of our premium recommendations.
[lgc_column grid="50" tablet_grid="50" mobile_grid="100" last="false"]
Pros:
Comfortable armrests
Great natural back inclines
Looks clean and aesthetic
Great for petite shoulders
Includes a footrest
[/lgc_column]
[lgc_column grid="50" tablet_grid="50" mobile_grid="100" last="false"]
Cons:
Can't adjust armrests that well
Leather gets hot
Footrest comes out when moving (no locking mechanism)
[/lgc_column]
The Respawn 110 is one of the best budget gaming chairs for its current price point.
It's competitively priced and includes a ton of features you would normally see on more expensive models.
The chair can hold up to 400 pounds so that it can accommodate gamers of all sizes.
It comes with an ergonomic headrest and back cushion so you can sit in your chair comfortably.
The cushions are made from high-quality foam and have ventilation channels to keep your back cool while you play.
Additionally, it's god memory foam lumbar support which means you can sit in for hours without getting back pain.
And it includes an additional footrest that you can pull out from the bottom of your chair should you want to let your feet dangle.
The downside to this chair is that there is no mechanism to stop the footrest from coming out, so if you roll forward with your chair, the footrest tends to hit the back of your legs.
It's a small but annoying and repetitive issue that they can address in the next version of their chair.
Overall the chair has the best quality for its price-point.
It's best for you if you're looking to upgrade from their regular chair but don't want to spend upwards of $400+.
4. Vertagear PL4500 PUC+Hygenn X White RGB Gaming Chair
Check Prices
We earn a commission if you make a purchase, at no additional cost to you.
[lgc_column grid="50" tablet_grid="50" mobile_grid="100" last="false"]
Pros:
Has gameplay interactive RGB (additional cost)
Has that gamer-esque aesthetic
The fiber keeps it light and breezy
Great for people with smaller frames
[/lgc_column]
[lgc_column grid="50" tablet_grid="50" mobile_grid="100" last="false"]
Cons:
The seat is firmer than we'd like
Very expensive
[/lgc_column]
The Vertagear PL4500 PUC+Hygenn X White RGB Gaming Chair is a high-end gaming chair designed for seated comfort while playing games.
It has a pneumatic gas lift that supports up to 195 pounds and is height adjustable with a locking mechanism on the side.
The chair is also ergonomically designed for lumbar support and features an innovative back shape to provide proper support for the spine.
One of our favorite things about it is that it wicks away sweat better than any other gaming chair...
This isn't something everyone realizes (because most people don't always realize just how much heat their chairs get.)
The PUC (which stands for polyurethane) resistance to heat is great for breathability and heat retention.
Additionally, the chair has an effortless assembly (15 minutes), with most of the parts already pre-assembled.
The downside to this chair is the overall comfort. The chair does not seem to be comfort-friendly towards people who have larger frames (6ft+), and you may not be able to find a comfortable position when moving.
The chair is better suited for smaller people as you will make better use of the wider surface areas on the chair base and back.
Overall the Vertagear PL4500 is a breathable, ergonomically designed chair that suits people with smaller builds.
[lgc_column grid="50" tablet_grid="50" mobile_grid="100" last="false"]
Pros:
Adjustable and comfy armrests
Rocking function
Looks expensive
Larger lumbar pillow
Great for broad shoulders
[/lgc_column]
[lgc_column grid="50" tablet_grid="50" mobile_grid="100" last="false"]
Cons:
Unstable footrest
Lumbar vibrates more than massages
Leather gets hot
[/lgc_column]
The Duwinx Gaming Chair is another budget-friendly pick that suits anyone, no matter how big your frame is.
The upholstery is sublime and gives off that retro premium look, and the design makes it look like it's a premium gaming chair, despite what the price suggests.
There is enough travel at the top that it can accommodate people with broad shoulders.
One of the more intriguing features of this chair is that the large lumbar support pillow offers massages; you can change this with a USB connector.
The chair seat base also has a rocking feature that lets your body settle in naturally.
The plush armrests seem to help wrist tendonitis, while durable and stain-resistant leather keeps it clean.
Overall, this is a great gaming chair to choose from if you have a larger frame and want something that's friendly to your wallet.
6. CEDRIC White Gaming Mesh Chair
Check Prices
We earn a commission if you make a purchase, at no additional cost to you.
[lgc_column grid="50" tablet_grid="50" mobile_grid="100" last="false"]
Pros:
Full adjustability options
Mesh material
It looks industrial, fits well in any environment
[/lgc_column]
[lgc_column grid="50" tablet_grid="50" mobile_grid="100" last="false"]
Cons:
Headrest loosens and falls often
[/lgc_column]
If you're not a big fan of that gaming/racing look, then this chair is one that you should be looking out for.
The Cedric Office chair offers a plethora of adjustments.
From around the head, lumbar, armrest height, and distance from the seat; the seat height; the backrest tilt; the tilt tension, and more...
Perfect for you if you want complete control over their posture and comfort when it comes to sitting at your chair.
It's a 5-limb steel base with class 3 gas lift handles 300lbs at the height of 16"-20".
The chair has constantly improved, recently having a big jump of improvements in the materials used.
And with the mesh fabric, you know it's breathable and easy to clean, so it's much easier to maintain than other gaming chairs on this list.
Overall this chair is a great white chair that you can use for gaming or productivity.
7. HOMEFUN Ergonomic White Gaming Mesh Chair
Check Prices
We earn a commission if you make a purchase, at no additional cost to you.
[lgc_column grid="50" tablet_grid="50" mobile_grid="100" last="false"]
Pros:
Ergonomic and comfortable for long periods of time
Mesh material
Reclines far enough to rest in
Looks contemporary
[/lgc_column]
[lgc_column grid="50" tablet_grid="50" mobile_grid="100" last="false"]
Cons:
Handles only up to 250lbs
Headrest and nuts loosen up often
It's a plastic unibody
[/lgc_column]
The HOMEFUN Ergonomic Office chair is built for when you want something affordable and lasting.
Its mesh design provides superior airflow and comfort and is extremely breathable and easy to clean.
It also has a 5-limb base and a class 3 gas lift; it can comfortably accommodate most users up to 250lbs.
The Height adjustment travels from 16''-20'' and can lock-and-recline up to 135 degrees.
The chair is an affordable introduction to your gaming furniture.
Buyer's Guide: How To Choose The Ideal White Gaming Chair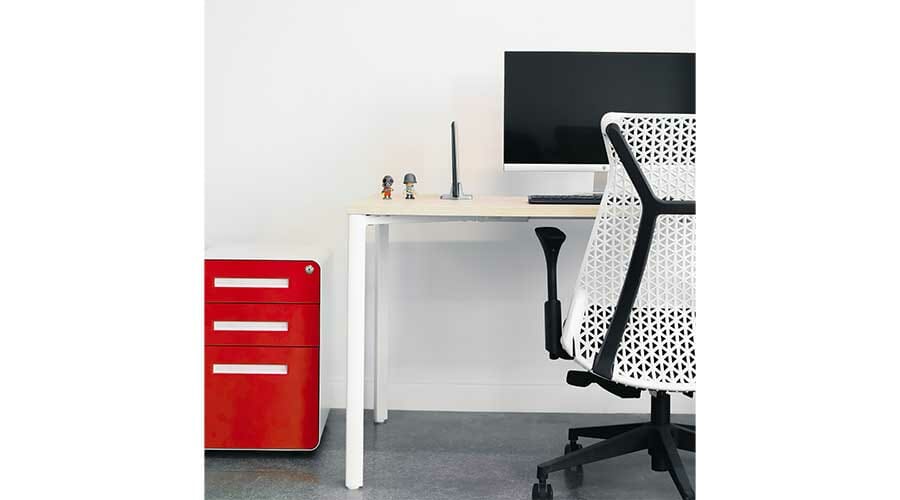 Great! You've seen chairs from small and large brands.
Let's go into the details of just what kind of white gaming chair is best for you.
This guide will help you make an informed decision.
Materials
Just as no one size fits all, no one material resonates with everyone.
Now, if you live in a hot climate, it would be good to go for mesh chairs like HOMEFUN and CEDRIC.
They offer better air circulation and body adjustments than Duwix and Respawn.
If you find Mesh chairs too industrial in design and Leather harsh on the back, it would be best to go for a fabric chair like SecretLabs's TITAN Evo.
If you don't want to worry about spills, sweat stains, and you live in a cooler, arid climate, then Leather will be better suited for you.
We say this because Leather generally retains a lot of heat, so if you sit in your chair for long periods of time, then your seat can start to get hot.
Even worse is if you live in a hot environment.
The exception to this rule is if the chair leather quality is premium.
Noblechairs are a prime example of leather chairs built right.
They're much more breathable than SecretLabs leather chairs, and you can stay seated in their chairs without getting too hot.
Chair Sizes & Fitting Them To Your Frame
Most chairs do not give you the option to adjust their overall sizes.
You are stuck with the "1 size fits all" principle which can be a hit or miss depending on your size and frame.
It's always best to look for chairs where you can pick out which size best suits your height and weight.
Most racing seat designs can't comfortably accommodate burly builds, broad shoulders, and rounder frames.
They require a higher classification of (class 4) chair lift to support their weight.
For mesh chairs, it means regular tension adjustments to maintain their comfort.
Fabrics would require a chair with ample foam.
Leathers would hold their strength for a little while until they start to peel off due to excess tension.
Fabrics and leathers leave sweat craters, but leathers don't breathe as freely.
Chair Care
Dirty rests a chair with no heir.
Most manufacturers spend much time refining the seat.
The armrest cushions, gaming chair covers, and casters are the last things on their mind.
That gives you the freedom to select any third-party offering.
Dowinx offers its own wheels, which are considered to be better casters for your gaming chair.
If you have a carpet, get gentler casters - simply pick, pluck and roll away!
For protection, regardless of your caution, a cover for your white gaming chair protects it from dirty stains, pets and elements. Investing in an armrest slip-on cushion would keep you comfy.
Bolt fittings loosen over time, so investing in some thread lock is good practice.
Myth: Cheaper Gaming Chairs Provide Subpar Quality
This is not true.
Cheaper chairs can often surprise you in terms of comfort, aesthetics, and overall build quality.
They are a definite upgrade from your regular kitchen chairs that you would steal from the dining table.
Cheaper chairs don't offer subpar quality, but they are more limited in customization and additional features that may be included in the chair.
Where cheaper chairs fall is the customizability aspect, as you can't really fit the chair to suit your frame perfectly.
However, some budget-friendly chairs may suit your size perfectly.
If that's the case, then you've saved yourself a couple of hundred dollars.
I recommend you buy a more budget-friendly chair if you need an upgrade from your previous gaming chair but don't want to spend $300+ on a new gaming chair.
The gaming chairs, HOMEFUN, and CEDRIC, are the best cases for this.
Not only do they offer comfort, breathability, and tons of adjustments.
They're cheap and can fulfill your needs if you're not prepared to spend $300+ on a chair.
On the other hand, leather chairs look robust!
What Premium Chairs Have Over Budget-Friendly Chairs
Vertagear's P4500 not only offers a fully customizable full-spectrum RGB kit that syncs with gameplay and music but can also accommodate larger builds with the same bells and whistles.
The prime differentiator in all of them is the quality of materials available and the ability to accommodate higher weight limits and sizes.
They efficiently handle spills, dust, dirt, and grime, and dust is cleaned off using a microfiber cloth.
While Respawn, Vertagear, and Noblechairs fall in the traditional white gaming chairs.
They certainly accentuate white gaming setups, but might still look out of place for a more conservative work style and retro aesthetic.
Duwinx fixes this dilemma by introducing its retro upholstery design.
Even offering larger lumbar support than its competitors that massages!
It's too gentle for us, but we gotta give 'em' credit for thinking of our backs!
Nearly all of the chairs in the catalog offer complete adjustment travel with the armrest going up-down, left-right, and forwards-backward. Most recline from  135-180 degrees and can swivel to 360.
Frequently Asked Questions
What Are The Advantages/Benefits Of Mesh, Fabric, And Leather
Mesh is more breathable and easy to clean.
Fabric is plushier, feels great but is harder to clean and maintain.
Leather is easier to maintain and care for and gives off that premium look.
What's The Best Way To Adjust And Align These Gaming Chairs?
Review the size charts and keep the armrest level with your desk.
Ergonomically speaking, your eyes should be in line with the top of your monitor.
Our Winner For The Best White Gaming Chair
When it comes to comfort, durability, breathability, aesthetics, and material, we believe that the...
Noblechairs Epic Pleather White Gaming Chair is our top choice.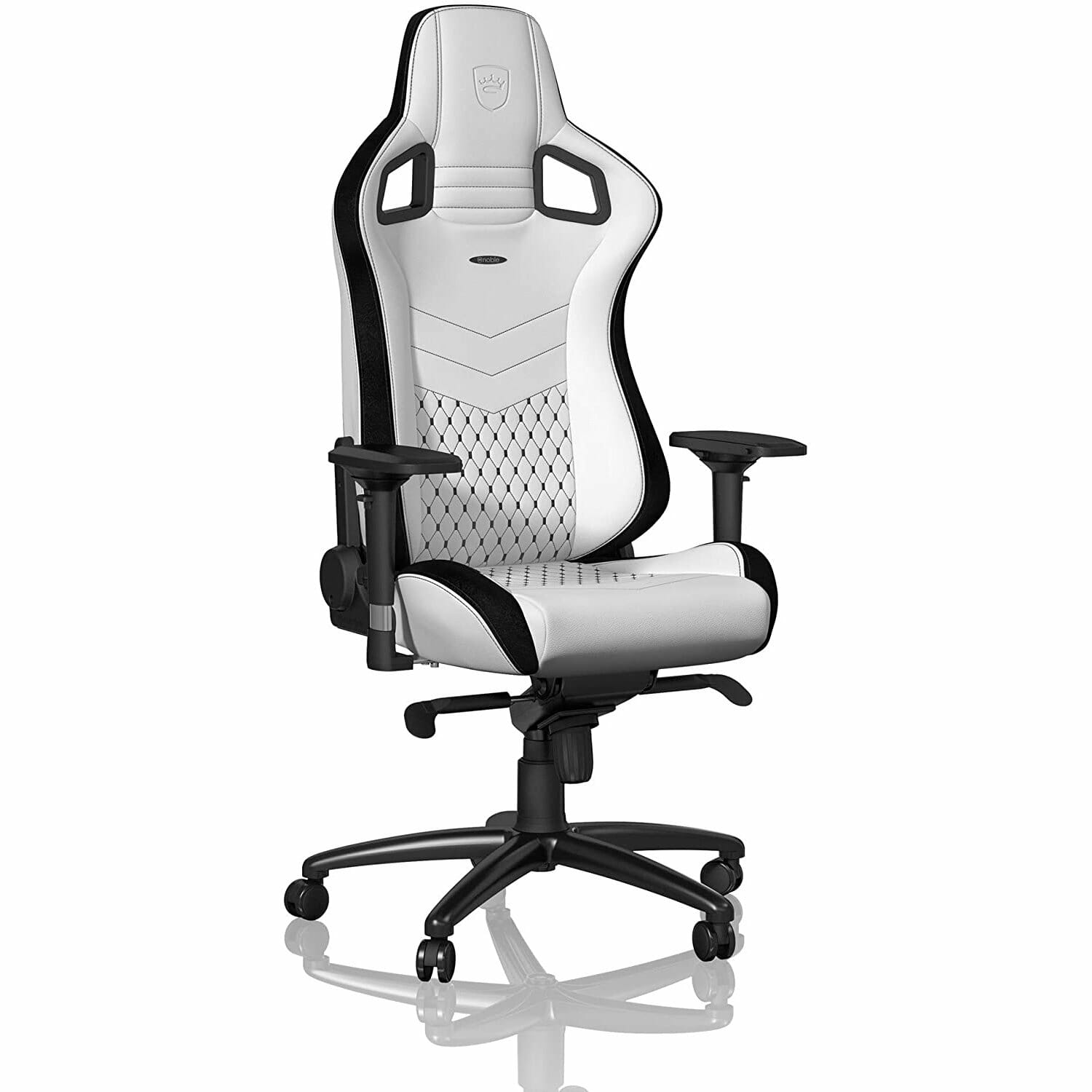 Check Prices
We earn a commission if you make a purchase, at no additional cost to you.
It looks incredibly pleasing, is comfortable, and highly adjustable to your frame or size (with multiple sizes and adjustments to choose from), and despite it being leather, it's breathable.
The downside to this chair is that premium quality comes at a premium cost.
That being the case, you can grab a more budget-friendly alternative which is the Respawn RSP-110.
It lacks customizability, so you can't specify it to your frame, but it fits most of the general population's sizes and builds.
It also has great PU leather, similar to Noblechairs, and even includes an additional footrest should you want to relax.
For gaming specifically - all of these chairs are great, and you will be able to sit on these chairs for long periods of time with no problem; just make sure it suits your frame.
In Conclusion
Style is subjective, and form follows function.
So it's important to think about the aesthetics and style of your gaming chair for it to accentuate your home.
All the chairs here excel on their own, but you have the final choice of your preferences.
And with that, we conclude our guide of the crème de la crème of all-white gaming chairs on the market.
I hope you got acquainted with chairs that suit your wallet and style.
Suppose any of the tips resonated with you spread the word around, and share your thoughts; I read all the comments!