Black keyboards are all the rage nowadays, with their sleek, classy look that can fit almost any decor.
But people have begun to want something a bit cleaner and different, and have turned their eyes to white keyboards to pair with their gaming PC - but what is the best white gaming keyboard?
A gaming keyboard should feel satisfying to type, be comfortable to type on for long periods of time, and of course, compliment your gaming setup perfectly.
Building an all-white gaming setup is no easy task, as there are only a limited amount of options in the white colorway available.
If you're having trouble finding white gaming gear, check out our guides on finding the best white gaming peripherals:
And if you need some inspiration, you can have a look at some awesome white-themed gaming setups here too.
Your keyboard is a peripheral you will be using daily, so it's important to ensure that you find one that performs well, and compliments your setup theme.
Read on and discover what the 5 best white gaming keyboards to buy are!
TL;DR: The 5 Best White Gaming Keyboard
1. Corsair K70 RGB MK.2 SE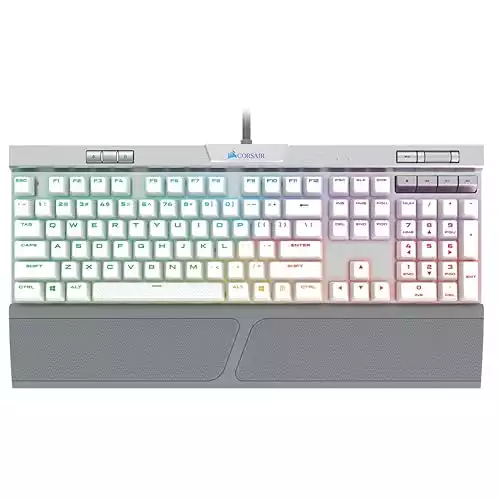 Check Prices
We earn a commission if you make a purchase, at no additional cost to you.
Pros
Detachable wrist rest for ergonomic wrist support
Features Cherry MX Speed switches
Sleek silver-and-white brushed aluminium design
Durable PBT double-shot keycaps
RGB backlighting
Anti-ghosting keys
Multimedia keys + volume roller
USB passthrough
Cons
No dedicated macro keys
Pricey
Corsair is one of the most renowned names in the gaming peripheral industry, from mice to headsets, and everything in between.
Once again, they really outdid themselves with the Corsair K70 RGB Mk.2 SE RGB mechanical keyboard - if you're looking for a keyboard that has both style and ergonomics, then this is the one for you!
This mechanical keyboard features a full-sized design, so you won't find yourself wanting more when it comes to buttons - you will have all 104 keys at your disposal.
Additionally, not only does it look great with its sleek silver-and-white design, but it is also sturdy, featuring a solid brushed aluminium construction that can endure usage for many years to come.
This keyboard also comes with Cherry MX Speed switches, which sound similar to the Cherry MX Red switches, and offer the same quality performance that all Cherry MX switches give.
One of the keyboard's main selling points, however, is that it comes with a detachable wrist rest, which will give your wrist maximum support during long hours of gaming, typing or coding.
So if you're looking for a stylish yet comfortable (and, above all, durable) keyboard, then be sure to check out the Corsair K70 RGB Mk.2 SE!
2. Razer Huntsman Mini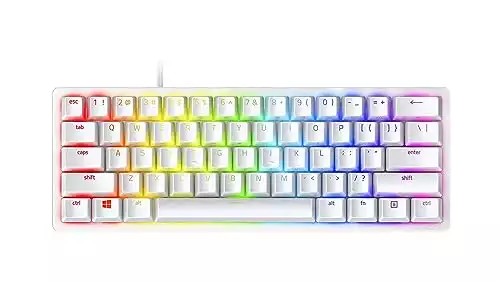 Check Prices
We earn a commission if you make a purchase, at no additional cost to you.
Pros
High keyboard and RGB customisability thanks to Razer's
Synapse 3 software
Compact 60% form factor
Detachable USB-C cable
Textured, durable, shine-free PBT keycaps
Responsive Razer Optical Switches
Cons
60% size means lack of many keys, including dedicated arrow keys and FN row
Rather expensive
You may have already seen some Razer keyboards out and about - after all, they're difficult to miss with their flashy Razer Chroma RGB lighting.
However, what you may not have seen yet is their first 60% keyboard, the Razer Huntsman Mini.
This keyboard is perfect if you're tight on desk space, or if you're always on the move - whether that be between countries or between LAN parties .
It's lightweight, compact, and comes with a detachable USB-C cable, making it extra convenient to carry around with you.
If you're also looking for mechanical keyboard goodness in a compact form factor, then look no further - the Razer Huntsman gaming keyboard comes with Razer Optical Switches (in both a Clicky and Linear configuration) that are both responsive and accurate.
Another one of the main selling points of this Razer keyboard, aside from its 60% form factor, is its software, Razer's Synapse 3.
This software allows you to customise practically every aspect of your keyboard, such as:
Setting per-key RGB lighting
Toggling through 11 pre-made RGB effects
Macro recording
Key rebinding
However, you don't strictly need to use this software in order to customise your keyboard; you can, in fact, carry out functions using keyboard commands, including:
Toggling through pre-set RGB lighting effects
Toggling RGB brightness levels
Record macros on-the-fly
To summarise, if you're searching for a compact yet flashy keyboard, then look no further than the Razer Huntsman Mini!
3. Redragon K550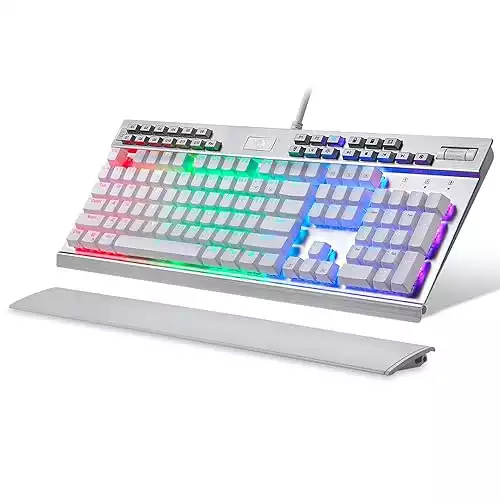 Check Prices
We earn a commission if you make a purchase, at no additional cost to you.
Pros
12 programmable macro keys and 12 multimedia keys
Detachable wrist rest
Anti-ghosting
N-key Roll Over
RGB backlit
Cons
Cable is non-detachable
Some may consider the switches to be a bit too clicky for totally silent gaming
Redragon has become known for their budget-friendly gaming peripherals that are both easy on the bank account and high-quality, and the Redragon K550 mechanical gaming keyboard is no different - in fact, some may say it is one of the best white mechanical keyboards on the market!
For one, this is a full-size gaming keyboard with 131 keys.
The additional keys include 12 programmable macro keys, 12 multimedia keys, and several other keys that perform their own functions (such as one that allows you to record macros on-the-fly).
This keyboard also comes with its own brown mechanical switches that are rather quiet and tactile (similar to the Cherry MX Brown switches), making them great for gaming, but also satisfying for tasks such as coding or typing.
The Redragon K550 also comes with a detachable palm rest, keeping your hands and wrists comfortable during long gaming or working sessions.
This mechanical keyboard is also RGB backlit, giving you the option to customise it with seven different colours and six different RGB lighting modes, as well as five different brightness levels.
Overall, if you're wanting a full-size white mechanical keyboard that performs well in almost every category (while still being under $100!), then the Redragon K550 white gaming keyboard may be for you!
4. Royal Kludge RK61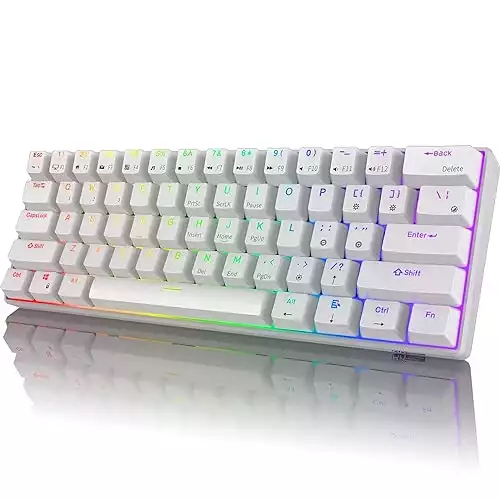 Check Prices
We earn a commission if you make a purchase, at no additional cost to you.
Pros
Comes with Gateron Blue Switches, Brown Switches, and Red Switches
Bluetooth wireless connectivity
Can connect to different devices
RGB backlighting
Compact 60% design
Cons
No kickstand
RGB customisability is limited
If you're a gamer, typist or coder who's always on their feet (or on some form of transport), then you need a keyboard that can keep up with your lifestyle.
Meet the Royal Kludge RK61 - a compact 60% white mechanical keyboard that has everything you need to make carrying this little thing around as easy as can be.
Not only does it feature a small form factor, but the main selling point of this mechanical gaming keyboard is that it can be used both wired and wirelessly via Bluetooth.
This wireless option allows you to use the Royal Kludge RK61 practically anywhere, and connected to practically anything - even your phone and tablet!
It can also come with three different switch types: Gateron Blue Switches, Gateron Brown Switches, and Gateron Red Switches.
This means you can pick a keyboard that is perfect for your preferred typing style!
Make sure to check out the Royal Kludge RK61 if you're looking for a white mechanical keyboard that suits your go-go-go lifestyle!
5. Eagletec KG011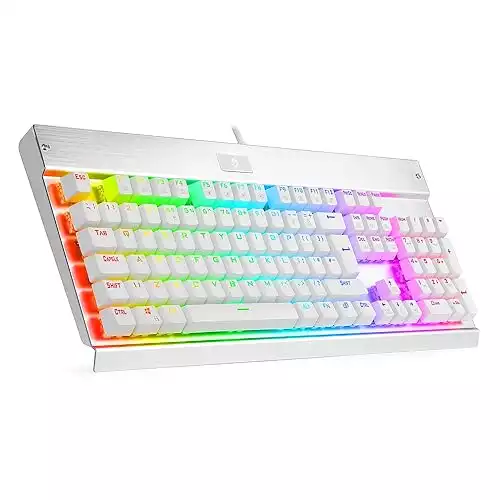 Check Prices
We earn a commission if you make a purchase, at no additional cost to you.
Pros
Sturdy aircraft grade aluminium construction
High-quality custom blue switches
LED-backlit with RGB customisation
Anti-ghosting keys
Cons
May be too loud for people who prefer quieter presses
Does not come with other switch options
Though mechanical keyboards can be quiet depending on the switch (like Cherry MX Silent Red switches), most people still equate them to loud, clicky button presses, which are often the result of blue switches.
The Eagletec KG011 comes with their own mechanical switches that are equivalent to the Cherry MX Blue switches, so if you like the stereotypical loud, crisp clicks of mechanical keyboards, this white gaming keyboard is the one for you!
On top of the durable switches, this keyboard comes with a sturdy aircraft grade aluminium construction and a splash-proof design, so it can withstand most of the daily wear-and-tear that it will almost definitely experience.
It also possesses a full-sized form factor featuring the full 104 keys, all of which are anti-ghosting, making this a great keyboard for gaming.
Not only is this keyboard durable, but it is also stylish, featuring white keycaps on top of a sleek-looking brushed aluminium construction, as well being LED-backlit with excellent RGB customisation.
So if you've been wanting a sturdy RGB mechanical keyboard with the satisfying clickiness that many users dream of, then the Eagletec KG011 is probably the best white gaming keyboard for you!
Buyer's Guide: How To Choose The Best White Mechanical Keyboard For You
There are many different aspects to a mechanical keyboard that you should know of before buying.
Below we will explain how to choose the right white mechanical keyboard for your setup
Starting off with...
Choosing A Size
One of the first things you need to consider when purchasing a white mechanical keyboard is how large you want it to be.
Full
This is the most common keyboard layout, and the one you're probably most used to.
This form factor features all of the keys that you will need (which is usually around 101 keys or more), including:
FN layer
Number pad
Navigation cluster
If you are someone who needs every key at your disposal, then a full-size keyboard is the more convenient option.
The main drawback of this layout, however, is the fact that it is rather large, as well as inefficient to use, due to the fact that your hands need to move around quite far.
TKL
Tenkeyless (TKL) keyboards (sometimes known as 80% keyboards), are the next step down from a full-size keyboard.
They come with pretty much all of the keys that a full-size keyboard features, with the one exception being the number pad.
You may prefer this type of keyboard for the fact that it is smaller (and therefore more convenient and comfortable) than a full-size keyboard without sacrificing any crucial keys (I mean really, how many of us need a dedicated numpad on a day-to-day basis?)
However, if you are doing work such as data entry on a regular basis, a TKL keyboard may be a bit more inconvenient for you.
60% Or Lower
After the TKL keyboard comes the 60% keyboard.
This keyboard features pretty much only the essentials - it doesn't have an FN row, number pad, or dedicated arrow keys, though these functions still exist through keyboard commands involving the Fn key.
While difficult to adjust to, 60% keyboards are great if you need something compact and efficient.
If you want to go even smaller, 40% keyboards have begun to gain popularity, and only feature the alpha keys, along with a few modifiers.
40% keys are perfect if you want something that can (literally!) fit in your pocket, and, once you get used to one, they can be one of the most efficient keyboards to use!
Features To Look For
Material
One of the next most important things to look out for is the material that the mechanical keyboard is made out of.
Keyboard cases can come in several different materials, such as:
Aluminium
Plastic
Wood
Clear acrylic
However, aluminium and plastic are the most common materials.
Naturally, aluminium is the strongest option if you want something solid and durable, but it does not offer the white colour that you are looking for - you will need white keycaps instead (like the Corsair K70 RGB Mk.2 SE).
Plastic cases are more likely to offer you the colour you want, while still being rather durable.
Type Of White Colour
Next thing you will want to choose is the type of white colour.
This is entirely up to personal preference - do you prefer a glossier white, or one that is more matte? Something vibrant, or something subdued?
Make sure to take a careful look at each keyboard you research to see if you like how the colour on it looks!
Keycap Design
There are a huge variety of keycaps out there nowadays, meaning there are many different designs to pick from.
Things you will want to look out for are:
Font
Material (PBT vs. ABS) - PBT is usually more durable and shine-resistant than ABS
Colour (most likely white in this case)
Thickness
Profile (uniform vs. sculpted) - sculpted keycaps are usually more comfortable
Pudding vs. Double-shot keycaps - Pudding keycaps usually let more RGB backlighting through
Keyboard Design
Keyboard design, though not often important for usage, can be important for those who prioritise style.
For example, the keycap style can do wonders for the look of the keyboard - they can either be in a 'floating keycap' style, or they can be 'embedded' in a border.
There are several other things that can vary between mechanical keyboard designs, such as the:
Border width
Corners (rounded vs. angular)
Thickness
Backlighting
Construction material
Build Quality
Build quality is very much related to the type of material your keyboard is constructed from.
Naturally, a keyboard made with a material such as aluminium or durable plastic will have a greater build quality, as it is sturdier and more hardy against wear-and-tear, as well as more forceful hits.
You will also want a keyboard that doesn't flex too much, but still offers enough flexibility to give you a less-harsh bottom out.
A plate made from aluminium is often a good middle-ground in this regard, though plates can be made of many other materials such as carbon fibre or stainless steel.
Anti-Ghosting
'Ghosting' is where keystrokes are 'lost' due to the keyboard being unable to register several button presses at once.
As such, a keyboard with anti-ghosting does not experience this problem - you can press several keys at the same time and have each one register separately.
Anti-ghosting is an excellent feature to have if you're planning on using your keyboard for gaming, so be sure to keep an eye out for it!
Warranty
While it may cost you a little extra, it is usually well worth getting a warranty with the purchase of your keyboard.
A warranty will ensure that you can get your keyboard replaced or repaired if it is damaged (under certain conditions), making it a great fall-back in the event that something does happen to your brand new white gaming keyboard.
Mechanical Vs. Membrane
This article has mainly focused on mechanical keyboards - but what about their counterpart, the membrane keyboard?
Mechanical and membrane keyboards each have their own features, which may make them preferable to different people.
We even did a whole post on this discussing the difference between mechanical keyboards vs. membrane keyboards, feel free to check it out!
However, a great debate has been sparked nonetheless, so let's go over the pros and cons of both types of keyboard, and you can decide for yourself!
Mechanical Keyboards
Mechanical keyboards use 'switches' to send signals from typing input, atop which sit keycaps.
Membrane Keyboards
Membrane keyboards are made up of three layers:
Top membrane layer
'Holes' layer
Bottom membrane layer
When a key is pressed, the top membrane layer is pushed through the holes in the 'holes' layer, which allows pressure pads under each key to make contact with conductive traces found on top of the bottom membrane layer, thus sending a typing signal.
Frequently Asked Questions
How Do I Maintain A White Keyboard?
Maintaining a white keyboard may be a bit trickier than maintaining a black one, as they can be a lot more prone to marks and discolouration.
Thankfully, white plastics don't become yellow over the years like they used to (which was due to UV exposure), though it's always a good idea to try and avoid much of this nonetheless.
One of the most important things to do to maintain a white keyboard, however, is through regular cleaning of dust, dirt, and marks.
What's The Best Way To Clean A White Keyboard?
Usually giving your keyboard a wipe-down with a slightly damp cloth and vacuuming it (yes, you read that right) is enough to keep most daily dirt at bay.
If you need to give your white gaming keyboard a deeper clean, however, then you may need to remove the keycaps and soak them in a solution of water and denture tablets, and clean the plate using a brush or Q-tip.
What Colour Keycaps Should I Get For A White Keyboard?
When it comes to a white keyboard, you can use pretty much any colour keycaps and it will look great!
If you want a more cohesive look, then white keycaps are the way to go - check out these white PBT double-shot keycaps from HyperX!
You can also go for black keycaps for a contemporary look, or even more vibrant colours like red or blue!
Our Winner For The Best White Gaming Keyboard
One keyboard in particular we think stands out above the rest.
In terms of build quality, comfortability, mechanical switches and overall aesthetics, the keyboard we would recommend the most is Corsair K70 RGB MK.2.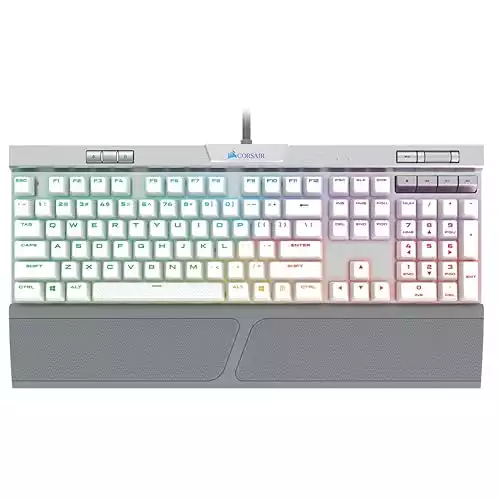 Check Prices
We earn a commission if you make a purchase, at no additional cost to you.
In terms of productivity, the Corsair has everything you need; a comfortable wrist rest to game for long hours, easy-access media keys, and quality Cherry MX switches that feel and sound awesome.
If you want a solid white gaming keyboard that will last you a long time, the Corsair K70 will be an excellent buy.
Although, if you prefer a smaller sized keyboard, the Razer Huntsman Mini is a close second.
It's minimal, coming in at a compact 60% keyboard, and is built really well.
Overall, the keyboards on our list are all solid, and depending on your preferences will be an excellent addition to your battlestation setup.
Happy gaming!