Gaming mice are a very important part of any gaming setup and have the ability to make or break your performance.
To find the best white gaming mouse for you, it is crucial to know which features are most important for that type of mouse and what other options there are available.
You need to ensure you find a gaming mouse that suits your grip style and is comfortable, is relatively light, and glides on your mousepad like butter.

And they should be appealing to the eye too.
White gaming peripherals have that minimal, slick look to them.
Just have a look at these white-themed gaming setups, they just look aesthetic at every angle.
Heck, even my own Battlestation setup is white, and I can't get enough of it.
These white gaming mice also pair perfectly with other white gaming peripherals like a:
If you want to build a full white-gaming setup, I would recommend you check out the buyer's guides to find some great quality products.
In this article, we discuss everything you need to know about finding the right white gaming mouse to compliment any gaming setup.
If you want the perfect balance between quality, budget, and a slick white look, keep on reading, this article is for you.
Let's dive in!
Best Overall
Glorious Model O- (White)
Lightweight - 58g
Best for fingertip/claw grips
Accurate 3360 sensor
Runner Up
Cooler Master MM711
Great weight distribution
True claw grip shape
Pyramid-shaped side buttons
Budget Pick
Logitech G305 Wireless
Wireless functionality
Budget friendly
Accurate HERO sensor
TL;DR: The 7 Best White Gaming Mice
1. Glorious Model O Minus White Gaming Mouse
Check Prices
We earn a commission if you make a purchase, at no additional cost to you.
Pros
Super lightweight (58g)
Looks slick, especially as an ambidextrous design
Very comfortable for fingertip/claw grippers
3360 optical sensor
Minimal design that helps prevent accidental pressing
Cons
Quality control for Glorious has been an issue in the past
Specifications: Sensor: 3360 | Warranty: 2 years | Weight: 57g | DPI: 12,000 | Polling Rate: 1,000 Hz | Design: Symmetrical | Grip: Better For Fingertip (Great For Claw) | RGB: Yes | Programmable Buttons: 3
A glorious mouse, made by the company Glorious, designed for gamers who want all the glory.
The Glorious Mouse is the smaller version of its predecessor, the Model O. This mouse provides a great fit for fingertip grip gamers and claw grip gamers too.
The two different finishes - matte or glossy - provide a different experience depending on your preference.
If you get sweaty hands when you game, the matte finish is best, whereas the glossy finish looks and feels great for people with dry hands.
To ensure a low profile, the buttons on this mouse are small and minimal.
They're designed to prevent any accidental presses, but for quick action-oriented tasks like clicking a link or scrolling down a page, you'll find it easy with the side buttons located conveniently under your thumb.
The DPI button is positioned just right so that when you need to change settings in an instant, you're not wasting precious seconds trying to find it!
It bodes a symmetrical design that may not look as comfortable as the DeathAdder or Rival 300, but once you get your hands on this, you will really feel how snug of a fit this mouse has.
If you're looking for a lightweight, honeycomb, super comfortable mouse that is a simple plug-and-play, then look no further. This is the mouse for you.
2. Cooler Master MM711 White Gaming Mouse
Check Prices
We earn a commission if you make a purchase, at no additional cost to you.
Pros
Consistent weight distribution
Aesthetic RGB lighting
Lightweight honeycomb design
One of the few true claw grip gaming mice
Pyramid-shaped side buttons
Specifications: Sensor: 3360 | Warranty: 2 years | Weight: 60g | DPI: 16,000 | Polling Rate: 1,000 | Design: Symmetrical | Grip: True Claw Grip | RGB: Yes | Programmable Buttons: 3
I was actually very intrigued by this mouse as I loved my old Cooler Master case, and I had no idea that Cooler Master even created gaming mice - but they were up for the challenge.
They really stayed true to their signature style with these in-house-made mice which are different from what other brands do.
With their mouse, their RGB makes you 10% more accurate.
How? Because Cooler Master has designed the RGB to be placed in the back hump, which distributes the weight evenly.
Coming in hot at 60g, this a very light mouse. To put this into perspective, a Logitech G502 is 120g.
The MM711 doesn't include any rubber guards on the side, which may be important for some.
And it includes pyramid-shaped side buttons, which will take time getting used to, but help with controlling the mouse when lifting.
Overall, the MM711 is a well-thought-out mouse that hits many nails on the head. If you're looking for an aesthetic, honeycomb, true claw grip mouse that's light, this is the mouse for you.
3. Logitech G305 White Gaming Mouse
Pros
Budget-friendly
Tangle-free (wireless)
Extremely accurate HERO sensor
Weighs in at 99g
Cons
You may not like battery powered mice
Not compatible with G Power Play
Specifications: Sensor: HERO | Warranty: 2 years | Weight: 99g (Can be affected by battery weight) | DPI: 12,000 | Polling Rate: 1,000 Hz | Design: Symmetrical | Grip: Claw/Fingertip | RGB: No | Programmable Buttons: 3
Logitech is a powerhouse in the gaming mouse market, coming out with some of the best mice over the last 3 years.
Their G305 has been hailed as one of their finer products- it's affordable and wireless so you never have to worry about your cord getting tangled up on your desk.
Please note that this mouse does not support Logitech G PowerPlay, since it uses AA batteries as the main power source.
So if you're not a big fan of batteries, then you may want to opt for a wired mouse instead.
The Logitech G305 is a fantastic option for the gamer that wants to keep their desktop space uncluttered.
It has one of the best sensors on the market - the HERO sensor, which is said to be more accurate than the 3360 sensor that most gaming mice have.
The Logitech G305 is one of the best wireless mice in the market with an advanced optical sensor. It's compact and lightweight, perfect for your white gaming setup!
4. Razer DeathAdder Essential White Gaming Mouse
Pros
Signature DeathAdder shape
Compliments a palm grip perfectly
Comes in at a great price point
Satisfying tactile clicks
Mercury white looks aesthetically pleasing
Cons
Rubber guards get slippery if you have sweaty hands
Specifications: Sensor: 3360 | Warranty: 2 years | Weight: 94g | DPI: 6,400 | Polling Rate: 1,000Hz | Design: Ergonomic | Grip: Palm | RGB: Yes | Programmable Buttons: 5
The Razer DeathAdder is a gaming mouse that has been around for years and has stayed popular even till now.
The DeathAdder has a signature feel that can't be copied.
I've used this mouse for the longest time and never got sick of it because it provides me with complete control over my mouse when using a palm grip.
The DeathAdder includes two side buttons that are of equal size, which makes them easy to press.
It also includes super responsive, tactile mouse clicks that are satisfying to use.
The downside is the rubber grips on the side of the mouse only cover a small portion and if your hands get sweaty/oily they can get slippery too.
The Razer DeathAdder is still widely used by FPS pros today, and with the new Mercury White colorway and low price point, this mouse can perfectly complement any white gaming setup.
5. Steelseries Rival 300 White Gaming Mouse
Pros
Signature ergonomic design
Still reigning as one of the top mice for the past 5 years
Simple plug and play
Impressive grippy side rubber guards
Cons
Includes an old school 3310 sensor (3360 and HERO are considered upgrades)
Scroll wheel feels icky and unsatisfying
Specifications: Sensor: 3310 | Warranty: 2 years | Weight: 104g | DPI: Up to 8,000 | Polling Rate: 1,000 | Design: Ergonomic | Grip: Palm (Can Be Claw Too) | RGB: Yes | Programmable Buttons: 6
SteelSeries has been a gaming peripheral giant for years.
From the Rival 300 to the Sensei 310, they often come out with mice that have signature designs and grips.
The Rival 300 is another plug-and-play type of mouse where simplicity is key and performance is the focus.
It's perfect for gamers who are looking for an easy-to-use mouse with very few buttons so you can get right into your game without any pesky settings or installation process!
The mouse includes a large rubber guard on the left-hand side for your thumb, with 2 perfectly sized side buttons for easy clicking.
Unfortunately, due to its ergonomic shape, this mouse is only suited for right-handed gamers (sorry left-handers).
But if you're a right-handed gamer who loves a palm grip, this mouse will fit you like a glove.
The Rival 300's most significant drawback is its age. It was released in 2015, so it includes an old-school 3310 sensor.
The 3310 is inferior to the more accurate 3360 or HERO sensors in terms of performance.
That's not to say that it's bad, it's definitely still extremely accurate, but if we're talking about the fine details then you're better off with a newer 3360 or HERO sensor.
Other than that, SteelSeries is super consistent with their quality, with the Rival 300 still being used by CS veteran olofmeister, even after all these years, so you know it's still a great mouse.
6. Razer Lancehead TE White Gaming Mouse
Pros
Looks slick
Right-sided buttons and grip (for left-handed gamers)
Indented rubber side grips for added control
Light, tactile clicks
Cons
Outer shell tends to start peeling if not taken care of properly
Hit or miss on comfort due to the shape
Specifications: Sensor: 3360 | Warranty: 2 years | Weight: 106g | DPI: Up to 16,000 | Polling Rate: 1,000Hz | Design: Ambidextrous | Grip: Palm | RGB: Yes | Programmable Buttons: 8
The Lancehead Tournament is the latest addition to Razer's ever-growing line of gaming mice.
It has a unique shape that some gamers may find more comfortable than others, but it comes with all the features you would expect in a gaming mouse today.
This includes high DPI options, RGB lighting, and programmable buttons for macros and shortcuts.
The Lancehead mouse, unlike its predecessors such as the DeathAdder, has a different feel and features grooves on the side to help with control.
It also comes with a comfortable palm grip that allows for accurate flicks.
Those who are not fans of this type of signature grip may find it difficult to adjust but overall this is an excellent product that provides enough grip without being too abrasive.
This is the type of mouse that is a simple plug-and-play mouse that works right out of the box.
One downside to the Lancehead is that the outer shell is made of hard plastic, which tends to start peeling after long-term use.
You have to ensure you take good care of the mouse with constant cleaning to prevent the peeling from happening.
Razer has come out with game-changing mice over the past couple of years, with the Lancehead being one of their more unknown, yet underrated product lines.
7. Corsair M65 Pro RGB White Gaming Mouse
Pros
ProsOriginal, ergonomic design
Suits all grip styles
Includes a 3360 optical sensor
Bulky shape to help provide control
Cons
Sniper button is placed on where you rest your thumb (can be annoying)
140g (with weights) is way too heavy
Specifications: Sensor: 3360 | Warranty: 2 years | Weight: 120g (without weights) | DPI: 12,000 | Polling Rate: 1,000 | Design: Ergonomic | Grip: Suits All (Best For Fingertip) | RGB: Yes (Minimal) | Programmable Buttons: 8
The Corsair M65 Pro is a top-rated gaming mouse in 2019 and offers an interesting design, different from your average mouse shape.
The Corsair M65 Pro includes quality Omron switches that make clicking feel incredible, and are easy to click on with either thumb or pinky finger!
The ergonomic shape of the Corsair M65 Pro is comfortable for any hand size or grip, and includes grooves to compliment your thumbs and pinkies - making it enjoyable to use overall!
The M65 Pro includes many different buttons, namely having 3 separate buttons for the DPI switches, and two small side buttons, with a big sniper button on the side.
In terms of using these additional buttons, I personally think it's a little overkill, and Corsair could take a more minimal approach. Having 3 DPI buttons is not necessary.
Overall, Corsair has come out with a great gaming mouse, with a high-quality finish. If you like an ergonomic, bulky mouse, this is a perfect addition to your gaming setup.
Buyer's Guide: How To Choose The Best White Gaming Mouse For Your Gaming Setup
In order to find the best gaming mouse for your preference, it's important to focus on certain key features.
Choosing The Right Sensor
There are two types of sensors to choose from:
Laser Sensors
The laser sensor is commonly used in most regular mice.
These sensors project a laser onto the surface you are using.
This means any type of surface the sensor will pick up.
Although, laser sensors are less accurate than optical sensors.
Optical Sensors
Optical sensors are more commonly used in gaming mice, as they are known to be more accurate.
The sensor uses an infrared LED to illuminate the surface you're using.
This allows the sensor to be used on any surface, but if your surface is bumpy, the infrared LED will have a hard time being smooth.
Optical sensors are better when providing control at higher speeds.
In our list of gaming mice, all of them have optical sensors, whether it's a 3310, 3360 or HERO.
What Grip Do You Use?
There are 4 types of mouse grips most commonly used:
Palm Grip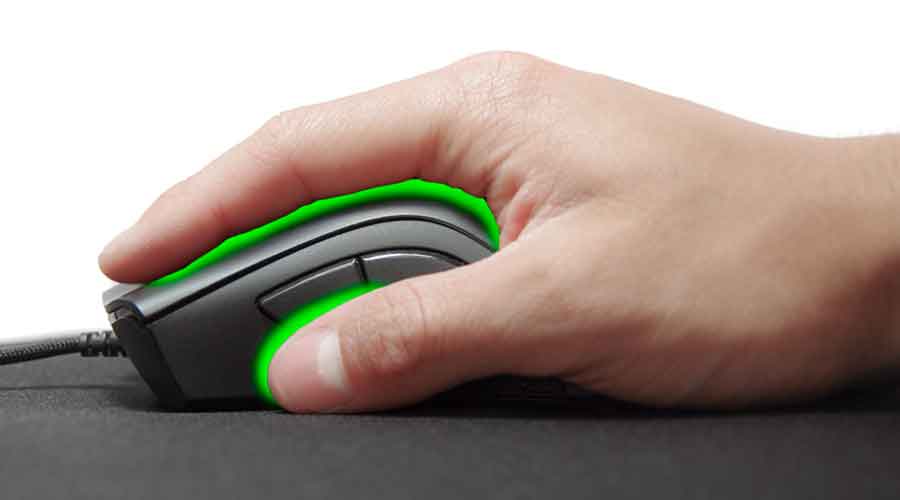 Usually best suited for people with larger hands, which means you need a larger mouse.
Fingertip Grip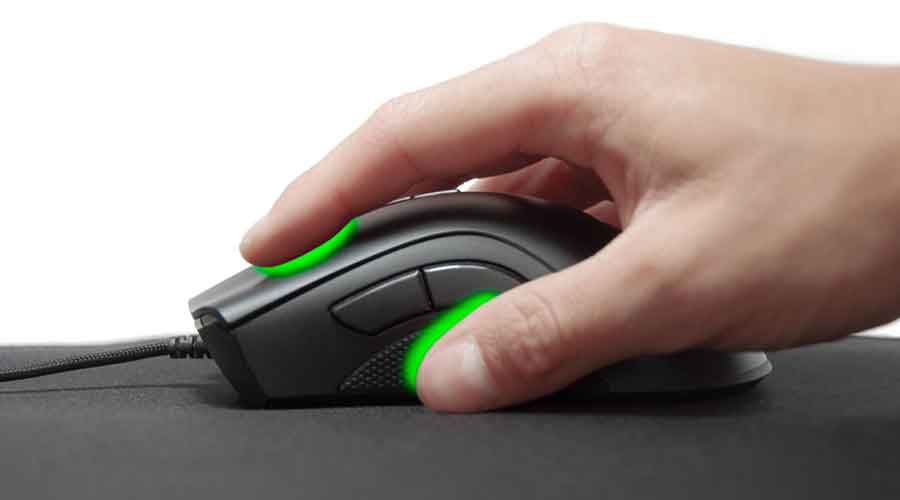 Can be used on small - medium-sized mice, depending on the shape.
Claw Grip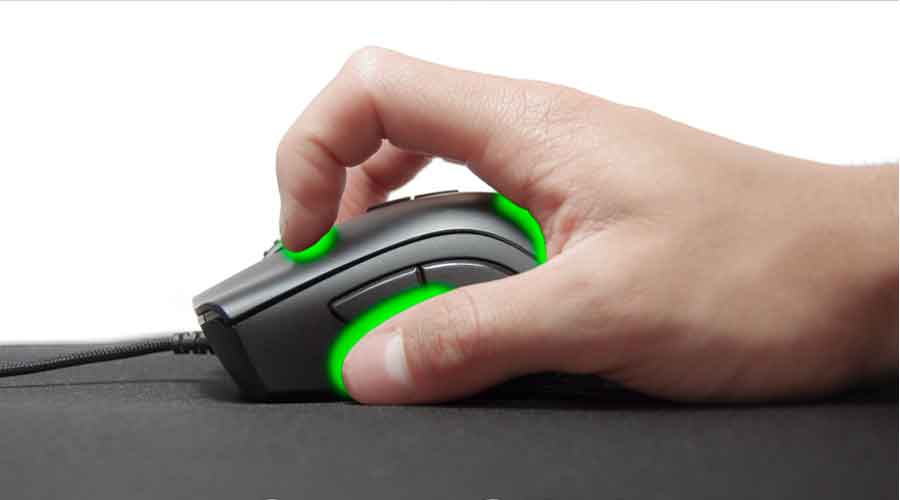 Best suited for smaller hands and smaller mice.
Hybrid Grip (Combination of 2 grips)
A hybrid grip is where you can't be classified into one single class.
You may be in between a fingertip/claw grip, or claw/fingertip grip.
These grips are usually determined by the size of your hand and mouse.
However, the easiest and fastest way to find the best grip for you is to just feel what's comfortable.
Choosing The Most Comfortable Mouse Design
In our list, there are 4 different types of shapes/designs used.
Ambidextrous Design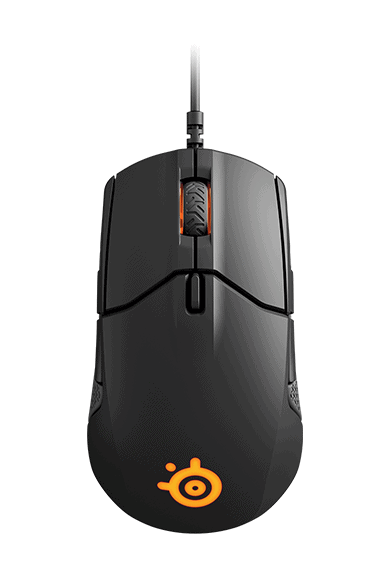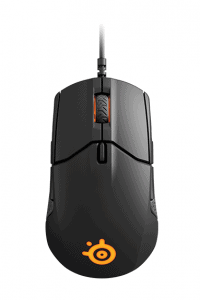 The ambidextrous shape caters to both left-handed gamers and those who love a symmetrical shape.
Symmetrical Design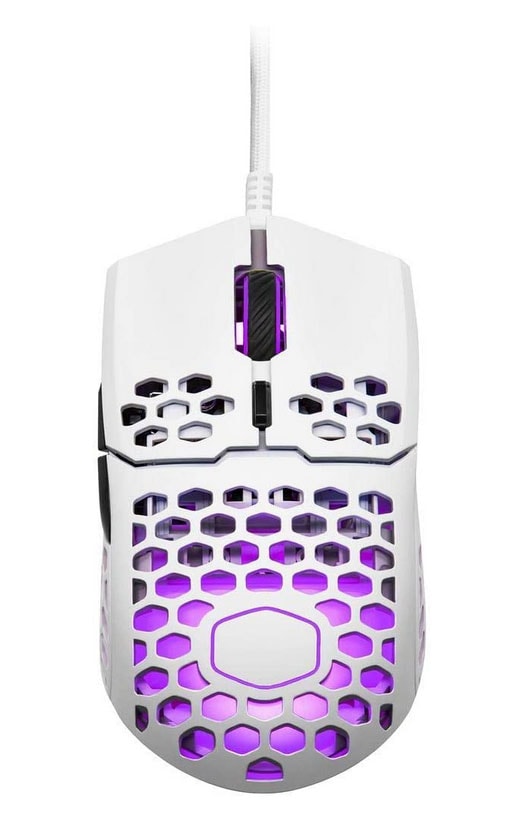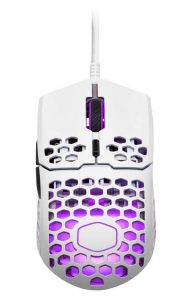 Symmetrical looks exactly the same as ambidextrous except it doesn't include programmable buttons on the right side (made for left-handers).
Ergonomic Design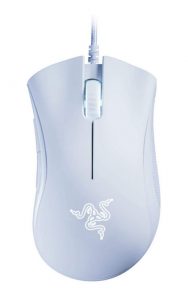 The ergonomic sign only suits right-handed gamers, who like the extra grooves used on the thumb and other parts on your fingers.
This allows you to have extra control over your gaming mouse.
Honeycomb Design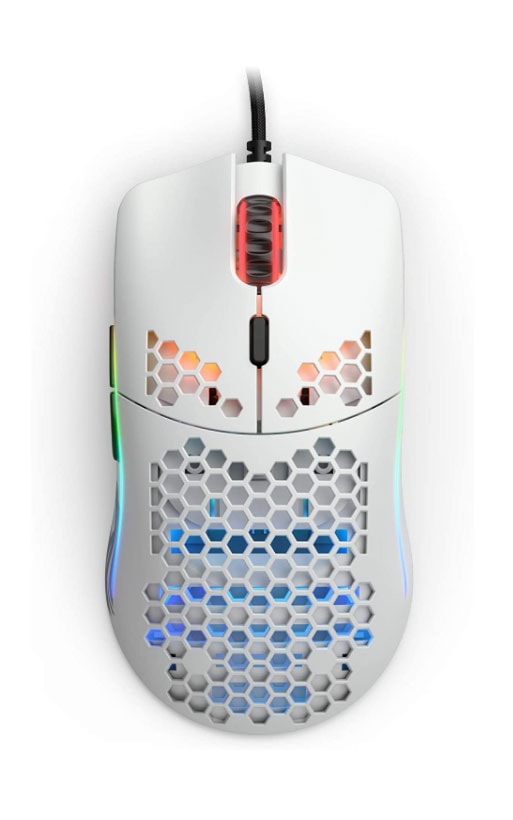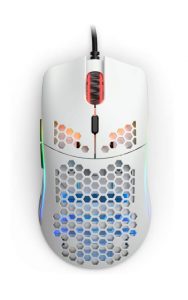 The honeycomb design has been rising in popularity, as it has one major advantage over the standard designs, and that is; it's lighter.
It is widely debated whether a lighter mouse is better for gaming.
There is not enough data to showcase whether it is or not, and at the end of the day, it's all about personal preference.
Choosing Between Wired Vs. Wireless
Decide whether you want a super reliable connection or a tangle-free desk.
Wired Mouse
A wired mouse ensures you don't have any connection issues ever.
It provides a direct connection to your PC, hence cutting down any latency between your mouse and the input into your monitor.
Wireless Mouse
Although, in recent years wireless mice technology has improved drastically.
With wireless mice having cut down the latency to a super-fast 1ms delay, you won't notice a difference between a wired vs. a wireless mouse.
In many cases, wireless mice are better, since you won't get the cord stuck anywhere on your desk.
However, they do come with some cons, and they are:
They cost a lot more than regular wired mice
They need to be charged constantly
They are prone to interference
Some mice are battery-powered (personal preference)
Logitech has come out with their technology called G PowerPlay which allows you to charge your mouse wirelessly by using a mousepad with wireless technology.
Although, the system is only compatible with select few mice that Logitech has come out with, not including the G305.
So if you have enough funds to get a wireless mouse, buy a wireless mouse.
Frequently Asked Questions
Are Lighter Mice Better For Gaming?
No. As long as your mouse is under 120g or under.
The weight of your mouse is highly subjective, and there is not enough data to suggest that lighter mice are better.
But with the new honeycomb design on the recent mice have been the latest trend, with more pro players adopting the lighter gaming mice.
I still use the G502 which is 120g, and I have had no problem with flicks or smoothing out my aim.
As long as your mouse is under 120g, the weight of your mouse won't affect your aim. Having some weight to your mouse limits overcorrections, whereas having a lighter mouse will provide more control.
Which White Gaming Mice Do Pros Use?
One of the best ways to know that a mice is good is by seeing whether pros use it as their everyday mice.
With pro players, their aim has to be ridiculously accurate, hence having a quality, a responsive mouse is essential.
The Razer DeathAdder is used in pro scenes, including CS:GO, VALORANT and Overwatch.
Although, it's not the DeathAdder Essential, CS:GO pros such as Hampus, Frozen, smooya, and disco doplan use either the V2 or Elite versions of the DeathAdder.
The Glorious Model O is also used in the CS:GO/VALORANT pro scenes, although variations of the mouse.
The Model O (Minus) is the smaller version of the Model O which Stewie2k and rAx both use.
I would also like to mention that veteran CS:GO player olofmeister still uses a SteelSeries 300 as his main mouse, which shows testament to its successful track record.
Does A White Gaming Mouse Get Dirty Easy?
Anything white gets dirty easier than any darker shade, and it's because dirt can be easily spotted on anything white.
But if you keep your setup clean, and take good care of your peripherals, you won't have this problem.
There are some great accessories out there, like an air duster which is great for cleaning a gaming mouse with the honeycomb design.
Or a cleaning goo, which allows you to get into the nooks and crannies of your keyboard or mouse and get out all the dirt.
You can also benefit from having a simple anti-bacterial wipe to clean your mouse regularly.
Our Winner The Best White Gaming Mouse
After going through our selection criteria, including choosing the best sensor, weight, comfort, simplicity, and outer finish, we've concluded that the Glorious' Model O- is the best white gaming mouse on the market right now.
Check Prices
We earn a commission if you make a purchase, at no additional cost to you.
It includes many premium features.
The 3360 sensor is one of the top-level gaming mouse sensors, and the new honeycomb design will weigh your mouse down to a mere 57g!
It may not look like it has a signature grip, but the symmetrical design combined with the perfect shape has your hand sitting super comfortably if you have a fingertip or claw grip.
If you use a palm grip, you can opt for the Model O which is a bigger version of the O-, perfect for palm grippers.
Glorious has been an up-and-coming contender in recent years for good reason.
They make great quality mice, with a nice white aesthetic finish.
If you were to choose a mouse to compliment your setup, I would highly recommend the Glorious Model O-.