There may be some confusion on how to claw grip a mouse correctly and make the mouse out of the claw grip style.
So I wrote a quick guide on how to grip your mouse properly.
The best piece of advice on how to grip your mouse correctly is:
Grip your mouse in a way that you find the most natural and comfortable. There is no "one-way" to claw grip a mouse; it comes down to personal preference.
Don't think about it too deep; the way you grip your mouse will barely have an effect on your aim going forward.
If you want to improve your skills, you will want to create an aim training routine and choose whether or not you are a wrist aimer vs. an arm aimer.
Nevertheless, below is a guide that will answer how to claw grip your mouse the "standard" way and whether or not a claw grip is right for you.
Let's dive in!
How To Claw Grip Your Mouse The "Proper" Way
To properly claw grip a mouse, you would hold it this way: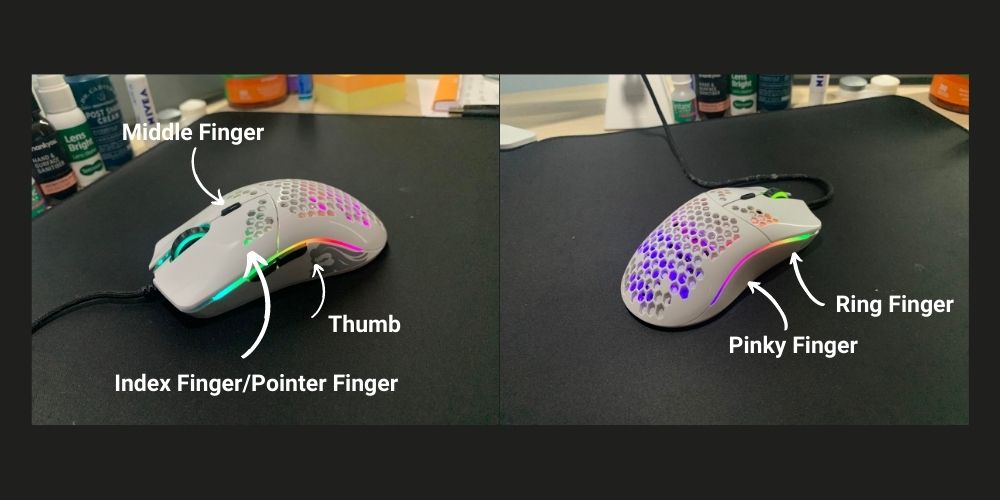 The proper form of a claw grip allows you to place your fingers in the shape of a claw, with your fingers underneath your knuckles, with your entire palm off your mouse.
A claw grip allows you to move around your wrist fast and to make micro-adjustments with your fingertips.
It is the perfect hybrid grip between a palm grip style and a fingertip grip style.
It allows you to have a solid but flexible grip, especially if you have small hands.
Here is the end result: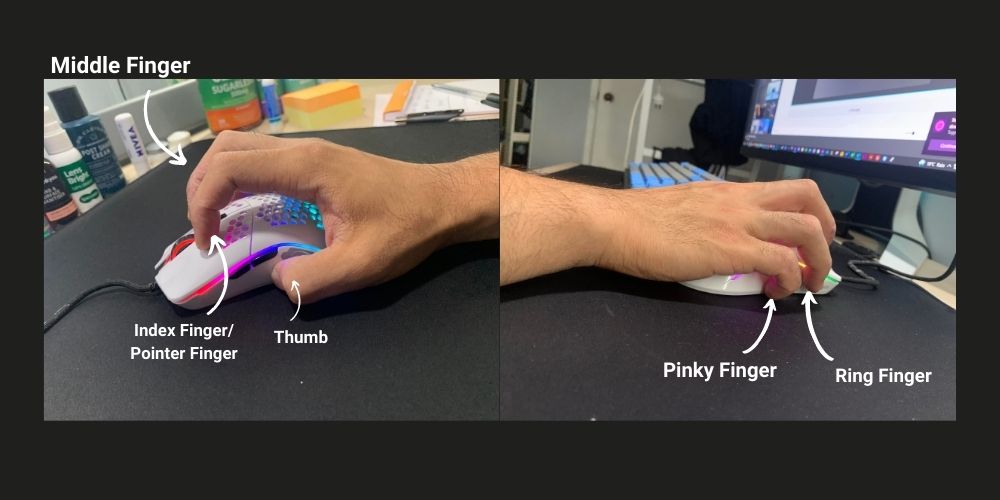 Is Using A Claw Grip Good For Gaming?
The claw grip is a popular grip type that many gamers have adopted in the pro scene because it is the most natural-feeling grip when using a mouse.
If you're looking for a snappy, fast-flicking aim, then a claw grip is an excellent choice.
You have a ton of flexibility in your wrist for flicks, and for more minor adjustments, you can use your fingertips.
FPS games that are more click-timing-based like VALORANT and CS:GO benefit significantly from a claw grip due to the "aim style" adopted in these games.
However, for more tracking-based games like Call of Duty: Warzone or Overwatch, you may find that a fingertip or palm grip is better suited.
A fingertip or palm grip is better for tracking because you have a better feeling and control over your mouse, making it easier to steady your aim over moving targets.
The differences are subtle but noticeable. That's not to say that claw grip will ruin your tracking aim, just that if you play those games, you may want to switch your grip up.
In reality, any grip that feels natural and comfortable will be best.
You can always use aim trainers and create an aim training routine to make your aim more sharp and accurate.
The grip type you adopt won't have an enormous impact on your overall gameplay.
That being said, you will want to ensure that the grip you use suits the gaming mouse you have.
We have guides on choosing the best claw grip, palm grip, or fingertip grip gaming mice that you can check out!
And if you're not entirely sure of what grip you have, you can use this mouse grip guide to get an accurate measurement for yourself.
Are There Any Health Issues When Using A Claw Grip?
A claw grip uses more wrist movements compared to a fingertip or palm grip. However, it's not enough to cause any health issues. You will want to be wary of the type of "aim style" you use, whether you use wrist aiming or arm aiming.
If you use a claw grip on your mouse and primarily use wrist aiming as your go-to, you will need to ensure that you keep your wrists flexible and mobile by doing stretching exercises.
You will want to warm up your hands, wrists, and shoulders before hopping into a game.
ScreaM (a pro VALORANT player) briefly touches on this here (skip to 0:25), but if you want to take it a step further, you can do an entire wrist yoga routine which should keep your whole arm healthy and ready for gaming.
Hybrid Grip Styles
In reality, not everyone will use a "true" claw grip style.
Most of you will have some variation of a claw grip, which is perfectly fine - whatever you find most comfortable is best.
Here's an example of a 1-3-1 claw grip style. Pro-VALORANT player Hiko uses this type of style:
Your gaming mouse will heavily determine the type of grip that you use and feels natural.
You can switch up your grip; you will just have to go through a learning curve for a couple of days (or weeks).
If you don't feel as if your grip handles comfortably, try different grips; make sure that your mouse is appropriate for the type of grip you will use.
Don't get caught up in thinking one grip is superior to another.
With proper training and practice, you will improve. So worry less about your grip, and focus on what makes you a better player - like aim training and game sense.
True "Claw Grip" Gaming Mice You Can Use
If you're looking for a complete breakdown of the best claw grip gaming mice, check out our guide.
Below are some quick recommendations that we have found to suit claw grip gamers the best:
1. The Razer Viper Ultralight
Check Prices
We earn a commission if you make a purchase, at no additional cost to you.
The Razer Viper Ultralight is one of the few gaming mice that suit claw grip gamers like a glove.
It comes in at a light weight of 61g and has an ambidextrous design that suits both right-hand and left-handed claw grip gamers.
The Razer Viper is the best gaming mouse for smaller hands since its shape is smaller than many of the other claw grip mice on the market, which compliments smaller hands.
If you want a genuine, authentic claw grip and have small hands, then the Razer Viper should be at the top of your list.
2. Logitech G Pro X Superlight
You can use any mouse grip on the Logitech G Pro X Superlight, depending on the size of your hand.
If you have a medium-sized hand, your claw grip will fit the G Pro X like a charm.
The G Pro X also includes a flawless HERO sensor with a very comfortable and natural feeling shape.
Not to mention that the mouse is wireless and is compatible with Logitech's G PowerPlay in which you can use wireless charging technology to keep your mouse running 24/7.
If you have a medium-sized hand, you will love to use the Logitech G Pro X Superlight as your claw grip mouse of choice.
3. Razer Deathadder V2
The Razer Deathadder V2 is the best claw grip mouse for large hands because it includes a wider shape and a broader back hump.
The Deathadder includes a unique type of grip that no other mouse can match.
Needless to say, it's super comfortable. There aren't many gaming mice out there that have a more comfortable grip than the Deathadder.
The Deathadder V2 has the added benefit of being wireless, so you will never have to experience your cord getting stuck or tangled again.
The wireless version of the Deathadder was long-awaited by many gamers, and you now have the option to choose this as your primary claw grip gaming mouse...
If you have larger hands and prefer using the claw grip style, then the Deathadder V2 will be an excellent pick for your primary gaming mouse.
The Bottom Line
The claw grip style is a comfortable, natural-feeling grip that is excellent for click-timing games and responsive, "snappy" type of aim.
The bottom line is that you should use a grip that feels the most natural for you.
You may find that you don't have a true claw grip style, which is perfectly fine.
As long as the gaming mouse you choose compliments your grip, you can train your aim to be more accurate and sharp.
If you're a claw grip gamer, comment below and let us know what you like most about it.
Happy gaming!