Did you know that a gaming mouse is so critical that it can be the difference between winning and losing?
You bet it's true. It might not look like it, but having a mouse that fits your hand perfectly will make all the difference in your game.
Finding the best gaming mice for palm grip doesn't have to be complicated - the secret is just to know what to look for.
There's a very good chance that you're here because you know for yourself that palm grip best suits your playstyle and hand size.
If you're not yet entirely sure, I would recommend using our guide to find what mouse grip style you use first, before going ahead with this article.
There are 2 other main grip styles which are the fingertip grip and the claw grip, and other gaming mice may be better suited for you:
If you're set on a palm grip, go right ahead.
The palm grip is most commonly used by gamers with larger hands, who most likely prefer a larger mouse. Palm grip gaming mice often have some of the most comfortable feels on the market.
And this is deservedly so, preventing your hand from having contact with the ground can help with maneuvering the mouse, making it an extension of your body.
In this article, we will be dissecting the 7 best gaming mice for palm grips, and how you can choose the perfect mouse for you.
Let's dive in.
Best Overall
Logitech G Pro Wireless X Superlight
Accurate HERO sensor
63g Weight (Superlight)
Extremely comfortable
Runner Up
Razer Basilisk V2
Ergonomic grip
Highly customizable
High-performing sensor
Budget Pick
SteelSeries Rival 310
Great performance
Classic, comfortable grip
Budget-friendly
TL;DR - The 7 Best Gaming Mice For Palm Grip
1. Logitech G Pro X Superlight Wireless Gaming Mouse
Pros
Tremendously lightweight
A powerful 25K Hero sensor
Comes with storage for the wireless dongle
Smooth cruising
Cons
Powerplay mousepad required for wireless charging
Needs large budget for this
Logitech G Pro X Superlight is a brand new addition to Logitech's premium eSports mice.
Weighing only 63g, this wireless mouse is one of the lightest palm grip gaming mice out on the market today.
Furthermore, the glide-friendly base panel, its ergonomic shape, an impressive Hero sensor with a 25000 DPI range, and a 90-hour constant motion battery life can take anyone's focus off the fact that it has only 5 buttons.
The Logitech G Pro X Superlight is a great mouse for gamers who want to go wireless.
The only downside of this palm grip gaming mice is its limited number of buttons. Don't get us wrong, it's still an excellent choice if you're looking into going wire-free and don't mind sacrificing some control options in order to save on either battery life or weight (or both).
It also has one more button than most other wired/wireless hybrid devices which can be programmed with any function that suits your needs!
Despite the heavy price tag for a wireless mouse, the Pro X Superlight is extremely popular and surely won't be catching dust on shelves. This very reason alone deserves its rightful spot on our list.
2. Razer Basilisk V2 Gaming Mouse
Pros
Superior tracking feature
Highly ergonomic for relaxed use
Highly customizable
Great sensor
Cons
A bit large for small hands
The price tag is hard to swallow
Requires a user account to access
Razor Basilisk V2 is one of the best right-handed gaming mice for those looking for a versatile mouse to enjoy premium-level gaming features in FPS games.
The Razer Basilisk V2 is a perfect choice for palm grip gamers since it features a durable and sturdy aluminium frame.
It includes Razer's famous optical sensor that's known for its responsiveness and accuracy, so it's great for precision gameplay.
It also comes with customizable Chroma lighting features that are available in 16 million colors and up to 10 different effects.
Along with its accessible 11 programmable buttons and scroll wheel, this mouse can quench every gamer's performance thirst.
The Basilisk V2 comes with a sweet 3.3-ounce weight and a USB interface.
The software proves to be of great help when customizing your buttons, but the downside is that it requires a user account in order to access the options.
3. Razer DeathAdder V2 Gaming Mouse
Check Prices
We earn a commission if you make a purchase, at no additional cost to you.
Pros
Great optical performance
Compelling design
Speedlex braided cable
Software support
Cons
Can be uncomfortable in long sessions
Software requires a user account
Razer DeathAdder V2 being equipped with 2 side buttons, two primary buttons, a scroll wheel, and two smaller buttons beneath the wheel is an absolute killer machine in a world full of palm grip mice.
The small buttons are utilized to cycle through DPI settings by default.
It is clear that the Razer Deathadder V2 looks a great deal like the Razer Deathadder Elite in its ergonomic shape and palm grip style.
The scroll wheel and logo are backlit and can be manipulated through Razer Synapse.
In addition, the DeathAdder V2 comes with an upgraded Razor Focus+ optical sensor developed by their partnership with Pixart.
Just like the Razer Basilisk, the DeathAdder V2 includes Razer's premium optic sensor which has an extremely responsive optical sensor, making it a great choice for gaming.
In case you want to reassign buttons to perform different commands, you'll be happy to know that the buttons can be customized using its software. Only thing is, you need user access through an account.
This might seem a bit of a hassle but rest assured that the Razor Focus+ and the speed flex braided cable present as a persuasive combination.
4. G-Wolves Skoll Gaming Mouse
Check Prices
We earn a commission if you make a purchase, at no additional cost to you.
Pros
Comfortable design
Easy software support
Great paracord support
RGB programmable
Cons
The feet could be better
Optical sensor only supports 12,000 DPI
G-Wolves Skoll is the first of the many to come gaming mice by G-Wolves.
Its ergonomic honeycomb-like palm grip style has been on the rise of recent trends since it helps lessen the weight of the mouse.
The Skoll is quite the large mouse as compared to others, which is best for players with larger hands with a palm grip.
It houses the PM3360 optical sensor, which provides pixel by pixel tracking with DPI values of 12,000.
The G-Wolves Skoll offers one of the best paracord cables along with an ergonomic shape, which is surprisingly flexible with amazing build quality.
There won't be any pull when it comes to manoeuvring this mouse, just make sure the cord doesn't get wedged in between anything.
If you have never used a paracord before, then you are definitely in for a treat! A bit of a warning though, it's hard to go back after experiencing the finesse of a paracord.
5. SteelSeries Rival 310 Gaming Mouse
Pros
Undeniably great performance
Budget-friendly
Classic, unique shape that's loved by many
Feels comfortable during long sessions
Cons
May not be a full palm grip for people with smaller hands
SteelSeries Rival 310 is close to a perfect palm grip gaming mouse while being priced at a mid-range.
The Rival 310 has a simple, straight-to-the-point design. There's no fluff, no funny business whatsoever.
Gamers who simply want a plug-and-play solution would be thrilled to know that this mouse is for them, with emphasis on mouse performance.
It comes with 2 basic mouse buttons, a CPI switch, 2 side buttons, and a clickable scrolling wheel.
Both the scroll wheel and the SteelSeries have independent RGB lighting and are purely aesthetic.
What stands about about the Rival 310 is the comfort and performance. SteelSeries is well-known in the pro-FPS scene, and is used by many.
This is due to the unique, ergonomic shape that is loved by many.
The Rival 310 may not be the perfect mouse for palm grip, but it is definitely top pick thanks to it being a budget-friendly mouse that has a with a premium quality performance.
6. Zowie EC1-B Gaming Mouse
Check Prices
We earn a commission if you make a purchase, at no additional cost to you.
Pros
Great build design
No distracting RGB/LED lights
Smooth gliding
Made for larger hands
Cons
Limited customization
Palm grip comfort is a hit or miss
BenQ Zowie EC1-B may be a brand that you haven't heard of but has taken the pro-FPS scene by storm.
The mouse has no flashy RGB or LED lights since its focus is on the design and the performance.
Gamers with bigger hands would appreciate knowing that this larger model is specially made just for them. So if you have large hands, the EC1-B will be a perfect fit.
The no-nonsense, high-quality tracking of this mouse will feel smooth and perfect for landing those insane headshots.
Zowie does not have any accompanying software, which is good in the sense that it won't consume your PC resources like many other software.
However, you will find the lack of many customization settings apparent, which are widely available from other well-known brands like Logitech or Razer.
To conclude, if you're looking for a simple, plug-and-play the palm grip mouse with a comfortable shape, and awesome performance, the Zowie EC1-B is a great pick.
You can bet that many pro CS:GO players like 'ALEX' from Cloud-9 or 'jks' from Complexity use this mouse too.
7. HyperX Pulsefire Raid Gaming Mouse
Pros
Scroll wheel tilt input
Budget-friendly
11 programmable buttons
Programmable RGB lighting
Cons
Sniping button is far out
HyperX Pulsefire Raid is a lightweight machine compared to other palm grip gaming mice. The ergonomic shape makes it eye-catching to many individuals.
It houses a great optical sensor Pixart PMW3389 which can provide up to 16,000 DPI.
This 11-buttoned gaming palm grip mouse offers excellent functionality at a reasonably priced budget range.
There are a total of six buttons on the upper panel: 2 basic buttons, a DPI button, and 3 scroll wheel input buttons.
I am especially fond of the tilt input options for the scroll wheel.
It is a lot more satisfying and provides that extra control you need.
The left side houses the remaining five buttons, essentially making it a right-handed palm grip mouse.
The programmable buttons can be customized too through the ingenuity application, as some of these buttons have literally no default functions.
The HyperX Pulsefire Raid is a fantastic option that offers adequate functionality if you can look past a few problems.
All in all, it's considered to be a great palm grip gaming mouse.
Buyer's Guide: How To Choose The Best Palm Grip Gaming Mouse
When looking for the best gaming mouse, you need to look past the price tag.
You will want something that feels like it's an extension of your body, so you can be as accurate as possible when gaming.
One of the most commonly used grip styles is the palm grip. It offers a relaxed way of handling the mice.
When looking for a mouse suitable for palm grip technique, you need to be wary of various features.
Mouse size is an important decision that you have to make when looking for a good gaming mouse.
Too small a mouse can make it a hassle to properly hold it.
On the other hand, if you buy one that is too large, you will have a hard time keeping it efficiently.
The mouse's weight can also affect the performance to quite an extent; whether it is wired or wireless, the features should not be overlooked.
There is a mountain load of mice available in the market, and quite frankly, why not?
Gaming mice can range from the modest inexpensive ones to the exceptional luxurious units housing customizable buttons and wireless charging options.
What To Look For In A Gaming Mouse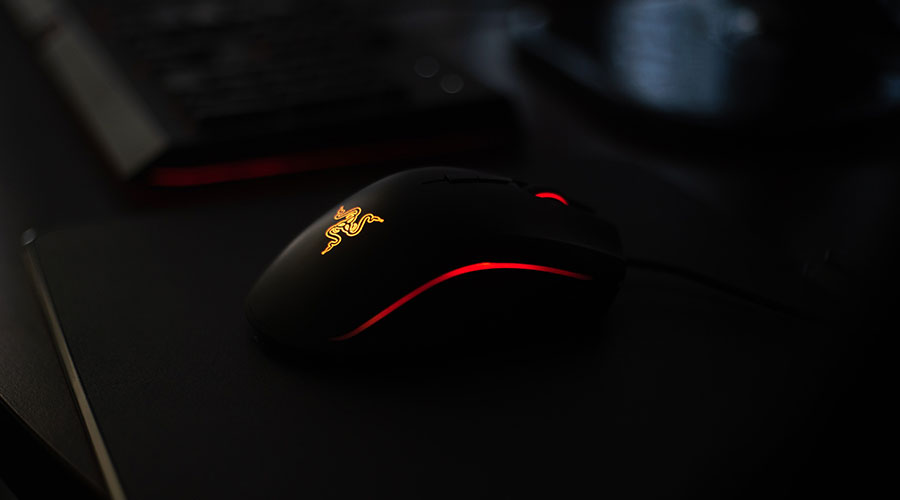 When it comes to looking for a gaming mouse, consider the following features...
Design Quality
Of course, when it comes to gaming mice, the build quality is the first thing you should look for.
Your gaming mouse should typically last you years while skimping on cheaper and unbranded gaming mice usually results in lower shelf life.
When it comes to checking the build quality, you should consider:
Grip
It's a no-brainer that the gaming mice on this list are made for palm-grip gamers.
But there are many different ergonomic designs for palm grips, and it's important to choose one that fits your hand.
If you want to ensure that your mouse is perfect for your hand - check out our guide on explaining mouse grip styles. After reading, you should be able to determine if a mouse will fit your hand.
Mouse Feet
You want your mouse feet to glide like butter on your mouse pad (if you don't have a mouse pad, get one).
The jagged movement will result in inaccurate clicks, which is detrimental to most video games, as accuracy is truly important.
You can change your mouse feet into premium mouse feet called Hyperglides, but it's not necessary, and only select few gaming mice have this option.
Just ensure the feet of your mouse are big and smooth enough to glide fluidly.
Additional Buttons
Sometimes the simpler, the better - and when it comes to gaming mice, that's usually the case.
Having flashy RGB/LEDs do look great on a gaming setup, but you want the majority of the work to be put into the mouse performance, not on pretentious features.
That being said, you may need additional buttons to help improve your productivity.
These extra macros are useful, especially if you want the convenience of accessing different features from your mouse instead of from your keyboard.
Laser Vs. Optical Sensors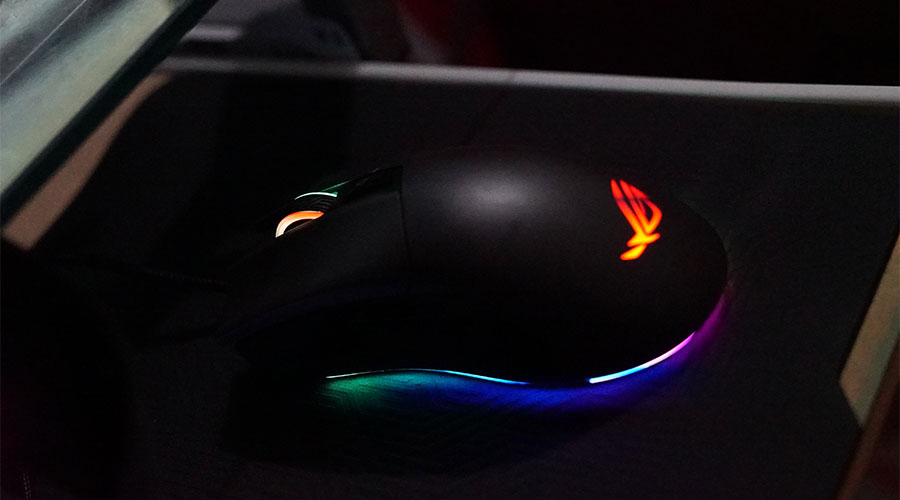 There are 2 main types of sensors when it comes to any type of PC mouse, and these are Laser sensors and Optical sensors.
Although, not all of them are created equally.
The light that laser sensors use to pick up the movements of your mouse is extremely accurate.
In fact, it's too accurate, often causing acceleration (picking up extra movements which cause inaccuracies)
Every single detail will be picked up by it's sensor, so having even the tiniest variance will affect the movement of your mouse
The sensor used in optical sensors isn't as strong as a laser sensor. They are still prone to acceleration, however, not as much as a laser sensor.
Hence why optical sensors are said to be superior to laser sensors, and why they are more commonly used in gaming mice.
So when it comes to choosing between the two, consider this:
Laser sensors are most commonly used in regular mice and are less accurate than optic sensors.
Optical sensors are widely utilized in gaming mice, with the majority 3360 or HERO mouse technology reigning at the top in terms of accuracy and responsiveness.
So when it comes to picking a sensor, you're better off looking for a mouse that uses an optical laser.
Wired Vs. Wireless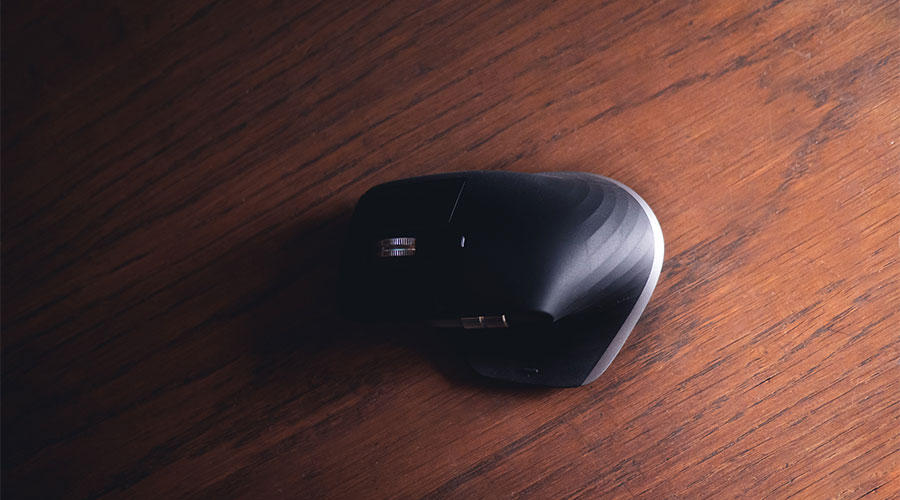 Choosing between wired and wireless mice can be difficult.
On one hand, it would solve a lot of problems not having that pesky cord attached to your mouse, allowing for complete freedom.
On the other hand, a wired mouse ensures no interruptions, and a direct connection meaning you will have the fastest latency possible.
So when it comes to choosing between the two, consider their pros and cons...
Wired gaming mice have some of the best features that any mouse has to offer. Not only they are fast and accurate, but they are also prone to little or no latency.
Wireless gaming mice lack a cord, allowing you to maneuver your mouse where you want, but there is a need for constant charging for your mouse to be functional.
Still, wireless gaming mice have come a long way in the past few years, considerably lowering the amount of input lag, thus further increasing its responsiveness.
Your decision when choosing between the two comes down to this: Do you want to pay a premium for a wireless mouse wherein you will have freedom of movement?
Or, do you want to get a wired mouse that ensures the fastest and most reliable connection, but is prone to get wedged in between your desk?
Both have their pros and cons. Luckily, these problems can be solved with 3rd party accessories.
For wireless gaming mice, Logitech has created "wireless charging" technology which allows certain mice in their 'G' line to get charged wirelessly, through a mousepad.
In contrast, for wired gaming mice, you can buy a mouse bungee in which your mouse is fed through, and stops your mouse from getting stuck - having smooth, consistent movements.
DPI: Should You Worry About It?
When it comes to gaming, most FPS-pros either use a DPI of 400 or 800, or anywhere in between.
Hence, having up to 16,000 DPI in our opinion isn't a big deal.
So when you're looking for a quality mouse, it's best to focus on other aspects of the mouse such as the build quality, the mouse feet, and other essentials that will directly affect your aim.
You can always change your in-game mouse sensitivity in case you need to adjust the speed.
We created a guide explaining how to choose the best DPI for gaming. If you have been using a DPI above 800, you don't want to miss this guide.
Our Winner For The Best Gaming Mouse For Palm Grip
In conclusion, after considering all of the features and benefits that are needed to compliment your palm grip, our ultimate winner is the:
Logitech G Pro X Superlight.
Logitech has released some of the most amazing gaming mice out there, like the G502 reigning as one of the top mice back in 2019, and now in 2021 - the G Pro X Superlight.
In fact, Logitech has been known for its double-clicking issues, but now you can put these behind you. Gone are the issues of its predecessor, the G Pro X.
Now you can enjoy the comfort, performance, and light weight design all in one mouse.
If you're looking for the best gaming mouse for a palm grip in 2021, you better believe that the Logitech G Pro X Superlight is blazing through above all other palm grip gaming mice.