Having been a competitive FPS gamer for many years, I always do extensive research when buying gaming peripherals for my setup.
And when it came to upgrading from my Logitech G502 (which was an excellent mouse, by the way), I was in the market for the best gaming mouse for claw grip since that's the grip that comes most naturally to me.
After a ton of research, going through hundreds of articles and videos, I was able to narrow down my top picks for a claw grip mouse.
If you're looking for a claw grip mouse, you will want to look for a mouse with a low-profile hump that makes a claw grip feel natural and allows you to move around your mouse comfortably and with ease.
So without further ado, here's a list of my top picks for the best gaming mice for a claw grip.
Let's dive in!
If you're unsure which mouse grip you use, check out our guide on finding the most comfortable mouse grip out of the three mouse grip styles here.
Best Overall
Razer Viper Ultralight
Best Gaming Mouse For Claw Grip
Runner Up
Logitech G Pro X Superlight
Budget Pick
SteelSeries Rival 3
The 7 Best Gaming Mice For Claw Grip
1. Razer Viper Ultralight Gaming Mouse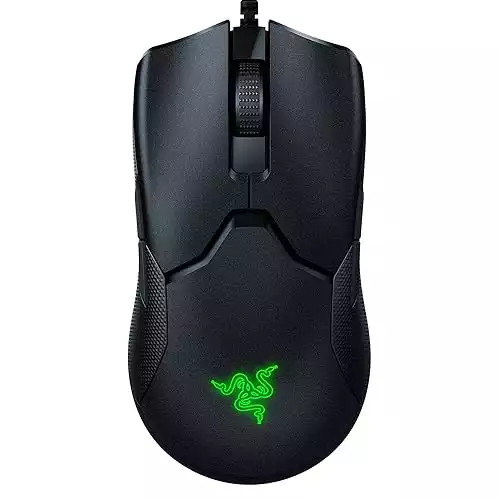 Check Prices
We earn a commission if you make a purchase, at no additional cost to you.
Pros
Well built and extremely comfortable
Can be used for fingertip grip as well as a claw grip
Amazing sensor performance
20k DPI sensor
Cons
Feet quality is not the best
Extremely similar to the Razer Viper and Viper Ultimate
If you're looking for a lightweight, aesthetically pleasing mouse that fits your claw grip like a glove, this is the mouse for you.
The mouse comes in at a lightweight of 61 grams and includes an ambidextrous design, perfect for you if you play on your right hand or your left.
The cable and feet on this mouse are not some of the best on the market, but it makes up for that in performance and size.
You will find the mouse particularly useful if you have a smaller hand since the design itself is smaller than other builds, like Razer's Deathadder.
The Razer optical sensor is one of the best sensors on the market; it's accurate, consistent, and excellent for competitive gaming.
The Viper includes eight programmable buttons that let you execute with high precision with buttons on the side of the mouse.
The Razer Viper has the right design, shape, sensor, and build quality to appeal to the general population of claw grip gamers.
It is one of the few gaming mice that provides an authentic claw grip experience and is our top pick for the best gaming mouse for a claw grip.
2. Logitech G Pro X Superlight Wireless Gaming Mouse
Pros
SuperLight
Solid Claw Grip Mouse
25600 dpi sensor
Perfect for competitive gamers
Cons
There should be better options for charging instead of a MicroUSB Cable, such as an additional battery pack that can be charged separately.
Not Ambidextrous
The Logitech G Pro X is the upgraded version of their G Pro predecessor, coming in at a lighter weight of 60 grams.
This right-handed claw grip mouse is simple and has a minimalistic feel with a futuristic black finish that feels great on the tip of your fingers.
This wireless claw grip mouse performs superbly under any conditions; it has the famous HERO Sensor, possibly one of the most responsive and accurate gaming mice on the market.
As soon as you put this mouse in your hand, you will notice how incredibly light it is and the exceptional feel you get from the material that covers this mouse.
You won't find any RGB lighting with the G Pro X Superlight, but the focus on performance more than makes up for it.
The G Pro X Superlight is compatible with Logitech's G PowerPlay, a wireless charging mouse pad that can keep your gaming mouse charged 24/7.
Note that getting the G PowerPlay is an additional cost and does not come with the mouse.
Being a right-handed mouse, it contains five programmable buttons through the Logitech G Hub Software system, which will allow you to customize your device.
Logitech is the leading company in terms of wireless technology, with a less-than 1ms input lag - which makes it comparable to wired gaming mice.
This mouse has a great feature because it comes with extra texture stickers to give you even more grip when you need it most.
Overall this wireless gaming mouse is an excellent mouse for claw grip that will give you an edge over the competition.
3. Razer Deathadder V2 Wireless Gaming Mouse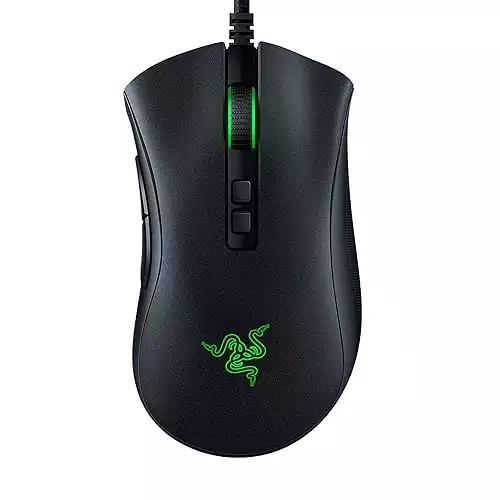 Check Prices
We earn a commission if you make a purchase, at no additional cost to you.
Pros
A super responsive dpi optical sensor
Best wireless connectivity
Iconic ergonomic design that has won the hearts of players for years
20k DPI sensor
Cons
Not for left-handed players
Button build quality is not up to scratch
The switches are a bit loud when they are clicked.
Created with the slightly bigger hand in mind, the Razer Deathadder V2 Wireless has one of the most comfortable designs out of all gaming mice on the market.
There is a reason why the Deathadder shape has stayed popular since 2006, and it's because the shape is original and unique and fits like a glove for those with larger hands.
The Deathadder V2 Wireless performs exceptionally with durable build quality to last you a long time.
It's a slightly different claw grip from your Razer Viper Ultimate, as it has a more prominent back hump and has a more ergonomic design that only suits right-handed gamers.
The mouse has two large side buttons, which are very helpful, and easier to press than other gaming mice.
The mouse isn't the lightest, coming in at 88 grams, which is still relatively light but heavier than the Viper and G Pro X Superlight.
This mouse will satisfy even the most veteran gamer with its excellent click latency that is responsive and is on my list of the best mice for claw grip.
The wireless version of the famous mouse has been long-awaited by many gamers and tech enthusiasts who want to make quick moves without any hassle caused by pesky wires getting wedged in small spaces like desks or between peripherals.
4. Glorious Model O Minus Gaming Mouse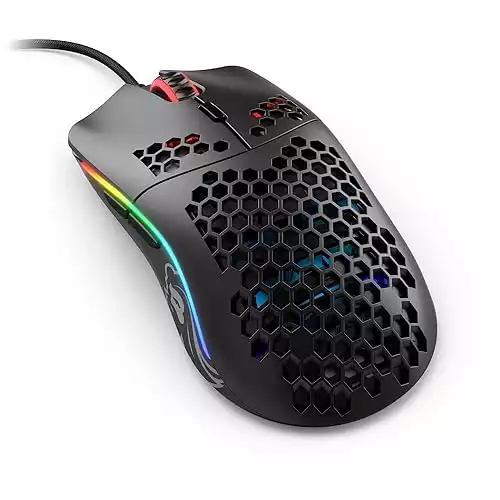 Check Prices
We earn a commission if you make a purchase, at no additional cost to you.
Pros
The honeycomb aesthetic design gives it a futuristic look
Well suited for gamers with small-medium hands
Ultralight claw grip mouse
Best budget and weight
Cons
Not that many programmable buttons as other mice
No buttons on the right side
Doesn't have the best optical sensor
The Glorious Model O Minus is a high-quality mouse envisioned by a community of passionate gamers and a development team who wants to give you a product that is nothing short of perfect.
This mouse is a force to be reckoned with, and its ultra-light design is ergonomic and fits the hand perfectly for claw grip.
It comes in a regular and small size that weighs around 58 grams and will be one of the lightest mice you ever use.
There is a DPI range of up to 12k, and its optical sensor gives you a reasonable lift-off distance when making fast swiping motions with the mouse.
This wireless mouse is a top-of-range mouse with RGB lighting and includes Omron mechanical switches, with an estimated life span of around 20 million clicks.
Its honeycomb design is futuristic and minimal at the same time, and it is probably the best claw grip mouse on this list when it comes to value and weight.
Designed for left and right-handed gamers, the Glorious Model O Minus has side buttons only on the left-hand side, so it might affect left-hand players who want to use the additional keys.
Truly standing up to its name, the Glorious Model O Minus might be one of the most beloved gaming mice out there.
5. BenQ Zowie S2 Gaming Mouse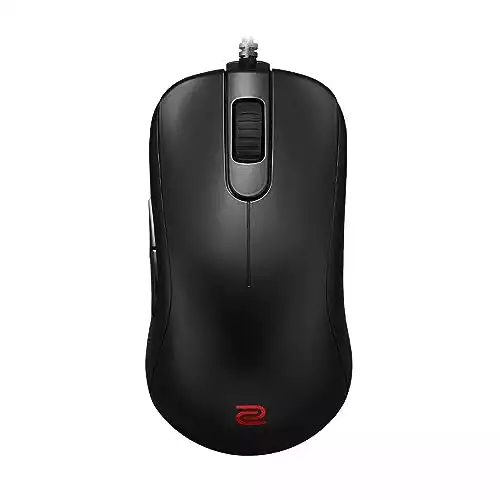 Check Prices
We earn a commission if you make a purchase, at no additional cost to you.
Pros
3360 DPI Optical sensors
Amazing Hyperglide Mouse Skates
Matt finish gives better grip
Superb build quality
Ambidextrous design
Cons
Abit pricey
DPI buttons are underneath the mouse
The beautifully crafted matte black finish on this mouse by BenQ gives it an excellent finish and helps with the grip. This model designed for the small-medium-sized hand is a lightweight mouse almost comparable to the SteelSeries Rival 3.
They designed the BenQ Zowie S2 specifically for you gamers in mind, and with its 3360 optical sensors, you will always stay ahead of the game.
The underside houses buttons to adjust your polling rate and DPI, which ranges from 400 to 16000; you also have Zowie's awesome Hyperglide Mouse Skates that make moving this mouse around a breeze with no lag and no noise.
On the side of the mouse, you have two perfectly positioned side buttons that click flawlessly, delivering a satisfying clicking sound. The scroll wheel on this gaming mouse has 16 levels, so what this means is it pretty stiff and perfect to help with those bunny hops.
If your grip style on your gaming mouse is claw, this one might be for you, like a well-loved all-around excellent mouse.
6. The ENDGAME XM1 Gaming Mouse
Pros
This mouse is affordable and of great value
Exceptional performance and click latency
Cons
No buttons that can be programmed
Bare Minimum when it comes to button configurations
Endgame Gear Analog Technology developed the Endgame XM1 for one reason: to provide a claw grip gaming mouse for the medium-extra large hands.
You can use this mouse whether you are a right or left-handed player. It looks nice in an all-black or white finish and is lightweight to move around for those nasty flicks.
The scroll wheel on this wired mouse has a 24 level system that makes for precision scrolling and helps to boost those rocket jumps or bunnyhops.
The side buttons remind me of the Razer Deathadder v2 we reviewed earlier; it has beautiful mechanical switches that feel just right when you click them.
A noteworthy feat of engineering that we should mention is the fantastic non shielded rubberized cable that has very little drag to it, so it keeps your mouse sweeps as consistent as possible.
DPI ranges from 50 to 16000, which you can adjust.
The XM1 will accommodate you nicely if you have a slightly bigger hand and your grip style is claw.
7. Steelseries Rival 3 Wireless Gaming Mouse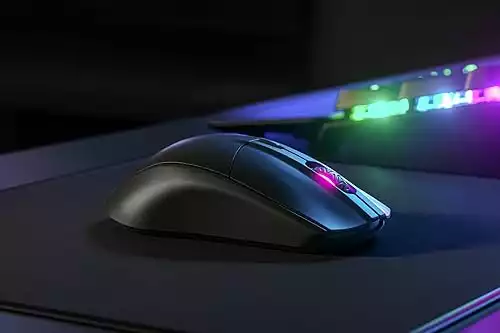 Check Prices
We earn a commission if you make a purchase, at no additional cost to you.
Pros
400+ hours Battery Life
Excellent DPI sensor
Ultra-Light Weight Gaming
Extremely Affordable For A Wireless Mouse
Cons
Heavier than most mice
The Power Saving Setting Drops your Polling Rate
There are two versions of the Steelseries Rival 3, one wired and the other a wireless mouse.
You can power the wireless version of the Rival 3 with AAA batteries, which in my opinion isn't the best, and I would prefer it to be cable-charged.
Although you can get a ton of the best and would prefer
Steelseries claims that with 2 AAA batteries, you can get around 400+ hours with this mouse, which is a believable statement as they are trusted around the world by professional gamers.
The SteelSeries Rival 3 has been one of the top-rated mice for Counter-Strike for many years, and a significant reason is its ergonomic shape.
The shape itself is similar to the Razer Deathadder - the fact that it is unique and many gamers find it comfortable to use.
The mechanical switches on this device will last up to 60 million clicks, making this one of the most durable mice in our range; this model is comparable to the Viper Ultimate but comes in at a more affordable price. The scroll wheel and rest of the mouse are engineered with highly durable material so they can last you for many years.
The optical sensor on the mouse will provide accurate 1 to 1 tracking that can give the user and smooth experience, so they never miss a shot.
Head over to this link to check out this exceptional claw grip gaming mouse that promises to make you feel professional without sacrificing price and build quality.
Buyer's Guide: How To Choose The Right Claw Grip Gaming Mouse For Your Setup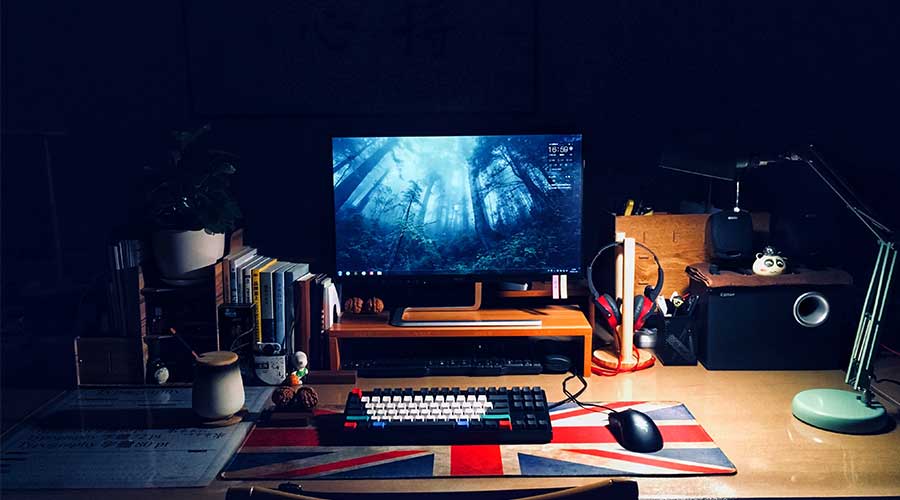 When choosing a gaming mouse for your claw grip style, there are specific characteristics you will want to look out for, such as:
Build Quality
You will want a tough and durable mouse with incredible built quality that will last you a few years.
Matte finishes are the most common, and they feel great and are generally sweat resistant.
Glossy finishes feel smoother, but you have to be careful because it is easy to chip in the paint.
The best-wired mice come with paracord type cables, which cut down cable drag and are lightweight, making your mouse feel lighter.
No matter what you choose, make sure that it's designed right with suitable quality materials, and it will bring your gaming experience closer to the professional mark.
Mouse Sensor And Performance
The mouse you choose should have a "flawless" sensor, which means that you don't experience any inaccuracies when you use your mouse.
Sensors such as Razer's Focus+, Logitech's HERO 25k, and the Pixart 3360+ sensors are all flawless types of sensors that we have tested to be accurate and reliable.
If you want a deeper dive into sensors, here is a great guide.
Mouse Feet
Your mouse feet of choice should be smooth, like Michael Jackson's moonwalk.
When you move your mouse across your mousepad, you should feel like it's spreading like butter.
PTFE feet are an excellent choice for the underside of your mouse but are not always a necessity.
PTFE Feet would be a bonus, but not always necessary if you own a decent mouse pad.
For the most part, the gaming mice on this list have excellent standard mouse feet.
However, you can also grab some third-party mouse feet specific to your mouse as an extra upgrade.
Portability
Ultimate portability allows you can take your mouse wherever you go and play cable-free, which can also complement the best wireless minimalist setup you can create.
Mouse Grip Size
You need a mouse that fits your hands; if you have larger hands, you need to look for a larger mouse and vice versa if you have smaller hands.
Getting the right size is imperative to your performance; make sure you do a hand size check to see which one will suit you best.
If you want to use a claw grip, size is everything so that you can get the perfect hold on your device, palm, and claw will be fully satisfied.
If you want a deeper dive into mouse grip styles and how your hand size affects this, then check out our guide explaining it in detail.
Mouse Grip Stickers
Some of these mice come with extra stickers for grip, which is a massive plus if you suffer from sweaty hands.
These extra stickers will come in practical use.
Decide to find the ultimate mouse for claw, and you will notice how your aim will dramatically improve.
Additional Programmable Buttons
Decide if you are a gamer going to need a lot of side buttons on the mouse or someone who is just using the mouse for some First Person Shooters, either way, you need to choose so that you can get the best claw grip mouse for you.
You will also need a responsive scroll wheel that flows smoothly when you flick it with your fingertip.
Built-in memory can also help you change keys and settings on the fly, so consider it when choosing the perfect one for you.
Should You Choose A Wireless Mouse Or A Wired Mouse?
For the most part, a wireless gaming mouse is better, but only if you don't mind paying the premium price and charging your mouse constantly (except for mice compatible with Logitech's PowerPlay technology).
A wired mouse comes at a more affordable price, and the connection is guaranteed to be reliable since you plug the mouse directly into your PC.
Although with a wired mouse, the cord can be a nuisance.
You can do customizations with your wired mouse, such as using a gaming mouse bungee or installing a paracord cable.
These customizations are designed to make your mouse feel wireless, but they cost money and take some effort to set up.
If you want to save yourself the trouble, opt for a wireless mouse.
If You Don't Have A Mousepad, Get One!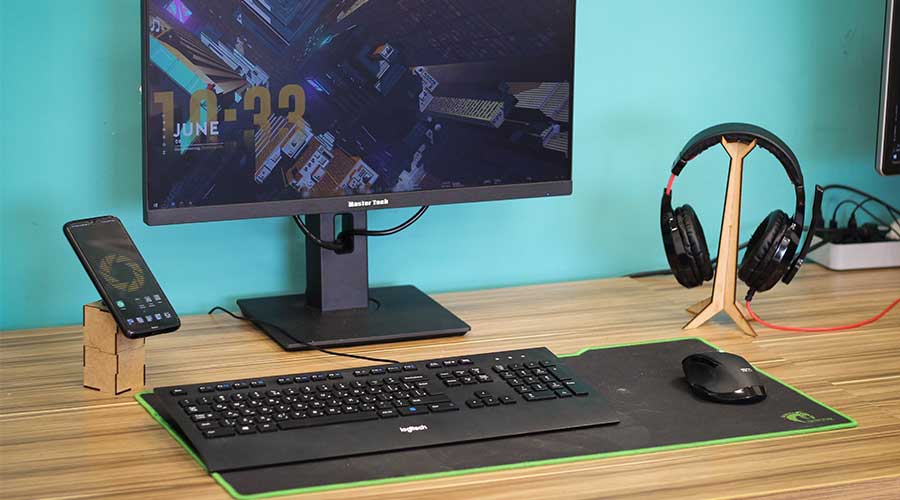 A high-quality gaming mouse pad will allow you to take advantage of your mouse sensor and further ensure that your mouse movements are accurate.
You will never find a pro-gamer or famous streamer without a mousepad, so be sure to grab one for your gaming mouse.
The bigger, the better, a mouse pad like the Glorious 3XL Extended will be an excellent asset to your gaming setup.
The Ergonomics Of The Claw Grip: Is It Bad For Your Hand/Wrist?
A claw grip is ergonomic if it's the natural way you hold your mouse.
Although, if you're an avid gamer, you will want to do wrist stretches before playing or doing aim training.
Going into the ergonomics of a claw grip is beyond the scope of this article, but this video should help you find out more info about claw grips:
Frequently Asked Questions
Below are some frequently asked questions.
Is A Claw Grip Good For Gaming In General?
The claw grip is the second most popular grip behind the palm grip and allows you to have more flexibility in your mouse movements. This is because you can use your arm, wrist, and fingertips to maneuver your mouse, giving you more control.
So if you're an FPS player trying to train your aim, you can improve your accuracy by focusing on micro-adjustments if you're slightly off your target.
You can do this by drilling the muscle memory into your fingertips and wrist.
Claw grips are also an excellent choice for you if you use a low sensitivity since you can use your arm to move around your mouse, which is typically the case for lower senses.
Is A Claw Grip Good For FPS Games, Like VALORANT?
A claw grip allows you to have a lot of flexibility when aiming and is easy to train to become more accurate.
The claw mouse grip is standard among the professional FPS scene, with many pros adopting the claw-type grip.
So yes, the claw grip is excellent for FPS games; in fact, our top pick for the best gaming mouse for VALORANT is a claw grip mouse -- it is the Logitech G Pro X Superlight.
Go figure.
Our Winner For The Best Gaming Mouse For Claw Grip
When it comes to picking a winner for the best gaming mouse for a claw grip, there is one mouse I would recommend to the general population.
And that mouse is the Razer Viper Ultimate.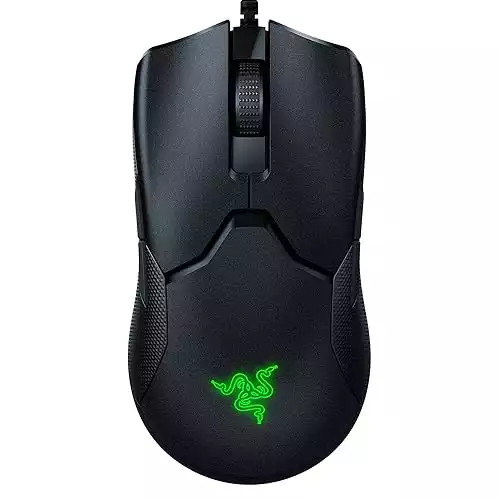 Check Prices
We earn a commission if you make a purchase, at no additional cost to you.
The Razer Viper is one of the most comfortable gaming mice for a claw grip and would suit hands of various sizes.
It includes Razer's Focus+ sensor, proven to be accurate and reliable, has smooth mouse feet, looks aesthetic, and comes at a lightweight size of 61 grams.
It's everything you want in a comfortable gaming mouse in one package.
Depending on what kind of mouse you're looking for, you can also opt for the Logitech G Pro X Superlight, which is a top contender for the best wireless gaming mouse on the market right now.
Or, if you have a larger hand, Razer's Deathadder V2 has a slightly larger back hump, which you will feel more comfortable using.
Overall, you should be able to find a mouse that compliments your setup with the list above.
If you have any gaming mice on our list and have had success using them, comment below and let us know!
Happy gaming!