Your mousepad is an often overlooked part of your gaming arsenal and non-gamers will not understand the importance of a quality mousepad.
A mousepad will make the biggest difference in how accurate your mouse movements are.
If the surface where your mouse sits is bumpy, dirty, or has scratches on it, your gaming mouse's sensor will pick up on all those nooks and crannies, causing inaccurate readings.
Having a custom gaming mousepad solves that issue - basically, it's your mouse sensor's best friend, and gives it a smooth, accurate surface to scan.
However, not all mousepads are created equal.
This blog post will offer up to 11 places to buy custom gaming mouse pads for different types of gamers!
TL;DR: Quick List Of Places To Buy A Custom Gaming Mousepad
The 7 Best Places To Buy Custom Gaming Mousepads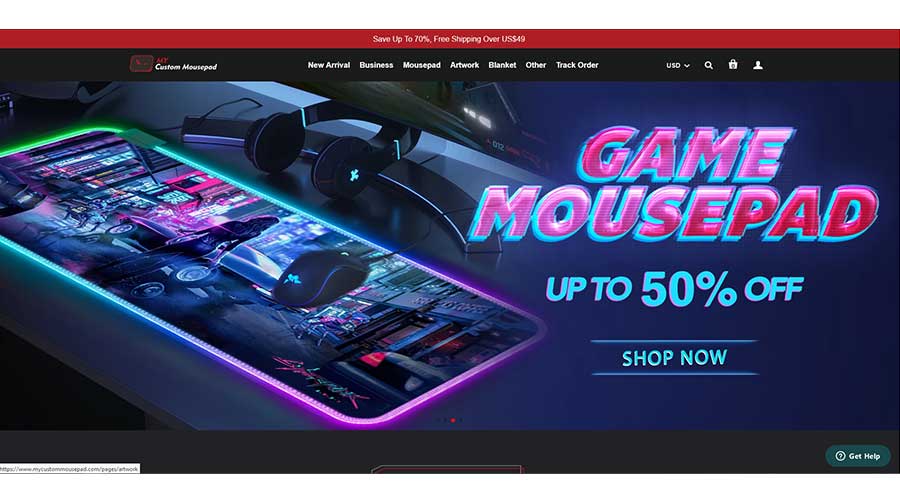 If you want to design your own gaming mousepad using your own artwork, and want to pick out the size and accessories included, then My Custom Mousepad is recommended.
Having your own DIY design means putting forth a little bit more work, as in designing your own artwork (or finding an image that you like) and ensuring that it fits in the dimensions of the mousepad size you're planning to get.
Additionally, you can also get different accessories built into your mousepad, including:
RGB LED's
A silicone wrist rest
Wireless charging capabilities
And if you're lazy and just want a custom piece of artwork on your mousepad, they have a few artwork designs you can choose from.
The downside to My Custom Mousepads selection is that you can't choose the thickness of your mousepad - they all come at a thickness of 3mm.
All in all, DIY'ing your mousepad can be very satisfying, just make sure you're willing to pay extra as the cost of putting your own artwork on a mousepad will be a little higher than buying one pre-made.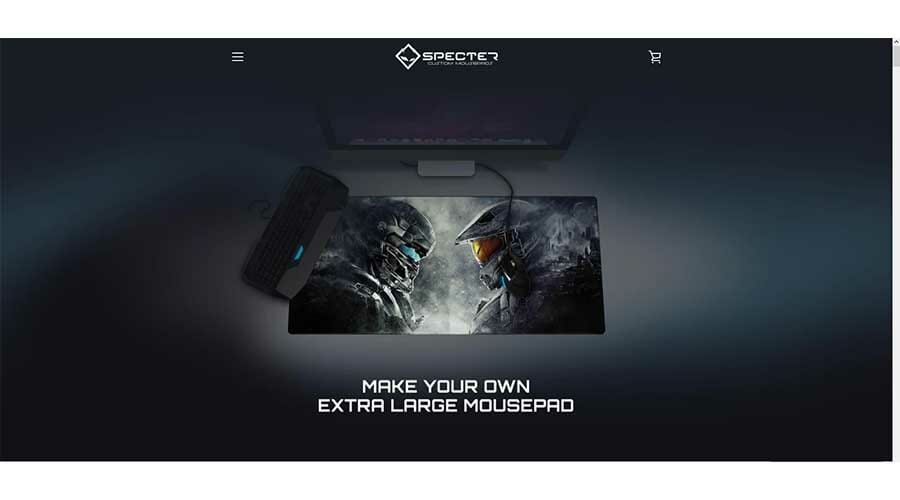 Print Your Pad (AKA Specter Custom Mousepads) is a simpler version of My Custom Mousepads in the sense that it's mainly a DIY mousepad company and nothing else.
The upside to Print Your Pad is that you can choose the thickness of your mousepads, ranging from 2mm up to 5mm, whereas in My Custom Mousepads you're stuck at 3mm thickness.
You can also choose the size of your mousepads ranging from Small all the way up to XXXL (3XL).
Each mousepad is made from silky smooth fabric and includes a non-slip rubber base with reinforced edge stitching.
If you just want a simple, high-quality, custom mousepad without the extra accessories, Print Your Pad is the way to go!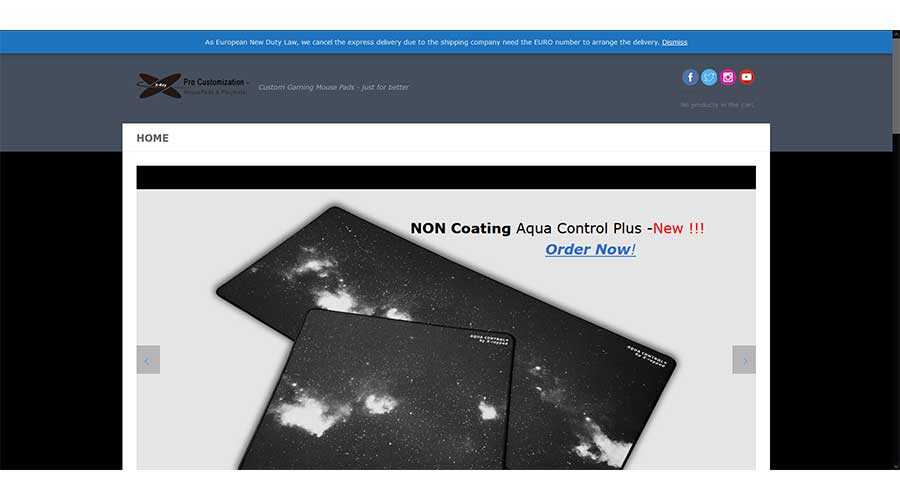 The custom mousepads offered on X-RayPad are custom-sized gaming mousepads that can be made to order.
They offer varying prices depending on your length, width, thickness, type of corners, and the type of artwork you want.
What's great about X-Ray mousepads is that you can literally put any size you want.
They don't limit you to specific sizes - but rather you input custom dimensions (whether it's millimeters or inches).
They even offer 'irregular' mousepad sizes that will fit the weirdest desk shapes - for example, if you need a mousepad to fit an L-Shaped desk, they make one that fits your L-shaped dimensions.
Additionally, they help you with getting the right dimensions of your artwork every step of the way.
If you want an extreme amount of flexibility when it comes to designing your mousepads, then this is the place to get it done!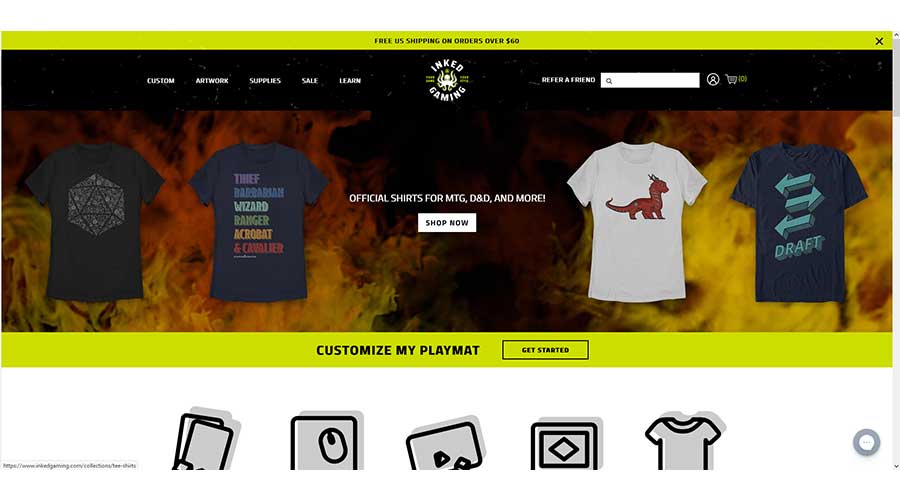 Inked Gaming is another DIY custom mousepad solution which more so focuses on pre-made artworks and designing other custom items such as playmats, gaming bags, mat bags, etc.
They offer sizes ranging from classic (small - 9" x 8") to XXL (2XL) extended mousepad, with the ability to upload your own image.
Each mousepad comes with a soft (cloth) exterior with stitched edging and with a 3mm thickness.
Additionally, you can also get a custom thin desk mat if you don't want it 3mm in thickness.
The great thing about Inked Gaming is that they have great quality mousepads and even offer help if you want to ensure you have the best possible look for the artwork you have chosen. (this service costs an extra $15).
And if you don't want to upload your own artwork, there is a wide array of pre-made mousepads available designed by Inked Gaming and previous buyers.
Overall, this is a great place to find pre-made mousepads or to build your own mousepad, along with the comfort of knowing that the mousepad itself will be of high quality.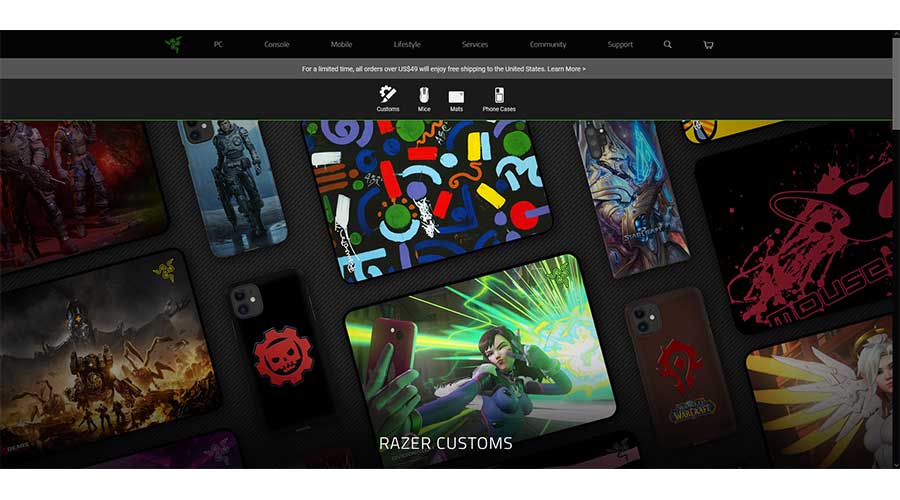 If you're a gamer, you've definitely heard of the Razer brand and their incredible array of quality gaming peripherals.
So it shouldn't come as a surprise that their custom mousepads are highly sought after.
Each mousepad is identical to the quality of the Razer Gigantus V2, a very popular soft mousepad amongst the gaming community.
The downside to Razer's custom mousepads is that you can't upload your own design - but rather you will have to choose from the selection of designs available.
These mousepads also only come in size Medium, which can be a deal-breaker for those who enjoy having a larger mousepad.
So far, according to their website, they have designs for:
Cyberpunk 2077
Overwatch
Diable
Gears of War
Guild Wars 2
Heroes of the Storm
Magic The Gathering
And much more...
Although there's a limited selection, the great thing about these designs is that they're not subject to copyright (for most DIY gaming mousepads, you're not allowed to use a copyrighted image).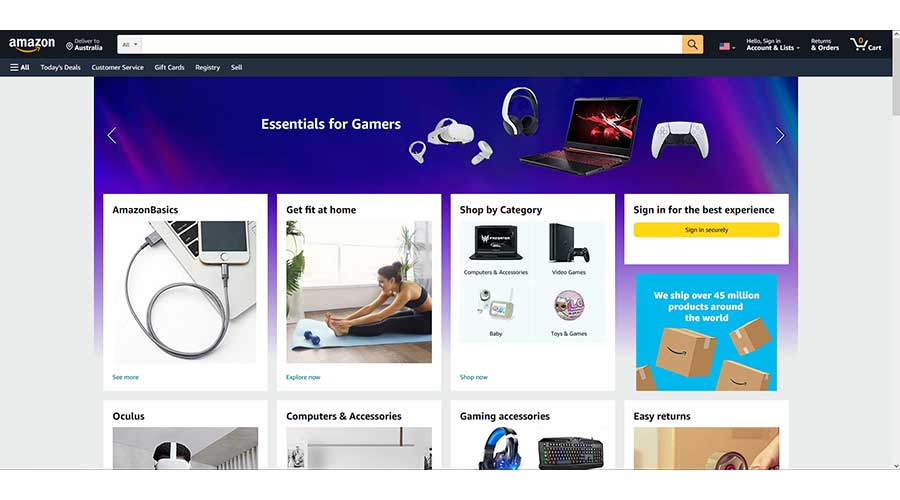 It's a no-brainer that Amazon would sell DIY custom mousepads that are built for performance and have great printing quality for your artwork.
If you want to skip the long waiting times, then Amazon will be your quick fix.
The downside of buying from Amazon is that you don't get as much customization out of the mousepad (choosing the size, thickness, or material).
However, each mousepad comes in a 9.25" x 7.75" size and is built with an anti-slip rubber base with a polyester surface for great mouse performance.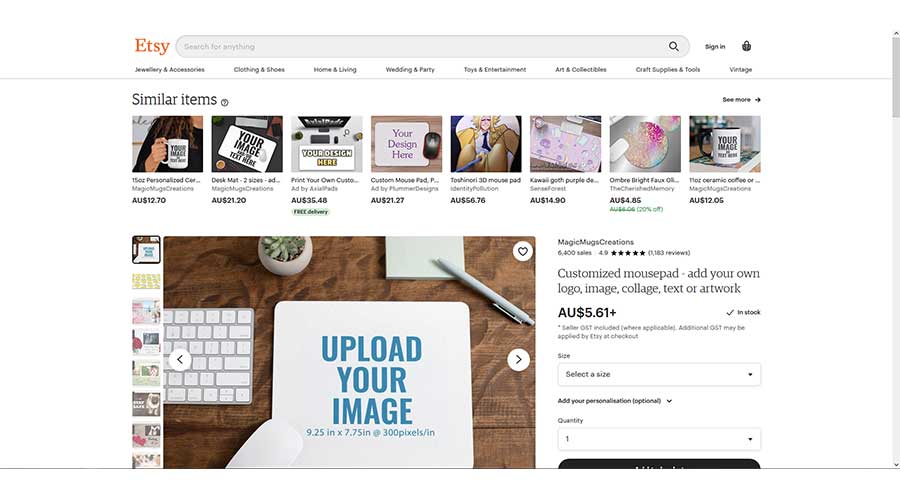 Etsy is extremely similar to Amazon in terms of how the process of getting your own artwork to your mousepad works.
They only offer 1 size (9" x 7.5") and their mousepads are made from anti-slip neoprene covered with soft cloth material.
The great thing about Etsy is that they are all individually prepared and printed.
They also send you a mock-up of your mousepad for your approval before you commit to anything.
Etsy is another great place to create your own custom mousepad, and if you want to buy from a reputable source, I recommend using the buyer that we have linked down below.
Custom Mousepad Sizes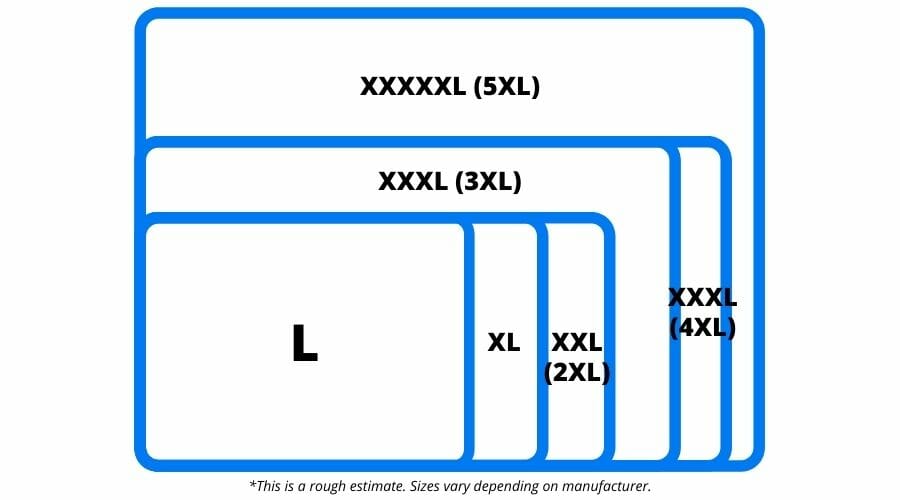 Depending on your preferences, there are many different mousepad sizes to choose from.
When it comes to gaming - the bigger, the better.
The last thing you would want to have happen is to run out of room when you're playing.
This will completely throw off your aim or mouse movements, which can be frustrating - especially if it happens during pivotal moments.
We recommend grabbing a customizable large mouse pad or above from one of the mousepad makers mentioned in this article.
Here's a definitive list explaining the different mousepad sizes.
The Different Mousepad Sizes:
Please note: Not all mousepad sizes are the same and may vary by a couple of millimeters.
XXXXXL (5XL) Mousepads (1600mm x 800mm)
XXXXL (4XL) Mousepads (1200mm x 762mm)
XXXL (3XL) Mousepads (1200mm x 600mm)
XXL (2XL) Mousepads (900mm x 400mm)
XL Mousepads (700mm x 400mm)
Large Mousepads (450mm x 400mm)
There are also 3 sizes smaller than large mousepads, which are:
Medium Mousepads (360mm x 275mm)
Small Mousepads (270mm x 215mm)
Mini Mousepads (250mm x 210mm)
For gaming, I wouldn't recommend anything below a Large-sized mousepad as you will run out of mousepad room real quick.
Custom Mousepad Types (Hard Vs. Soft Mousepads)
There are many different types of gaming mousepads as well which can drastically affect how they feel.
Some mousepads have a 'hard' type of surface, whilst others have a 'soft' surface usually made out of cloth.
Both are great for gaming and will help keep your gaming mouse's sensor accurate, but both will feel completely different from one another.
Here's an explanation between the two.
Hard Mousepads (Made By Plastic Or Metal)
Hard mousepads are often crafted together using plastic or metal material.
The name is self-explanatory, the outer surface which your mouse sits on is hard, which means your mouse glides around a hard surface.
The flat texture of the hardened surface means less friction, but also means that you will have a faster glide resulting in less control.
So choosing a hard mousepad is up to personal preference, as you will have faster flicks, but you will have to try harder to ensure that you don't overextend.
I would suggest taking the time out to practice on hard mousepads, especially if you play FPS games as fast flicks can help a lot, but ensuring you are accurate is important too.
Soft Mousepads (Made By Cloth Or Fabric)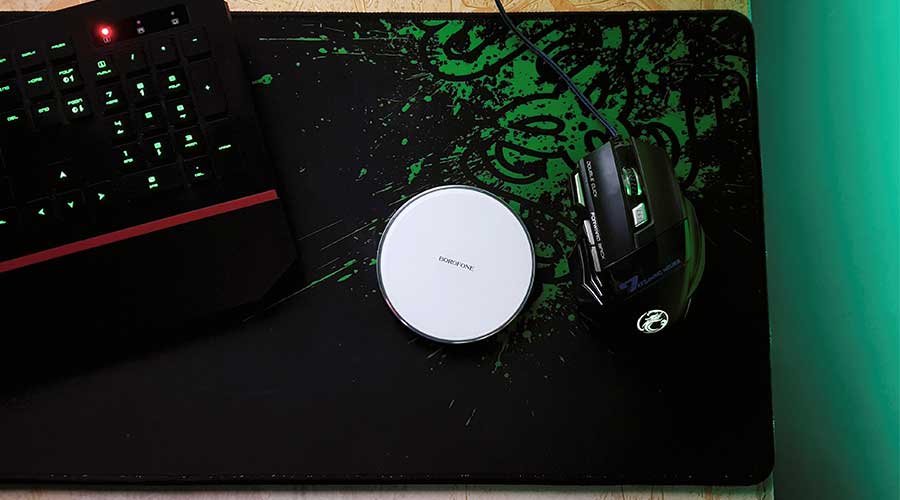 On the other hand, soft mousepads are made of cloth or fabric materials.
Soft mousepads aren't as smooth sailing as hard mousepads, which means you will have more friction when moving your mouse around.
Sweeping motions (like doing flicking in an FPS game) will have more friction and may take longer to do, but at the same time, it will be easier to control, meaning it's easier to be more accurate.
So if you're the type of gamer who would rather have a focus on control rather than gliding faster, a soft mousepad would be the better choice.
Of course, this comes down to personal preference, and you may want to test both before making a definitive decision.
Please also note: 'Hard' mousepads don't kill your mouse's feet faster. If your mousepad is made by a quality manufacturer, even hard mousepads shouldn't damage your mouse feet.
Branded Gaming Mousepads Vs. DIY Custom Gaming Mousepads
Branded mousepads are the everyday mousepads you would see on sale in your local electronics store, or when scrolling through Amazon.
For most people, branded mousepads will be the go-to as they are made by famous gaming brands like Razer, Logitech, SteelSeries, or Corsair.
I've been using my SteelSeries cloth gaming mousepad for the past 7 years and has given me countless hours of smooth gameplay.
If you can't be bothered designing your own mousepad, and want the benefit of having high-quality stitching and smooth, accurate mouse movements...
Then buying a branded gaming mousepad will be your best bet and is the easier alternative from buying a custom gaming mousepad.
In comparison to designing your own mousepad, and printing your own artwork - you will save a ton of time and money just buying a stock branding gaming mousepad.
There are a couple of great branded mousepads out there, so if you just want to settle for a branded mousepad, here are a few that I know are great:
Frequently Asked Questions
How Do I Customize My Gaming Mousepad?
Depending on the website you decide to buy from, you can customize everything from the shape of your mousepad to the exact thickness you want.
It's important to know the exact dimensions of the mousepad you are going for and to ensure that it fits perfectly on your desk.
You can upload your own artwork, play around with the thickness and size, and when you're finished designing, most websites will give you a mock-up template to preview before manufacturing your mousepad.
Simply follow the instructions provided by the company you choose to order from and go from there.
If you have any questions, most websites have chat support you can talk to if you come across any issues, or have any inquiries.
Do Pro Gamers Use Mousepads?
Absolutely - in fact, for pro-gamers I would assume it's essential to have a mousepad.
The reason is that mousepads ensure that your mouse movements will be accurate.
So for pro-FPS gamers, if they miss a shot - it's because of their aim, not their peripherals.
Most high-quality gaming mice have an optical sensor that constantly scans the surface to which the laser is pointed.
So if the surface your mouse is being moved on is scratched, dirty, or bump, then your sensor will pick that up and your mouse movements on-screen will be inaccurate.
Having a proper gaming mousepad whether it's a soft or hard mousepad solves that issue, and ensures that your sensor will be accurate, meaning your mouse will move the way you intended it to.
Is There A Difference Between Logitech And Razer Mouse Mats?
Yes - but not by much.
These two brands have some very similar qualities that make them worth the purchase.
Logitech is known for having a larger surface area, perfect for gamers who need to have more control at their fingertips.
Razer has some extra features and benefits in its mousepads like being able to use your own design or picture on it!
Both are great quality mousepads, just make sure you pick the right mousepad type and size when you're choosing between the two.
How Do You Clean Your Gaming Mousepad?
So you've had your gaming mousepad for a while now - how do you keep it clean without ruining all those hours of hard work?
Here's a quick list of things you can do to keep it clean:
Keep It Dry - If there's any spillage inside the desk but outside of the mousepad, try using an absorbent towel or paper towels to dry off the liquid before letting gravity take care of everything else. Drying wetness out will prevent stains from sticking onto your gaming mousepad.
Clean It Regularly - You should clean your gaming mousepads regularly to keep them free of dust, grime, and dirt that can make their way inside the fabric. A damp cloth is all you need every now and then!
Wipe Down Liquids - If there's a spillage on top of or within the borders of your gaming mousepad, use an absorbent towel or paper towels to soak up as much liquid as possible before letting gravity take care of everything else. Wiping down liquids will prevent stains from sticking onto your gaming mousepad.
What Are Some Other Gaming Mousepad Options?
There are a few other mousepads made from different materials, such as non-slip fabric, gel, or silicone base...
But I wouldn't recommend them over soft (fabric and cloth) or hard (plastic or metal) materials.
Soft and hard gaming mousepads compliment your gaming mouse perfectly, whereas non-slip fabric or gel may be inaccurate.
These types of mousepads would be more suited for the office or your workstation at home.
Can You Create Your Own Custom Mousepad?
Yes!
Go through our list of the best places to buy custom mousepads and you will find an array of great websites.
Here are my top 3:
Conclusion
By now you should have all the resources you need to buy a custom gaming mousepad that will help with your in-game performance.
You can choose from many different types and brands like Razer, Logitech, and SteelSeries or create your own custom gaming mousepad with your own original artwork.
If you have made your own custom gaming mousepad, comment down below with a picture, we would love to see your creativity!
Happy gaming!