Do you want a monitor that is fast, responsive, and vibrant with colors?
Maybe you tend to get killed by opponents hiding in dark parts of the map, or don't react fast enough because you can't see your opponents clearly...
Well, choosing the best monitor for VALORANT isn't an easy task, and there are quite a few features you will want to look into.
As a competitive gamer, you want your gaming gear to have a focus on performance.
For monitors, the focus would be on vibrant colors, reduction of input lag, no screen tearing, ghosting, or bleed, all packed up into a reasonable price point.
The difference between a regular 60Hz monitor and a 144Hz - 240Hz monitor is like night and day, with 144Hz+ monitors feeling incredibly smoother and having significantly reduced input lag.
Those milliseconds that you save from having a faster refresh rate reacting can be the difference to out-aiming your opponent.
So it's important to find a monitor that suits your budget and gaming setup.
If you're looking to build a full gaming setup specific to VALORANT, you can check out our other articles on the best mice and keyboards for VALORANT.
And if you're looking to start rank up fast in VALORANT using your new monitor, use our ranking guide to get to Platinum+.
Below we have found and reviewed 7 awesome gaming monitors that would be an awesome addition to your gaming setup.
So enough talk, let's get started!
Best Overall
ASUS TUF VG279QM 27" Gaming Monitor
Ultrafast 280Hz refresh rate
Extremely low motion blur
HDR technology for vibrant colours
Runner Up
Alienware AW3420DW 34" Gaming Monitor
Large 34 inch curved monitor
Fast 240Hz refresh rate
Perfect for gaming, work or streaming
Budget Pick
BenQ Zowie XL2411P 24" 144Hz Gaming Monitor
Budget-friendly
Great 144Hz refresh rate
Low blue-light to reduce eye-strain
TL;DR: The 7 Best Monitors For VALORANT
1. ASUS TUF VG279QM 27" 280Hz Gaming Monitor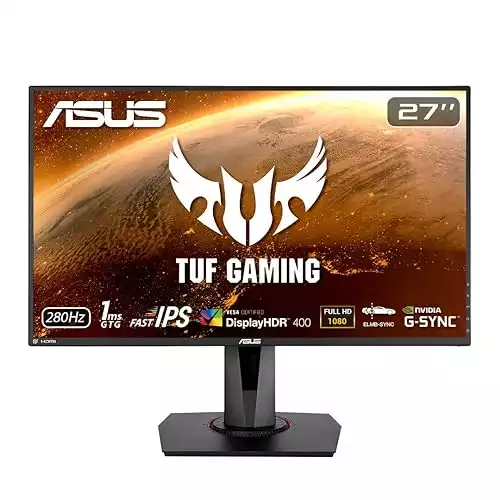 Check Prices
We earn a commission if you make a purchase, at no additional cost to you.
Pros
The 27" screen is the perfect size
Ultrafast 280Hz response time (higher than most monitors on this list)
ELMB SYNC technology to significantly reduce motion blur
G-Sync compatibility
HDR technology for more vibrant colors
Cons
Only comes at 1080p resolution
ASUS has been in the workforce for over 20 years and they know just what gamers want when it comes to a gaming monitor.
The ASUS VG279QM is no different, offering an elegant black design that enhances gameplay the moment you plug your PC into this 27" display.
Despite being an affordable option, this model also offers plenty of high-performance features for gamers who want quality color accuracy without compromise.
The monitor includes an ultra-fast 280Hz refresh rate, being 40Hz higher than other gaming monitors.
It includes extremely low motion blur due to its ELMB SYNC technology, which is designed to eliminate ghosting, tearing, and sharp visuals.
It also includes DisplayHDR 400 which is used to deliver a wide color range so you can calibrate your color profile to suit your needs...
And if you find opponents camping in sneaky spots, don't worry, their dynamic shadow boost technology can brighten up dark areas for your eyes to see clearly.
If we were to be nitpicky, the one downside to this monitor is that it only comes at a 1080p resolution.
For a game like VALORANT or most of the other FPS games, this isn't an issue at all as most games are played at 1080p anyway.
Overall, this is a near-perfect gaming monitor. It has clear colors, is extremely responsive, and is crystal clear when it comes to motion blur.
And best of all, it comes at a very reasonable price point.
2. Dell Alienware AW3420DW 34" 240Hz Curved Gaming Monitor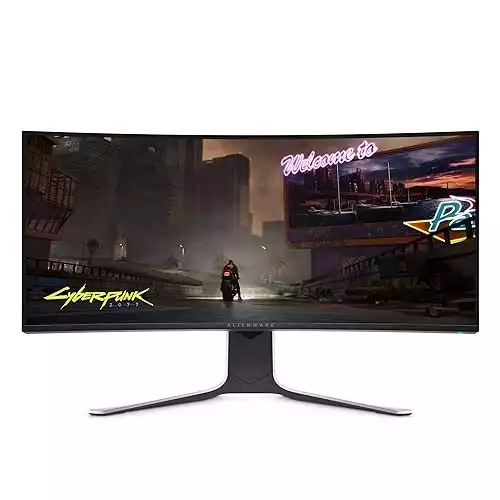 Check Prices
We earn a commission if you make a purchase, at no additional cost to you.
Pros
Incredible 34" screen size that's great for multiple tasks
240Hz ultra-fast refresh rate, perfect for gaming
Sleek and futuristic design, a great addition to any room
The resolution is amazing with crystal clear image quality that makes every detail come alive
Cons
34" is overkill for a game like VALORANT
High price point
The Alienware 34" curved monitor is a monolithic screen with a sleek, futuristic design.
This ultrawide widescreen display allows you to play at a larger screen resolution, which is run with minimal input lag, due to its 240Hz refresh rate.
Since the aspect ratio is 21:9 as opposed to 16:9, you will be able to see more than you would usually.
If you have sharp eyes and great reactions, this could be a gamechanger for those who are looking to up their game in VALORANT.
It's completely customizable with many settings that can be tweaked and adjusted for your preferences.
There aren't many downsides to this product, but if we were to be nitpicky, then you could argue that a 34" (21:9 ratio) would be too large for a game like VALORANT.
Of course, you do always have the option to play at the optimal resolution of 1920 x 1080 (16:9) instead, but again - the choice is yours.
The price point is quite high up there, but having a 34" screen that runs at 240Hz is no normal feat.
You can use this screen size for more than just gaming, including running multiple different programs for work or to stream movies.
Regardless, for VALORANT it has everything you would want I a gaming monitor.
It is a future-proof monitor that you will be able to keep in your gaming setup for a long time where you will be able to enjoy a great gaming experience.
3. BenQ Zowie XL2546 24.5" 240Hz Gaming Monitor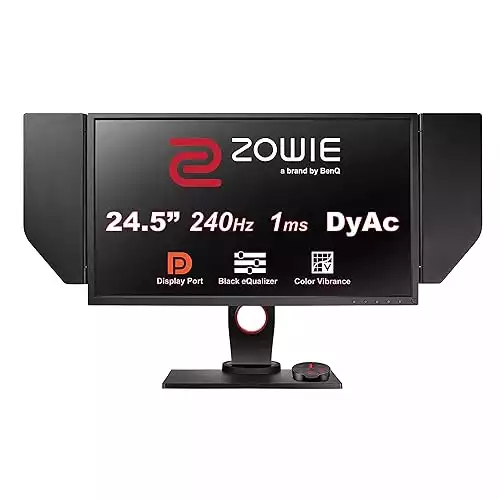 Check Prices
We earn a commission if you make a purchase, at no additional cost to you.
Pros
240Hz is the golden standard for FPS games
The 24.5" screen size is large enough to appreciate if you want a more compact screen size
Significantly reduced motion blur due to DYAC and the eQualizer technology
1080p color profile can be calibrated to look just as good as 1440p monitors
Cons
The 24.5" screen size might still be too small for some
If you want to mimic what many famous streamers and pro-FPS players use, this is the monitor for you.
Famous streamers and pro-players such as shroud, JW, flusha, and kennyS all use the BenQ Zowie XL2546, and for good reason.
It has 1ms input lag, a super-fast 240Hz refresh rate, and features a 1080p resolution panel so images always appear clearer than on other monitors on the market.
The 27" size is a massive upgrade from any regular monitor...
It also allows you to have more space to see everything clearly without having to constantly move your neck left and right in comparison to bigger screens.
The monitor includes "DyAc" (Dynamic Accuracy) technology that is designed to reduce screen blur and improve clarity, which is huge for VALORANT.
Coupled with its eQualizer technology, you will feel as if there is 0 screen shake, and that everything is smooth and responsive.
Having a significant amount of motion blur being reduced is also a definite plus.
It will make it easier to line up and react to your targets when you see them on-screen.
This monitor was designed for hardcore console gamers too, featuring 'blinders' which eliminate distractions by limiting your peripheral vision so you only look at the screen.
The downside to this monitor is that the default color settings are bland.
We recommend playing around with your settings till it's up to your standards.
With the amount of flexibility this monitor has, you can definitely increase the color quality so it's more vibrant and easier to see everything.
Overall Zowie's XL2546 is a great monitor that was built specifically for gamers in mind.
So, if you want an incredibly smooth and responsive gaming experience, this is the monitor for you.
4. Alienware AW2720HF 27" 240Hz Gaming Monitor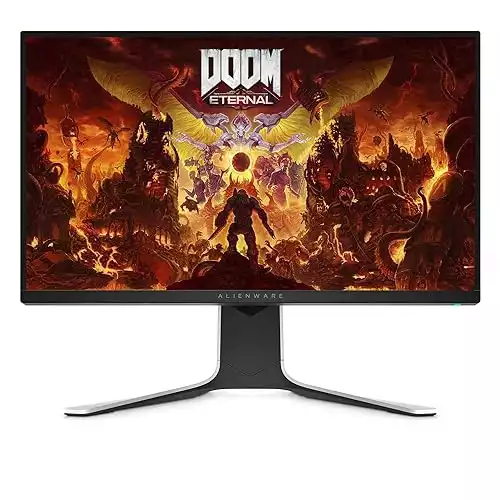 Check Prices
We earn a commission if you make a purchase, at no additional cost to you.
Pros
240Hz refresh rate for minimal input lag
IPS display technology with wide viewing angles
Flexible and customizable settings to suit your needs
Colorful, vibrant colors
G-Sync/FreeSync compatible
Futuristic and ergonomic design
Cons
Price point is a little higher than most
No motion blur reduction
If you're not quite sold on Alienware's 34" behemoth of a monitor, then this is a smaller alternative that won't break the bank.
It includes a sleek, lovely design that includes powerful hardware at a reasonable price.
The 27" AW2720HF widescreen HD multitouch display includes features such as 240hz refresh rate, 1ms response time (using overdrive) with IPS display technology that displays wide viewing angles.
The monitor also showcases vibrant and accurate colors due to its AU Optronics' AHVA IPS panel.
Alienware monitors are known for their precise and vivid imagery.
If you've previously owned a monitor with a TN panel, and upgrade to this model, you will find there are minimal differences in image quality.
Additionally, the AW2720HF 240Hz monitor supports AMD FreeSync (and is G-Sync compatible), so you can use these options for any NVIDIA or AMD card.
And finally, the monitor has a low blue light filter built-in, so if you plan to game for long hours, then you won't have to worry about eye strain or headaches.
Overall, the Dell AW2720HF is an incredible 240Hz monitor that can give you a quick response time, low input lag, and vibrant colors perfect for a high-performance VALORANT gaming experience.
5. BenQ Zowie XL2411P 24" 144Hz Gaming Monitor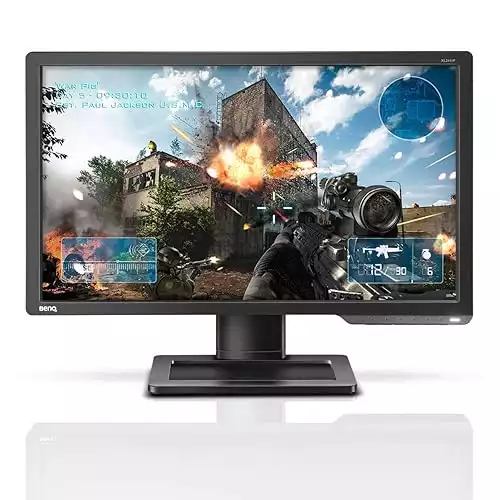 Check Prices
We earn a commission if you make a purchase, at no additional cost to you.
Pros
144Hz refresh rate is great for FPS games
Includes low blue light technology to help with eye strain
Has eQualizer technology used to improve clarity and contrast so you can see easier
Compact 24" screen size
VESA mounting capabilities should you choose to mount it onto a stand
Cons
Stock display port is low quality
Default color profile isn't the greatest
If you're on a budget and looking for a gaming monitor that will serve you well as you climb the VALORANT ladder, this is it.
BenQ's Zowie XL2411 is a 24" gaming monitor with an impeccable crystal clear 1920 x 1080p (16:9) resolution.
The Zowie XL2546 also comes equipped with VESA mounting support, so you can set it to the perfect ergonomic level during those long gaming sessions.
What's great about this monitor is that it's easy on the eyes.
It includes low blue light technology designed to ease the strain on the eyes so you can have long gaming sessions with no issues.
It also has eQualizer technology designed to improve clarity and contrast, so it's easier to spot your enemies.
The downside to this monitor is that straight out of the box, the monitor's image quality will look bland and colorless.
It's important that you play around with the monitor settings to bring out the colors so you can see the full potential of this monitor.
Overall, this monitor has all of the gaming features that you need to have a great gaming experience and climb up the competitive ladder.
Just make sure you calibrate your color profile and have a quality display port and you'll be good to go.
Buyer's Guide: How To Choose The Best Monitor For VALORANT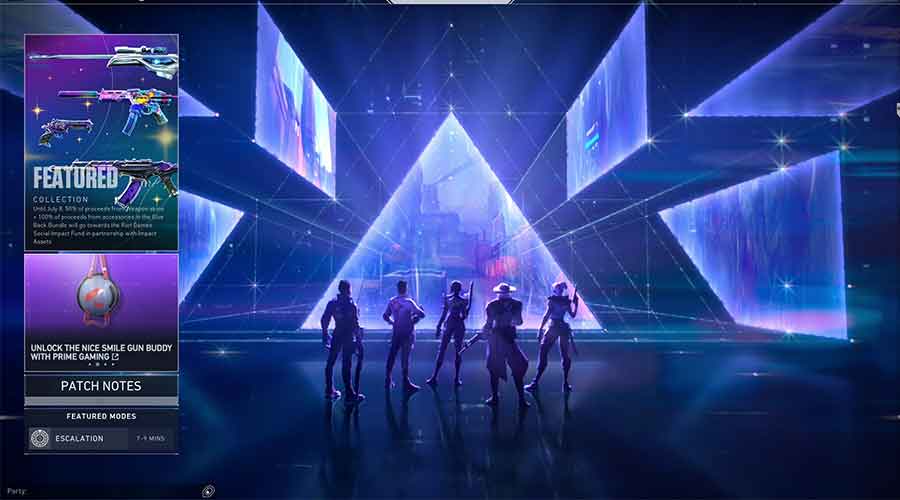 Before you buy a monitor for VALORANT, it's important to know what to look for first.
VALORANT is a fast-paced FPS game that uses a wide array of colors.
It doesn't take a ton of resources to run the game on high FPS, but it still ends up looking colorful and aesthetically pleasing.
What you really want to look for is a monitor that allows you to see your enemies clearly, while showcasing the beauty of the game.
So to differentiate the good monitors from the bad, you first need to look at the...
Refresh Rate
The refresh rate of a monitor drastically affects the response time.
The faster the refresh rate, the less lag will be introduced between the time when input is given and when it actually takes effect.
So the higher the Hertz (Hz) that you get, the faster your refresh rate will be.
Any normal monitor will most likely have a refresh rate if 60Hz.
We recommend getting a monitor that is 144Hz or higher since it will be almost 2.5x faster than normal.
That means you have a slight advantage over players who use a regular 60Hz monitor.
You won't fully appreciate a faster refresh rate till you feel it in person.
Most, if not all pro-VALORANT players use monitors which are 144Hz or higher as the slight decrease in input lag can be the deciding factor to winning firefights.
Screen Size
When it comes to screen size it will mostly depend on your personal preferences.
Knowing your setup, you may not be able to fit in a 32" behemoth of a screen on your desk, so opting for a smaller 27" or even a 24" monitor should suffice.
Although, I personally prefer a 27" monitor (since it's bigger than 24" but not too big).
Jumping from a 24" monitor to a 27" monitor is still a massive difference.
For VALORANT specifically, getting anything above 27" is overkill…
If you have the budget for it, or need it for other purposes, go for the 32", otherwise 27" is the way to go.
Most FPS games are designed to be played at a 1920 x 1080 (16:9) ratio.
2560 x 1080 (21:9) is still supported, but you may start running into issues.
You do have the option to lower your settings down to 16:9 if you have a bigger screen, and that would work just as good.
Resolution
Resolution isn't as important to the performance of VALORANT as you may think.
Naturally, popular eSports titles like VALORANT or CS:GO are usually being played at 1080p, which is high-quality enough to appreciate the graphics, whilst still being incredibly smooth.
Getting a monitor which is 4K or above would be overkill.
Unless you are playing other games where you can immerse yourself in the beauty of its graphics, then 1080p is all you will need.
Going any higher may cause FPS drops since you will be consuming more resources to get a clearer image.
If you use your monitor for other tasks like video editing or streaming 4K quality movies, you may want to find a monitor that supports these resolutions.
But for VALORANT, this shouldn't be an issue.
Best Monitor/Color Settings For VALORANT
Each monitor will come with different settings that you can manipulate, so it's best to check your instruction manuals and play around with the settings in-game.
You may find some good settings by Googling the brand and model of your monitor + ''monitor settings".
But I won't just leave you in the dark.
If you own an NVIDIA graphics card, then you are able to get a saturation and brightness boost using the control panel.
Here's how it works:
Step 1: Right-Click on your desktop and open up the 'NVIDIA Control Panel'.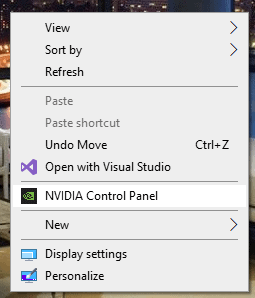 Step 2: On the Left-Hand panel, click on 'Adjust desktop color settings' and select the monitor you wish to change.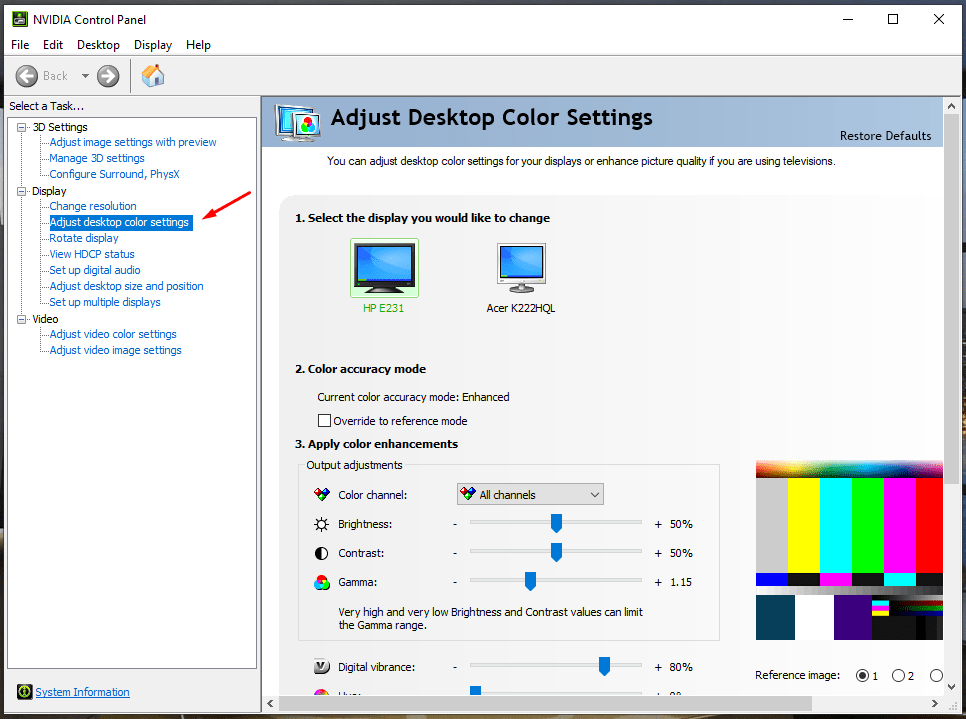 Step 3: Change your 'Gamma'  to anywhere between 1.10 - 1.20. Gamma affects the brightness and contrast of your monitor.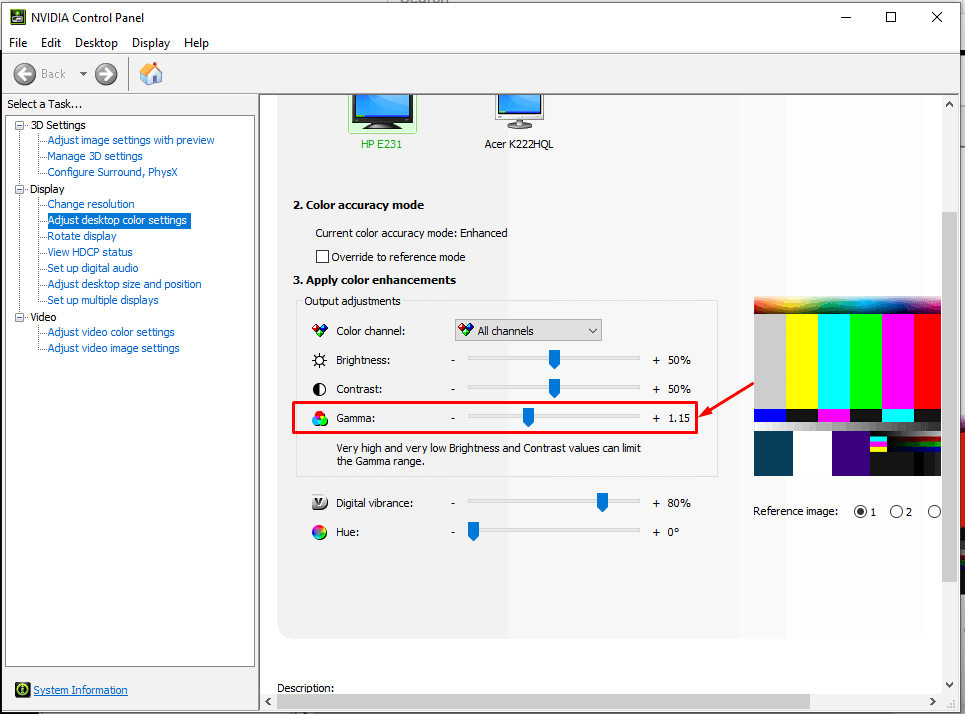 Step 4: Change your 'Digital vibrance' to around 80%. Digital vibrance affects the saturation of your monitor.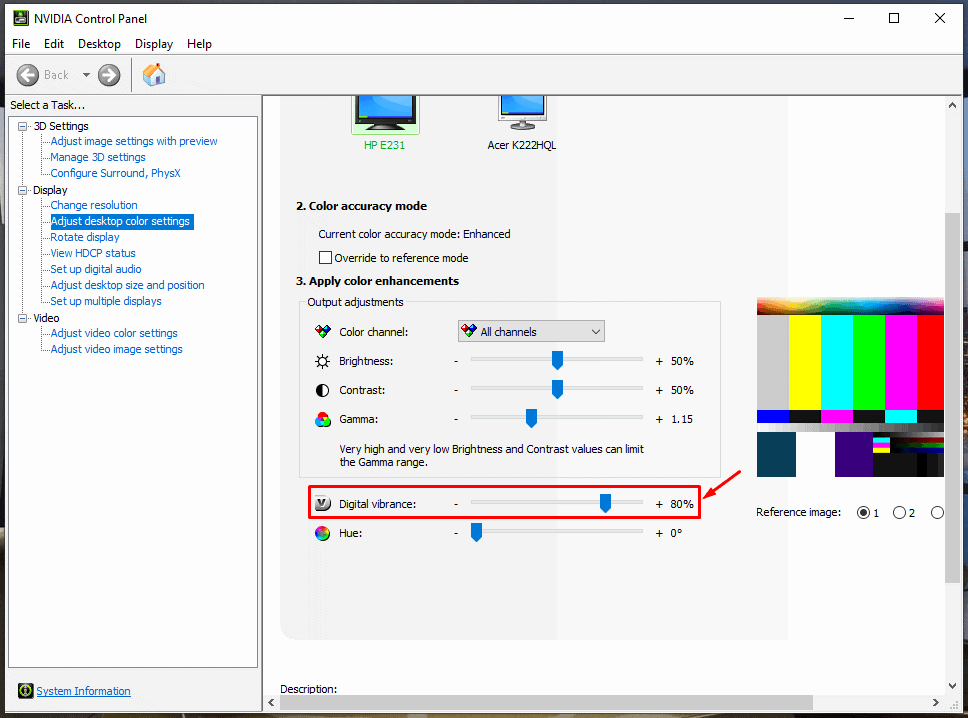 These settings should give your monitor more vibrant colors, and allow you to see colors more vividly.
Do You Need G-Sync/FreeSync For Your Monitors?
No, you don't necessarily need G-Sync or FreeSync to have smooth gameplay for VALORANT.
VALORANT, although it's a pretty game, doesn't need a crazy amount of resources to run smoothly.
What G-Sync and FreeSync do is match your monitor's refresh rate to your GPU's variable render rate.
This eliminates all screen tearing problems and in some cases can prevent FPS drops caused by V-sync.
Screen tearing can happen when your PC is rendering graphic-heavy scenes or in-game gameplay, and usually looks like this:
Should You Use G-Sync/FreeSync When Playing VALORANT?
No, it's not necessary.
And the reason is that it doesn't reduce input lag.
You might also be capping your FPS count where you may have the potential to get it higher without it.
FPS games are played best with a high and consistent FPS.
And for that reason, G Sync/FreeSync isn't totally necessary...
However, this doesn't mean you should totally dismiss G-Sync/FreeSync when choosing a monitor.
So are my rules for utilizing G Sync/FreeSync the best.
If you play on 240+ FPS Consistently = Disable GSync.
>240 FPS or Inconsistent FPS = Enable GSync, and cap your frames at 236
If you have a 144Hz monitor but you find that you are wanting more FPS, then disable G-Sync/FreeSync.
However, the exception to the above rules are:
If you want to prevent screen tearing, turn on GSync/FreeSync.
If you play a game that requires quick actions or pixel-perfect precision, turn off G-Sync/FreeSync
Just remember - the higher, more consistent your FPS, the better.
What Monitors Do Pro VALORANT Players Have?
The majority of pro players use the BenQ Zowie XL2540 which is ranked as #2 on our list.
Frequently Asked Questions
Is a 240Hz monitor worth it for Valorant?
Absolutely.
A 240Hz refresh rate significantly minimizes input lag and makes the monitor feel more smooth and responsive.
Comparing 60Hz to 240Hz is like night and day, and you will feel an immediate difference.
Is 144Hz Needed For VALORANT?
144Hz is still a definite upgrade from 60Hz and you will be able to feel a significant difference too.
We recommend getting a monitor that is at least 144Hz.
Is A 60Hz Monitor Good For VALORANT?
60Hz is the default amount for most cheap, stock monitors.
Gamers with a 144Hz monitor or faster will definitely have a slight advantage when it comes to overall gameplay.
So for VALORANT specifically, we would recommend getting a monitor which is 144Hz or higher.
Is A Curved Monitor Better For VALORANT?
Depending on your screen size, a curved monitor can be easier to play on as you will be able to see more in your peripheral vision.
For example, 32" flat monitors may cause you to have to sit further away from your screen so you can see your screen in its entirety…
Or you may find yourself having to move your neck left and right just to see the sides of your screen.
Curved monitors are better in the sense that it makes it easier to see the full picture.
Our Winner For Best Monitor For VALORANT
By now you should be able to differentiate a good gaming monitor from a bad one.
As a fellow VALORANT gamer myself, it's important to focus on performance over features and aesthetics...
So you will find that the best monitors for VALORANT come at a 144Hz refresh rate or higher.
But which monitor is the absolute best one for you to get?
Out of all the monitors on our list, and based on their features, and the criteria in the buyer's guide...
We believe that the ASUS TUF Gaming VG279QM 27" monitor is the best monitor for you to game on.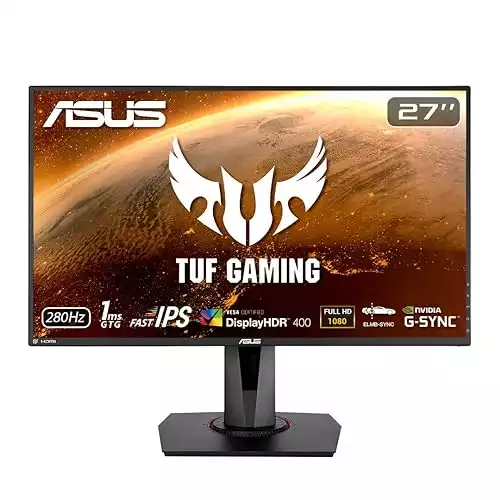 Check Prices
We earn a commission if you make a purchase, at no additional cost to you.
It comes with a whopping 280 Hz refresh rate, NVIDIA G Sync compatibility, has extremely low motion blur, and has a great color profile, perfect for smooth gaming.
If you have any of the monitors on our list and have had great success playing VALORANT on it, then comment down below and let us know your thoughts!
Happy gaming!