Paracord mouse cables can make your gaming mouse feel like it's wireless.
No seriously, lightly tug on your current mouse and see how it feels - you can feel a little bit of pull coming from your cord.
What paracord mouse cables do is change the type of cord material to a paracord, which is soft, stretchy, and extremely light.
Changing your regular cord to a paracord cable (aka paracable) can help your mouse feeling lighter, therefore making it easier to maneuver around.
This is especially important if you use your gaming mice for CS:GO or VALORANT, and need to flick your mouse.
We all know the frustrations of having your cord gets stuck somewhere on your desk, which leads to an inaccurate shot.
There aren't that many places to find paracables, and if you can't be bothered DIY'ing your own, you will want to buy one.
The good news is that we've found the 10 best places for you to find paracord mouse cables, with most of them being able to ship internationally.
So enough talk, let's dive in!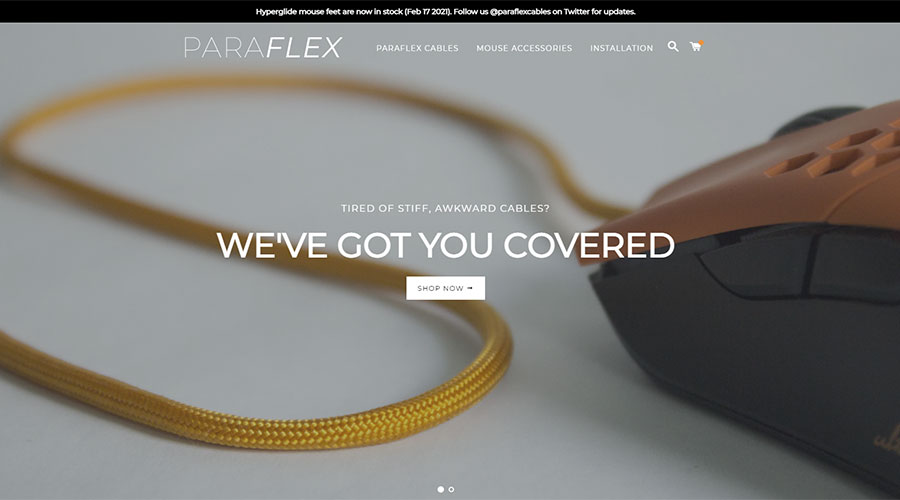 Domestic Shipping (USA And Canada Only): $9.95 (5 - 10 Business Days)
International Shipping: Unavailable
Paraflex cables are amongst one of the more popular brands in the mouse customization community.
They sell an array of paracord mouse cables for as little as $14.99.
Additionally, Paraflex cables sell Mouse Feet and Micro Switches should you want further customization.
Paraflex cables are designed with great patterns which are handmade and are tangle resistant.
If you're looking for a place to get quality paracables, this is it!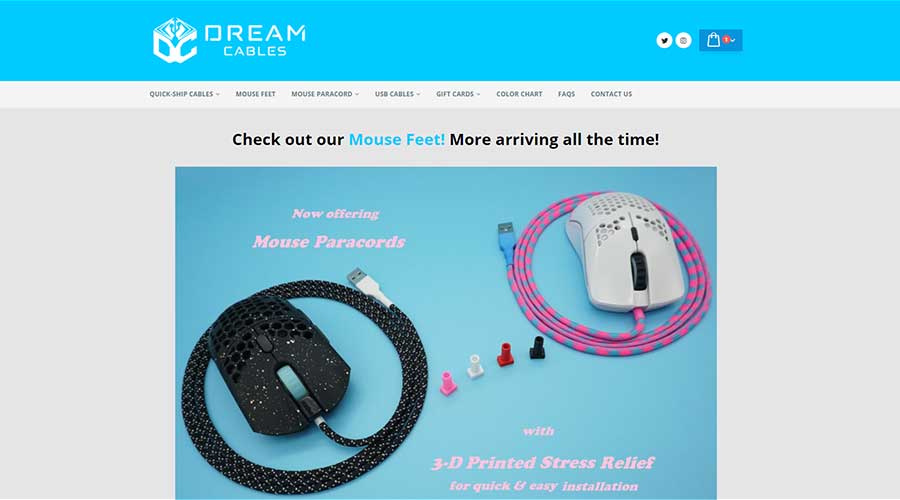 Domestic Shipping (Over $15): Free (3 - 5 Days)
Standard Domestic Shipping: $2.95 (3 - 5 Business Days)
Priority Shipping: $6.95 (2 - 3 Days)
International Shipping: From $8 - $30 (Shipping Times Vary Depending On Location)
Dream Cables blew up after getting known in the r/MouseReview community, having posted a couple of his own paracord creations.
Nowadays he has turned his hobby into a business, having built his own website for you to be able to buy his quality paracords.
In my book, anyone who has the respect of the enthusiasts in the Mouse Review Reddit community is a great option when it comes to buying custom paracables.
His website is quite rough around the edges, but don't be fooled, his products are high-quality, comparable to the famous Paraflex cables.
Not only that, he does have different types of peripheral accessories, including coiled cables for your keyboard, custom USB cables, or mouse feet for a smoother glide for your mouse.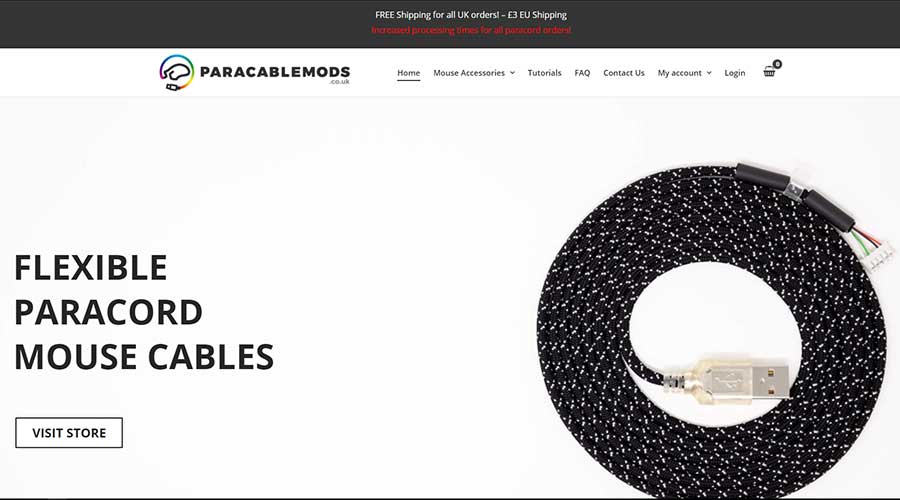 Domestic Standard Shipping (UK): Free
Europe Standard Shipping: £3 (Or About $4 USD)
International: From £3.75 - £4.25 ($5 - $6 USD) - Shipping Times Vary Depending On Location
Another great source for paracord mouse cables is Paracable Mods.
This store has a large selection of different colors and patterns but also includes the standard camouflage type cords as well.
These come in at a price ranging from $23 - $29 (£12.95 - £15.90) depending on the length you want.
These cables are designed to last up to five years with proper use!
Paracable Mods also sell useful additions such as cord protectors and wire organizers if you want more out of your experience or just need something else to spruce things up inside your gaming rig!
The best part about this site is that they have no minimum order amount, so it's easy on the wallet too!
The customer service here is impeccable and they offer an amazing guarantee that most sites don't (or don't advertise that they do).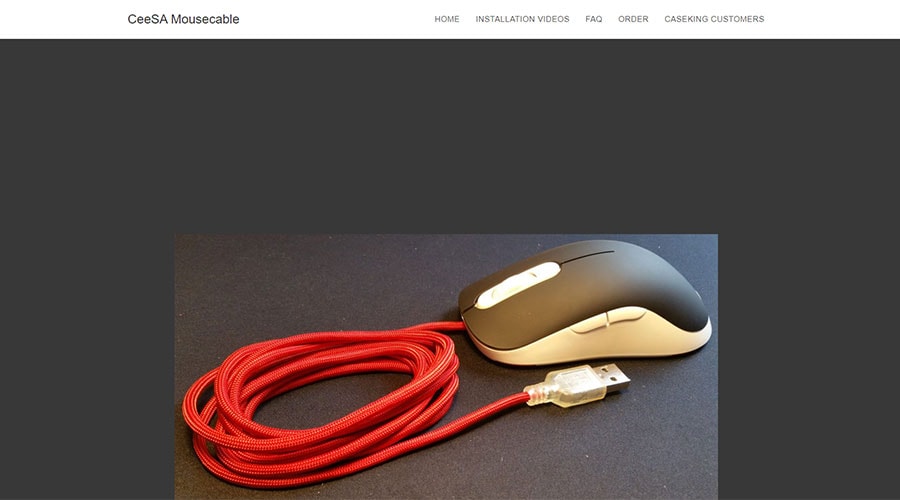 Domestic And International Shipping: Depends On Shipping Method Used By CeeSA (Best To Contact Them Using Their Order Form)
CeeSA Cables has a wide variety of paracord mouse cables from camouflage to floral, so there's something for everyone.
Their prices range all-around $30 (£18) and they have a standard return policy if one doesn't like what they ordered or it just isn't compatible with their system/gaming rig.
The customer service is great here as well!
CeeSA Cables also has an option on their site where you can review your purchase before confirming your order - which is always good in my book!
This helps to avoid any potential mishaps while ordering anything online.
This company sells both new and used parts because not everything is brand-new; some are refurbished but most things come in original packaging still sealed up tight.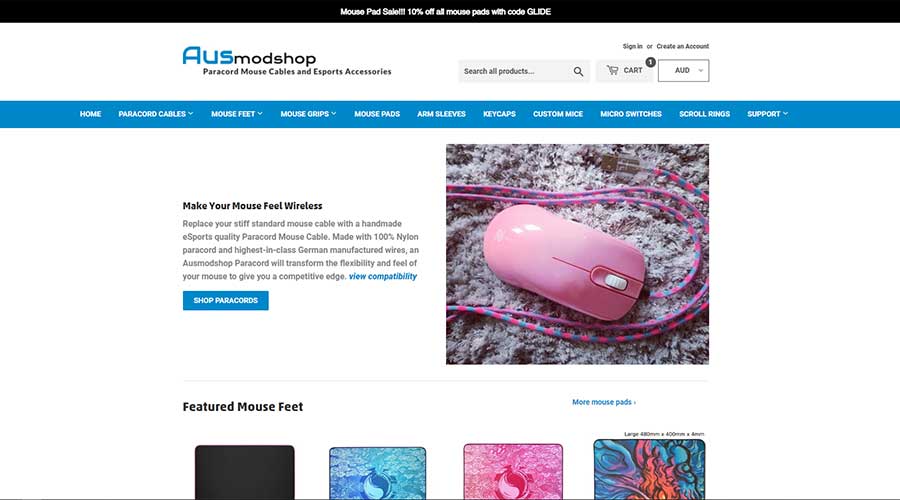 Domestic Standard Shipping (Australia): $7 (5 - 10 Business Days) Or
Domestic Priority Shipping (Australia): $10 (1 - 3 Business Days)
International Shipping: From $18 - $30 (5 - 10 Business Days Or 4 - 6 Business Days) - Shipping Times Vary Depending On Location
Aus Mod Shop is an official Australian retailer that accepts international shipping and sells custom-made paracord cables that have great 3D printed stress relievers.
Their paracables retail from $21 - $26 (AUD) which is equivalent to about $16 - $20.
Any custom-made paracables are often of high quality, and Aus Mod Shop's cables are no exception.
These paracables come in an array of different colors, from solid colors to patterned colors, and are made from 100% Nylon for a flexible, lightweight feel.
Another store to add to your list if you are looking at getting some high-quality paracables.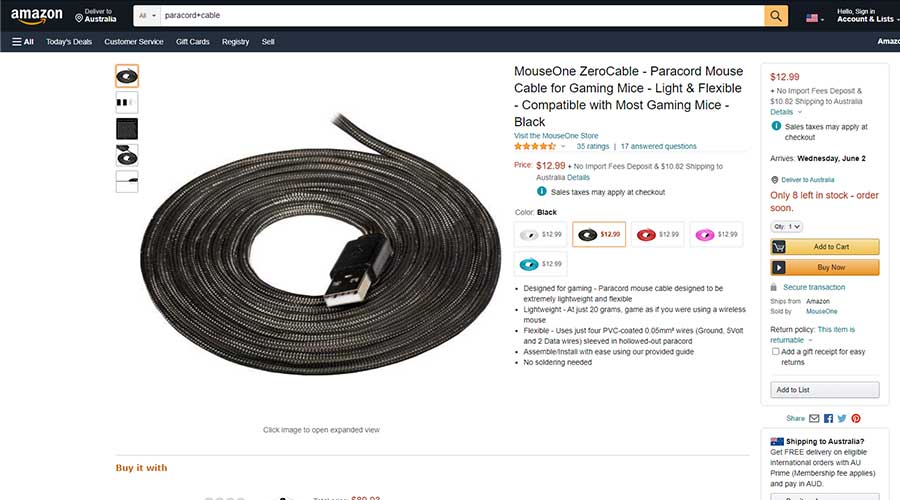 Domestic Standard Shipping: $3.59 (3 Business Days)
Domestic Priority Shipping: $11.88 (2 Days) Or $31.57 (1 Business Day - Cheapest)
International Shipping: From $19.94 - $96.06 (7 - 21 Business Days Or 2 - 3 Business Days) - Shipping Times Vary Depending On Location
If you want another company that is active on the r/MouseReview subreddit and is passionate about providing quality goods, then Lethal Gaming Gear is another great pick.
Lethal Gaming Gear sells more than just paracord mouse cables, but also gaming mice, mousepads, micro switches, mice feet, and grips.
Their paracables are soft, stretchy, and have almost no pull, so it almost feels like your mouse is completely wireless.
Unfortunately, Lethal Gaming Gear does have issues of stocking inventory for their paracords, which is why they are placed 6th on this list.
However, when they are stocked up, their quality is extremely high when it comes to paracords, just ensure to keep an eye on them while their stock lasts!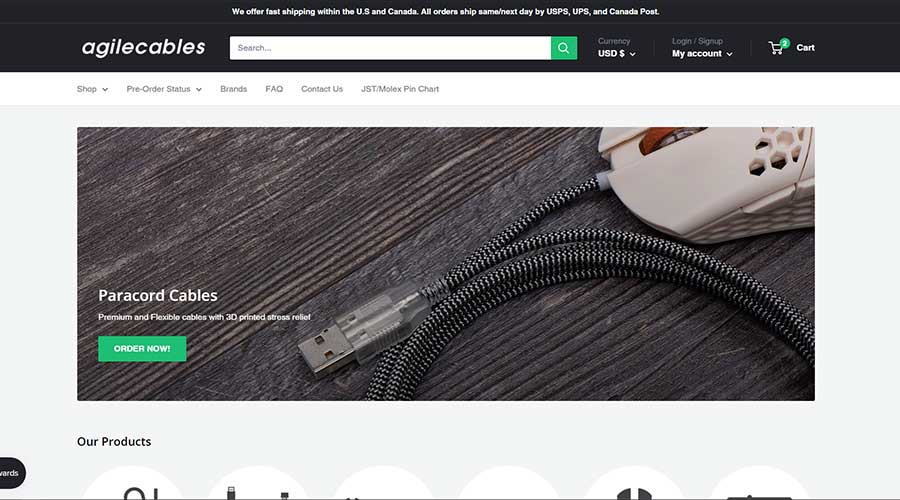 Domestic Standard Shipping: $5.04 (3 Business Days)
Domestic Priority Shipping: $37.12 (Most Expensive - 6 Business Days)
International Shipping: From $14.86 - $208.62 (Shipping Times Vary Depending On Location)
I am assuming that Agile cables have named their brand that way due to the extremely lightweight, almost featherless feel of their paracords.
Just check out this video of user u/Omnipotent_Amoeba using one of their cables:
Agile cables offer 50 different colored paracables to choose from, with options to choose the color of the USB-A shell color, and 3D printed stress relievers (only limited to a certain amount of gaming mice).
Similar to Lethal Gaming Gear, Agile Cables also run into inventory problems and you will need to keep checking their site daily (or messaging them directly) to find out when they'll be restocking.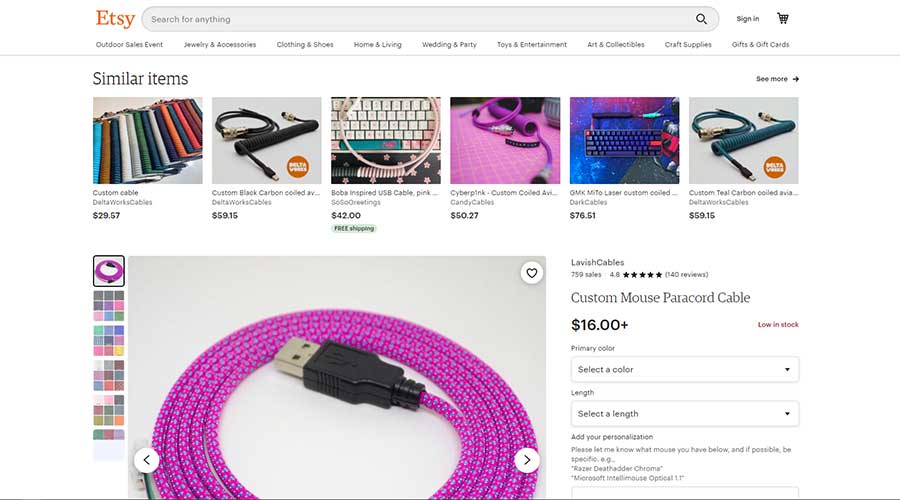 Domestic Standard Shipping: Free (7 - 14 Business Days)
International Shipping: Shipping Prices Vary Depending On Location (21 - 42 Business Days - Usually Come Around 3 Weeks)
Etsy is a site where you can find anything handmade and customizable. There are TONS of paracord mouse cable shops on Etsy, but it's up to the buyer to decide which one they should purchase from
There is one shop in particular that has amazing feedback named LavishCables (which has over 755 sales).
Their store offers over 28 colors, with varying lengths from 3ft - 8ft, and their products range from $16 - $22, which is around the average price for a quality paracord mouse cable.
All of these cable paracords are custom made, which include 2 heat shrinks to secure your mouse, a flexible 30awg wire made with paracord 550.
If you like cables that are handcrafted with the highest quality material and care, then Lavish Cables from Etsy is one of your top picks.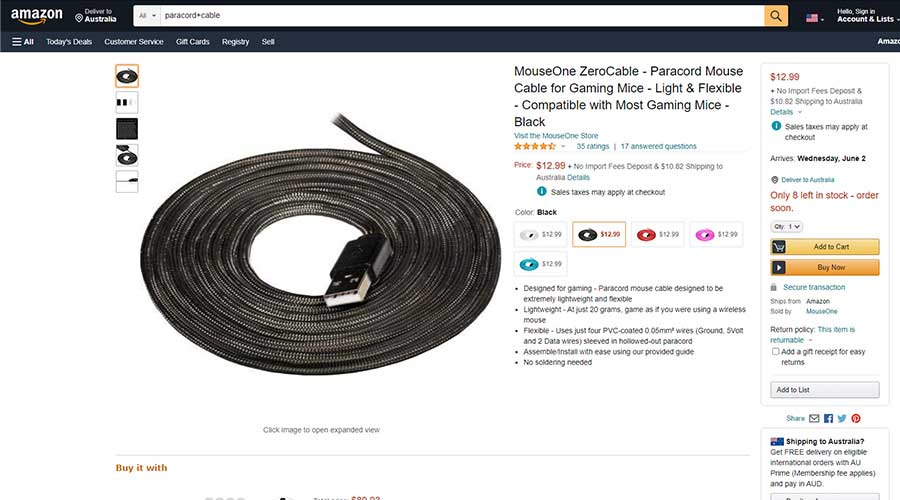 Domestic Shipping (USA): 1 Day (May Include Weekends)
International Shipping: - Shipping Times And Prices Vary Depending On Location (On Average Around 2 Weeks)
Amazon is always a go-to when looking for anything gaming-related, and from my experience, I was only able to find one retailer that sells paracord cables.
The manufacturer of these paracord mouse cables is MouseOne, and they are the only Amazon companies selling paracords at this time.
Their paracords come at the price point of $12.99, with 5 different colors which are White, Black, Red, Pink, and Turquoise.
If you are impatient and want a paracord ASAP, then Amazon is your best choice, as the others listed on this list are usually made by small companies or 1-man teams.
Conclusion
Whether you live in the U.S or are looking for some paracords to be shipped out internationally, it doesn't matter...
You can find a paracord mouse cable that is perfect for your needs from the list above.
Pair your paracable up with a mouse bungee, and a mouse pad and you will feel like your mouse glides like butter and your cord will never get caught anywhere again.
Most of these cables are hand-crafted which means they have care built into them and produce high-quality products!
So if you bought one today, send us a screenshot to prove it 🙂.
Happy gaming.