Your desk is one of the main pieces of furniture that can make or break your battlestation setup.
So it's essential to choose a desk that suits your needs, whether you are building a setup for work or gaming.
So you may find yourself wondering, between a gaming desk vs. a regular desk, which type of desk wins?
There are some noticeable differences between a gaming desk versus a regular desk.
Gaming desks include unique features that make gaming more comfortable and convenient for long gaming sessions, including extra storage, adjustability, and premium materials. A regular desk is designed to be affordable, convenient, and to have a normal work surface. They don't come with the extra features gaming desks will.
We have researched a ton of different gaming desks and regular desks and have noted down what we think are the main differences between the two.
So enough talk, let's dive in.
Gaming Desk Vs. Regular Desk: Which One Should You Choose?
While a gaming desk is undoubtedly better at providing customizable comfort than the regular desk, they are costly and a deal-breaker for the space-sensitive.
An average user gets more for the buck with regular desks at the loss of comfort and vanity!
Choose a regular desk if:
You have premium floor spacing
You prefer to sit
Convenience is more important than comfort
You are making a sleeper PC build and want to keep the theme
You're on a tight budget
Regular desks will always have a place and stand the test of time.
Choose a gaming desk if:
You need room for multiple monitors
You want a robust build quality
You want relief from wrist/muscle/back pains
You want more adjustability and comfort
You want RGB with the desk to go with setups
You are upgrading from a regular desk
The gaming desk brings comfort with a full range of adjustable concrete functionality to maintain your physical and mental wellbeing.
It costs more, but a gaming desk has your back, and your body will be grateful for it.
After all, nothing is more wounding to a gamer's vanity than a gaming desk that remains unpaid.
TL;DR: The Main Differences Between A Gaming Desk And A Regular Desk
| | | |
| --- | --- | --- |
| Features | Gaming Desk | Regular Desk |
| Adjustability | Can be adjusted to anyone's posture | Adjustments are a luxury |
| Ergonomics & Comfort | Wide desk space, protects from muscle strains | Minimalist and scant room for comfort |
| Build Quality & Load Capacity | Incredibly durable, and can withstand rage moments (should you have any) | Basic build construction and simple materials  |
| Additional Storage Space | Modular storage options | Two drawers, one cupboard |
| Convenient Features | Disc racks, RGB, tilt, cable management, can house a PC, etc.  | Affordable pricing |
| Pricing | $200 - $2,000 | $70 - $230 |
What Are The Key Differences Between A Gaming Desk Vs. A Regular Desk?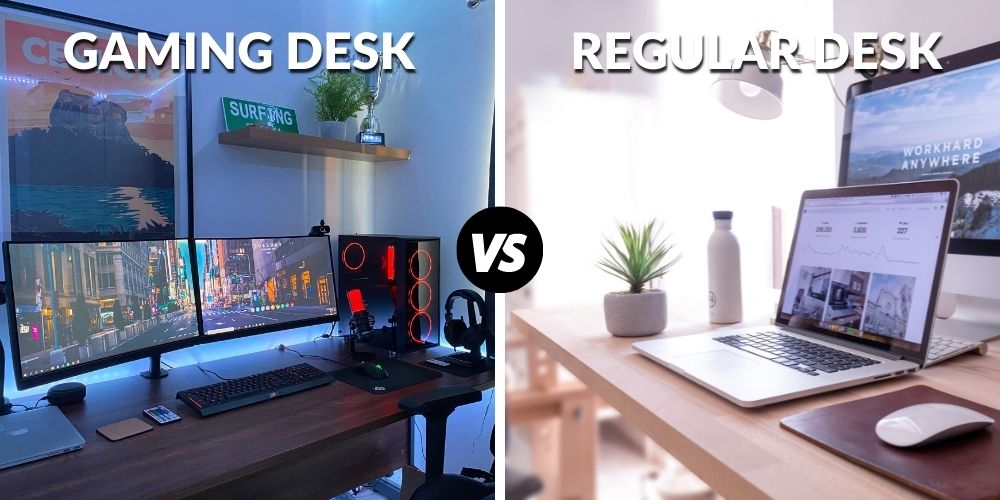 Form follows function; this couldn't be more true for a utility like a desk!
Here we explore various factors that come into play when choosing between a gaming desk and a regular desk.
Aesthetics
If it looks good, you will appreciate using your desk more and have a sense of pride working at your desk.
Gaming desks sport a bold look.
Some gaming desks may have your favorite game's style theme. You can quickly tell a gaming desk and a regular desk apart by their bold looks and material choices.
While regular desks have a simple direction in design and materials used, gaming desks are made from more robust materials and are available in many colors.
They give any gaming setup a prime presence in a room.
The materials selection for regular desks relies on repurposed wood, metal, and fiber.
Varnished wood finishes make up the aesthetics of most regular desks.
For some gamers, a regular desk invokes the memory of a simpler time from their past.
Most regular desks may seem old, but for them, they are anything but obsolete.
Regular desks are a hot item for a PC building sub-genre called sleeper builds.
A sleeper build is a PC that looks old, but has modern internal components.
With a proper regular desk, they can blind you with nostalgia!
Adjustability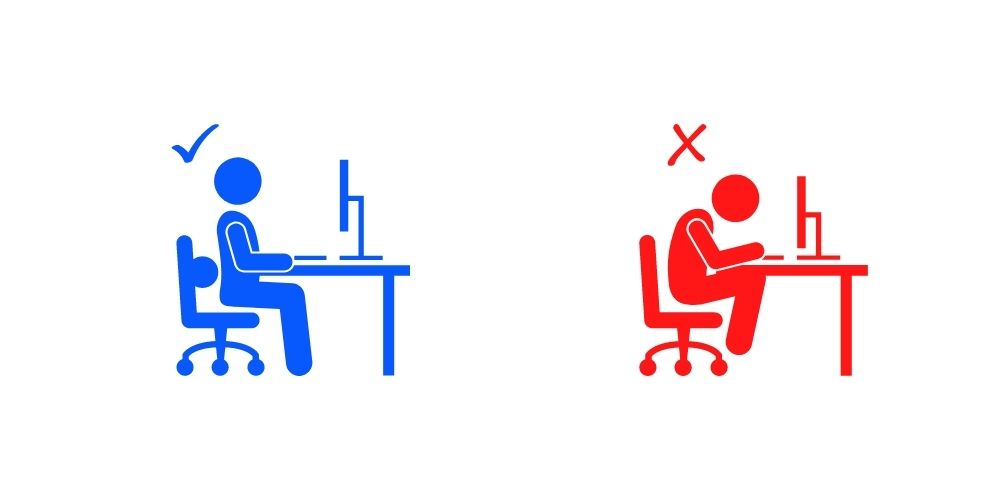 Gaming is a physically and mentally exhausting activity where you devote extended hours to work, study, and play.
Low-strain, high adjustability workflows warrant most gamers not to skimp on their gaming desks, chairs, and equipment.
A well-suited gaming desk enhances workflows by being adjustable and customizable to your individual needs.
Gaming desks have more room with adjustable heights to ensure perfect reach and comfort for gamers of all builds and sizes.
Some even recline for proper positioning of the wrists and curb excess strain on the joints while gaming/working.
Office desks, however, are pre-measured for an average build size.
A regular desk is made accessible by not giving adjustable heights, RGB, or reclining features.
Ergonomics & Comfort
Comfort is essential to healthy gaming and a focused professional workflow.
A gaming desk provides better posture since they are generally more adjustable than your regular desk.
They allow more customization to your setup, with wrist and muscle fatigue dampening features, smooth edges, and height/tilt adjustability.
This level of comfort is a luxury for regular desks.
Regular desks are designed only to keep average needs in mind.
They have the ergonomics of a brick.
And if you're interested in proper desk ergonomics, check out this video.
Load Capacity & Durability
Another factor while pitting a gaming desk against a regular desk is durability and load-bearing capacity.
A regular desk fits two 17" monitors, while a gaming desk can accommodate three.
Primarily gamers spend a lot of money on other accessories to fit a custom seamless streaming and workflow setup, and desks are a one-time investment, as it is.
The desk should not cave in over the years and handle unbalanced matchmaking, lag, and hacks.
Your gaming desk should be able to stand heavy wear.
Gaming desks use PVC, strong hardwoods, stainless steel, and even composite materials to overcome this challenge.
For regular desks, their structural rigidity is inferior to gaming desks and wears out fast.
As intense emotional outbursts rarely happen in an office.
Regular desks are not sim racing friendly in terms of resilience if using a direct drive wheel.
Desk Space
A regular desk has scant and restricted space.
It does not give quite as much mouse travel as on gaming desks.
Determining the overall geometry of many regular and gaming desks to ensure they are practical without taking up too much space.
Most regular desks are rectangular and shorter in length than gaming desks for adequate mouse travel.
Gaming station desks are wide enough to hold two cats, a keyboard, a streaming deck and still possess enough room for a 25 man kill streak.
L-shaped gaming desks fit at the corner of a room.
They take up less floor space and provide ample real estate for unrestricted mouse movements with room for all your tech vanity.
Some may come with retractable or removable shelves or drawers to increase total legroom.
Additional Storage
A regular desk is for professional environments with fixed drawers as essential storage.
Gaming desks can be modular in their construction to make more storage as needed.
Convenient Features
No regular desk has programmable RGB lights that fit the gameplay or setup aesthetics.
That is unique to gaming desks.
Gaming desks have superior airflow and are less intrusive for a clean cable management greenhouse.
Gaming desks can double up as PC cases, and some allow you to see the PC running while you work.
A task regular desks just cannot do.
Pricing
If we compare gaming desks vs. regular desks, gaming desks have more customizable features than their counterparts.
These gaming desks have a higher cost from adding better materials and structural design for an all-around solid gaming desk.
So it's always good to pick the features that suit your needs and tastes when shopping for a gaming desk or a regular desk to get a good deal.
Due to exponential growth and innovation in the gaming industry, owning the dream gaming desk at a reasonable budget is very much possible.
Frequently Asked Questions
Below are some frequently asked questions.
What Makes A Desk A "Gaming" Desk?
A gaming desk provides more customized comfort with superior cable management for a clean space on the top with RGB.
A gaming desk can double as a computer case, too!
Does A Gaming Desk Make A Difference?
Gaming desks grant great real estate for your height, arms, and access to game/work by standing.
They handle heavy full tower PC builds like a champ!
Should I Get A Standing Desk For Gaming?
They're a reason not to skip leg day! Standing desks stop the tightening of muscles and lower back pains from sitting for hours, leading to a bad posture.
Should I Get An L-Shaped Desk For Gaming?
Sure! L-shaped gaming desks are perfect for gaming and home office! You can do more with the extra room.
Monitors, work equipment, or action figures!
The Bottom Line
Choosing between a gaming desk vs. a regular desk will depend on many factors.
But overall, gaming desks seem to be the way to go in general since they are more comfortable.
A desk should be comfortable, convenient, and have enough room to house all of your peripherals and components that you need for work or gaming.
Comment below and let us know which desk you're rocking and for what purpose!