When it comes to picking the perfect desk for your setup, you have a range of options; from IKEA desk setups to DIY floating desks to convenient "gaming" desks.
Although the desk that sits on the throne as "king" of all desks is an electronic, height-adjustable desk, they're convenient, easy to use, and are excellent for your health and posture.
Having done my fair share of research, I came across the Omnidesk from my cousin, who had built his very own "luxury" productivity setup.
So I did a little digging myself and was eventually able to snatch one of my own, and after testing the desk out for a month, here is my honest, unbias review of my experience with Omnidesk.
Let's dive in!
⚠️ Disclaimer: I had received the Omnidesk Pro (2020 Edition) at a 40% discount which also included free accessories (as you will see below) in exchange for providing an unbias, honest review of their desk.
TL;DR: What You Should Expect From The Omnidesk Pro 2020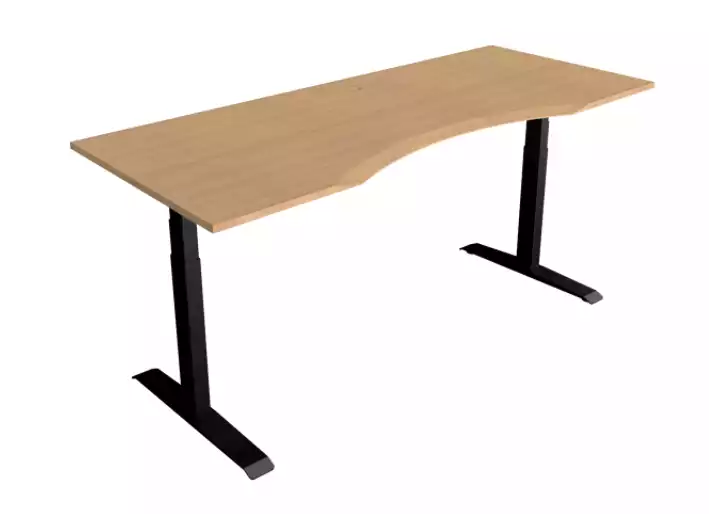 The Omnidesk Pro (2020 Edition)
Desk Specs:
Table Legs: Black
Size: XL
Tabletop Type: Eco Bamboo Ergo Curve
Finish: Light
Accessories:
Cable Management Bar (Black)
ARC Pro Dual
Headphone Hanger
Check Prices
We earn a commission if you make a purchase, at no additional cost to you.
If you're looking for a desk that does it all, the Omnidesk comes pretty damn close.
The Omnidesk Pro 2020 Edition will suit any "dream" set up and has everything you need; high-quality parts, smooth tabletop finish, easy cable management options, a reliable motor - you name it.
It is near the "perfect" desk, but it's not without drawbacks.
Here's my pros and cons for the desk:
Pros:
High-quality tabletop that has a smooth finish
Nice ergonomic curve for where you're seated at
A long-lasting adjustable motor which hasn't had any problems since it was first built (1 month ago)
Wide range of sizing options to suit any room
Relatively easy to make and assemble (even easier if you have tools)
Relatively easy to disassemble
Cons:
While although you can get away with screwing in everything by hand, some screws would be easier to install if you were to use a cordless drill
If you're seated too low on the desk, your knees will touch the middle bar - I like to sit with my arms resting on the table, not on my chair.
It would be nice to have an instruction that states to install the cable management tray when the desk is still upside down.
The Omnidesk Pro 2020: A Complete Experience Overview (Delivery, Assembly & Product Review)
If you want an insight into the whole process from buying to building to working on the desk, here it is.
Delivery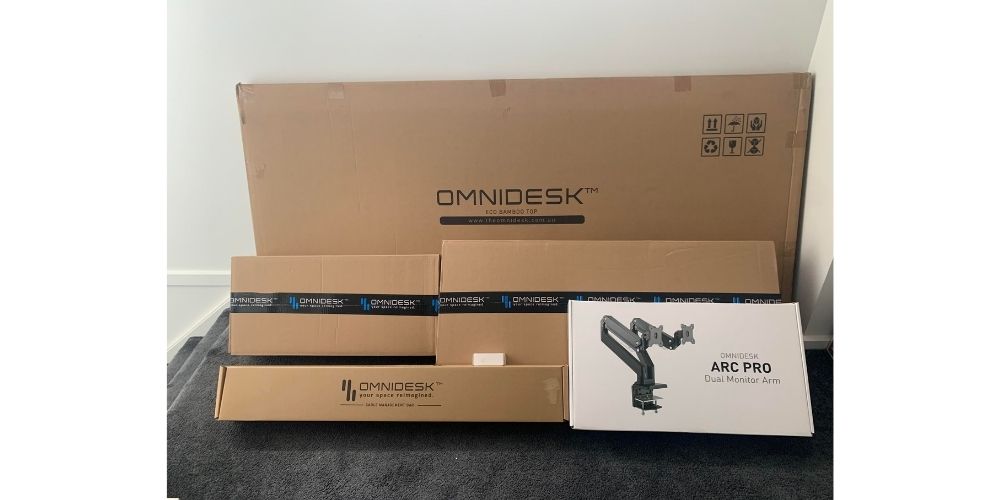 It took the desk four business days to come through (ordered 10th of December and arrived on the 14th of December).
Omnidesk has their own in-house delivery drivers in the Melbourne and Sydney metro areas to get their desks shipped out to you as fast as possible, which was the experience for me.
Delivery times will vary depending on your location - I'm only an hour away from where their warehouse is based, so I had a fast shipping experience. Best to have a look at the estimated arrivals based on your area.
The delivery driver carried these packages into the entrance of the house, double-checked everything had been delivered, and off he went. Was a seamless experience.
I had to carry the packages up to the second floor myself which isn't the most fun thing to do.
Although, Omnidesk did tell me that due to COVID-19 restrictions that they have to operate under a "to the front door" contactless delivery, this is not their fault at all.
Luckily we have carpet over here, so I could leverage the stairs and the carpet and slide the large boxes up.
Really, the hardest box to carry up was the tabletop, everything else was easy to transport.
If you have stairs in your house, ensure that you get a friend to help you out.
Other than that, everything else was easy to transport.
What's In The Box?
The Omnidesk Pro 2020 includes:
2x Leg Column
2x Feet
2x Frame End(L) & Frame End(R)
2x Center Rail
2x Side Bracket
1x Control Box
1x Extension Cord (Control box to Leg)
1x Power Cable (1.3m)
1x Adjustable Centre Cable Tray
I also was able to snatch up additional accessories, including:
Dual Monitor Mounts
Headphone Holder
Cable Management Tray
The Omnidesk Pro 2020 Specs:
Max Height: 125cm
Min Height: 60cm
Table Width: 122cm, 152cm, 183cm (48", 60", 72")
Table Depth: 76cm (30"
Speed: 43mm/s
Load Capacity: Recommended Load: 100kg | Max Load: 140kg
Weight (Frame + Motor): 35.5kg
Frame Color: Black (but you have the option to choose between black or white)
Building The Desk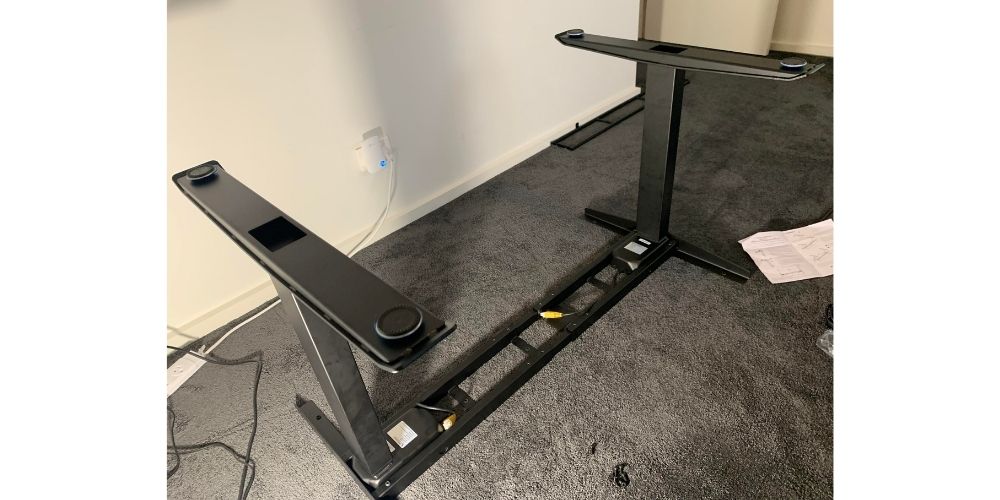 Now the "fun" part.
I'm no handyperson, but I was able to build the desk quite easily. It comes with all the appropriate screws, nuts, bolts, and tools you need.
To make your life much easier, I would highly recommend ensuring that you have a cordless drill handy to ensure that all the screws you install are secure.
Putting Together The Desk
Building the desk was simple enough and went as follows:
Build and put the stands together (you'll be building it upside down)
Plug in all the designated wires
Take out the tabletop and place it on the floor
Install the desk stands onto the tabletop and make sure it's sturdy
Flip the desk (ensure you do this with a friend)
If it seems simple, it's because it was.
All of these steps are laid out with clear enough instructions to follow, even if you're not a handyman, which I'm not.
I did use a cordless drill for screws that I felt needed to be more secure, and I suggest you do the same if you find that some screws need that adjustment.
The stands themselves are surprisingly heavy, and you connect them using a middle bracket.
The best thing about the stands is that they're adjustable depending on what tabletop size you select, so if you decide to downgrade (or upgrade) to a different size, you won't have to buy another pair of adjustable legs.
Of course, I love my desk space, so I got the XL.
Installing The Cable Management Bar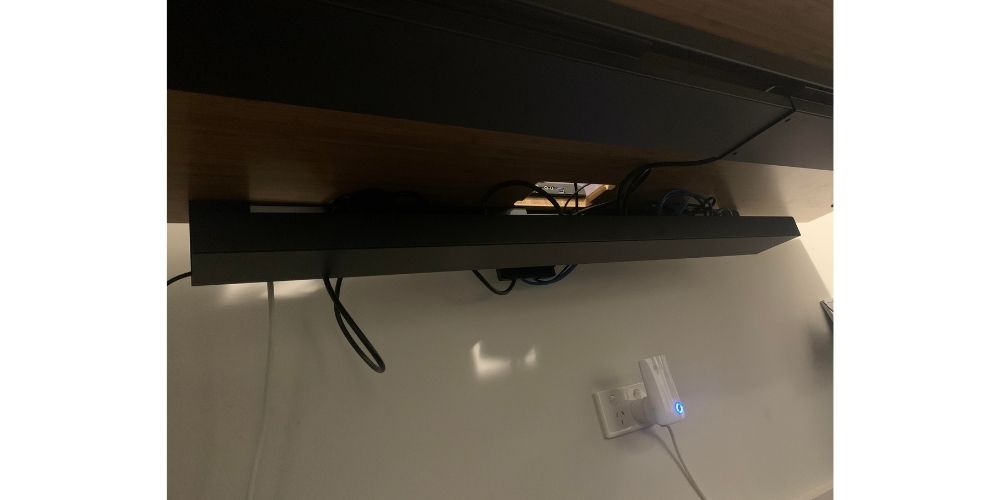 The cable management bar gave me unwanted pain when I built the desk, but only because I made it harder to install.
I went wrong when I tried to install the cable management bar after I flipped the table instead of when the desk was upside down.
As a result, I was at war with gravity - trying to hold the cable management bar up with my hands and feet while simultaneously trying to install the screws in the pre-built holes.
Not a pleasant experience - but again, it was all self-inflicted due to my lack of planning.
Luckily I had a cordless drill and a friend to help me hold up the cable management bar.
After that, it was a piece of cake to install.
The cable management bar, once installed, is extremely sturdy and can house a ton of cords and surge protectors. It gives off that "minimalist" vibe when you hide your cables.
The only problem is that you will see the cord exposed depending on where you plug in your desk (as seen in the above photo).
You can choose to hide it with cord cover raceway kits if you want to; I just left it because I'm lazy.
Alongside the cable management bar, there is a convenient cable management hole at the top of the desk where you feed all of your cords, making cable management options a breeze.
Installing The Monitor Arms (Mounts)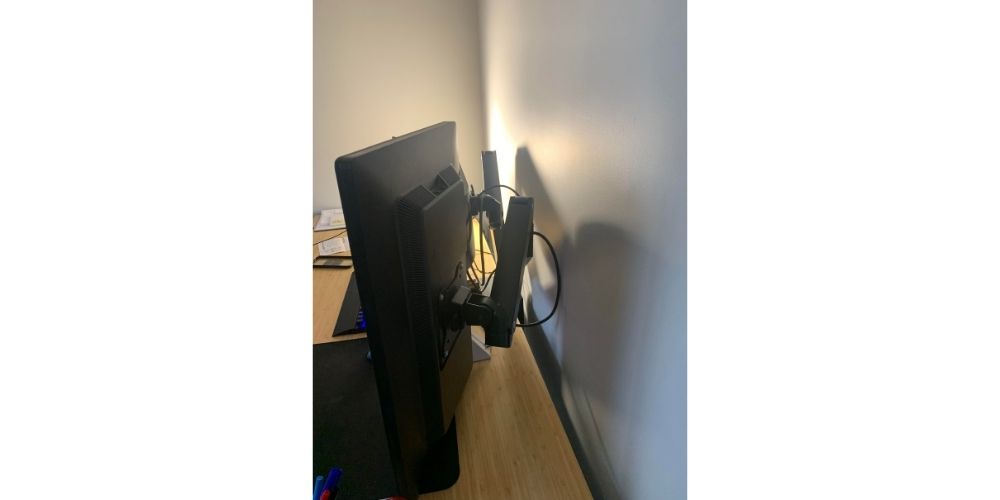 I originally wanted to install the monitor arms where the "hole" is located on the desk as it would allow me to push the desk flush against the wall, but I could not do that due to the cable management bar...
And therefore had to settle for the traditional way: clamping the monitor arms at the back.
Where Omnidesk's monitor arms differ from other brands is the ability to detach the monitors without taking off the VESA mount that you can see at the back of the monitor.
You can take out and put back monitors with ease by slipping the VESA mount off the arm.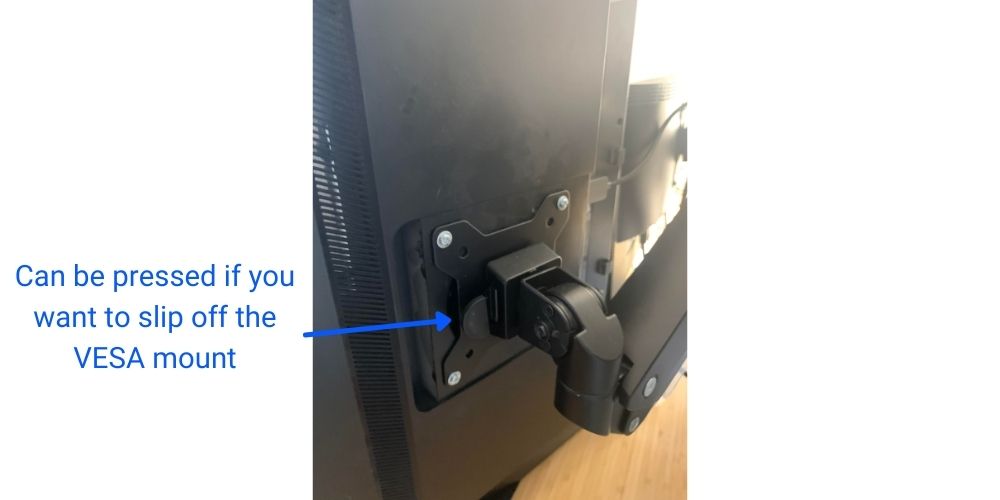 This was a massive revelation as it makes transporting monitors 100x easier and saves you the pain of unscrewing the bolts.
The monitor arms clamp nicely to the back of the monitor and are very durable.
I will need to do some testing to see if it can house heavier 27" monitors or above, but it can hold 24" monitors easily.
The monitor arms only took 10 - 20 mins to build.
Clamping On The Headphone Stand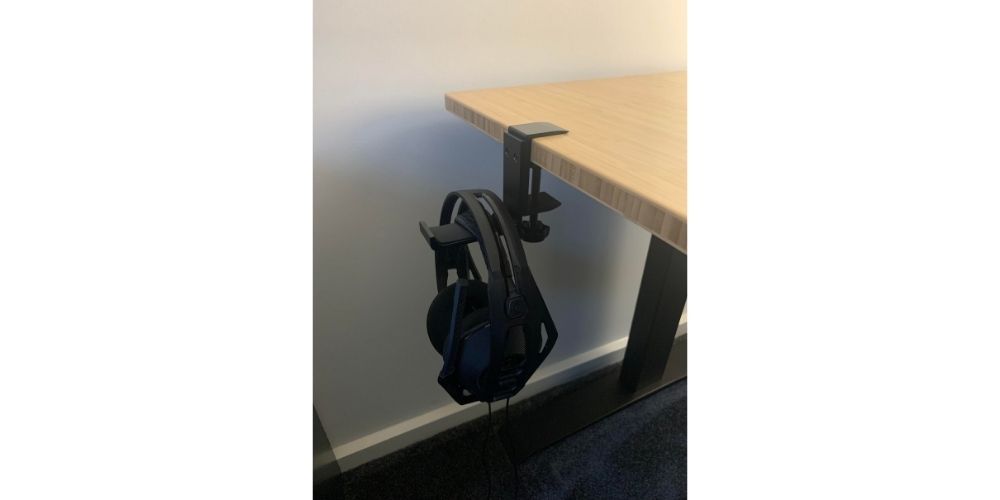 The headphone stand is a convenient tool to have if you're a gamer or like to work with headphones.
You just have to clamp it onto the edge of your desk, and off you go. You can also fold the headphone stand up if you're not using it and save a little space.
That's all to; it's nifty and practical.
So, Is The Omnidesk Worth It?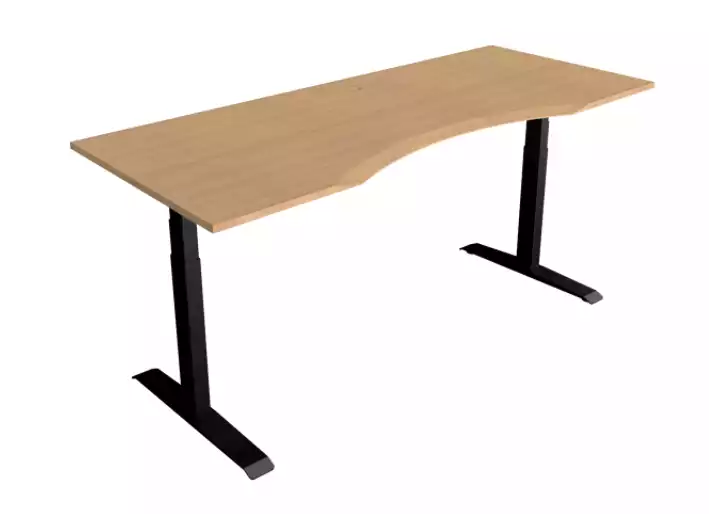 The Omnidesk Pro (2020 Edition)
Desk Specs:
Table Legs: Black
Size: XL
Tabletop Type: Eco Bamboo Ergo Curve
Finish: Light
Accessories:
Cable Management Bar (Black)
ARC Pro Dual
Headphone Hanger
Check Prices
We earn a commission if you make a purchase, at no additional cost to you.
If you are looking for the ultimate gaming or productivity desk to complete your "dream" setup, the Omnidesk should be one of your top choices.
The Omnidesk Pro 2020 Edition lives up to the claim of being the "Platinum Standard For Standing Desks".
The Omnidesk Pro 2020 is a well-crafted desk made of eco-safe bamboo. It's durable, heavy, and has a silky smooth finish that just feels awesome.
The desk is also height-adjustable, which is especially good for you if you sit down for long periods - e.g., if you have an office job, work from home, or are an avid gamer.
The desk is more on the premium side in terms of pricing. Even with a 40% discount, I had paid roughly $860 (AUD).
Alongside my desk, Omnidesk AU was kind enough to send out accessories, including the monitor arm, headphone stand, and cable management bar.
It's not the most budget-friendly desk, even including the 40% discount, and it would cost even more for the additional accessories.
So if you're just getting started into building your desk setup and are looking to save some cash, then you may want to snatch up a cheaper desk for now.
However!
I would definitely recommend this desk to anyone looking to create their dream setup or who wants a reliable, high-quality, height-adjustable desk.
If you're in a position to splurge, the price of the desk is will be worth it for sure.
The Bottom Line
If you're looking for an all-in-one desk solution, then the Omnidesk will suit your battlestation perfectly.
An electronic adjustable desk trumps all other desks, providing adjustability to suit anyone's height or size.
If you have an Omnidesk yourself, comment below and let us know what your thoughts are on the desk!