You don't need to spend an arm and a leg to get an excellent gaming desk.
Your battlestation can look aesthetically pleasing with budget-friendly products, so getting the best cheap gaming desk would be a great way to save money, and build towards your dream setup
There are many factors you should consider when it comes to getting a desk that will suit your setup.
In this buyer's guide, we will be covering the criteria that you should follow to get the best desk to suit your room.
What you will learn is:
Our top 5 picks on the best cheap gaming desks suited for any room setup.
How to ensure your desk fits your room space.
Exactly what to look for when choosing a desk.
The different types of desk shapes and how they could be a potential fit for your setup
Afterward, we will delve into our recommended products and how there should be a valid option for everyone, no matter what kind of setup you have.
Let's dive in!
[amalinkspro_table id="2680" aff-id="undefined" new-window="on" nofollow="on" addtocart="off" /]
Atlantic Gaming Original Gaming Desk
Best Cheap Multi-Purpose Desk
At first glance, the first thought that popped into my mind was, "that's a unique looking table"...
Weird in a good way, and looks 100x better with a complete setup.
Atlantic has come out with a gaming desk, made for gamers.
It has cup holders, gaming storage space, a charging station, a cable management tray, and you can even feed your cables through the legs.
What makes this table unique is how the legs were designed. They compliment the accessories perfectly and allow you the freedom to move the accessories to whichever spot you find most convenient.
You decide whether you want to use all the accessories, or keep it simple and use none at all...
Regardless, the table is wide enough to support all your essential PC parts, collectibles, and anything else you need to be on your tabletop.
Best Compact Z Shaped Desk
If you like a desk simple, more gamer-like, and enjoy having a theme throughout your whole setup, the Z1-S is a fantastic choice.
The Z1-S comes in a unique Z-shape design used to keep the table sturdy and includes grip on the feet to prevent the desk from moving around.
The table includes a large mouse pad for you to use and is wide enough to fit all of your PC peripherals, even if you are stacked.
Best of all, the table features LED lighting that can be powered by your PC via a USB port.
Best Budget L Shaped Desk
Too often, products that look amazing in photos turn out to be completely different in real life, like when you buy a Big Mac at McDonald's, but they look nothing like what's shown in the commercials... catfished by a burger.
But Walker Edison's Soreno L-Shaped Desk is the exception to that rule. It looks great in the photos and even better in person.
It's a sturdy desk made with a delicate glass finish that looks Bellissimo (Italian for very beautiful).
The table is on the shorter side, width-wise than the other tables, but makes up for it through it's 51" length.
If you love desk space and like the corner desks, this a great option to have and will compliment many setups.
Best Premium Gaming Desk
It was a hard choice choosing between the Arozzi desk or the Turismo desk since both have very similar features, and both are used at LAN competitions.
But given the research provided... and my overall gut feeling, Turismo takes the cake, just slightly.
If you're a fan of Arozzi Gaming desks, then you'll love Turismo's Racing Gaming desk even more.
To put it into perspective, if Arozzi was version 1, Turismo is the improved version v1.5 with slightly more features that make it better.
The two main factors being:
The Turismo Gaming desk is held together through one U-shaped piece of solid steel, which is reliable and more sturdy.
The Turismo Gaming desk has 2 legs on both sides, which are bolted in with 8 screws, which makes it significantly less wobbly.
What makes a gaming desk like this unique is its core features, including a wireless phone charger that's pre-built into the table and mouse padding that covers the entire top surface.
And best of all, the table has a ton of desk space that you can play with. You will never run out of mouse space again, and since the whole table is a mouse pad, you move the mouse as far as you'd like.
Overall, a great choice if you have the budget for it.
Best Minimalistic L Shaped Desk
Maybe you're not a fan of a glass tabletop and want something with a subtle wooden finish.
Well, Le Crozz has designed a 3 piece L shaped desk that's perfect for that minimalistic setup look.
The SHW gaming desk includes a beautifully sleek design and their elegant wooden finish that makes this desk pop out.
The desk is very sturdy, while being lightweight at the same time, and allows you to add a decent amount of capacity on top without worrying about collapsing.
One other feat that Le Crozz's SHW desk was able to achieve is that their 3-piece desk aligns perfectly.
If you set up your peripherals in the middle, you would be crossing over the lines with your mouse, so having perfect alignment will ensure consistent mouse movements (something I learned the hard way).
Overall, this is a great alternative to the glass corner desk by Walker Edison and has a sweet, minimalistic touch.
Measure your room's length and width in Meters

If you have your desk set up in a bedroom, this bedroom size guide should help.
If you have your desk set up in a dedicated space (which has an open area), you have a lot of leeway with the spacing and can build your room based on the table size.

Check the length and width of the desk and note down how much room it will take.
Create a diagram and visualize where everything is going to go.

Use the width and length of your table and try to draw it to scale on your "blueprint."
This doesn't have to be perfect and should give you an accurate representation of how to structure your room around your desk.

Choose a table that will complement your room's theme or setup, and one that fits your desk.
Buy the desk and hope you measured correctly.
Here's a faster alternative if you're lazy and already have a desk in your room.
Measure your current desks width, length, and height.
Determine whether you want the same size, or if you want more desk space or to be more compact.
Find the table dimensions of the desk you're interested in buying, and guesstimate how you want it to look.
Without doing these steps, you'll end up like me, having a desk that takes up too much space, which leaves less room to move around in.
You want your space to feel spacious, easy to maneuver through, and something you can keep clutter-free so you can let your creative ideas flow.
Being cramped up can give off that claustrophobic vibe in the room. Adding more products will add to the clutter, and you will feel like you have no space to breathe, which will annoy you.
Be sure to plan your room out properly before pulling the trigger on a new desk.
Normal Vs. L-Shape Vs. Height Adjustable
There are 3 types of gaming desks to choose from, and all come with their perks.
Some may better be suited for tinier spaces, like a normal-designed or height adjustable desk since they won't take up as much real estate in the room as an L-shaped/corner desks (since these are longer length-wise).
But depending on how your room is set up, you could also squeeze in an L-shaped desk and save you space in the middle and other corners of the room, so in turn, you might save room with a corner desk.
Have a look at these examples to give you some ideas:
Normal Desks
Normal desks would be like your Atlantic Gaming Desk or Eureka Ergonomic desk.
They have a tabletop that is supported by 2 - 4 leg stands, nice and straightforward.
This desk would suit any setup, and the one thing you have to be considerate about is the width, aka the desk space.
By having a wide desk, you are compromising the amount of room it would be taking up.
So to combat this, find a desk that fits your dimensions perfectly. Here is how a small space would look with a perfectly suited compact desk:
L Shape Desks
L-shaped Desks can save or take up room in the corner.
It depends on the dimensions of your room in comparison to the desk. You want to be wary of this.
Depending on how your room is laid out, you have to consider that one corner will be occupied entirely, and how you're going to plan to use the other edges and middle-spacing.
The great thing about L-shaped/corner desks is that they sit flush in the corner. So you can use this to your advantage.
Height Adjustable Desks
We didn't include height-adjustable desks in our list since they have a nifty price tag due to their unique design and motorized ability to increase or decrease height.
Although, we will be writing up another guide on picking the best value adjustable desks.
I think it's important to note that they do exist and are great for posture and ergonomics.
So if you have back, shoulder, or neck problems, these desks would be best suited for you, since you can swap between sitting and standing, and ensure the desk is at the perfect height.
If you are seated at your desks for hours on end or are taller or shorter than the average being, this would be the recommended option to choose from…
And usually have great width and length to be able to fit all your peripherals and memorabilia.
This is definitely a great upgrade, but in my opinion, should be bought later down the track as you build your battlestation.
Oh, and here's a video on how to set up your battlestation for perfect ergonomics, recommended by an ergonomics expert:
Desk Space
Your gaming desk should also be able to complement the amount of desk space you have.
I love having copious amounts of desk space, mainly to be able to move around my mouse for gaming.
If you use monitor risers or a stock monitor stand, you have the option to convert to monitor mount stands, which will save you heaps of desk space.
If you have more than 1 monitor, you can check out our best dual monitor stands and find which stands are best to suit your setup...
And speaking of monitors, you should be aware of how your monitors are set up.
Shorter tables will make your setup feel more cramped, and having the monitor too close to your eyes can affect your eyesight over time.
There are two types of people when it comes to battlestation setups:
vs.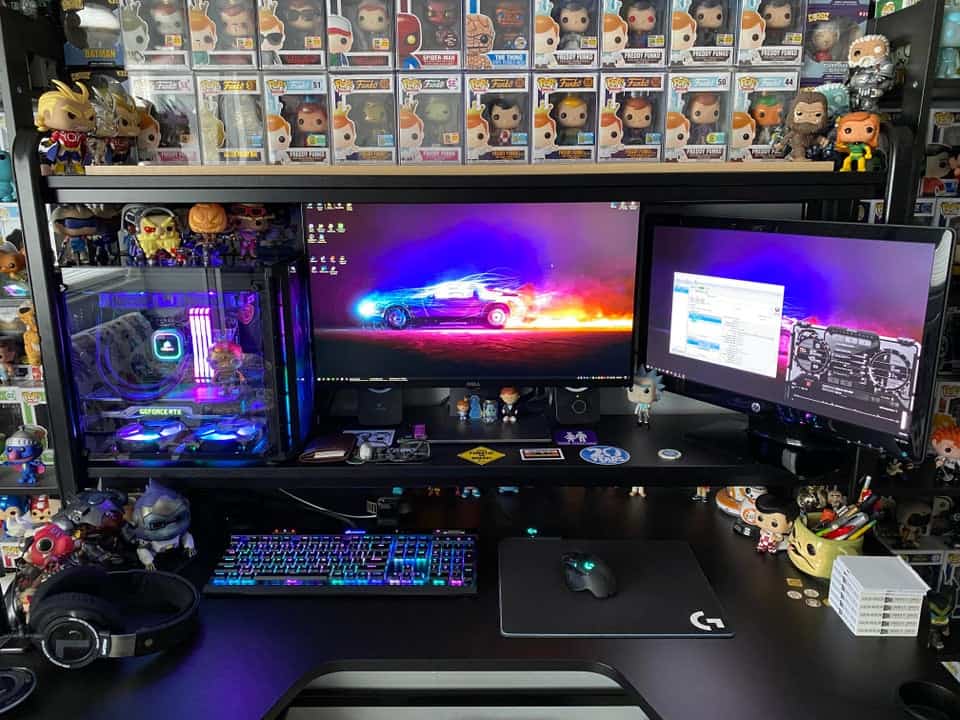 You can achieve a more minimalistic desk quite quickly, and you'll have more leeway with desk space if you don't have heaps of stuff available.
But if you're a collector or have a lot of paperwork lying around, you would be better off with a broader desk that has more desk space so that you can fit everything.
Desk Capacity
Desk capacity refers to the amount of weight a desk can hold.
Bear in mind; brands make desks to be sturdy and durable...
The last thing you want is a desk collapsing on you, destroying all your precious gear, and luckily there are many sturdy products out there to prevent that.
In correlation to the amount of desk space you need, it would also affect the amount of weight that you put on.
Some things you can consider doing to relieve your desk of space and capacity are:
Taking a more minimalistic approach - only having the essentials on your table, and storing everything else in storage or a shelf.
Putting your PC on the floor or on a side-table instead of your gaming desk (I did this, and it feels more spacious).
Getting monitor mount stands to save desk space, and allow you to maneuver your monitors to the perfect ergonomic height.
Consider limiting the number of peripherals you have. If you use your headphones, and rarely use your speakers, get rid of them.

If you have pens and books lying around that you never read, store them somewhere else.
If you have a printer, get a small side table and set it there, instead of having it on your desk.
When your desk is clean, you have a clearer headspace.
And a cleaner desk will result in less capacity.
But then again, if you're a collector...
You can look to store your collectibles and extras on a shelf, or somewhere they can still be showcased, or grab a table that can support all your memorabilia.
Frequently Asked Questions
What Are Standing Desks Used For?
You use standing desks for better ergonomics and posture.
You can put a toll on your body if you sit a desk for too long without getting up…
This is especially dangerous if your posture isn't right, or your setup is not ergonomically safe; this can lead to long-term injuries in the back, neck, and shoulders.
Standing desks are the perfect way to combat this, as standing can force you into an upright position, straightening out your back and putting less strain on your shoulders and neck.
It also allows you to move around more and get the blood flowing.
You will be less likely to have any long-term injuries as a result of long periods of lousy posture if your setup is optimized to promote good posture.
Of course, it comes with downsides. Standing for too long can also cause injuries too, and standing for a full 8 hours isn't viable…
So having an adjustable desk can allow you to manipulate whether you're standing or sitting.
And having both options are beneficial for your health long-term.
What Desk Do Pro Gamers Use?
Upon doing research, pro gamers go into their peripherals and PC specs more than their actual desk.
That being said, Fortnite streamers showcasing their gaming setups - I was able to find TFUE's desk, which is an Uplift Desk.
Ninja has a custom built-desk that suits his whole gaming setup. His entire room was torn down and re-created to make the ultimate gaming room.
There are many setups, which are just a tabletop and standing legs, others use standard desks.
I would say, don't get caught up in copying everything that a pro uses. Find one that suits your needs and comfort.
Are Gaming Desks Good For Work Or Studying?
Absolutely.
Gaming products are more of a 'marketing' word that brands use to target gamers.
In reality, most gaming products are great for anyone, regardless of whether it's used for gaming.
For example, if you built a robust and fast gaming PC with incredible specs to run games on Ultra-High with the highest FPS...
Chances are, you would be able to run Adobe Premiere Pro and After Effects with no issues whatsoever (these programs are CPU & RAM heavy).
Of course, there are some slight differences in recommended parts for the PC, but for desks, it doesn't matter.
You can do any activity on your gaming desk, whether it's working, studying, or gaming.
The main point you should take away is that your setup should be comfortable.
Also, take it one step further and make it clutter-free, as a clear workspace will allow for a clearer mind.
Buyer's Recap
So to recap some of the criteria you should look out for, ensure that:
You measure out your desk accurately, draw it out, and envision how it's going to look and plan out where all your other stuff is going to go.
Choose whether a normal desk, adjustable height desk, or L-shape desk would suit your room and provide you with the most comfort.
Ensure your desk is wide enough to fit all your PC parts and accessories, and if not, go towards more of a minimalistic approach and have everything clean and clutter-free.
Ensure that your desk is sturdy, and can hold all the PC parts you plan to put on top of it.
Our Winner For Best Cheap Gaming Desk To Buy For 2021
Upon analyzing many different types of gaming desks, expensive and cheap, the best budget gaming desk is the Atlantic Original Gaming Desk.
Atlantic has genuinely created an excellent desk for its value; it's sturdy, well-designed, and has an aesthetic finish.
What makes this desk unique is the numerous amounts of storage options, whether you have DVD's, need a place to store your bottles, or want to elevate your monitor the choice is yours.
And if you're a minimalist like me, you can choose not to have any additional accessories, and keep it simple.
Nothing is bolted to the table, and are all interchangeable, which gives you the freedom to dress up the desk as you want.
The best thing about this desk is that it won't break the bank. It's a compact desk with a built-in cable management tray (underneath) and a desk that can fit most room sizes.
You can't go wrong with snatching an Atlantic Original Gaming Desk; you can get your own by clicking here.