Getting an aesthetic-looking, space-saving gaming desk isn't as expensive as you think.
You can get the best gaming desk for under $200, easy!
If you're a DIY type of person, you could literally put your desk together for as little as $50.
All you would need is a tabletop, floating shelf brackets, and some power tools.
If you're not that tool-savvy, or just want to get a desk that is pre-made and easy to assemble, that's where we come in.
A desk can make or break your setup, and choosing the wrong color can change the aesthetic of your setup and make it look bland instead of colorful.
Choosing the wrong sized desk is even worse. I know for a fact that when I upgraded my desk into a bigger and spacious setup, I had so much arm room it wasn't even funny.
You know you the best, so you know what the most comfortable position to be in is.
Especially as a gamer, having a great desk will help you stay comfortable and focused on your opponents.
To help you get started, we have written a guide to finding the best desk for your specific needs!
Let's dive in.
Best Overall
Eureka Ergonomic Z1-S Gaming Desk
Runner Up
Airlift Pro S3 Gaming Desk
Editor's Choice
Atlantic Original Gaming Desk
TL:DR: Best Gaming Desks Under $200
Our 5 Best Gaming Desks Under $200
We mentioned some good gaming desks above but will tell you some of the benefits of each one in the following section. You can decide which computer desk works best for your needs.
Eureka Ergonomic Z1-S Gaming Desk
Check Prices
We earn a commission if you make a purchase, at no additional cost to you.
Pros
Z-shape legs made for sturdiness
Lots of desk space
Decent amount of accessories for your PC peripherals
Very smooth carbon fiber texture top
Super easy to put together
Very attractive and sleek design
Cons
LED lighting used is cheap
Some of the accessories can't be moved around (e.g. the cup holder)
The eureka ergonomic is a top choice for any gamer and is considered one of the more highly rated desks for gamers.
You can have up to a 40-inch monitor for optimal game streaming. This gaming desk has a built-in mouse pad, cup holder, headphone hook, and can hold all of your important gaming accessories.
It lights up with LED lighting with hot blue lights that make it perfect for pro gamers who are streaming live in the background and want a sleek z line gaming desk for viewers to see.
There is even extra game storage and a controller stand for your convenience. They are world-renowned for their top-of-the-line customer service.
This desk has an extended warranty to ensure this desk lasts you for years to come. It is our Top Choice for overall design, functionality, as well as features that are packed into a budget-friendly computer desk.
It is no question it is one of the best gaming desks available on the market today.
Airlift Pro S3 Gaming Desk
Check Prices
We earn a commission if you make a purchase, at no additional cost to you.
Pros
Comes in a wide array of different colours
Height adjustable (sitting to standing)
Automatically adjust the height at the click of a button
Decently sturdy
Wide amount of desk space
Standing desks are great for posture
Cons
Prone to dents if pressed hard enough
Not tall enough for persons above 6'4
Are you looking for a desk for computer gaming and office work? Chances are, you need a height-adjustable desk because you will be sitting behind the desk for long periods of time without rest.
This electric desk comes in a 54"x 28" single-piece design that descends down to 25.6 inches and raises up to 51.4". It features two motors that are made to change sizes practically silently. It is easy to assemble with anchors that are pre-installed.
While raising or descending your desk, you can enjoy blue LED display lights with four memory settings
This desk is made for both commercial office use and home gaming. It can hold up to 246 pounds. It even has screw-in leveling with a heavy-duty frame to hold all of your equipment.
Lift up to 264 lbs with ease. Screw-in leveling feet keep the desk stable on uneven flooring. Assembly is easy and only takes a few minutes as all of the necessary tools are included within the box.
It is made of high-quality MDF wood desk top construction and is meant to be stable and durable.
Atlantic Original Gaming Desk
Check Prices
We earn a commission if you make a purchase, at no additional cost to you.
Pros
Very sturdy build with a great frame
Simple, easy to use with convenient features
Customizable/interchangeable parts depending on your preferences
No need to buy additional cable management as everything comes in the table
Good amount of leg room
Cons
Aesthetically might not be your taste
Need to ensure you're very precise to get alignment right
The Atlantic original was one of my top choices when I was searching for a gaming desk myself. This was because of all the additional features which cater to us gamers.
PC gaming on this desk would be a blast, as it includes so many convenient features in its frame, you won't need to buy anything additional, including cable management trays, as that's all taken care of.
Made for all of your gaming gear and accessories, It has plenty of space for two monitors or more. You can fit your computer, games, headphones, speakers, and more on the included monitor shelf.
For the gamer that enjoys tons of features, this one is for you. There is an under the desk basket to hold additional items, a cable management system, a stand for your controller, a power strip in the back, and a cup holder
There is an optional shelf to hold up to a 27-inch monitor, or it can be removed and hold an even larger 32-inch screen monitor.
Gamers move to have their phones nearby, that is why there is a built-in charging system in this gaming desk. It has a modern and contemporary design that fits eloquently in any room.
If you're looking for a great game desk, you're in luck, the Atlantic original gaming desk has been featured before on our website and it's because it is a great recommendation for all.
Arozzi Arena Gaming Desk
Check Prices
We earn a commission if you make a purchase, at no additional cost to you.
Pros
Very clean and minimal design
Height adjustable
Clean cable management
Whole table is covered by a mousepad
Easy to assemble
Cons
Assembly instructions aren't great
Has some wobble to it
Heightening this desk has never been easier. The only thing you have to do is loosen the screws to the height you desire the desk to be and then tighten them back up. Stabilize the desk to make sure all legs are even.
Cable and wire management system with three cutouts carved into the desk to easily disguise your keyboard, wires, and monitor in an included net that is built underneath the desk for easy access.
A mousepad is built into the desk with padding that is thick for comfortable gaming. It also features a custom microfiber finish. If you want a desk that has plenty of space for those crazy mouse movements, this is it.
The gaming experience you would have using this desk would be superb. These type of arena desks are used in LAN's all the time and are built to be stable, easy to assemble and sturdy with a quality metal frame.
Although there's no cable management to help you, this desk is as simple as it gets and would be a great addition to your battlestation setup, especially if you're an FPS gamer.
Zinus Jennifer Modern Studio Gaming Desk
Check Prices
We earn a commission if you make a purchase, at no additional cost to you.
Pros
Modern and minimalistic design
Comes in 3 great colors
Great value for money
Decent amount of space for legroom
Rigid if built right
Cons
Tends to have alignment issues
Has some wobble to it
This standard desk comes with a great price tag and is simplistic in design. But don't be fooled, ust because it is a simple and classic soho design, doesn't mean it lacks in surface area, there is definitely enough space to fit a lot of PC accessories and any collectables you'd like to feature.
It is the perfect addition to either the centre or the corner of the room and comes in espresso, natural, and white. This makes it match any decor you may have It comes in three sizes: 47", 55" and 63".
It also comes in a wood grain finish design with a steel frame. It is simple to assemble with a one-year warranty included against any manufacturer defects.
What's great about this desk is that it simply looks amazing. It's designed to have a modern minimalistic look and will complement any battlestation setup perfectly.
You can easily fit two monitors or more, and with the multiple different colours available, you can mix and match your setup to have a nice, minimalistic look.
Desk Guide - How To Choose The Best Gaming Desk Under 200
When looking for what size a gaming desk should be, there are various factors to consider. Below are some of the things to consider when picking out a desk for gaming that fits your unique needs.
There are many different types of desks to choose from and depending on the size of the room you have, and what kind of gaming setup you have will determine the best desk style for you.
Different Desk Sizes
There is a multitude of various gaming desks you may want to consider. Gaming desks generally can hold the weight of one, two, or multiple monitors.
There are many available sizes that range from anywhere from 24 inches to 55.1 inches in height. Depending on the gaming desk design you choose and if it is height adjustable or not, will determine the size of the desk.
Standard desks and Z line desks tend to be able to be adjusted easier height-wise, while an L shaped or U shaped designed desk tends to have more surface area for sitting down.
Standard Desks
A standard gaming desk can be either a larger gaming computer desk for multiple monitors or a smaller design for a one monitor setup.
Whatever style desk you choose, certain features may include, wire management, led lighting, colour options, z line style desk, or conventional flat or curved style.
Height Adjustable Desk
An adjustable height desk for gaming is engineered to provide you with the most comfort possible for your wrists and is designed for gaming for long periods of time.
These desks assist with the pain associated with both gaming for pleasure and professional gaming. Carpal tunnel syndrome is often an ailment many gamers get after help to reduce carpal tunnel pain and can adjust to different heights.
They are generally are easy to assemble and are high functionality gaming desks. Pro gamers also like to use these kinds of desks because it allows you to set your desk at the perfect height, meaning you'll be more comfortable for those long gaming sessions.
Another benefit is that adjustable desks can rise to the point where you are standing.
Sitting in a chair for long periods of time can cause your body to feel sore and fatigued, in which you would naturally start to lose good posture.
Sitting for long periods of time is detrimental to your health, and can cause weak glutes and legs, a sore back, increased risk of getting cancer, heart disease and diabetes, etc. You would be very surprised!
Hence why a height-adjustable desk is always great, as you can set it up to where you are standing and therefore the bad long-term effects of sitting down all day would be nullified.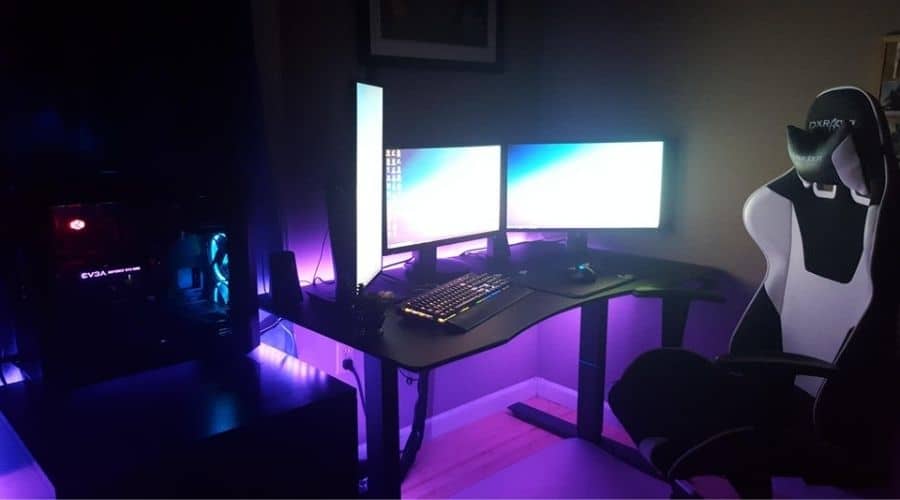 Corner Desks
Corner desks are generally standard desks, Z line desks, or L shaped varieties. The L shape style desk resembles the way a corner of a room looks. These setups are the perfect options for apartment living and smaller storage space areas.
What's great about corner desks is that they are a snug fit in the corner, and provide extra desk space.
You can fit your peripherals on either side, or right in the corner, and have a great deal of space to play around with, whether you are putting memorabilia or collectables.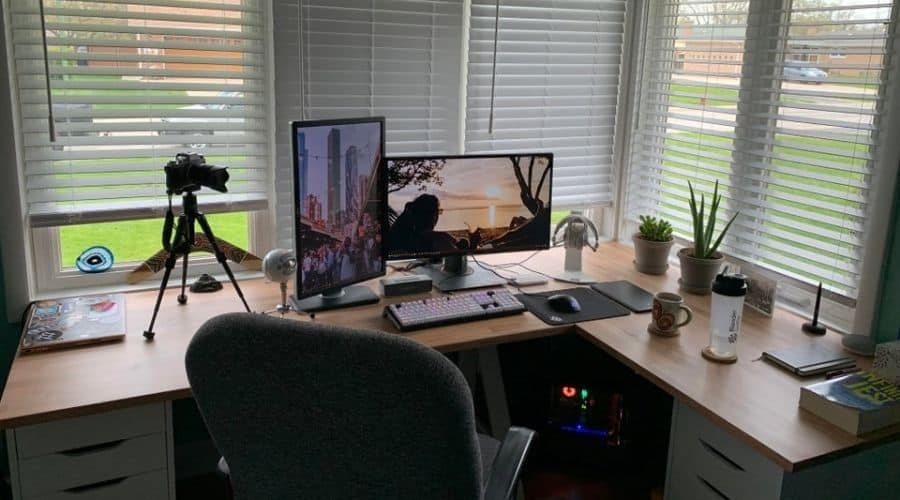 U-Shaped Desks
A U-shaped gaming desk is both perfect for the office and for pro gamers. It has plenty of surface area space and surrounds the gamer for enhanced privacy. They are designed to be spacious and to hold a plethora of accessories.
Your gaming experience is unmatched in terms of comfort and design. They are also a great computer desk with cable management and build quality that will last for years to come.
U-shaped desks are like L-shaped desks but with an extra standard desk to turn the L into a U.
See the example below: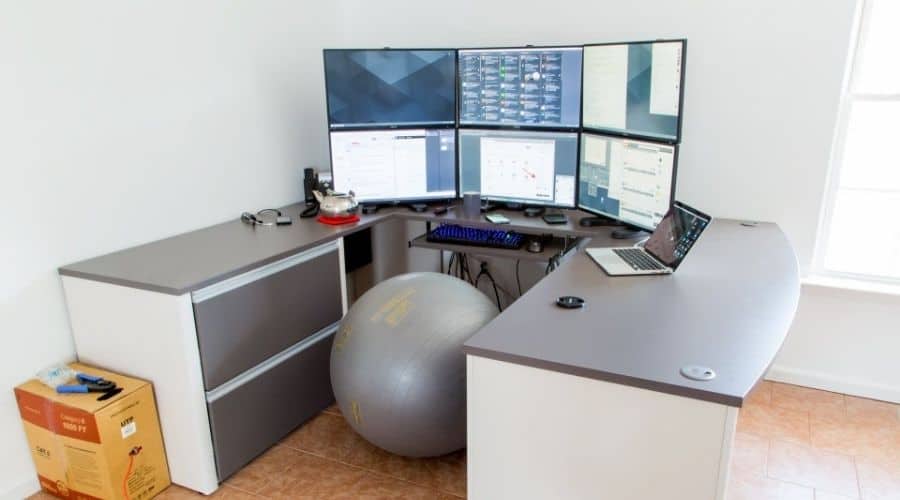 Surface Area
The surface area is something that many gamers feel is a "must-have" option. It is generally the most important point when picking out what category of desk one chooses.
PC gamers need to be able to be comfortable as well as have the storage space for a headphone holder and gaming tower as well as other gaming gear they may have.
The surface area will dictate how much room you have to move around your mouse - and if you're an FPS gamer, you know that you need a wide surface area to ensure your flicks are accurate.
This also gives you the ability to place your arms on your desk in a very comfortable position so you can have good posture, and if you have some monitor mounts you could take it a step further and increase the amount of space on the top-side of your desk.
The surface area was a big gamechanger for my setup personally, and I haven't been as comfortable as I am now.
Height
When looking at height when it comes to a desk, you have many options. There are gaming desks that are made for sitting down and ones that are adjustable to the height you desire for a stand-up experience.
Getting a gaming computer desk for multiple monitorsmay influence the size height that you want, as you may opt for some verticle monitor mounts or have a multiple screen setup.
Heigh also plays a big factor in the comfort in which you sit at your desk, and was further explained during the 'height adjustable desk' part of this article.
Weight
Having a metal frame or a carbon fibre desk can make a gaming desk more durable and be able to hold all of your equipment.
If you are gaming in your home office setting and have a multitude of accessories, monitors, computers, equipment, and speakers, how much weight a desk can hold is something you need to consider.
Some desks have built-in features like a keyboard shelf, gaming rack, and room for power supplies. Always check the specs on how much weight a desk can hold before making a purchase.
Material
There are many different materials to choose from. One can get glass desktops, a PVC surface, carbon fibre finished tabletops, cherry wood desks, and ones made of steel.
Gaming Features
Gaming pc desks sometimes have tech specs that are incredible. Cooling fans that are built into the gaming desk are becoming mainstream features. Controller hooks, CPU stand, keyboard drawer, gaming headset holder are just some of the features available today for gaming desktops.
Our Winner For Best Gaming Desk Under $200
By now, you should have a general idea as to what to look for when choosing the best gaming desk for your setup.
You want a desk that ticks all the boxes, whether that is having it at an ergonomic height, being sturdy enough to withhold a lot of peripherals ontop, have additional gaming features and feature cable management...
The choices are endless, and there is one desk, in particular, we think you would get the most value out of, and that is...
The EUREKA ERGONOMIC Z1-S Gaming Desk.
Check Prices
We earn a commission if you make a purchase, at no additional cost to you.
This gaming desk is built to be sturdy, can hold all of your PC accessories and your PC on top, is made with high-quality materials and features a ton of desk space, this desk ticks all of our boxes when it comes to getting the best gaming desk under $200.
If you are looking for a quick purchase, and want a reliable gaming desk, you can grab your own EUREKA ERGONOMIC Z1-S gaming desk by clicking here.
Happy gaming!