Are you sick of having a bulky full-sized keyboard sitting on your desk, taking up all the room?
Would you like to have the freedom of having a compact, form factor-sized keyboard that you can use no matter if you need it for work or gaming?
We reviewed the 7 best 60% keyboards, so you can definitively choose which one is the best for your gaming or work setup.
No matter what your situation is, on our list exists a keyboard that would perfectly combine with your existing peripherals...
Just make sure you have a proper read and you choose the right one.
Enough talk, let's get into the nitty-gritty!
Best Overall
Ducky One 2 Mini 60% Keyboard
Amazing build quality
Comes with custom keycaps
Perfectly designed 60% keyboard
Runner Up
Glorious GMMK Modular 60% Keyboard
Awesome build quality
Hot-swappable switches
Satisfying to type on
Budget Pick
RK Royal Kludge RK61 60% Keyboard
Extremely budget-friendly
Hot-swappable switches
Bluetooth connectivity (for other devices)
TL;DR: The 7 Best 60% Keyboards
1. Ducky One 2 Mini 60% Keyboard

Pros
Comes with an extra set of nicely designed keycaps
Great design that looks custom-made
A lot of customization options
Awesome design on the space bar
Cons
Built with primarily plastic
Can be a little hard to configure due to not having any software
The Ducky keyboard is not just a pretty face, it packs a punch with its aesthetically pleasing design and superior performance.
The keyboard offers a great typing experience with its solid PCB and plates, fantastic stabilizers, and weight.
This keyboard is compact, offers full RGB backlighting, and has a very comfortable ergonomic design.
The best thing about this keyboard is that it's highly customizable - multiple key binding options, macros, or key placement options and not to mention it looks great on just about any keycap set.
It also includes double-shot keycaps, less wear put on your fingertips and more of the keycap surface provides tactile feedback.
The downside to this keyboard is that it doesn't have any wireless connectivity, so if you're a wireless person, you may want to look further down this list.
Overall the Ducky One 2 Mini is the best 60% keyboard when it comes to getting the best bang for your buck.
2. Glorious GMMK Modular 60% Keyboard
Check Prices
We earn a commission if you make a purchase, at no additional cost to you.
Pros
Hot-swappable switches - perfect for customization
Great array of RGB options
Quality PBT keycaps
Nice amount of features
Cons
Tends to slide around because the feet aren't grippy enough
You can't remap the function key
If you're looking for the best 60% mechanical keyboard under $100, be sure to consider the Glorious GMMK Compact.
This keyboard has a best-in-class compact form factor and an awesome backlight (available in any color you want!).
One of the rarer features this keyboard has is the ability to easily swap out your mechanical switches for others.
In terms of customizability, this keyboard is a Godsend, and you can play around with it till you find a switch that satisfies you both in sound and feel.
The downside to this keyboard is that the stabilizers rattle a little bit, and it comes with a hollow case that can make the keyboard sound different (like it has an echo).
However, If you need a minimalist 60% keyboard that's perfect for work, or are a hardcore gamer, or are an enthusiast who likes to customize their keyboards, this is an awesome pick for you.
3. RK Royal Kludge RK61 60% Keyboard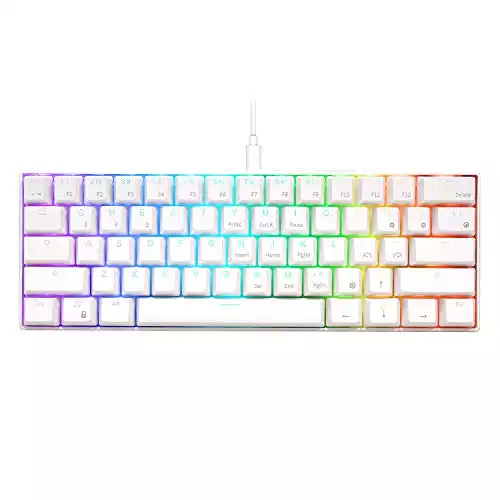 Check Prices
We earn a commission if you make a purchase, at no additional cost to you.
Pros
A budget-friendly option
Has Bluetooth capabilities (allowing you to connect to other devices)
Comes with a detachable USB-C cable
Looks great stock (with nice backlighting)
Now comes with hot-swappable keys (updated recently)
Cons
Doesn't come in RGB backlighting
Cheaper ABS keycap quality
Royal Kludge's RK61 is as budget-friendly as you can get, often making great friends with your wallet as it comes in under $50.
For this price, you get a wireless Bluetooth mechanical keyboard in 60% form factor with multiple switch options for you gamers on the go.
This allows you to game wirelessly and multitask easily no matter what device you're using.
As a gamer, you want to stray away from Bluetooth as there is a very noticeable delay due to input lag. A direct connection is always the better option.
The keyboard comes with Outemu switches which are a Cherry MX alternative, often featured in the more affordable mechanical keyboard options.
They're not amazing, but they definitely do the job, especially if you're a first-time buyer in the mechanical keyboard space, and you don't want to spend too much.
Royal Kludge has recently updated this keyboard to now feature hot-swappable switches.
This is an amazing feat for a keyboard still valued under $50, and now gives you a whole other layer of versatility to play around with.
The downside to this keyboard is that the keycaps are made from ABS plastic, which is inferior to the usual PBT plastic keycaps that come with more premium-type keyboards.
ABS plastic usually means it starts to fade faster which loses its aesthetic impact when you first buy a keyboard like this.
The quality isn't amazing compared to other keyboards on this list, but if you need something simple and cheap, and only have a limited budget - this is the perfect keyboard to choose right now!
4. Razer Huntsman Mini 60% Keyboard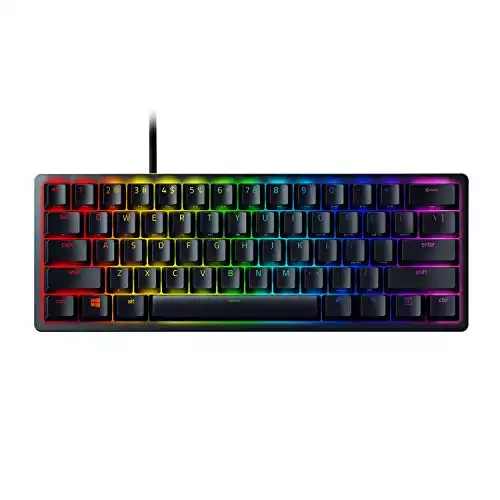 Check Prices
We earn a commission if you make a purchase, at no additional cost to you.
Pros
Aesthetically pleasing with or without RGB
Decent software configuration with Razer Synapse
Quality PBT keycaps
Cons
You can't completely customize the second layer (of keys)
Keyboard build is light and can feel quite flimsy when carrying around
If you love the ergonomic design of mechanical keyboards but hate the bulk, then the Razer Huntsman Mini is just for you.
This keyboard is best for gaming, with 15 programmable keys and a great compact, form factor size.
The best thing about this keyboard is that it has great customization options through its designated software - Razer Synapse.
The keyboard comes with Razer's Linear Optical Switches which are quite loud, but perfect for gaming as optical switches are easier to press and are often faster to actuate.
Although in terms of personal preferences, you may like some Cherry MX switches better than what Razer has to offer.
The downside to the keyboard is that you can't really customize it.
Although it looks great as a stock keyboard, if you enjoy customizing your keyboards with custom keycaps and whatnot, then you may want to look elsewhere.
The Razer Huntsman Mini is best if you're looking for a compact, ergonomic, and customizable mechanical keyboard.
5. Durgod HK Venus 60% Keyboard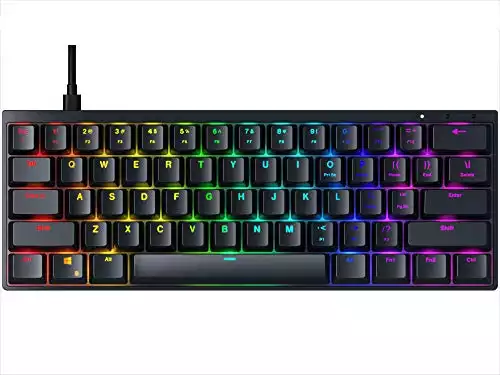 Check Prices
We earn a commission if you make a purchase, at no additional cost to you.
Pros
High-quality design with a convenient Cherry profile
Smooth, pre-lubed stabilizers
Durable aluminum case
Quality PBT keycaps
Cons
Software is clanky and has an outdated design
Are you looking for a quality 60% keyboard that performs well, right out of the box?
The Durgod HK Venus is one of those keyboards where you aren't expecting much from it, yet the performance blows you away.
The Durgod Venus has some great pre-lubed stabilizers - so when you press a key, it's nice and smooth.
The keycaps are made of PBT plastic and have a nice Cherry profile - which is a profile that sits slightly lower than your average keycap incline.
There's no flex on the keyboard and the case is constructed to be durable and to last a long time.
Overall this keyboard is simple, aesthetic, and the design is unique to many of the other keyboards on this list.
If you want a mid-tier keyboard that sounds and feels great to type on and use, this is it!
6. Anne Pro 2 60% Keyboard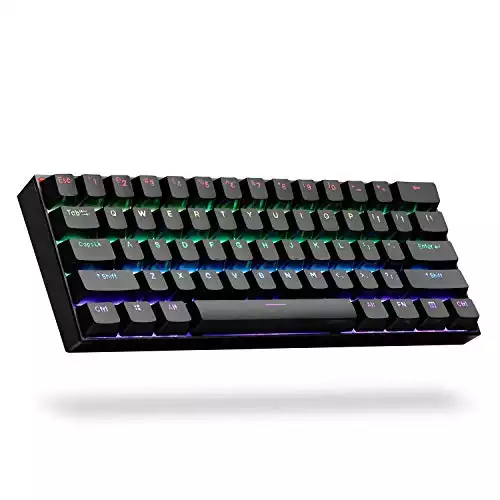 Check Prices
We earn a commission if you make a purchase, at no additional cost to you.
Pros
Comes with Bluetooth connectivity (should you use it for other devices)
Great array of switch options
Comes with aesthetic RGB backlighting
Cons
Has a short battery life
Better to search up tutorials should you want to customize the keyboard (instructions are poor)
The Anne Pro 2 is a budget-friendly version of the Ducky One 2 Mini, often being chosen as the go-to for a 60% keyboard.
The Anne Pro 2 has an awesome sleek design that looks great on any desk, regardless of the color or theme.
It also holds sturdy with an aluminum alloy casing, so you know it won't be easily broken in case of accidents.
The best thing about the Anne Pro is its wireless functionality.
This keyboard offers a great and best value for those who want to go cordless as much as possible without sacrificing any of their best features!
You'll also get all your favorite keys on this board - including arrow keys - so you won't be missing out on anything big while being wire-free!
7. Kemove Snowfox/Shadow 60% Keyboard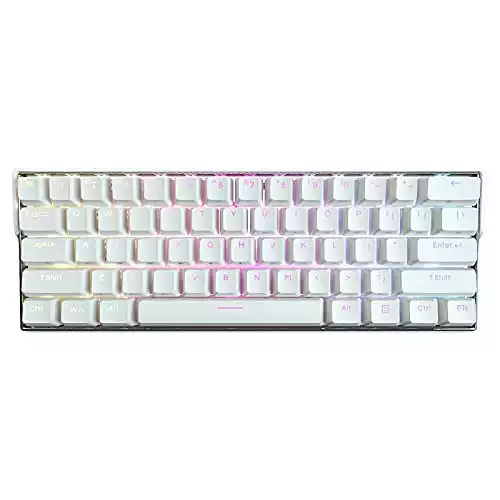 Check Prices
We earn a commission if you make a purchase, at no additional cost to you.
Pros
Hot-swappable mechanical switches
A convenient secondary layer of keys
Quality PBT keycaps
Aesthetic design
Cons
The design looks kind of plain
Rubber feet need extra care because they can fall off easier
The backplate is easy to scratch
Looking for a hot-swappable, pre-lubed keyboard that you can start with customizing? You got it right here.
The Kemove Snowfox (the white version of this keyboard) is an excellent keyboard for those users looking for something to start with when getting into the customization game.
The hot-swappable feature makes this keyboard very versatile and great to play around with.
The keyboard comes with stock Gateron switches, which are used in a combination of premium quality keyboards and more affordable options.
Gateron switches are still quite nice, with an array of different switches available, you may not even need to swap the switches (if you want to keep it stock).
The downside to the Kemove Snowfox/Shadow is that the backplate is easy to scratch, especially when swapping out the mechanical switches.
If you want a mechanical keyboard that you can customize to your liking without breaking the bank, the Kemove Snowfox/Shadow should be at the top of your list.
Buyer's Guide: How To Choose The Best 60% Keyboard For Your Setup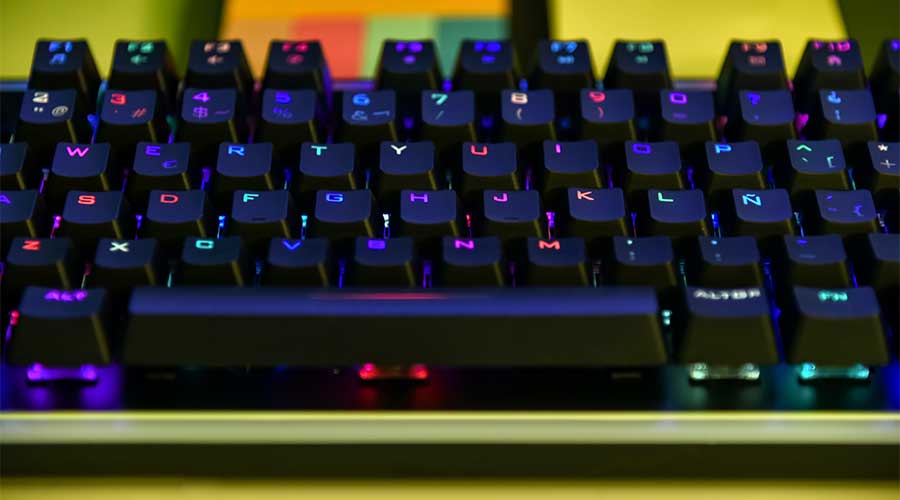 There are many aspects of a keyboard you need to look out for when choosing the right one for your setup.
Mechanical keyboards have different switches, keycaps, frames, profiles, and so on.
Not to mention that getting a 60% keyboard means you are essentially getting rid of a ton of additional keys and only keeping the basics.
But before we get into what features you should look out for in a 60% keyboard, first we have to understand the question...
What Is A 60% Keyboard?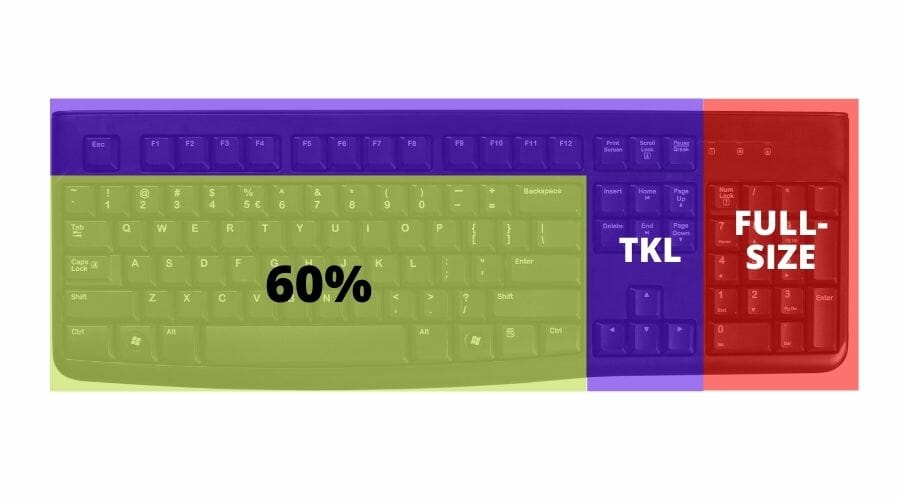 A 60% keyboard is a full keyboard minus 40% of the keyboard on the right (as shown above).
It cuts off most of the lesser-used keys, such as function keys, arrow keys, and a Numpad, allowing it to take up less real estate on your desk.
But they don't just totally throw the extra keys away.
The usual design of a 60% keyboards is that it allows you to access them through the function layer (pressing the function key + the designated key).
For example, if you want to use F1 - you would need to press 'FN + 1'.
Additionally, if you're an accountant or someone who uses the Numpad religiously, you can always buy one separately.
It's an additional expense, however, it's portable and will allow you to put it away after you're finished.
If you appreciate having more desk space, then this would be the best alternative.
Why Should You Get A 60% Keyboard?
60% keyboards have risen in popularity due to their compact size and minimalistic design.
It saves you real estate and gets rid of keys that you most likely won't use (unless you're used to using the Numpad which is specific to certain jobs).
For gamers, full-sized keyboards are simply way too big.
More often than not you would be finding yourself tilting the keyboard just to get a comfortable grip.
That's why 60% keyboards are better, they come in a smaller form factor and allow you to rest your arms on your desk even if you have a small setup, and they are easier to get a comfortable hand placement with.
And if you like to travel with your keyboard, or compete in LANs and need a portable solution, a 60% keyboard is much easier to carry around than a full-sized keyboard.
Lastly, 60% keyboards are often more affordable, and are much easier to build - should you go down the custom keyboard building rabbit hole.
The Pros And Cons Of A 60% Keyboard
Pros:
Often more affordable
Better key spacing resulting in fewer hand strains
Easier to get a comfortable grip, especially if you tilt your keyboard
Easier to build
Easier to carry around if traveling
Cons:
Missing the Numpad (might be used to you depending on your job)
Bad for key bind-heavy games like MMORPG's (limited options)
Are 60% Keyboards Better For Gaming?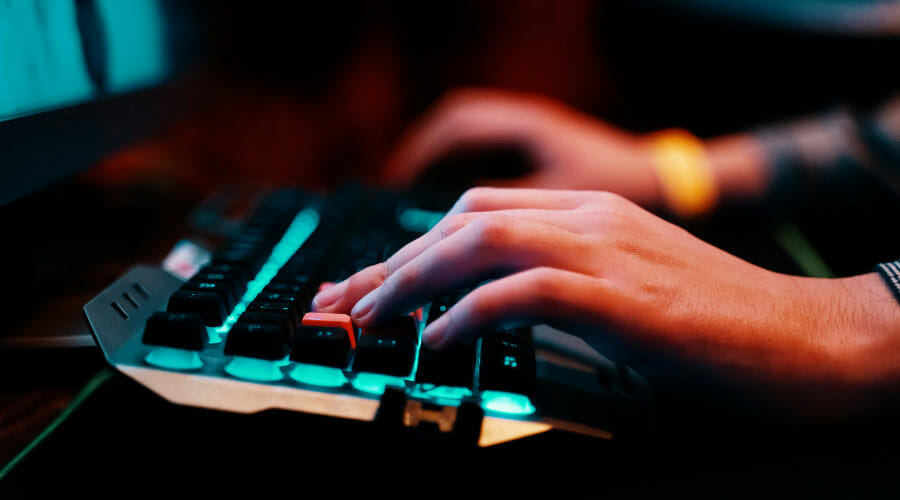 More often than not, they are better for gaming.
They save a ton of space and give you the bare-bones basics.
They are great for FPS games, but maybe not so great for other genres.
Where you may have trouble is when it comes to key bind heavy games, like MMORPG's.
Games like World of Warcraft won't benefit from a 60% keyboard as when you to a high level in the game, you will have a ton of character abilities that need to be bound to your keyboard someway or another.
Having 40% of your keyboard cut-off can severely limit your powers.
Ok, but where are 60% keyboards better gaming...
More Comfortable - Easier Keyboard Tilt
When I play CS:GO, VALORANT, or LoL, you can see that my keyboard is naturally tilted slightly down (on the right side).
This is because personally, it's easier to get a hold of the WASD and SHIFT keys.
If I were to have a full-sized keyboard tilting the keyboard would become a nuisance, as it would start to hang off my desk.
That's why 60% keyboards are great if you have that natural keyboard tilt when gaming.
You can save a ton of room, leaving you more mouse space - which is essential for FPS gaming.
Less Desk Real Estate Allowing For More Mouse Room
If you are an avid gamer, chances are you have a mousepad that you use.
For my specific setup, my keyboard is TKL-sized, and it sits right next to the end of my mousepad, so even when I'm gaming, I have full mouse maneuverability and won't bump into my keyboard.
With a full-sized keyboard, my hands would be farther apart, and I run the risk of my keyboard overlapping my mouse pad, which will limit my mouse movement.
With a 60% keyboard, you would be able to save even more room than my current TKL setup and will limit the risk of bumping into your keyboard when gaming.
Desk space is an essential part of any gaming setup, and having adequate amounts of room so you can move around easily should be a priority.
Having your hands spread apart too far can be annoying, and hinder your gaming performance.
Easier Portability (To Carry Around)
One of the more obvious perks of a 60% keyboard is its compact size.
Having a smaller keyboard makes it easier to carry around, simply chuck it in your backpack, and off you go.
If you're a competitive gamer who games at LANs, this is the perfect keyboard to carry with you.
If you need a keyboard to carry around with you for work, this is a great choice too as you can get productive work done, even if the table is small.
Most 60% keyboards come with detachable cables or have wireless functionality.
Additionally, some keyboards even have Bluetooth connectivity, so you can use it on more than just your PC.
Regardless, having a portable keyboard can be an enticing feature for those who game or work on the run.
Our Winner For Best 60% Keyboard
Out of all of the keyboards on this list, and taking into account the criteria in which we personally think makes a quality keyboard...
We believe that the Ducky One 2 Mini is the best 60% keyboard to snatch up this year.

The Ducky One 2 Mini has been a long-reigning 60% keyboard that has continuously outperformed all other competitors.
The build quality is great, the switches come with reliable Cherry MX's, it features dual functionality and it just looks incredible - very aesthetically pleasing to the eye.
Not to mention you get a random batch of keycaps with every purchase, that you can use to add some flavor to your keyboard.
From the software to the RGB lighting to the overall performance, the Ducky One 2 Mini checks off all of our boxes, and I'm sure it will be the same experience for you.
You can grab your own Ducky One 2 Mini here!
Conclusion
By now you should have a clear indication of whether a 60% keyboard is right for you, and what kind of 60% keyboard to go for.
The best 60% mechanical keyboards are those that offer the best combination of functionality and affordability.
Every keyboard on this list fits a certain scenario, whether you're on a limited budget, want the best bang for your buck, or need premium features.
Regardless, any one of these picks will do you well in the future.
If you have any of the following keyboards in your setup, comment down below and let us know!
Happy gaming!