So you're looking for the best keyboard?
One that will improve your gameplay and make it easier to type.
You know, keyboards are always changing but one thing I can pretty much guarantee is they'll never get worse in quality - manufacturers just keep making them better!
But there's a lot of options out there nowadays with more brands than ever before so how do we find the perfect one for us?
So let me introduce GMMK Pro Review: an unbiased review comparing all aspects of this gaming keyboard against other popular brands such as Razer, Logitech etc.
We cover things like overall build quality; keycap feels (when typing); design features such as wrist rest comfort level...
You've probably started hearing chatter about the GMMK Pro that has taken the keyboard market by storm.
Reviewed and highly praised by top YouTubers such as Taeha Types, BadSeedTech, and Brandon Taylor, you know we had to review this one ourselves.
Let's dive in.
TL;DR: What Should You Expect From The GMMK Pro?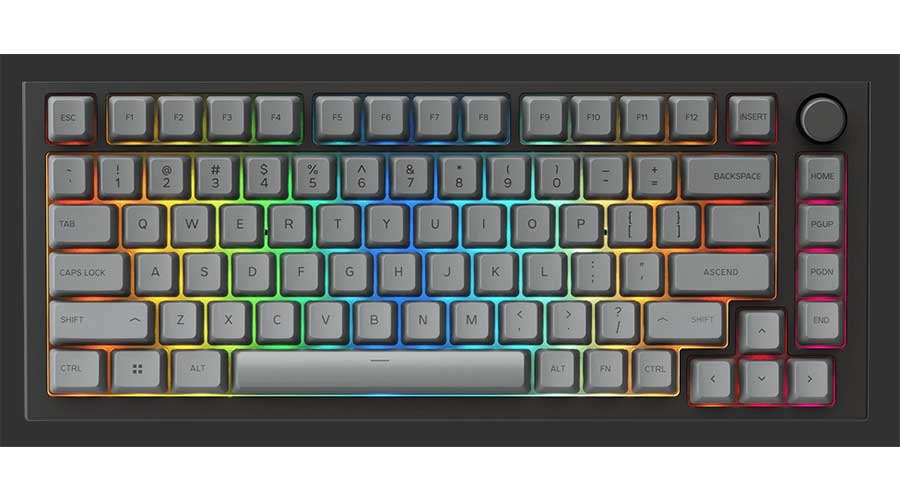 The GMMK Pro is a mechanical keyboard that offers a variety of features and benefits.
Unlike traditional keyboards, it has increased durability, key rollover, maintenance, keyboard feel, and much more.
When it comes to mechanical keyboards, GMMK pro outshines all others in being a custom build.
Its software allows for a lot of custom mobility by letting you remap keys and macros.
Additionally, it is perfect for general usage and for minimalist gaming.
When you purchase this item, its boxing includes the following:
USB-C to USB-A power cable.
A keycap puller
A metal switch puller.
This allows the user to easily shift out the keys to their own preference and helps in cleaning as well.
And lastly, it includes a little pamphlet providing warranty and product details.
The GMMK Pro beats all other custom mechanical keyboards at the same price while offering more features and reliability.
Having a 75% layout makes it perfect for programmers and gamers alike who have no need for a number keypad.
This reduces the overall space taken and generously aids in typing enhancing overall speed.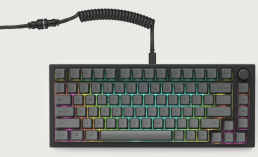 GMMK Pro 75% Mechanical Keyboard
Pros:
All-rounder keyboard for general use, gaming, programmers, and typing
75% fully modular layout
Enhanced typing experience due to Gasket mounted plate design
Individually made aluminum casing
Rotatory encoder that is fully programmable, can control volume and media
Warranty of up to 2 years
Cons:
Offers only two color types, black and white

Does not have additional backup keys included

Needs to be reserved in batches before purchasing which takes a lot of time
Check Prices
We earn a commission if you make a purchase, at no additional cost to you.
Features & Benefits: Why Should You Buy The GMMK Pro?

There's no doubt that the GMMK was causing a ruckus throughout the mechanical keyboard community.
But, did it live up to the hype?
First of all...
What's In The Box?
The accessories included in the box are very basic:
A white-braided power cable for connecting the keyboard
An orange keycap puller
A metal switch puller including
A small pamphlet for basic guidelines
2-year warranty card
While the keyboard does not come with added parts, you can always buy them from the GMMK shop.
This includes buying parts that are even better than the ones on the keyboard.
If you're a keyboard enthusiast, getting these additional parts are definitely worth it, but for the more casual keyboard users - it can be costly.
Build Quality
The build quality of the GMMK keyboard is what sets it apart from the rest of its competition.
It has a full-body CNC aluminum casing with a stock aluminum plate.
This makes the keyboard durable offering no flex.
You have the freedom of customization for the plate with options such as brass or polycarbonate.
The keyboard is set at a specific 6-degree angle which makes typing easier and more efficient.
Layout and Size
The layout of the keyboard is specialized as it has no number keypad so it offers a 75% layout.
In terms of dimensions, the keyboard is:
13.1 inches long,
5.3 inches wide
1.3 inches tall
3.75 lbs weight
It is offered in 2 different colors: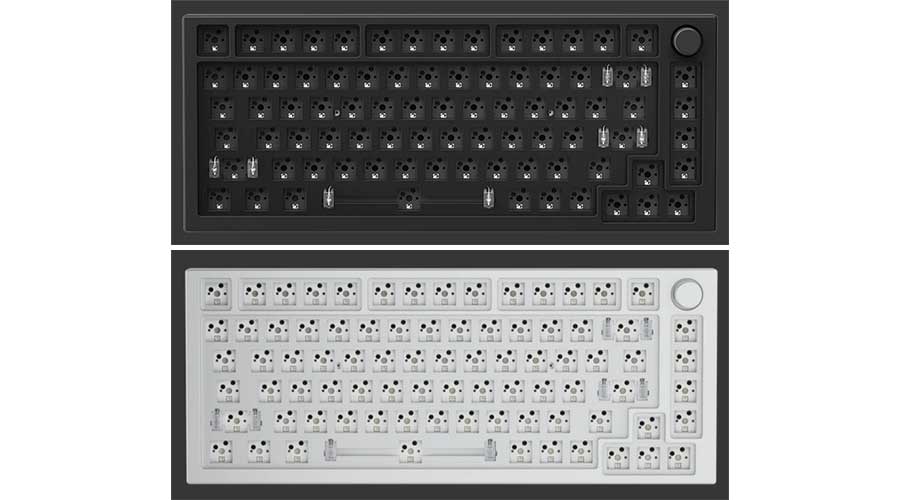 In addition to that, there is also a rotary knob at the top right corner of the keyboard that offers extra features for volume or media control.
The Keycaps
The GMMK Pro includes PBT keycaps which are considered higher quality in comparison to ABS keycaps.
If you want to know more about PBT vs ABS keycaps you can check out the guide we had written here.
Due to the PBT keycaps, the legends (keys) are also not shine-through which means that RGB from the keyboard will not pass through.
You can get different colored keycaps from the GMMK store or find some custom keycaps from other 3rd party sellers.
Mechanical Switches
The additional switches can also be purchased separately from Glorious.
A good thing about the keyboard is that it is hot-swappable meaning that it requires no extra effort or soldering to fix these switches.
They can easily be replaced and installed.
The switches use a 5-pin making it easy to use other mechanical switch options with this keyboard.
They work well with three different plates:
Aluminum Plate
Brass Plate
Polycarbonate Plate
You can add any switches you want, with GMMK having 3 custom switches available which are:
Panda Switches (Glorious X Panda)
Glorious Gateron Switches (Glorious X Gateron)
Glorious Kailh Switches (Glorious X Switches)
It's important to note that these aren't a direct copy of the original switches and include Glorious's own magical touch.
You can find these switches in GMMK's accessories shop.
Stabilizers (AKA Stabs)
Stabilizers are generally used on the bigger keys, such as your spacebar, enter, shift, and so on.
These help with keeping the keycap stable when you type and prevent any wobble.
The stabilizers on the GMMK are a different story as they use GOAT PCB screw-in stabilizers which are indeed lubed.
Although these do offer greater stability than the average popular stabilizer like durocks and C3s, non-GOAT may not fit well with the GMMK Pro.
And in order to fit them, you need to really push them through the plate or file down the components to make room.
The proprietary GOAT stabilizers however are perfect for this keyboard and are factory lubed which helps them to stop shaking or rattling.
Software
Much like any other mechanical keyboard Glorious offers its own software which is highly compatible with this keyboard.
The Glorious CORE is a newly developed software that brings out the full controls of the keyboard.
Letting you customize things like the:
Lighting
Styling
Macros
Keys
Layering
And much more providing you with the freedom to change it as per your own preference.
The onboard memory can also save one profile so you don't have to change it every time even though the software gives you more room to work on this.
You can also use other open-source software with the GMMK if you don't like what Glorious' software has to offer.
In case, you aren't comfortable with the Glorious CORE software, you can use other open-source software as the keyboard is compatible with such software.
RGB
Who doesn't like RGB lightings on their keyboards?
Realizing this the GMMK pro offers a lot of aesthetics following this.
One of the slick RGB lightings that are quite original to the GMMK Pro is the side glow.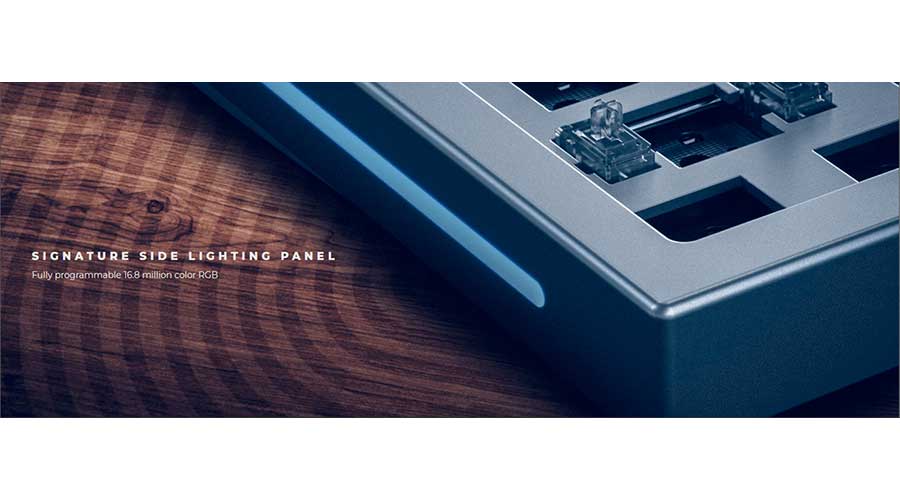 You can also easily switch between the lighting effects using controls on the keyboard.
Of course, if you utilize the software then you can customize the lighting with greater liberty.
Connectivity
The USB-C type connection in the middle of the keyboard ensures low latency and a high polling rate being 1000 Hz or 1ms.
The 6 feet wired connection is also important for RGB lighting purposes making it compatible with both MAC and Windows.
What Are People Saying About The GMMK?
The internet is clearly hyped about this keyboard and fair enough, the GMMK Pro deserves all the credit.
It not only managed to combine all the features of mechanical keyboards into one but also kept the price tag moderately cheap.
No doubt, gamers and enthusiasts alike are patiently awaiting their turn for the next batch to get this keyboard.
The internet is filled with them admiring its quality, build, outlook, and much more at the cost of any other custom mechanical keyboard.
Here's a look at what the internet has to say about it: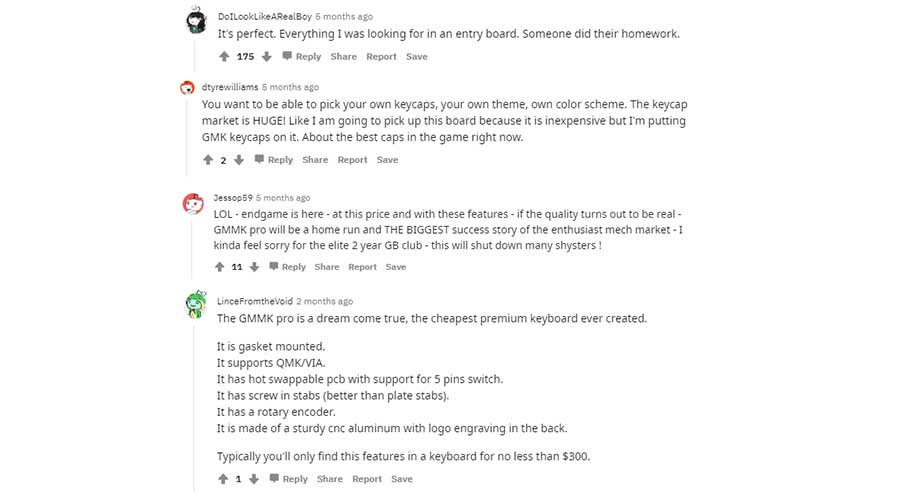 Alternatives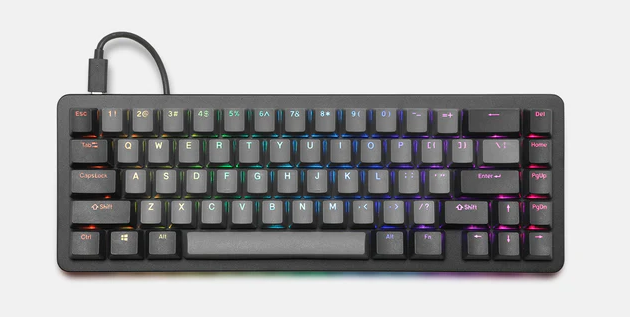 The drop ALT is another great keyboard that can be a competitor to the GMMK pro.
It has a compact layout with 67 keys.
A solid aluminum base with a built-in switch plate. Much like the GMMK pro, it's also programmable using the QMK software.
Additionally, it has customizable RGB backlighting and underlighting including shine through keycaps.
The QMK software allows for full customization of remapping keys, macros, RGB lighting, and much more.
Additionally, the two USB-C connectors are helpful as you can connect the keyboard with one and use the other as a spare or for charging mobile phones.
Here's how it compares to the GMMK Pro:
Fully customizable software
Aluminum-based casing
RGB lighting
Compact layout with comprehensive features
Hot-swappable switches
You can get $10 off by using my referral code.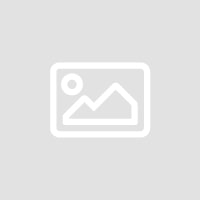 The NK65 is another great keyboard that can serve as a good alternative to GMMK Pro.
It has a 65% layout with hot-swappable switches requiring no iron soldering for the replacement of keys.
It comes in nine different colors which are more than the GMMK pro.
A polycarbonate case, aluminum plate, and cherry-styled mount stabilizers. However, keycaps and switches need to be purchased separately.
The VIA software allows for customization of the keyboard with per switch RGB lighting.
Set at an 8-degree angle it greatly helps in typing additionally the plate-mounted switches are both 3 pins and 5 pins compatible making for easy replacement.
Here's how it compares to the GMMK Pro:
Hot-swappable PCB switches
Per switch RGB lighting
USB-C type connection
65% standard layout
Compatible with VIA software for better customization
Conclusion: Does The GMMK Pro Live Up To The Hype?
Here's the thing... the problem with keyboards these days is that they come in specific types.
There is a gaming keyboard, a typing keyboard, a keyboard specifically designed for programmers.
Some have durability, others have RGB, while only some have accessibility.
But what if you are looking for something that is an all-rounder?
The GMMK Pro does exactly that.
The beauty of this keyboard is the ability to customize it to your liking, allowing you to add your own personality to it.
It is perfect whether you are searching for a gaming keyboard, enhancing your typing experience, or just simply looking for a good keyboard that is durable for the long run.
This multi-variety application for this keyboard makes it unique in this category.
With full ongoing support from Glorious, you can easily replace the keycaps and switches as they are hot-swappable should your current ones be damaged.
Now that you have finally found the perfect solution to all your problems, be sure to check out the GMMK Pro Keyboard and enlist yourself for the next delivery batch.
You would not want to miss out on such a great deal!