When you first buy your Redragon K552 KUMARA, you will notice that the instructions... aren't really instructions.
And it's quite annoying since there's not a ton of information out there.
So I wrote this quick guide on how you can customize your Redragon K552 KUMARA to its fullest!
Oh, and if you haven't already - be sure to check out our full Redragon K552 KUMARA review.
Let's dive in!
How To Change The RGB On Your Redragon K552-RGB KUMARA
Press the Function (FN) key and the Tilde (`) key at the same time
There should be 2 lights flashing on the right side of the keyboard if pressed correctly.
Press Function (FN) and the Right Arrow (→) to change the colors of the backlighting
The Tilde (`) key will start changing colors. Once you find a color that you like, press the keys you want to assign to that specific color.

Optional: If you don't want any backlighting, keep changing the color till the Tilde (`) key isn't backlit, then do the same process.

You can change the brightness of the LEDs by pressing the Function (FN) + the Up (↑) for Higher or Down (↓) for lower.
Press Function (FN) + Tilde (`) when you are finished to exit the customization mode.
How To Customize The Redragon K552-RGB KUMARA Using Software
You can download the customization software for the Redragon K552 KUMARA by clicking here.
Lighting Effects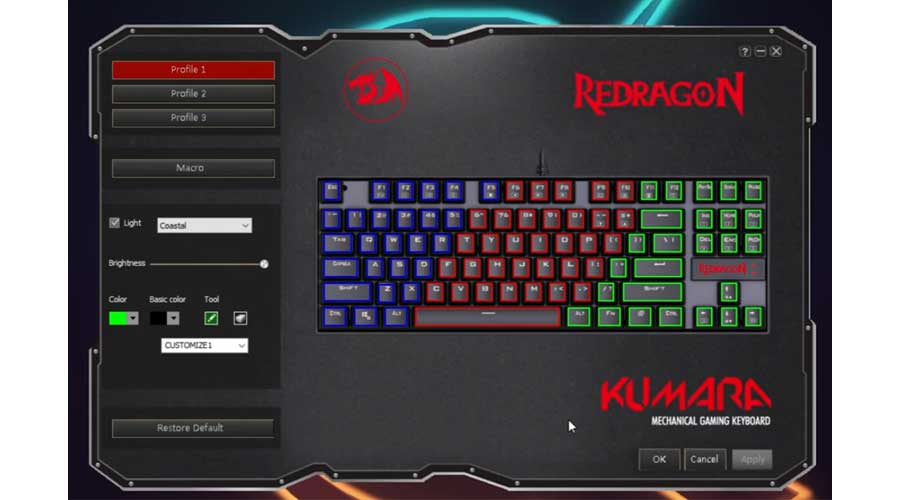 In the software, you can manipulate certain types of lighting effects:
The pre-made lighting effects
The brightness
The speed of the lighting
The color
The direction of the color
For each pre-made lighting effects profile, you can customize each individual key.
So if you want every 2nd key to be yellow, you simply have to select each key with the color of your choice.
You will be able to see the effects of your changes on the panel on the right which includes the keyboard, and a preview of how your keyboard will look like.
Macro Keys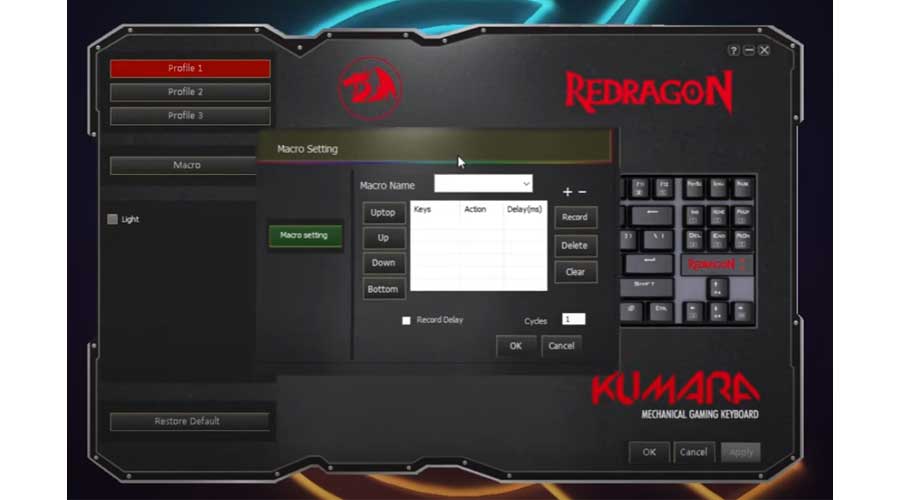 You can also assign custom Macro keys should you want your keys to having a different function.
Profiles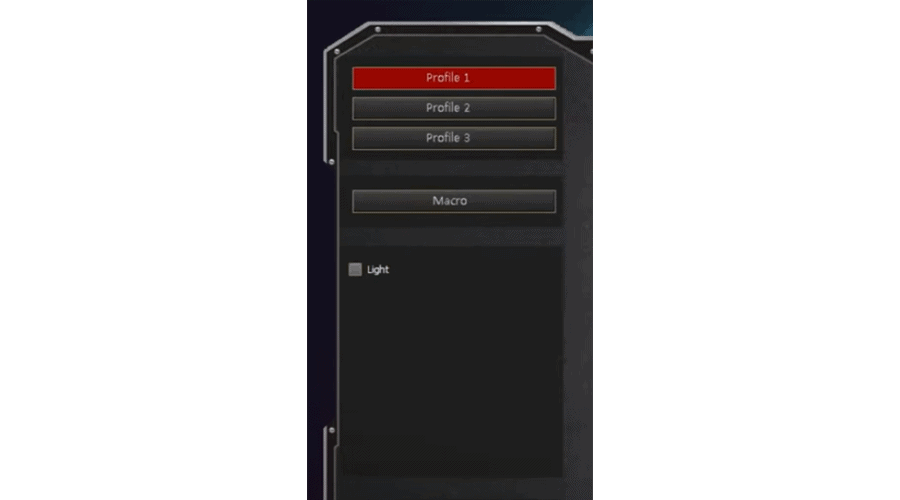 You can save your existing settings to 3 different profiles.
If you get bored of the lighting changes in your keyboard, or if you have assigned different macro settings for different games, the software allows you to change to each profile in a click.
Frequently Asked Questions
Will The Redragon Redzone Software Slow Down My Computer?
There's no definitive proof that the Redragon software slows down your computer, or is considered bloatware.
Although from personal preference, I definitely prefer on-board setting changes rather than having to download software for my peripherals.
One example of bloatware is Razer's Synapse that you need to download in order to fully customize your Razer peripherals and devices.
Luckily Redragon's software is more simple and easy to use.
How Do Restore The Keyboard To Its Normal Settings Without Software
Press Function (FN) + Escape (ESC) together and hold it for 3 seconds.
Then press F1, F3, and then F5.
How Do I Reset The Backlighting To Its Normal Settings?
Press Function (FN) + Page Up (PgUp) together.
Conclusion
I hope this article has helped you customize your Redragon K552 Kumara keyboard and improve the overall experience of using it.
The next time you are looking to buy a mechanical keyboard, I would definitely recommend considering the software compatibility first.
It can make or break whether or not someone will like their purchase in the long run when they find out that certain features don't work for them because of missing software.
For example, if you want lights on some keys but not all, then having good software is important.
Sometimes people might want to turn off all the backlighting and have it so that they only have lights on the keys they need.
Just make sure you research if the software is considered bloatware before downloading.