The ultimate Redragon K552 Kumara Review… how does it compare to other budget keyboards?
If you had money to spend, should you buy a Redragon K552 Kumara and customize it? Or should I go for the higher end keyboard…
Let's face facts for a second.
It looks great, feels nice to the touch, and has that satisfying clickity-clack sound that you love.
This keyboard comes with Outemu switches, which is the alternative version closest to Cherry MX Blues.
If you have no idea what I'm talking about, don't worry, I will go more in-depth below.
Know that if you're new to the mech market and are looking for a budget-friendly mechanical keyboard starter…
The Redragon K552 Kumara is a solid choice, and is at the top of the list for many entry-level keyboard enthusiasts.
For reasons I will explain below…
You may also like:
Who Is The Redragon K552 Kumara RGB Mechanical Keyboard Best For?
Newbies who want to build their first mechanical keyboard
or
Enthusiasts who want the ability to customize their boards to their liking.
To give you an example of how this can be customized:
This is the stock Redragon K552 Kumara: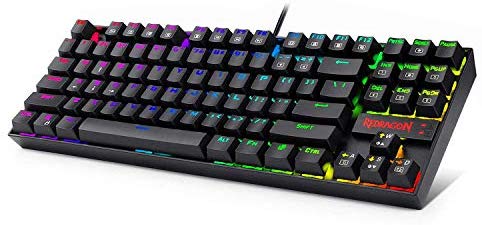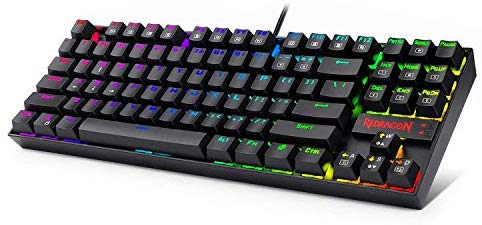 This is the potential of how it can look like if you swap the keycaps (credit to v/VCF1127 from r/MechanicalKeyboards)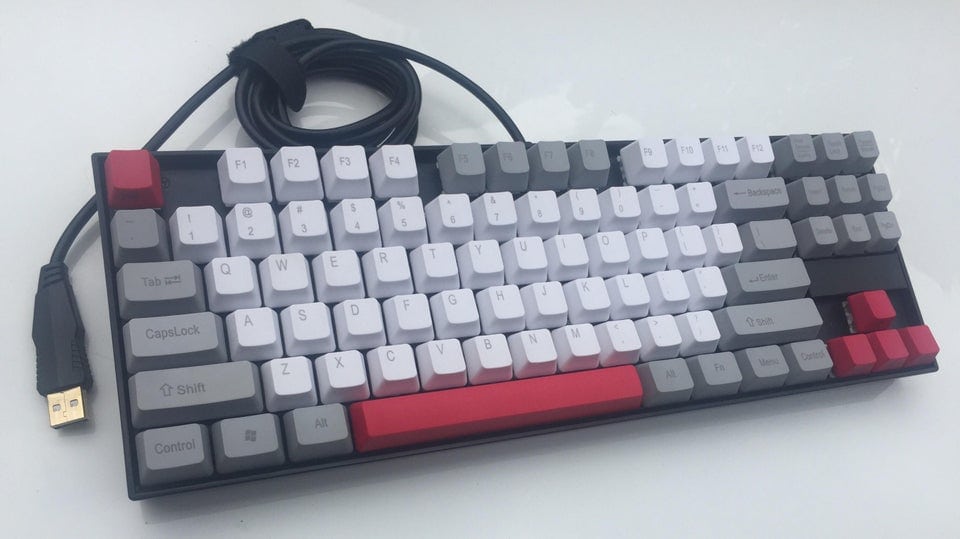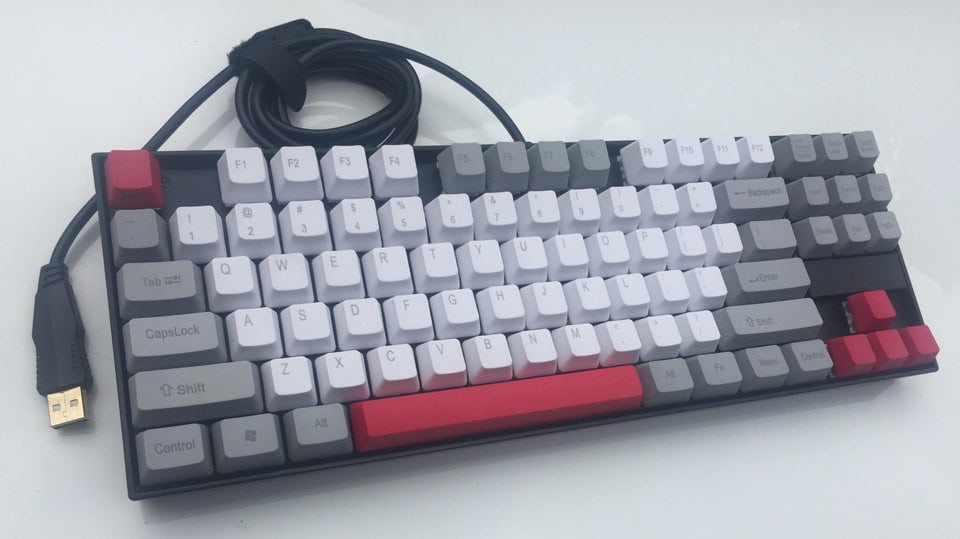 There are many keyboards out there ranging from as little as $10 to $150+…
But considering the price vs. value for money, Redragon has hit the nail on the head with their design and performance!
For people who love to type, professional gamers, writers, coders, this keyboard would be the perfect bargain!
Outemu Blues – The Redragon K552 Kumara Mechanical Switches
If you're new and don't know what mechanical switches are, check out our previous article that explains switches in-depth.
To summarize, switches are the mechanical mechanism that affects the noise, response and travel time – it is the mechanism underneath each keycap called the "switch".
Outemu is quite a popular brand and the switches installed are closest to Cherry MX Blues.
Cherry MX switches are amongst one of them, if not the most popular mechanical keyboard switches. (That's not to say that they're the best, it call comes down to personal preference)
If you enjoy the tactile (clicky) type of sound on your keyboard, Outemu Blues are very nice.
They are very popular amongst budget-friendly keyboards, namely the Redragon K552 Kumara, as well as many others.
Be warned: These switches are one of the loudest switches on the market, so if you're streaming or in a workplace, consider getting a more silent alternative.
Quick Summary – The Redragon K552 Kumara Review
Redragon K552 Kumara TKL RGB Mechanical Keyboard
Heavy-duty metal + ABS plastic construction

87 double-shot injection keycaps

Splash resistance

Gold-plated USB connectors

TKL design

100% anti-ghosting and high polling rates

12 multimedia control keys along the function key row.

Customizable LED light controls

The keyboard is very durable and is comparable to Razer or Corsair products.
Gaming Performance
If you're looking for a budget-friendly gaming keyboard then you're on the right track.
Assuming you don't need any extra macro keys (usually for MMORPGs) then the Redragon K552 Kumara will be a great addition to your arsenal.
If you're a gamer and you're looking for a Cherry Blue alternative, this is it!
Design
Simplistic and minimalist TKL design is on the rise of popularity nowadays and is most popular amongst TKL or fewer keyboards.
It takes up less space, is functional, and you don't have to worry about you flicking into your keyboard, especially if you're playing FPS Shooters.
The aesthetics of the keyboard look better than most membrane keyboards.
Amongst mechanical keyboards, the design could be better – but Redragon built this keyboard to be customized.
With the keyboard, Redragon has included a keycap puller should you choose to replace the keys to your liking – example was given earlier in the article.
If minimal, compact and aesthetic is what you're looking for, this is a very well designed keyboard.
Build Quality
You may assume that because of the price tag that the build quality won't be as good.
But this is false.
The build is built from sturdy aluminium for the base, making the keyboard durable.
Of course, you can't make every single thing metal without increasing its price…
But!
The plastic used is quality and will be able to withstand long-term abuse.
The only con when looking at the build quality would be the keycaps, as they aren't the best…
They are more of your standard keycaps that come with getting a cheaper type of keyboard.
That being said, switching out your keycaps with different designs will increase its aesthetic value.
In comparison to other mechanical gaming keyboards out there, the Redragon K552 Kumara is at the top of the list for great value for money.
It is the perfect price for newcomers getting into the mech market, as well as enthusiasts who want to take customization to the next level.
The RGB option will cost a little more, so if you like to customize the lighting, opt for RGB.
If you don't care, you can go for the Rainbow LED version, or get plain Red LED for the backlighting.
Overall, this is one of the cheapest and highest quality keyboards for its price range and is definitely recommended.
The Redragon K552 Kumara Pros And Cons
The Bottom Line
Whilst there are many other mechanical keyboards that have their perks…
The Redragon K552 Kumara Gaming Keyboard brings fierce competition for their value.
Considering the build quality x the price, this is the perfect starter keyboard for any newbie looking to get into mechanical keyboards…
As well as any veteran who likes to customize to their liking.
I would highly recommend this to anyone who currently has a membrane keyboard and is looking to go down the mechanical keyboard rabbit hole…
Trust me, you will never go back!