The graphics card is like the wings of an Airplane.
The mightier, the better for your computer and the consequent capabilities.
Finding the best graphics card for Ryzen 5 3600's strength can be a tricky one.
CPU's and GPU's go hand in hand, like bacon and eggs.
I can recall when my first graphics card was delivered, around a decade back in the teenage days.
My brother and I were carrying the ambitions in our wide eyes to play the latest computer games that were trending in those days.
It was our first graphics card when ATI Radeon (before the AMD rebranding) was ruling the mid and upper range segment with their 5000x, 6000x, and 7000x series.
Counter-Strike: Condition Zero was the rage when we got the broadband Internet at home.
The combination of smooth FPS and the addictive nature of the Counter-Strike glued me, and my definition of gaming was never the same from that point forward.
A decade, I'm on the boundless gaming journey, with playing Counter-Strike, the Global Version installment of the multiplayer FPS game that changed the landscape of online gaming for good.
TL;DR: 3 Best Graphics Cards For AMD Ryzen 5 3600
EVGA RTX 2070 Super KO: Best For Gaming And Productivity
Sapphire RX 5700 XT: Best For Budget PC Setups
EVGA RTX 2060: Cheaper Alternative For Gaming And Productivity
1. EVGA RTX 2070 Super KO Graphics Card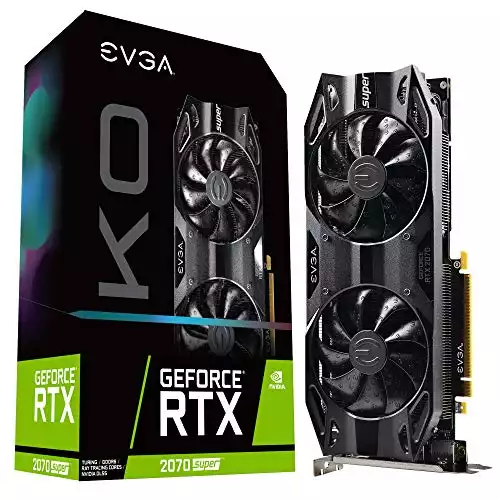 Check Prices
We earn a commission if you make a purchase, at no additional cost to you.
Pros
An RTX 2080 sized cooler with impressive heat-dissipating performance
Eclectic Design of Founders Edition
Lower energy consumption
Higher Teraflops count
Cons
Expensive for the "mid-range" card segment
The default backplate feels inferior in quality
The RTX 2070 Super is a gaming beast that leaves no stones unturned when it comes to gaming.
Pair it with Ryzen 5 3600x, and there would no be stopping you.
Based On the Alan Turing microarchitecture, the card ships with an RTX 2080 sized cooler for dissipating the generated heat.
We run for third-party vendors to get different designs and features choices.
Coupled with superior boost clock capabilities, the founders' edition offers a plain beautiful and pretty decent design.
Being on par with 1080TI, the 2070S consumes lesser power as compared to the 1000x series powerhouse that once ruled the higher-range segment.
Teraflops (TFLOPS) or the trillion floating-point operations per second are basically a mathematical calculation of a computer's performance.
Unlike Gigahertz, which measures clock frequency, TFLOPS is the ability of the computer to handle certain point operations per second.
The 2070 Super ships with a strong 9 TFLOPS which when you combine with the CUDA CORES, comes off as a strong GPU on the paper.
2. Sapphire RX 5700 XT Graphics Card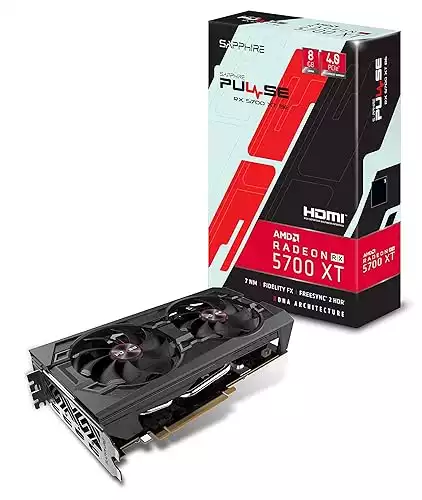 Check Prices
We earn a commission if you make a purchase, at no additional cost to you.
Pros
New RDNA architecture
First PCIe. 4.0 Supported GPU
Faster than the RTX 2060
Affordable pricing
Cons
Disappointing Overclocking potential
Blower-style cooling, virtually ineffective
No idle cooling fans stop functionality
AMD's Radeon RX 5700 XT, the 6GB VRAM version has made the RTX 2070 bite the dust.
The new and refreshed version is considerably better than the classic Vega 64, in terms of performance.
Credit goes to the new Nav 10' RDNA 1.0 architecture with scalable performance, taking the market by storm.
Memory bandwidth maxed out at 16GB/s on the PCIe 3.0, but that's not the case anymore, thanks to AMD. 
The 5700 and XT versions debuted with PCIe 4.0 that supports up to 64 GB/s of bandwidth.
With the prices pegged in the same range, it is a no-brainer to choose 5700 XT over the RTX 2060 with the Ryzen 5 3600 CPU.
In my humble opinion, the combination would ideal for a budget gaming PC.
Budget can make or break your dream gaming setup.
Fortunately, the 5700 undercuts its rivals and offers excellent performance at a lower price.
3. EVGA RTX 2060 Super Graphics Card
Pros
Value for Money
Single Eight-Pin Connector
DVI Port for Old/Legacy Monitors
Higher Memory Bus
Cons
Higher Power Consumptions
Lower boost speed
The refreshed version 2060 Super offers good value for money, standing tall with the likes of 2070S according to the benchmarks.
It would be amongst the best GPU for Ryzen 5600, according to our benchmarks and price points analysis.
Bundle the 2060S with a Ryzen 5 3600, and you have a mid-range beast for gaming on your hand.
Combine the two Eight-Pin connectors together for a GPU, and you are out of luck for installing another graphics card.
Sure, there are two, four, and six-pin connectors that can be combined, but the convenience of a single connect is unparalleled.
DVI is on its way out as AMD announced their phasing out support for the legacy connector, which had a long run of over a decade.
Both NVIDIA and AMD have stopped shipping with DVI ports in their mid and high range GPUS. The monitors have started promoting DisplayPort along with HDMI as well.
Moreover,USB-C connector is also not far away from catching up.
NVIDIA also offers a higher Memory bus on the card as compared to the standard 2060, which is on the 192-bit memory interface.
The Super version ships with the 256-bit version, which has become the norm in all the high-performance cards.
Buyer's Guide: How To Choose The Best Graphics Card Ryzen 5 3600
With several options available before you, zeroing in on a graphics card is a daunting task that can leave you baffled.
The nooks and cranny of graphics cards are difficult to grasp out of the blue - that's where I come in.
Let me take care of the behind the scenes and let YOU focus on your needs.
Let's go check-list the essential things we have to keep in mind while purchasing a graphics card.
Avoid Bottlenecking The GPU
Have you ever experienced a sudden drop in FPS while gaming? Suddenly, a lag or slowing down of the game turns around the table in your rival's favor.
You have just witnessed a classic case of bottlenecking, which will hamper your gaming experience.
GPU bottlenecking occurs when your CPU is not able to perform at par with GPU's power.
In easier words, your processor has lesser power as compared to your graphics card.
The quickest way to know if your graphics card is bottlenecking is to check CPU usage in the Task Manager while gaming.
If the CPU load is consistently pegged at 100% while the GPU load is below 90%, then it is time to ask yourself two crucial questions.
Is the trend the same across different games?
Did reinstalling drivers and formatting failed to fix the issue?
If your answer is YES for both the questions, then I think that you should consider changing your graphics card.
Picking The Right Specs
The right combination of components for your computer is our priority #1 when building a PC.
Choosing the right specs is vital as the performance of individual components is interdependent on different hardware components.
CPU
First and foremost, do not cheap out on the CPU.
The processor is the heart of your computer, so don't spend all your money on the GPU alone.
Your CPU and GPU go hand-in-hand, as explained in the 'bottlenecking' section of this article.
If you decide to buy a strong CPU, you should get a strong GPU, and vice versa.
Monitor
The monitor resolution is equally important when you are deciding on a GPU.
For playing on Full HD or 1080p, you can settle with a mid-range card in some cases. But then again, if you go further for 4K graphics, high-end GPU is the answer to your needs.
Refresh Rate
Apart from monitor resolution, keep in mind the refresh rate.
Check the specifications if your monitor has a refresh rate in the triple-digit arena. Anything above 100 Hz and you will require a higher range card to optimally utilize the monitor to its full potential.
Form Factor (Card Size)
Gone are the days of heavy and bulky ATX cabinets that, if dropped, would break the floor tiles.
We now see slim, minimalistic, and aesthetically pleasing cases that blend in as a part of the room decor.
Keep in mind the dimensions of the card which you want to purchase.
Some bulkier, stronger graphics cards don't fit into small-tower cases.
Furthermore, when you are planning on multiple cards, be prepared for meticulous space management, because who doesn't love a clean PC interior?
Ports
Inspect your monitor for the display ports available on it.
DVI, VGA, and HDMI are standard in most modern monitors, followed closely by DisplayPort on monitors with the triple-digit refresh rate.
Make sure to have connectors, convertors at hand else it will be another trip to the nearest Target store.
Ray Tracing & AI - Are They Relevant?
NVIDIA introduced Ray Tracing and AI with much grandeur at the launch event of RTX.
Two years later, we are still looking at a promising technology package that is in its early stage of adaptability and support (by games).
With the recent release NVIDIA's new generation GeForce cards, there will be some very interesting changes happening on the graphics card scene!
With some newer graphics cards having the price tag of a mid-range graphics cards, but the capabilities of a high-end graphics card.
AMD or NVIDIA?
This question is like choosing between Pepsi and Coke.
Everyone has a preference, and there seems to be no consensus on it. Furthermore, both of them outdo each other from time to time.
AMD once ruled the mid-range segment, owing to its superior power consumption management coupled with state of the art air ventilation system.
Besides, AMD card prices went up during the Bitcoin surge of 2017-18 when cryptocurrency mining caught on.
Owing to its broader graphics architecture(more ALU, Shaders), AMD is faster than NVIDIA in mining cryptocurrency.
On the other hand, in any case, if you are into designing, video editing, you might find NVIDIA a somewhat familiar face.
A lot of the designing tools such as Maya, Blender perform better on the NVIDIA, owing to their partnership on compatibility and CUDA cores available.
NVIDIA has finally caught up with AMD in the power consumption and air ventilation department.
As a matter of fact, NVIDIA has cruised past AMD in the mid and high range performance segment. You would find any AMD card at the top, thanks to the RTX series with Ray Tracing and the several other features
If you are an AMD fan then don't lose hope just yet.
The Santa Clara based Tech giants have teased RDNA 2 "Big Navi" graphics card which is slated for release in October 2020.
With the recent release of NVIDIA's new-gen graphics cards, which pack a strong punch, with a much cheaper price tag (I'm talking about hundreds of dollars worth of savings), it will be interesting to see what is going to happen in the future.
Frequently Asked Questions
Do I Need A Graphics Card For The Ryzen 5 3600?
The R5 3600 does not ship with onboard graphics, and a discrete graphics card is needed, as AMD states for its 3600 series CPUs.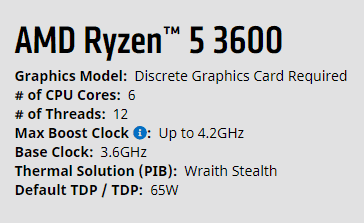 Unlike the Intel CPUs, the modern Ryzen CPUs do not come with onboard graphics.
Moreover, you won't find it on the Ryzen compatible motherboards either(AM4 Socket).
Motherboards have started moving away from the integrated GPU in recent times with some exceptions.
Therefore to address the burning question at hand, you WILL need a graphics card for the Ryzen 5 3600 to work.
What Causes A Ryzen 5 3600 Bottleneck?
There is no rocket science when it comes to a CPU bottleneck. 
When the processor is not fast enough to match up with the performance of your GPU, thus limiting the performance of your graphics card.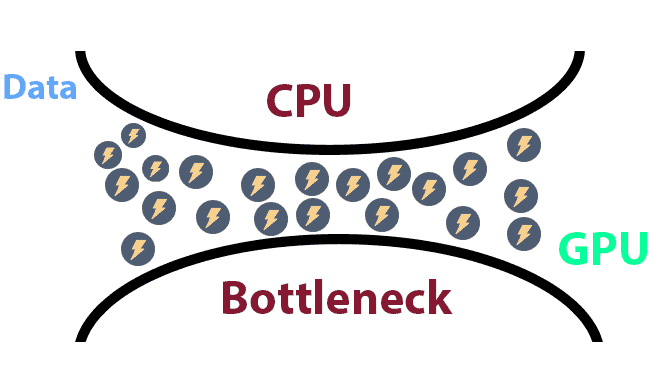 To answer your question, the R5 3600 may cause a bottleneck only in the case, if the graphics card is of significantly higher power than what the processor is capable of.
For instance, if you pair a 2080 Super with the R5, the Ryzen will underperform in applications, games that push the envelope beyond 3600's capabilities.
The 2080S is a top-end card, designed for demanding applications, and while there are higher range options in the Ryzen series to match up with such demanding scenarios.
We have a rather generic unwritten thumb-rule for deciding on the money to be spent on a GPU.
It goes like CPU's cost + Motherboard Cost = GPU budget, which has aged well with time.
Is AMD's Ryzen 5 3600 Better Than Intel's Core i5?
An R5 has been directly pegged against a standard 9th gen i5, say 9600K with a clock speed of 3.70 GHz.
The price point falls in the same bracket for both the rivals.
What sets Ryzen 5 3600 is the newer 7nm processor, leaving Intel's 14nm by a considerable distance.
Talking about the meaty stuff, Ryzen offers double the CPU threads owing to Hyper-Threading, as compared to Intel i5, which has dropped the concept hyper-threading since they announced the 9th generation CPUs.
Our Winner For Best Graphics Card For The AMD Ryzen 5 3600
While the competition was stiff, there is one graphics card that stands at a balanced crossway, without moving an inch.
The RTX 2070 Super has come forward as the ideal choice of the graphics card to pair with AMD's Ryzen 5 3600.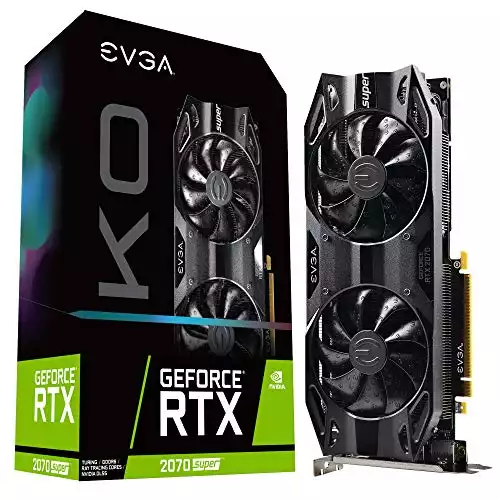 Check Prices
We earn a commission if you make a purchase, at no additional cost to you.
The RTX 2070 is the perfect combination of performance and pricing.
The graphics card performance pairs well with the AMD R5 3600 and doesn't bottleneck at all.