Sound is one of the most critical factors for getting a competitive advantage in FPS gaming, so getting the best headphones for CSGO will give you the ability to detect your enemies easier than most.
Subtle sounds like dropping a weapon, or dropping the bomb before pushing a site, experienced players know the subtle differences each action/movement makes.
Whether you're dropping a weapon, dropping down from the high ground into a site, planting the bomb, each scenario has a distinct sound that gives you essential information that you can use as an edge over your enemies.
Today, in this article, you will find the best headphones and headsets that will give you the power to make the sound your best friend.
Let's dive in.
Best Overall
HyperX Cloud II
Budget Pick
Sennheiser GAME ZERO
Editor's Choice
SteelSeries Arctis Pro
TL;DR: The 5 Best Headphones For CSGO
Best Headphones For CSGO
The best headphones for CSGO are the headphones that suit your preferences the most.
Whether you prioritize comfort, sound quality, or flexibility, on our best 5 list, you should be able to find a headset that suits your setup.
And best of all, these headsets are excellent to use when playing CS:GO.
HyperX Cloud II
Check Prices
We earn a commission if you make a purchase, at no additional cost to you.
Pros
#1 preference for CSGO pros
Great 3D surround sound
The microphone is very high-quality, picking up voices and leaving out background noise
Robust and durable build quality
Memory foam earphones to be comfy on your head
Cons
The cable is not detachable and is quite fragile (so take extra care of it)
The HyperX Cloud II is one of the most popular gaming headsets hot on the market right now and is the #1 preferred choice for pro-CSGO gamers.
What makes this headset great is the microphone, which is high-quality. 
Quality microphones should sound very clear and is smart enough to drop a lot of the background noise, and only pick up voices.
The headphones have built-in memory foam, which suits any head shape and acts as a soft cushion for your ears.
In terms of performance, the HyperX Cloud II offers an impressive 7.1 surround sound, so when in-game, you get that 3D directional hearing.
When it comes to value, the HyperX Cloud II is the top pick for pros and comes at a very affordable price for regular gamers.
Sennheiser GAME ZERO
Buy on Amazon
Pros
#2 choice for CSGO pro gamers
Accurate 3D surround sound
Simple plug and play
The sound quality needs no enhancements; a high quality sound straight out of the box
Feels like a pillow on your head
Cons
The microphone is sub-par; clear but picks up a lot of noise
The Sennheiser Game ZERO's are the second favorite pick for CSGO pros and for the right reasons.
If you've ever shopped around for headphones or a portable speaker, you've probably come across the Sennheiser brand.
They are a reputable company that has built a great reputation with a product line ranging from entry-level headsets to audiophile-grade headphones.
GAME ZERO is Sennheiser's take on providing a top-quality gaming headset, that feel like pillows on your head.
The sound quality on this headset stays true to the sound engineering in the game. When other headphones tend to bloat the sound, these headphones are accurate to what the sound engineers intended for you to hear.
The headset was made for simplicity; just plug the headset in, and it works. It doesn't include any additional buttons, or adjustable settings, only a volume knob on the left headphone and a microphone on the right.
Depending on your preferences, this can be a good and a bad thing. If you want more control over the sound quality of your headset, opt for another pair of headphones.
If you want a headset that's a simple plug and plays, and provides excellent 3D surround sound gaming, then this is an excellent choice.
SteelSeries Arctis Pro
Buy on Amazon
Pros
Super flexible and durable
Feels like a pillow on your head
Top-tier 3D sound quality
RGB lighting that can be controlled
Aesthetic minimalistic design
Cons
Needs adjustments to perform at a higher standard
If you value comfort as a high priority, then SteelSeries' Arctis Pro's Wireless gaming headset merely is astounding.
The headset includes a metal band, coupled with a ski-goggle headband, with a matte black finish. The band is so stretchy - you can lay the whole headset flat on the table, making this one of the most flexible headsets to date.
You won't feel tired wearing this headset at all, as even with prolonged use, your ears won't be sore as the headset is perfectly balanced on your head.
In terms of sound quality, it's delivered. You can choose whether you want to get the optional DAC, which is a control module to take over your sound settings. It does give off the 3D sound vibe that you need when playing CSGO.
When you first put these on, they will sound balanced, but flat. You need to set up the sound using the equalizer and make sure it's to your liking.
If you love to have complete control over your headset, the SteelSeries Arctis Pro is an excellent choice for you.
Logitech G Pro X
Buy on Amazon
Pros
Natural directional sound straight out of the box
Minimalist, aesthetic design
Detachable cords and microphone
Ability to switch out for a lighter cloth memory-foam earpads
Super flexible and comfortable
Cons
Sound controls are quite limited
Not for you if you like bass-heavy headsets
Logitech's G line is successful in many different fields, whether it was keyboards or mice, and their Headset is no exception.
First impressions of the product are the elegant packaging and aesthetic design of the headset.
If you are a minimalist and like simple, yet clean design, then the Logitech G Pro X is one of those headsets with that look.
The Pro X is wireless but includes a detachable cable, a USB dongle for those cables, a detachable microphone, and the option of putting cloth memory foam earpads and swapping it out for the stock leather earpads.
The headband itself is super flexible and can be height adjusted and rotated to fit your head shape and to be used for long-term use.
The sound quality on this headset has more of a natural-flat sound. This can be manipulated to your liking, but the sound controls are slightly limited.
For CSGO, this is a good thing. You will hear the games developed sounds more naturally, which means directional audio will be accurate.
Logitech acquired Blue (another sound tech company that are widely known for their mics), and the G Pro X headset was born out of the collaboration with Blue.
This means that the microphone is spot on. What makes this headset unique is that the software has a ton of different settings to perfect your mic quality.
To make it even faster, you can select popular microphone presets that are already optimized to be clear and high-quality.
If you like minimalism and want a headset that clarifies where your enemies are precisely through sound, then the Logitech G Pro X is the ideal choice.
HyperX Cloud Revolver S
Buy on Amazon
Pros
Fully immersive sound quality
Great 3D directional sound through the Dolby 7.1 setting
Heavy-duty, yet stretchable
Detachable microphone
Comfortable to wear despite a bulky build
Cons
The headphone's wire is not detachable
Moving the headphones wire causes some ruffling sound
The HyperX Cloud Revolver is another popular gaming headset amongst the pros and is one of the more substantial and durable gaming headsets on the market.
What's unique about these headphones is the open sound stage, which picks up a lot of the ambient noise in games that give you a fully immersive experience.
The microphone itself reduces the background noise to a minimum, which is great if you live in a busy household. 
However, it doesn't completely block out the noise; if you have a mechanical keyboard, you can hear the faint sound of the clicks in the background.
What differentiates the Cloud Revolver S version from the original is the control module, which allows you to take control of your sound and fit it to your liking.
What's great about this control module is the Dolby 7.1 surround sound setting, which gives off the 3D directional hearing you would want in CSGO.
If you want a fully immersive sounding headset with 3D directional hearing, then this is a great headset.
Buyer's Guide - Choosing The Best Headphones To Game In CSGO
Now that you understand the importance of sound in CS:GO, choosing the right headphones is a crucial part of the process.
There are some essential things you should know about before pulling the trigger.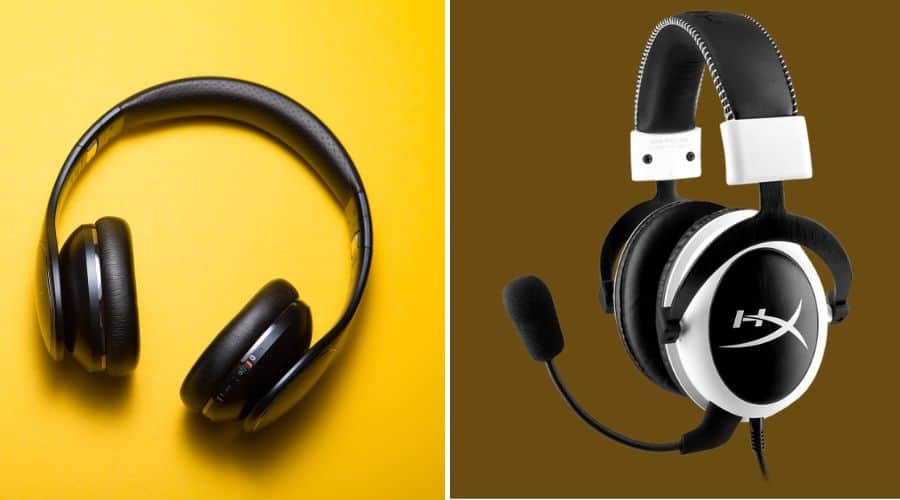 Headphones vs. Headset
The only difference between headphones and a headset is the microphone attached.
Headphones are generally referred to as 2 headphone speakers attached with a head brace.
A headset is usually referred to as headphones with an attached microphone, thus making it a headset.
Prices vary between the two since more budget needs to be put into creating an attached microphone, rather than all the budget going into the headphone technology.
For CSGO, you can get away with using either, just make sure you have a microphone, whether it's the attached microphone in your headset or an external desk microphone.
Communication is essential for teamwork, so as long as your microphone is clear and your teammates can hear you well, it's really up to your preference.
We did a deep dive this very topic (headphones vs. headsets), you can check it out here.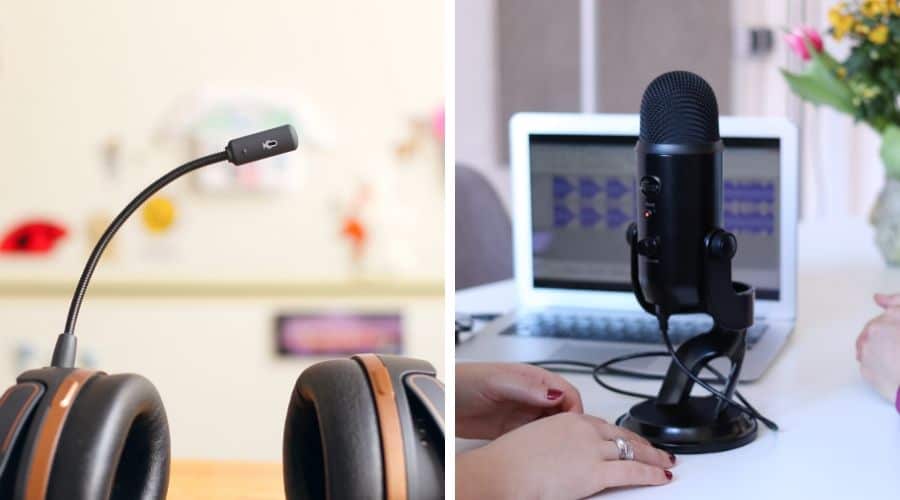 Attached Microphone vs. External Microphone
Whether you opt for headphones or a headset, it doesn't matter, getting an external microphone is almost always guaranteed to be higher quality.
The attached microphone with headsets nowadays is good enough to sound clear to your teammates.
Although, there are perks to using a high-quality external microphone:
They very clear and provide higher quality sound in voice chat
They are smarter and can better differentiate between a voice and background noise
They can make your voice sound sexier (it's true)
Getting an external mic means you have to buy another product other than the headphones, so be considerate of your budget when choosing.
So if you don't want to spend more money, a headset with a quality attached microphone will do just fine, as long as it's well-made.
Active Noise Isolation (ANI) vs. Active Noise Cancelling (ANC)
There are two types of headphones:
Active Noise Isolation (ANI): Covers your ears and limits the background noise you hear. 

These are generally used by in-ear earbuds, on-ear headphones, and some over-ear headphones.

Active Noise Cancelling (ANC): Covers your ears and completely cancels out any background noise.

These are only used by over-ear headphones.
ANI headphones still offer high-quality sound and are good enough to hear your enemies lurking around even when you have a lot of background noise going on.
The downside is that they won't completely block out all background noise, so it won't be ideal to use if you're gaming in a public place like a gaming cafe, or if you live in a busy household.
That's where ANC headphones come in. You completely block out the world around you and immerse yourself in the CSGO world.
If you have a big household, your ANC headphones will block out the background voices. The only downside is if someone is calling you, you won't hear them; they will have to tap you on the shoulder to get your attention.
This may make your partner mad, so use it at your discretion.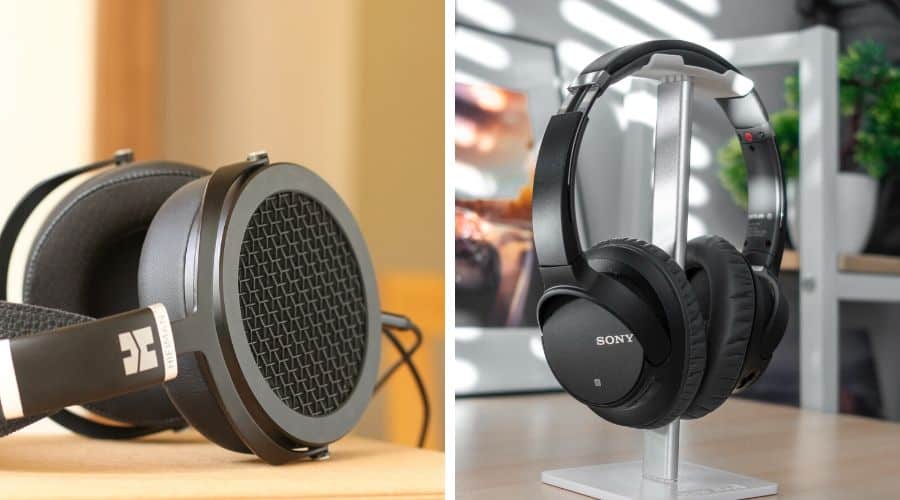 Wired vs. Wireless
Depending on your preferences, you can decide whether you want a wired or a wireless connection.
We did an in-depth breakdown of wired vs. wireless headphones before; you can check it out by clicking here.
To sum it up:
Wired Headphones: Have a direct connection to your PC, which means there's no possibility of drop-outs, and you get an instant connection.
Wireless Headphones: They are wire-free, which means you can move around as much as you want without having to worry about a wire. They are usually connected via a dongle or Bluetooth and need to be continuously charged.
Both have excellent sound quality, with wireless headphones being slightly more expensive due to their wire-free characteristics.
Sound Quality
Sound quality is probably the most significant factor in getting the best headphones for CS:GO.
Having a great bass and crisp-quality sound is suitable for music, but for CS:GO, not so much. 
You need to know where exactly the sound of your enemies' footsteps is at all times.
This is usually through what's called 7.1 surround sound:
7.1 surround sound is the common name for an audio system that can recreate sounds at different angles and distances, allowing the listener to visualize an object's position with sound (Source: HyperX Gaming)
Case in point; visualize an object's position with sound, wherein this case would be pinpointing where the sound was coming from, which gives you vital information as to the whereabouts of your team.
So for CS:GO specifically, getting 7.1 surround sound headphones/headsets is essential and will one of the deciding factors when shopping around.
Comfort
Lastly, comfort is always a necessity. When you're gaming, you want to game in style and comfort.
CS:GO matches typically take about 45 minutes - 1 hour 30 mins, which is plenty of time for your headphones to wear out your ears or your head.
Great headphones have a friendly firm yet soft cushioning on the head and the ears, so you can wear them for long periods without having to take them off.
Please Note: It's recommended to take frequent breaks from your headphones/headset for health reasons. You can see why in a previous article under our FAQ section.
Frequently Asked Questions
Below are frequently asked questions by users who are looking to buy some new headphones.
What Headphones Do CS:GO Pro Players Use?
Majority of CS:GO pros use headsets that their team is sponsored by.
According to CSGOGuru.com the sponsor that is dominating the CSGO market is:
HyperX (46.3%)
Sennheiser (19.8%)
Razer (10.7%)
Logitech (5.8%)
Other (17.4%)
Why CSGO Players Use 2 Headphones?
Fun fact, they use 3 different headphones:
The headphones around their neck are for voice communication - literally just for using the mic.
The headphones are ANC type headphones or, in some cases, just ear-muffs. These are used to block out the sound when competing in a LAN.
Inside the ANC headphones are IEM (in-ear monitor earbuds), which are audiophile-grade earphones that have a nifty price tag on them because they are super high quality and provide 3D sound needed for top-level competition.
A lot of these are supplied by sponsors or by the event organizers themselves.
What Are The Best PC Gaming Headsets?
The best PC gaming headsets are the headsets that suit your preferences.
If you had a lookout our 'buyer's guide' section, you could quickly determine what differentiates a great headset from a mediocre headset.
For CSGO specifically, you will want a headset with the following:
Great 3D surround sound (so you determine exactly what direction your enemies are coming from)
A clear, quality microphone (to communicate with your team effectively)
Soft and comfortable headphones with a nice cushiony head brace (so you can game for long without your ears or head getting sore)
A headset that suits your battlestation theme or looks aesthetic (just pleasing to the eye).
Buyer's Recap
Here's a quick rundown of what you should've learned in this guide:
If you want an all-in-one solution, a headset is a way to go, but headphones are a better option if you have an external microphone.
Active Noice Cancellation (ANC) headphones are always better, so you don't hear any background noise and are fully immersed in the game
Wired headsets will always have a better connection to wireless headsets, but wireless headphones are wire-free
You want a headset that offers 3D direction sound; usually, this is in the form of 7,1 surround sound, but can also be used through stereo headphones. Just make sure to read up on it, as this is a vital aspect to CS:GO.
The best headset/headphones for you are the ones that suit your needs best. Any headset on our list will be great, as they are accessible within the CS pro scene, so depending on your budget, you can grab a headset for yourself.
Our Winner For Best Headset For CS:GO
There are many quality headsets out there that will do the job when it comes to playing CS:GO.
A headset won't automatically make you an insane player, but it will help you tremendously, especially if you are upgrading from a budget headset, or play with speakers.
Learning how to use sound to your advantage is a vital skill used in competitive FPS gaming. Using the criteria we have mentioned above, we decided that our winner for the best gaming headphones for CS:GO is:
The HyperX Cloud II Gaming Headset
Check Prices
We earn a commission if you make a purchase, at no additional cost to you.
Not only do the tick off all our boxes, whether it's the sound quality being great, the microphone being one of the most clear-sounding mics on a headset, or the comfort and flexibility of the headphones, but you can also get these bad boys for under $100.
Great value for a product that just works, and for CS:GO, you will have all the perks of 3D directional hearing, and be able to communicate effectively with your microphone.
If you want to grab your own HyperX Cloud II gaming headset, click here.