You can play R6 with a run-of-the-mill membrane keyboard, but your gameplay will definitely suffer for it.
Well on its way to its 6th anniversary, Rainbow 6 Siege is undoubtedly one of the most competitive shooters on the market.
Players have had years to perfect their load-outs, learn the maps, and fine-tune their gameplay, which means that you'll need every edge you can get if you're going to climb.
And a good gaming keyboard? Well, let's just say that responsive keys can be the difference between ducking an incoming headshot and feeding an enemy operative 120+ points.
To help you pick out the best keyboard for Rainbow Six Siege, we've reviewed 5 of the most popular models - and provided a comprehensive breakdown of the key features you'll want to look for when you're weighing your choices.
And you can pair this keyboard up perfectly with the best mouse for Rainbow Six Siege, that way, you know you're getting reliable equipment to dominate your enemies.
Enough talk, let's dive in!
Best Overall
Corsair K70 Mechanical Keyboard
Runner Up
Logitech G Pro Mechanical Keyboard
Editor's Choice
Razer Blackwidow Mechanical Keyboard
TL;DR: The 5 Best Keyboards For Rainbow Six Siege
Corsair K70 Mechanical Keyboard
Pros
Incredibly responsive gaming keyboard with less than 5.4ms latency
High-quality frame promises to stand up to the rough and tumble of daily gaming
Good ergonomics, with a plush wrist rest that we absolutely love
RGB backlighting options available, which is important if you're trying to kit out a proper battle station
USB pass-through and dedicated media keys
Cons
Some of the keys are hard to reach mid-game
Low profile keycaps are a pain to get underneath, which does make the K70 hard to clean
Lacks the dedicated macro keys found on other full-size gaming keyboards
High price point
Corsair has a long-established reputation for making next-level peripherals and the K70 certainly lives up to the hype.
Like most low-profile keyboards, it boasts snappy and responsive Cherry MX Red switches with a low profile and shallow actuation points, allowing you to crouch, strafe or switch weapons without worrying about input lag or missed button presses.
The clickety-clack of rapid-fire combos may take some getting used to, but gaming on this keyboard proves to be an unbelievably smooth and forgiving experience.
It's incredibly durable too. Built using aircraft-grade aluminum, it promises to stand up to a lifetime of gaming' and we think that's a pretty big selling point. Especially when you're going to be dropping upwards of $150 on this puppy.
Other stand-out features include a USB passthrough - so that you can plug your headset straight into your keyboard - and optional RGB backlighting. You also get access to Corsair's proprietary iCUE software, which allows you to program your own macros.
But there are a couple of minor problems with the Corsair K70.
Firstly, it's pretty heavy, weighing in at approximately 2.7lbs. The button layout could be more intuitive too.
The keys you'll need to play Rainbow 6 Siege are all in the right place, but we felt like the media keys at the top of the board were quite hard to reach, and we found that we frequently mis-clicked the shift keys too.
Nothing that a bit of practice won't fix, but it's worth remembering that this keyboard might take a bit of getting used to.
Logitech G Pro Mechanical Keyboard
Pros
Compact TKL design is perfect for cramped desks or tournament tables
Proprietary Romer-G switches are tactile and responsive
RGB lighting as standard, with per-key lighting that can be customized in countless ways
2 adjustable incline settings
High-quality build, using durable ABS plastic keys
Cons
You miss out on a lot of buttons
As with all TKL boards, there's no wrist rest and the ergonomics could be better
Switches require quite a bit of pressure to activate
Keys are squished together. You'll need to practice for a bit if you want accurate keystrokes in the middle of a fire-fight
It's built around a set of proprietary Romer-G switches that are supposed to be faster and more responsive than your standard Cherry MXs.
We're not sure that we noticed a huge difference, but the Logitech G Pro definitely goes shoulder-to-shoulder with the competition and we're satisfied that it's a competition-ready option.
We also liked the detachable USB cord, the minimalist layout, and the high-quality finish, but we also had a couple of gripes.
First and foremost, the G Pro is a very 'clicky' board. The switches are quite heavy and you need a fair bit of force to fully depress the keys.
This isn't a massive issue, but it is frustrating when your clutch dives don't register and you end up taking a full magazine to the chest.
The ergonomics could be better too.
There are actually two levels of incline, which is quite unusual in a TKL board but there's no getting away from the fact that the keys are a little cramped, and that you may feel a bit of wrist strain after 5-6 matches.
That said, the Logitech G Pro is undoubtedly one of the best 'mini' or TKL boards we've reviewed.
If you're shopping for something smaller that doesn't skimp on quality, this nifty little gaming keyboard is a great choice.
Razer Blackwidow Mechanical Keyboard
Pros
Full-size board, with well-spaced keys and fantastic ergonomics
Top-quality product, made from durable ABS plastic
Lots of little QOL features like a built-in cable tidy
Bespoke Razer Green switches that offer a tactile and responsive experience
Very reasonable price-point for a top-quality board
Cons
Lacks a lot of the special features you'd expect to find on a modern gaming keyboard
Razer Synapse software is notoriously buggy, so you may end up doing quite a lot of trouble-shooting
No wrist rest, which may make long sessions uncomfortable
Like the Logitech G Pro, they're built around proprietary switches, although this time you're getting Razer's vaunted Green switches, which are modeled on the Cherry MX Blues.
These switches are very quick to actuate, which means that you can dive to the floor in milliseconds, or switch fire mode while you're leaning around a corner, without worrying about your adrenaline-addled fingers skipping over the keys.
We also love how 'clicky' and tactile these switches feel; offering plenty of feedback during intense fire-fights.
And this may seem like a relatively unimportant consideration, but it's a fairly big deal in Rainbow 6 Siege because things can get pretty intense in the heat of the moment.
It's incredibly reassuring to know, that without a shadow of a doubt, that you did manage to crouch/prone before those bullets carved out the wall behind you.
But the Razer Blackwidow doesn't offer much in the way of special features.
There's no USB pass-through or programmable buttons, and it's also missing the dedicated media keys that make its big brother (the Razer Blackwidow Elite) such a joy to use.
All in all, we think it's a great option if you're looking for a tournament-ready board at a low price, but there's no getting away from the fact that this is a fairly bare-bones option.
SteelSeries Apex Pro Mechanical Keyboard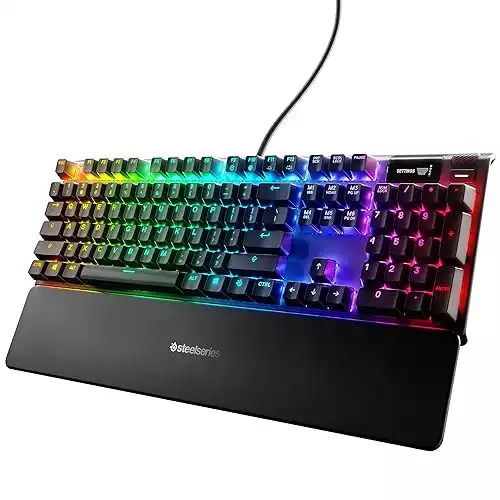 Check Prices
We earn a commission if you make a purchase, at no additional cost to you.
Pros
The only gaming keyboard on this list with adjustable switches, allowing for a fully custom experience
Lots of neat special features, including a customizable OLED display
Durable board, with switches that are rated for 100 million keypresses
Very low latency (0.7ms)
Per-key RGB lighting that can be customized using SteelSeries' Engine software
Cons
High price point for a gaming keyboard. If you don't need or want any of the extra features, you'll be paying a premium price for functionality that you don't need
Default incline wasn't as nice as the incline on other gaming keyboards on this list
Wrist rest isn't particularly plush or comfortable
Straight out of the box we noticed its dynamic (per-key) RGB lighting, three routing channels for your power cable, and an undeniably-slick metal roller that allows you to adjust your game volume without tabbing out or opening your settings mid-match.
There's also a brilliant little OLED display crouched on the right shoulder - capable of delivering updates from games and apps while you play.
But the Apex Pro isn't just a platform for fun gimmicks. Far from it actually.
Hiding underneath the switches and buttons, lights, and rollers, there's an incredibly well-made mechanical keyboard, crafted from the best aluminum money can buy.
The SteelSeries Apex Pro also boasts unique OmniPoint switches that are supposed to be more durable and precise than your standard Cherry MX Reds found in most gaming keyboards.
In fact, SteelSeries claims that they're rated for approximately 100 million key presses, which is more than enough for a lifetime of Rainbow Six Siege.
You can also adjust the actuation on each switch, allowing for a totally custom experience that can be fine-tuned to your preferences but there are some fairly obvious downsides to the Apex Pro.
It's big, even for a mechanical gaming keyboard; weighing it at around 2.4lbs.
It's also fairly difficult to customize unless you're willing to use SteelSeries' proprietary Engine software, which isn't available on some operating systems and does (unfortunately) require sign-up and a working internet connection to use.
That said, a fully customized Apex Pro is an absolute dream to use.
So if you've got a big budget and you're looking for something that can be tweaked to your heart's content, this is probably the gaming keyboard for you.
Razer Huntsman Mechanical Keyboard
Pros
Incredibly quick optical switches
Razer Hypershift functionality allows you to map the second layer of keybinds to your board
Button stabilization to ensure that every click lands where it should
Razer Synapse compatible, with per-key RGB lighting
Cons
Lacking a lot of features, like a wrist rest, dedicated media keys, or programmable macro keys
Fairly cramped design
High price point for the functionality delivered, although it's worth noting that the actual switches are incredibly snappy
Lean, sleek, and undeniably quick, the Razer Huntsman proved to be a bit of a dark horse.
Frequently overlooked in favor of flashier models like the Razer Blackwidow Elite, it's actually got the lowest actuation of all the mechanical keyboards that we reviewed.
This means that it can detect lighter keypresses; offering a surprisingly light and snappy experience that's ideal for fast-paced shooters like Tom Clancy's Rainbow Six Siege.
It's also one of the few gaming keyboards to boast proper button stabilization so that panicky presses that land on the edge or corners of your keys will still register in fast-paced firefights.
Then there's the Razer Hypershift functionality, which allows you to press a single button, and unlock the second layer of (programmable) functions on top of your normal key binds, which seems ideal for complex loadouts.
But it's not all sunshine and rainbows.
Much as we love the functionality and tactile experience provided by this top-notch gaming keyboard, there's no getting around the fact that it's missing a lot of the special features we'd normally look for.
There are no dedicated media keys, it's missing a wrist rest and there's no USB pass-through.
It's also very compact for a full-size keyboard, which is great if you're short on space but less than optimal if you're an inaccurate typist because that super-lean frame does force the keys quite close together.
This is a great keyboard for people that want a stripped-back experience, but it's not a good fit if you're hunting for a board with all the mod cons.
Buyer's Guide - How To Pick The Right Keyboard For Rainbow Six Siege
Picking the right keyboard is never easy.
Especially when you're playing a game as multifaceted as Rainbow Six Siege.
You need a mechanical gaming keyboard that's responsive and tactile; something that registers simultaneous keypresses and guarantees low latency.
You also need a gaming keyboard that's capable of going the distance, because you'll be hammering those keys for hours on end and broken switches are the last thing that you want to deal with.
If all this seems a bit overwhelming, we've broken down the must-have features here.
So that you can browse with confidence - and pick out the best keyboard for Rainbow Six Siege
You Need A Keyboard With Mechanical Switches
Keyboards are normally sorted into one of two categories:
Membrane Keyboards: Where buttons sit on top of a conductive membrane that registers your keypresses
Mechanical Keyboards: Which use spring-activated key switches to register every keypress.
Professional R6 players like Pengu, Fabian, and Beaulo all use mechanical keyboards, and with good reason too.
They're much snappier; registering each keypress with a distinctive click.
They're also much more precise, and recent advances allow them to accurately detect multiple simultaneous keypresses which is ideal for fast-paced FPS games.
Which Mechanical Switches Should You Get?
Generally speaking, you want to look for keyboards with Cherry MX Red switches because they're more responsive than other options and tend to be better at registering light clicks.
That said, it's worth experimenting with Cherry MX Blues if you prefer a more tactile experience.
It's also worth trialing some of the proprietary mechanical switches produced by leading brands like Razer, Logitech, and SteelSeries.
These switches are often designed to suit the needs of pro gamers, which makes them a great fit for competitive games like Rainbow Six Siege.
Look For A Gaming Keyboard With Low Latency
Latency (sometimes referred to as input lag) is the length of time it takes your keyboard to tell your computer or game that you've pressed a key.
For a fast-paced game like Rainbow Six Siege, you want a nice, low latency so that your keyboard isn't undermining your reaction speed, but there's no need to chase ridiculously low latency gaming keyboards.
Anything under 5ms is enough for pro gamers.
A mechanical keyboard with extremely low latency (like the SteelSeries Apex pro) will probably turn out to be significantly more expensive than a slightly-slower cousin, despite the fact that you're (very) unlikely to be able to tell the difference.
Rollover Matters
Rollover is a measure of how well your gaming keyboard can process multiple simultaneous keypresses.
On a cheaper mechanical keyboard with suboptimal rollover, pressing several keys at once may result in missed or skipped presses, which means that your operator won't execute that clutch duck and aim that could have carried you to victory.
Or switch weapons while you're trying to strafe an oncoming Hibana.
Ergonomics Are Important Too
You're going to spend a lot of time with your new gaming keyboard, so it's best to pick one that'll support your wrists and hands.
A good gaming keyboard will have optional feet that allow you to adjust the incline, but it's important to remember that good ergonomics aren't just about raising your keyboard slightly.
You also need to consider the type of Cherry MX switches that you find most comfortable and satisfying.
Take into account how nice they are to click, and how easily you can reach the ones on the periphery of your keyboard.
You also need to think about wrist support and the presence of a cushioned wrist rest, which can be the difference between hours of gameplay and short sessions interspersed with hours spent cradling sore hands.
We've tried to flag the most comfortable gaming keyboards in our list, but pay extra attention to comfort features because you are going to be using your board for years to come.
You Might Not Need Programmable Buttons
Extra macro buttons, media switches, and OLED displays are nice to have, but they're not essential.
Rainbow Six Siege loadouts are generally quite simple and while it's nice to map a few custom key binds, you certainly don't need hundreds of extra buttons to play the game.
As such, we'd recommend prioritizing gaming keyboards that deliver pinpoint accuracy and a really tactile experience.
Yes, a few QOL (quality of life) features will benefit you while you're watching YouTube videos or (gasp) playing another game but it's best to focus on the features that are going to benefit your climb - rather than extraneous features that you can do without.
Where there is an exception to this rule is if you want to maximise your efficiency with many different custom keybinds.
That being said, not everyone is going to need 5 - 10 extra keybinds on their keyboard.
We did a deeper dive into finding the best settings for rainbow six siege, which actually included swapping out the "5" hotkey for "MOUSE4", to see why, check out the article.
Our Winner For Best Keyboard For Rainbow 6 Siege
We think that the Corsair K70 is the clear winner here.
It's a full-sized keyboard with all the mod cons - built around a set of high-speed switches that deliver an unerringly smooth and precise experience; perfect for Rainbow Six Siege.
It's also one of the most durable boards we tested, and Corsair hasn't wasted time on features that you don't want or need to start climbing.
Sure, it lacks the flashy OLED found on the SteelSeries, and it's not nearly as portable as the Logitech G Pro but if you're looking for a reliable gaming keyboard with a good feature set and a reasonable price point, there isn't anything better in our eyes.
It's also one of the most comfortable keyboards we tested, which means that you'll be able to use it for hours on end.