Looking for the best mechanical keyboards without numpads can be difficult.
There are many different types of keyboards out there... but most likely you are looking to save space and make your setup look a little bit more aesthetic...
Regardless, finding the right mechanical keyboard for your Battlestation setup is like being a kid in a candy store.
Only now you're a grown adult, and you are in a tech store, but you get where I'm going with this.
You have many great choices, but you have to narrow your search down to one!
This article is to help you find that one delicious candy that will satisfy your taste buds (our sound buds in this case).
TL;DR - These Are The Best Mechanical Keyboards Without Numpads
[amalinkspro_table id="2311" aff-id="undefined" new-window="on" nofollow="on" addtocart="off" /]
Frequently Asked Questions
What Do You Call A Keyboard Without A Number Pad?
There are many types of keyboards that exclude the number pad...
And depending on your preference and design of your Battlestation and how much desk space you have...
You may want to opt for one of the following:
Tenkeyless (TKL, 87%, 80%)
A TKL keyboard is the epitome of a keyboard without a number pad.
When people talk about 80% of keyboards, they are talking about the "width" as it is 80% width of a regular-sized keyboard.
It is a full-sized keyboard without the number pad, resulting in about 87 - 88 keys hence the "87%" name.
75%
A 75% keyboard excludes the arrows, shifts the Home/End/PgUp/PgDn buttons to the right-hand side all while keeping the top F* row.
Normally 75% keyboards are compact (the keys are bunched next to each other) as shown below for the E-Element Z88 Black Edition.
Note: Despite what the title says on the Amazon page... this IS a 75% keyboard, not a 60%. See below for more details.
60%
If you're a minimalist person and don't need that many keys on your keyboard, this is probably the choice for yours.
Designed to be sleek and straight to the point, a 60% keyboard deletes the F* row and the right-hand column generally found on the 75% keyboards.
Although, many 60% keyboards include keys with multi-functionality so the keys that you are missing can still be used.
40%
I would say these are more catered towards mechanical keyboard enthusiasts.
This is the smallest you can get without cutting into a keyboard's foundation.
A 40% keyboard gets rid of the number row at the top.
Due to this, each key has multiple layers of functions.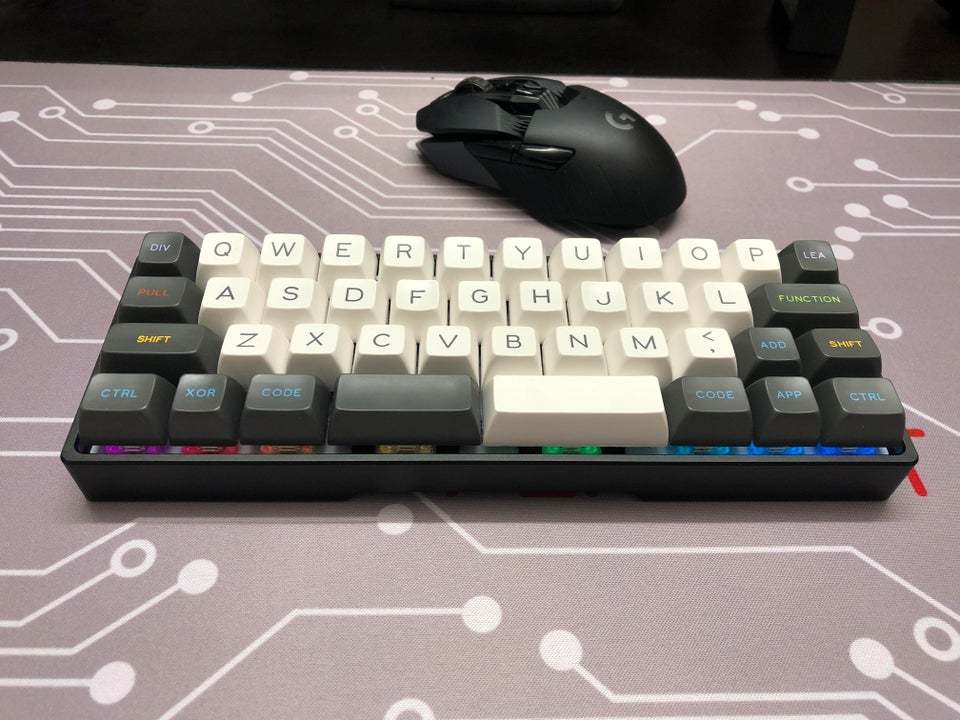 Tenkey (Number Pad)
Say, you got a TKL keyboard or less, but you miss having the good ol' number pad.
Good news! You can get it separately!
Best yet, you won't have to keep it to the right side of the keyboard anymore.
You can place it wherever you want.
This is great for left-handed people who need the number pad on the left for easier use!
Honourable Mentions
There are many unique "in-between" keyboards that aren't necessarily a set amount of numbers.
For example, a 65% keyboard includes the arrows and the "insert" and "delete" buttons.
There are also "compact" keyboards that have the same layout, only the keys are right next to each other...
Therefore saving extra space.
The possibilities are endless, so use this post as a guide to picking the right one for you!
Why Go Mechanical Instead Of Normal?
Let me put it this way…
When you first get your license, you buy a round-around since you don't want to go straight to the top-tier list of cars.
As you drive, you gain more experience, learn many techniques on how to drive better, and years later you're a different driver.
Then when your full license comes around… well…
That's when you upgrade from your bent-out-of-shape run-around car to a full turbo-charged top-tier beast!
A similar thing happens when you decide to upgrade your Battlestation, specifically your accessories.
Going from a regular membrane keyboard to a mechanical keyboard is one of the major changes you will never go back on!
It's the same feeling as when you experience how much smoother and faster a top-tier fully turbo'd car feels.
You never want to go back to your run-around, after you've experienced pure bliss.
This is how it feels once you've experienced the satisfying feel and sound of a mechanical keyboard.
Why Go Numpad (Tenkeyless) Instead Of Full Length?
Firstly - Aesthetics.
Most people have probably grown up with a full-sized membrane keyboard.
Having a more compact, backlit, RGB keyboard makes your setup more aesthetically pleasing.
Secondly, it can save you a lot of desk space.
For those who have a limited amount of room on the desk, opting for a more compact keyboard is the way to go.
TKL keyboards will allow you to be more minimal in your desk space.
The Game Changer: Custom Key Switches To Suit Your Battlestation
The reason why mechanical keyboards are popping off is due to this - the mechanical keyboard switch.
You can find out more about choosing the right mechanical keyboard switch for you by clicking here.
The ability to switch out your keys and design the keyboard to your liking.
I won't go into this in a lot of detail as of yet, but what makes this unique is the amount of customization available.
You can do the following:
You can replace your keycaps with different designs
You can replace your switches to make them more linear, tactile or clicky
You can change the backlighting of your keycaps (although just get an RGB and you won't need to)
You can change the power cable (usually comes as a USB-C which can be changed)
You can change the plate to have the key alignments to your wants
The possibilities are endless.
Redragon K552 Kumara 75% RGB Mechanical Keyboard
Starting off our list is the Redragon K552 Kumara 75% Mechanical Keyboard.
There has been an uprise in the Mechanical Keyboard market for keyboards that are smaller and more compact.
One of the best keyboards under $100 that don't suck is the Redragon K552 Kumara 60% Mechanical Keyboard.
If you're looking for a great entry-level keyboard, and you're just switching from a normal membrane keyboard, this is a great option!
This keyboard will introduce you to the mechanical keyboard sound and feel, which is a satisfying upgrade from any regular keyboard.
It also has the capabilities to easily switch your keycaps if you want to make your first customized keyboard.
This keyboard includes many different functions.
This being a 75% keyboard, you do have many keys with double functions, so be sure to check them out!
If it's your first time with a mechanical keyboard and you don't want to go too crazy, this is the perfect match.
Adjustable keys, well-crafted ergonomic design and did I mention that the keys feel all too similar to Cherry MX keys?
Without breaking the bank, you can purchase another set of keycaps and start your journey down the mechanical keyboard rabbit hole.
If you have a red-themed Battlestation setup then go for the red, otherwise, you can't go wrong with RGB backlighting!
Pros And Cons
[lgc_column grid="50" tablet_grid="50" mobile_grid="100" last="false"] Pros:
Affordable Price
Similar Sound And Feel To Cherry MX Keycaps (Outemu Blue Switches)
RGB Lighting Is Great For Night-Time
Adjustable Lighting Straight From The Keyboard
Loud And Satisfying Clacks
Comes In White or Black Keyboard ColoursComes In Red or RGB Backlighting
[/lgc_column]
[lgc_column grid="50" tablet_grid="50" mobile_grid="100" last="false"] Cons:
The Plastic For The Keycaps Are A Little Thin
[/lgc_column]
I did an individual review on the Redragon K552 Kumara since it's one of the best starting mechanical keyboards on the market to date.
Logitech G Pro TKL RGB Mechanical Gaming Keyboard
Do you like the idea of having the same keyboard that pros use?
There must be a reason why many pro players choose this keyboard over all others.
Let me fill you in a little further.
This keyboard comes with your standard multimedia key functions on the F* keys.
A cool feature the Logitech G Pro has is "gaming mode" which allows you to turn off certain keys while you game.
This is so you don't accidentally press a key you weren't meant to.
What makes this keyboard different from the others is the actuation.
The Romer G switches have a 5 millisecond actuation time (the activation point - the time it takes for the key to bottom out)
Whereas normal mechanical keys have a 6.7 millisecond actuation time.
This may be going too concise, but to pros, those milliseconds add up and can be the difference-maker.
For the most part, the keyboard feel comes down to personal preference.
The Romer G switches take some time to get used to.
Pros And Cons
[lgc_column grid="50" tablet_grid="50" mobile_grid="100" last="false"] Pros:
Removable USB cable
Romer G Switches
Great For Typing (Can Increase WPM)
RGB Lighting
Has A Nice Solid Build
No Bleed-Through Under The Keycaps
[/lgc_column]
[lgc_column grid="50" tablet_grid="50" mobile_grid="100" last="false"] Cons:
No Volume Scroll Wheel
LED RGB Said To Die Off Quickly According To Users
[/lgc_column]
Ducky One 2 SF 60% RGB Mechanical Gaming Keyboard
Ducky is one of the most reputable companies for mechanical keyboards.
These keyboards are made to last you a long time!
Each product comes with certain keycaps which are random colours. (that's dope!)
The keyboard also comes with double shot PBT keys, so you know these keys will look the same for the years to come.
Most keys include a double feature, which can be seen alongside the bottom of the keycaps.
This is the smallest keyboard on this list, taking away the arrow keys and F* row, so if you want compact, you got it.
It does take some time to get used to having such a keyboard, especially if this is your first time going mechanical.
But by choosing this keyboard, you are choosing a high-quality keyboard made by a reputable company that will last you a long time!
Pros And Cons
[lgc_column grid="50" tablet_grid="50" mobile_grid="100" last="false"] Pros:
Great Responsiveness
Cherry MX Keycaps
Can Install Silent Red Keycaps If You Need To Be Quiet
USB-C Removable Cable
[/lgc_column]
[lgc_column grid="50" tablet_grid="50" mobile_grid="100" last="false"] Cons:
Has A Minor Issue With MacOS Updates Causing Keys To Be Disabled (Fix: Unplug Then Replug Cord)
[/lgc_column]
Corsair K65 TKL Compact RGB Mechanical Gaming Keyboard
Do you enjoy Cherry MX keycaps?
How about having the ability to create macro keys?
Have no idea what I'm talking about? Don't worry I'll explain further.
Custom macro keys are keys you can set to be used for different purposes.
The best example for macro keys is how MMORPG players use it, who use the whole keyboard to press their abilities.
Having macro keys allow you to set blank or normal keys to a specific "ability" so that you play without having to go across your keyboard.
The Corsair K65 compact keyboard has a better build quality than its predecessor - the K63 Red LED.
The K63 Red LED was introduced first, having the top multimedia keys with no extendable hand support at the bottom.
Opting for the K65 RGB version, you will lose the top multimedia row but have extended hand support.
The actuation of the keys is only halfway, which means to register them, a slight type is all that's needed.
This is especially helpful for pro gamers, as it is faster
Pros And The Cons
[lgc_column grid="50" tablet_grid="50" mobile_grid="100" last="false"] Pros:
Build Quality Is Great
Keycaps Are Much More Quieter
Easy To Clean In Case Of Accidents
[/lgc_column]
[lgc_column grid="50" tablet_grid="50" mobile_grid="100" last="false"] Cons:
Does NOT Come With Extra Textured Keycaps (As Displayed On The Amazon Page)
iCue Software Has Its Limitations
Non-Removable USB Cord
[/lgc_column]
E-Element Z-88 RGB 75% White Mechanical Gaming Keyboard
As I'm typing this, I am using the E-Element Z-88, and damn… does it feel good!
What I liked about the design of this keyboard is that it still included the 4 buttons "Home, End, PgUp & PgDn" located on the right side in a column.
The keys also include convenient multimedia keys, double-shot injection keycaps, anti-ghosting keys.
The design and functionality of this keyboard include many convenient shortcuts which would otherwise be missing on the other 40%.
The RGB version allows you to select one solid color or have a rainbow color scheme.
My Recommendation: Get the white version of this keyboard as it just looks aesthetically pleasing!
Pros And The Cons
[lgc_column grid="50" tablet_grid="50" mobile_grid="100" last="false"] Pros:
High-Quality Made Keycaps
Double-Shot Injection Keycaps
Super Responsive
10 Different Colour Modes
[/lgc_column]
[lgc_column grid="50" tablet_grid="50" mobile_grid="100" last="false"] Cons:
[/lgc_column]