Routers are an essential part of most homes and offices.
They help to provide internet access for all of the devices in your home or office, including computers, tablets, smartphones, smart TVs, and more.
When you live with a lot of roommates or family members who all have different needs when it comes to internet usage (gaming vs streaming vs working), finding the best router under $100 can be challenging.
Luckily we've done the research for you, and have listed our best 7 picks on routers under $100.
It doesn't matter if you need a stronger WiFi range, faster internet, or a router that will last you a long time...
You can find a router at a reasonable price point that won't break the bank.
So enough talk! Let's dive in!
TL;DR: The 7 Best Routers Under $100
1. TP-Link Archer AX21 (AX1800)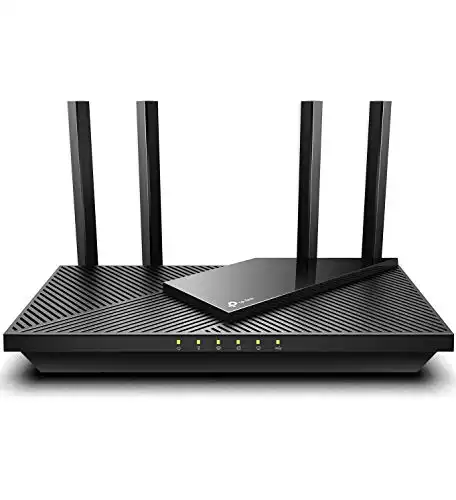 Check Prices
We earn a commission if you make a purchase, at no additional cost to you.
Pros
Performs well in all areas (range, internet speed, consistency)
Fast internet speed due to having WiFi 6 capabilities
Easy Mesh integration with TP-Links OneMesh system
Great WiFi range
Easy to navigate the back-end
Includes a user-friendly app to control options
The AX21 is our top pick for the best router under $100 and includes all the latest technologies to increase internet speeds and maintain a reliable connection.
The router includes the new WiFi 6 which boasts the latest and fastest internet speeds of up to 1.8Gbps.
So if you're a fan of watching movies in 4K quality, or are a twitch streamer who needs fast and reliable bandwidth, then this router is the best choice for you.
It also includes MU-MIMO compatibility to provide a reliable connection to your family and beamforming in all 4 antennas for fast internet speeds.
Even if you have 40+ connections on this router, you can rely on this router for a consistent amount of speed and connectivity.
It features parental control in the backend to limit screen time which can be useful if you have younger children in the house who are spending too much time on games.
The AX21 also features the TP-Links OneMesh system, which is a home network system that allows you to extend your WiFi range seamlessly.
Usually, WiFi 6 routers have a cost upwards of $100+, so having a WiFi 6 router with great performance and a reliable connection that's under $100 is definitely a bargain.
2. TP-Link Archer A7 (AC1750)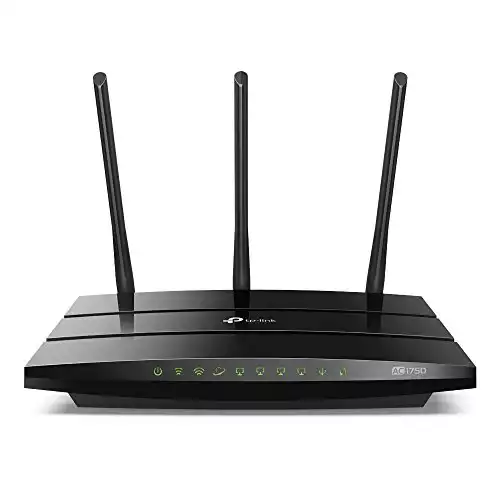 Check Prices
We earn a commission if you make a purchase, at no additional cost to you.
Pros
Reliable for long periods of time
Great internet speeds
Reliable, consistent connection
Includes a user-friendly app to control options
Cons
Lack of additional features in the backend
WiFi range could be better
If you want a router that's a simple plug, and play (with a very easy setup), then look no further.
The TP-Link Archer A7 is a router that has been out for many years and still holds up as one of the best budget routers to this date.
It has a strong, reliable connection due to its MU-MIMO compatibility and Beamforming technology built into its 3 antennas...
So if you are gaming or doing work, you won't have any problems with your connection dropping out, or your internet speed slowing down.
It features the ability to control the bandwidth speeds on the backend, as well as the ability to set up VPN servers.
Similar to the AX21, the router can be combined with TP-Links OneMesh routers or WiFi extenders, so if you need extra range on your WiFi, this is a great solution.
The downside to this router is the lack of features on the app and the backend.
Setting up additional features in the backend may be quite hard to navigate through.
Overall, this router will continue to thrive as one of the best routers under $100 and is a great budget option for anyone who loves a fast, reliable connection.
3. NETGEAR R6700AX (AX1800)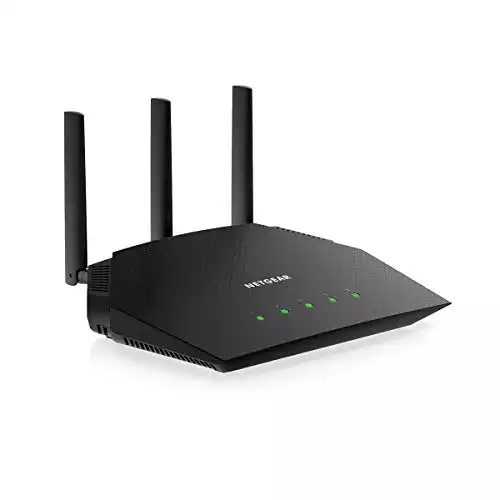 Check Prices
We earn a commission if you make a purchase, at no additional cost to you.
Pros
Great WiFi performance due to WiFi 6
Decent amount of WiFi range
Does not overheat due to the nice casing
Utilizes MU-MIMO for maximum coverage
Can provide consistent internet speeds to multiple devices
Cons
Customer service could be better
The Netgear R6700AX is a router that includes the next-generation WiFi 6, similar to the AX21.
The AX1800 is known for its reliability when it comes to having multiple devices connected to the internet, and that is due to its upgraded WiFi 6 technology.
The Netgear AX1800 has an MU-MIMO WiFi system that provides maximum coverage over the home, especially in those hard-to-reach dead zones.
The WiFi can theoretically range up to 3,000 square feet, but of course, walls and other interruptions would make the range much smaller.
This makes it the ideal router for larger houses or small offices.
It also includes parental controls which allow you to lock out certain websites or even set time limits on when kids can use their favorite social media apps or watching TV/Netflix.
As an added benefit and for peace of mind, the router comes with free 24/7 tech support from NETGEAR's customer service staff.
The router has an easy setup, all you have to do is download the Netgear Nighthawk app and follow the instructions.
4. Speedefy Model K7 (AC2100)
Check Prices
We earn a commission if you make a purchase, at no additional cost to you.
Pros
Incredibly wide WiFi range (due to its 6 antennas)
MU-MIMO and Beamforming for multiple consecutive streams
Fast upload and download internet speeds
Cons
Can be difficult to set up
Inconsistent signal strength
Speedefy is a company that you might not have heard of, which is great considering it has come out with a great budget router under $100.
Usually, routers under $100 only have 2 or 3 antennas, but with the Speedefy Model K7, you get 7 which are used to increase the WiFi range in your house.
Because of this, you won't need additional Mesh WiFi extenders to increase the range, the Model K7 can range up to 2,500 square feet on a 2-story house.
The router is simply plug-and-play, provides a fast 5G WiFi connection, and can reach through thick walls and floors.
The router has many advanced features, including a built-in NAS server (for connecting hard drives to it), parental controls, and the ability to connect wirelessly with an external storage device.
It also comes with a one-year warranty from Speedefy that is backed by Amazon's unconditional return policy which means you could get your money back if not satisfied.
Overall, this is the best budget router for getting optimal range in your household, whilst maintaining fast and reliable internet speeds.
5. ASUS RT-ACRH17 (AC1700)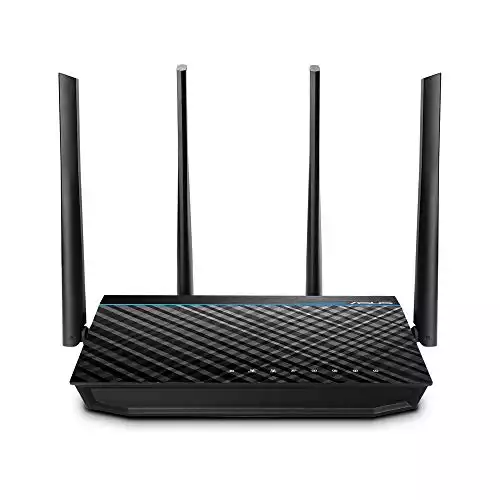 Check Prices
We earn a commission if you make a purchase, at no additional cost to you.
Pros
Reliable and consistent connection
Fast internet speeds
Wide WiFi range
Intuitive user interface on the back end
Cons
Tends to overheat which may lead to drops in connection
The ASUS RT-ACRH is another great pick if you are looking for a consistent connection with a widespread WiFi range.
Let's face it, it's is infuriating having an unreliable connection that is slow or times-out all the time.
Luckily the RT-ACRH17 features MU-MIMO (3x3) technology with AiRadar Beamforming technology fixed into its 4 antennas...
This makes it an ideal router for streaming movies and hardcore gaming - you won't have any problems with connectivity here.
It also has a USB slot that can be used to connect an external hard drive or printer to your network, so anyone in your household can use these devices.
It even features parental controls that allow you to filter websites according to their safety rating so your kids are safe from anything inappropriate on the web.
And for you gamers out there, as I said earlier, it has a great, reliable connection that you can trust, and as an added bonus - allows you to take advantage of your ISP's speed.
6. Google Mesh Router (AC1200)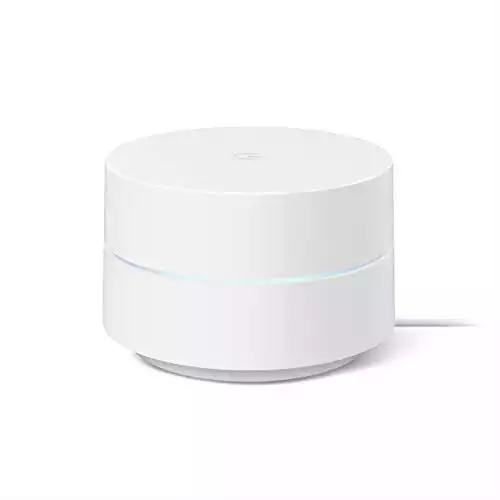 Check Prices
We earn a commission if you make a purchase, at no additional cost to you.
Pros
Easy and intuitive installation
Integrates well with other Google products
Aesthetic design compared to other routers
Cons
Performs a lot better with 2+ routers in different areas (which means paying more)
You may not have known that Google has come out with its own AC1200 router.
If we were to describe the Google Mesh router in one word, it would be - scalable.
This router works best as an option to scale your WiFi coverage in the future, hence the value for money is in getting a 3 pack instead of one.
Of course, if you only have a budget of $100 right now, the Google Mesh router is still a solid pick, having a theoretical range of up to 1,500.
What's great about the Google Mesh router is that it works seamlessly with other Google products, like Google Home.
It's also extremely simple to set up, if you don't care about setting up advanced settings on this router, then this is definitely a reliable pick.
It also comes with parental controls to allow or restrict certain kinds of content and allows you to pause WiFi to specific devices - all within the intuitive Google Home app.
This router is recommended for those who want a simple plug-and-play router with 0 technical knowledge, and for those who are looking to scale their WiFi coverage in the future.
7. Netgear R6230 (AC1200)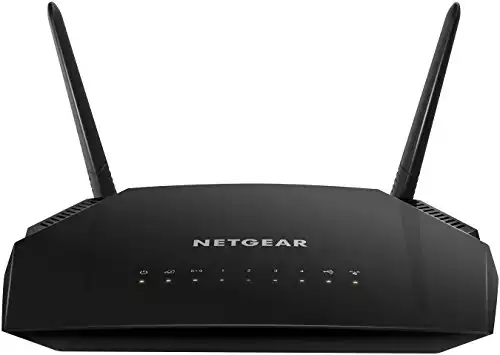 Check Prices
We earn a commission if you make a purchase, at no additional cost to you.
Pros
Budget-friendly
Dual-band network capabilities
Decent WiFi range
Cons
Internet speeds aren't the fastest
The Netgear R6230 is one of the older models but is still a reliable router that you can use for gaming, streaming, and working.
If you're on an extremely tight budget (under $60) then this router is the best one you can get for its price range.
The R6230 is a dual-band device with simultaneous wireless connections that can be used simultaneously on any of the bands, this means you get more bandwidth than if it was just one band at a time.
This router also has Gigabit Ethernet ports so you can connect your wired devices as well as Wi-Fi hotspots which gives good coverage throughout your home or office.
However, it may not be strong enough for larger homes due to its lackluster antennas.
In that case, getting a Mesh WiFi extender that's compatible with this router would be ideal.
This router also has a USB port, so you can connect your printer to it through the network which is perfect for those who need wireless printing capability without having to purchase an Ethernet cable and install a wired network connection.
The R6230 does everything you need a router to do, whether it's streaming 4K content, gaming, or surfing the internet.
At a solid price point of $60, you can save a little bit of money. This router is best recommended for those who live in a small household with a lot of open space.
Buyer's Guide: How To Choose The Best Budget Router For Your Setup (Without Any Technical Knowledge)
When it comes to buying a router, there is a lot of technical jargon that can leave you confused at first.
That was my first problem when I wanted to upgrade from my stock router to a better router system that improved internet speed and WiFi range.
So what I did was get the key takeaways on how to choose the best router under $100, so you can easily pick out a good-performing router from the bad ones.
Below is a breakdown of all the key features that you should look for when buying a router.
Security
Having secure WiFi at your home should be your #1 priority when it comes to buying a router.
Although, the chances of hackers tapping into your network is very rare if it does happen - at least you will be prepared.
Most modern routers come with built-in security features already, and it is recommended to change the password that accesses the backend immediately.
Where you can take your security to the next level is by installing a VPN in the back-end of your router.
Although this is an advanced feature, a VPN will help hide your real IP address to keep you safe from hackers by increasing your privacy and hiding your personal information.
All of the routers on our list have the ability to add a VPN, alongside built-in security features, so you won't have to worry.
Mesh Technology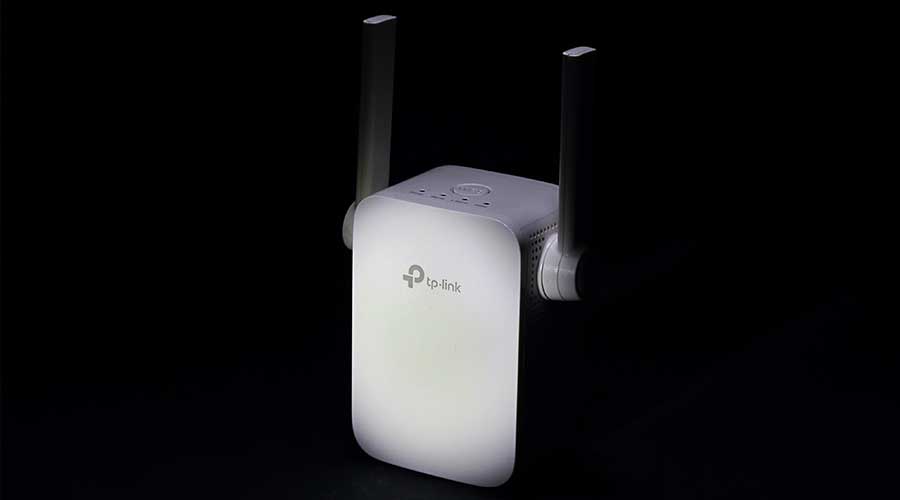 Mesh technology is one of the best innovations that has happened to WiFi to this date.
A Mesh WiFi system is able to cover every inch of your home with the use of multiple Mesh-compatible routers and WiFi extenders.
You simply have to place multiple Mesh routers in different areas in your home to cover certain areas - especially those pesky "dead zones".
And the beautiful part is that you can connect all routers and extenders to the same network, so no matter where you go in your house - your connection will stay the same.
How Is It Different From Regular WiFi Extenders?
With the regular WiFi extenders, you would need to set up a whole other network entirely.
So when you enter the zone where your WiFi extender exists, you would have to manually choose that specific network to have strong and reliable internet.
Then when you go back over to where your router is, you'll have to switch back to your router's network again.
Sounds tiring? Absolutely, it would definitely get annoying.
Hence why having Mesh technology that is all connected to the same network does wonders for increasing WiFi range.
Through the use of Mesh technology, you will never have to experience WiFi 'dead zones' again, nor will you have to manually connect to a different network every time you are in a different spot in your house.
Dual-Band Wireless Networking
Having a dual-band router allows you to have 2 separate networks that you can connect to, with each network having varying speeds.
Generally, the networks are the:
5GHz Network: Faster internet, but lower signal range.
2.4GHz Network: Slower internet but a wider signal range.
If you don't have a Mesh system in place, dual-band routers are helpful as it increases the range of your WiFi so you can connect in different places around your house.
Of course, that comes at the cost of having slower internet speeds (using the 2.4GHz network).
This is especially great for gamers, as you can utilize the 5GHz network to give you the fastest speeds, whilst having your other devices use the 2.4GHz network and not interrupt or take up bandwidth.
As a bonus: If you decide to go down the Mesh system rabbit hole, then you can use your WiFi extenders to connect to the 5GHz network and have any place in your house use the fastest internet available.
Ports (Connections)
The ports are the availability of direct connections from your router to other devices.
In other words, the amount of Ethernet cables you can connect.
So if you want a direct connection to multiple PCs, then you want a router that has at least 2 Ethernet ports.
Most standard routers come with 4, so as long as you're not running a small office in your home, then 4 is more than enough while the other PCs can connect wirelessly.
Bear in mind, direct connections are always superior to wireless connections, even when your PC is in close proximity to your device.
You will always get faster, and more consistent internet speeds with a direct connection since there is no way for your connection to be disrupted.
Connecting Your Printer Or External HDD Using The USB Slot
One interesting benefit you can have with a router is the ability to connect your printer to your network.
This allows any device connected to your internet to make use of your printer.
From experience, printers often have connectivity issues when connecting to the internet wirelessly, so having a direct connection would resolve that problem.
Additionally, you can also connect an external hard drive to the back of your router.
This allows you to download files directly to your hard disk drive, without the use of a PC or Laptop.
This is a great way to download files on the fly, when you have limited time, or only have access to your phone.
WiFi Range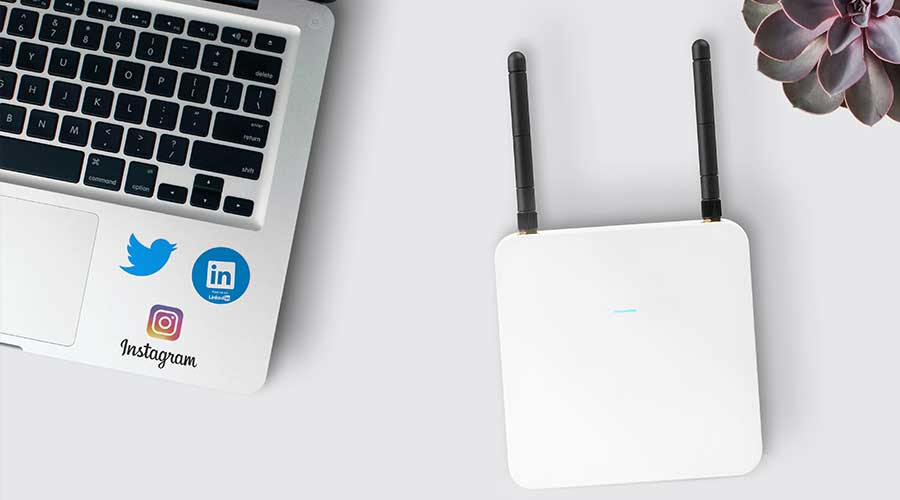 WiFi range is something that a lot of people overlook.
Many times, we are in the "good enough" territory with our WiFi connection, but it could be so much better!
Generally, the more antennas a router has, the wider the range of the WiFi.
Most of the routers under $100 can theoretically cover from 1,500 square feet - 3,000 square feet.
I say 'theoretically', because depending on your house design the WiFi range would be a lot smaller (due to thick walls, having 2 stories, and other variable factors).
Often budget routers are best for small-medium housing since it doesn't take much range to cover the whole house.
However, if you have a large household, or you find that there are certain 'dead zones' in your house, then relying on one router won't be enough.
Consider utilizing routers and WiFi extenders that are Mesh-compatible, so you can extend your WiFi range even further.
Beamforming And MIMO
Beamforming is a technique that allows your router to focus a signal towards a specific client (AKA any device connected to your router).
Whilst MIMO would make use of the antennas and spread the WiFi connectivity everywhere (randomly)...
Beamforming focuses on a single client to ensure better connectivity and faster speeds.
Beamforming
Beamforming is a newer technology that most manufacturers are now using on their flagship routers.
This helps to focus the WiFi signal in order to provide higher speeds and more reliable connections, all of which will go into your home theater or gaming set up quite nicely!
MIMO
MIMO is simply an older form of wireless networking with antennas that could offer up to four channels instead of just two like Beamforming does today.
The only time you may want MIMO over beamforming would be for larger homes where there are many walls separating rooms from one another – but even then we are not convinced!
Please note: one is not better than the other.
Rather, a good-performing router should offer both Beamforming and MIMO technology.
This ensures your network is strong and fast enough no matter how many devices are connected to your internet and...
It also helps with increasing the reliability of your internet speeds and consistency when you are further away from your router.
So to sum it up, Beamforming is great to focus on gaining faster, more consistent internet for an individual device...
Whereas MIMO would be great to spread the WiFi range and reach devices in harder-to-reach areas.
These two terms are quite technical, and if you want to really understand what they are, you can check out this guide by Network World.
Our Winner For Best Router Under $100 In 2021
When it comes to choosing the best router under $100, there are certain features that we absolutely must have to be considered the best.
This is by considering factors such as:
Fast, reliable internet speeds that can take advantage of your ISP's services
Built-in security and ability to install a VPN
A solid amount of WiFi range
Including WiFi 6 technology for faster speeds
Including Beamforming and MIMO technology
Mesh compatibility
Ports and connections (including a USB)
Considering all of these factors, we think that TP-Links Archer AX21 is your best choice for a router under $100.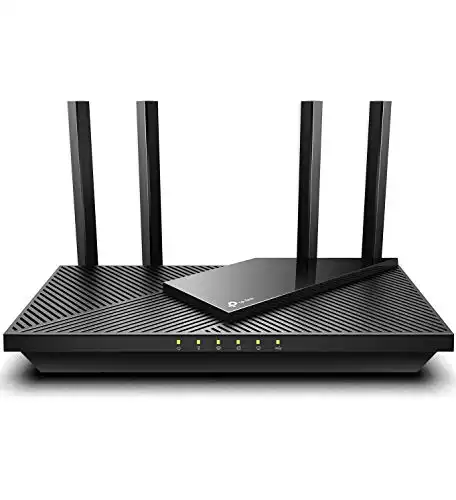 Check Prices
We earn a commission if you make a purchase, at no additional cost to you.
TP-Link has been in the internet-device game for a long time, and thus they have come out with many great products over the years.
It is rare to find a budget-friendly router that includes the latest WiFi 6 technology, that is Mesh compatible, and performs well in terms of internet speeds and WiFi range.
Where some routers would be great in some areas but are lackluster in others, the AX21 performs well and consistently in everything.
If you are looking for a reliable router that is friendly to your wallet, then TP-Links Archer AX21 is your best option as of right now.
Comment down below if you have any of the routers on our list, and let us know of what experiences you have had!