Have you ever used your laptop to study in a library? Or in a place where silence must be adhered to…
Maybe you wanted to take a break and decided to start gaming (as silently as you could)…
Yet you feel bad because each click makes a sound that you feel echo throughout the room…
You don't know if the people next to you care, but you don't want to bother them either…
So you become self-conscious because you can't stop the clicks…
But it's inevitable.
You can't just stop using your mouse, so you just give in…
Into the hopes that no one complains about the noise you're "apparently" making
Funny how your mind has this internal struggle that no one knows about.
But luckily for you, I've been able to track down the best silent mouse for gaming…
So if you want to play during your uni lectures without alarming your teachers, continue on reading.
(I don't condone procrastinating during your uni lectures, obviously)
| Showcase | Title | DPI's | Silent Buttons | Best For | Buy |
| --- | --- | --- | --- | --- | --- |
| Top | Logitech G502 HERO High-Performance Gaming Mouse | Anywhere Between 400 - 16000 | Not Silent At All | Best Overall Quality & Performance | Buy Now on Amazon |
| | VEGCOO C10/C12 Wireless Silent Gaming Mouse | 2400 / 1600 / 800 | Left & Right Button Only | Best Wireless Silent Gaming Overall | Buy Now on Amazon |
| | VicTsing Wireless Silent Gaming Mouse | 2400 / 2000 / 1600 / 1200 / 800 | Left & Right Button Only | Best Selection of DPI Options | Buy Now on Amazon |
| | TENMOS K96 Wired Silent Gaming Mouse | 3200 / 2400 / 2000 / 1200 | Left & Right Button Only | Best For Fast Responsiveness | Buy Now on Amazon |
| | SROCKER C10s Wireless Silent Gaming Mouse | 2400 / 1600 / 1000 | Left, Right, Scroll Up, Scroll Down & DPI Button Only | Best Aesthetics, Feel And Silent Macro Buttons | Buy Now on Amazon |
Silent vs. Regular – Is There A Difference Between The Two?
First off, is there much difference between a silent mouse vs a regular mouse? Yes… yes there is.
Here's a video showcasing the difference between the two:
It's hard to get an accurate representation of sound through video.
But right off the bat, you can tell that there's a distinct difference between the two.
The Logitech M220 as shown in the video is almost inaudible.
Although it's not 100% silent, it reduces the sound by 80% – 95%.
To put it into perspective, you can use this mouse in a library without annoying anyone.
You could even game during your Uni lectures and not get caught. (Again, not condoning this, just an example)
Gaming Mouse vs. Regular Mouse – What's The Difference?
Gaming mice have come a long way from distinguishing themselves from regular mice.
Nowadays, gaming mice seem to come in the weirdest shapes – yet they tend to be more ergonomically fitting.
For example, the mouse I'm using right now – the Logitech G502 HERO looks like this:
Whereas a regular mouse typically looks like this: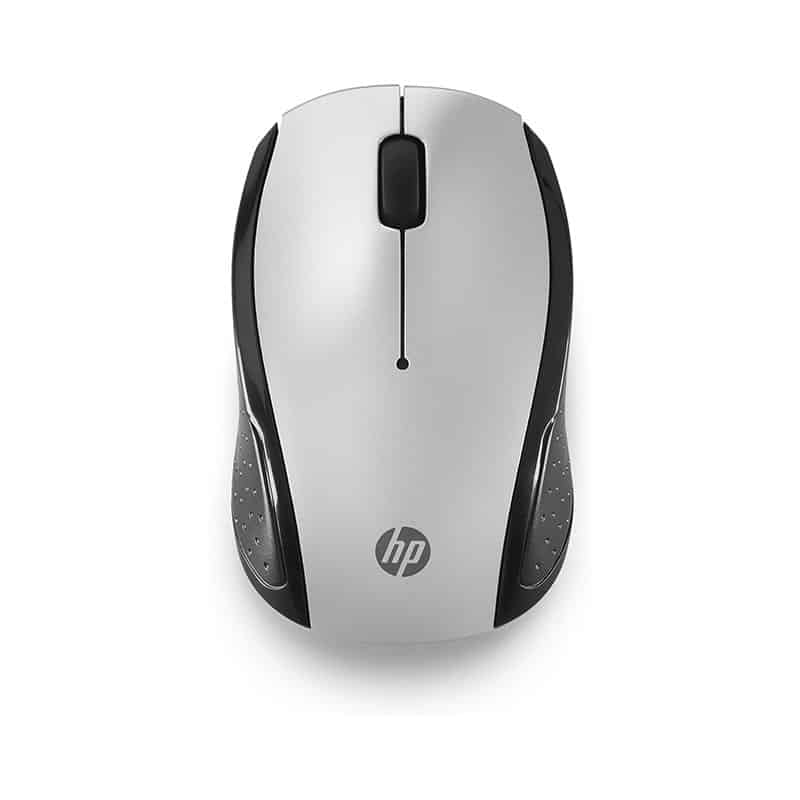 Not all gaming mice have this kind of shape, many of them still do look like a regular mouse.
But where they differ is the ability to change mouses sensitivity (can also be referred to DPI).
When shopping for a gaming mouse, DPI (Dots Per Inch) plays an important factor… and here's why.
DPI (Dots Per Inch)
Dots per inch (DPI) is essentially how sensitive a mouse is. When your DPI is high, you can move the cursor across your monitor farther with minimal drag across your table.
When your DPI is low, your cursor will move slower, and you will need to drag your mouse across the table further which takes up more real estate (if you have a long table, this might not be an issue for you).
A higher DPI will result in smaller movements being detected. So having a high DPI doesn't necessarily translate to being better for you.
Rather, you should be finding a DPI which suits your feel. This is usually in the low to mid-range.
A good example of this is having a DPI and sensitivity which gives you the best chance of tracking your target during FPS games.
Regular mice don't usually come with an option to have a high DPI, or ability to change DPI for that matter.
They usually stick to a default DPI of 800.
Gaming mice can range from 200 to 12,000 DPI, with multiple DPI buttons to choose from at the click of a button.
We dive deeper into choosing the best dpi for gaming if you want to learn more about it.
Polling Rates
Gaming mice also tend to have higher polling rates.
Polling rates are the indication of how many times your mouse reports its position on your computer.
500hz and 1000hz tend to be the most common polling rates in higher-end gaming mice, since the higher the polling rates the faster the mouse responsiveness is.
The difference? 1ms, literally just 1 millisecond.
A minuscule difference to say the least, and whether 500hz and 1000hz are better for gaming is a topic for another day.
But getting a gaming mouse you're guaranteed a higher polling rate than regular mice.
But if you want more customizability over the accuracy of your mouse clicks, a gaming mouse is guaranteed a better polling rate.
If you want a deeper dive on this topic, you can check out our guide on choosing a gaming mouse vs a normal mouse.
Wired vs. Wireless – What's The Best For Gaming?
For gamers, wireless mice by default, are less responsive than a mouse directly plugged into your computer.
Wireless mice transfer information without a direct connection (wirelessly), therefore it's destined to have a delayed response.
So gaming-wise, choosing to opt for a wired gaming mouse is always the better option, responsiveness-wise.
Of course, it's dependent on your situation. Wireless mice are great for gamers who travel regularly since they're easier to pack.
Going Wireless
Getting a wireless gaming mouse comes with its perks. For example, wireless mice:
Are way more convenient to carry around (best for travel)
Will never get their cable stuck
Look better on a battlestation setup
Are more versatile and take up less table real-estate
So if you're an on-the-move type of gamer, a wireless gaming mouse is an ideal choice.
Going Wired
Getting a wired gaming mouse is often the better choice for gamers. This is because wired mice:
Are faster and much more responsive
Are best for precision and consistency
Cannot have outside interference (due to other connections)
Often less expensive
Don't need batteries to be functional
So if you don't mind the cord when you're using your mouse, a wired version will always be more accurate, responsive and require less maintenance.
A small but convenient feature that some mice have is including a small velcro strap to be able to tie up your mouse cord.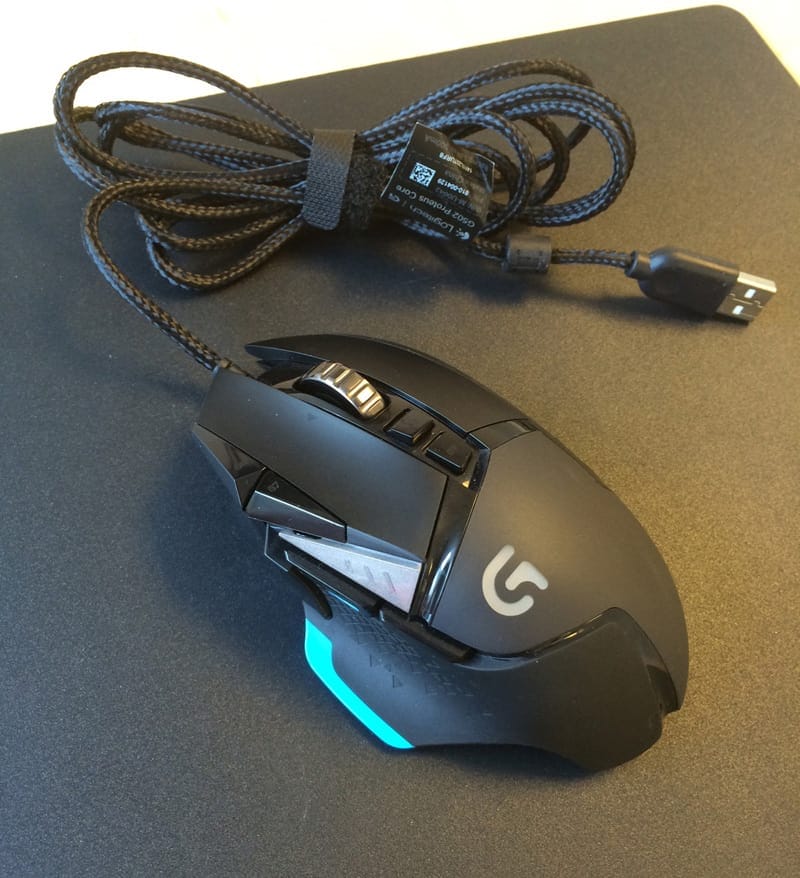 This allows you to make the cord shorter, so you don't have to deal with an annoying long cord.
What To Look For When Buying A Silent Gaming Mouse For Quiet Gaming
Hopefully, by now I have been able to give you a general idea of why gaming mice are superior to regular mice.
And if you've reached this point, I'm assuming you're a gamer who would enjoy a mouse with quiet clicks.
Some of the features you want to be searching for in a silent gaming mouse are…
Functionality (Optical vs. Laser Sensors)
When we talk about the functionality of a mouse, we're generally referring to the type of sensor the mouse has.
Each mouse will either have an optical sensor or laser sensor.
In short…
Optical sensors utilise infrared LED which is usually less sensitive, and therefore not as accurate as their laser counterparts.
Laser sensors rely on laser pointers, which 5x bigger in the discrepancy in tracking between low and high speeds.
Although one downside to laser sensors is that they can sometimes be too accurate, picking up useless information with no personal gain.
Regardless, gamers prefer laser sensors as they are more consistent with accuracy and responsiveness.
For best practice, if using a laser sensor, get a mousepad to compliment it.
Mousepads make your surface 100x smoother, and most are designed for better tracking and friction for laser pointers.
Responsiveness (DPI & Polling Rates)
As explained previously, you want to look for a mouse that has DPI options, and an effective polling rate.
For DPI, you want a mouse that has an array of options and goes up to 1,600 DPI minimum.
For polling rates, the higher the better. You want to choose a mouse that has a polling rate that can go upwards of 300hz. Although as explained, it's a very slight difference, so don't stress too much.
Custom Software & Macro Buttons
One other feature that has emerged over the years is the ability to customize the buttons on your mouse to function the way you want.
This includes having extra buttons that can be assigned a function – sort of like a Hotkey on a keyboard, but on your mouse.
Gaming mice usually include software which accompanies the mouse and allows you to customize your mouse layout.
Aesthetics & Feel
Certain gaming mice have a distinct look and feel to them.
They almost look robotic in a way, as manufacturers attempt to find a unique but ergonomic feeling grip.
Since the keyboard and mouse are the two most used peripherals when using a PC, you want to choose a mouse that you feel can be comfortable for a long period of time.
Many gaming mice include interchangeable weights that you can insert or take out depending on how heavy you want your mouse.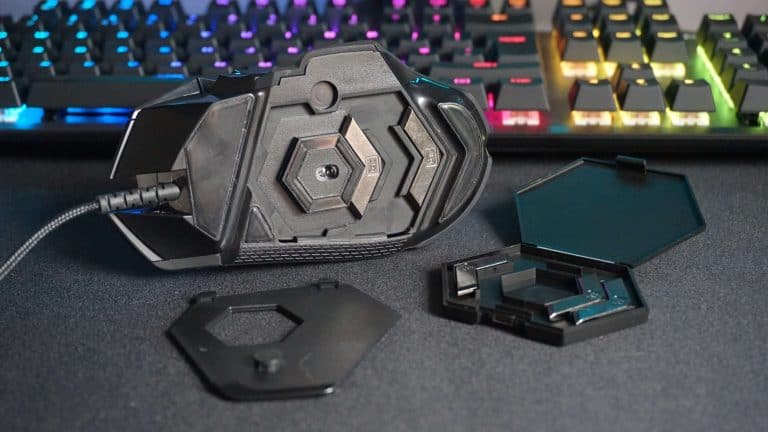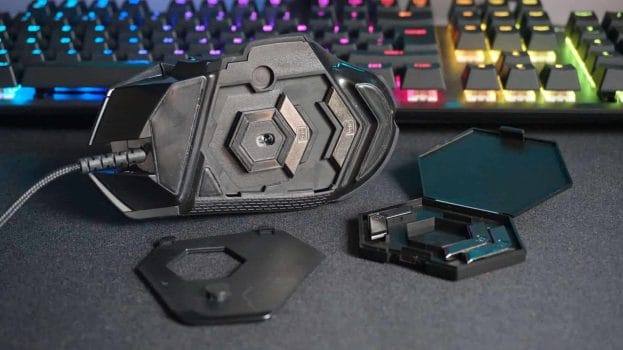 High-quality mouse builds are built to last the hundreds of thousands of clicks, so longevity should also be a facto
Aesthetic-wise, RGB lighting is common in many gaming mice now, so being able to manually choose your lighting is a bonus.
Best Silent Gaming Mouse For Gaming – A Buyer's Guide
To be completely transparent with you, the demand for a silent gaming mouse is still relatively low.
But special circumstances call for special measures.
So, in this list, I narrowed down the best 5 silent mice for gaming. So if you like to game in silent places, you can choose from these select few options.
According to my research, each of the "silent gaming" products I found used optical sensors…
That being said, I will be including a high-performance gaming mouse in this list, for those who want the perks of a quality gaming mouse which isn't silent…
With the rest being the best quality silent gaming mice that I could find on the market as of right now.
Logitech G502 HERO High-Performance Gaming Mouse
Best Overall Quality & Performance
If I've convinced you to get a mouse with a laser sensor for accuracy, the Logitech G502 HERO is an amazing choice.
This is not a silent mouse, but more than makes up for its lack thereof with performance and quality.
So, if you are looking for quiet option, skip ahead, otherwise, bare with me.
The Logitech G502 is a very popular mouse used in the gaming community, known for its superior laser sensor technology.
It has a DPI ranging from 400 – 16,000, so you will never have an issue with choosing your preferred DPI of choice.
It also comes with 11 customizable buttons, each with onboard memory, meaning you can assign custom commands to each button.
With this, you are able to "save" your mouse layout and have the ability to choose which "profile" you want to use depending on the scenario.
You have 5 different mouse profiles to save and choose from. If you like to play FPS and MMORPG games, this is a great feature.
The G502's lighting is also programmable, including 16.8 million different colours to choose from.
So if you're looking for a functional, responsive and aesthetic gaming mouse, the Logitech G502 is an ideal choice.
VEGCOO C10/C12 Wireless Silent Gaming Mouse
Best Wireless Silent Gaming Overall
The VEGCOO C10/C12 series comes closest to the most complete silent gaming mouse.
The C series comes only in a wireless version and has 3 choices of DPI – 2400, 1600 and 800 while using optical sensor technology.
Note that the only soundless buttons are the left and right clicks. All other 7 buttons make a clicking noise.
It also has a comfortable grip to it, coupling this with the silent clicks, and you'll be able to game for hours without bothering anyone.
The mouse is heavier than it looks which in turn allows the mouse to feel very smooth and sturdy. Definitely one of the smoother feeling mice of the bunch.
It's also a proper gaming mouse size, which means you won't have any problems adjusting to the new grip and you will be able to use it for long stretches without your hand getting tired.
VEGCOO provides you with 6 different choices you can choose from, all coming in different colour ranges and designs, perfect for those looking to match with their overall setup theme.
VicTsing Wireless Silent Gaming Mouse
Best Selection of DPI Options
The VicTsing is a well-known brand which produces quality gaming products on a budget…
And their silent gaming mouse is no exception.
Their mouse comes with 5 adjustable DPI values, 2400, 2000, 1600, 1200 and 800 and again, uses optical sensor technology.
Like the VEGCOO, the VicTsing silent gaming mouse is only silent on the left and right buttons.
Where the VicTsing silent mouse differentiates itself is its ability to go into "sleep mode" after 8 minutes of non-usage.
You don't have to worry about leaving your mouse on. It will automatically go to sleep if you don't use it, potentially saving hours of battery life and time wasted charging your mouse.
The extra buttons on this mouse all have a different purpose and are very convenient on their usage…
For example, the button at the bottom has On, Off and On w/ Backlighting. A fine detail but convenient one if you want to save battery life.
It includes 2 programmable buttons if you want to add extra functions to your mouse which is useful if you play games which utilise the mouse a lot.
TENMOS K96 Wired Silent Gaming Mouse
Best For Fast Responsiveness
If you don't want a wireless silent gaming mouse, then the TENMOS K96 is the wired alternative.
As mentioned previously, having a wired option means you don't have to deal with batteries and is more consistent and responsive than being wireless.
Again, it's only the most used buttons which are silent – the left and right buttons.
It also comes with 4 different DPI options to choose from – 3200, 2400, 2000 and 1200, the highest silent gaming mouse DPI on this list.
No additional software is required to use this mouse. Simply plug and play, and you will have functionality straight away.
The TENMOS K96 is one of a kind – being wired is usually always a better choice for gaming, since you'll never have lag or interruptions.
So for gamers who don't mind a wire, and still want to be quiet, the TENMOS K96 will give you the most consistent gaming experience of the silent mice on this list.
SROCKER C10s Wireless Silent Gaming Mouse
Best Aesthetics, Feel And Silent Macro Buttons
The SROCKER C10s looks like the closest thing to an ergonomic gaming mouse, designed with a comfortable hand grip in mind.
At first glance, the mouse looks quite big, but for persons with large hands, this may be a little too small for you.
The mouse comes in DPI's of 2400, 1600 and 1000, the most limited out of all the mice on this list.
However… the mouse has the most amount of silent buttons:
The standard left and right buttons
The scroll wheel (moving it up and down – pressing the wheel is not silent)
The DPI button
So out of all the mice on this list, the SROCKER C10 is truly the most silent mouse on this list.
So if you like a simple designed, ergonomic, truly silent mouse, then the SROCKER C10 will be the quietest mouse you'll find for gaming.
The Winner For The Best Silent Mouse For Gaming
If you're looking for the best silent mouse used to the game, our top pick is the VEGCOO C10/C12 Wireless Silent Gaming Mouse.
It was a tough choice to make, but the VEGCOO C10/C12 comes closest to ticking all the boxes for gaming. It's aesthetic, has a proper gaming mouse size, is heavy, and has a very smooth glide to it.
The only silent buttons are the left and right, which could be improved on by making all buttons silent.
However, given how the comfortable the grip of the mouse feels, you will be able to adjust to the mouse easily and start executing well in no time.
It's the perfect silent mouse for quiet gamers and will be a nice entry-level mouse to start off with if this is your first time getting a proper gaming mouse.