If you're a gamer, then you know how important it is to carry your gaming gear with you.
Gaming backpacks are designed specifically for the needs of gamers.
They carry all your gaming equipment- from your laptop and games to controllers and other consoles.
So we did a little research and found the best gaming backpacks to travel with, whether you are going overseas or to a friend's house.
Whether you value anti-theft safety features, large amounts of storage, and/or a comfortable bag to carry around…
You will be able to find a backpack that suits your needs.
So enough talk, let's get to the good stuff!
TL;DR: The Best Gaming Backpacks Of 2021
Prices pulled from the Amazon Product Advertising API on:
1. Acer Predator M-Utility 1680D Backpack
The Acer Predator M-Utility 1680D Ballistic Laptop Backpack is a gamer's dream backpack that lives up to its name of claims – being a convenient Utility backpack.
It has a capacity for laptops up to 17″ with an ergonomic design that fits on your back comfortably while you carry other items like controllers or gaming consoles or accessories.
It also features water-resistant material so if you get caught in some rain, your laptop bag will stay dry and out of harm's way.
It has a front pocket for quick access to your gaming peripherals, it also includes an external USB port so you can charge your console while on the go.
This backpack is heavy duty with a military-grade ballistic nylon that protects from any type of damage or accident.
Not to mention it has an aesthetic, futuristic appeal to it, whilst being comfortable to haul around on your back for long periods of time.
The downside to this backpack is that the interior compartmentalization is questionable.
It would be better if more thought was put into seeing how you would store everything more nicely and ergonomically.
Regardless, if you're looking for a safe, ergonomic, and aesthetic laptop backpack that can store even the largest of laptops.
2. OMEN Transceptor Duffle Bag
Sometimes you may get sick of hauling around your backpack on both shoulders, and would rather turn it into a 1-shoulder messenger bag…
Or just hold the bag like a duffle bag.
So what about all 3? With the Omen Transceptor Dufflebag, you get a 3-in-1 solution, being a Backpack, Dufflebag, and Messenger Bag all in one.
This bag can fit in about 32L of space, with several different compartments to fit in your gaming items both small and large.
It includes additional pockets on the side panel, with additional zipper pockets for your smaller items.
It can also handle the bigger types of laptops of sizes of about 17.3″, and then some.
Worried about security? No problem, the Omen Transceptor Dufflebag includes RFID-blocking technology to keep your private information safe.
It has water-resistant fabric and is leak-proof so you can have peace of mind that your gaming equipment is safe.
Additionally, you also have easy access charging cable built into the bag, in case you run out of battery juice.
The downside to this bag is the lack of organizers within the bag.
Of course, this is due to the nature of the bag having a Duffle Bag design, but if you want your equipment to not move around…
Then you will need to take counter-measures in order to do so.
Overall, this bag (on paper) is the perfect bag.
It has a large amount of storage, great protection, great security technology, and can be carried in many different ways.
3. Dinictis Travel Laptop Backpack
The Dinictis Travel Laptop Backpack has many features that make it a great choice for gamers.
This bag is affordable and provides plenty of room for storage so you can bring all your gaming gear with you on the go.
It's also lightweight but durable which makes it an ideal travel companion as well! Read more about this awesome product below!
It has a padded laptop compartment and a removable waist belt to make all-day carrying easy.
The backpack is made out of rugged polyester that can withstand any type of abuse or fall from heights, but it's not recommended for outdoor use.
This gaming backpack features 18 pockets with the interior organization including two individual sides mesh pockets that are perfect for storing water bottles.
It also includes an exterior pocket which is great for quick-access items such as your phone, wallet, keys, etc.
Additionally, it features external USB ports so you can charge laptops while on the go without having to remove them from their bag!
The downside to this backpack is its durability. When you start to stack this backpack to the brim, be sure to take extra care as to not damage it.
That being said, a price point of $40 with the sheer amount of features this backpack has is definitely a steal.
So if you're looking for a reliable, somewhat simple-looking backpack that can get the job done, then the Dinictis Travel Laptop Backpack is a great option.
4. Matein Travel Laptop Backpack
Matein Travel Laptop Backpack is a great gaming backpack option for those who only need to carry their laptop and maybe an extra pair of clothes.
It has a minimalist design with just enough space on the inside to store your computer, tablet, chargers, and other electronics while making sure they're easy to reach too!
The shoulder straps are padded giving you maximum comfort plus it's made of high-quality materials that are both water and stain-resistant for longevity!
It's a great option for students, professionals, and gamers who only need to carry their laptops with them.
The laptop compartment is made of durable water-resistant materials so you can walk in the rain and not get your precious gaming tech wet.
It also includes padded shoulder straps that offer maximum comfort, so you can wear this backpack for a long period of time.
And we can't forget about the cushioned back panel which offers additional support when carrying a heavy load.
Built-in pockets on the front are perfect for storing your phone or wallet while you're gaming!
This backpack has tons of storage compartments that make it possible to store all your gaming gear and your daily necessities.
The coolest thing about this backpack is that you can store two laptops at the same time!
No more worrying about forgetting a charger or spare battery pack, because it comes with everything you need to charge in style.
It's not just for gaming either – many teachers have even used these backpacks as school supplies bags!
This bag includes a water-resistant pocket that will keep all of your belongings safe from rain or spills.
For those who want an adventure but also want to carry their laptop along on the ride, we highly recommend checking out this one next time you're looking to travel with your gaming tech.
5. Lenovo Legion Armored II Backpack
The Lenovo Legion Recon Backpack is a well-built, sturdy backpack that you can use to fit all your gaming equipment.
It's made out of lightweight materials so you can easily carry this backpack around.
Despite the lightweight materials, it's also as tough as nails. This means this bag can take a beating or be hauled around with no issues.
It can store a 17″ laptop which includes solid, breathable back padding to both protect your laptop and your back.
The zippers go all the way down to the bottom of the bag to make it easy to store and take out your equipment.
Additionally, it's comfortable and can hold a ton of storage. It's multipurpose and looks professional.
The downside to this backpack is that it doesn't have any strap to keep your laptop in place.
If you have a smaller laptop, it may move around as you carry it – so if you don't want that, you will need some countermeasures to keep your laptop stable.
Overall this gaming backpack can store all of your gaming needs whilst keeping your equipment safe, and having you look stylish at the same time.
6. Targus Drifter II Backpack
The Targus Drifter II Gaming Backpack is one of the most stylish gaming backpacks on this list.
It comes in both Gray and Black and can house up to a 17″ laptop, or other peripherals.
It also includes lower compartments with ample room for smaller accessories like chargers, controllers, cables, etc.
The exterior also features hidden pockets so you can store anything from tickets or wallets – even small water bottles.
This bag is large, and has tons of useable space, especially when it comes to the inner pockets. This way you can store all of your gaming peripherals and accessories.
Best of all, it's comfortable to carry. You won't be having any back pains or shoulder rashes carrying this backpack around.
It has a water-resistant base, but it isn't waterproof, so you should be extra careful walking around in the rain with this backpack.
Overall it's a great-looking backpack that is surprisingly large, allowing you to store many different gaming peripherals and accessories.
7. Voova Expandable Messenger Bag
If you want something that is more subtle, thinner, and lightweight, then a messenger bag may be better suited for your needs.
This gaming backpack is perfect for those who need a lot of storage space.
It comes with an expandable front pocket, which can be used to store anything from your laptop to books or whatever else you might need access to on the go.
It also has plenty of compartments and pockets all around it so that you can easily find what you're looking for – if not right away then eventually.
The shoulder straps are padded too, making this bag comfortable as well as practical!
The laptop can carry up to 17.3″ laptops, which means it can handle some of the bulkier, gamer-esque laptops available.
The inner walls of the bag are padded, with the laptop pocket including a strap to keep your laptop in place as you move around.
It includes multiple organizers that you can use to store small-medium items, ranging from pens to your iPad.
It is also water-resistant, so if you're traveling in the rain – you can be sure that your gaming equipment is protected.
The downside to this bag is that it's built more for lightweight use.
If you have a ton of gaming accessories, you may not be able to fit them all, or it may be too heavy for only 1 of your shoulders to bear.
The Voova Messenger Bag is best for those gamers who only bring around minimal things to game, like their laptop, mouse, and charger.
Buyer's Guide: How To Choose The Best Gaming Backpacks To Travel With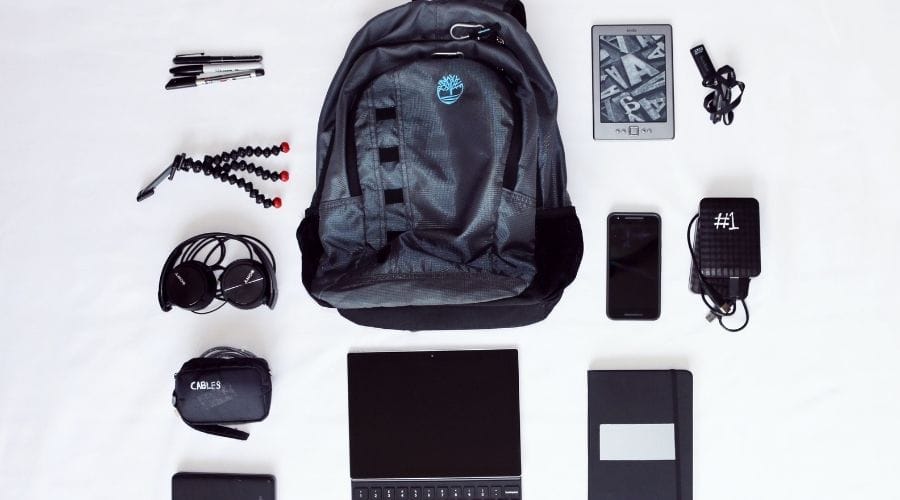 When it comes to finding a suitable gaming backpack, there are some key features you should look out for.
These features will allow you to fit all of your gaming tech with ease, be able to carry it without hurting your back and look good while doing so.
Below are what we believe are the most important features to look out for.
Comfort
Having a comfortable gaming backpack to carry around is the most important thing when it comes to finding a great quality backpack.
If it's easy on your shoulders and back, whilst giving adequate padding to protect your equipment, then you will be able to carry it around for long periods of time.
Ideally, you would be carrying a lot of gaming accessories and other non-gaming-related stuff, therefore you want to have something that's comfortable…
And that you can walk around in for a long period of time, otherwise your shoulders will definitely feel sore after carrying heavy equipment for hours at a time.
A gaming backpack should have soft, sturdy, and adjustable shoulder straps, a stiff backplate, and sufficient padding to keep your laptop safe from bumps.
You're going to be wearing this thing all day long so you may as well make sure it feels good while doing so…
Storage And Capacity
The bag should have the capacity to hold your gaming laptop, your mouse, keyboard, mousepad, and any other gaming peripherals you need to carry around.
It's also important for it to be able to store wires and cables in an organized manner so they don't get tangled with one another.
Usually travel backpacks will include organizers in the interior of the bag, specifically for chargers, headphones, and other equipment…
Sizes ranging from as small as a pen to a bulky laptop.
Your gaming laptop is going to take up most of the space in any backpack so make sure whatever size you choose has enough room inside!
Standard laptops can get up to 15.6″ in size, whereas larger laptops are 17.6″ or more.
Therefore it's important to get that right from the get-go.
Additionally, the laptop pocket should have a strap to keep the laptop in place so it doesn't move around.
Water-Proof And Leak-Proof Material
Since you'll be walking around a lot, you will want bag material that will last a long time and is also water and leak-proof.
The last thing you would want is liquid or rain pouring onto your backpack, ruining your gaming equipment and peripherals – that's a lot of money.
Quality materials, like nylon or ballistic nylon with Teflon coating, are your best bet to make sure your gaming backpack is as water and leak-proof as it can get.
Some backpacks will have waterproof material, but they won't be leakproof, so be sure to note that when searching for the right backpack.
Other backpacks will have a rain cover which should prevent all liquids from getting onto your backpack…
Although it might work, it would be better to have the whole bag leak-proof from the get-go, just in case.
Additional Features
The additional features listed below are optional, however, they are useful in many cases, for example…
Anti-Theft Security
Since you will be carrying around expensive electronics and other items, it's important that your backpack has safety features.
Having a backpack with anti-theft features is always a great sign, and can help protect your belongings from con men and pickpocketers.
The first layer of anti-theft safety is having strong, anti-scratch/cut fabric.
This prevents thieves from cutting open your backpack for a quick hit and run.
Then there is also a backpack that naturally hides your zippers, and puts them out of place so it makes it inconvenient for a person to unzip your bag without you noticing.
Finally, a great backpack has secret pockets to store personal items, like your passport, wallet, or keys.
If you want to take it a step further, getting advanced anti-theft features like Zipper Locks and RFID Blocking technology can give you more peace of mind.
Zipper Locks And RFID Blocking Technology
Zipper locks are great and self-explanatory; as they prevent pickpocketers from opening your backpack at all.
The DIY version of zipper locks would be mini-pad locks, so having a backpack that has zipper locks pre-installed is always a plus.
Additionally RFID blocking technology is more of an advanced type of safety feature that is used to prevent card scanners that can be used to steal personal information.
This includes scanning cards or your passport in order to copy and steal your info.
These are two different forms of theft prevention that can work wonders when you're on the go.
If either one of these features isn't present in your gaming backpack, don't worry!
You can always add them to an existing bag using accessories like locks from companies like Pacsafe and Targus.
Bottle Holder
Please, please get a backpack which has a water bottle.
It is the easiest, feature to add to any backpack and is extremely useful, yet so simple.
It's a feature that you don't know you need until you try it.
Charging Capacity
Some backpacks include a built-in USB cable that you can use to charge your devices.
This is best paired with different adapters so you can charge all types of accessories.
Having this additional power can allow you to save your devices from dying, or ensuring that your devices are kept charged for when there are no charging ports available.
Frequently Asked Questions
What Is The Best Gaming Backpack?
We believe that the Acer Predator 1680D Ballistic Laptop Backpack is the best gaming backpack right now.
It's leakproof, water-resistant, can fit bulky laptops, and has a decent amount of organization compartments built inside.
If you're looking for the best gaming backpack, then this is your best bet.
What Are The Best Quality Backpacks?
The best quality backpacks include all the features listed above.
Ideally, you want comfort, utility, style, and security.
If you can find a backpack that ticks off all 4, then you got yourself a great quality backpack, and most of the backpacks on this list have all 4.
Our Winner For Best Gaming Backpack
Upon reviewing a ton of different gaming backpacks, and taking into account all the features we want to see in a backpack…
We believe that the Acer Predator M-Utility 1680D Backpack is the best choice for you to pick.
It ticks all of our boxes, whether it's being waterproof, having enough storage to store all of your peripherals, looking stylish and aesthetic and having security to protect your personal info.
If you travel around a lot, and need to carry a lot of gaming equipment, then the Acer Predator M-Utility 1680D is the best gaming backpack for you.
Grab your own backpack today!
And if you have any of the backpacks on this list, let us know your thoughts on how they have served you.