Are you looking to spice up your gaming setup by adding a few gaming accessories, but unsure of where to start?
Don't worry, we did the research for you, and found how you can select good accesories for a gaming setup.
Some of these products are the type of products that make you think "I didn't know I needed this, but I can't live without it anymore".
Some may be useful for your gaming experience, others will help with your long-term health, some are convenient to have, and keep your gaming setup organized.
Regardless, any of these products will be an asset to your battlestation setup.
I've broken these down into 4 categories:
Gaming Accessories (products that will help you with your gaming experience)
Health Accessories (products that will keep you healthy for the long-term)
Aesthetic Accessories (products that transform the look of your gaming setup)
Optional Accessories (products that you might not need, butare useful)
And if you're interested in making your setup look more visually appealing, check out how to make your gaming setup look better.
Or if you don't have a setup just yet, find out how you can make your own gaming setup and if you only have a limited amound of space, check out these small room gaming setup ideas.
Enough chit-chat, let's dive in.
TL;DR - The 12 Good Accessories For A Gaming Setup
You won't need all of these accessories, pick and choose products that you don't have currently.
Gaming Accessories
Health Accessories
Convenient Accessories
Optional Accessories
The 12 Best Gaming Setup Accessories (2021)
There may be some products you have never heard of before, so feel free to browse through all of them to see what they're all about.
Gaming Accessories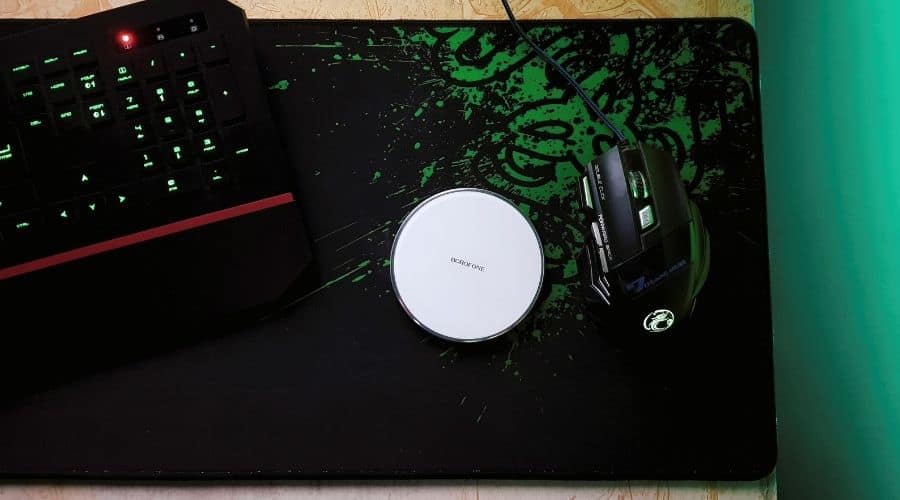 Below are products that are designed to help with your overall gaming experience.
Mouse Bungee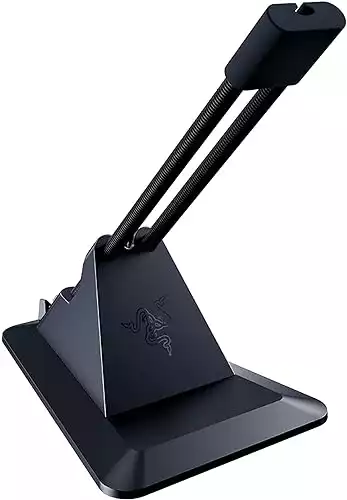 A mouse bungee is there to keep the cord from getting caught to your desk.
Cords are annoying, period.
If everything could be wireless, it would make cable management non-existent, and your mouse will never get stuck on the wedges of your table ever again.
Sadly, not all of us have the luxury to have everything wireless, due to budgetary reasons.
But here's the thing, wireless mice will always be slightly less responsive than wired mice, due to the wireless connection disadvantage.
So if you want instant feedback with a direct connection, a wired mouse is the way to go, and getting a mouse bungee ensures maximum efficiency.
Not to mention that not all mice have a wireless version of themselves, so getting a mouse bungee can solve all of your 'constantly pulling your mouse wire up onto your table' issues.
Although not everyone will need this, if you never have issues with the cord of your mouse getting stuck, or if you have a wireless mouse already, you will not benefit from this.
Best to spend your money elsewhere, for example, getting a bigger sized mouse pad like the product below.
Full-Sized Mouse Pad/Mat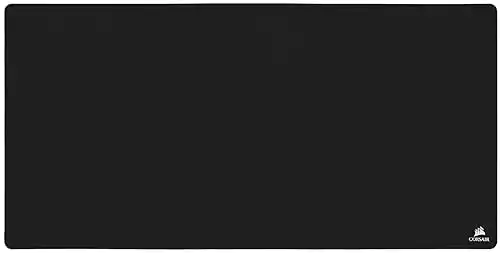 Unlike the bungee which can solve a specific problem cord problem, a mouse pad will drastically improve your aim/click accuracy.
The smooth surface of the mouse pad compliments the bottom of your mouse, allowing the sensor to pick up the surface better, which makes your mouse more responsive.
One problem that you might have with small mouse-pads is that you will lose space.
This is true for any MOBA, FPS, or even MMORPG games as sometimes long flicks are necessary when moving in-game.
But if you get a full-sized mouse pad you will never run out of room, you can travel from one side to the other (depending on your desk) and never have an uneven surface.
If you don't have one already, get a mouse pad, and if you find yourself running out of mouse pad room often, expand your mouse pad to a larger size.
Wireless Charging Mouse Pad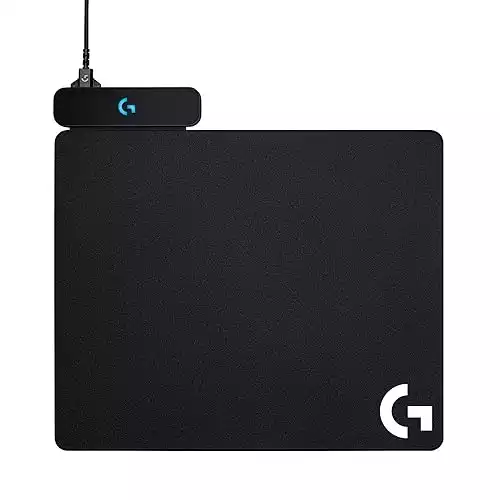 A wireless charging pad is a mouse pad but with charging capabilities for your wireless mouse.
Note: These won't work with all wireless mice. This charging pad is specific to certain Logitech mice in their G series.
So essentially, to get the benefits of this mouse pad, you will need to buy the accompanying mouse that comes alongside it.
But don't go yet, there's more to this.
The mice that are compatible with this are most of Logitech's wireless mice, such as:
G Pro Wireless
G Pro X SUPERLIGHT
G903
G703
G502 Lightspeed or Pro Wireless
And as I mentioned earlier, the whole setup is known as Logitech's "G Power Play", Power Play for short.
All of these mice are very highly rated with the G502 specifically being one of the top-rated mice of 2019 & 2020.
So if you do have the budget, and you want to experience the full power of a wireless mouse, without having the need to plug in or charge your mouse on the charging port...
Go for wireless charging pad technology.
Otherwise, you can always opt for the cheaper alternative which is to get a mouse bungee.
Health Accessories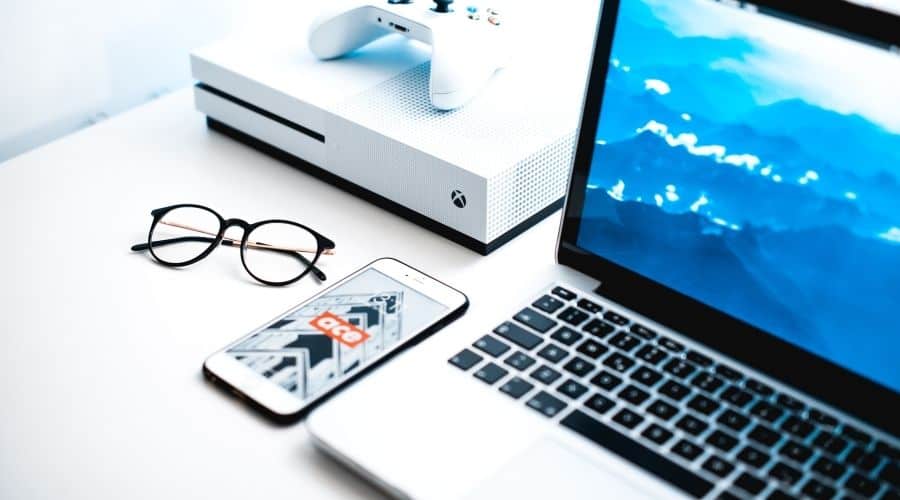 There are many factors to take into consideration about work/gaming ergonomics, but for these ones, we will be focusing on the eyes, which is very important to take care of.
Blue Light Blocking Glasses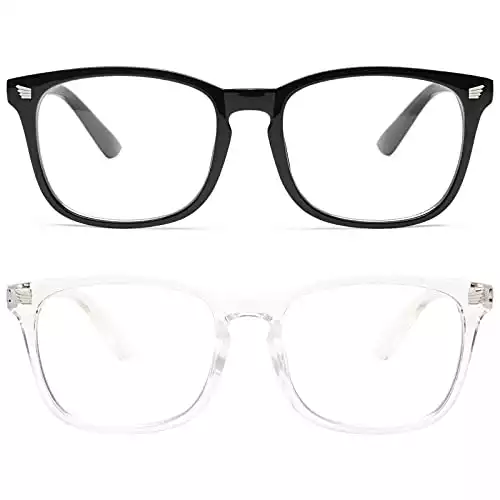 Blue light blocking glasses are probably one of the products you didn't even know existed and can help in a number of ways.
If you already wear glasses daily, or for work/gaming, you could always opt for prescripted blue light blocking glasses.
Otherwise, for those with perfect eyesight, these can help maintain your eyes when sitting behind the monitor for hours at a time, and reduce eye strain.
So, what is blue light anyway?
Blue light penetrates all the way to the retina (the inner lining of your eye). So long exposure to blue light can cause damage to your eyes.
Hence why it is bad to stare directly into anything super bright, for example, the sun.
Your body naturally uses blue light from the sun to regulate your sleep cycles. This is known as your 'circadian rhythm'.
When you stare into your phone, the screen emits blue light, so it's as if you are staring at the sun before you sleep, which in turn disrupts your sleeping patterns...
Which can cause you to have a lower-quality sleep.
Despite popular belief and misleading marketing, smart devices or screens are not bright enough to cause macular degeneration and blindness. So don't be fooled by companies stating that it will help with these two illnesses specifically. You can read about more about here.
However, what blue light blocking glasses will do is help reduce eye strain and help get you a good night's sleep if you do happen to be staring at a screen a couple of hours before bed.
Philips Hue Smart Lighting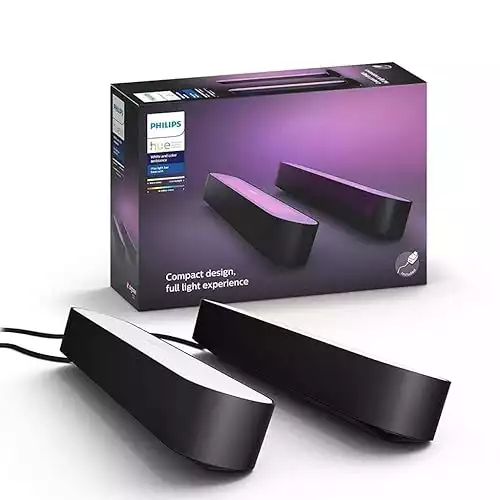 If you want an even better night's sleep, the Philips Hue smart lighting system can help you achieve that.
But before you make any decisions, let's back up and see how you can get a good qualities sleep naturally...
Getting good qualities to sleep starts with how you prepare for bed.
According to an article posted by Harvard, the best way to protect yourself from blue light at night (which is what keeps you awake and prevents a refreshing sleep) is to:
Use dim red lights for night lights. Red light is less likely to shift circadian rhythm and suppress melatonin.
Avoid looking at bright screens beginning 2 - 3 hours before bed.
If you work the night shift or use your electronics a lot at night, consider getting blue light blocking glasses or installing an app that filters your screen to blue/green.

On iPhone, you can use the Night-Time Mode.

Expose yourself to lots of bright light during the day, which will boost your ability to sleep at night, as well as your mood and alertness during daylight.
Other than limiting the use of your devices at night, there is one thing that you may not have, and that is the ability to change the color of your lighting when gaming at night.
And that's where Philips Hue smart lighting comes into play.
These bad boys can be mounted almost anywhere, and allow you to change the color of your lights through the control of the app.
The app is very intuitive and makes it easier to pick a color scheme of your desire.
Not only does it help with your sleep health-wise, but you can use these lights to match the color scheme of your battlestation, which in turn makes it look more aesthetic.
Convenient Accessories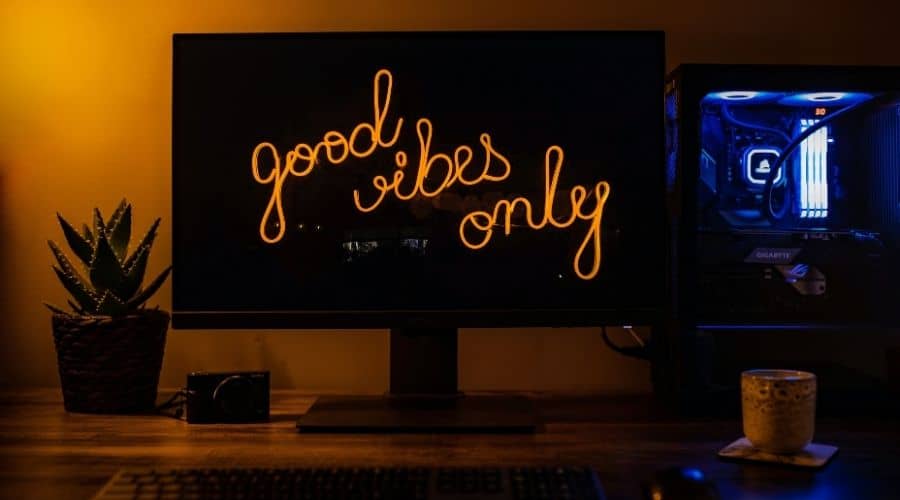 If you have a complete gaming setup and want to add some more flair to the design, consider getting the following items.
Phone Holder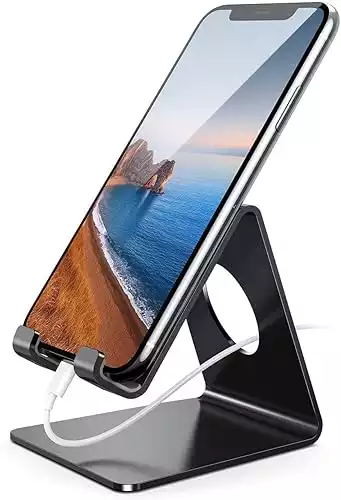 There's nothing fancy about a phone holder, other than the fact that it's convenient, and makes your setup look cleaner.
Nowadays you will have your phone on you at all times.
This also applies to when you're seated at your gaming setup, your phone is usually placed in your pocket or on the table, flat.
A phone holder solves these problems.
It elevates the phone so if you feel the need to use your phone, you don't have to pick it up with your arm, it's right there is the perfect angle for use.
It's simple and makes your gaming desk look a lot more cleaner, and visually appealing.
Headphone Holders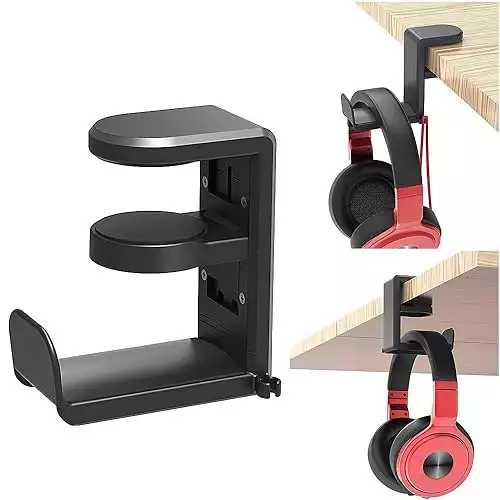 If you're a gamer, chances are you have a headset so you can experience the incredible sound engineering of the game you're playing.
Like a phone holder, a headphone holder does exactly that, gives you a place to hang up your headphones after you use them.
Without a headphone holder, you'll end up placing them flat on your table or clamped around your monitor screen.
If you decide to switch to your speakers, or simply don't want to use your headphones but still use your computer, your headphones can be a nuisance.
A headphone holder solves these problems, allowing you to clamp the holder on the side of your desk, so when you're finished with your headphones, you can neatly place them there.
Controller Holders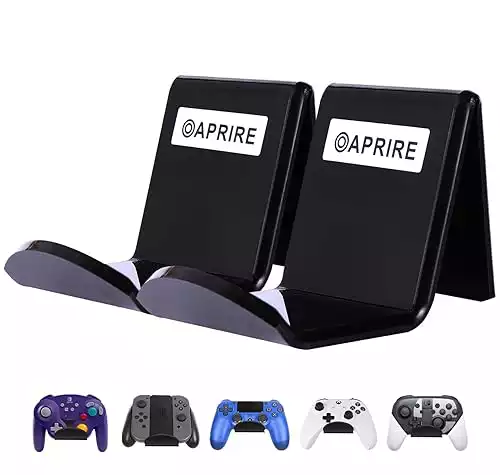 I'm sure you're starting to see a trend here. The more things that aren't flat on your table, the better.
Controller holders look great because they showcase your controller too, so if you have a unique design that suits your setup, even better.
What's great about these controller stands is that they can be stuck onto any flat surface available.
Many of the best gaming setups have used this to stick it to their back wall to add some aesthetics to their setup.
Others went another route and put it somewhere minimal as to not mess with their design and to keep it clean and minimal.
Laptop Stand
If you don't have a proper gaming set up yet, and you are simply using your laptop to game, then getting a laptop stand is for you.
Ergonomically speaking, when looking at a screen, whether it's your PC monitors or your laptop, they should reach eye-level.
When you have a laptop on the desk, chances are you are staring at your screen facing a downward angle.
The laptop stand will elevate your laptop, and put it at a convenient angle for your screen to be perfectly straight and at eye-level.
Alongside that, you can conveniently use the laptop keyboard since it is tilted instead of flat.
However, the laptop stand is best used with an external keyboard and mouse.
That way, your laptop acts as a screen, whereas you have full access to the flat desk that will make your gaming experience more enjoyable.
Optional Accessories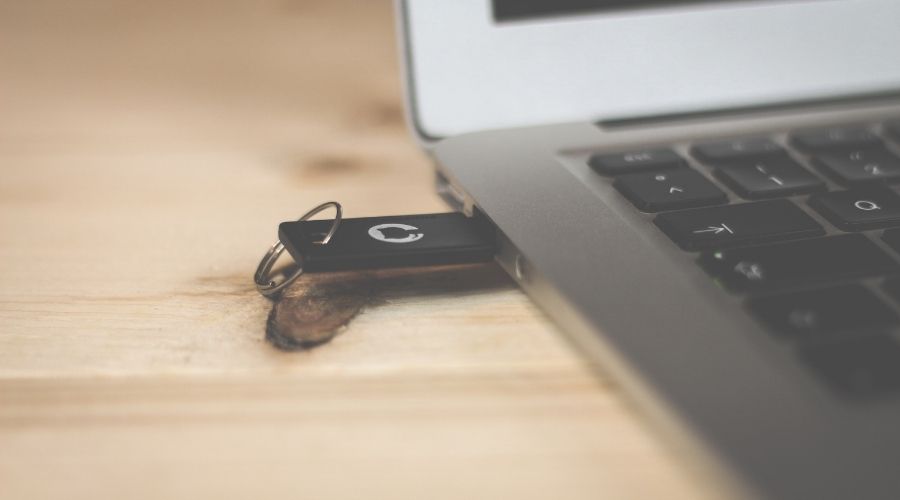 The accessories below are products that solve a specific purpose for certain scenarios.
7-Port USB Data Hub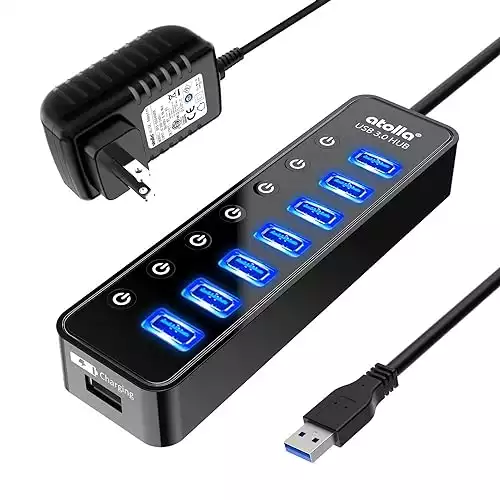 Let's say, you've built your best gaming setup to date, but now you have the issue of not being able to fit all of your USB connectors.
You have to constantly unplug one USB, and then insert the other, it's a small thing, small but annoying.
Well, fear no more. That's what a USB data hub is for! It will take up 1 USB slot, and give you 6 extra ones (7 altogether).
It's small, slim and compact so you can bring it with you if you travel with your laptop.
Or you can do what I did and stick it to the bottom of your desk, so it looks clean and you can run cables into it which are already cable managed.
Nifty little thing that can help if you have too many USB's, or if you don't want to plug them into the back of your computer.
Definitely, a convenient accessory to have!
Alternative: 4 Slot USB Hub
If you don't need 6 extra USB slots, you can opt for the cheaper alternative which doesn't need a power brick to run.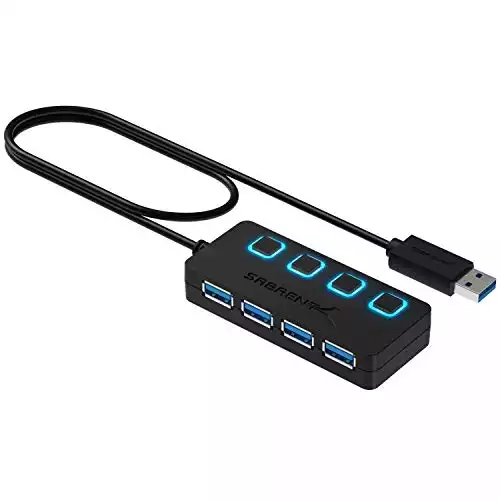 Stream Deck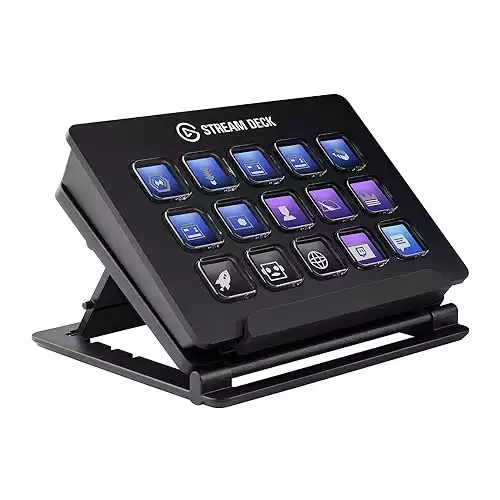 The Elgato stream deck is a must-have if you're streaming.
But it's not just limited to streamers. This can be used by IT professionals, salespeople, gamers etc.
It is one of those products that will explode your productivity if you set it up right, due to it being streamlined and easy to customize.
The stream deck allows you to customize every icon on its user interface, even giving you real-time feedback.
For example, the timer will show you how many viewers you have in real-time, the icon will change from off to on to show you that you're live, etc.
It has direct integrations to a lot of streaming apps, so you know the connections are reliable.
No more hotkeys, not more alt-tabbing, everything simply works.
I'm just touching the surface of the power of a stream deck, so if you want a deeper dive into the power of Elgato's stream deck, check this video out:
This is one of those products that you didn't know you needed until you got one, and if you like to increase your productivity or just make things easier for yourself...
The stream deck is the way to go.
Frequently Asked Questions
What Gaming Accessories Do I Need?
You don't necessarily need any accessories.
The accessories mentioned on our list are designed to make your life easier, but you can definitely get on without them.
If I were to suggest to you 1 gaming accessory to get, I would choose the blue light blocking glasses, as they will help with your overall health, your sleep which allows you to stay on the computer for longer.
If I had money to invest, I would definitely opt for either the Elgato streaming deck to be able to customize and create my own keybinds and up the productivity when gaming or working.
I've had my fair share of experiences getting the mouse cord stuck on my table so getting a mouse bungee is definitely a must-have if that's your problem.
What Are The Benefits Of Gaming Accessories?
There are a wide array of benefits when it comes to gaming accessories.
They're built to help your gaming experience.
Any type of peripheral holder just makes your gaming setup look that much better.
Others serve a specific purpose, like a USB hub conveniently allowing you to add more USB's whilst right next to each other.
A mouse bungee helps to never get your wired mouse cord stuck again.
The possibilities are endless but, be warned, you don't want to be splurging on accessories alone.
Find out what you actually need, and see if there's an accessory out there to solve your problem.
What Are The Best Gaming Accessories?
The absolute best gaming accessories are the accessories that you need.
For example, if you find that your table surface is causing you to be inaccurate or to have misclicks, a full-sized mouse pad will solve that issue.
If you have any of Logitech's wireless mice, and you find that they are running out of battery more often than not, a wireless charging pad will solve your problem.
Specific problems need specific solutions, and that's what gaming accessories are for.
So, What Are Some Great Gaming Setup Accessories?
All of the accessories listed will help you, one way or another.
But not all of them are necessary, find which gaming accessory works for your PC gaming setup, and grab it.
These gaming accessories should not be where you spend a lot of your budget, instead opt to upgrade your important equipment first, for example, your gaming chair or computer desk.
Buying some good gaming setup accessories can help with your productivity tenfold, so if that's what your aiming for, then, by all means, be my guest!