Nanoleaf is changing the home décor world, especially for people who enjoy bringing tech aesthetics to everything they do.
To move beyond just tacky RGB keyboards with jagged edges—no offense if you're into that—Nanoleaf delivers a sleek veneer to the smart home lighting world.
The light customization and panel flexibility are what sets most LED panels apart from the rest of the home décor industry, but what options are available?
Nanoleaf itself is responsible for creating a better-LED niche when people wanted more than Philips Hue, but there's even more to enjoy today.
Here's a list of some of the most interesting, flexible, and affordable LED design options on the market.
Best Overall
LIFX Modular Light Tile
Individual panel customization
Easy, customizable app
Touch controls
Runner Up
Nanoleaf Canvas
Robust lighting
Large area coverage
Compatible with other Nanoleaf shapes
Budget Pick
Helios Touch Honeycomb Lights
Budget-friendly
Shape allows for more layouts
Magnet connectors for easier snaps
TL;DR: The 9 Best Nanoleaf Alternatives
Not sure what to pick? Here are a few details to help you figure out the best option for your next project.
1. LIFX Modular Light Tile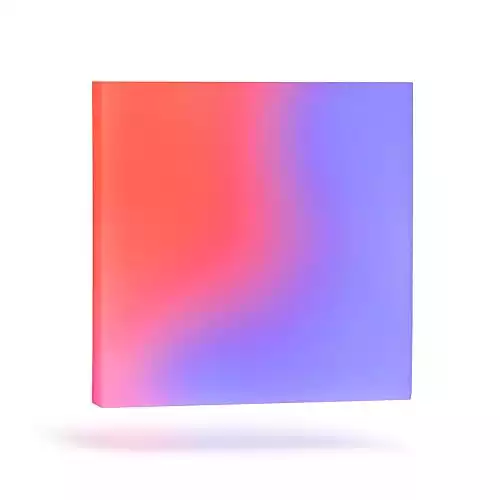 Check Prices
We earn a commission if you make a purchase, at no additional cost to you.
[lgc_column grid="50" tablet_grid="50" mobile_grid="100" last="false"]
Pros:
64 addressable LEDs with individual panel controls.
Customizable app.
Touch controls for on, off, and a few customizable patterns called themes.
[/lgc_column]
[lgc_column grid="50" tablet_grid="50" mobile_grid="100" last="false"]
Cons:
Voice control only works for on, off, and dimming. Themes do not work with voice control yet.
Panels seem to disconnect from wi-fi with no error notice.
Panels sometimes require resyncing when they lose dimming/color settings. Individual panels can lose sync and become darker or lighter, requiring a resync of the whole system.
[/lgc_column]
A more minimalist appeal compared to the Nanoleaf design.
The tiles are 7.9 x 7.9 inches or 20 x 20 cm. Setting up can be a pain.
Compared to the Nanoleaf and many of its competitors, the setup is far from intuitive.
There are grooves on the back of the panels, and the cables that come with the LIFX kit are a bit hard to work with.
They're stiff and fight against your hands to keep their normal shape, so they tend to pop out of the panel grooves.
Once you have the cables in place, they're kept in place by the same tension that people struggle with.
A braided cable would make this struggle a lot easier while maintaining protection.
2. Nanoleaf Canvas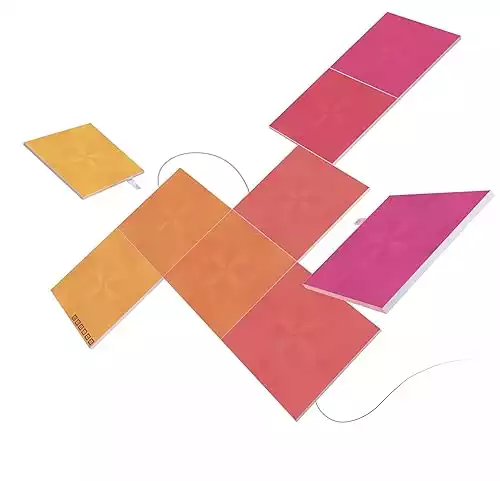 Check Prices
We earn a commission if you make a purchase, at no additional cost to you.
[lgc_column grid="50" tablet_grid="50" mobile_grid="100" last="false"]
Pros:
The most robust light quality. For now, everyone wants to at least meet if not exceed the Nanoleaf design. The sleek shape and the robust color make up for any lack of customization.
Large area coverage. While smaller than the standard Nanoleaf triangle, the Canvas still covers more area than a lot of competitors at similar price points.
Compatible with other Nanoleaf shapes. You don't have to stick with just triangles, squares, and hexagons. The first 3 shape options in the Nanoleaf—along with the miniature options—all work with each other.
[/lgc_column]
[lgc_column grid="50" tablet_grid="50" mobile_grid="100" last="false"]
Cons:
Awkward app. Compared to LIFX or Philips Hue, the app can be hard to work with and not very intuitive. It's not as bad as the original Philips Hue app (which has been revised for a better experience), but unless you enjoy spending most of your time figuring out numbers and settings, it's not great.
Flimsy link. The connectors are easy to break. Buying extra is a great idea, and it's an excuse to pick up the corner-bending links.
Short power cord. You'll need an extension cable if you're not mounting the panels near an outlet.
[/lgc_column]
The Nanoleaf Canvas splits away from the original triangle shape.
These square, modular tiles make it easier to build custom shapes without being confined to the triangle layout.
It's a personal preference at that point, and now we have options!
Up to 500 panels can be connected.
9 panels are included in the launch version of the Nanoleaf Canvas, but bigger supply packs will be released later.
3. Helios Touch Honeycomb Lights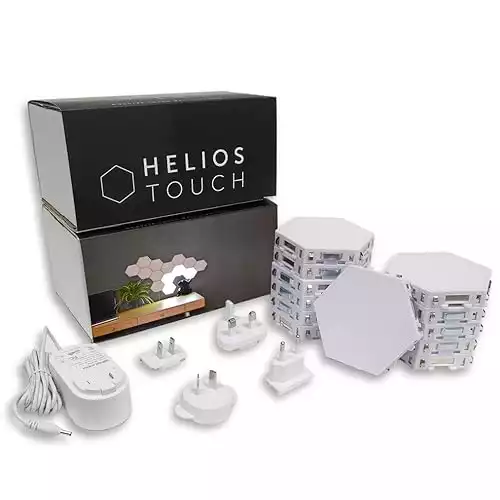 Check Prices
We earn a commission if you make a purchase, at no additional cost to you.
[lgc_column grid="50" tablet_grid="50" mobile_grid="100" last="false"]
Pros:
Low cost. A good intro to light panel décor.
Hexagon shape, allowing a few more angles and layouts compared to square or triangle panels.
Magnet connectors rather than plastic tabs, making snapping and disconnect easier.
[/lgc_column]
[lgc_column grid="50" tablet_grid="50" mobile_grid="100" last="false"]
Cons:
Difficult installation requiring two holes for each panel. Do you really want to fill your wall with lots of holes for each panel? There is no official suggestion for using adhesive instead, so venture without tape at your own risk.
Exposed hardware. The magnetic contacts show, with no standard cover to hide the less-than-aesthetic magnets. A bit industrial if you're into that.
No color change or remote control app yet.
[/lgc_column]
Here's a Kickstarter and Indiegogo project that made it to production!
Assembly isn't easy, but the magnets make setup a little easier than some of the more flimsy, plastic connector tab brands.
Helios Touch is in the lower cost range.
It's a lot more affordable than most popular Nanoleaf alternatives, but the functions are also rather simple.
There's no app for fancy dancing lights, color changes, or themes.
Warm White and Cool White are the only options for now.
Unlike other LED panels, Helios doesn't opt into command strips. You'll be drilling into the wall by default, probably because of the panel weight.
There are other Command Strip weight classes and other double-sided adhesive brands that can handle the Helios brand, but maybe they didn't want to push a partnership.
In case you're looking for adhesive options, the panels weigh around 939g (2.07lbs) each.
Pick up sticky strips that can handle at least double that amount to make sure the panels aren't being pulled off as you install or accidentally brush against them.
4. SELFIA Hexagon RGB Lights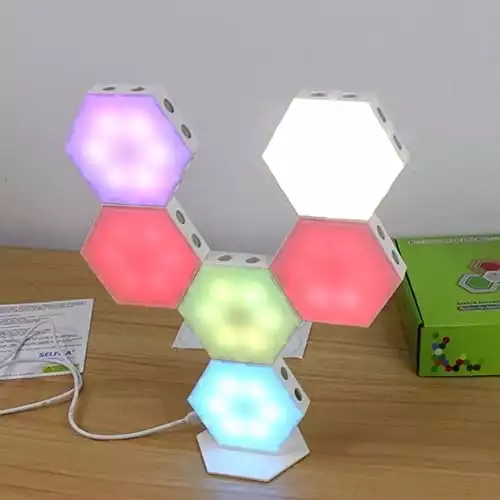 Check Prices
We earn a commission if you make a purchase, at no additional cost to you.
[lgc_column grid="50" tablet_grid="50" mobile_grid="100" last="false"]
Pros:
Affordable. The materials aren't very complex, and the price matches.
Easiest setup of the LED smart light market. The data transfer is very simple since the touch and light change happens as soon as the magnets snap in place.
Easy to mount. Lightweight, and includes adhesive pads. No drilling is needed!
[/lgc_column]
[lgc_column grid="50" tablet_grid="50" mobile_grid="100" last="false"]
Cons:
Touch feature is a bit weak. Higher-end touch panels need a light brush of the finger. These panels still work by touch and don't require a hard press, but they're not as sensitive as some brands. There's such a thing as too sensitive, but SELFIA could use some touch adjustments.
Low-quality lighting. Light isn't spread evenly across surfaces. Light diffusion is important, otherwise, you may as well put a Styrofoam plate over a flashlight.
Small size. Another coaster-size light panel option. You don't get as much décor value with these small lights unless you're only planning small, accent lighting styles.
[/lgc_column]
Another hexagon light option with USB, magnets for connection, and adhesives in the packaging.
The light quality isn't as great as other Nanoleaf alternatives.
Color lights don't spread through the panels as evenly, and you can clearly see the light source in the form of brighter bulb circles.
While this can be an aesthetic option, it isn't as vibrant as other LED panels.
This justifies the lower average price, and if you can get over the lack of robust lighting, it's a great way to create accent lighting.
5. Monster DIGIT Smart LED Panels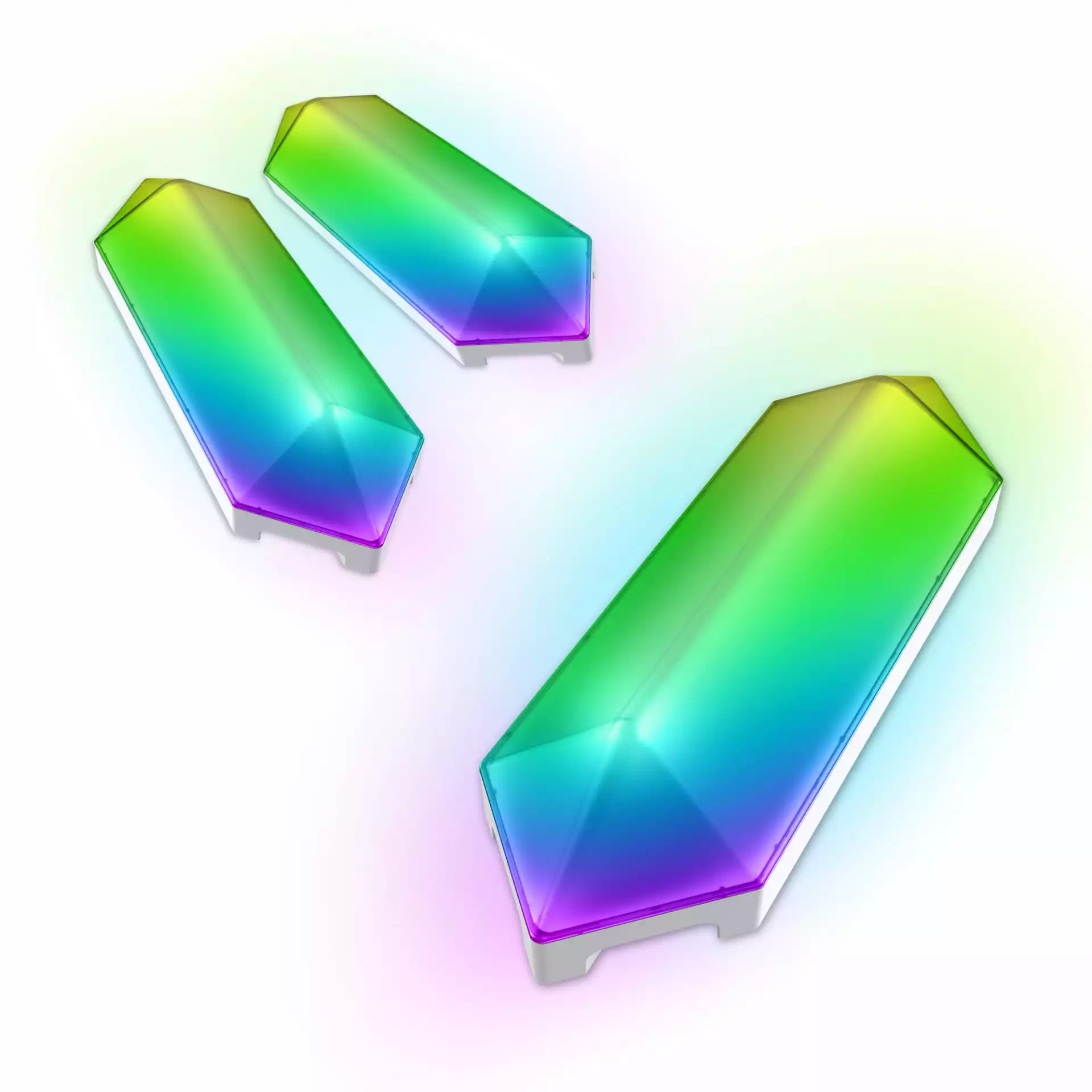 Check Prices
We earn a commission if you make a purchase, at no additional cost to you.
[lgc_column grid="50" tablet_grid="50" mobile_grid="100" last="false"]
Pros:
Higher quality app. A lot of products seem to copy—or outright steal—the Phillips Hue control app. The Monster app is fairly easy to use and works with other products from their company.
Unique design. The crystals may not be perfect for every design option, but they stand out in a positive way. Easy to incorporate even if you're looking for uniform designs.
Great light quality. Despite the unconventional shape and 3D size, the light quality still justifies the price.
[/lgc_column]
[lgc_column grid="50" tablet_grid="50" mobile_grid="100" last="false"]
Cons:
Bulky wiring. The cables are hard to hide, to the point that you'll need something else to cover it. Other brands on this list at the same quality level are either large enough to hide wires or include lower-profile cabling.
Accessories are hard to find. Starter kits are everywhere, but if you want to save money by buying just the DIGIT panels, it's hard to track down compatible extras.
Heavy. These usually need mounting screws, but you can buy adhesive strips for heavier weights if you don't want to drill into the walls. Don't use basic double-sided tape, and avoid gluing.
[/lgc_column]
An interesting take on the bar light design.
The Monster DIGIT model is a set of crystal-shaped LEDs with vibrant, changeable color options.
With a raised ridge in the center, these color crystals add a more unique design scheme to LED panel lighting layouts.
While they don't refract like the way you'd expect a prism to shine, the color still shows off the facets in unique patterns.
For people who want yet another option outside of the square, hexagon, or triangle shape options, these are a must.
It features a color-changing app, compatibility with the usual voice command systems (Alexa, Sira, Google Assistant), and connects via Wi-Fi.
The light quality isn't as great as the Nanoleaf and is slightly lower quality than the LIFX.
It's still high enough to be worth mixing brands for designs on the same wall, and the loss of luminescence may be simply because of the 3D design distorting some of the light.
6. Philip Hue Smart Light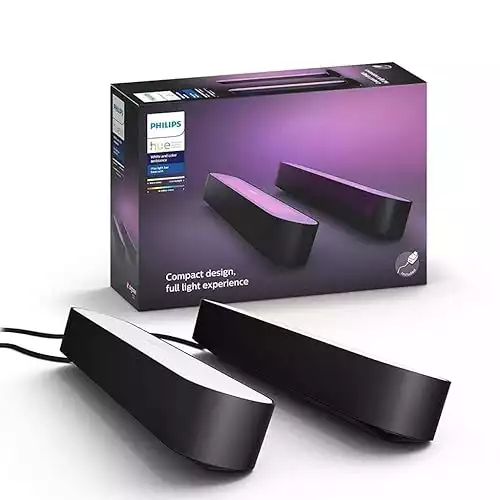 Check Prices
We earn a commission if you make a purchase, at no additional cost to you.
[lgc_column grid="50" tablet_grid="50" mobile_grid="100" last="false"]
Pros:
High customization. Philips gives you a deep set of tools for saturation, hue (obviously), dimming, and the ability to work with some third-party hardware.
A better app. The app was rebuilt as of 2021 and is better than the launch version that many people hated. The color wheel is better, and you can save your settings much easier.
Big modding community. There's tons of aftermarket customization (modding) to work with Hue products. The best modders can work on anything, but there's a lot of creative people with limited tech skills who just have an easier time working with Philips Hue.
[/lgc_column]
[lgc_column grid="50" tablet_grid="50" mobile_grid="100" last="false"]
Cons:
Expensive. Even as one of the top LED brands that spawned demand for other companies, you pay a lot for what you get. Nanoleaf and LIFX both sport just as much customization with better quality of life for similar or better price performance.
Smaller size. The bar size is convenient for designing smaller areas, but you can't cover as much area as the Nanoleaf, LIFX, or similar panels. It competes more closely with the Monster DIGIT, but at a higher price with more customization.
Requires Hue Bridge. The proprietary problem, which other brands were created to solve. The Hue Bridge is a fairly expensive control/interface bridge compared to other alternatives.
[/lgc_column]
One of the first major brands for the home lighting scene, Philips Hue brings the Play lighting bar to the scene.
If you don't want an entire panel to cover parts of your walls, or if you want specific designs with a bit more precision, the Hue Play lights are for you.
They're no longer the standard on which everything else is built, but the app is still a great combination of fine-tuned control and ease of access.
Unfortunately, it's still easy to leave the easier control options and find yourself stuck in way too many exacting options.
Trying to write down or remember combinations of hundreds or thousands of color settings isn't everyone's idea of a great afternoon, but the instructions are fairly easy to find if you get lost and want to return to defaults.
As far as the actual lights, the color performance is still unmatched.
Nanoleaf has about the same level of color, but the Philips brand maintains high brilliance, fine-tuned brightness and color levels, and different levels of saturation all within a small bar.
You still pay a premium for the biggest market name.
They may be a household name, but like Apple, they're not coming down from their lofty price point anytime soon.
7. Yescom WiFi Smart LED Lights

[lgc_column grid="50" tablet_grid="50" mobile_grid="100" last="false"]
Pros:
Lower price range, high customization.
Simple, click to connect setup.
More panels for your money compared to major brands. This means more color options spread throughout panels.
[/lgc_column]
[lgc_column grid="50" tablet_grid="50" mobile_grid="100" last="false"]
Cons:
Networking nightmare. Outdated Wi-Fi. The network board doesn't seem to work well with 5Ghz. It disconnects constantly but works fine on 2.4Ghz. The problem is that Yescom's panels will constantly try 5Ghz, fail, switch to 2.4Ghz, and stay until it times out for inactivity. You can disable 5Ghz to make it work, but why limit yourself to one product? A firmware update can fix this, the company doesn't even need to send new hardware. Fix this problem and Yescom would be a guaranteed store brand worth buying every time.
Small size. You get more panels for a lower price, but they're also smaller. You can still make a decent design using negative space rather than having every panel next to one another, but they still need to be connected on at least one side to work.
Not vibrant. The selling point of the leading LED panel brands is the brilliant, vibrant colors. The panel materials are opaque to stop direct light from coming through, but the colors are still solid while having warmth options. Yescom's lights eat a bit too much light. (Some people enjoy that, but it's an option with most brands while Yescom can only serve that level of opaque light.)
[/lgc_column]
Usually much more affordable than the Nanoleaf or competitors like LIFX, the Yescom WiFi Smart LED line has a set of panels, sensors, and an app to come close to the top of the market design.
What do you sacrifice for jumping into a lower-cost brand?
While the materials are cheaper and it's certainly less brilliant than other brands, if you're looking for a great mixture of color wall panels with app controls, Yescom is a great entry-level.
That is, it's affordable enough to get started while not being a waste of money, and can help you plan future designs before buying the more expensive brands.
The base kit comes with 11 panels, a base, and wireless connectivity via Wi-Fi or Bluetooth.
You can use the usual set of voice control apps on the market—Amazon's Alex and Google Home—and you can use 3 color selection modes to customize the 16 million colors.
So what's the problem?
What's the budget part, or is this truly a competitor for Nanoleaf at a lower price point?
The colors aren't as vibrant.
There's a bit of a color washout due to the way the panel absorbs light.
Everything gets a bit of a pastel veneer, a candy coating of sorts.
It's not quite dull or faded, but the colors aren't as striking as with the Nanoleaf of LIFX models.
The panels are smaller than most brands—about the size of a coaster.
8. Militiso Rainbow LED Light Strips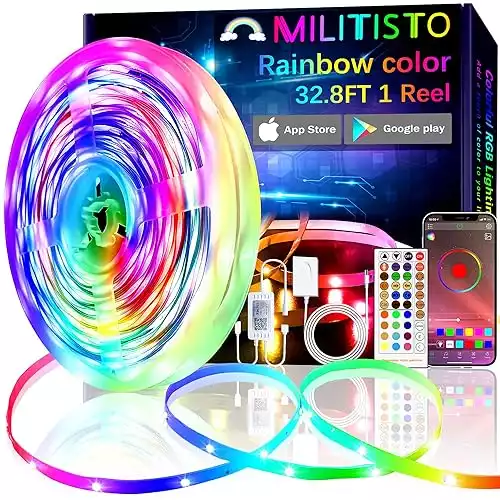 Check Prices
We earn a commission if you make a purchase, at no additional cost to you.
[lgc_column grid="50" tablet_grid="50" mobile_grid="100" last="false"]
Pros:
Lots of light for a better price. Most brands at the same price point only offer 25 feet (7.62 meters) of strip lighting compared to Militiso's 50 foot (15.24 meters) standard box.
Rainbow color range. The app includes a color wheel to change color across strips, and the color range is wide and precise.
Fast support. The manufacturer has a pretty active support team and they'll work with you to make sure you get the right equipment for your project. If you know what you want ahead of time, be sure to contact them at their email (

[email protected]

), also found on their support site.
[/lgc_column]
[lgc_column grid="50" tablet_grid="50" mobile_grid="100" last="false"]
Cons:
Not individually addressable. You don't change color by the bulb, but by the strip. The 50-foot box includes 9 strips.
Infrared (IR) receiver. This isn't a wi-fi or Bluetooth device. You need a line of sight (LOS) between the remote and the strip's receiver to make the controls work. IR can bounce off walls to give you a bit more flexibility, but just treat it like a pre-Bluetooth TV remote.
Not a panel design. Most people looking for Nanoleaf alternatives probably want a panel aesthetic, so keep in mind that strip lights will give a different light profile—something closer to Christmas tree lights.
[/lgc_column]
If you want more precision than panels or even bars, LED strips are the way to go.
You can customize borders, highlight edges, and get more finite light control.
While panel-based LED lights like the Nanoleaf models cover more surface area with solid, full lighting, light strips bring brilliant illumination at a lower cost for a wider area.
It's a personal preference at this point and all about style.
For the price, Militiso delivers better than other brands—including the Philips line of strip lights.
The real benefit comes from the app light control.
This is what makes Militiso worth mentioning since you get both rainbow color range (rather than just Red, Green, and Blue or RGB) and a precision ap for 50 feet (15.24 meters) of color.
Arduino is an open-source electronics platform that you can use to make different DIY electronics - Nanoleaves included.
Here is a tutorial you can do to get started. But let me warn you - you will need to learn an entirely new skill in order to make full use of Arduino boards.
I would only implore you to go down the Arduino route if you have some experience in DIY electronics.
Of course, you can still do it if you're willing to learn, but bear in mind there is going to be a big learning curve to go through.
What's great about the Arduino board is that you have full customization over your project - even being able to build a remote to control it if you wanted to.
If you just want to build it the simple way - go for Alexis Garcia's DIY method. Otherwise spend your time learning about the Arduino board.
Our Winner For Best Nanoleaf Alternative

Considering the quality, durability, ease of use, and customizations, we have narrowed our search for the best Nanoleaf alternative to one winner...
And that winner is the LIFX Modular Light Tile!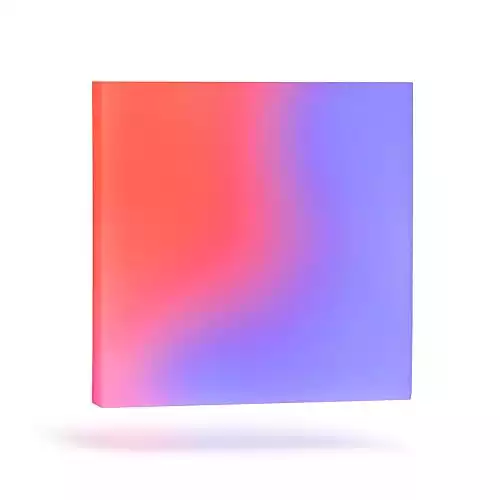 Check Prices
We earn a commission if you make a purchase, at no additional cost to you.
LIFX wins by innovating in places where Nanoleaf is lagging behind.
While Nanoleaf has more accessories and ways to work with other shapes, the edge lighting and color control on the LIFX while being a bit more affordable is what makes the difference.
If Nanoleaf can improve its app, innovate with even more designs as the competition catches up, and most importantly offer more panels for a similar price point, they'll take the victory again easily.
Conclusion
LIFX is a great option, but it's hard to ignore the individual benefits of Nanoleaf, Philips Hue, or the unique Monster DIGIT.
While not matching the panel category, the Militiso strip lights demand respect for not just their performance, but excellent customer support.
A breath of fresh air in the world of new tech alternatives.
If there's any single feature that would change all of these options for the better, it would be a single standard link or control board feature to help the panels talk to each other without a lot of hacking.
Wishful thinking maybe, but it's a sales driver worth repeating if you ever speak to customer support.