The gaming room is a sacred place.
It's where you go to escape the daily grind and enjoy some gaming time with friends, a place where you can escape the business of life.
But this begs the question: what kind of gaming room setup do you want to build?
There are so many decisions that need to be made, from what type of gaming peripherals to buy, to the gaming furniture and the decor!
That's why we're here today, we have done research on 16 different gaming room setup ideas that you can gain inspiration from.
And if you have an existing setup, you can check out our blog post on making your gaming setup look better.
Additionally, we have included a list of gaming setup room ideas to lead you in the right direction!
So what are you waiting for? Let's dive in.
The 16 Different Gaming Room Setup Ideas
1. Ultimate Gaming Room Setup
2. PC Gaming Room Setup
3. Living Room Gaming Setup
4. Gaming Room Setup With A Bed
5. Game Consoles Gaming Setup
6. Home Office/Gaming Setup
7. Gaming TV Setup
8. Basement Gaming Setup
9. Minimalist Gaming Room Setup
10. Natural Lighting Room Setup
11. Simple Gaming Setup
12. Collector's Gaming Setup
13. Hardcore Gamer's Gaming Setup
14. Themed Gaming Setup
15. IKEA Gaming Setup
16. Wood Themed Gaming Setup
How To Set Up Your Gaming Room
To set up your gaming room you simply need the following to get started:
A desk
A chair
A PC/Laptop
A mouse and a mousepad
A keyboard
Then you can go onto the planning phases...
1. Consider The Size Of The Room You're Building
Gaming rooms aren't just limited to a regular room, you can build them in the corner of your living room, in a closet (if it's big enough), or in other compact spaces.
You just have to get creative.
Depending on the size of the room you're decking out, you will want to ensure that your desk can fit in properly.
2. Get Accurate Measurements Before You Start Decking Out
Don't just wing it, actually measure it out and pick out accessories that will fit in your room.
If you have a small room to play around with, you may want to opt for a smaller desk and place your PC on the floor to save some desk space.
If you have a bigger room, then you can opt for bigger desk space so you can add more accessories onto your desk as they come.
3. Ensure You Have Proper Ergonomics When Seated At Your Desk
Ergonomics are extremely important for your long-term health and unfortunately are often overlooked.
Here is a video I have continued to share about proper desk setup ergonomics:
Additionally, you can opt to get an adjustable desk so you can switch between sitting and standing, which will be beneficial for your muscles and joints.
4. Soundproof The Room To Avoid Disturbances
Gaming can get intense, especially if it's with friends, family or if you are playing competitively online.
Soundproofing your room can go a long way in ensuring that the rest of your family isn't disturbed.
It also helps tremendously when it comes to communicating with teammates, as your mic won't pick up any unnecessary background noise.
Regardless, it would be a good investment to deck out the room with soundproof acoustic panels, especially if you're a late-night gamer.
5. Add a TV or Projector so you can play your games on the big screen, or stream movies
Hooking up your PC/Console to a TV/Projector is beneficial for a couple of things.
First, there are some family members and friends who don't like to play games and just enjoy watching.
Having something that they can watch instead of watching behind your back can keep them occupied.
Additionally, if you are playing co-op, or versing your friends or family members, a bigger screen would be better and more comfortable.
And finally, if you guys finish your intense gaming sessions, you can sit back and relax with a movie or TV show.
6. Cable Manage Your Room Properly
As you start to add more items to your gaming room setup, the mess starts to pile up.
Cable managing your room will make your room looking more clean and aesthetic, and will significantly lower the amount of mess that tends to pile up over time.
Cable management does take some extra effort and time, but the best time to do it is when you're first building your setup.
Then all you have to do is focus on maintaining the cleanliness.
7. Lighting Goes A Long Way
Finally, lighting is the last thing that you need to complete your setup.
Although the stock light on your room might be fine, it's always better to get additional lighting since it's easier on the eyes, and makes your setup look better.
Lighting such as Nano leaves, Philip's Hue lights, or LED strips can give your set up a certain 'mood'.
It also won't keep your room completely dark when the lights are off, and usually, these types of lights can be controlled from your smartphone, so it's definitely a no-brainer.
Ideas To Build Your Gaming Room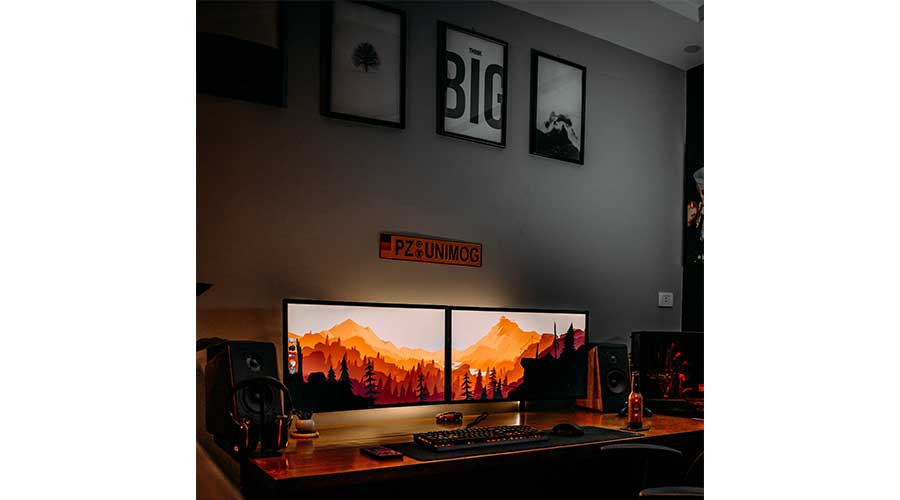 To give you a little inspiration, here are some ideas you may want to consider when building out your gaming room.
Gaming Room Decor Ideas
If you're looking for gaming room decor, you might want to try getting gaming posters that show off your favorite games.
You could also get gaming wall art, gaming pillows, gaming blankets, gaming lamps, and other gaming gifts.
Depending on your preferences, you can go mad and deck out your room with posters of your favorite games, movies, and TV shows.
Or you could keep it clean and get some nice paintings, pictures or add some natural elements like some plants.
You can always just keep everything simple and not hang anything, but it's always nice to have a touch of personality in your gaming room.
Gaming Room Setup Accessory Ideas
Gaming accessories are additional items designed to solve specific problems.
They're not necessary to your overall gaming room, but they can definitely help and speed up certain scenarios...
For example, a Stream Deck can be used to increase the productivity of a gaming streamer since you can code certain actions into 1 programmable button.
We made a whole list of useful gaming accessories that you can check out here.
But here are a select few accessories that I can see everyone getting used out of:
Gaming Room Ideas On A Budget
We could go into a whole other article just writing some great gaming room ideas to do on a budget, so here is a list of free resources I've come across that I found would be great if I had a limited budget:
Gaming Room Setup Cost
The gaming room setup cost largely depends on what gaming setup you want and how many gaming accessories you would like to buy.
For instance, gaming chairs are going to be more expensive than gaming consoles even though gaming consoles are a higher-level gaming accessory.
The number of gaming accessories that you buy will also have an impact on how much the gaming room setup cost is.
If you're looking for a gaming room setup budget, here are some examples of prices for different gaming rooms:
Basic Gaming Room - $200 - $400
Medium Tier Gaming Room - $500 - $1000
Premium Comfort And Performance Gaming Room - $1400 - $2000
Bear in mind that these are ballpark figures, and this is assuming that you don't have any accessories or peripherals whatsoever.
And also note that you don't have to start off with dropping $2,000 to build a room.
You can start off with a basic gaming room and upgrade over time, making use of the sales that happen during specific holidays.
Frequently Asked Questions
What Do You Need For A Gaming Room?
A gaming room can be a great addition to any household if you have the space to build one.
One of the reasons is that gaming rooms are a great escape from reality.
It's a place you can be alone and have some fun with friends when you're bored.
And if you have a family, it's a great place to keep your kids occupied.
How Much Does An Entire Gaming Setup Cost?
The total setup cost for a gaming room will vary depending on the peripherals and accessories you choose to get.
My recommendation is to start small and upgrade over time, especially during sales and holiday times.
A gaming room doesn't have to cost you an arm and a leg at the start, you can get away with some quality IKEA furniture that is affordable, sturdy, and will last you a long time.
How Can I Decorate My Room For Gaming?
You can decorate your room in many different ways:
Minimalists would most likely just have the bare-bones basics and keep everything nice and fresh
You can add some nano lights or Philips hue lights for some color and lighting effects
You can get customized accessories like mouse pads with graphics on them
There are many ways to decorate a room, many of which would take a whole other article to go through.
How Do You Make Space For A Gaming Setup?
I would just move all your gaming stuff to the room you want to dedicate to gaming. Decorations and gaming furniture can be bought later.
Conclusion
By now you should have a clear idea of what kind of gaming room setup you want to build.
You can start off small, and upgrade and buy additional products over time.
In a couple of years, you will have built up to your dream setup, a place where you can relax, and be productive or game hard.
If you still want to take a deeper dive into building your gaming setup, then check out our other articles:
Comment down below showcasing your setup, we would love to see it!