If you're looking to stream online, you may be looking for a high-quality yet low-cost mixer for your regular streaming that hits that audio quality sweet spot.
The GoXLR has made several lists of the finest streaming mixers, but it's pricey and isn't the only one on the market.
With that in mind, what are the 12 of the best GoXLR alternatives?
If you're a streamer or want to start streaming, you'll need to invest in equipment that allows you to produce the best viewing experience possible.
Investing in the best audio mixer for streaming that you can afford is part of this, and each one of these mixers carries its own title.
So, what makes these the best alternative to the GoXLR? Luckily we've research a ton of GoXLR alternatives and rounded up our twelve top picks.
Let's dive in!
AVerMedia Live Streamer Nexus
A combination of the Elgato Stream Deck and the GoXLR.
Rode RODECaster Pro
Has the best performance, but is on the more expensive side.
GoXLR Mini
The "mini" version of the original GoXLR.
TL;DR: The 12 Best GoXLR Alternatives For Streamers
1. AVerMedia Live Streamer Nexus
The Live Streamer Nexus is essentially a combination of the Corsair Elgato Stream Deck and the TC Helicon GoXLR, two of the most famous pieces of streaming gear.
It offers complete control over your live production process by integrating the capability of both a control panel and a six-track audio mixer.
The Nexus interface measures 5.7 x 8.5 inches and has a 5 inch IPS touch screen, four dedicated function buttons, and six tactile audio knobs.
The audio knobs control the loudness of your microphone, game, and chat.
They activate each channel by pressing inwards and adjusting in five-step increments.
The IPS screen and function buttons, unlike the volume knobs, are configurable, letting you make them your own.
You may drag and drop widgets onto different screen places, resize them, and assign hotkeys to any function buttons using the Nexus app.
With that stated, the touchscreen is likely one of the console's most notable features.
You can browse between pages and do anything you want, in addition to resizing icons wherever on the grid.
It also lets you upload backgrounds and connects with applications like Discord to keep track of your conversations.
2. Rode RODECaster Pro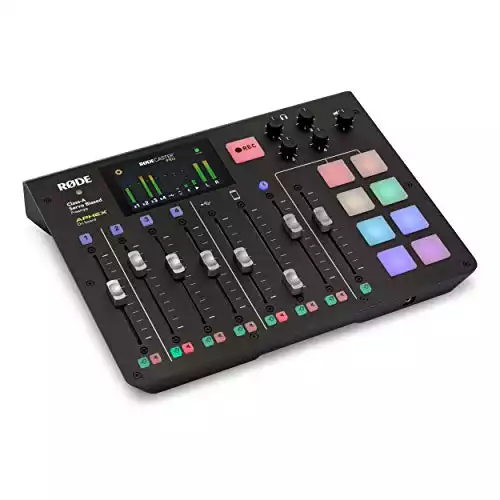 The RODECaster Pro Podcast Production Studio is everything you'll ever need, whether you're a novice or a seasoned broadcast pro.
Four channels of high-quality microphones, studio condenser microphones, and traditional dynamic mics are available. One-touch recording to a microSD card and automated level setting
Eight programmable sound effects pads enable instant triggering of SFX, music, and other sounds; record audio directly to the pads from any input or add files from your computer.
By just connecting your phone through Bluetooth or a TRRS connection, you may conduct an interview remotely. Automatic "mix-minus" audio prevents calls from hearing an echo.
It can connect via USB to your computer, allowing you to record or broadcast live using your favorite recording program. Record numerous tracks individually for post-production editing.
Check Prices
We earn a commission if you make a purchase, at no additional cost to you.
The RodeCaster audio mixing panel costs more than the one mentioned above, but it's still less than the original GoXLR.
Whether you're new to streaming/audio mixing or a seasoned pro with plenty of experience broadcasting HD audio from a mixer like this, this board has all the tools and technologies you'll need to create excellent results.
Mic selections for each channel work to power both studio-quality condenser and dynamic microphones, and automated leveling makes it a lot easier to keep your sound consistent.
The Rode is a terrific piece of gear to buy because of features like customizable sound effects, easy-to-trigger SFX choices, and the ability to record audio straight to your pads before inputting on your PC.
This solution has a somewhat steeper learning curve, but streamers who master it will reap practically all of the benefits of the Rode mixer for a fraction of the cost of the GoXLR.
3. GoXLR Mini
For online broadcasters, the "Go live" desktop rig gives you instant control over your audio.
USB-based audio mixing that's flexible and intuitive – controls that are straightforward to use and get you up and running quickly.
Your voice will sound better with studio-quality EQ, compression, and gating.
All of your favorite settings may be controlled and recalled via the PC software.
Check Prices
We earn a commission if you make a purchase, at no additional cost to you.
The GoXLR Mini is a stripped-down and simplified counterpart of its "big brother" and is undoubtedly one of the most fantastic mixers available for streamers today.
You'll be able to make use of a very versatile and adaptable USB-based mixing studio for all the audio you're working with since it's designed to be a "go live" piece of gear, particularly for streamers and other online broadcasters.
The GoXLR Mini is a user-friendly, all-in-one audio interface designed for live streamers and content creators.
GoXLR Mini creates several USB audio devices in Windows, allowing you to manage the volume of each app independently, and was designed primarily for an online creator's workflow.
The MIDAS preamps are quiet and adaptable, making them ideal for every voice and microphone.
GoXLR Mini features all the inputs and outputs to expand with you, whether you're a seasoned creative with a multi-PC setup or just starting.
Although the reduced (stripped down) version has a few buttons and separate sliders on the front panel, you'll be astonished at how handy these extra hotkeys are because of the excellent studio-quality EQ and GoXLR software.
When using this budget-friendly and slightly more basic mixer from GoXLR, streamers will be able to clean up their audio quite rapidly.
4. Roland VT-4 Vocal Transformer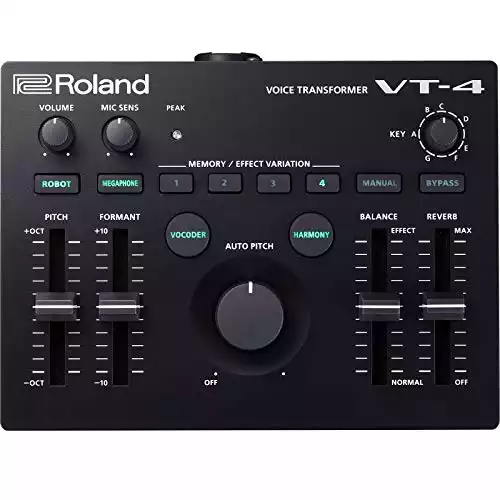 The Roland VT-4 is a simple-to-use but powerful voice transformer.
Delay, reverb, formant, and vocoding are examples of modern and vintage vocal effects.
Multiple effects can be layered at the same time or chained together.
It allows you real-time tuning of both pitch and formant with absolute smoothness and quick control.
It is a compact design and has a battery life of five hours.
Check Prices
We earn a commission if you make a purchase, at no additional cost to you.
The Roland VT-4 is a simple-to-operate voice transformer.
A voice transformer is simply a human voice effects processor.
With merely a push, slide, or turn on the control panel, you may shape your vocal sounds in a hands-on manner.
The critical difference between this option and the GoXLR is that it concentrates on the voice FX side of things.
The VT-4's four faders act similarly to the GoXLR dials, allowing you to manage your reverb, pitch, echo, and other effects. Although it is not a mixer, it may be linked to one by an aux loop.
While this may not fulfill the demands of some people, it may be excellent for others.
It's ideal if you're primarily looking for a means to add speech effects (such as Megaphone, Robot, Vocoder, and Harmony, among others).
You may even load your own external midi effects into Ableton.
The VT-4 connects to your computer through USB and accepts XLR microphones.
5. Behringer Xenyx 1204USB Premium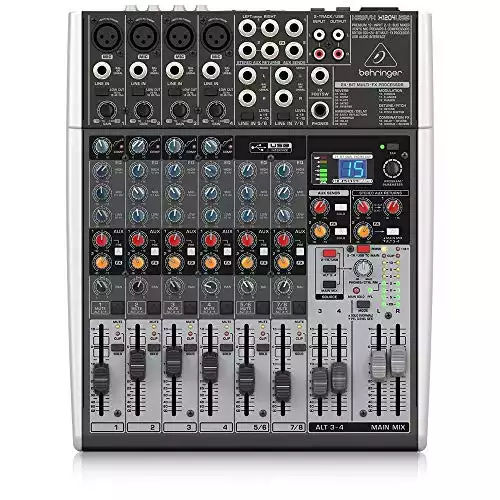 Analog mixer with significant headroom and ultra-low noise.
Four phantom-powered, state-of-the-art XENYX Mic Preamps equivalent to boutique preamps
Four studio-grade compressors with simple "one-knob" control and functionality Professional vocal and instrumental sound with LED
3-band EQs with a neo-classical "British" tone for a warm and pleasant sound
Reverb, chorus, flanger, delay, pitch shifter, multi-effects, Tap function, and storable user parameter settings are all included in this new studio-grade FX processor with 16 customizable presets.
Check Prices
We earn a commission if you make a purchase, at no additional cost to you.
The Behringer Xenyx X1204USB Premium is an attractive choice for more technical types that have done audio mixing before and need to improve their equipment.
This premium option enables up to four separate inputs, each with its own set of settings and features. It's also simple to operate.
Connecting it to your PC through the USB port is that what you need to do now.
In exchange, you'll receive a mixer that appears as it came right out of the 1960s and 1970s yet has up-to-date functionality.
High headroom preamps are one of these many advantages, and they're what makes your voice sound crisper and sexier on stream than it does in real life.
Not to mention the 24-bit Multi-FX processor, which lets you tweak chorus, reverb, echo, delay, and more.
6. Yamaha MG10XU Mixer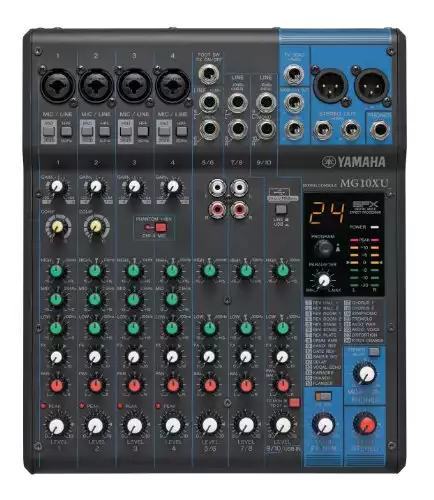 Mixer with ten channels, USB, and SPX digital effects

Studio-quality discrete class-A D preamps with an inverted Darlington circuit deliver deep, natural-sounding bass and silky, soaring highs.

Three-band EQ and high-pass filters offer you complete control and eliminate extraneous noise for a more precise mix.

Compressors with just one knob provide simple control, resulting in brighter guitars, punchier bass lines, tighter snares, and cleaner vocals.

The MG Series mixers have a powder-coated metal chassis that is tough and impact resistant. 128 dBu equivalent input noise, 102 dBu residual output noise

244 mm by 71 mm by 294 mm (WHD) (9.6x2.8x11.6 inches)
Check Prices
We earn a commission if you make a purchase, at no additional cost to you.
Yamaha's MG10XU mixer features a gain control, a compressor, three-band EQ, and Phantom Power (48V).
This set of functions allows you to reduce, if not entirely remove, background noise.
Class-A D microphone preamp is also a good addition.
Yamaha uses the same preamp in their pricier products.
You'll also get lots of flexibility from this audio mixer owing to its 2-channel recording and playback capability.
It is especially true on iOS devices, which offer a large number of recording apps.
Finally, the built-in SPX digital effects processor is a dream come true for any decent streamer.
It allows you to experiment with up to 24 distinct effects.
Each effect may also be somewhat programmed and enabled or disabled, using the button near the return knob or an optional footswitch.
7. Pyle Professional Audio Mixer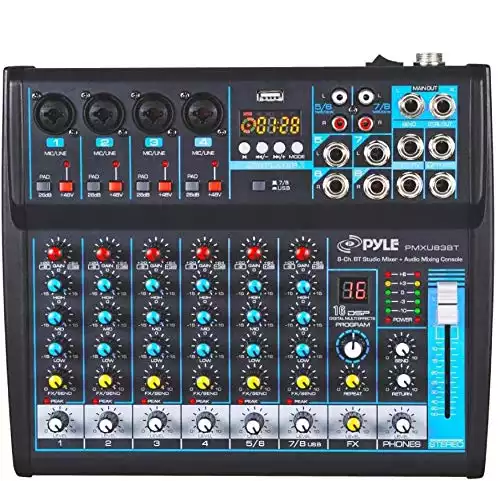 Mixer System for DJs and Studio Consoles
Mixing of several 8-channel audio sources
Bluetooth Wireless Receiver Built-In
FX (Analog Effects) and a 16-bit DSP processor are included.
Sound Recording and Direct-to-Computer Connection
Front Panel Control Center & LCD Digital Display
LED Indicator Lights & Rotary Adjustment Knobs
Compatibility of MP3 Digital Audio Files
Check Prices
We earn a commission if you make a purchase, at no additional cost to you.
The Pyle Professional Audio Mixer isn't for everyone, but it is suitable for a wide range of applications.
It's not only for video games streaming, podcasts, live music, and events.
Streamers may use it for anything.
The best aspect is that it doesn't cost nearly as much as it should, and it's ideal for multi-audio streams thanks to its eight channels.
This item offers Bluetooth wireless capabilities, XLR compatibility, a balanced 1/4-inch connector with a 48V phantom button, and an LED indication for peak levels, in addition to being a budget-friendly 8-channel audio mixer.
It also produces very little noise and provides enough headroom for both instruments and voices.
Despite its low price, this mixer includes a strong steel frame that helps it withstand filth and grime.
The main issue is that there aren't many customizing possibilities.
However, if you know what you're doing and only need a basic mixer for everything, the value of this mixer is hard to match.
8. Creative Sound Blaster K3+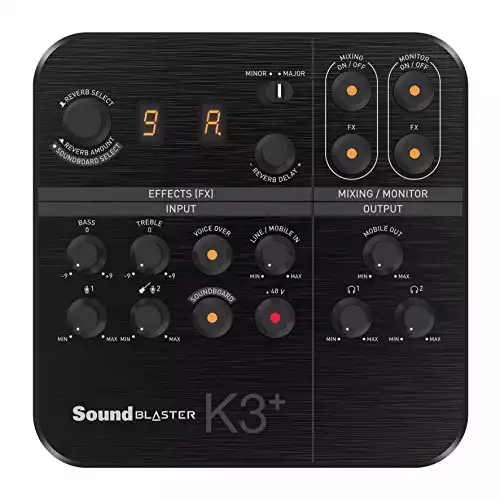 It may be charged using a portable battery pack, a laptop, a power socket, a vehicle lighter port, and other methods.
Connect your PC or Mac through USB to broadcast audio into the mixer, record your performance straight to your selected device, or live stream your performance using a camera or video capture device
XLR Phantom Power - Delivers up to 48V phantom power to condenser microphones for crystal-clear, studio-quality recording. (NOT SUPPORTED BY TRS PHANTOM POWER)
Play straight from your mobile device while simultaneously recording to it via the mobile port using a 4-pole aux wire. Perfect for Smule and other popular Karaoke applications!
9 Adjustable Reverb Effects - Choose from various reverb effects and fine-tune the effect's strength and delay with a knob twist.
Apply soundboard effects to your broadcasts with soundboard clips/pitch correction effects. You may synthesize your voice from the complete range of C major to B if you want to auto-tune effects.
Check Prices
We earn a commission if you make a purchase, at no additional cost to you.
This Creative Sound Blaster K+3 alternative mixer is a natural rival that, at least in terms of feature depth, competes with the GoXLR.
In truth, it's undoubtedly one of the most remarkable external sound mixing modules money can buy for the price.
It has several connection input choices and complete compatibility for 48 V Phantom condenser mics and an easy-to-use control system.
There's a lot to enjoy here, mainly because there are currently six distinct streamer settings built into the board.
New streamers will get up and running quickly with this audio equipment by simply selecting the presets that work best for them.
You'll be able to tweak the custom settings later to get the sound you want.
With this pre-programmed audio mixer, you can get a good start in the streaming market.
9. Neewer Mixing Console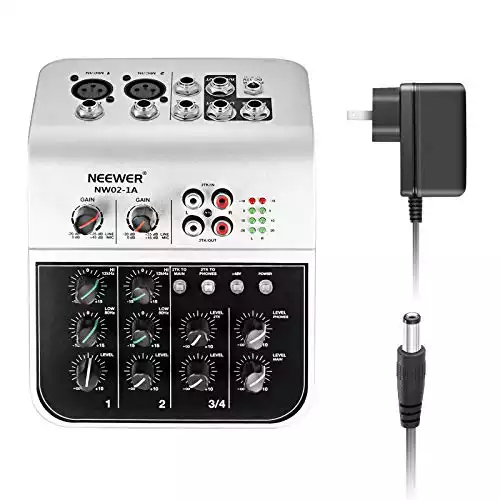 Outstanding performance: It has a 2-band EQ and a volume control knob for a warm and pleasant tone—ideal for interior use, such as family karaoke or guitar performances, among other things.
Phantom Power (48V) is a power supply for condenser microphones and direct boxes that you may turn on and off.
Portable and Compact Design: Weighs just 680 grams; compact construction and durable metal housings; simple to transport and use in various environments.
Check Prices
We earn a commission if you make a purchase, at no additional cost to you.
The Neewer Mixing Console is a two-channel mixer with a small footprint.
It contains two 3-pin XLR inputs/amps for your mic, L/R phones, and RCA jacks for your ins and outs. Although all channels have gain settings, it lacks many of the additional capabilities found on the GoXLR.
It is a lovely affordable choice if you're new to streaming and has recently purchased an XLR microphone and don't want to spend the money on an expensive audio mixer.
It has a phantom power preamp, which is necessary to power all types of condenser mics and may be easily switched on and off at the press of a button.
Another appealing feature of this piece of equipment is its small and portable size.
Most streamers would never need more than two microphone inputs during their live streams, which is why the Neewer, at only 680 grams, is a good option for most individuals. On your desk, the appealing, modern style will appear right at home.
Note: A 6.35mm to 3.5mm headphone adaptor cable is required to connect to a Mac.
There is no USB port on this mixer.
10. Alto ZMX52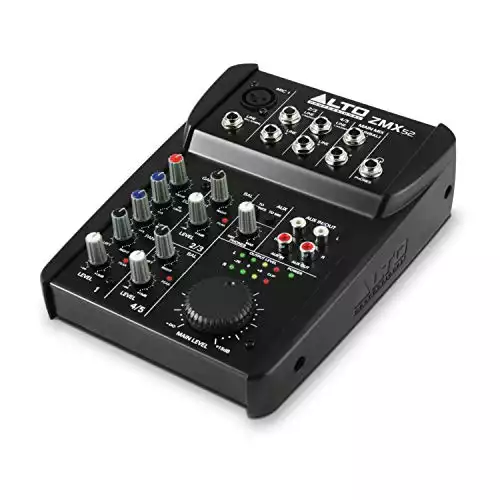 A Mixer for Every Situation - Six total inputs, including a phantom-powered XLR on channel 1 - ideal for musicians searching for a small, competent mixing console for a studio, podcast, or live sound applications.
Superior Sound Quality - Extra dynamic range and ultra-low noise are provided by high headroom circuitry for the most excellent performance from your studio microphones.
Tweak Your Sound - Add studio-quality processing to your dynamic, ribbon, and condenser microphone signals with a warm, natural two-band EQ on the mono channel.
The Ins and Outs - 1/4" Main, Tape, Headphone, and Aux outputs for signal routing flexibility; mic input channel with gold-plated XLR and balanced line input; two extra stereo input channels
2-Track inputs with assignable bus: main mix or headphone out; very accurate master four-segment bar graph meters; Peak LEDs on each channel.
Check Prices
We earn a commission if you make a purchase, at no additional cost to you.
Another 5-channel professional-grade small mixer to consider is the Alto ZMX52.
Unlike the more extensive and more expensive 6 or 8 channels, the 5-channel's small size allows you to keep it close at hand without sacrificing any technical skills.
The ZMX52 is the ideal mixer for quick and painless settings.
You may use the first channel to plug in the dynamic condenser and cordless microphones, as well as two stereo channel inputs for keyboards, drum machines for other events.
There's a lot of headroom built into this device to provide you with the extra dynamic range you wouldn't have obtained otherwise.
The "Phantom power" microphone preamplifier is ultra-low noise and discrete, and there are a variety of knobs to modify things like EQ and Gain.
The bright LED indicators, which enable you to distinguish different elements of your mixer during dark light situations, are particularly appealing.
Even if your attention is diverted elsewhere, a simple peek at this board will reveal the levels you're utilizing during the live events.
11. ALPOWL Mini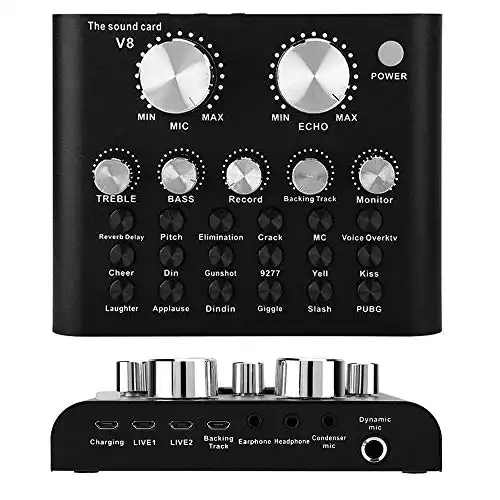 Built-in Two DSP Noise Reduction Chip and ECHO, The sound card voice changer has dual DSP noise reduction chips.
Six distinct gameplays, 12 various electro-effects choices, 12 humorous sound effects, seven different gameplays, three sound transitions
Compatible with dual cell phone live, and synchronous mobile phone/computer live.
Check Prices
We earn a commission if you make a purchase, at no additional cost to you.
With the ALPOWL Mini mixer, compatibility is the name of the game.
You can connect this mixer to just about any input type, including smartphones, other mobile devices, laptops, and standard dynamic microphones.
The built-in Dual DSP Noise Reduction Technology and ECHO functions are the true standouts here.
Thanks to these exciting capabilities, you'll be able to get far more consistent and high-quality sounds from your microphones.
On the front of the board, there are 12 SFX choices (programmable), and 12 more custom sounds that you may save.
Additionally, six gaming presets are pre-installed to help you get started straight away.
This GoXLR alternative's price tag is almost too good to be true.
However, a disputed warranty, a stellar reputation, and top-notch customer service should give you the confidence you need to buy this product.
12. Maker Hart Loop Mixer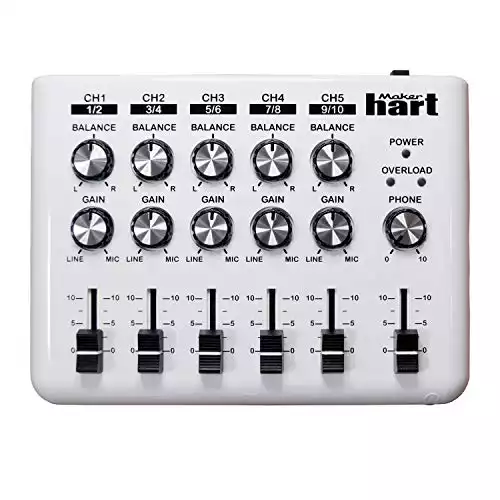 Combine audio/music from computers, cellphones, tablets, game consoles, Amazon Echo/Dot, microphones, and instruments in a single mix.
You can increase signals from MIC to LINE level to a maximum gain of 50 dB for each input when powered by an AC adaptor.
1/8 x 5 "Stereo jacks (3.5mm) are supplied, as well as a Mono to Stereo DM2S adaptor.
It has 1/8 inch "Headphones (3.5mm), speaker output, and REC OUT stereo ports for three simultaneous outputs.
It has a smooth, straightforward design with a portable but robust structure.
Check Prices
We earn a commission if you make a purchase, at no additional cost to you.
The Loop Mixer is a professional audio mixer that you may use for live streaming.
It's small, light, and easy to transport.
The mixer not only looks beautiful, but it also functions well.
It works on smartphones, computers, tablets, and game consoles.
It features a tech that allows you to boost the signal to reach the devices easily. The AC adapter combined with the mixer enables you to boost the mic's signals.
The highest volume that you may achieve is 50 decibels.
Stereo and mono input adapters are available on the mixer.
The mixer has three outputs: 1/8" headphones, speakers, and a stereo REC OUT connector. All of these outputs can be active at the same time.
Frequently Asked Questions
Below are some frequently asked questions...
Has The GoXLR Been Discontinued?
No, the GoXLR has not been discontinued, and is still available for purchase.
You may want to opt for the GoXLR mini instead if you are just getting into audio mixers.
What's The Difference Between The GoXLR And The GoXLR Mini?
The biggest difference between the GoXLR original and the GoXLR mini is that the GoXLR mini does not come with a sample pad and voice effects engine.
Are Audio Mixers Only Used For Streaming?
No.
The primary use of the GoXLR is to have complete control over your audio sources.
So while that would be incredibly useful for streaming, you can use it for any scenario where you would want to change your voice, or add voice effects.
Our Winner For Best GoXLR Alternative
The overall winner for the best GoXLR alternative goes to the (drum rolls…).
AVerMedia Live Streamer Nexus.
The AVerMedia Live Streamer NEXUS is a device that combines the GoXLR and Elgato Streamdeck (ALMOST) into one device, giving you an audio interface with volume knobs, programable buttons, and a touch screen!
The Nexus from AVerMedia costs around ~$350, while the Live Streamer Mic 330 costs around ~$100.
With that said, I think AVerMedia gives the best results in this equation, with Rode RODECaster Pro coming in very close, landing in second place.
However, I understand that not everyone streamer has the same style and personality; there is always a mixer tailored just for you in our above list.
If you don't know what you are looking for, I recommend a pre-programmed mixer that makes it easier for you to set up and stream while taking your time to get into the best tweaks throughout your experience.
The Bottom Line
Whether you're streaming on Twitch, Youtube, Uscreen, or even TikTok, and you're searching for a device that can and will improve the quality of your audio, you should consider investing in one of the GoXLR alternatives I've listed above.
You should think about them based on your demands, but I am convinced that any of them can help you improve your sound.
You may rest assured that the GoXLR replacements given here are pretty similar to the original and will not let you down.