Streaming can be an enriching experience, but many streamers are unaware of the importance of lighting.
After scouring through hundreds of lighting options and researching what current Twitch and YouTube streamers like Dr Disrespect use…
We've compiled the best lighting for streaming into one jam-packed article, no matter what budget you have.
Whether you prefer softboxes, ring lights, or LED panels as your preferred lighting, you will find an option that will suit your streaming needs.
So enough talk, let's get started!
Best Overall
Fovitec 3-Light Lighting Kit (With 1x Boom Arm)
Excellent 3-point lighting system
Softbox lighting for a "soft" look
Great value for its price point
Budget Pick
Neewer Complete Lighting Kit (2x Softboxes, 2x Umbrellas & A Green Screen)
Inexpensive, perfect for beginners
2-point lighting system with green screen
Includes diffusers for a softer light
Premium Pick
Elgato Key Light
Controllable via App
Ultra-bright with glare-free diffusion
Clampable to desk
TL;DR: The Best Lighting For Streaming
Key Lights / Fill Lights / Back Lights
The lights below can be used for key, fill, and back lighting to fulfill your three-point lighting system.
Background Lighting
Not to be confused with back lights. These lights are specific to illuminating the background of your stream.
The Best Lighting For Your Stream (Key, Fill & Back)
1. Fovitec 3-Light Lighting Kit (With 1x Boom Arm)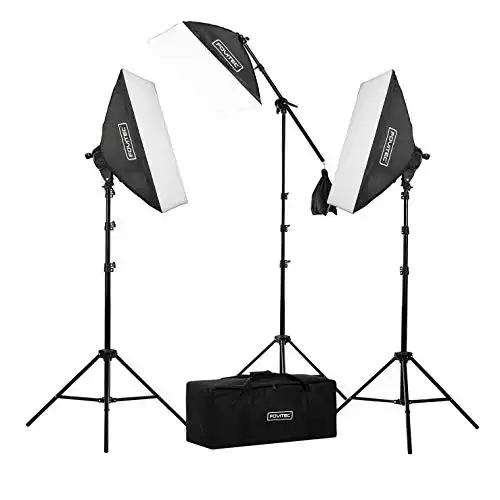 Check Prices
We earn a commission if you make a purchase, at no additional cost to you.
Pros
A complete 3-point lighting system
Includes a boom stand for adjustability
Completely rids of any unwanted shadows
Adjustable via wireless remote
If you want the best possible lighting for your stream, there's a high chance you will be using the three-point lighting system.
This means you will have a key light, a fill light, and a back light that ensures minimal shadows on your face.
The Fovitec lighting system provides you with a complete 3-point set, including a boom stand you can use for extra flexibility.
Having a 3-point lighting system gives you the highest quality lighting on your face.
You won't have any unwanted shadows, and you will be able to take full advantage of your camera's sensor.
The lights themselves are 45W fluorescent lamps that offer color temperatures up to 5500K, so you can play around with the intensity and see what suits your stream the best.
What I like best about the Fovitec lighting system is the large surface area the softboxes take.
When set up correctly, you will have "professional-grade" lighting, which upgrades the quality of your stream tenfold.
Please note that due to the size of these softboxes, they do need adequate space to fit.
If you have a smaller room with limited spacing, you may prefer a clampable stand for your lighting as they come in smaller sizes.
But if you want the complete package, the Fovitec lighting system kit is the way to go.
2. Neewer Complete Lighting Kit (2x Softboxes, 2x Umbrellas & A Green Screen)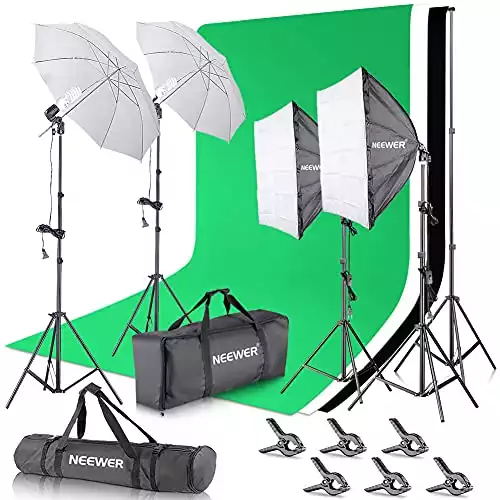 Check Prices
We earn a commission if you make a purchase, at no additional cost to you.
Pros
2-point lighting kit with green screen
Green screen allows for different HQ backgrounds
Includes umbrella diffusers to create softer lights
Can be powered by a battery, great for portability
Cons
Backdrop is flimsy and doesn't hold weight well
May need to purchase additional accessories to bring out the full potential
The Neewer Softbox lighting kit includes everything you need to produce adequate lighting and gives you the flexibility to have any background you want when you stream.
The kit includes everything you need; a key light, a fill light, and a green screen.
You won't get the entire 3-point lighting system here, but you may like having a green screen instead, especially if you don't like your background.
The kit includes a key light and a fill light which gives you adequate lighting on your face from both sides, with no unwanted shadows.
With the green screen, you have complete control over your background.
You can get creative with it, and your streamers will enjoy it because it adds to your personality.
The lights are adjustable with brightness ranging from 1% - 100%, 45W LED interchangeable bulbs changing colors from pure white to yellow.
Whether you want it as bright as day or a softer yellow is up to your personal preference.
The stands are durable, built with a fully adjustable aluminum frame so that you can find the perfect angles without any hassles.
And you can run the lights by plugging them indirectly or via rechargeable batteries.
Additionally, the kit includes umbrellas so you can bounce off your lighting if you need to soften the lighting of your stream.
Just make sure you have enough space in your room to set up the kit since it will take a decent amount of room.
Overall this is the best lighting for streaming to start with. It's affordable and provides everything you need for a high-quality stream.
3. Elgato Key Light
Pros
Premium build quality
Glare-free diffusion
Customizable using Elgato's app
Cons
Expensive
Comes only as a single light
If you've dabbled into streaming essentials before, then chances are you've come across the Elgato brand.
The Elgato key light includes a 2800-lumen output which keeps temperatures low, so you won't have to worry about your key light heating up your room.
The key light quality is exceptional; you won't experience any glare due to the glare-free diffusion made out of opal glass face.
It includes 160 premium LEDs that are fully adjustable depending on how strong you want your lighting.
And unlike most lighting kits which include a remote, you can download the Elgato app and use your smartphone to customize the lighting to your preference.
It has a more minimalistic design, including a thin and sturdy pole, with a clamp at the bottom, which can sit flush against a wall if you want it to.
This is a premium key light that I would recommend upgrading to in the future; it's best to spice up a pre-existing setup to give it a more premium look.
4. Neewer Ring Light
Pros
Ring light design provides a more even distribution of lighting
Slimmer form factor
Can place camera/phone in the middle of the light
Built-in clamp for cameras and phones
Cons
Need to buy additional filters if you want to change the color
If you prefer a ring light over softbox lighting, the Neewer ring light is the way to go.
If you don't know what ring lights bring to the table compared to softboxes and LED lights, click here to see our explanation.
But basically, you will find that with a single softbox light, you will have some strong shadows on the opposite side of where your light is facing.
The shadows are limited with a ring light since the ring design covers more surface area and has a more even distribution of lighting.
This makes ring lights an excellent solution if you have limited spacing or only want a single light setup.
They are slimmer and come in a smaller form factor, so it'll be easier to set these lights up if you have a smaller space.
The light boasts 240 LED lights, which help create a natural spread of lighting that will reduce the number of unwanted shadows on your face.
The ring light gets incredibly bright too, which you can set the brightness between 0% - 100%.
The lighting colors are not adjustable, which is a bummer, but it does include an additional dark orange lighting filter if you prefer a warmer tinge.
Additionally, Neewer's ring light has a built-in camera holder at the top and comes with a phone mount, so if you use your phone for streaming, you won't need to buy an external mount.
You also won't have to worry about getting a 3rd party c-clamp to mount your face cam if you use a DSLR/Mirrorless camera or your smartphone to stream since you can attach it to the ring light itself.
Overall the ring light is the perfect softbox alternative that you can use as a key, fill or back light if you prefer a wider spread of light to reduce shadows.
5. Neewer LED Standing Lighting Kit (2-Pack)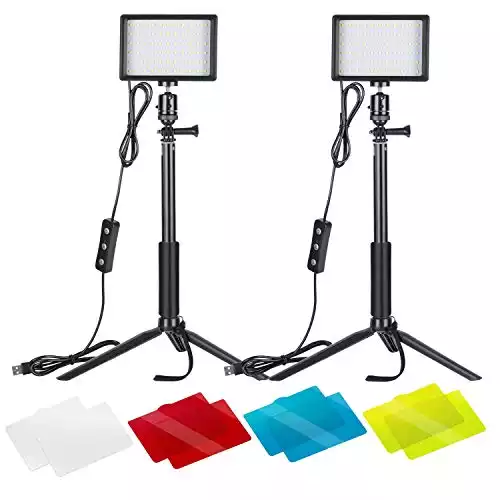 Check Prices
We earn a commission if you make a purchase, at no additional cost to you.
Pros
Stand allows you to save room
Adjustable stand to set up the perfect angles
Budget-friendly price point
Comes with interchangeable color filters for different looks
Cons
Build quality isn't the best; is quite flimsy, so you have to be careful
Ring lights and softbox setups can take up a lot of space which may not be ideal if you have a smaller room.
That's where the standing LED lighting kit would come in.
You can place these lights on the side of your monitors, which will give you excellent lighting for your face cam.
The LED panels seem small, but they pack quite the punch. They are bright, powered by 66 intense LED's, so you definitely will not want to run them on the highest brightness setting.
It comes in a mini tripod with an extendable rod, ranging from 22.5cm to 116cm.
The lights sit on your desktop, so the extended range will provide enough height for the lighting to reach you even if you are tall.
This lighting kit is best for smaller projects with small to medium-sized rooms, and you can also use it to light up your green screen.
The Neewer standing LED lighting kit is the perfect minimalist, budget-friendly lighting kit you can grab to start your stream.
It won't take up as much space as your standard softbox or ring light setups, so you can keep your streaming setup clean and tidy.
The Best Background Lighting To Complement Your Stream
If you're not planning on using a green screen, you will want to spice up your background lighting. Use the products below.
TENMIRO LED Strips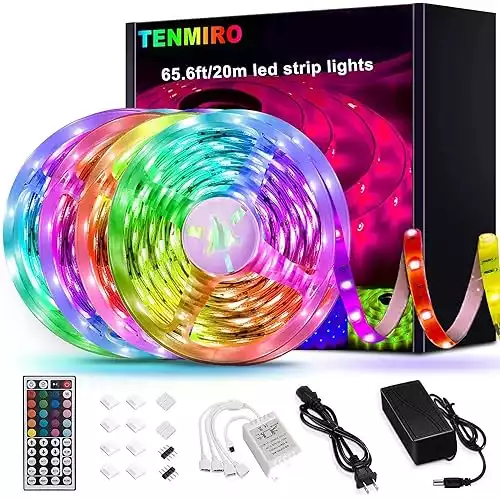 Check Prices
We earn a commission if you make a purchase, at no additional cost to you.
You use LED lighting strips to provide RGB lighting for your background, affecting the "mood" of your stream.
For example, a red background gives an "intense" type of mood, whereas a blue background would provide a more "cool," "peaceful" kind of mood.
If you want a general tip on what kind of mood to choose, check out this color mood chart here.
The LED strips come in 4 reels of 16.4ft LED light strips, which gives you plenty of products that you can use to play around with and plan what you want illuminated.
You can cut the strips every 3 LEDs and link them to other LED strips.
Each strip comes with an adhesive side, making them incredibly flexible and easy to install.
Note: You will need LED connectors to join the LED strips if you decide to cut them.
You can run these strips around the back of your shelves, around the top of your roof, or on the bottom side of the wall…
So when you turn off the lights, you will see a subtle background glow that adds to your stream's quality.
You can also easily change this using the remote provided.
One example of using LED strips would be going from "chill" mode to "serious" mode.
If you're a competitive gamer and want to show your audience that you will go "full concentration mode," you can change your background color to red to showcase intensity.
Overall the LED strips are an excellent investment to add some color to the background of your stream and are budget-friendly, so you don't have to break the bank.
Govee Smart RGB Light Bulbs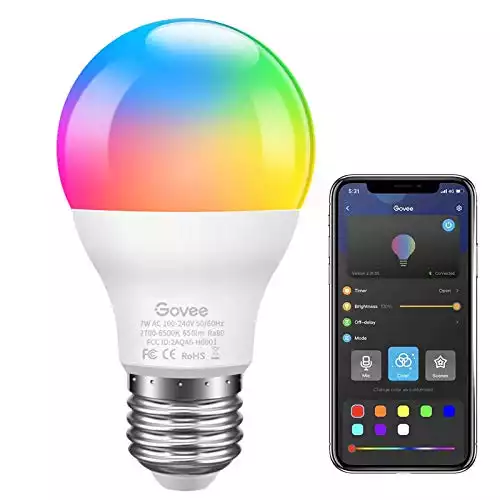 Check Prices
We earn a commission if you make a purchase, at no additional cost to you.
If you aren't a fan of using adhesive LED strips as RGB lighting for your background, then you can go for the alternative and grab some RGB light bulbs to do the trick.
These light bulbs will work on any lamp that has interchangeable light bulbs.
Chances are you have some lamps lying around already, but if you don't, they are inexpensive, and you can get them from your local store for cheap.
We love these light bulbs because you can customize the settings via their app that's connected via Bluetooth.
If you prefer lamps over LED strips, this is the best, inexpensive option with an effortless setup.
Buyer's Guide: How To Pick The Best Lighting For Your Live Stream (For Twitch Or YouTube)
One of the best ways to upgrade the quality of your stream is by setting up a sound lighting system.
Some key factors determine the difference between good and bad lighting, which we will go through in this section.
To start, we have the...
The 3-Point Lighting System
The 3-point lighting system is a technique used in photography and cinematography which emphasizes three different areas…
The key light (the most important),
The fill light (which fills up shadows)
The backlight (to create depth)
You would set up this lighting configuration to eliminate shadows, which would reduce the quality of lighting on your face.
Having three lights set up correctly will provide adequate lighting no matter what angle you're facing.
Here's how it works...
Key Light
Key lighting is the first light you will want to set up when streaming since it is the light that directly shines on you, providing adequate lighting for your face cam.
Note: You may find when searching for lighting for a stream, you come across lights like the Elgato key light. Although you're not just limited to using it as a key light, you can use it as a fill or back light as well.
Nowadays, using your room light or the illumination from your PC's screen won't cut it; you need a bright key light shining directly on you, so you show up clear for your audience.
Fill Light
Fill lights are self-explanatory when you think about it — it "fills-in" the lighting that your key light would've otherwise missed.
In other words, it lights up the shadows that come from your key light.
With a two-lighting setup, you would typically have your key light on the front-left and your fill light on the front-right, so your lighting is shining from both directions (see the above example).
Back Light
And finally, back lights are the final light you would use to eliminate any shadows that your key and fill light might've missed.
It also creates a contrast between you and your background, so your audience will see you clearly. It adds to the quality of your stream.
The back light sits on the back-left or right, primarily facing your backside.
It's not necessary to have, but it does add some depth to your face cam.
Soft Light Vs. Hard Light
In addition to the lighting system you want to set up, you should be wary of the differences between a "soft" light and a "hard" light.
Here's a visual example comparing the two:
Soft Light Explained
Soft lights are best known for "wrapping" around their subject, effectively eliminating any dark shadows that you may get with hard lights.
Unlike the name suggests, back lights are bright and are more balanced compared to hard lights.
The best way to think about a soft light is to imagine how it looks on a cloudy day, with the sun shining through the darkened clouds, creating a somewhat "soft" light in every direction.
You get adequate lighting, but it's not harsh or blinding. It's more subtle and "soft," hence the name.
Hard Light Explained
Hard lights are best known for drawing attention to a specific part of a photo, often causing harsher shadows.
Unlike soft lights, which effectively rid your subject of any dark shadows, hard lights are the opposite.
You can think of hard lights like a "spotlight" when you're watching a live performance.
Your subject shown under a hard light will cast a hard shadow wherever the light is not facing, which would be behind and around the subject.
You can manipulate the hardness of your lighting by changing the distance or size of the light source.
The closer or larger your light source, the softer your light will look.
Softboxes Vs. Ring Lights Vs. LED Panels
There are three different types of light designs to choose from.
Here's a visual diagram of the three: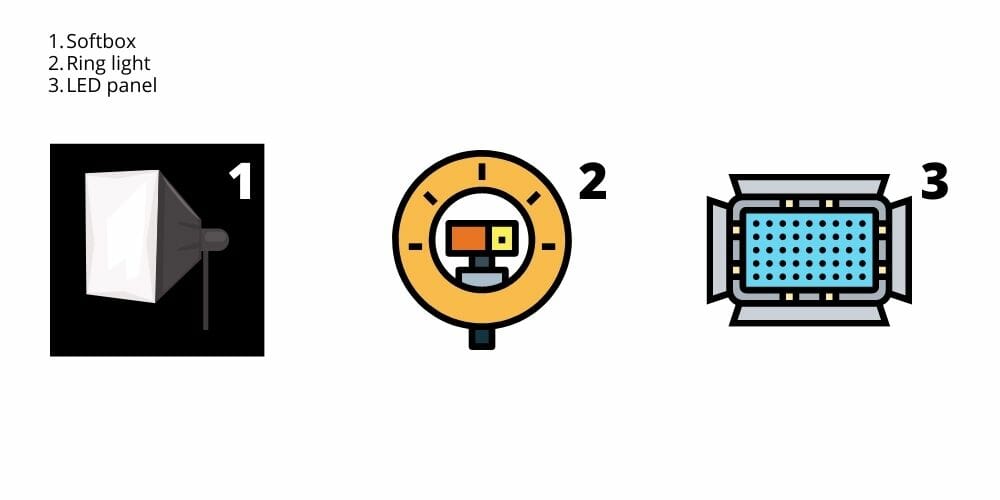 Softboxes
Softboxes are lights that use bulbs and a secondary surface like an "umbrella" to diffuse the light.
A "soft" light is what you will want to use for streaming over a hard light, and softboxes do this exactly.
They soften the light but also increase the size of your light source.
Remember: The closer or larger your light source, the softer your light will look.
The "box" in a softbox acts as a diffuser, similar to what lighting umbrellas do.
The more widespread your lighting is, the softer the light will be, and the less harsh your shadows will look.
This reason alone is what makes softboxes an excellent choice for streaming.
LED Panels
LED panels are just a cluster of LEDs built into a rectangular shape.
They work the same way as Softbox lights, but without the "umbrella" type of diffuser.
But that doesn't mean that they don't have a diffuser at all…
LED panel lights usually have built-in diffusing, like the Elgato key light, which provides glare-free diffusion due to its opal-glass material.
They often come in a square or rectangular shape, which also affects how the light is distributed.
Ring Light
Ring lights are LED lights that have a ring/circular design to them.
Where you would usually position your key lights on both sides of you to eliminate unwanted shadows, ring lights can be placed directly in front of you while significantly reducing the shadows that show up.
The ring-like design gives you a more well-balanced distribution of light, which reduces the harshness of shadows.
It works because instead of having a rectangular shape, the light is spread out in a larger circular design.
Again, the larger your lighting, the "softer" your lighting will look.
Due to the sizeable ring-like shape, the lighting on every side of the subject (AKA you) will be evenly distributed, which will lessen harsh shadows by a lot.
Additionally, you can also place your camera in the middle of the light, which will provide a different lighting effect.
Frequently Asked Questions
Below are some frequently asked questions.
How Do I Light A Green Screen For Streaming?
To have an effective green screen, you need to have an even spread of lighting.
The best method to do this is by having two lights on either side. Ensure that the lights are consistent throughout the entire surface area of your screen.
You can use OBS to test your green screen using the "Chroma Key" option.
This feature allows you to see where your camera may not be picking up your green screen.
Here is a tutorial on how to set it up:
If you find some distortion on your green screen, it may mean two things:
Your lighting is too harsh and needs to be diffused
You don't have consistent lighting throughout your green screen
If your lighting is too harsh, try diffusing the light by bouncing your light off a wall or white cloth or using a diffusing umbrella.
If you don't have consistent lighting throughout your green screen, you will want to invest in another light so you can place both lights on either side.
Can I Use Any Form Of Light As My Key, Fill, Or Back Lighting?
Absolutely.
Any light will add a quality look to your stream, whether you choose a ring, rectangular LED, or softbox light.
Any type of light will be better than your room's light, even if it's as simple as the desk lamps that you have lying around the house.
Although they may suffice, it's always better to get a proper setup, in which case you can choose any of the lighting kits on our list above.
If you're on a tight budget, look to upgrade your streaming essentials as you grow instead of buying outright.
Proper lighting kits offer higher-quality lighting, more versatility, and complete customization than your standard desk lamps.
Our Winner For Best Lighting For Streaming
Each light on our list serves different setups, mainly depending on the size of your room.
But if we were to pick one light out of them all, we would definitely go for the Fovitec 3-Light Lighting Kit.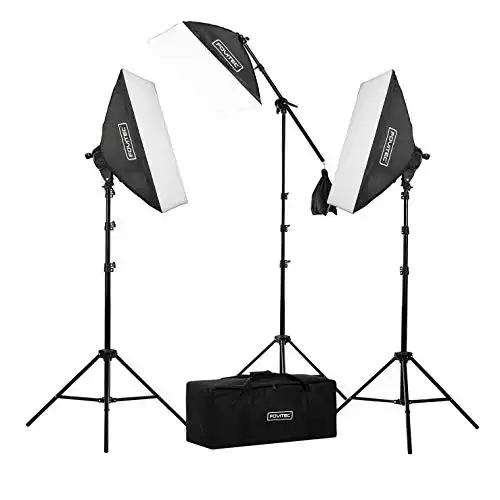 Check Prices
We earn a commission if you make a purchase, at no additional cost to you.
The lighting kit includes three softbox lights which will provide you with an excellent soft-looking light...
And will allow you to use the three-point lighting system which will essentially get rid of all unwanted shadows no matter what angle you look from.
The bottom line is that the more lights you have, the better, and the Fovitec lighting kit comes with all three necessary lights for streaming.
And the lights themselves are built with quality, providing enough lighting to give your stream that "professional" look.
Although the Fovitec lighting kit does take up quite a lot of space, if you have a smaller setup, you may want to go with Neewer's LED Standing light kit, which you can set up on both sides of your monitor.
You can also take advantage of Neewer's complete lighting kit, which replaces the third light with a green screen if that's your preference.
The Bottom Line
By now, you should know the importance of having adequate lighting for your stream and how to set up a quality lighting system.
Lighting can make or break a quality stream, so it's essential to set your lighting up correctly so your audience can see you and connect with you.
If you have had success with the lighting we have mentioned in our list, comment below with a screenshot of your setup; we would love to see it!
Happy streaming!