I think that we can all relate to the feeling that we get after a long day (and probably night) of gaming - aching backs, sore behinds, numb legs; the whole package.
Oftentimes, our chair is the main culprit of these issues, and you may be beginning to realise more and more that your barebones gaming setup consisting of a plastic fold-out chair might not quite be cutting it anymore
If this is the case, then you'll definitely be wanting the best gaming chair for long hours that will offer you all the comfort and lumbar support that you need to give your legs and lower back a well-needed break.
There are, however, so many gaming chairs in the gaming chair market - so how do you know which one is the best?
Well, we're here to help you out!
Without further ado, here are our top picks on the best gaming chairs are for sitting for long periods of time.
TL;DR: The 5 Best Gaming Chairs To Sit On For Long Hours At A Time
1. Noblechairs Hero Gaming Chair
Check Prices
We earn a commission if you make a purchase, at no additional cost to you.
Pros
Firm build quality allows for better posture
Adjustable lumbar support, back-rest, and seat height, as well as rocking mechanism and flexible 4D armrests
Can be used as both an office chair and gamers' chair
Can be purchased in either PU leather, real leather, or PU hybrid leather
Excellent build quality
Cons
Price tag may be rather high for some people, especially if purchasing the real leather version
May not be ideal for those used to softer chairs
Next up is the Noblechairs Hero Gaming Chair, which you will soon find is probably one of the best gaming chairs out there if you constantly suffer from an achy back after a long PC gaming session – so let's get into the why and how.
Some people may believe that the softer the chair, the better it is for your back – but this simply is not true.
A softer chair, in fact, may be worse for your back than a firmer one, as they tend to promote poorer posture as they do not possess the structure needed to support your back's natural curve.
This is why the Noblechairs Hero is rather firm - it can promote better posture.
This chair also includes adjustable lumbar support and back-rest, as well as a rocking mechanism and flexible 4D armrests. This means you can adjust this chair to your needs and preferences for maximum support and comfort.
You can also purchase this chair in three different types of upholstery: PU leather, real leather, and PU hybrid leather, so you can pick and choose based on your budget and what you find most comfortable.
And, to sweeten the deal, this chair can also be used in your office.
Get ready to say "hello" to painless gaming (or working) nights with the Noblechairs Hero Gaming Chair!
2. Herman Miller Embody Office Chair
Check Prices
We earn a commission if you make a purchase, at no additional cost to you.
Pros
Highly adjustable features, such as the seat height and seat depth, and the back-rest
Features 'pixelated support', which allows the chair to conform to your body and movements
Provides excellent lower back support
High-quality, durable build
Works brilliantly as an office chair
Cons
Very high-end, so this chair comes with a price tag that may be too hefty for some people
The Herman Miller Embody Office chair is one of the best office chairs (or gaming chairs) out there, and you will soon see why.
The main advantage of this high-end chair is that it is very comfortable, and using it all day will prove to be a painless experience.
How? Well, the Herman Miller Embody is highly adjustable, with 4D armrests, lumbar support with adjustable curvature, as well as a back-rest and seat that can be adjusted in numerous ways, such as tuning the seat height and depth.
Its seat and back-rest also feature built-in 'pixelated support', meaning that this chair conforms to your body's shape by providing flexibility to the chair, which Herman Miller claims will 'make you feel like you're floating'.
All in all, the Herman Miller Embody is an excellent choice of chair, and is one of the best gaming chairs if you want a high level of adjustability and conformity to your body.
3. GTRacing Pro Series Gaming Chair
Pros
Affordable
High level of adjustability, such as back-rest recline and seat height, as well as adjustable armrests
Comes with retractable foot rest
Upholstered with faux leather for durability
Adjustable lumbar support and neck cushion provide great support for your back
Features attractive racing style
Cons
There may not be enough colour options for those who want a selection
You may just be starting out with your gaming battle station, and may have already blown most of your money on a high-end PC – so what now?
Luckily for you, a budget PC gaming chair doesn't always mean that comfort is sacrificed, and the GTRacing Pro Series Gaming Chair proves that.
Despite its rather low price point, this gaming chair comes with plenty of adjustable features, including the necessary lumbar support, as well as adjustable arm rests and neck pillow.
The back-rest is also reclinable up to 165 degrees, and the seat height can be adjusted to your liking for extra comfort, as can the tilt angle.
This chair in particular also comes with a retractable footrest, so if you want to put your feet up and watch a movie in between gaming sessions then you have the option to do that, too.
So if you find you don't have much room left in your budget, don't worry, because the GTRacing Pro Series Gaming Chair is one of the best gaming chairs for affordability!
4. Corsair T3 Rush Gaming Chair
Check Prices
We earn a commission if you make a purchase, at no additional cost to you.
Pros
Stylish fabric upholstery coming in three chic colours
Highly adjustable
Can double as a PC gaming or office chair
Memory foam lumbar support and padded neck cushion
Cons
Seat may be a bit too small for people that need a larger seat
To kick of this list, we have the Corsair T3 Rush – and, boy, is this chair stylish!
Though the Corsair T3 Rush is marketed as a high-end gaming chair, it certainly does not look like most people's perception of 'gaming'.
This chair comes with fabric upholstery (which already sets it apart from other gaming chairs) in three chic colours that will blend into your décor – a smoky charcoal, and a modern grey with either charcoal or white accents, all of which offer a contemporary look.
The unassuming yet good-looking style of this chair means that it can also double as an attractive office chair.
The Corsair T3 Rush isn't just all about style, however; it also excels in the comfort factor!
Fitted with a memory foam lumbar pillow and a neck cushion, you can say goodbye to lower back and neck pain with this chair!
It can also be adjusted to suit your needs, with adjustable armrests and seat height, and a reclining back-rest that can lean up to 180 degrees!
So if you want a mix of style and comfort, the Corsair T3 Rush Gaming Chair will be the perfect chair for you!
5. Vertagear PL4500 Gaming Chair
Check Prices
We earn a commission if you make a purchase, at no additional cost to you.
Pros
Compatible with Vertagear's RGB LED Upgrade Kit for a flashy aesthetic
Comes in several different colours
Provides excellent neck and back support
Works wonderfully as a PC gaming chair
Features popular racing style
Wrapped in PUC leather, which is more durable than PU leather while still being comfortable.
Cons
Some may find the back or seat to be too rigid if they are used to softer gaming chairs
Flashy aesthetic may not make this chair a very suitable office chair
The idea of an RGB gaming chair might sound weird to some, but like a dream come true for others – and the Vertagear PL4500 Gaming Chair serves the latter wholeheartedly.
First of all, this chair already comes in several different colours, and features the racing style that is so common amongst gaming chairs.
On top of this, the chair is compatible with Vertagear's RGB LED Upgrade Kit, which will take your chair from a rather standard gaming to chair to something that seems almost out of this world.
If you're worried that Vertagear may have skimped out on comfort in favour of style in this chair, however, then you would be dead wrong.
The Vertagear PL4500 Gaming Chair features enough back support to last you all day, as well as a rather rigid frame and hard cushion which, though many may see this as a downside, will actually help you in the long run by supporting proper posture.
It also comes with a memory foam neck cushion and lumbar support, which will take your comfort to the next level.
If you want your battle station to stand out from all the rest, then the Vertagear PL4500 Gaming Chair is the best gaming chair for you!
Buyer's Guide: How To Choose The Best Gaming Chair To Sit At For Extended Hours
When browsing through the seemingly endless lists of chairs for gamers, there are several things you need to look out for: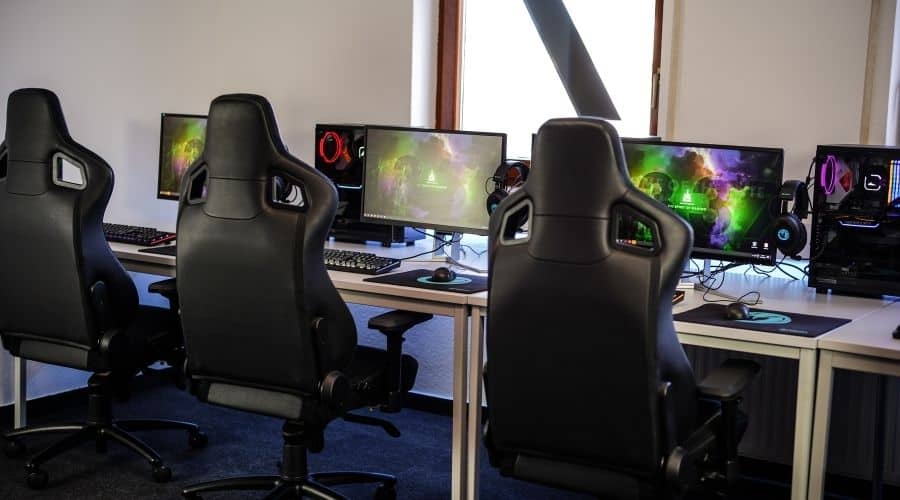 Measuring Your Weight & Dimensions
Possibly one of the most important things that many gamers overlook when hunting for chairs is checking to see if the chair you're looking at supports your weight and dimensions.
For instance, if you are tall, then you will obviously want a gaming chair or office chair that can comfortably accommodate that.
Typically you can check the weight capacity and recommended height of a chair in the product description, with chairs that are the largest in both categories often being marketed as 'big and tall'.
The dimensions of a chair are also often listed in the description, so be sure to check those to make sure you'll comfortably fit in your gaming chair!
Choosing The Best Material For Your Preferences
One of the next most important things to consider is the material that the chair is covered with.
Usually PU leather is a great option for most uses, as not only is it a cheaper alternative to real leather, but it also offers a similar level of durability and comfort that you'll definitely want if you're looking to spends long periods of time in your chair.
You can also find gaming chairs with mesh upholstery, which offer greater breathability that will help you out a ton if you find that you get rather sweaty during intense gaming sessions (no judgement, we all know the feeling!).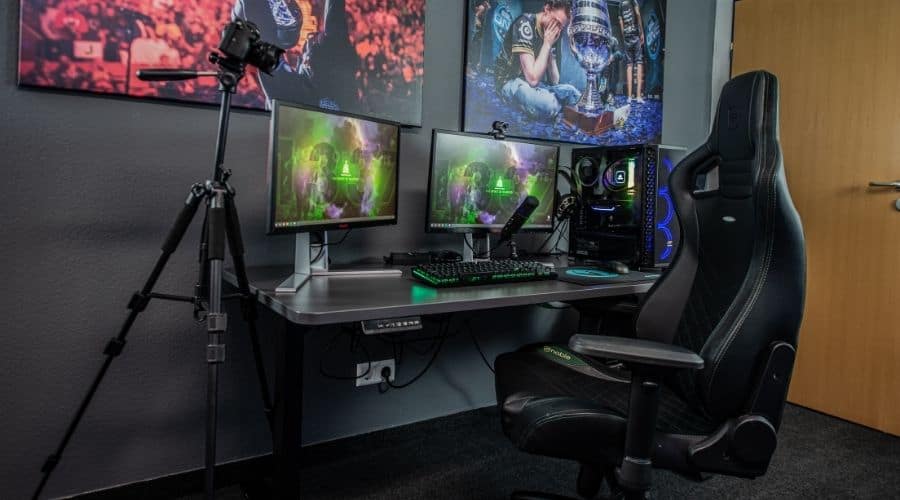 Lumbar Support
If you find that you suffer back pain a lot while sitting at your chair, then you may be in dire need of built in lumbar support
Some of the best gaming chairs come with lumbar support; it helps you immensely with retaining good posture during long periods of sitting, and will reduce the strain on your back muscles for maximum comfort.
This kind of support can either be offered to you as a built-in feature on the chair's structure, or it can come in the form of a lumber support cushion - both options work just fine.
Comfort Levels
Next up is, of course, the comfort level of the chair, and this will depend entirely on your preferences, as well as some of the things that we have already listed.
Some things to consider when looking for chairs include:
The amount of floor space you have to work with
Whether or not you want cushions
The chair's shape
How soft/padded the back and seat are
And, of course, as we previously discussed, some other things that can contribute to your chair's comfort levels are:
The material of the upholstery (e.g. PU leather, real leather, mesh fabric)
Lumbar support
Weight capacity
Dimensions
If you want a premium gaming chair that will last you during lengthy gaming sessions, then you need to make sure that the chair you choose will be comfortable for you.
Ergonomics
Last, but definitely not least, is how ergonomic the gaming chair is.
An ergonomic office chair or gaming chair will up your comfort levels to their maximum, and will enable you to have excellent posture that will reduce all sorts of strain, from eye strain to muscle strain.
There are several features that you can look out for to ensure that the gaming chair you are looking at is ergonomic. The best gaming chairs often include:
A high level of adjustability - e.g adjustable back angle, seat height, armrest height, etc.
Lumbar support
Swivel - a swivel chair put less strain on your body when trying to reach different areas of or around your desk.
Headrest - reduces neck and shoulder strain
Frequently Asked Questions
If you've already spent hours looking at gaming chairs and office chairs, then you may have a couple of questions...
What Kind Of Chair Is Good For Gaming?
As we have talked about throughout this article, there are many different features in a gaming chair that can vary from chair to chair, from the type of support to the upholstery material.
As such, the best chair for you will depend on your specific preferences and needs.
It's also important to note that not all of the best gaming chairs are marketed as such - office chairs can work just as well for your gaming setup, too!
So, in short, there is no one specific chair type that is the best gaming chair - as long as the chair is comfortable (and stylish!), then you're good to go!
What's The Most Comfortable Gaming Chair?
Once again, the most comfortable gaming chair for you depends on your personal needs and preferences.
However, there are several features that can significantly boost your gaming chair's comfort levels.
Features that you can find in the best, most comfortable chairs include:
Breathable upholstery (e.g. fabric mesh)
Lumbar support
Adjustable seat height, tilt, etc.
Dimensions that fit your body
Padding/cushions
Are Gaming Chairs More Comfortable Than office Chairs?
As the name suggests, gaming chairs are built specifically for, well, gaming!
This means that gaming chairs are best used for general gaming activities, and are more comfortable to use than, say, a wooden dining chair.
Gaming chairs tend to have the ergonomics and design that are best suited to sitting down in front of a computer for long periods of time.
However, office chairs can fit this criteria, too, so choosing between an office chair and a gaming chair will be about more than just the comfort level..
Both are comfortable for gaming, so feel free to open up your search to office chairs, too!
Our Winner For Best Gaming Chair For Long Hours
So many lovely options to choose from - but which one of these five best gaming chairs for long hours is the true winner?
After extensive consideration, we have decided that the best gaming chair is Noblechairs Hero Gaming Chair!
Check Prices
We earn a commission if you make a purchase, at no additional cost to you.
Why have we picked this as the one best gaming chair on our list? Well, there are several reasons.
First of all, it excels in the ergonomics and back support factor, with its rather rigid design and high level of adjustability, including an adjustable seat and back-rest.
The Noblechairs Hero Gaming Chair's build is also that of a high quality, and can come with PU leather if you need something that's durable...
Yet still cheaper than real leather (though this chair comes in real leather, too!), as well as PU hybrid leather.
It can also double as an attractive office chair, as well as a chair for gamers.
Above all, the Noblechairs Hero Gaming Chair achieves exactly what we were looking for when compiling this list.
The chair has excellent spine and posture support that will allow you to game all day (and possibly all night)...
Making it the best gaming chair on this list, and possibly one of the best gaming chairs of them all!