Have you ever wanted to build your own minimalist gaming pc?
Well, this article will guide you through the process of building a minimalist gaming pc.
You can make it as small and compact as possible without sacrificing functionality.
This is perfect for those who want their computer to be on display in their living room or office space, but also need it to function well.
We'll cover everything from selecting parts and assembling them, all the way to installing an operating system so that you are ready for action once your PC is finished!
TL;DR: The Ultimate $1,600 Minimalist Gaming PC Build
5 Quick Steps To Building A Minimalist Gaming PC
1. Choosing The Right CPU & Motherboard Combo
Recommended Components: CPU: AMD Ryzen 5 3600 | CPU Cooler: Cooler Master MasterLiquid ML240L | Motherboard: ASUS TUF Gaming B550M-Plus (Wi-Fi) Micro ATX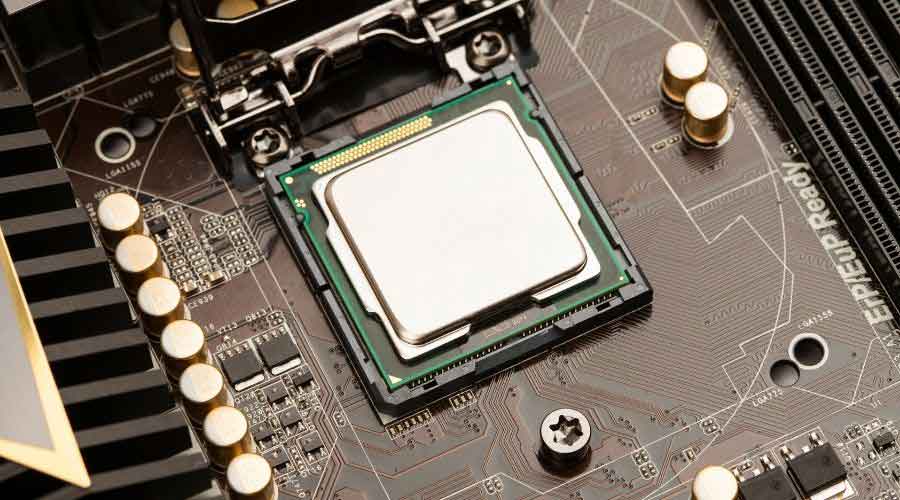 CPU
The brains and the body of your computer will come down to picking the right CPU and motherboard combo.
When it comes to picking out your CPU, you must first ask yourself "how laggy do I want my computer?".
If your answer is "not laggy at all", then it's important to opt for a CPU that is 3.2GHz or faster, and includes 12-cores or more!
The AMD Ryzen 5 3600 has a base clock of 3.6GHz with a maximum boost speed up to 4.2GHz, which allows the CPU to have some room for overclocking.
This chip supports 19 phases meaning there are more power delivery components and therefore better stability and much less chance of hardware failure due to overvoltage or improper heat distribution.
For what you're paying, it's hard to find anything comparable on Intel's side in terms of features while providing similar performance at the same price point.
This makes this CPU an excellent value at $180.
CPU Cooler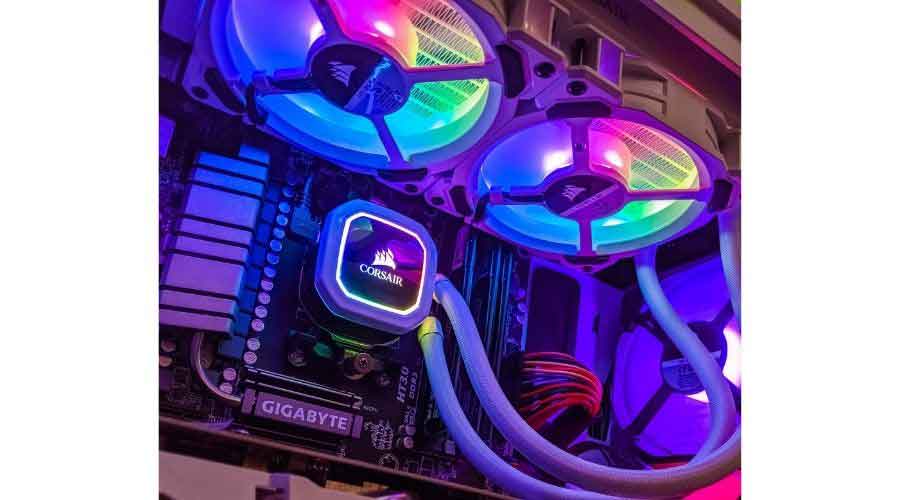 Since the CPU is the brains of your computer, you want to ensure that it doesn't overheat - which can cause performance problems, and shorten its shelf-life.
A CPU cooler replaces the stock fan that comes with your CPU, adding more airflow and keeps your CPU running at a lower temperature.
The CoolerMaster ML240L is a highly rated CPU cooler that you can program with RGB, or keep at a stock light.
It will look great with this build as it will provide sufficient lighting to highlight all your PC components when you put everything together!
Motherboard
A quality motherboard is essential to the success of any build, and ASUS has been a mainstay in the PC industry for decades.
The TUF Gaming B550M-Plus (Wi-Fi) Micro ATX features an excellent chipset that will provide you with great stability even when overclocking your CPU or memory.
This base model also includes integrated WiFi meaning fewer cables inside your case!
You'll save some money on not having to buy a separate card or adapter although this does come at the cost of higher latency.
The only downside here is that it doesn't include built-in Bluetooth but I mean, you won't really be needing that anyway.
This motherboard is $150 which makes it an excellent value for the performance you get in return!
The AMD Ryzen 3600 CPU and ASUS TUF Gaming B550M-Plus (WiFi) Micro ATX Motherboard combo offer impressive power, great stability, full support of overclocking.
It includes integrated WiFi and comes at a price that won't break your bank account.
This chip has been made to be as energy-efficient as possible so you'll save money on electricity costs too, so if you're looking for a minimalist gaming pc option that's also eco-friendly then this would be perfect for you.
2. Finding The Right GPU For The Games You'll Be Playing
Recommended Components: GPU: NVIDIA RTX 3070 | RTX 3070 Alternative #1 | RTX 3070 Alternative #2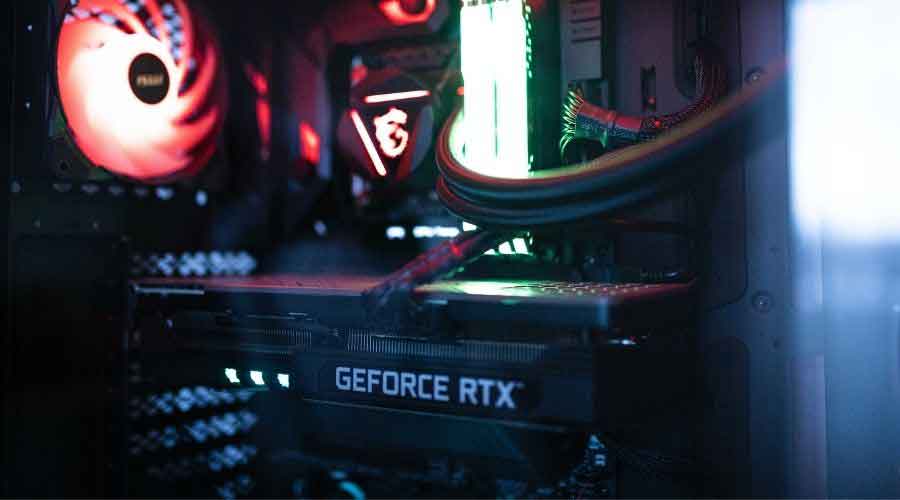 For gaming specifically, it is important to get a graphics card that you can rely on to be able to run any of the games you play, with high FPS and smooth gameplay.
We have all experienced firsthand what it's like to play on below 60 FPS.
It's incredibly laggy, and each time you die in-game due to the laggyness, a nerve pops up in your head.
So that's why we recommend choosing your graphics card carefully.
If you're looking to play AAA graphic-intensive games, then you can't skimp out on getting a quality graphics card.
At the same time, you don't want your graphics card to be too strong for your CPU.
This will cause a bottlenecking of your GPU; bottlenecking meaning your graphics card won't be able to reach its full power due to limited resources.
There are a ton of graphics cards on the market, and the two biggest brands - NVIDIA and AMD competing head to head.
However, NVIDIA has come out on top with their latest generation of graphics cards - the RTX 3000's range.
Unfortunately, due to such high demand, the RTX 3000's range tends to be sold out a lot of the time, which is a downer.
The reason why these graphics cards are highly sought after is that they have power comparable to their previous generation (the RTX 2000's series) whilst being cheaper.
So when choosing your graphics card, we recommend snatching up the RTX 3070.
It's the perfect mid-tier graphics card, which will allow you to play any game (including graphics-heavy games), at a high FPS.
3. Will You Be Needing 8GB Of RAM Or More?
Recommended Components: Corsair Vengeance LPX 32GB (4x8GB)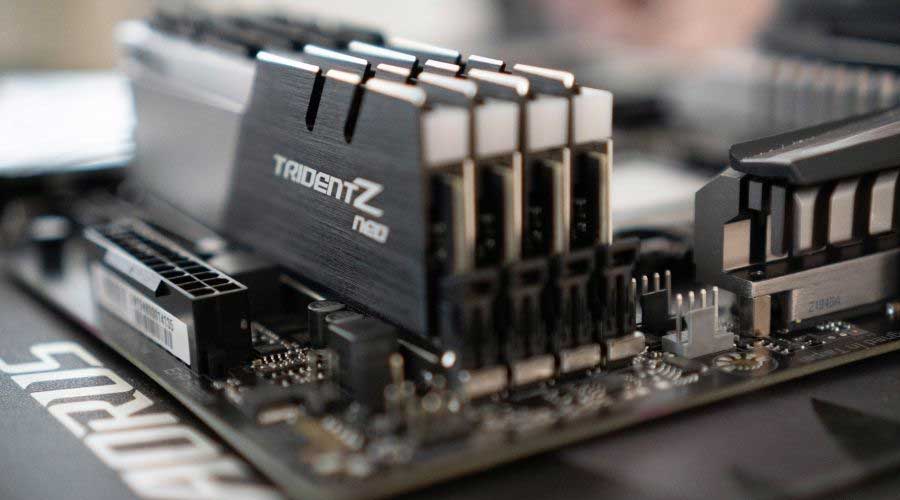 RAM (AKA Memory) will determine how many programs you can run at once.
When your RAM is maxed out, everything will become slow and unresponsive.
So it's important to get enough RAM to run your games and apps, and then some (just in case).
When it comes to RAM, the standard used to be 8GB minimum, since most applications and games were still relatively weak when it comes to consuming power.
Nowadays, 8GB of RAM doesn't cut it.
For high-resources games like Cyberpunk 2077, or Call of Duty: Warzone, you will need a 16GB minimum to not lag like crazy when minimized.
You will also want a decent speed too.
Where your CPU and your SSD/HDD will determine the speed of your applications, having fast RAM can also help with minimizing lag.
Getting RAM that is 3200MHz or higher will definitely suffice.
Also, it's important to note that the more RAM you have the better.
Resources will be distributed more evenly the more RAM you have, so it's always more efficient to get 4x8 (4x 8GB RAM sticks) in comparison to 2x16 (2x 16GB RAM sticks).
Now when it comes down to it, we recommend the Corsair Vengeance LPX RAM as it's simple, has no RGB, and will suit your PC case.
4. Grab NVME SSD To Stay Minimal Whilst Still Having A Lot Of Storage
Recommended Components: Western Digital SN750 1TB NVME SSD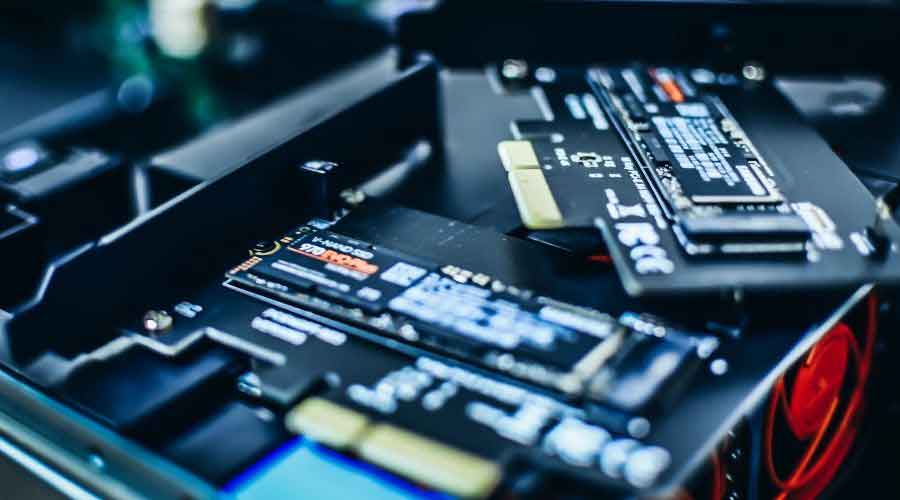 Now there are two types of SSD's, one that gets installed similar to an HDD (Hard Disk Drive)...
And the NVME is a small chip-sized SSD that can be easily slotted into your motherboard.
For a minimalist, it's a no-brainer to want to get the NVME.
It's smaller, more compact, and easy to install or take out when needed - in comparison to the other SSD which you will need to mount into a disk slot and connect SATA cables to.
Now when it comes to choosing your SSD, there are two things you want to look for - the amount of storage you'll need, and the speed.
Storage is subjective. If you're a hardcore gamer who plays a lot of games, going for 2TB or more is ideal.
If you specialize in just 1 game, then you may just want to get 1TB.
If you download a lot of applications outside of gaming, 2TB or more is better.
The thing with SSD's compared to HDDs, their speeds are superior in every way, which also means they are more expensive.
However, if you find yourself running out of space with your SSD, you can always buy an HDD to store the bulk of your files.
As a rule of thumb, it's best to download the files you use the most to your SSD and put everything else on your HDD.
This way the programs you use more will open and run faster, in comparison to the files installed on your HDD.
5. Pick The Best Minimalist Gaming PC Case Depending On Your Size Preference
Recommended Components: InWin 301 Micro ATX Mini Tower | InWin 301 Micro ATX Mini Tower Alternative #1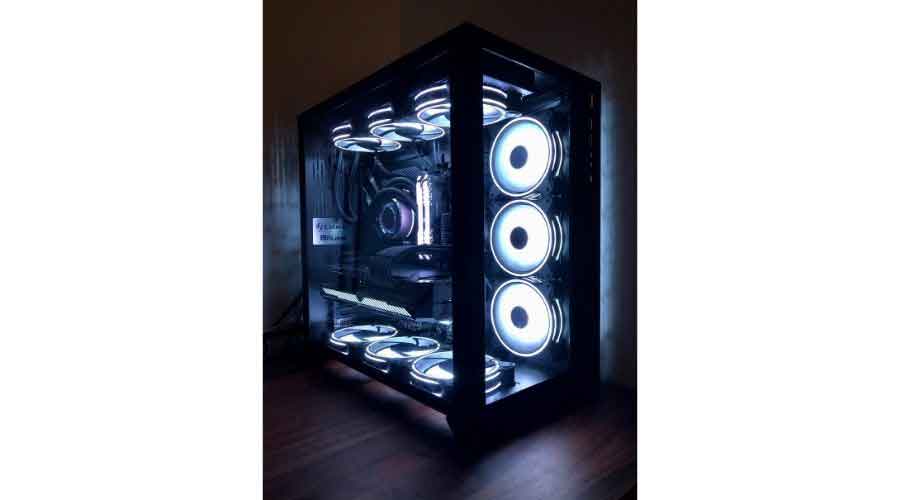 When it came to searching for a minimalist gaming PC case, there were a couple of options I had previously found - like the ones included in our previous article.
But upon researching this post, I came across the In Win 301.
Not only is it compatible with your CPU and motherboard sizes, but it's also compact, comes with a clean glass panel, and it just looks slick.
The In Win 301 is a minimalist gaming pc case that is available for $100 and includes everything you need for that minimalist look.
It includes a brushed aluminum finish and is lightweight which can be easy to carry around with you depending on your location.
The downside to this case is cable management can be quite tough and will take a little bit more work in the pre-planning phase.
Regardless, when you have a finished product - your PC will look amazing.
The minimalist look of your PC case, with a glass panel to see your PC components at work.
It will definitely look awesome.
Conclusion
If you're looking for a gaming PC that doesn't need to be flashy, this guide should help.
There are many components involved in building your own computer and we've covered the most important ones here.
If you follow these steps closely, then you shouldn't have any trouble with assembling your very own $1,600 minimalist gaming computer!
You'll find plenty of information on how to pick parts like CPUs or graphics cards as well as some more obscure but still necessary pieces such as power supplies and cases.
The key is following our advice when deciding which specific components will work best for what kind of games you want your system to play...
Whether it's 1080p (full HD) or 4K resolutions!
If you followed our guide and built your PC, comment down below so we can admire your efforts!
Happy gaming!